Each winter in Canada's far north, a series of ice roads take form, providing people and supply trucks temporary access to the region's otherwise isolated towns. But rapid changes to Canada's north means this spring marks the final melt of one of the north's famed ice highways, the 'Road to the Top of the World,' stretching across 187 kilometres of frozen Mackenzie Delta and Arctic Ocean in the Northwest Territories, linking Inuvik to Tuktoyaktuk.
"It's taking longer for everything to freeze up, and the ice isn't as thick," Wally Schumann, the minister of infrastructure for the Northwest Territories, told the New York Times in April. The Northwest Territories is warming at four to five times the global rate.
Under construction right now is a new permanent $300-million all-weather road — but its long-term stability is also challenged by the unpredictable, warming landscape says Phil Marsh, professor and Canada Research Chair in Cold Regions Water Science at Wilfred Laurier University.
"This area is continuous permafrost with massive amounts of ground ice," Marsh explained.
In the spring, melting water can carve sizeable channels through the ground ice, "which can rapidly drain a lake in less than twenty four hours."
That's not great for highways. Canadians might recall the incredible story of a small upland lake "falling off a cliff" in the Northwest Territories, causing a slow hillside collapse and the displacement of millions of cubic metres of mud and debris.
Once a "Road to Resources," New Highway Highlights Struggling North
Ice roads have long played a key role in connecting remote northern communities, bringing workers from small towns to remote jobs at mines, including the north's dramatic diamond mines.
Northwest Territories regional director and former Inuvik Mayor Peter Clarkson estimates that the ice road to Tuktoyaktuk has been in formal operation since 1974.
During that time, it has provided a seasonal yet vital link for 'Tuk,' temporarily alleviating astronomical grocery and supply prices and providing social and cultural connection between the two communities.
The ice road has also simplified the transport of the diesel fuel needed to power the hamlet's generators, which is otherwise shipped via barge or flown in by plane during the remainder of the year.
Canada's north is already experiencing effects of climate change that are outpacing those in the rest of the country.
Yet despite general concerns about the reliability of winter ice roads in the Northwest Territories climate adaptation strategy, instability of the Inuvik-Tuk ice road itself was not the sole driver in building the permanent Inuvik-Tuk Highway. Indeed, data on the ice road from 1983-2015 itself reveal that the road has remained open a fairly steady average of just over four months each winter.
"The ice road season has not really shrank dramatically," explained Clarkson. "You don't need forty below to make good ice. Minus fifteen and no snow will do it."
Ironically, much of the original economic case for the all-weather road was placed on the potential for supporting additional fossil fuel development along the Mackenzie Delta and Beaufort Sea.
Former Prime Minister Stephen Harper promised the new permanent highway would become Canada's "road to resources."
But a late 2016 arctic drilling ban by both U.S. and Canadian governments has put a halt to those prospects. While the new U.S. administration may attempt to reverse course on that front, it's uncertain if the highway will deliver the economic salvation once promised.
Recently the Inuvialuit Regional Corporation applied for federal funding to explore gas deposits along the new highway corridor. Oil and gas plays in the Northwest Territories, far from any pipelines or roads, have often been considered uneconomic. The new highway could change that.
While Prime Minister Justin Trudeau has expressed to northerners that he wants to see other doors of economic opportunity opening, it remains to be seen what form those opportunities will take.
For the moment, Tuktoyaktuk Mayor Dennis Nasogaluak feels the bulk of the anticipated economic boom from the opening of the highway has now been stifled.
"It's really difficult for us and we're really stumped about what we're going to do," he told DeSmog Canada.
"Tourism might be two or three months a year, but it's nothing to replace industry."
"We are really struggling with the long-term outlook for our community. A few people are able to up and leave and follow the jobs, but the majority of us here can't do that."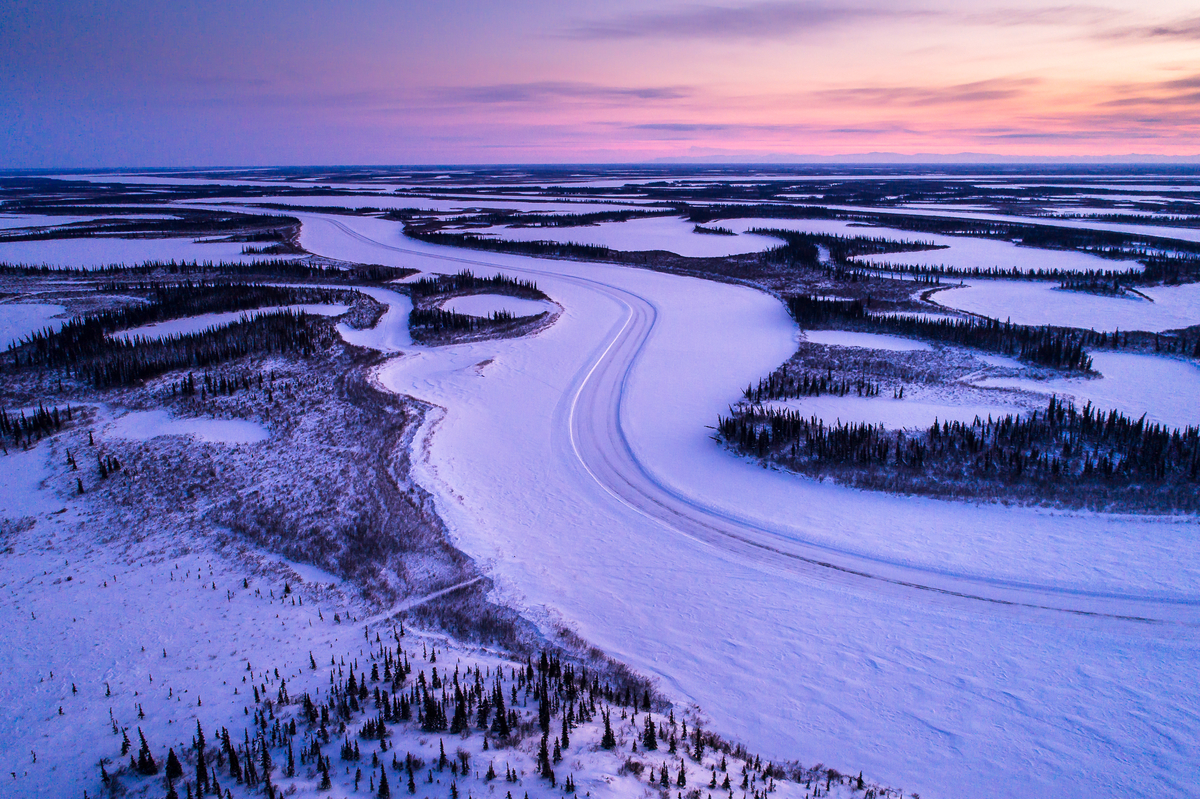 The Inuvi-Tuktoyaktuk ice road, meandering through Arctic tundra. Photo: Matt Jacques for DeSmog Canada.
Highway Construction in Husky Watershed Causes Concern for Inuvialuit
The nature of the new all-weather highway and its interaction with the local ecosystem have also raised some questions.
Biologist Danny Swainson was working as Fisheries Resource Specialist for the Fisheries Joint Management Committee during the first years of construction on the highway, beginning in 2014.
"There was very little done to establish a baseline on the fisheries in the region before construction began" Swainson told DeSmog Canada.
"Going in, we knew almost nothing about how the entire system operates and how important these streams may be for certain species," he said. "That's the responsibility of the developer, and the work that was done wasn't up to par."
Over the course of construction, Swainson said he's noticed sediment, erosion and fish passage issues.
"All of this is happening in the Husky Lakes watershed, which is an invaluable resource for the Inuvialuit," he said.
"Roads and fisheries in general don't get along very well, so the importance of a strong local management plan for Husky Lakes and the surrounding streams is necessary. That's going to be crucial to protecting that fishery going forward."
There are also concerns that the road itself may play a feedback role in accelerating the warming and melting of the surrounding landscape.
"One of the unknowns would be the dust from the road, especially in the winter time. If it's a lot, it would affect the timing of snowmelt, and the underlying permafrost," Marsh said.
Famous Canadian Ice Road Melts for the Last Time https://t.co/Uxl8olLFzv #cdnpoli #arctic #icemelt #climatechange pic.twitter.com/9i5lfQb6uw

— DeSmog Canada (@DeSmogCanada) May 17, 2017
Tuktoyaktuk Struggles to Bring About Renewable Energy Transition
For many communities in the north, making a transition to renewable energy generation has been a logical part of adapting to this changing environment.
However in Tuktoyaktuk, attempts to significantly reduce their reliance on diesel have fallen short so far.
Nasogaluak explained, "the community had a proposal for a wind farm a few years back, but they couldn't get a good purchasing agreement with the territorial power corporation to put power back into the grid. So that was lost."
But dealing with adversity and adapting has been a long-standing part of the community's history.
"As the river silted up going back five, six seven hundred years ago, the beluga no longer went as far up the river, so our community gradually moved north to where we are now" Nasogaluak said.
"Our people have experienced so much change, we are very adaptable. But when it comes to infrastructure it's hard for us to deal with because we have limited capacity to help our people move."
"We've come to a modern way of living now and it costs a lot more money to move a house from one place to another. We're running into those climate issues where we have to adapt and move. If we're building new infrastructure, it's being built further inland now."
The potential impacts and opportunities presented by the new all-weather highway are challenging to predict when the very foundation of communities like Inuvik and Tuktoyaktuk are threatened by melting permafrost and the effects of climate change, which disproportionately impact the north.
"We're adapting by pulling our infrastructure inland, but we need to mitigate some areas that we have to protect. We have a cemetery that we need to ensure doesn't erode any further into the Beaufort" said Nasogaluak.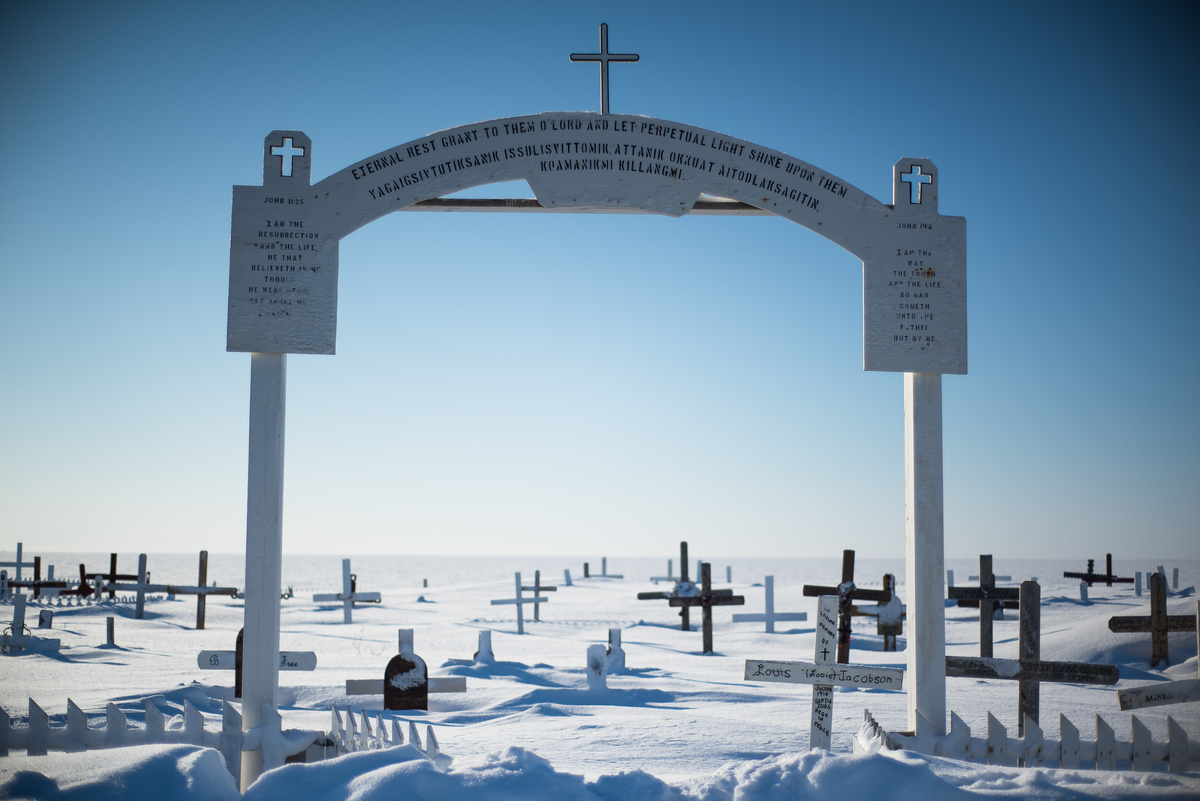 Tuktoyaktuk cemetery. Photo: Matt Jacques for DeSmog Canada.
As the Inuvik-Tuk ice road melts for the final time, the importance of ongoing research to inform future infrastructure investment and community decision-making could not be more clear.
"Even if society stabilizes the climate at 1.5 or 2 degrees Celsius in the coming decades, the Inuvik area will be much warmer than this," Marsh said.
"At 4 to 6 degrees Celsius or more, it will be thousands of years before conditions return to current or pre-industrial levels."
"As a result, the permafrost will continue to thaw and the massive buried ice continue to melt," Marsh said. "This will have serious, but poorly understood, consequences for at least a few hundred years."
Image: Inuvik-Tuktoyaktuk ice road. Photo: Matt Jacques for DeSmog Canada.