Buy low, sell high. It's a maxim taught to stock traders from day one and one which Anadarko Petroleum's upper-level management seems to have taken to heart in the aftermath of the April gas line explosion that blew up a Colorado home, leaving two dead and one badly injured. 
Since the explosion, five members sitting on either Anadarko's board of directors or executive officer team have purchased a combined $2.6 million worth of company stock, totaling over 46,700 shares, according to data on InsiderInsights.com and first reported by investor analyst site SeekingAlpha.com. Anadarko's stock price has fallen nearly $10 per share since the April 17 blast.
However, the trouble may have just begun for the Texas-based company at the center of Colorado's hydraulic fracturing ("fracking") boom. On May 25, an Anadarko oil well exploded just a few miles from the mid-April gas line explosion site. That incident, also in Firestone, Colorado, left one dead and three others injured.
"We felt like a shaking and the dishes shook. I asked my son and he said, 'Mommy I think it's thunder.' Then we walked out to our breezeway and saw smoke," Tiffany Kampmann, a Firestone resident, told Inside Energy of the incident.
Earlier in May, Colorado's Democratic Governor John Hickenlooper issued an order to have all oil and gas operations statewide reviewed for safety compliance following the Firestone home explosion.
"Public safety is paramount. We are assessing whether these operations were conducted in compliance with state law and the Colorado Oil and Gas Conservation Commission's (COGCC) rules," said Hickenlooper. "Inspections of existing flowlines within 1,000 feet of occupied buildings must occur within 30 days and tested for integrity within 60 days. Lines that have been either abandoned or are not in use must be inspected within 30 days and abandoned under current rules within 60 days."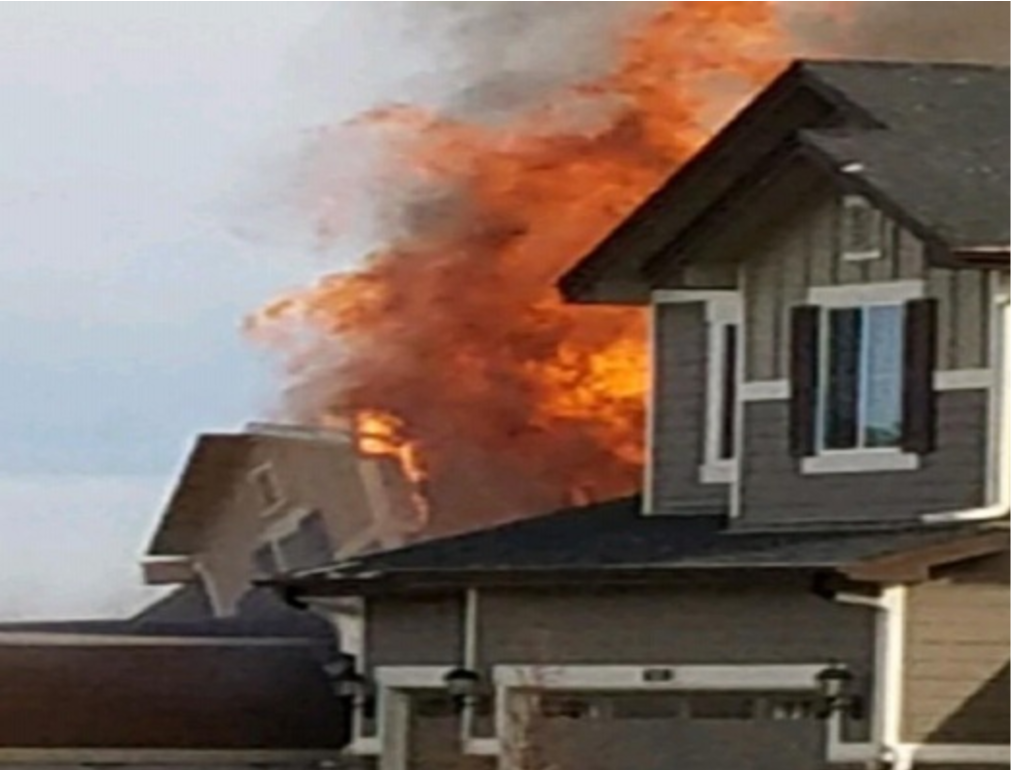 Gas line explosion at a Colorado home in April. Credit: 19th Judicial District, Weld County, Colorado
"Heavy Hearts"
In the aftermath of the Firestone home explosion and deaths, Anadarko issued a press statement on April 27 expressing its empathy for the victims of that event.
"This terrible tragedy has left all of us with heavy hearts, and the families and their loved ones are in our thoughts and prayers," said Al Walker, Anadarko's president, CEO, and board chair. "Words cannot express how saddened we are that this occurred in a community where many of our employees, their families, and friends live and work. We share the community's gratitude for the courageous response of neighbors and nearby construction crews who quickly came to the aid of the family, as well as the first responders and others who made sure surrounding homes were kept safe."
Just three weeks later, Walker purchased over $1 million worth of company stock, perhaps taking advantage of the depressed stock price. Prior to becoming CEO of Anadarko in 2005, Walker worked in the commercial banking sector, serving in senior management positions for UBS Investment Bank and Prudential Capital Group.


Credit: U.S. Securities and Exchange Commission
The timing of the stock purchases by top management is noteworthy, as pointed out by the investor analyst site that first reported on Anadarko's activity.
"Insiders usually have better information about the future prospects of their company than analysts, fund managers, sophisticated retail investors, not to mention the ordinary shareholders," explained Seeking Alpha. "It is, therefore, always a good idea to keep track of significant insider buying activity."
On May 15, residents in Firestone, Colorado, who lived next door to the first Anadarko explosion filed a nuisance lawsuit against the company in Weld County District Court.
Ken Salazar, former Secretary of Interior for President Barack Obama and the head of Hillary Clinton's presidential transition team, was hired as legal counsel for Anadarko in the aftermath of the mid-April explosion, according to an investigation published by International Business Times. Anadarko is Colorado's biggest oil and gas producer, is a major donor to Colorado politicians, and has lobbied against provisions which would set back oil and gas production assets from residential areas such as Firestone, Colorado.
Main image: Anadarko's stock price going down after the lethal April 17 explosion of a gas line in Colorado. Credit: Google Finance