A private contractor hired by the state of Michigan to assess an Enbridge oil pipeline running under the Great Lakes was working simultaneously for the company on a related pipeline, a DeSmog investigation has found.
The contractor, Dynamic Risk Assessment Systems Inc., is leading one of two studies commissioned last year by Michigan to provide a risk assessment for Enbridge's 64-year old Line 5 pipeline, which crosses the Straits of Mackinac where Lake Huron and Lake Michigan meet.
These revelations come two weeks after Michigan terminated the work of the contractor conducting the second study after discovering that one of its team members was working at the same time for Enbridge on a different project.
Michigan Hires 'Independent Contractors'
Concerns over the condition of the aging Great Lakes pipeline have intensified in the past few years, as activists and public representatives have called for Line 5's decommission. An oil leak from the pipeline could spell disaster on an enormous scale, threatening the drinking water of millions while damaging one of North America's most sensitive ecological regions.
In response to the growing calls to close Line 5, the state's Pipeline Safety Advisory Board — a body created by Governor Rick Snyder in 2015 to monitor oil pipelines — commissioned two high profile studies.
In July 2016, after receiving seven bids, the board chose Calgary-based Dynamic Risk Assessment Systems Inc. to examine alternatives, and Norway's Det Norske Veritas (DNV) to assess the risks involved in a spill. Dynamic Risk hired several subcontractors, including Stantec. Leading the team was Dynamic Risk's Chief Engineer, James (Jim) Mihell.
Following a series of negotiations with Michigan, Enbridge agreed to fund the studies, paying over $3.5 million for both.
The state's contract stipulated against conflicts of interest, prohibiting the contractors from "doing anything that creates an appearance of impropriety." In the request for proposals, contractors were required to disclose any past, present, or anticipated future work for Enbridge.
Following the contractors' hiring, activists such as the Michigan chapter of the Sierra Club warned that both firms regularly work for the oil and gas industry, including prior consulting for Enbridge.
Yet state officials continuously assured the public of the studies' independence. Announcing the hiring of the contractors in the summer of 2016, Attorney General Bill Schuette said: "Our Great Lakes are the crown jewels of Michigan and we have a duty to preserve them for generations to come. We are now taking the next step forward to formally define the environmental and financial risks we face."
Valerie Brader, director of the Michigan Agency for Energy, added that "these experts, who will work solely for the people of Michigan, will come at no cost to the state."
Dynamic Risk's Other Work for Enbridge
DeSmog has found, however, that according to recently released documents by the state of Minnesota, Dynamic Risk had been directly consulting for Enbridge on another — but related — pipeline. On May 15 this year, Minnesota's Department of Commerce published a draft environmental impact statement for Enbridge's proposed replacement of its Line 3 pipeline. Accompanying the draft were two assessments of potential oil spills conducted for Enbridge by private contractors.
Both studies were led by Stantec, the subcontractor for the Line 5 review. Dynamic Risk was involved in one of the studies, titled "Assessment of Accidental Releases: Technical Report." Dynamic Risk's James Mihell, who leads the Line 5 study, worked on that assessment. Line 3 connects to Line 5 at Enbridge's hub in Superior, Wisconsin.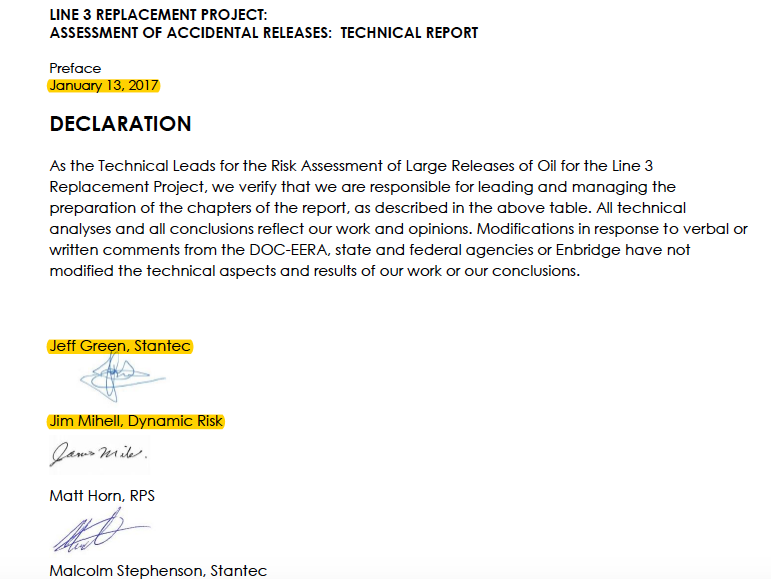 From the final assessment for Enbridge on Line 3, dated January 13, 2017, and signed by Stantec and Dynamic Risk.
In an email to DeSmog, a spokesperson for the Minnesota Department of Commerce confirmed that these contractors began working on the Line 3 assessments in the fall of 2015, produced drafts in October 2016, and submitted the final drafts in January 2017. Enbridge hired and paid for the contractors in both studies.
In other words, while Dynamic Risk's Mihell and Stantec were reviewing Enbridge's Line 5 on behalf of the state of Michigan, they were also working directly for Enbridge assessing its Line 3 — with an overlap of at least six months, from July 2016 to January 2017.
Only two weeks ago, the state of Michigan abruptly terminated the work of DNV, the contractor chosen to conduct the other study on Line 5. In May, state officials became aware that a DNV team member reviewing Line 5 had begun working for Enbridge on a different project.
In a surprising announcement, Michigan publicly dismissed DNV from continuing the review. The state claimed that DNV was dismissed because of the dual work for Enbridge, reminding DNV that in its work proposal the contractor vouched that "no member of the project team is working or will work on projects for Enbridge during the execution of this scope." In its dismissal letter, the state added that DNV did not live up to the contract's stipulation to avoid an "appearance of impropriety."
Meanwhile, last week Dynamic Risk submitted to the state's advisory board a draft of its study on Line 5, which will be followed by several public meetings and a comment period. During the first meeting on Thursday last week, protestors urged the state to decommission the pipeline.
Dynamic Risk Denies any Conflict
DeSmog reached out to Dynamic Risk and James Mihell for comment on this story. Trevor MacFarlane, the president of Dynamic Risk, said in response that his company had not been in conflict since it did not work specifically on Enbridge's Line 5, the focus of the Michigan study, at the same time as the Enbridge work in Minnesota.
MacFarlane told DeSmog:
"I want to clarify that the governance Dynamic Risk has implemented ensures we have remained aligned with our contractual obligations to the State of Michigan. Dynamic Risk has taken steps, beyond any contractual requirements, to ensure that no member of the project team (or Dynamic Risk) has or will complete any work for Enbridge, or other interested parties, on Line 5 through the State of Michigan, during the course of this project. Further, in accordance with our Professional Services Contract with the Michigan Departments of Attorney General, Environmental Quality, and Natural Resources, and the Michigan Agency for Energy, we would immediately notify the State of any possible conflict, should it arise."
After DeSmog reached out to Michigan for comment, state officials contacted Dynamic Risk for clarifications. Nick Assendelft, a spokesperson for the Michigan Agency for Energy, said the company indicated that its team members working on Line 5 completed their work for Enbridge on Line 3 before the review for Michigan had begun.
Assendelft said:
"Dynamic Risk Assessment Systems, Inc. told us this morning that their employees who were working on a Line 3 report for Minnesota had completed their work on that project before they were assigned to do the Line 5 project for the State of Michigan. That is a stark difference from the situation we ran into with Det Norske Veritas (U.S.A.), which was doing a Line 5 risk analysis for the state. In that situation, a DNV GL team member who had performed work on the risk analysis for the State, began working on another project for Enbridge doing very similar work while our risk analysis was being completed. As you know, that conflict of interest led the state to fire DNV GL before it submitted its report to the state.
Yet, as mentioned above, the state documents uncovered by DeSmog don't match Dynamic Risk's version of events as told to the state of Michigan. The company was hired by Enbridge for Minnesota's Line 3 assessment in the fall of 2015, produced a draft on October 1, 2016, and completed the final report on January 13, 2017. The final report was signed by Stantec employees and James Mihell of Dynamic Risk. Again, Michigan hired Dynamic Risk to study Enbridge's Line 5 in July 2016.
Presented with this timeline, Assendelft said:
"Dynamic Risk told us Jim Mihell was finished with his part of the Minnesota project in June 2016 and he was taken off of that project team at that time. I don't know DR's internal guidelines or time lag on when a researcher signs off on their part of a report on which they worked, but the company says his work on the Line 3 report for Minnesota did not overlap with his work on the Line 5 report for Michigan."
It is unclear, however, why Dynamic Risk would have to remove Mihell from the Line 3 project, if, as its president MacFarlane notes, the company only needed to ensure that its employees were not working simultaneously for Enbridge on Line 5 to avoid a conflict of interest.  
Reached for comment, a spokesperson for Stantec referred DeSmog to Enbridge due to client confidentiality agreements. Enbridge did not provide comment.
Main image: Technicians in personal protective equipment prepare pipe before cutting and removing the section from the Enbridge pipeline oil spill site near Marshall, Michigan, in August 2010. Credit: U.S. Environmental Protection Agency, public domain