By Chris Garrard, a member of the Art Not Oil coalition of groups that campaigns against oil sponsorship of arts and culture.
Yesterday in London, the doors opened at 'New Scientist Live', a four-day 'festival of ideas and discovery'. The event features a line-up jam packed with big names such as astronaut Tim Peake, naturalist Chris Packham and author Margaret Atwood. Unfortunately, they have been joined by some equally well-known but less welcome names in the role of corporate sponsors: Shell and BAE systems.
So, as festivalgoers arrived, members of activist groups Campaign Against Climate Change and Art Not Oil made sure they were there to greet them – pointing out the destructive impacts of these unethical companies and the irony of partnering with Shell, a company that has previously attempted to undermine climate science.
Much like the controversy around BP's sponsorship of museums and galleries, science institutions are increasing coming under pressure over the ethics of their fundraising and the legitimacy that corporate sponsors stand to gain by associating themselves with the well-respected brands of scientific organisations.
Last year, the Science Museum faced criticism over its decision to open a new interactive children's gallery with the Norwegian company Statoil – which is actively trying to drill for oil in the Arctic – as the title sponsor. It has also come under fire for its ties to Shell and BP in the past.
"New Scientist Live is the latest example of a UK science festival aimed at young people taking sponsorship from arms and fossil fuel corporations," Stuart Parkinson, Executive Director of Scientists for Global Responsibility, told me. "These businesses use such funding to help them deflect criticism of activities which contribute to major human rights and environmental problems."
And this is why we were there as the festival opened, making the argument that the New Scientist should not allow corporations that wilfully damage the environment and impact communities across the globe to plaster their logos all over its reputable science event.
Protest "Not Allowed"
On Thursday morning, as New Scientist Live prepared to open, we began handing out our own "subvertised" flyers. The design was carefully adapted from the New Scientist's own materials but instead asked "the big questions" about the ethics of the event's sponsors.
Powerful images illustrated the impacts of Shell and BAE Systems and began prompting an important debate.
We're asking the ethical questions about @shell and @BAESystemsInc at #NSLive pic.twitter.com/kdXXJDNlfF

— Art Not Oil (@ArtNotOil) September 28, 2017
After a lot of interest and support form those queuing inside the ExCel exhibition centre, security abruptly escorted us outside, informing us that protest was "not allowed" inside the building.
Later, two security guards followed one member of our group on a visit to the toilets, before they were then told that they had been banned from re-entering the building for the remainder of the day.
We couldn't help but feel that attempts to intimidate and clampdown on peaceful campaigners goes against the grain of the free and open debate that the New Scientist aims to promote.
Earlier in the week, the Campaign Against Climate Change was joined by Campaign Against the Arms Trade, Scientists for Global Responsibility, Medact and Art Not Oil in issuing a statement condemning the New Scientist's choice of unethical sponsors. They also launched a new petition calling on the New Scientist to adopt an ethical fundraising policy for future events, one that would rule out partnerships with companies "whose core business exacerbates conflict or climate change".
"The New Scientist Live event should be a celebration of science, not an opportunity for arms or oil companies to gain good PR", said Sophie Neuburg, Executive Director of Medact. "Health professionals are calling on the New Scientist to adopt an ethical sponsorship policy, and stop taking money from companies which harm human health and the planet." 
Science Skepticism, Climate Science Denial and Greenwash
With science skepticism and climate science denial on the rise, accurate and balanced journalism is more important than ever. Just last week, a group of respected climate scientists spoke out after sections of the media misrepresented their research.
While celebrity skeptics are often easier to identify and draw more attention when challenged, we need to also shine a spotlight on more insidious and everyday forms of denial.
Shell is a company that has previously funded attempts to undermine climate science. Nonetheless, at New Scientist Live, Shell will sponsor the festival's 'Earth Zone', playing host to discussions on how to respond to the climate crisis.
The irony is hard to miss.
Claire James, a campaigner at the Campaign Against Climate Change told me, "It's supposed to be a festival about exploring big ideas. But we think that when Shell is sponsoring the discussion on climate change, that actually shuts down exploration of big ideas like the urgency of the climate crisis and the radical change in energy use that we need to see."
In recent issues, the New Scientist has also been featuring articles "sponsored by BP", that promote BP-funded research projects and are surrounded by adverts for other BP-related content. And at New Scientist Live, BP's exhibition stand is branded with wind turbines, with the company offering talks on the "energy transition". This is a clear attempt to greenwash its brand while the company continues to invest in ultra deepwater drilling and explore for new sources of fossil fuels.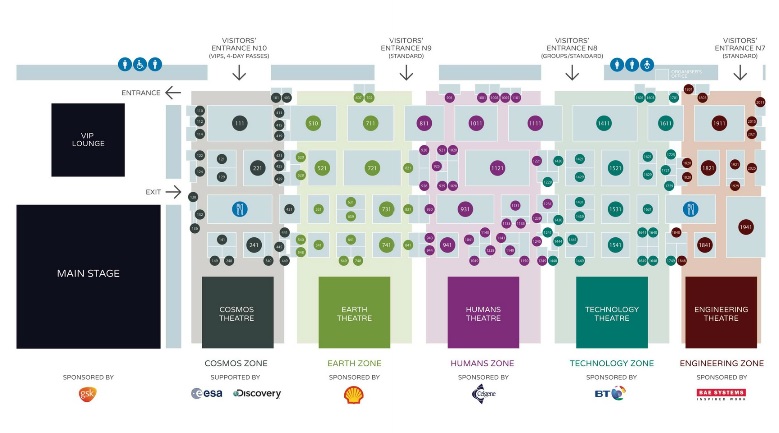 A floorplan of the sponsored exhibtions inside the New Scientist Live event.
And the New Scientist's confusing messaging isn't just confined to climate science.
BAE Systems is sponsoring the festival's 'Engineering Zone', but it seems unlikely that visitor's will learn about how the company's weapons are playing a central role in Saudi Arabia's bombardment of Yemen.
Is a company that profits from conflict an appropriate partner for an event that looks towards the future and the positive developments that science and technology can provide?  
As Stuart Parkinson told me, "There are many more appropriate sponsors for an event of this nature, and we strongly urge New Scientist to prioritise ethical values in their future choice of funders."
While we often encounter sponsorship deals in isolation, in reality they are part of carefully developed business plans.
And, in exchange for what is loose change to these billion-dollar companies, they are able to sign sponsorship deals with respected organisations and buy a social legitimacy they don't deserve.
In a world facing record-breaking extreme weather and numerous conflicts, it is essential that major corporations that help to fuel this destruction and profit from repression are not allowed to hide behind the positive reputation of science.
The New Scientist should not be complicit in helping these destructive companies clean up their tarnished brands and must stop aiding them to keep their impacts on people and the environment out of sight.
Main image credit: Kamyar Adl via Flickr CC–BY 2.0