After global oil prices slumped dramatically in 2014, many energy giants such as Shell and BP decided to sell off their "mature assets" in the North Sea. 
Now, the operation of aging fossil fuel infrastructure in the once profitable region is increasingly being taken over by private companies, analysis by DeSmog UK shows — raising concerns over transparency and accountability in the region. 
Four of the five largest sales since 2015 have been to private companies, DeSmog UK has found, with three of those backed by money from US private equity firms. 
Whereas companies listed on public stock exchanges are accountable to their shareholders and the public – through legal requirements such as annual reports and corporate financial disclosure – privately held companies have fewer legal obligations and can aggressively pursue long-term profit. 
The industry talks of its fortunes turning a corner, as private companies are stepping up to the high-risk, capital-intensive late stages of North Sea fossil fuel production – something public companies have been less willing to do. 
But the changing investment landscape could mean that job losses continue and the environmental damage from the industry is prolonged, with divestment and climate campaigns less able to influence the new, smaller cohort of private company owners. 
"Transparency is the big issue here," said Joseph Dutton from climate think tank E3G.  
"Perhaps it's a reflection of how the wider investment community and shareholders view fossil fuels, as part of the clean transition and the Paris agreement: publicly listed companies are selling off their older fossil fuel assets, and it's then private firms that don't have the same level of social responsibility who are picking up assets." 
When oil prices tumbled from more than $100 per barrel in 2014 to under $50 just a year later, energy companies already benefiting from UK government subsidies started losing money. 
Research immediately after the slump conducted by oil and gas consultants 1Derrick indicated that over £6bn worth of North Sea assets went on sale, as some large companies including 
E.On
 publicly 
declared
 exits from the North Sea.
Research on the biggest deals since then by DeSmog UK shows that around £13.5bn worth of mergers and acquisitions have been made, as companies scrambled to sell off their least profitable assets. 
A major trend is the emergence of new, lesser known companies like Neptune Oil & Gas, Chrysaor and Siccar Point Energy in place of global giants like BP. 
And while the older companies are still major players in the North Sea – BP, Shell and Total are still some of the largest producers in the region – the recent sales are part of a global pattern of companies focusing their businesses into specific activities or geographies, Dutton said. 
Part of the North Sea exodus is due to the age of its infrastructure, with old platforms and rigs facing high decommissioning costs. The Oil and Gas Authority gives a "starting point" estimate that it could cost £59.7bn to decommission the UK's oil and gas infrastructure. 
But while there are often various factors at play in any business deal – Shell, for example, has made plans to sell $30 billion of its global assets by 2018 as it seeks to balance debts following its takeover of BG Group in 2015 – many of the sales have been in response to the fall in oil price, Mangesh Hirve, head of 1Derrick, told DeSmog UK. 
"Some companies are strategically getting out and some are strategically getting in," he said. "If you have big money, big pockets, and want to really focus on these assets long-term – that's how the North Sea is panning out as a game now." 
And that's why so many smaller private companies are now getting into the North Sea business. 
Revolving Doors
Many of the executives running the new North Sea players are previous employees of the old energy giants, part of what E3G's Dutton called the "revolving doors" of the fossil fuel industry. Others have links to fracking companies, or investors known to have a history of supporting climate science denial. 
Both Sam Laidlaw of Neptune Oil & Gas and Jonathan Roger of Siccar Point Energy, for example, were at Centrica before running their companies, while Chrysaor's Linda Cook was at Shell. There are direct links to high finance too, with Premier Oil's CEO Tony Durrant coming in from the most infamous casualty of the 2008 financial crisis, the investment bank Lehman Brothers. 
Similarly, head of RockRose Energy, Andrew Austin, who has overseen a slew of acquisitions in recent years, was former head of fracking firm IGas who are one of the companies leading the UK's foray into shale gas extraction, despite widespread public opposition.  
Behind some of the companies is a global network known to invest in climate science denial.  
Siccar Point Energy are jointly backed by US private equity firm The Blackstone Group, whose billionaire CEO and co-founder Stephen Schwarzman is a close ally of US President Donald Trump and has numerous interests in US fracking and the wider fossil fuel industry. 
DeSmog has previously reported on Schwarzman's ties with well-known climate science denier David Koch, and on how Blackstone has invested in controversial pipeline infrastructure in the US such as the Dakota Access Pipeline.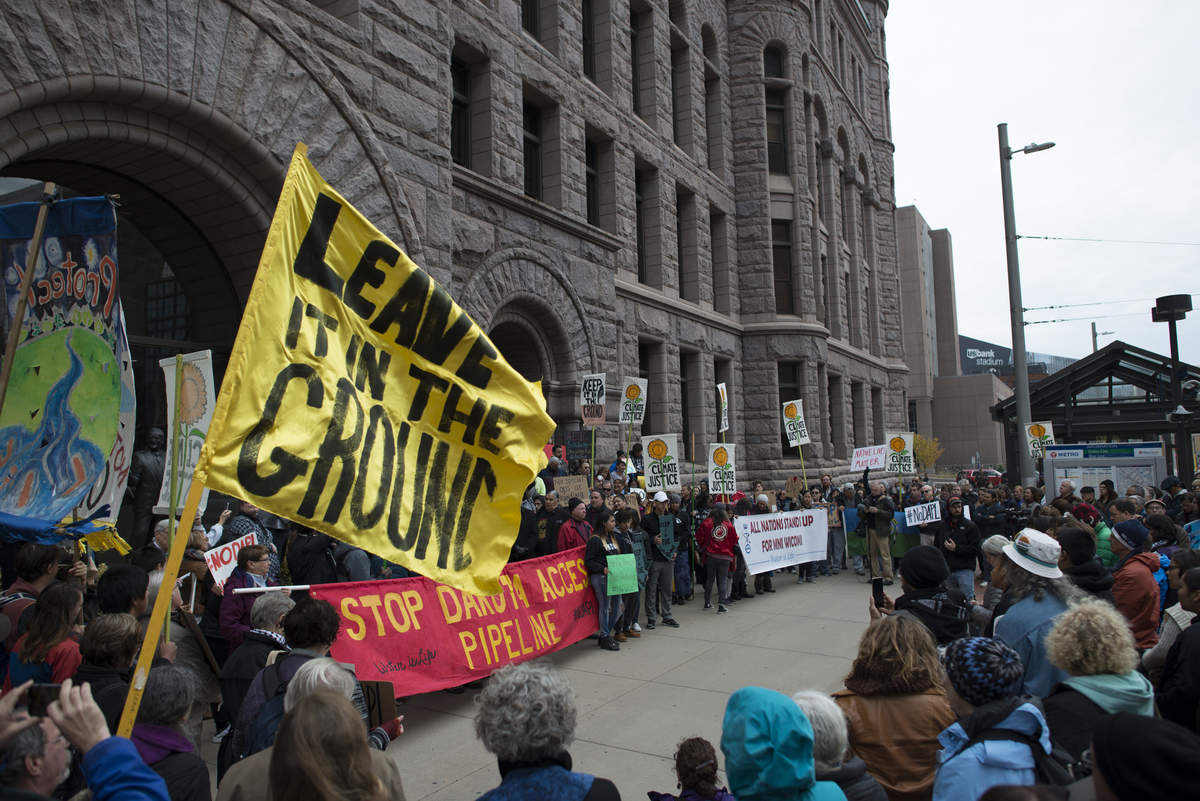 Photo: Fibonacci Blue via Flickr | CC2.0 
Dutton said that while there is a lot of money still to be made in the North Sea, the increased c
osts of late-stage fossil fuel production and of decommissioning mean that the more risk-averse public companies are looking elsewhere to make their money. 
This leaves gaps for private finance companies to buy up the assets, he said. 
"Companies who've lost lots of money, who've been most exposed to the fall in the oil price, are not so keen to hang on," said Dutton. "Whereas the private equity groups feel they can extract that value." 
While public companies are beholden to the will and pressure of shareholders, private companies are driven by fewer people, and often by those putting up the money. That allows them to take greater risks. 
Mary Church, head of campaigns for Friends of the Earth Scotland, said these companies are taking a "huge gamble" with their money.
"Keeping global temperature rises within two degrees means leaving the vast majority of fossil fuels in the ground, soon rendering these assets almost worthless," she said.  
"We should be planning for a fair transition away from North Sea oil and gas that supports workers and communities instead of subsidising operators and equity firms solely driven by the bottom line." 
Just transition
As tax revenues continue to dive and North Sea assets become concentrated in the hands of a few individuals with patchy environmental and workers' rights records, the North Sea's future as a public good is firmly on the rocks. 
Across the whole of the North Sea, profits have been sustained by slashing operation costs, which for some operators have halved since 2014. But while the oil and gas sector boasts of "efficiency gains", the reality on the ground has meant around 150,000 job losses since 2014, squeezing wages, and catalysing numerous disputes over working conditions.  
Ineos, one of the key movers in the recent North Sea changes, were embroiled in a highly public dispute with its Unite union workers over pay at the Grangemouth oil refinery in 2013. The bullish private firm threatened to close the facility permanently, risking the loss of 800 jobs, and forced Unite to eventually back down. 
As the dispute with Ineos at Grangemouth continues, recent mergers in the North Sea, such as Total's acquisition of Maersk Oil, have raised concerns among unions that further jobs will be lost in the North Sea despite the supposed upturn in business. 
"We should be planning for a fair transition away from North Sea oil and gas that supports workers and communities" – Mary Church, Friends of the Earth Scotland  
Nonetheless, the UK government has been clear on its commitment to prolonging the life of the industry, despite legal obligations to cut its carbon emissions by 57 percent by 2030 compared to 1990 levels. 
As the cost of production increases with the North Sea's age, the government's primary response has been to offer increased subsidies in the form of tax breaks — around £2.3bn worth since 2015. 
The government slashed taxes for North Sea operators in 2016. And, most significantly for the mature areas of the North Sea, in the November 2017 budget, the government made it easier for companies to transfer accrued tax benefits as part of new mergers and acquisitions. 
The latest move will make the sale of mature assets more attractive to buyers, the  government said, and was welcomed by the industry who had lobbied hard for the changes. According to the head of trade body Oil & Gas UK the move will "help extend the lives of many mature fields and postpone decommissioning". 
But while the government claims the move will benefit the national economy in years to come, tax revenue from the North Sea has fallen dramatically in recent years. 
After highs of £10.9 billion worth of tax revenue in 2011, in 2016 the North Sea actually made a net loss for the UK national budget as falling profits meant tax rebates could be claimed on previous years. 
Latest government figures suggest a further loss was made in 2017, with preliminary reports showing that taxpayers effectively handed the sector £316 million.
With private companies increasingly running the show, there are serious questions about whether the government should continue to support the industry. 
Photo: Stig Nygaard via Flickr | CC2.0  Updated 24/01/2018: The reference to 'privately listed' companies was corrected to say 'private companies'. The £316 million figure in the penultimate paragraph was updated for clarity. The link in the 'net loss' figure in the third to last paragraph was changed to link to the source.