The UK government pledged millions of pounds towards India's clean energy mix while taxpayers' money was spent to boost the prospects of the country's biggest oil and gas giant, a DeSmog UK analysis can reveal.
At the same time, London-based oil major BP —  already the largest international oil company operating in India — said it was looking forward to "making big commitments to invest billions of dollars" in the country's gas sector. 
Department for International Trade minister, Baroness Rona Fairhead, is tipped to visit India this month as part of an ongoing series of meetings to strengthen bilateral trade between the two countries. The visit comes following a string of meetings between UK and Indian ministers over the past year, with a strong focus on India's energy sector. 
Clean Energy Investments
Identified by the Department for International Trade as a key ally in a post-Brexit world, India's growing energy market has long been seen as providing opportunities for UK exports and investors alike.
Part of this strategy involved investing in India's renewables.
During a meeting with India's energy minister Piyush Goya in April last year, secretary of state for the Department of Business, Energy and Industrial Strategy, Greg Clark, announced the Department for International Development was to invest $100 million (£71 million) to support renewable energy projects in India and establish an independent renewable energy company therough an institution called the CDC Group.
He also pledged a technical assistance fund of £20 million to be available to both the renewable energy and the oil and gas industries.  
The independent company, Ayana Renewable Power, was officially launched last month, and is expected to generate power targeting underserved Indian states.  However, none of the $100 million pledged has been invested yet, a spokesman for the CDC Group told DeSmog UK.
Also visiting India last April, Chancellor Philip Hammond pledged to invest £120 million into India's National Investment and Infrastructure Fund (NIIF), which invests in infrastructure projects including renewables. That public investment aims to leverage private investment from the City of London. It appears there is no guarantee it will be used for clean energy, however, as "the fund will focus initial investments on India's rapidly growing energy and renewables market".
 UK renewable investment in India, key figures:
The latest figures from UK Export Finance (UKEF), the government's credit agency, show that while the government was making significant pledges to invest in renewable energy, its was also backing millions of pounds worth of loans for a fossil fuel company in India. 
The UK government gave a total of £427 million in support to overseas fossil fuel projects through UKEF in 2015-16, a previous DeSmog UK analysis revealed. 
Fossil Fuel Projects 
Analysts say most of the world's remaining fossil fuel reserves need to remain untouched to prevent dangerous climate change — this includes about two thirds of India and China's oil and gas reserves. 
Annual reports from UKEF show the government underwrote loans of almost £194 million to help India's largest private sector company, Reliance Industries, buy goods and services from UK companies between April 2015 and April 2017. Reliance Industries is a key player in the energy and petrochemical sectors, while also having businesses in textiles, retail and telecommunications. 
Despite a revenue stream of $51 billion (£36 billion) and a managing director who is India's richest man, Reliance Industries has been benefiting from millions of pounds of UK taxpayer funded loans through the government's credit agency. It is the scheme's top recipient in India. 
In 2015-16 alone, UKEF financially supported £146 million of UK exports to Reliance Industries, with the money designed to boost petrochemical plant and metal ores projects.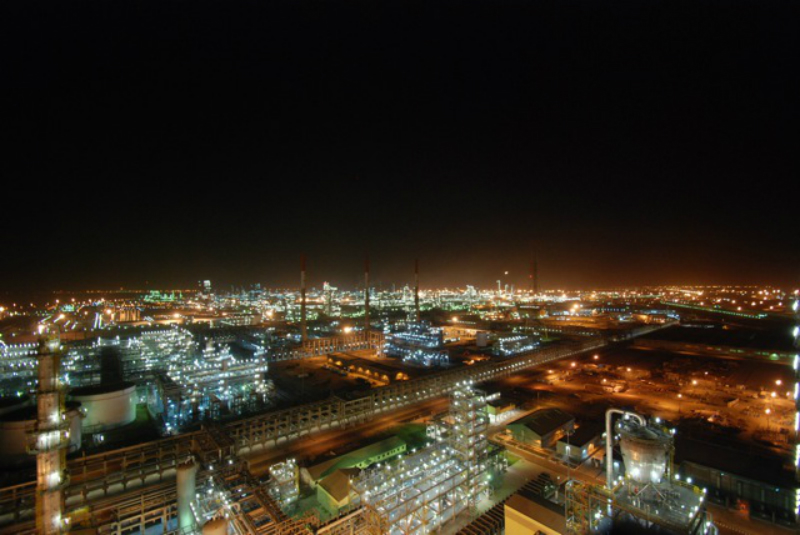 Photo: Reliance Industry's Jamnagar petrochemical complex in Gujarat, India, one of the projects supported by UKEF, credit: RIL
The same year, UKEF underwrote exports to the tune of £187,965 for the Oil and Natural Gas Corporation, which claims to be India's largest oil and gas exploration and production company. 
The following year, three of the 12 projects UKEF supported in India were led by Reliance Industries, including more than £47 million to help the Indian conglomerate expand an oil refinery. 
And UKEF's line of credit for India is about to get much bigger. Secretary of state at the Department for International Trade (DIT), Liam Fox, announced last month that UKEF would more than double its financial support to enable businesses to trade with India — making a pot worth £4.5 billion available for UK-India trade across all sectors. 
While the money is yet to be allocated to individual projects, that level of the investment far outweighs those pledged to renewable energy projects in India.
A spokesman for the DIT said the UK's priority is to "encourage international investment opportunities for UK businesses, ensuring they can build fruitful relationships with overseas partners". An aim which is supported by the UKEF, he added. 
According to the DIT, in recent years UKEF provided guarantees worth $300 million (£212 million) in support of loans to Reliance Industries, which resulted in over 100 contracts being awarded to UK companies.
UKEF said it supported offshore wind and solar projects across the world worth nearly £300 million in 2016-17, though DeSmog UK did not find any UKEF backing for renewables projects in India between 2015 and 2017.
India's Energy Mix Shift
With demand rising and insufficient energy supply, India has recently increased its oil refining capacity to meet its needs as the world's third biggest oil consumer and importer. 
More than three quarters of India's electricity is generated from coal — the dirtiest fossil fuel. But the country has reduced the amount of coal power capacity it added to its energy mix to the lowest level in a decade, according to a Bloomberg analysis. 
India's ratification of the Paris Agreement and the declining price of clean energy has led Prime Minister Narendra Modi to shift the country's energy strategy towards growing the share of gas and renewables in its energy mix. 
India plans to more than double the proportion of natural gas as part of its energy mix to reach 15 percent by 2030 and hopes to generate more than half of its electricity from renewable sources by 2027. 
"India should produce every molecule it has of its natural gas resources and oil" – Bob Dudley, BP CEO
Over the last two years, the Indian government has tried to attract further investments in exploration and refining industries while securing better deals from exporters. 
In a statement following a meeting with some of the world's biggest energy companies, Modi said he welcomed the "focused suggestions" he received from fossil fuel and industrial giants including BP, Reliance Industries, Rosneft (BP's partner in Russia) as well as ExxonMobil, Saudi Aramco, Royal Dutch Shell, Vedanta, Schlumberger and Halliburton.  
BP

Investments in India
BP already has a strong foothold in India. According to CBI estimates, the company is one of 270 British companies operating in India which are collectively creating one in every 20 jobs in its private sector. 
The oil major was quick to identify India's growing demand for natural gas as an opportunity to make a dent in a booming market. 
At the World Economic Forum in Davos in January 2018, BP's CEO Bob Dudley also appeared to have made BP's operations in India a priority. 
As always interesting meeting with CEO ,BP Mr Bob Dudley; exchanged ideas on global developments in energy sector,EVs,renewables pic.twitter.com/B4mLP8z0Ri

— Dharmendra Pradhan (@dpradhanbjp) January 25, 2018
In a long interview with ET Now, Dudley set out his vision for the company in India, revealing he met with Prime Minister Modi "many times" and that he was "very enthusiastic" at the prospect of "making big commitments to invest billions of dollars" in India, which he added would "lead to natural gas production in 2020".  
"India should produce every molecule it has of its natural gas resources and oil," Dudley said. 
He described natural gas as "a clean burning fuel", language that BP and other major oil and gas companies have used to try and  promote gas as a "solution" to address climate change. 
Scientists have warned that although burning natural gas produces about half of the carbon dioxide emissions of coal, methane leakage can make natural gas just as damaging to global warming as coal. Yet, according to Dudley, gas "is good. It is good for India. It is good for many places". 
In June 2017, BP and Reliance Industries pledged to invest $6 biilion (£4.2 billion) in offshore gas in India including in deep water exploration which has higher risks of accidents, spills and fires leading to greater environmental concerns. 
Attending a high-level oil and gas meeting at Davos where participants were said to discuss "how climate change will affect the world's oil and gas industry", India's oil minister Dharmendra Pradhan posted a picture on Twitter showing him in a private meeting with Dudley. 
"As always interesting meeting with CEO BP Mr Bob Dudley; exchanged ideas on global developments in energy sector, EVs, renewables," the caption said. 
BP India did not respond to a request for comment. 
Edited 01/02/2018: Clarified the UKEF's £4.5bn line of credit to India will be made available to all sectors and not just the fossil fuel industry. 
Image Credit: David Brossard/Flickr/CC BY–SA 2.0