During his State of the Union address, President Donald Trump exclaimed that the "war on American Energy" had ended and that "we are now an exporter of energy to the world."
What Trump did not say, though, is that several former senior energy officials from the Obama administration — the one Trump said had declared a "war on American Energy" — now either lobby or work as executives for companies making his "energy dominance" agenda possible. At least five of these Obama officials now work for natural gas export companies, four of them for Cheniere and another for Tellurian.
Though pitched as the "cleaner fossil fuel" by many of these former Obama officials, the high levels of methane in natural gas carry a climate punch. Methane is a much more potent greenhouse gas than carbon dioxide in the short-term, according to the U.S. Environmental Protection Agency. NASA scientists have tied the spike in global methane emissions over the last decade to the oil and gas industry, and a recent study by Purdue University researchers found that natural gas power plants emit up to 120 times more methane than originally estimated.
Despite the scientific evidence that natural gas poses a serious climate risk, record levels of U.S.-produced natural gas products are hitting the global market. And a large contingent of former Obama officials has played a notable role in helping make that happen in the past year, despite some of them doing so in potential violation of U.S. ethics codes.
Heather Zichal
One of those Obama alums, former top White House climate and energy staffer Heather Zichal, now sits on the Board of Directors for Cheniere. She also recently was named managing director of corporate engagement for the environmental group The Nature Conservancy.
"Heather brings a wealth of experience navigating the intersection of government policy and business operations," Mark Tercek, Nature Conservancy's president and CEO, said in a statement provided to E&E News.
In her book This Changes Everything: Capitalism vs. The Climate, Naomi Klein reveals that The Nature Conservancy actually owns an oil well in Texas and uses the financial earnings which come from it as part of its funding stream. Further, both BP and Chevron sit on The Nature Conservancy's Business Council.
"By participating in the Council, members are demonstrating an interest in integrating conservation and stewardship into their business strategy while supporting biodiversity, habitat conservation, and good environmental practices," states The Nature Conservancy on a web page about its business council. 
As DeSmog previously reported, White House meeting logs show that Zichal met twice with Cheniere officials in 2013 while she was working under Obama. Not only was Cheniere the first company to receive an LNG export permit from the Obama administration in 2012, it was the first to receive such a permit in over 50 years. 
While E&E News reported that Zichal "served" on the board of directors for Cheniere, company spokesperson Eben Burnham-Snyder confirmed with DeSmog that Zichal still serves on the board. According to forms filed with the U.S. Securities and Exchange Commission (SEC), Zichal earned $90,000 for her service on the board in fiscal year 2016 and another $90,014 worth of stock options, for a total of about $180,000 in compensation.
According to lobbying disclosures, Cheniere now not only lobbies for liquefied natural gas (LNG) exports, but has also hired a firm to lobby for "federal regulatory reform related to natural gas pipeline development."
Cheniere also recently signed a Memorandum of Understanding (MOU) with China National Petroleum "on Long-term LNG Sale and Purchase Cooperation." Cheniere CEO Jack Fusco was part of the CEO delegation which accompanied President Trump and U.S. Commerce Secretary Wilbur Ross on their recent trade mission to China. It was during this trip that the MOU was signed with China National Petroleum, a deal overseen by President Trump and Chinese President Xi Jinping.
Eben Burnham-Snyder
Eben Burnham-Snyder, the Cheniere spokesperson who confirmed Zichal's position on Cheniere's board, also formerly worked for the Obama administration. He served as a director of public affairs for the Department of Energy before coming to Cheniere in March 2017, two months after leaving the administration. Burnham-Snyder also formerly worked for U.S. Sen. Ed Markey (D-MA) and, though ironic in retrospect, signed off on a press statement in 2013 (when Markey was still in the U.S. House of Representatives) titled "Debate Still Needed on Scale of LNG Exports."
"We need to fully understand the costs to consumers and to our economy before rushing ahead with exporting our natural gas resources. We know who the winners are in this deal — big oil and gas companies," said Markey in the press release. "We know who will ultimately lose if we keep barreling ahead with more exports — American consumers and manufacturers who depend on low-cost, domestic natural gas."
On his LinkedIn page, Burnham-Snyder credits himself with making Markey a "major voice on natural gas issues" while working as his deputy staff director on the House Natural Resources Committee. Prior to working for Markey, Burnham-Snyder served as a senior communications associate for the Natural Resources Defense Council.
Speaking about his support for LNG and how it fit into his Energy Department work, Burnham-Snyder told GreenWire in July of last year that it "offers a unique chance to both further some of the environmental goals that we pushed in the Obama administration to reduce pollution, especially carbon pollution, because LNG is a good way to displace coal and fuel oil." 
Amos Hochstein
Working for a company which is essentially an offshoot of Cheniere — that is, Tellurian — is Amos Hochstein.
Hochstein served as coordinator for international energy affairs for the Obama administration from August 2014 through the end of Obama's presidency. He now works as senior vice president of marketing for Tellurian, beginning in April 2017 as a vice president and senior adviser. Tellurian was founded in February 2016 by Charif Souki, the founder and former CEO of Cheniere, and has already become a major player in the gas exports orbit.
Tellurian, like Cheniere, recently announced its entrance into the pipelines sector and said it intends to spend up to $7 billion to build out three different pipelines. The company plans to focus on piping gas obtained via hydraulic fracturing ("fracking") from the west Texas Permian Basin over to export hubs in southern Louisiana. 
In November, Hochstein spoke at the U.S. Gas Infrastructure Exports Initiative kick-off event, which was convened by the U.S. Trade and Development Administration (USTDA) and heavily funded by the oil and gas industry, including by Cheniere and Tellurian.
Amos Hochstein, Senior Vice President, Marketing of @TellurianLNG speaking on the panel on 'LNG Export Projects' at the #USTDAGasInitiative launch this morning pic.twitter.com/uKz4gM6cuD

— World Gas Conference (@WGC2018) November 17, 2017
The U.S. Gas Infrastructure Exports Initiative appears to be a newly repackaged version of the U.S. Department of State's now-defunct Global Shale Gas Initiative, which the Obama administration spearheaded under the direction of then-Secretary of State Hillary Clinton.
"USTDA and U.S. industry launched the U.S. Gas Infrastructure Exports Initiative to connect American companies to export opportunities across the gas value chain in emerging economies," explains USTDA's website. "USTDA is working with U.S. industry and government partners to facilitate new gas infrastructure exports, including LNG exports through the development of gas-related infrastructure in key LNG receiving countries."
The State Department is still involved, at least in part, and the department's deputy assistant secretary for energy and natural resources, John McCarrick, spoke at the initiative's launch event.
"Complementing efforts like USTDA's new program on U.S. Gas Infrastructure Development, the Bureau of Energy Resources (ENR) at the State Department is working with governments to craft sound regulations and policies as they pursue LNG imports as a partial solution to their energy needs," said McCarrick at the event. "That is why the State Department helps countries to establish the fiscal, regulatory, legal, and policy frameworks needed to attract investment for energy projects."
#ICYMI: Deputy Assistant Secretary John McCarrick highlighted the @StateDept's role in the natural gas (#LNG) revolution at the launch of @USTDA's U.S. Gas Infrastructure Exports Initiative. Watch the video below and read his remarks here: https://t.co/kLVBL7tT9V pic.twitter.com/7hUK84RbAT

— EnergyAtState (@EnergyAtState) November 27, 2017
Cheniere, Tellurian, the American Petroleum Institute, the Independent Petroleum Association of America, several other U.S. LNG companies, and others are all listed as official partners of the Infrastructure Exports Initiative, according to USTDA's website.
USTDA, as part of the Gas Infrastructure Exports Initiative, is currently considering proposals for technical assistance grants to companies in emerging economies primed to receive U.S. gas exports.
An FAQ on the grant application process discloses that USTDA intends to award grants ranging from $300,000 to $1 million. Proposals were due on January 15 and USTDA says review of them should take about a month. 
Shortly after the U.S. Gas Infrastructure Exports Initiative event, Hochstein also appeared on the U.S.'s only panel at the United Nations climate summit held in November in Bonn, Germany. Under protest and criticism for appearing on a panel rife with fossil fuel industry representative, Hochstein told the audience present: "If we really care about climate change, then we have to stop siloing ourselves into communities where we only talk to ourselves."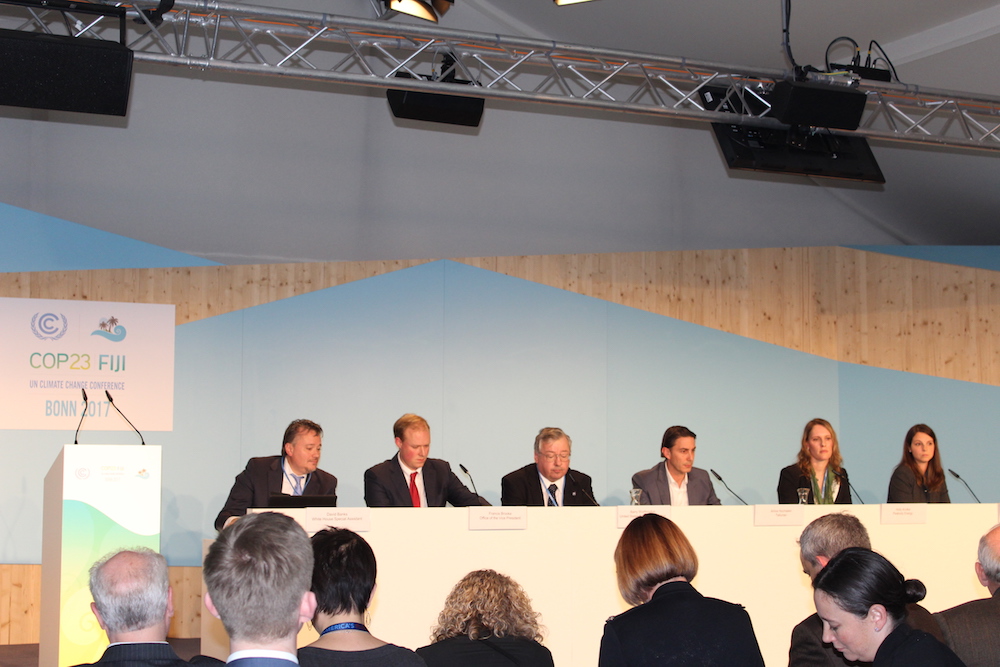 Amos Hochstein, third from right, represented Tellurian at the only U.S.-sponsored event — on fossil fuels and nuclear power — at the 2017 U.N. climate summit in Bonn, Germany. Credit: Ashley Braun, DeSmog
Two other former lead energy diplomats for the U.S. State Department under Obama who came before Hochstein, Carlos Pascual and David Goldwyn, also work for the oil and gas industry. Pascual is employed by the industry consulting firm IHS Markit, while Goldwyn works in various legal and consulting capacities within the industry.
Robert Fee, Christopher Smith, Timothy Glassco
Robert Fee, who previously served as chief of staff and senior adviser in DOE's Office of Fossil Energy under Obama, also spoke at the Gas Infrastructure Exports Initiative's launch event. Fee now works for Cheniere both as chief of staff to its CEO and acting senior vice president of external affairs, according to his biography in the initiative's brochure.
Robert Fee, Chief of Staff & Acting Senior VP, External Affairs, @Cheniere Energy speaking at today's #USTDAGasInitiative launch at the US Chamber of Commerce in DC pic.twitter.com/HavHvMLdoS

— World Gas Conference (@WGC2018) November 17, 2017
Fee's colleague at Cheniere, Christopher Smith, served as Fee's boss while serving in Obama's Department of Energy, where he was assistant secretary for fossil energy. Today, Smith works as an executive at Cheniere as the company's senior vice president for policy, government, and public affairs.
While at the Energy Department in 2014, Smith altered the agency's LNG export permitting process in a way which would uniquely benefit Cheniere. He did so by giving first priority to export companies which have completed a thorough environmental review, rather than granting permits on a first-come, first-served basis. Critics of the LNG export permitting process say that both the environmental review and the permitting process in general essentially function as a rubber-stamp for the oil and gas industry.
Rounding out Obama-era senior-level staffers who have transitioned to the oil and gas industry is Timothy Glassco, a lobbyist who owns his own firm, Timothy A. Glassco Consulting, and worked as a national-level staffer for the 2008 Obama presidential campaign. Today Glassco lobbies for the company Golden Pass Products LLC. Golden Pass LNG export terminal is a 50-50 joint venture co-owned by ExxonMobil and Qatar Petroleum located across Sabine Lake from Cheniere's Sabine Pass location.
Federal Employee Ethics Laws 
Passing through the government-industry revolving door, that is, moving from federal agency employee to industry, is not unusual in Washington, D.C. But the speed at which the cases outlined here have happened may raise questions under current ethics law.
As pointed out in a 2014 Congressional Research Service study titled, "Post-Employment, 'Revolving Door,' Laws for Federal Personnel," Section 207(a)(1) of Title 18 of the U.S. Code "provides a lifetime ban on every employee of the executive branch of the federal government 'switching sides,' that is, representing a private party before or against the United States government in relation to a 'particular matter' involving 'specific parties,' when that employee had worked on that same matter involving those parties 'personally and substantially' for the government while in its employ." 
That study also points to several other sections of the U.S. code which call for one to two year "cooling off" periods for federal agency employees who represent specific parties or entities working on the same issues as those under their jurisdiction during their government employment. For example, the study points to Section 207(a)(2), which "provides a two-year ban on all federal employees in the executive branch on the same types of representational, post-employment conduct involved in the lifetime ban."
"This two-year restriction, while more limited in time than the previous ban discussed, is potentially broader in matters covered, as it does not require that the former government employee had personal and substantial involvement in the matter when that individual worked for the government, but rather merely that it was under his or her official responsibility," reads the Congressional Research Service study.
The Office of Government Ethics, which oversees these matters, has been weakened under the Trump administration. The current administration's lack of enforcement motivated Walter Schaub, Government Ethics Office Director under Obama, to publicly resign in July. In theory, such a political climate could have made these ex-Obama officials feel comfortable moving so quickly to work for the industries they regulated during the previous administration.
One thing remains certain: Former government officials dating back to the George W. Bush administration have helped Cheniere reach its status as the top U.S. gas exporter. Tellurian, now run by Cheniere's founder, appears to have joined the club.
Main image: Near Cushing, Oklahoma, in 2012, President Barack Obama highlighted the administration's commitment to expanding domestic oil and gas production. Credit: White House, public domain