A country club luncheon. A $130 steak dinner. A whiskey tasting. Dinner at an historic neo-Georgian mansion.
These are just a few examples of the many occasions last year when oil and gas lobbyists wined and dined West Virginia state lawmakers on key committees that craft fossil fuel legislation. Lobbyists representing industry players including natural gas giant EQT, Antero Resources, TransCanada, and multiple oil and gas trade associations wooed state lawmakers with thousands of dollars' worth of food and drink throughout 2017, according to lobbying records obtained by DeSmog.
In early 2018, just months after some of these fancy gatherings took place, most oil and gas companies got something they wanted: A "co-tenancy" bill, HB 4268, that allows these companies to drill for natural gas on private land with the consent of only 75 percent of the landowners. The powerful fossil fuel industry in the state often secures favorable treatment from politicians of both parties whom they lobby — and to whom their corporate political action committees donate.
In a February 9 public hearing held by the House Judiciary Committee on the hydraulic fracturing ("fracking") bill, West Virginia resident and first-time House of Delegates* candidate Lissa Lucas began to list campaign donations that committee members had received from fossil fuel interests. Her recitation didn't last long, as Chairman John Shott had her removed, alleging these publicly available statistics were "personal." A video of these events went viral online.
I previously reported for VICE.com that seven members of that committee hold financial stakes in the oil and gas industry, work for an oil- and gas-connected company, or both. In addition, oil and gas interests donated roughly $240,000 total to the 16 Republican members of the House Judiciary Committee, all of whom voted to advance the bill.
On February 15, the full House voted mostly along party lines to approve the measure, sending it to the Senate's Judiciary Committee, where it is in debate. But another, competing proposal is in the works, and has the support of the Republican governor, Jim Justice, who said he might veto the co-tenancy bill if it passed the Senate.
Gov. Justice surprised many West Virginians on February 26 by promoting a "grand bargain" bill that he hoped lawmakers would bring up in a special legislative session. The proposal pairs a "joint development" policy — which would allow companies to combine old gas drilling leases even if these leases were signed before horizontal drilling technology was developed — with a gas severance tax to help increase teacher pay and fund healthcare.
Natural gas giant EQT Corporation supports joint development and has been accused of insider dealings; a volunteer adviser to Justice is Bray Cary, a member of EQT's board of directors and major shareholder.
Oil and gas companies aren't happy with the proposed increased severance tax. In a statement, Anne Blankenship, director of the West Virginia Oil and Natural Gas Association (WVONGA), said her group "is very concerned" at the governor's proposal.
"Great progress has been made by stakeholders on this cotenancy bill to ensure that investment in West Virginia by the oil and gas industry continues to boost the state's economy," she said.
Just a day after his proposal, Gov. Justice announced he would raise teacher pay without, at least for now, tying the funding to a gas severance tax, clearing the way once again for HB 4268.
Both co-tenancy and joint development would aid the oil and gas industry and impact a proposed petrochemical storage and refining facility that is likely coming to West Virginia and is heavily financed by a Chinese state-owned energy investment company. The facility will house fracked oil and gas from the Marcellus and Utica shale basins in the region.
A Lobbying Blitz From
EQT

 Corporation

New lobbying revelations by DeSmog represent an important layer in the multi-pronged strategy that major oil and gas companies in West Virginia employ to achieve their goals in Charleston.

On January 24, 2017, Danielle Waltz and three other lobbyists for EQT, the biggest natural gas producer in the country, kicked off the year by taking state legislators on several key committees, including Sen. Charlie Trump, Sen. Patricia Rucker, Del. Riley Moore, and Del. Jill Upson, out for lunch at a neo-Georgian mansion in Martinsburg, West Virginia.

Then on March 6, Waltz and two other EQT lobbyists treated Sen. Trump, Senate President Mitch Carmichael, and Sen. Craig Blair to $53 steak dinners at a restaurant in downtown Charleston.

In the first half of 2017, Waltz and other EQT lobbyists held multiple lunches for the Senate Judiciary Committee and the Senate president's office. On July 20, Waltz and other EQT lobbyists dined at the Edgewood Country Club with Moore and Moore Capito, buying each of them $94 worth of food and beverages.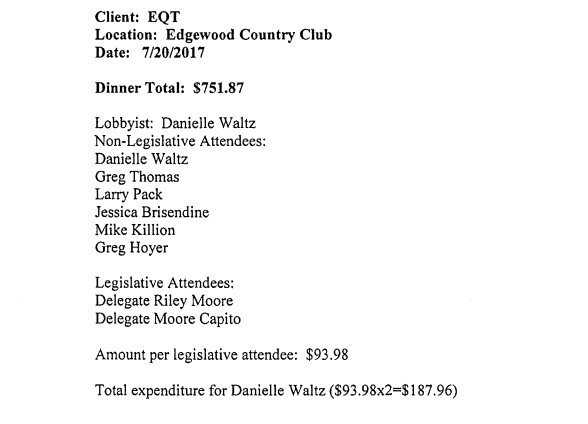 Lobby disclosures reveal that EQT lobbyist Danielle Waltz bought state legislators $94 lunches at a country club in July 2017.
On November 16, 2017, Gregory Hoyer, EQT government affairs manager and West Virginia Chamber of Commerce board member, took out Del. Geoff Foster, future cosponsor of HB 4268, for a $54 lunch in Charleston. Later that month, Hoyer treated two HB 4268 co-sponsors (Foster and John Kelly) and the primary sponsor of the drilling bill, Bill Anderson, to meals.
Early in 2017 Hoyer had taken Del. Jason Harshbarger (who works at Dominion, earns oil and gas royalties, and is Lissa Lucas's opponent) and Joshua Higginbotham (HB 4268 cosponsor) out to dinner. EQT's PAC has donated $12,500 to House Judiciary Republicans who voted to advance HB 4268.
More Industry Players
WVONGA, which has been pressuring lawmakers to pass "co-tenancy" legislation, originally proposed allowing companies to drill in areas with the approval of only 50 percent of landowners, rather than the 75 percent required in HB 4268.
On December 4, 2017, Harshbarger's campaign held a fundraising event hosted by a number of oil and gas lobbyists and held at WVONGA's offices. The lobbyists, as Lucas notes on her website, represented oil and gas firms and utilities Antero Resources, Consol Energy, Dominion Energy, EQT Corporation, First Energy, and Southwestern Energy.
WVONGA's Blankenship personally treated key lawmakers to upscale dining experiences in advance of HB 4268's introduction. On December 12, just six weeks before the bill's introduction, Blankenship took several delegates out for dinner at Laury's Restaurant, "the premier fine dining establishment in Charleston," to discuss oil and natural gas issues. Carmichael, House Speaker Tim Armstead, Capito, and Cory Palumbo (a Democrat and partner at a law firm specializing in oil and gas issues) each enjoyed $100 meals.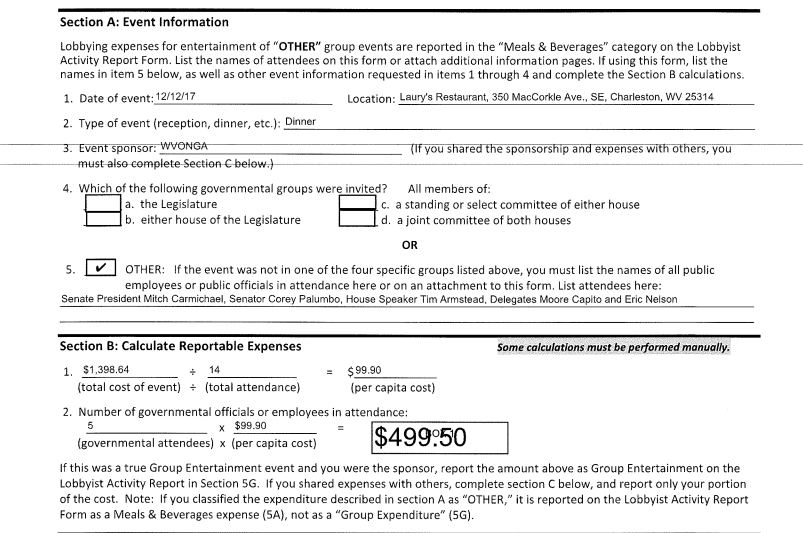 Lobbying disclosure showing that the West Virginia Oil and Natural Gas Association bought $100 dinners for five state lawmakers in December 2017, just weeks before a key vote on fracking legislation.
Other prominent oil and gas lobbyists in the state did their part as well. Robert Orndorff, state policy director for Dominion, West Virginia Chamber board member, and former WVONGA president, took several key lawmakers including Harshbarger, Del. Ray Hollen (HB 4268 cosponsor), Del. Ben Queen, and Guy Ward (cosponsor) to dinner in March 2017. Then in May, Orndorff took Harshbarger and HB 4268 cosponsor Del. Charlotte Lane out for $50 lunches.
Benjamin Beakes, a TransCanada lobbyist and former West Virginia GOP staffer, spent $1,000 on a dinner in October during which he and 10 key lawmakers discussed "pipeline construction updates."
Late last year, several Judiciary Committee members attended a number of events hosted by the West Virginia Chamber of Commerce, which supports co-tenancy legislation and counts oil and gas companies as members. The chamber footed the food and lodging bills for Shott, Harshbarger and his spouse, Del. Steve Westfall (HB 4268 cosponsor) and his spouse, and Kelly. In addition, the chamber also gave $121 "trophy awards," classified as gifts on lobbying reports, to these delegates and Del. Mark Zatezalo (cosponsor).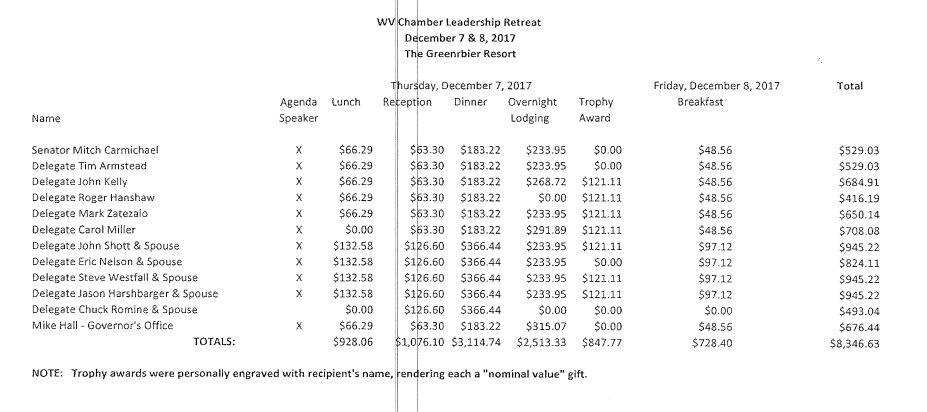 Lobbying disclosures show that the West Virginia Chamber of Commerce paid for food and resort lodging for state government officials and some spouses for a retreat in December 2017.
Other oil and gas companies and trade groups that bought meals for key state lawmakers in 2017 include Enbridge, the Independent Oil and Gas Association of West Virginia, and the West Virginia Land and Mineral Owners Association.
And the party has continued into 2018. Just two days before the public hearing when Lucas was removed, legislators were treated to a whiskey tasting hosted by the Shale Energy Alliance, which supports joint development.
More recently, on February 13, the West Virginia Chamber hosted a legislative breakfast on natural gas development, sponsored by EQT, when members had "the opportunity to hear from leading legislators on the hottest topics underway at the Capitol."
Power Dynamics
However, not everyone is excited about the oil and gas industry's influence in Charleston.
That includes the West Virginia Environmental Council, "a collaborative effort involving dozens of environmental organizations across West Virginia," Chuck Wyrostok, chair of the council's Government Affairs Committee, told DeSmog. "Its budget is a tiny fraction of industry's treasure chest, and yet each year it manages to hire a team of savvy lobbyists to fight to defend our air and water from degradation."
Justin Raines, chair of the Sierra Club's West Virginia chapter, which lobbies primarily via the council, would agree.
"We have less power than the oil and gas industry, obviously, but we've still been able to make a big difference," he told DeSmog. "People are beginning to wake up to how sold out our system is, and how much corruption there is at the top."
"What infuriates me," Lucas told DeSmog, "is the time our legislators spend listening to these talking points, without near the same time listening to the regular people who will lose their property rights … I mean, what do you think the chances are that they'd come to my house and chat with me for hours over venison burgers?"
Lobbyists Waltz, Hoyer, Blankenship, Orndorff, and Beakes did not return DeSmog's requests for comment.
Campaign Contributions
"Oil and gas is far and away the largest contributor as far as campaign finances go," said Raines, "especially if you include energy companies that are burning gas and usually have the same interests."
Overall, EQT has donated nearly $103,000 to the campaigns of West Virginia state candidates since 2000. Oil and gas interests have donated more than $600,000 to the campaigns of state senators and delegates since 1998. Most lawmakers on the committees that wrote HB 4268 have received large sums from the industry, including Frank Deem ($14,550), who owns an oil and gas company; Hanshaw ($5,100); and Capito ($4,625).
"The WV Legislature is, with few exceptions, made up of pay-to-play politicians, resulting in an outsized advantage for the fat cats," Wyrostok told DeSmog over email. "Only campaign finance reform can begin to address that."
"Because I can't offer big donations, I got less than two minutes at a public hearing," said Lucas. "And when [House Judiciary Committee members] didn't like what I had to say, they hauled me off. Yet they should be aching to hear what they could do to make things better for regular people."
*Update 2/28/18: This story originally listed Lissa Lucas as a candidate for state Senate. She is actually running for a seat in the House of Delegates.
Main image: Oil and gas lobbyists treated West Virginia lawmakers on key committees to thousands of dollars' worth of food and drinks in 2017 before legislators voted to approve a bill the industry was pushing. Credit: Pexels, CC0 License