A controversial new coal mine is just weeks away from opening – unless a small, spotty amphibian gets in the way, that is.
Protesters at the Pont Valley camp near Dipton in County Durham claim to have found one of the creatures. That could be very bad news for Banks Group, which is rushing to start extracting coal from the site.
Great Crested Newts are protected by European law, and conducting activities to harm the species or their habitat without a license is illegal.
Banks Group do not have the license, because they say there are no Great Crested Newts on site.
The issue has been a long-running source of conflict between the company and local residents campaigning against the proposed mine. It's now urgent, as Banks need to start the process of extracting coal from the site within 40 days, otherwise its permit to mine will expire.
The UK government has pledged to phase out coal power by 2025, and protesters say this removes any economic argument to continue mining for the world's most polluting fossil fuel.
Finding Newts
The process of establishing whether there are Great Crested Newts is not without controversy.
An email from June 2017 obtained through a Freedom of Information request shows Natural England provided Banks Group with three options should Great Crested Newts be found on site.
One option was to create a new habitat to compensate for the loss at the Pont Valley site. Another was to transport the newts to a new site.
But a third option gave the company a get out card, campaigners say. It said that the company could employ an ecologist to assess the site – as it standard practice – and they may find that there are no newts on site. In that case, the company could proceed without a license.
The advice says this is "unlikely to be the case", however, as Great Crested Newts are a resilient population and were known to live on the site historically.

In a subsequent email from February 2018, a Natural England advisor appears to confirm that Banks Group is pursuing "option 1" – that the company's ecologist did not believe a Great Crested Newt population was at risk.
It said Natural England would therefore  not be expecting a license application if the company's consultant is "satisfied" there would be "no residual likelihood of impacts" from Banks' activity.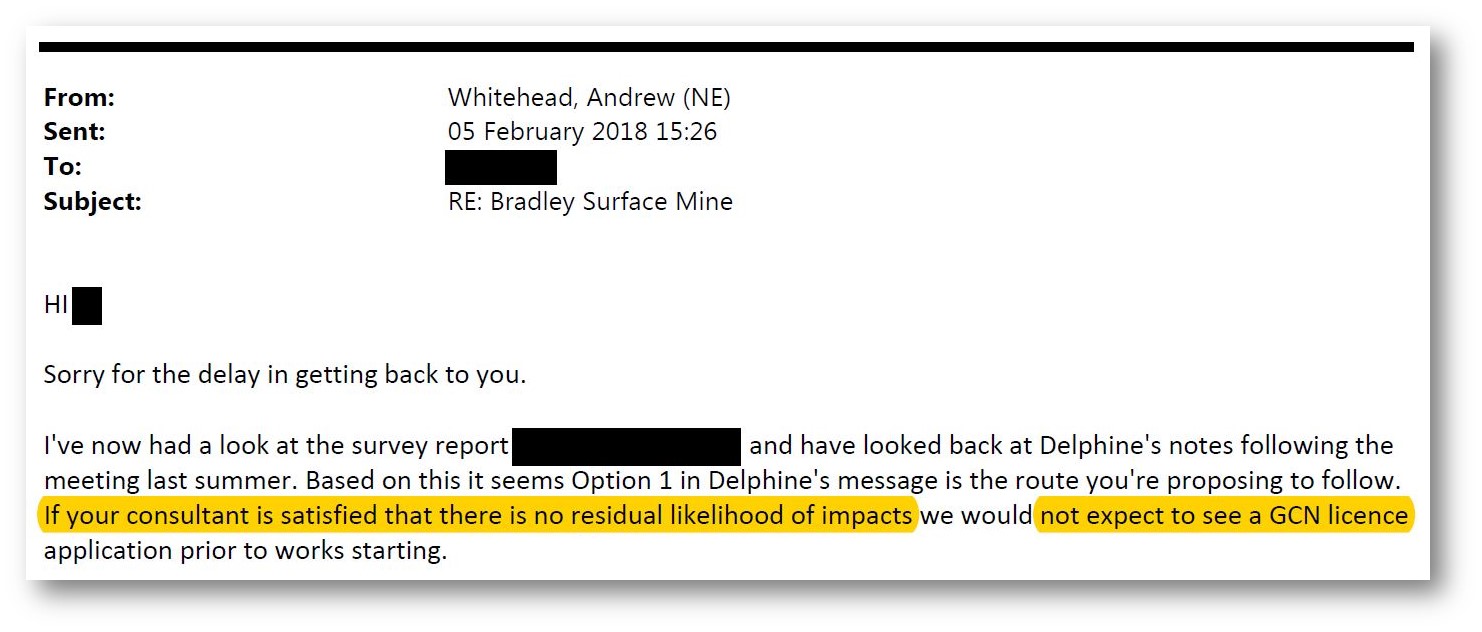 If the company were to now pause work to do new surveys or choose to take a different option, it would likely take longer than the 40 days Banks Group has to start the work before its license expires.
That could mean the company would have to reapply for the site's license — a process that could take years and would likely be once again challenged by local residents and anti-coal protesters.
Next Steps
In the past week, protesters claim to have found Great Crested Newts on the site, however. They called on the local council to halt Banks' activity as a consequence.
Scarlet Hall, a campaigner with Coal Action Network, said in a statement that "no work should be allowed to happen until Banks have a license to safeguard this protected species".
Natural England responded to being alerted of the finding by publishing a statement that said "If Great Crested Newts are found on a site the developers must take action and ensure they are not in breach of any wildlife legislation".
It said it was no longer within the organisation's "remit to investigate allegations regarding sightings of great crested newts", however, as previous surveys on which it had given advice "showed there were no newts on site".  
Professor Richard Griffiths, an ecologist from the University of Kent, told DeSmog UK that while there needed to be "some quality control" to establish sightings, it would be "rather reckless" for activities to continue without at least trying to establish the veracity of the claims.
Without commenting on the specifics of the Pont Valley story, Griffiths told DeSmog UK that generally it would be "a good idea to check" such claims to ensure there was no illegal activity.
Lewis Stokes, community relations manager at Banks Group, told DeSmog UK that, "operations planned at the Bradley site have thoroughly considered all environmental matters including ongoing checking surveys by independent ecologists. "
"These included extensive surveys of all ponds on the site over 2017, using Environmental DNA (eDNA) sampling and terrestrial refuge assessment, which found no evidence of any great crested newts."
Image: Leonora Enking/Flickr CC BY–SA 2.0. Updated 25/04/2018: The Pont Valley camp is in County Durham, not Northumbria as originally stated. The protestors claim to have found one Great Crested Newt, not "some" as originally stated.