Climate change was the single biggest issue raised during oil giant BP's annual general meeting, as both activists shareholders and institutional investors pushed the company to take more ambitious action to shift its business model away from fossil fuels.
Campaigners criticised BP senior executives for at times "dismissive" answers, which they say showed little willingness from the company to take into account some issues around emissions, social justice and human rights.  
For the first time, BP's AGM was held outside of London and activists and investors gathered in Manchester on Monday from around the country.
Despite a much smaller number of participants – with about 200 people in attendance compared with more than 1,000 in previous years – the meeting lasted just short of three hours during which BP's board was repeatedly grilled on climate change.
'

A lesson in corporate evasion'
From BP's climate scenarios, to its membership to trade associations with poor environmental track records, to the financial risk of the lawsuits being filed against the company and its plans for oil drilling in the Amazon mouth in Brazil and fracking in Argentina, BP's senior executives had a lot to answer for.
BP chairman Carl-Henric Svanberg and chief executive Bob Dudley answered most of the questions raised by shareholders, including from the Church of England Pensions Fund, Aviva investors and London-based Hermes Investment Management.
Svanberg and Dudley emphasised the company's commitment to a transition to a low carbon economy and its support for a carbon price. They claimed to be the first company to publicly identify the risk of climate change back in 1998 while continuing to say that as an energy company, BP had to be part of the solution.
But campaigners were not impressed with their answers.
Martin Porter, an activist for ShareAction, described the meeting as "an instructive lesson in corporate evasion and lying", pointing to the fact BP repeatedly avoided answering the questions.
Attending the AGM was new experience for Emma Wilkes, of Manchester, who attended the AGM as a proxy for one of the BP's shareholders. Despite the excitement of the occasion, the meeting fell short of her expectations.
"It was really powerful to be in a position where you have a voice and it is being heard but it was all talk," she told DeSmog UK. "The focus on climate change and green issues was definitely interesting but it left like one big greenwash session," she said.
It was also Bill Warren's first time as an activist shareholder, who was speaking on behalf of his daughter Rebecca Warren, a board member for Amnesty International UK.
Warren asked BP executives whether they recognised climate change as a human rights issue but the question was dismissed by CEO Dudley, who accused some shareholders of leaving the door open to legal action against the company.
"They are clearly frightened of lawsuits and won't take on the responsibility that climate change caused by the company is a human rights issue," Warren said.
He added: "Climate change was the biggest issue of the meeting because it's a huge issue for the oil and gas industry but today also showed that BP is not going to get off the hook of oil and gas."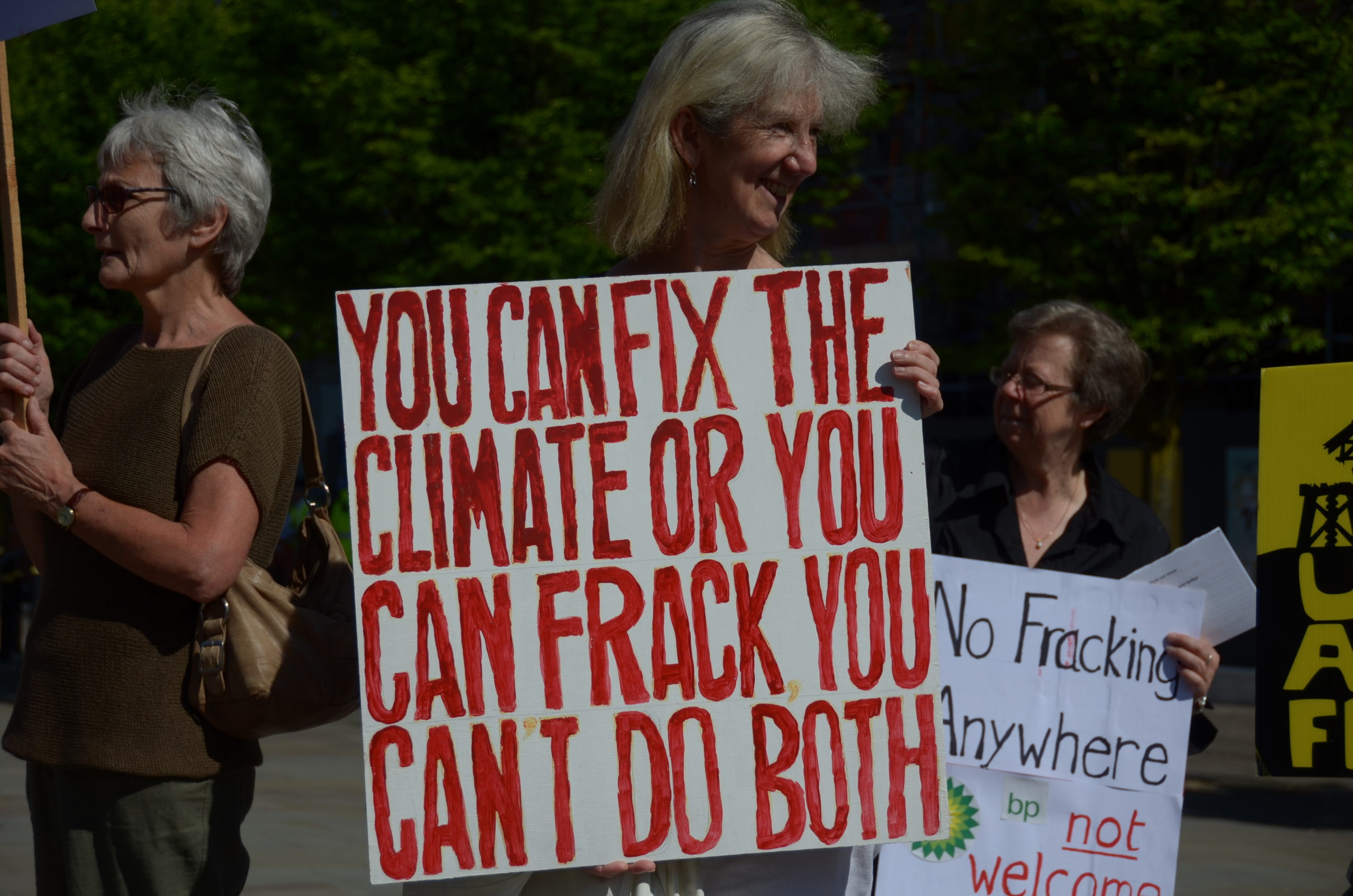 Ali Stopher calling on BP to end all its fracking activities outside the company's AGM in Manchester. Image Credit: Chloe Farand
Ali Stopher, from Fossil Free West Yorkshire, travelled from Huddersfield to ask what the company was doing about repeated oil spills by Russian company Rosneft, in which BP owns a 20 percent stake. She too was disappointed with BP's answers.  
"They brushed aside so many important questions. There is a lot of talk but all this is used to hide the fact they are not doing very much," she said.
Anna Amakova, from oil watchdog group Platform, accused BP executives of "recycling" their answers on climate change.
"They had three lines they used throughout the conference and dismissed many of the questions by saying they didn't know what we were talking about or by telling us to ask the question to someone else, like a government or a regulator," she said. 
BP

's fracking plans in Argentina  
Outside the conference centre, campaigners gathered to demand BP put an end to its fracking activities around the world and stop "fossil fuel imperialism".
Maggie Walker, from Fossil Free Greater Manchester, said: "BP has to leave London for its AGM to get away from protesters but BP is not welcome in Manchester".
With climate change and social justice at the heart of this year's debate, some campaigners had come as far as Argentina and Colombia to hold BP to account for its operations worldwide.
Fernando Cabrera, from the NGO Observatorio Petrolero Sur, travelled from Patagonia where BP-controlled Pan-American Energy plans to frack dozens of wells in the highlands of Vaca Muerta.
This is despite BP previously ruling out fracking in the UK because it would "attract the wrong kind of attention".
Speaking to campaigners Cabrera said: "The money that was talked about today comes on the back of a lot of suffering. Fracking complete destroys the sustainable and clean responsibilities that these oil companies speak about internationally."
"Like in Manchester and Lancashire, we are also fighting against fracking. I don't think solidarity is a strong enough word to describe how we stand together on this issue: this is about sisterhood," he added.
Asking BP executives whether they were aware that the fracking plans in Patagonia threatened development opportunities in the region, chairman Svanberg said: "Fracking is a technology that has been around for a very long time and it is a very widely accepted technology to get to tight rock. In the US it has totally changed the country's energy agenda, reduced coal and reduced emissions.
"It seems like a huge opportunity in Argentina and its energy industry in a country which needs growth. But it has to be done in the right way and we believe that it is. Whether these assets should be developed at all is a question for the government in Argentina."
'

A drip-feed approach'
Tight security, men in suits and a corporate PR machine at work may not seem to be the obvious target for anti-fossil fuel activists seeking to put pressure on big oil. But shareholder activism can be a powerful tool for campaigners to get their message across to top executives while playing by their rules.
Holding even one share in a company enables campaigners to attend and vote in its annual meeting and ask questions directly to the company's top decision-makers.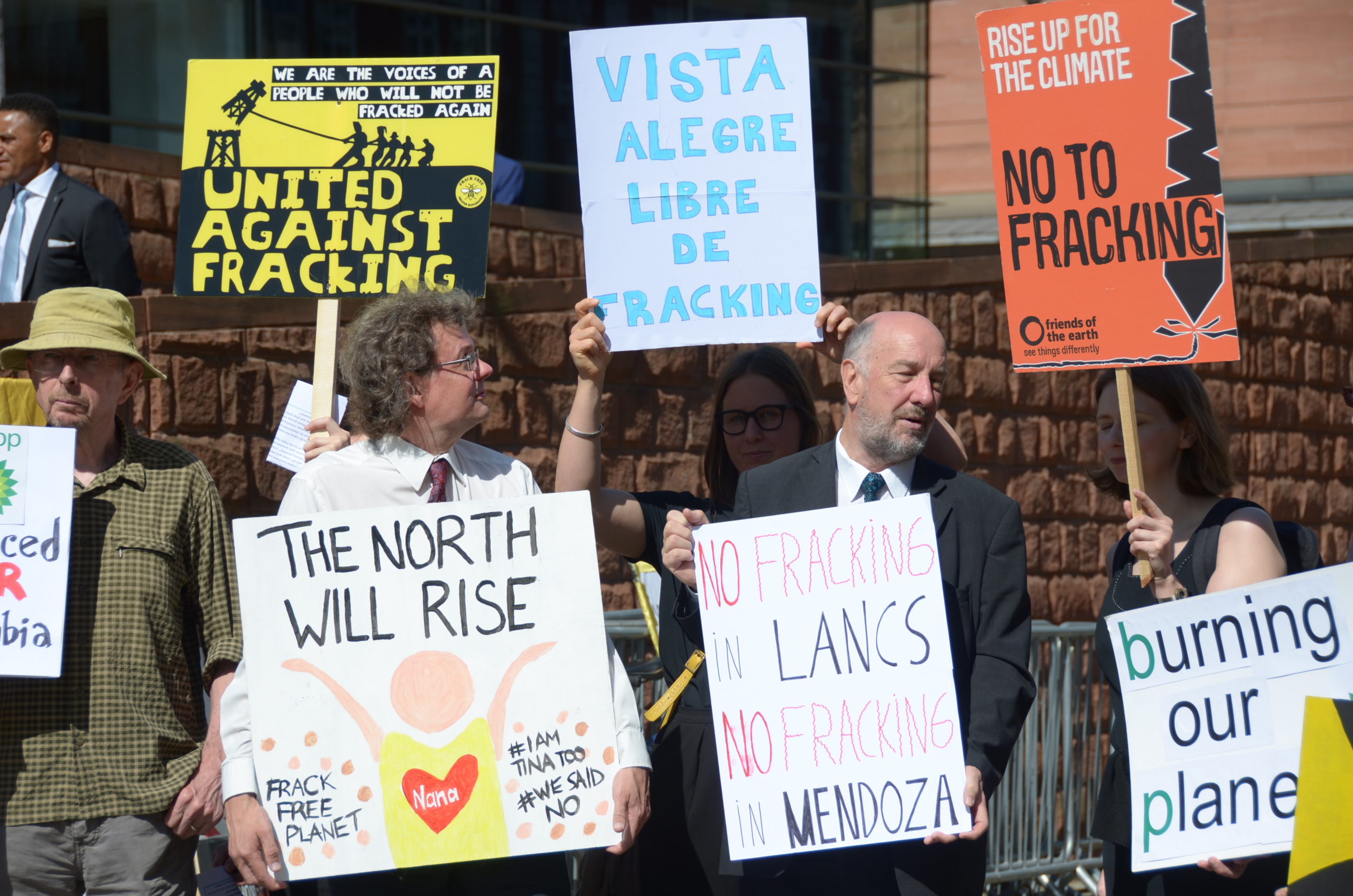 Protesters outside the BP AGM in Manchester. Image Credit: Chloe Farand
Amy Simon, a member of the climate team at NGO ShareAction, said she found it "encouraging" to hear similar climate change and social justice concerns had been raised by a range of stakeholders from both ordinary and institutional shareholders and activists.
"I hope that hearing from concerned investors will encourage BP to take some action on these issues over the next year."
Simon described AGM activism as "a really empowering and direct way of holding company directors to account".
She added: "By attending AGMs, we can still send radical messages but in a more measured way – I think it's a really effective tool for constructive dialogue and following-up on issues year after year."
Speaking to DeSmog UK, Colette St-Onge, also of ShareAction, said it was "impressive to see so many determined people come to Manchester to ask BP some meaningful questions about climate change" but that this was not the most important part of the AGM.
She said the networking time at the end of the meeting when executives came to meet shareholders was often the moment "when a door can open" by raising issues directly with executives.
"We are not going to change their positions on the day," said Ali Abbas, a volunteer at Friend of the Earth Manchester.
"It's a drip-feed approach by making sure that issues are raised and heard and repeated every year. This might also make other investors think again about issues they may have not considered before. But we also need to engage with their public policy, how pensions funds invest in their business. Shareholder activism is only one part of the equation," he said.
Image Credit: Chloe Farand