Under the purported banner of national security, Energy Secretary Rick Perry appears again to have heeded the self-described "desperate" calls of coal baron Robert Murray in order to prop up dying coal and nuclear plants. This time, Perry is planning to resort to federal emergency measures typically employed during wartime or natural disasters, according to Bloomberg.
Bloomberg first reported this latest development based on a draft Department of Energy (DOE) memo:
"Trump administration officials are making plans to order grid operators to buy electricity from struggling coal and nuclear plants in an effort to extend their life, a move that could represent an unprecedented intervention into U.S. energy markets.
The Energy Department would exercise emergency authority under a pair of federal laws to direct the operators to purchase electricity or electric generation capacity from at-risk facilities, according to a memo obtained by Bloomberg News. The agency also is making plans to establish a 'Strategic Electric Generation Reserve' with the aim of promoting the national defense and maximizing domestic energy supplies."
Coal Mogul Blues
For more than a year, Murray, CEO of the nation's biggest underground mining company, Murray Energy, has been pleading directly with President Donald Trump and Secretary Perry to bail out coal plants that have been unable to compete with natural gas and renewables and risk closing.
In August 2017, Murray sent the White House a letter spelling out his industry's woes and complaining that his pleas had not yet been answered by the Trump administration. In particular, he was lobbying on behalf of Murray Energy's biggest customer, FirstEnergy, which ultimately filed for bankruptcy in March 2018.
"We are desperate for the President to, once again, order Energy Secretary Perry to invoke Section 202(c) of the Federal Power Act for FirstEnergy's merchant power plants," wrote Murray.
Murray also puzzled that he couldn't figure out why this had not yet been done, writing: "In Youngstown, Ohio, nine days ago, after my personally speaking with President Trump, he turned to Energy Secretary Rick Perry and said three (3) times, 'I want this done.'"
In keeping with this request, last September, Perry called on the Federal Energy Regulatory Commission (FERC) to fast-track a multi-billion dollar proposed "grid resiliency" rule that would have required utility customers to buy above-market rate electricity from otherwise uncompetitive coal and nuclear plants for the stated goal of preserving grid reliability — despite his own agency's finding that preventing these retirements wouldn't really do much for the grid.
The day before the announcement, Perry tweeted his support for coal.
For too long, coal has been reviled. It is time for coal to be revived. #americanenergydominance #usa pic.twitter.com/GdIHEqGkIv

— Rick Perry (@SecretaryPerry) September 28, 2017
After receiving hundreds of pages of comments ghostwritten by FirstEnergy, FERC ultimately shot down that rule in January, and Murray later blamed this decision for FirstEnergy's bankruptcy filing.
Despite Murray's claims he "didn't have any involvement" in the rule DOE proposed to FERC, In These Times revealed a secret March 2017 meeting between Perry and Murray, in which the coal CEO presented his "action plan" for federal agencies to aid his struggling industry — and in which he hugged Perry.
Do Closing Coal Plants = National Emergency?
Despite these setbacks, Trump's DOE and Murray seem undeterred, as the latest plans indicate. As DeSmog's Ben Jervey reported in April after the coal baron and Perry both spoke at the BNEF Future of Energy Summit:
"Emboldened by President Trump's promises to 'save the coal industry,' conservatives who have long argued against subsidies for solar and wind power have a newfound desire for the federal government to pick winners in energy systems, as a growing number of coal plants become uneconomic and close down.
Murray, for instance, wants the DOE to approve an emergency order, under Section 202(c) of the Federal Power Act, which allows the federal government to intervene in energy markets in times of electricity reliability emergencies, though it's only ever been used historically in times of war or sudden resource shortage."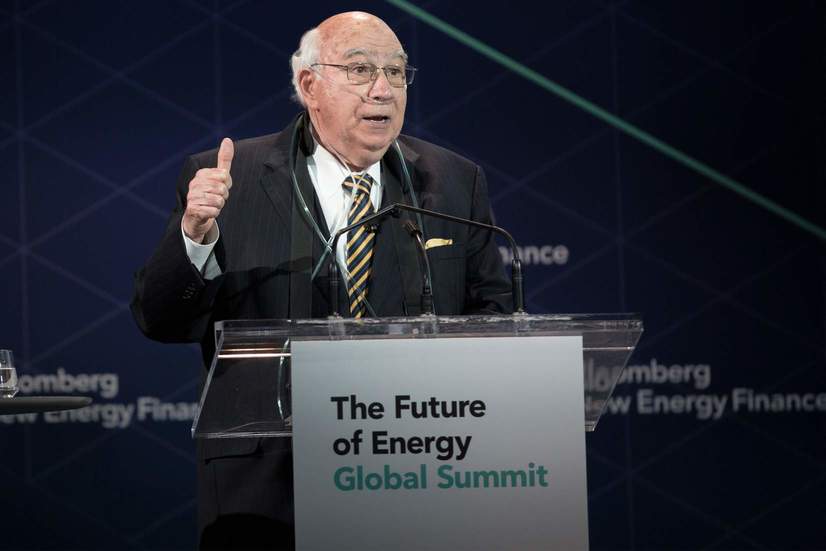 Murray Energy CEO Bob Murray at the Bloomberg New Energy Finance (BNEF) summit in April 2018. Credit: Bloomberg New Energy Finance
When Perry was asked about this approach at the summit, he replied it was one of multiple options under consideration at the time.
"The 202(c) may not be the way that we decide is the most appropriate — the most efficient way to address this," he said. "It is not the only play."
However, this measure is one of two approaches the DOE appears to be moving ahead with. The other authority is a Cold War-era rule known as the Defense Production Act, which allows the federal government to order power plants to stay open based on national security concerns, typically during wartime.
"Such powers have been invoked in very limited instances," according to Rabeha Kamaluddin, energy lawyer with Dorsey & Whitney, "and in those instances, 'emergencies' have pertained to natural disasters, hurricanes, and major blackouts; events that hit at the core of grid reliability and power supply."
The unusual move could have historic consequences for the energy industry, if successful. It would substantially broaden the definition of an emergency under the Federal Power Act and allow the DOE or FERC "to invoke such powers in future cases where the underlying reason for the emergency is an economic one," said Kamaluddin.
The natural gas and renewables industries were none too pleased with the news of the DOE memo. According to Bloomberg, an unlikely coalition of proponents for both these industries told Perry that they don't see any emergency that would rationalize the DOE taking these extreme steps because "power plant retirements are a normal, healthy feature of electricity markets."
Environmental groups were likewise irked that the DOE plans claim a national security argument.
"This would be the most outrageous scheme yet," said John Moore of the Natural Resources Defense Council (NRDC), according to the Washington Examiner.
"The only risk here is to Trump's campaign promise to bail out very expensive polluting coal and aging nuclear plants, which will cause our electric bills to skyrocket," Moore said. "And the only security that will be protected is that of the companies who want a massive bailout."
Main image: Energy Secretary Rick Perry, left, at the 2018 Conservative Political Action Conference (CPAC). Credit: Zach D. Roberts for DeSmog