Ireland's Agriculture Minister, Michael Creed and his officials are mounting a co-ordinated campaign to mislead the Irish parliament (Dáil) about the true state of spiralling dairy emissions, DeSmog.uk has learned.
Emissions from Ireland's rapidly expanding dairy sector have shot up in recent years, in direct conflict with government policy. But the government continues to use bunk data to assert that this is not the case.
On 26 April 2018, Minister Creed told the Dáil: "in the five-year period 2012-2016, dairy cow numbers have increased by 22 percent and corresponding milk production by 27 percent while emissions increased just 8 percent, demonstrating a level of decoupling is occurring."
This point was amplified by one of Creed's senior officials, Jack Nolan, at a parliamentary joint committee hearing, when he claimed: "S​ince 2015 we have increased milk output by 13.5 percent, whereas emissions have only increased by 1.6 percent. Massive efficiency gains are happening at the moment".
Junior Agriculture Minister, Andrew Doyle in December 2017 made the same point about apparent dramatic decoupling of dairy output from carbon emissions.
All these claims are refuted by data compiled by Ireland's Environment Protection Agency (EPA). This indicates that carbon dioxide equivalent emissions from dairy rose by a massive 24 percent from 2012 to 2016,​ ​which closely tracks the 22 percent increase in national dairy cow numbers and a 27 percent milk production hike in the same period.
An Taisce, Ireland's national trust, became aware of the statements being made within the parliament and wrote to Creed on May 4th last, pointing out the erroneous data and requesting that he formally correct the Dáil record.
In response, Creed admitted to An Taisce that his claim of 'only' eight percent emissions increases arising from a 27 percent increase in dairy output "is the growth in total agricultural emissions and reflects that while dairy numbers (and emissions) are increasing, other sub-sectors of agriculture are contracting". It is, the minister added, "valid to consider the sector as a whole in presenting this data".
However, An Taisce told DeSmog UK that the minister's response was "simply indefensible". ​By not correcting his statement, "it seems the minister is now willing to mislead the Dáil and the public, even when called out. This is unacceptable. We now publicly call on the minister to correct the Dáil record as a matter of urgency".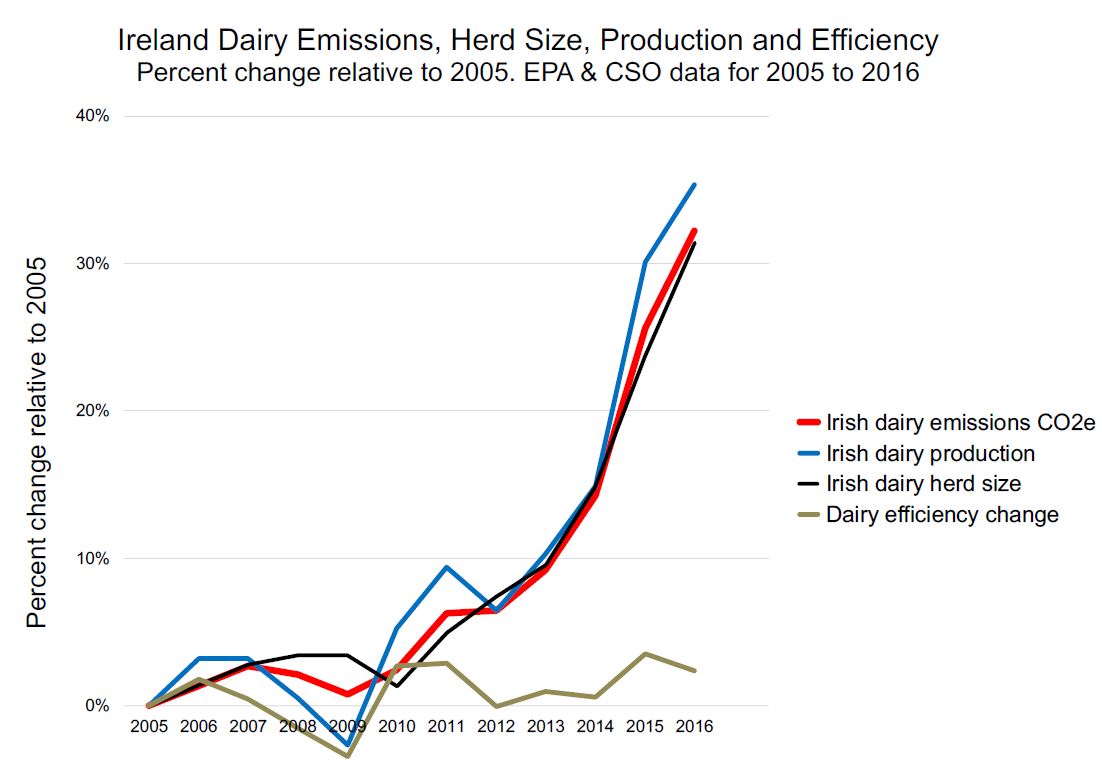 Source: Ireland Environmental Protection Agency
The reason officials like Creed are prepared to go to such lengths to present a rosy picture of agricultural emissions is that rapid expansion of the national dairy herd is de facto  government policy, even though it flatly contradicts the Irish state's EU and Paris Agreement obligations to slash carbon emissions.
Recent EPA projections showed that, instead of meeting its EU obligations to cut carbon emissions by 20 percent by 2020, Ireland would "at best" achieve a negligible one percent cut versus 2005 levels. Agricultural emissions, meanwhile, continue to spiral, hence the pressure on ministers to massage the figures to present a 'good news story' on dairy emissions.
More pressure was ratcheted on Irish government inaction with the publication earlier this month by Climate Action Network Europe of its ranking of EU countries in terms of their ambition and progress in tackling climate change. Ireland was ranked 2nd worst in the EU, only ahead of coal-dependent Poland in the rankings.
Irish prime minister, Leo Varadkar is clearly uneasy at the growing reputational damage arising from what he admits is its status as a climate "laggard". He told the European Parliament earlier this year that he was "not proud of Ireland's performance" on climate, but domestically, the grip of the powerful agri-industrial lobby on government policy remains unshaken.
Having failed to manage emissions, it appears at least some in the Irish government have switched focus to concentrate on managing climate change messaging instead.
Disclosure: John Gibbons is a volunteer member of An Taisce's climate change committee.
Image: Lainey Dyer/Flickr CC BY 2.0. Updated 26/06/18: The word 'fast' was added to the headline.