Museum officials are failing to engage with climate concerns when choosing sponsors for major events, new documents reveal.
Campaigners say this means publicly-funded institutions continue to pick sponsors that are "at odds with the museum's values as a scientific institution".
Correspondence between staff members of Manchester's Science and Industry Museum, obtained by DeSmog UK through a freedom of information request, detail the institution's response to criticisms after taking on fossil fuel giant Shell as an exhibition sponsor during the city's Science Festival.
---
Like what you're reading? Donate here to support DeSmog UK's journalism today 
---
One email to the museum's "senior management team" from a staff member whose name has been redacted suggests a series of arguments that can be used to counter criticisms of the sponsorship deal.
The core points suggested are to emphasise that other larger museums have taken sponsorships from fossil fuel companies, that trustees approved the sponsor, and that the museum retains editorial control over the exhibition.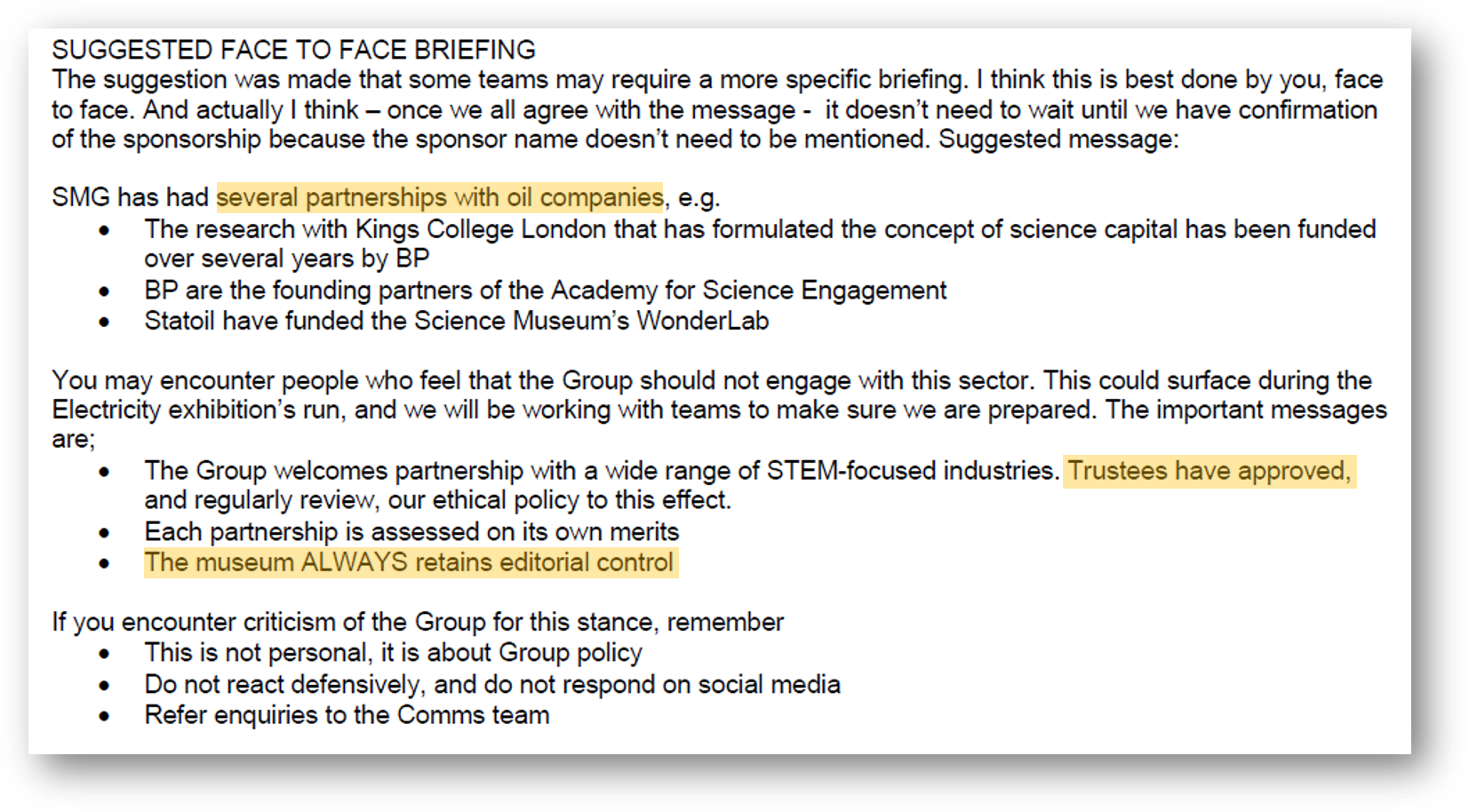 The emails also reveal that an automotive company not named in the documents was originally lined-up as the exhibition's headline sponsor but pulled out. No detail is provided as to why the company decided not to proceed with the sponsorship.
Carbon Co-op, an NGO that was partnered with the Manchester Science Festival, withdrew its support for the event after Shell was announced as a sponsor.
Reacting to the emails, Jonathan Atkinson, Project Manager for Carbon Co-op, said the exchange suggests the museum "spent little time addressing the ethical and environmental concerns we and others raised about Shell's involvement in this exhibition".
He said: "We find the reference to the group's ethical policy particularly confusing given that the policy explicitly precludes funding relationships that 'materially damage the reputation, independence and integrity of the Science Museum Group'".
"As the reaction to the campaign has demonstrated, Shell's involvement has done a great deal of lasting damage to the group's reputation and integrity."
---
To see details of more fossil fuel company sponsorships, check out our Greenwash Database
---
Chris Garrard, Co-Director of campaign group Culture Unstained, also said the museum's response skirted around critics' main concerns about Shell's sponsorship.
He told DeSmog UK: "What these internal emails appear to suggest is that some at the museum are unwilling to be fully accountable. To date, the museum has not actually addressed the core criticisms that have been raised: that Shell's sustained investment in new reserves of fossil fuels and links to the spread of climate denial are completely at odds with the museum's values as a scientific institution.".
"The people of Manchester come to this respected museum in order to learn about science. But when it comes to Shell's business activities going against the scientific consensus on climate change, the museum stays disturbingly silent."
The Science and Industry Museum did not respond to a request for comment for this story. When Shell's sponsorship was announced, a spokesperson for the museum told DeSmog UK:
"We work with a range of funders to support our mission to ignite curiosity in science. At a time when Government funding is declining in real terms, we are only in a position to be able to do this because of the strong support of a range of individual philanthropists, corporate partners and charitable trusts."
"We apply the same thought and consideration to all prospective funders, whether corporate, charitable trusts or individual philanthropists, and any partner that wishes to work with us must accept that editorial control sits firmly with the museum."
Shell Knew
Shell's sponsorship of the exhibition is controversial, but not unusual. The company has corporate partnerships with the London's Science Museum, Southbank Centre and National Theatre.
Email correspondence previously published by DeSmog UK showed how cosy these partnerships can be, with Shell using its sponsorship of the National Gallery to obtain private tours and ticketing privileges.
In July, a group of leading climate scientists, academics and environmentalists lodged a formal complaint with the Science Museum over their partnerships with big oil companies. They accused the museum of "undermining its integrity as a scientific institution" by partnering with BP, Shell and Statoil despite the companies' contribution to climate change.  
Documents released earlier this year analysed by DeSmog UK show that Shell has known about the dangers of climate change for decades.
---
Like what you're reading? Donate here to support DeSmog UK's journalism today 
---