The Science Museum continues to pursue a close relationship with fossil fuel companies despite campaigners' repeated calls for the companies to be dropped as sponsor due to their contribution to climate change, emails obtained through a freedom of information request reveal.
The disclosure, obtained by campaign group Culture Unstained, comes two weeks before the start of Manchester Science Festival, where Shell is controversially sponsoring an exhibition. A low carbon NGO has already cut ties with the festival in protest at the deal.
Shell also has controversial corporate partnerships with the Southbank Centre and National Theatre.
---
Like what you're reading? Donate here to support DeSmog UK's journalism today 
---
Correspondence between the museum and Shell shows:
The Science Museum pushing to extend its sponsorship deal into 2018;

Shell trying to leverage its relationship with the museum for a competition;

Science Museum employees having to carefully navigate commercial conflicts due to its relationship with Shell's competitor,

BP

.
Chris Garrard, Co-Director of Culture Unstained, said the emails show the Science Museum has "bent over backwards" to partner with fossil fuel companies, despite their history of supporting climate science denial and lobbying against renewable energy. He told DeSmog UK:
"The Science Museum Group claims it gives 'the same thought and consideration' to all of its funders but these emails suggest that if you're a fossil fuel company, it will carefully negotiate sponsorship deals to help both you and your competitors boost your public profiles".
"In giving Big Oil a platform to improve its image in the eyes of young people, the Science Museum Group has put a price on its own integrity", he said.
A Shell spokesperson defended the company's relationship with the museum, telling DeSmog UK:
"Shell and the Science Museum Group have a long-standing relationship based on inspiring people about science. We have a shared interest to promote engagement in science which will be a key enabler in addressing the challenge to provide more and cleaner energy".
Ian Blatchford, Director and Group Executive of the Science Museum told DeSmog UK the fossil fuel companies shared the museum's mission, and as sponsors had to accept curators retained full editorial control. He said:
"At the Science Museum Group, we actively seek out businesses whose long-term interests are served by our mission to inspire the next generation of scientists and engineers. What better grounds for a partnership could there be than common cause around the need for that most critical of raw materials, brainpower?"
"Any company that wishes to work with the Science Museum Group has to accept that editorial control sits firmly with the museum. Our independence covers both interpretation around particular objects and the broad direction of our programme."
---
Like what you're reading? Donate here to support DeSmog UK's journalism today 
---
Cosy Relationship
One email shows the museum trying to tempt Shell into continuing its sponsorship deal in. 2018.
The email promotes how both parties have "a shared goal to inspire the next generation of science-literate problem solvers". It also boasts of how the museum was a partner at Shell's Make the Future campaign, which has been criticised as being a tool to greenwash the company's image.
The official also writes that they were "particularly delighted" to speak at a Shell awards ceremony.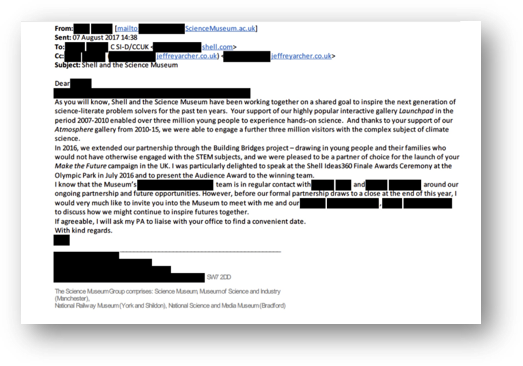 The relationship cuts both ways, with another email from a Shell official asking whether the Science Museum could be involved as part of a winners' package for its Bright Ideas competition, which is targeted at 11 to 14 year olds.
"We are in the process of building out the Winners' experience and i'd like to discuss ways to incorporate the Science Museum", the email reads.
A similar award from Shell's competitor BP is presented at the Science Museum.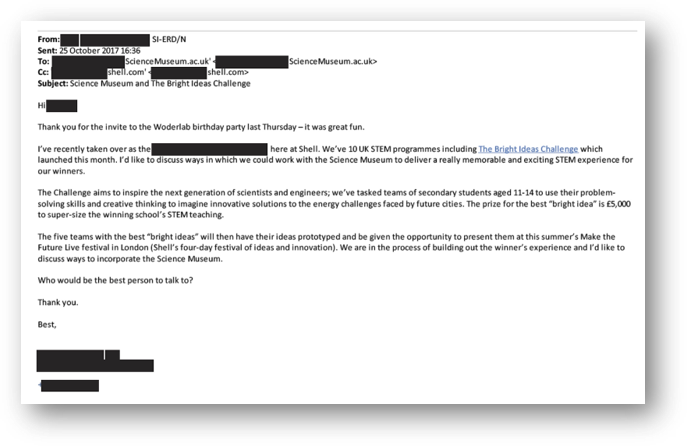 The emails show that navigating this relationship with the two fossil fuel competitors isn't always easy.
Shell officials seem to be surprised by an announcement that the Science Museum partnered with BP on its Enterprising Science project, which aimed to engage more young people in scientific subjects.
The email reads that "as you can imagine internally we are being asked about this and if not why not".
"I would very much appreciate if you or [redacted] provide me with an update".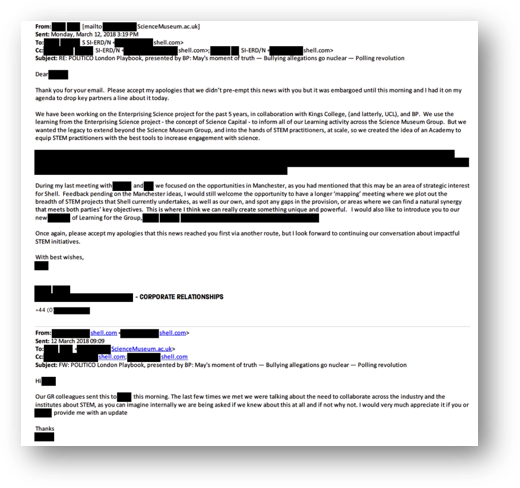 Image: Heather Cowper/Flickr CC BY2.0