There was a big new climate science report released yesterday. A report that gives "a far more dire picture of the immediate consequences of climate change than previously thought" and that said "avoiding the damage requires transforming the world economy at a speed and scale" that has "no documented historic precedent".
So how did the UK's media respond? Mostly with coverage of a snog between a comedian and dancer on Strictly Come Dancing.
Unless you read the Guardian, Independent or i newspaper, the big climate news was easy to miss. And the conspicuous silence wasn't confined to this side of the pond. As Unearthed pointed out:
28 out of the top 50 US papers analysed by Media Matters did not mention the special report on 1.5C warming on their homepage https://t.co/xyHjTkGE5D

— Unearthed (@UE) October 9, 2018
It seems like western media just can't cope with the magnitude of the situation.
The IPCC report said we have 12 years to stave off the catastrophic effects of global warming. The Green Party summarised it thus: "Decarbonise everything, now. Business as usual is over, or we are."
The Conservative and Labour party leaderships were conspicuous in their silence.
Not only did large sections of the news media not consider our imminent destruction newsworthy, but the UK's taxpayer-funded national broadcaster was sneering to boot.
John Humphrey's on Radio 4's flagship Today programme used the occasion to complain to Barry Gardiner about "wind subsidies" (you can listen to the exchange between 01.15-01.20 here).
Still, at least the BBC's flagship television current affairs programme would do better, right? Particularly since it issued new guidelines just a few weeks ago that requires all reporters to go on a one-hour climate change training course.
But no. On the day this major climate science report was published, Newsnight chose to invite on US climate science denier Myron Ebell.
Ebell is the former head of President Trump's Environmental Protection Agency (EPA) transition team and a Director of the libertarian US think tank the Competitive Enterprise Institute (CEI).
Only last year, he was hosted by the UK's number 1 climate science denial campaign group, the Global Warming Policy Foundation (GWPF).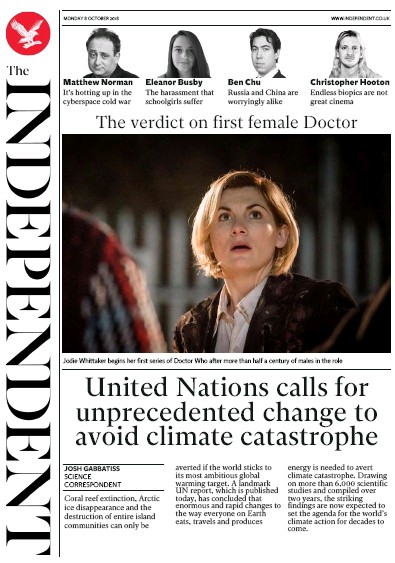 The same week, DeSmog UK tracked him down to an event with Tory hereditary peer and coal baron Matt Ridley (of the GWPF), Brexiteer and Tufton Street MEP Daniel Hannan, and climate science denier and UKIP MEP Roger Helmer.
Ebell used his keynote address that to argue that experts and scientists should be ignored when it comes to climate change and environmental policy. He said:
"We find time and time again the experts are being relied on in our major cities and our media, who listens to them when they talk about what they know about theoretically, but have practically no knowledge of."
He encouraged the audience to, "whenever you hear an environmental expert, think that he is an urban eco-imperialist and say, 'what do people who actually have some experience of the environment know?'."
So what was he doing on Newsnight?
The programme's Editor Esme Wren justified the decision on Twitter saying: "As part of our coverage of the IPCC report on global warming we currently plan to discuss the politics of climate change and the mindset of the current US administration. In this section it is relevant to hear from those who have advised President Trump."
Though Ebell has never actually spoken to Trump, as he himself has admitted.
The embattled editor responded to criticism of the decision saying: "The issue of false equivalence is only in play when discussing the science of climate change. This point is entirely recognised and adhered to by the programme."
Many were not convinced. For instance, Guardian columnist George Monbiot, who threw the rule book at Wren, tweeting:
I hope you will tell viewers who funds Myron Ebell's organisation, in line with the BBC's Editorial Guidelines: pic.twitter.com/YXizW3XfEH

— GeorgeMonbiot (@GeorgeMonbiot) October 8, 2018
When asked to further justify its decision to book Ebell, the BBC responded:
"The BBC does not dispute the science. We acknowledge the weight of scientific consensus around climate change and this underpins all of our reporting of the subject. This does not mean, however, that we should never interview someone who opposes this consensus, especially if they are influential in the political debate about how to tackle climate change."
However, the BBC acknowledged, "there are times when it is editorially appropriate to hear from a dissenting voice."
This position was bolstered by BBC Director-General Tony Hall, in a speech delivered yesterday evening to The Society Of Editors. He said:
"Our impartiality does not mean that we strike some sort of false balance but that we reflect all contributions to a debate, and give each of them their due weight. So no equivalence between the climate change sceptic and the overwhelming consensus of scientific opinion. But no exclusion of viewpoints because they're generally felt to be beyond the pale. We won't give in to pressure to silence dissenting voices, nor allow those voices to be seen as mainstream."
---
Like what you're reading? Donate here to support DeSmog UK's journalism today 
---
Predictably, however, the interview with Ebell immediately became about questioning the validity of climate science and the credibility of the IPCC – as it did last time Ebell appeared on Newsnight.
Although the interviewer, Evan Davis, staunchly refused to give Ebell a platform for his climate science denial – asking him to focus on the politics – many people challenged the appearance.
Dr Matt Prescott, Founder of Environmental Rating Agency challenged the Newsnight Editor saying: "Have you undergone the climate training recently offered by the BBC? The interview with Myron Ebell immediately veered into questioning the science and the IPCC. This was predictable and a waste of valuable air time. There are many other angles worthy of attention."
That's important – because attention spans are short. As Media Lens noted:
In just a few hours, the final call to save the world from #ClimateEmergency has slipped into near-invisibility on the @BBCNews front page. That says it all. pic.twitter.com/ejSxLTJIkt

— Media Lens (@medialens) October 8, 2018
So, business as usual for the news cycle, if not the climate.