The UN climate talks are often portrayed as an exclusive and inaccessible place in which ordinary people's voices are rarely heard. As the clock to prevent catastrophic climate change ticks away, there is a growing disconnect between people ready to put themselves on the frontline of climate action and the slow, politically-driven global negotiations.
Over recent months, new grassroots movements have used radical actions to compel governments to respond to climate breakdown.
For instance, Extinction Rebellion, a nonviolent civil disobedience movement, blocked roads and bridges in central London and saw campaigners glue themselves to government building. Inspired by 15-year-old Greta Thunberg, the "School Strike 4 Action" movement has also seen thousands of children in Australia walk out of classrooms to demand the federal government take action on climate change.
But inside the UN climate talks in Katowice, Poland, there is little sign of the same fervour for action, despite being widely considered to be the most important UN climate talks since the 2015 meeting in Paris.
Here, hope for change is hanging on the expectation that countries will agree on a set of rules and principles to implement the Paris Agreement.
More than 13,800 delegates and government officials representing every country in the world have gathered for the talks known as COP24, but outside the conference center, few people are aware of what this is all about.
That's why, once more, climate campaigners and NGOs attending the talks are staging protests to remind negotiators that the decisions they take — or don't take — will have a real impact on communities around the world.
Youth leadership
Addressing the UN conference, 15-year-old Greta shook things up by warning that adults were behaving like children and that it was time for young people's voices to be heard.
"We have come here to let them [world leaders] know that change is coming whether they like it or not," she said.
"So we have not come here to beg the world leaders to care for our future. They have ignored us in the past and they will ignore us again.
We have come here to let them know that change is coming whether they like it or not."

From my speech yesterday at #COP24 pic.twitter.com/WIwv4vbT6G

— Greta Thunberg (@GretaThunberg) December 4, 2018
At each of her appearances during the talks, Greta has stressed the fact that the UN climate talks process, which started in 1992 — well before she was born — "has not achieved much".
"We have had many climate conferences and nothing has come out of them. Something has to change," she said. "We need something big to happen."
Although the "School Strike 4 Action" movement she inspired has made headlines worldwide, Greta continues to warn that many children across the world are still not aware about the scale of climate crisis facing them.
"Even the school strike movement is mostly made of adults," she told an event on the fringe of COP24. "A lot of people think that children care about the environment but a lot of us don't. I mean, if adults don't care then children won't care either."
And yet, climate change would be a global priority if young people were in charge, according to environmentalist Bill McKibben, co-founder and senior advisor to the campaign group 350.org.
"If the world was run by people 40 and under, this is the thing we'd be working on all the time, and we'd be making huge progress," McKibben told Canadian radio CBC on the eve of the talks.
"One understands why people want things not to change, but things are going to change on a completely different scale if we don't make human changes first," he said.
Civil disobedience for climate action
Among those calling for a system change, the grassroot movement Extinction Rebellion has made ambitious demands for the government to tell the truth about climate, reduce emissions to net zero by 2025, and establish national citizens assemblies to oversee the change.
For many climate campaigners, the UN climate talks have long failed to deliver on the necessary ambition required from governments to prevent climate breakdown.  
One campaigner for Extinction Rebellion previously told DeSmog UK that many in the movement had "entirely given up on that 24-times failed process".
But inside the conference center, Liam Geary Baulch, a coordinator from Extinction Rebellion in the UK, told DeSmog UK that he had "no idea" of what was happening in the negotiation room and was "not interested in following it".
"This process is not made for us, the people. This is not a people's movement. We are interested in creating a system that can achieve political change," he said.
Describing the talks as "a show" that sometimes used real people's stories in a "tokenistic" way, Geary Baulch said the talks were above all an opportunity to learn from other activists and prepare the grounds for a global mass movement pushing for a system change.
"There are indigenous communities from around the world and campaigners from the global south here and we need to connect and work with each other if we want to achieve radical change," he said.
People's Demands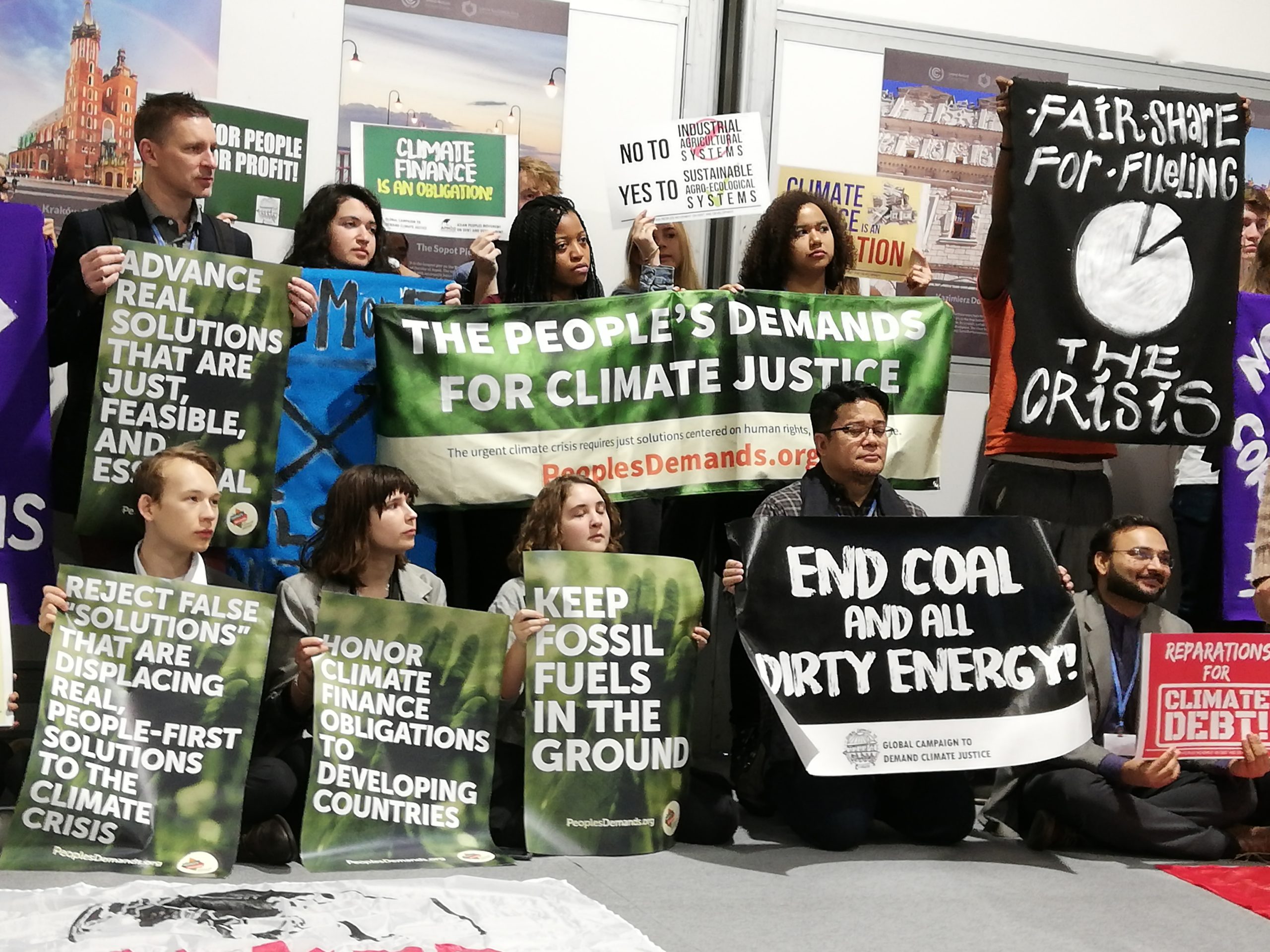 Image Credit: More than 330 organisations have come together to back the People's Demands at COP24. @ChloeFarand
In a show of unity for ambitious action, more than 330 organisations from 125 countries have issued a list of people's demands to governments at the climate talks.
The demands include keeping fossil fuels in the ground, ending corporate interference in the talks, honouring climate finance pledges made to developing countries, and ensuring developed countries do their "fair share" to tackle the crisis.
The declaration is due to be delivered to the executive secretary of UN Climate Change (formerly UNFCCC), the body which oversees the negotiations process. For those watching the negotiation process this, they hope, could be  a wake up call for policymakers.
Lidy Nacpil, from the Asian People's Movement on Debt and Development, said: "The science is clear: fossil fuels must be kept in the ground if we are going to come anywhere close to staying under 1.5 degrees. People have the solutions, not big polluters. It's time government heed our call and act for people, not the corporate bottom line."
Image Credit: More than 330 organisations have come together to back the People's Demands at

COP24

. @ChloeFarand