It has been quite a year – Brexit (still), Trump (still), and the inevitable crescendo towards the annual climate talks (which delivered a deal many think falls way short of the necessary action to avoid catastrophic climate change).
With the jingle bells ringing, and everyone rushing to get the 5.01pm train home for Christmas, now seems a good time to reflect on the year that's (almost) past.
This year, DeSmog UK ran its first-ever crowdfunding campaign, reaching our £20k goal thanks to your – our readers' – incredible generosity. In return, we hope we provided you with some good reading.
Here are some highlights:
DeSmog UK's biggest-ever undertaking, this investigation revealed how – beneath London's green veneer – some dirty business lies.
The series lifted the veil on a "boys' club" that generates wealth for The City from environmentally damaging activities in politically unstable regions.
Through detailed analysis of company activity and market data, the series exposed how "light touch" regulation on London's junior stock exchange (the Alternative Investment Market (AIM)) and complex offshore company structures create an opaque corporate environment in which conflicts of interest have been shown to thrive.
The series revealed:
How the

UK

government provides ongoing support for international fossil fuel exploration despite its domestic and international climate change commitments;
The potential for oil, gas, and mining companies listed on

AIM

to manipulate information about assets in politically unstable regions, and the obstacles to verification for investors.
And how companies utilise

AIM

's light-touch regulation to generate revenue from private and major institutional investors (such as pension funds and high-street banks) for more than a decade without delivering on promised oil exploitation.
The series fundamentally challenges the idea that London and the UK are global leaders in green business, and shows the urgent need for market reform.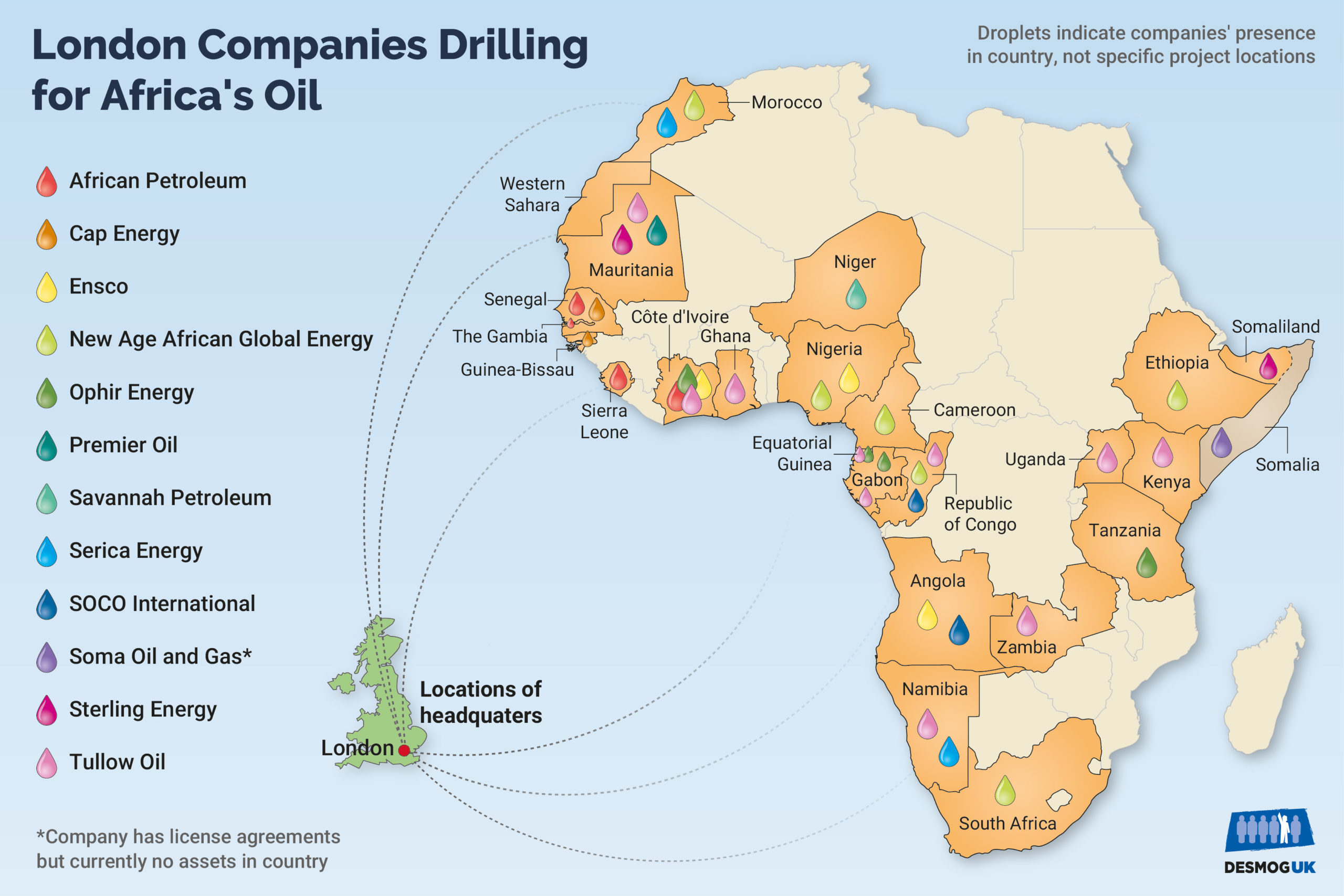 ---
Introduction – Empire Oil: A DeSmog UK Special Investigation
Part One – 'Black Gold': London's African Oil Hub
Part Two – Taking AIM: London's Wild West Stock Market
Part Three – Exposed: The Elite 'Boys Club' Running London's Opaque Oil Network
---
In April, Jelmer Mommers from De Correspondent published a tranche of Shell's internal documents. They showed that Shell knew about the dangers its products posed to climate change since at least the 1980s — but carried on ramping up extraction and funding climate science denial regardless.
DeSmog UK went through them all, and even added a few. We revealed how the company greenwashed its image, compared what it told the public about climate change to what it knew in private, and showed how it used its knowledge to stall international climate negotiations.
In a joint investigation with our US sister-site, DeSmog.com, we showed that it took Shell 16 years to warn investors about the risks climate change posed to its business model — despite knowing all along.
Read all the articles in our #ShellKnew series.
The third of our major series this year looked at how areas with long-standing dependency on fossil fuels can move to a greener economy without abandoning the communities that rely on the industry.
Currently, coal, oil, and gas are extracted with no consequence and with no limit to their bountiful supply. There is a dominant narrative that endless consumption fuels endless growth, that boundless energy needs are met and grow with no end in sight.
As we face catastrophic climate change we know this is a story that doesn't work anymore.
Our Just Transition series looks at how the UK can achieve the immediate, transformative and radical changes to the economy and society necessary to address the climate crisis. Through specially commissioned long-form articles, photography, and videography, it addresses this transformation through the perspectives of the communities that will be most affected.
---
Read the full Just Transition series:
Introducing A Just Transition: From Fossil Fuels to Environmental Justice
Part One: The Kingdom of Coal
Part Two: City of Oil
Part Three: Centuries of Shale
Part Four: the Highlands of Hydro
---
In July, we revealed that shale gas companies across the UK had gone to great lengths to conduct social media surveillance of anti-fracking activists, publishing the full story with Vice Motherboard.
We trawled through hundreds of pages of surveillance submitted by the companies as evidence in their cases seeking "draconian" injunctions against the protestors. The documents showed that to support their case, the companies deployed a specialist security team to conduct, among other things, mass social media surveillance. We identified a number of cases where a private group appears to have been infiltrated by the security firm, with posts from that group submitted as evidence to the court.
One company leading the surveillance, Eclipse Strategic Security, appears to have once been indirectly owned by INEOS – one of the fracking companies taking out an injunction, and for which it is conducting surveillance. Further investigation by DeSmog UK found Eclipse employees publicly support far-right groups, have privileged access to the UK's police, and have links to Big Oil companies and security firms embroiled in human rights scandals in the Middle East.
Read the story on Vice Motherboard, with full details of the investigation on DeSmog UK.
Throughout the year, DeSmog UK continued to reveal new details about a network of lobbyists pushing for environmental deregulation and a hard or no-deal Brexit based in and around offices at 55 Tufton Street.
That network includes nine organisations including think tanks pushing disinformation on climate change that were named in court papers accused of mounting a coordinated campaign to push for a hard Brexit.
Our biggest scoop of the year was a story that revolved around a transatlantic power couple, Matthew and Sarah Elliott. Matthew Elliott was chief executive of Vote Leave, and is co-founder of the Taxpayers' Alliance – an outfit based in Tufton Street. Sarah Elliott is the chair of Republicans Overseas, the UK outreach arm of the Republican party. She previously worked for fossil fuel magnates the Koch brothers.
The investigation:
Reveals the strength of the ties between Matthew and Sarah Elliott,

UK

lobbyists and politicians, and

US

groups with vested interests in fossil fuels keen to profit from deregulation;
Shows how organisations with strong ties to the Koch Brothers and Robert Mercer increased their political activities in the

UK

immediately before and after the Brexit referendum;
And uncovers

US

libertarian spending patterns that show increased resources flowing into Europe prior to and around the time of the Brexit referendum, as pro-Brexit groups with ties to the Elliotts in the

UK

saw their budgets balloon.
If you have detected a distinctly American flavour to the rampant lobbying in Westminster corridors over a Brexit deal, there is a good reason why.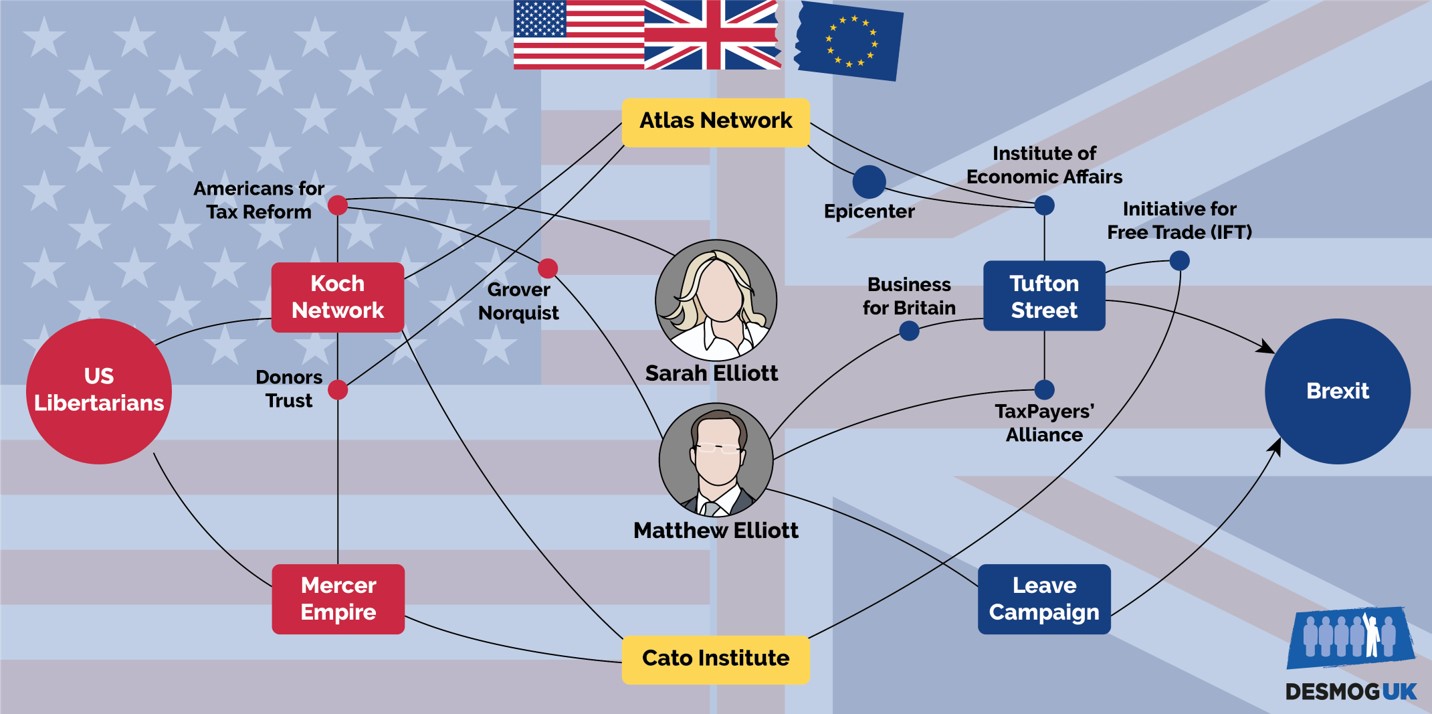 The Tufton Street network wasn't the only clandestine outfit DeSmog UK uncovered this year. We also teamed up with George Monbiot at the Guardian to reveal who was behind a shadowy group of well-connected 'free speech advocates' spreading far-right ideologies and climate science denial.
Somewhat unsurprisingly, it was US fossil fuel magnates the Koch brothers. Again.
This group of commentators and influencers on the far-right emerged from a libel trial and bankruptcy of the 'Living Marxism' magazine in 2000, has roots in the Trotskyist left, and is now the factory behind a production line of far-right polemic that has infiltrated mainstream media and politics.
It currently has its public home on Spiked — a website dedicated to belligerent, populist, anti-environmental, Islamophobic 'analysis'.
Our investigation showed that Spiked received $300,000 from the Koch's over the past three years, including $150,000 in 2016 — the year of Donald Trump's US presidential election victory and the UK's Brexit referendum.
Koch Industries is the largest privately-owned energy company in the US. It has been described as a "kingpin of climate science denial".
DeSmog UK launched its first ever crowdfunding campaign this year. Thanks to your incredible generosity, we managed to raise sufficient funds to continue to our coverage of the UK's vibrant climate activism scene.
This year, we revisited the Lancashire fracking protests, met the resistance to a new coal mine in County Durham, were introduced to a small community fighting gold prospectors in Northern Ireland, and reported on the long-term impacts of coal extraction on communities in South Wales.
It was also the year three protestors got sent to jail for disrupting Cuadrilla's fracking activity at its Preston New Road site, near Blackpool. DeSmog UK was there the day the campaigners boarded the lorries and stopped a whole convoy heading to the site – an act that would later see them handed sentences of 15 and 16 months in prison. The sentences were later overturned, having judged to have been "manifestly excessive" by the Court of Appeals.
We also charted the rapid rise of Extinction Rebellion, a new group dedicated to raising awareness and driving action on climate change through civil disobedience. We followed their actions from London to Poland, and looked at how a global movement is brewing.
This kind of reporting – on the ground, in person, visiting communities on the frontline of the UK's efforts to tackle climate change – takes a lot time and resources. And we couldn't do it without you.
In December, DeSmog UK braved the Polish winter to report from the annual UN climate talks, known as COP24. Held in the coal-mining town of Katowice, Poland, the talks were conducted against a backdrop of corporate greenwash, much to the dismay of campaigners.
A couple of months before the talks, the Intergovernmental Panel on Climate Change (IPCC) released a report warning that radical action was needed to slash emissions immediately if the world was going to have chance of preventing warming of more than 1.5 degrees – the upper end of what is considered a 'safe' limit.
Despite such warnings, politicians again failed to properly deliver. The Katowice Agreement, finally signed after a two-day extension of the talks, "does not deliver what the world needs", campaigners said.
We charted how climate science denial and corporate interests infiltrated the talks. Their influence jarred against the wishes of those representing the people most affected by climate change, and those pushing to make green transition as equitable as possible.
There was also a heavy police presence in Katowice, after the Polish parliament banned spontaneous protest (a story DeSmog UK broke back in January). But that didn't stop campaigners finding ways to make their voices heard.
Read DeSmog UK's full coverage of the COP24 annual UN climate talks.
We hope you all enjoyed our work over the past 12 months, and look forward to welcoming you back with open arms and many, many more great stories next year.