As the protest at Preston New Road, Lancashire, marks its second anniversary, one mother and daughter look back on their unexpected transformation from a regular family into activists at the frontline of the UK's anti-fracking movement.
"I was flicking through the Blackpool Gazette when I saw a little community advert saying 'Fracking in Blackpool'. I thought it said fucking," Julie tells me.
"You know when something catches your eye, like when something says 'free' or 'sex', and you can't help but look back? I phoned my sister, asking if she'd heard about it. I said whatever it is, it's dead in the water because it sounds too much like fucking. If it had been called 'fluffy kittens' we would have had a much tougher battle."
And yet, seven years after making her first trip down to the modest park hut that housed early anti-fracking meetings, Julie Daniels, along with her daughter Becky and sister Tina Rothery, find themselves intertwined with the frontline of England's fracking resistance.
Julie ponders how she got here. "People assume that we're long-term activists. 10 years ago, I didn't think for a minute about where my electricity or gas came from, I took the effort required for granted. I had no idea about fracking. Never in my wildest dreams did I expect it to take over seven years of my life."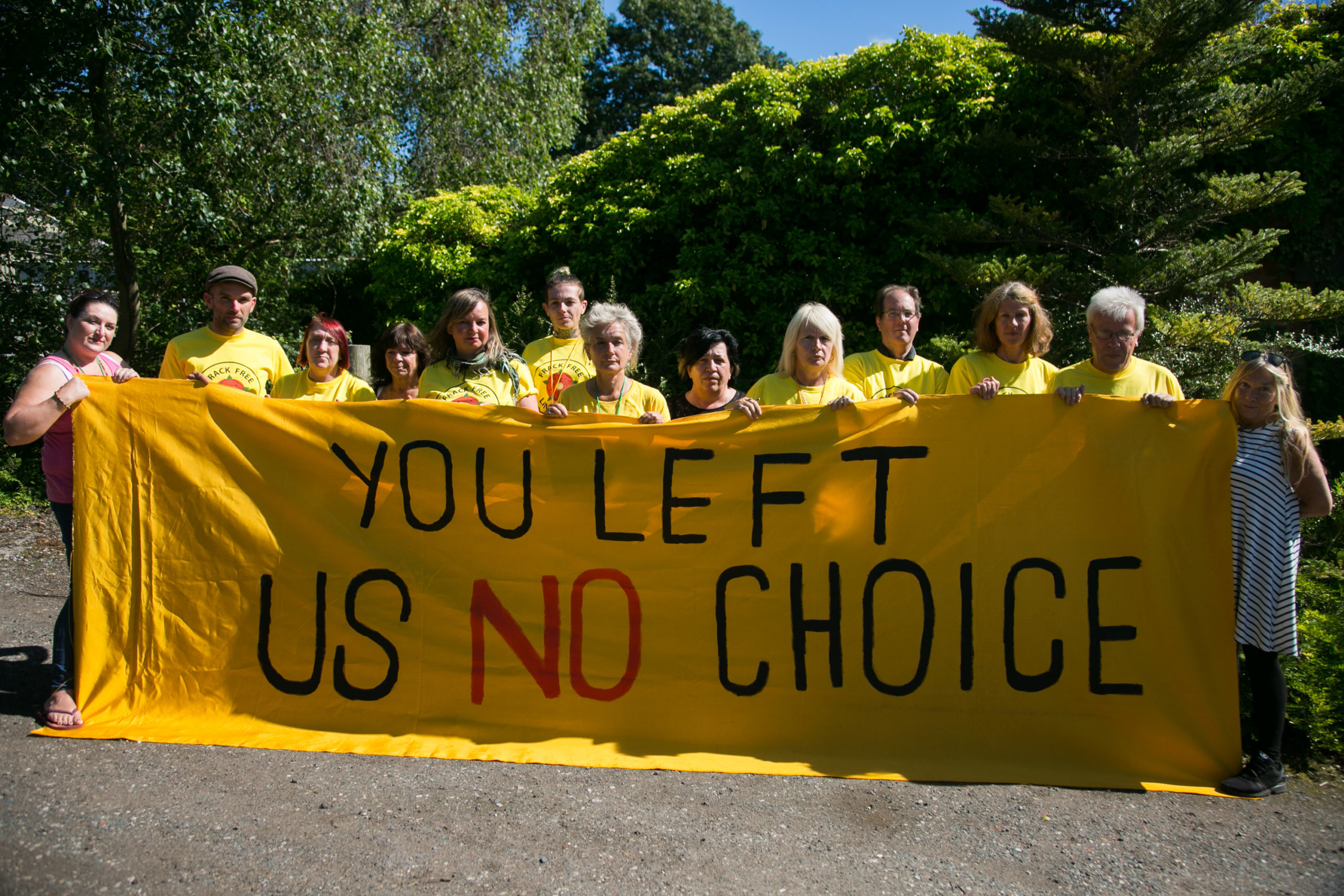 Photo: 16 protesters from the Preston New Road resistance were taken to court  © Reclaim the Power
Park hut meetings led to evenings spent knocking on doors and late-night dates with too many internet tabs open on her computer to count. A nine-to-five job was swapped for the flexibility of freelance, commitments fading year by year thanks to husband Steve's invaluable support.
The Nanas were formed in mid-2014. Kitted out with yellow headscarves, tabards and feather dusters, 20 nervous but determined locals invoked squatters' rights to occupy the field that was soon to become the focal point of fracking in England. They'd hoped that 'Nanagate' would alert locals to the issue. It ended up being a three-week stay that galvanised national coverage.
The elated street parade outside Lancashire County Council after its 2015 rejection of fracking was promptly rained on by the "dark cloud" of Cuadrilla's appeal, and eventual overturn by then communities secretary Sajid Javid in late 2016. Then, two years ago today, the first trucks moved onto the Preston New Road site — with protesters in tow from near and far, Julie included.
"Although we knew it was coming, when they actually arrived, it was soul-destroying. Nobody knew how to react or what to do about it."
"The weather was horrible too. For some people who'd been fighting since the start, it was just too sad to see. They never came back", Julie recalls.
Others, however, never left.
Building a Movement
On a grey day opposite grey fencing, the anything-but-grey Gate Camp laid its roots, keeping at least two people on watch 24 hours a day, 365 days a year. Along the road towards Blackpool sprung up the New Hope camp and the now-closed B&Q Camp, places with a more permanent feel for those who'd found their long-term passion project.
In between, Maple Farm Nursery Garden's front-of-house became the community hub from which the heart of Preston New Road's anti-fracking resistance would beat. Julie, living close enough to not need to up sticks, made this her daytime base.
Separate worlds were flung together. Locals were taken aback by the directness of long-time protesters, who in turn didn't understand the apprehension towards direct action.
"When they explained how slow-walking works, five or six locals would say 'That's okay, I want to do that'. Those who didn't were making the tea, making sure the fire was burning. A 75 year-old lady turned up who could supply tons of biscuits, so that's what she did."
"Everyone came to just appreciate the fact that each other was there. And that's how you start to build a movement," says Julie.
At first a transient space for daytime outreach, national campaign group Reclaim the Power (RtP) came in July 2017 to coordinate a month-long 'Rolling Resistance', with Maple Farm the focal point.
For Julie's daughter Becky, this was the point of no return. She had been supporting the movement since her mum told her about it in 2011, but three jobs and three young children kept her from getting too involved.
"I was alright going on marches and handing out leaflets because it was safe. I couldn't envisage myself doing anything too intense, in case it impacted my kids' lives too much."
Summer holidays allowed her to help with Nanagate — "my youngest learnt to ride his bike in that field" — but come the arrival of the trucks and the start of her university studies in January 2017, she felt increasingly helpless.
"By the time I could go down after work, nothing was going on at the site", Becky tells me. "I just felt like I was letting myself and the community down. I wanted to be able to stand on the frontline and say no."
"By the time RtP were wrapping up, I didn't feel like I could go back to work, being in that situation where I had no power again."
So she didn't. Instead of living the student life of double jaegerbombs and fried chicken, she used some of her student loan to buy a caravan, and made Maple Farm her home.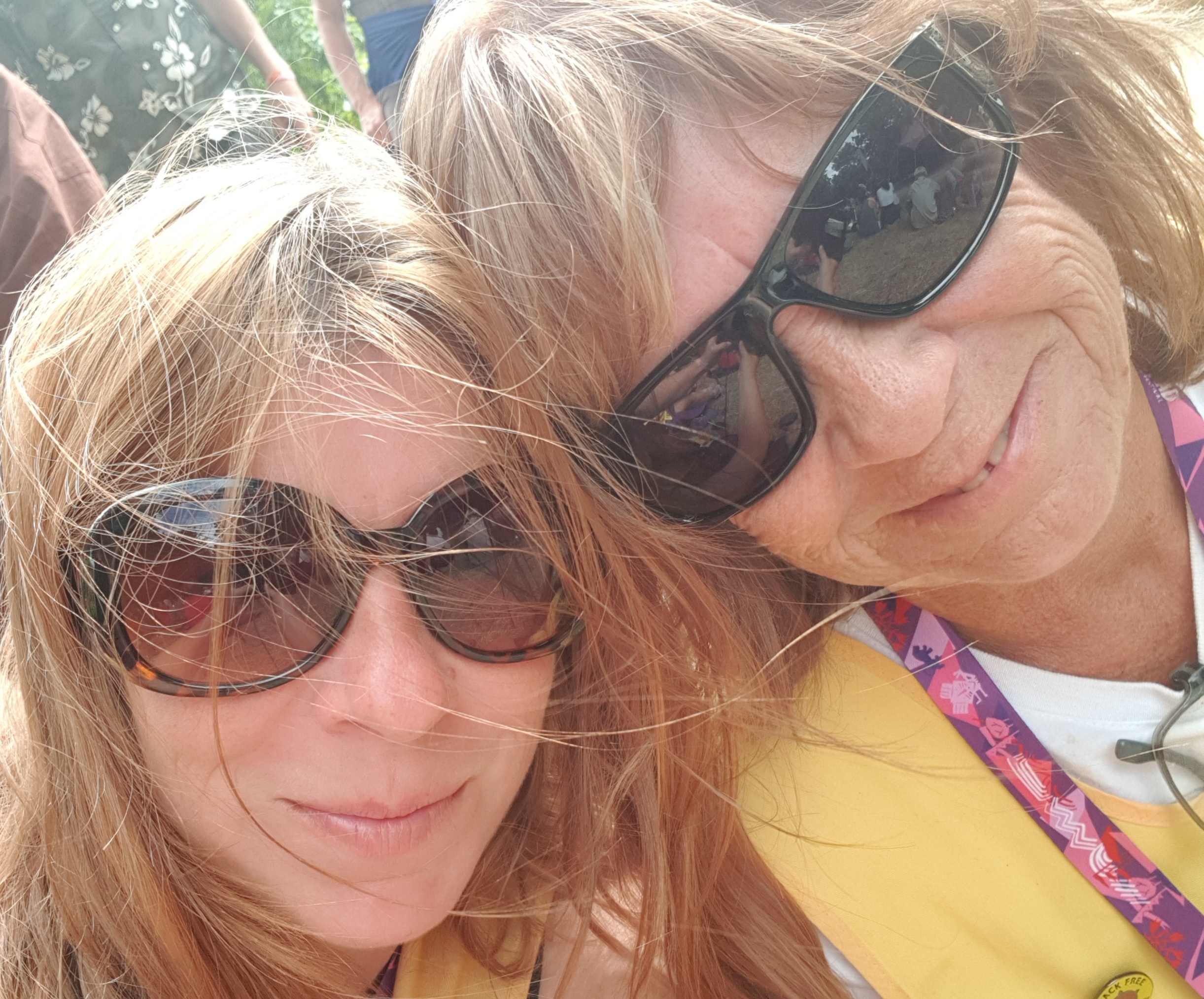 Photo: Becky and Julie Daniels © Becky Daniels 
She'd been thinking about homeschooling her children for a while. The kids had the final say. Her daughter, already settled in secondary school, remained under Julie's roof, while her two young boys came onto camp.
As a teacher-in-training, Becky understands that for some, schools are a place of safety. But she also understands that the mental health of children in the UK is the worst it's ever been.
"It's not right that our education system is based on industry. Children are told as young as 7 or 8 that if you don't pass your exams, it's going to impact your future. It's not! In this day and age they should be enjoying their childhood and exploring education on their own terms, finding their own talents."
Whatever algebra they may be missing out on, they're gaining in life skills: "They know how to chop wood, start fires, build, make banners, how to organise a campaign, how to cook, they know photography, filming, editing".
Most importantly, they learn how to interact with people. "They'll talk to [Green party co-leader] Jonathan Bartley the same as they would another kid, and that's amazing. That's how they should be able to be – blind to age, class, race, to everything."
'

Transient'

Leaves turned brown, fell to the ground, and grew anew as together, the family lent their liberated hands to preparing a sturdier Maple Farm for next year's metamorphosis. This time, a summer-long festival of United Resistance. Every week for three months, a different group from across the country took the floor, connecting thousands around a common cause.

I joined for its finale, a 48-hour 'Block Around the Clock' at the site entrance, with dancing, singing, and friendly defiance. What had started the day at Maple Farm as dingy piano was transformed into a work of art at the roadside, flanked by an equally vibrant papier mache frack-free phoenix floating above a sea of sun-kissed heads. Willing volunteers took their turn on the two bicycles powering music, speeches, and as day became night, films of fracking resistance beyond Lancashire's borders.

The next day, under the awning of her humble abode, Becky glows at how far the camp and the movement have come, "not just locally, but nationally. It's brought out strength and confidence in me that I didn't think was there."

'Transient' is the word I hear most to describe Maple Farm. More and more people pass through with each month but only a few see the accumulation of blood, sweat and tears on which the place is built.

Or in Becky's case, mud, breath and tears.

She describes last winter as "erm… a bit cold". She would often sleep in a tent to give her kids more space, waking up to the sight of breath crystallising in the air. Eventually, the crystals followed her inside the caravan. Four days before Christmas came her breaking point.
"There was lots of mud. I was wet and cold and my boys were constantly muddy and I'd had enough. Nope, can't do this anymore".
She traded the live-in experience for day trips and took some much needed respite back at her mum's for the festive period. "My boys were gutted – they were loving the mud!".
This winter, Becky sought the refuge of internet connectivity, loft insulation, and double glazing a little earlier – she has a degree to finish, resistance to organise, and her youngest gets chest infections at the "drop of a hat". She does what she can to protect her children, but living in the near-literal shadow of a now active fracking well poses unique problems. Concerns over earthquakes and police tactics, for example, are a far cry from most kids' playgrounds.
No mother wants to see a child lose their innocence. But Becky and her family aren't on the frontline because they want to be. They're here because they feel that they can't not be.
"I want to be able to take my kids away on holiday, spend time with them in the park, or get them the latest PS4 games," Becky tells me. "I don't want to miss out on their childhood – but if I'm not here protecting their future now, how could I look them in the face when they're older and say I knew about this but did nothing?"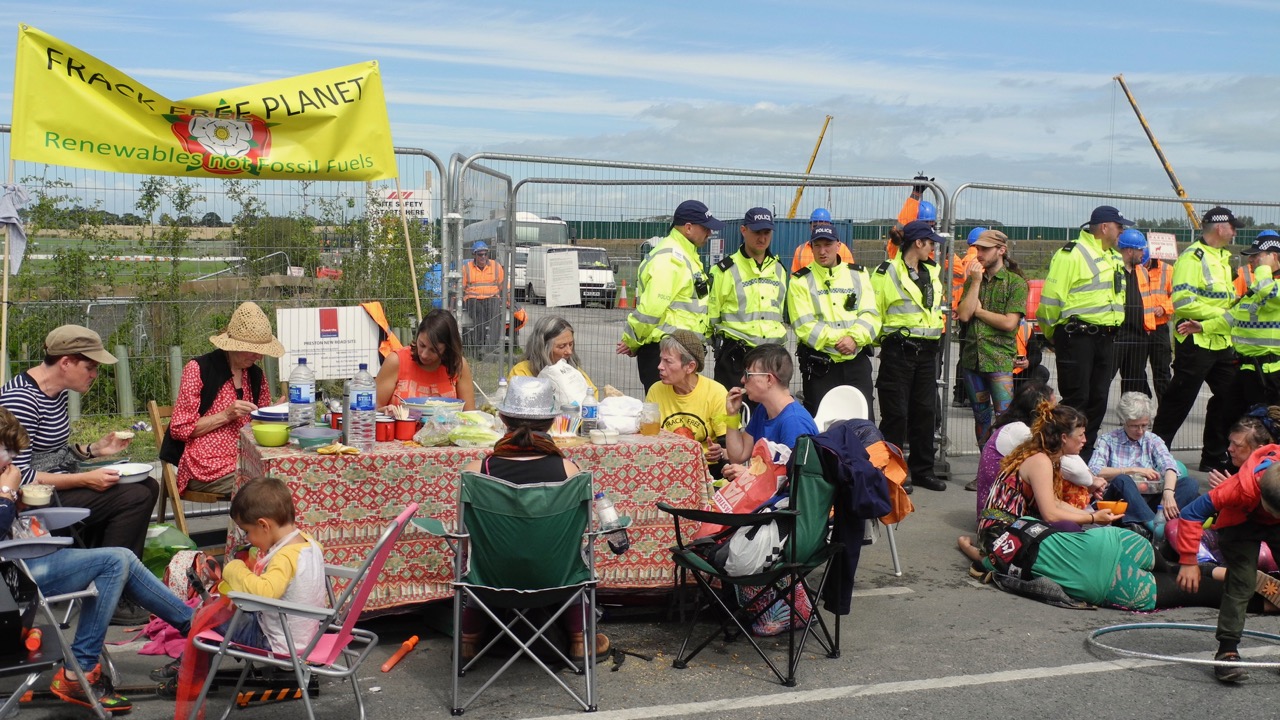 Photo: Dinner at the gates of the Preston New Road fracking site. Credit: Reclaim the Power CC BY 2.0
This compulsion is what drives the sickness and frustration they feel when they see their community invaded against its wishes.
As anti-frackers on fracking's doorstep enduring the added pressures of financial insecurity, chronic exposure to British weather, and reporting that mainly focuses on arrests by a police force in which trust is rock bottom, sometimes the frustration boils over.
In October, as drilling was just about to commence, Tina – by now a figurehead of the anti-fracking movement- made some self-acknowledged ill-advised and insensitive-sounding comments to a Conservative councillor, which made the national press.
Tina swiftly apologised, saying she "acted out of character" and that the comments were made because she remains "so passionate about our cause".
"They got in contact afterwards, Tina apologised, they're good as gold, and they're meeting up for coffee. To the press it was a war zone," Julie tells me.
The End
Given Cuadrilla have now started exploratory fracking, it might seem like the two years of standing by the road and enduring, come wind, rain or shine, have been in vain. Julie is looking at the long game, however:
"It's only because we've been fighting for so long that they've got no choice to be on the ball with this supposed 'gold standard' regulatory oversight". And with Cuadrilla struggling to drill without causing 'red light' earthquakes and the country in increasing political turmoil, the family still feels that there's everything to play for.
And so, despite preferring to be almost anywhere else, Julie, Becky, and the rest of her family will return in 2019.
"It's been really hard to enjoy Christmas this year, because once it's over I know where I'm going back to – the roadside," Julie says.
"It's horrible, one of the worst things to have to do. But it's compelling, I can't not do it. I can't walk away, not knowing what I know now. I have to see it through to the end."
---
Read DeSmog UK's coverage of the Preston New Road fracking protests:
---