'Blood' was spilled outside Downing Street on Saturday as campaign group Extinction Rebellion kickstarted its spring action with a graphic sea of red.
Protestors emptied buckets of artificial blood, made from a mixture of syrup, food colouring, water, and cornflour, on the pavement outside Downing Street to represent the "loss of life that will be inflicted on the next generation," said an Extinction Rebellion spokesperson.
It also represents those lives which have "already been lost around the world as a result of the climate crisis," they added.
In February 2018, the World Health Organisation suggested that between 2030 and 2050, climate change is expected to cause an additional 250,000 globally deaths a year.
Saturday's protest was to highlight the UK government's inaction in dealing with the climate crisis.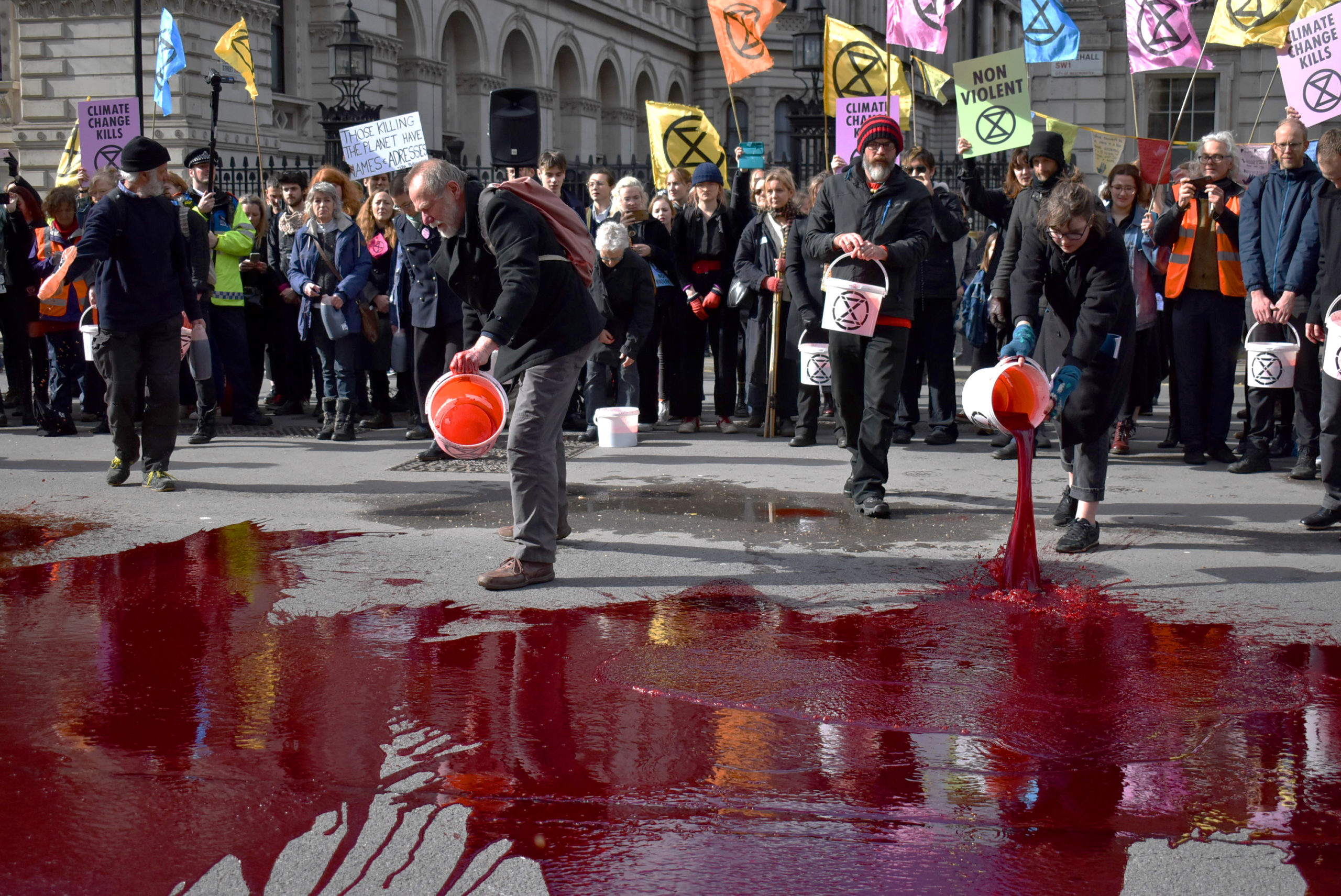 Image: Extinction Rebellion protestors with red paint outside Downing Street. Credit: Soila Apparicio
Hundreds of police officers blocked the entrance to the Prime Minister's residence, where young people gave speeches. After pouring the blood, protesters sat down on the pavement to await arrest.
Lorna, who did not want to give her surname and was six months pregnant, had planned and was prepared to be arrested. The decision to risk arrest, most likely for criminal damage, was significant for Lorna.
"You go from someone who is a law abiding citizen to potentially a convicted criminal," said Lorna. "Being pregnant, how do I make sure I'm safe?" she added.
Ultimately, no arrests were made at the protest.
Extinction Rebellion, which launched in October 2018, commit acts of peaceful civil disobedience in order to bring attention to the climate crisis.
Many protesters wore black and were told to remain silent during the marches from Trafalgar Square and Parliament Square to create a mood replicating the somberness of a funeral.
Jane Goodland, who travelled from Cambridge to be at the protest, said that the fake blood was a "symbolic and shocking picture of what's going to happen."
"It's important that people know that this represents real death, real blood," she added.
Charlie, a parent who brought their six and four year old children, and also did not wish to give her surname, wanted her children to have "their voices heard and represented."
"Hardly any MP's were at the debate," said Charlie, referring to February's climate change debate in the House of Commons, the first time the subject had been debated in the chamber in two years.
Protesters were also writing messages in the 'blood': "we act on behalf of life," said one.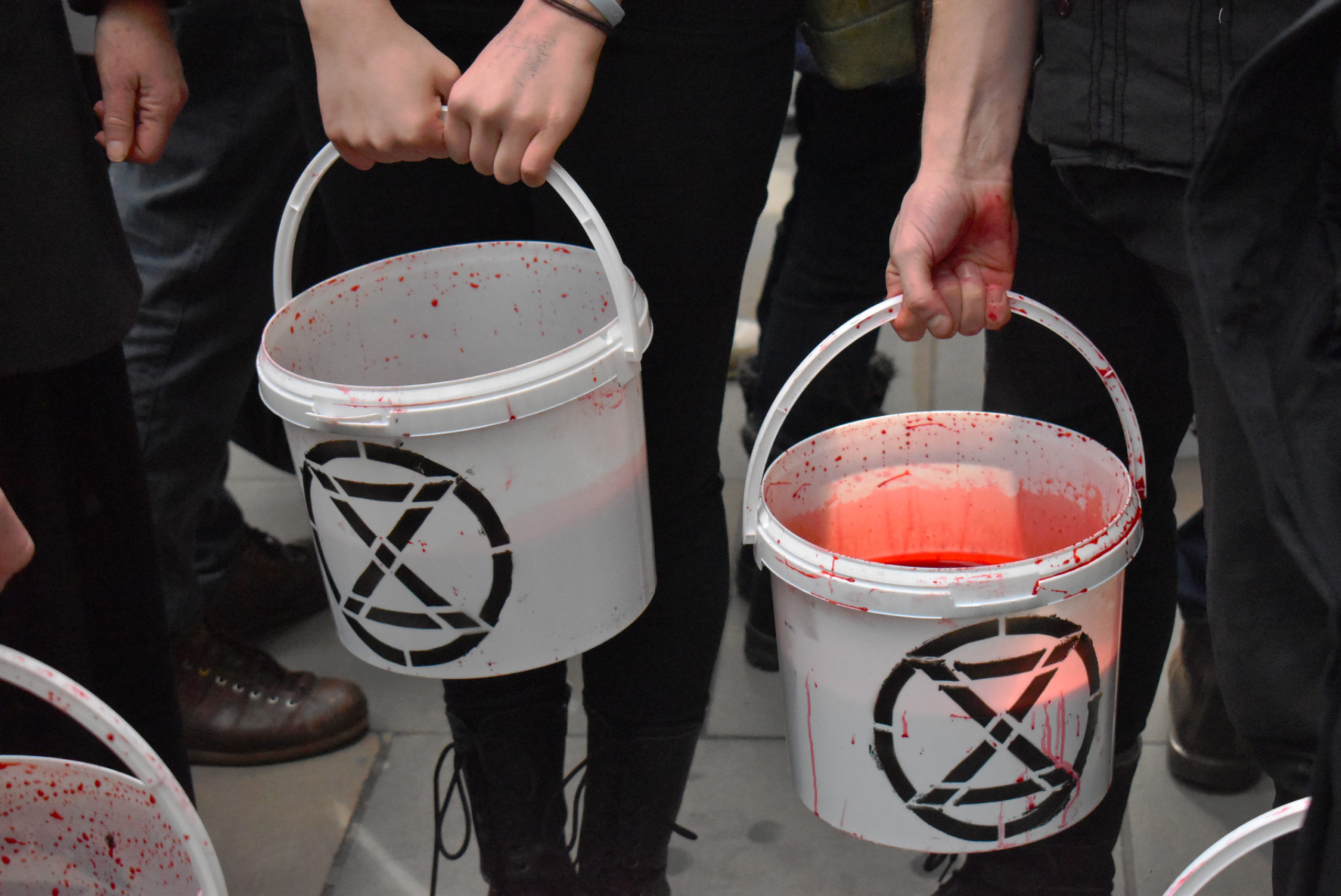 Image: Extinction Rebellion protestors hold red paint symbolising blood outside Downing Street
Keira Roberson, a student from North Carolina, USA, thought the spilling of the fake blood was "accurate and effective."
"If the UK can become an example for the rest of the world, that would be fantastic," said Roberson. "The US has a horrific issue with climate change. It's just not taken seriously."
A smaller group of Extinction Rebellion protesters later made their way to Oxford Circus, London's third busiest tube station, blocking the road through to Regent's Street.
Police warned the group of activiststs that if they kept obstructing the road, they would be risking arrest, though ultimately none were made.
Main image credit: Soila Apparicio