Police have been criticised for repeatedly delaying a review of official guidance for policing fracking protests after a cache of leaked correspondence highlighted ongoing problems with the consultation process. More than two years after the review was first promised, DeSmog and the Guardian can exclusively reveal it has now been delayed for a fifth time.
Dozens of leaked emails between the National Police Chiefs Council (NPCC) Lead on Shale Gas and Oil Exploration — Lancashire Assistant Chief Constable Terry Woods — and Green MEP Keith Taylor show how the process has been repeatedly delayed, with the review's remit changing without any prior warning.
Police monitoring group, Netpol, described the ongoing delays as "a classic example of the police deliberately dragging their feet".
The leaked correspondence shows:
The deadline for completing the new guidance has been delayed five times;
The remit of the review changed without the police warning stakeholders;
Fracking business groups being included in early consultations, with anti-fracking protestors excluded from the initial review process;
Police having to restart the review process after a botched first attempt at wider consultation in March 2018;
The police officer in charge of the review admitting he had not realised the scale of the job, 15 months after being appointed;
The police promising to complete a six-week public consultation by "Easter 2019", which has failed to materialise. The College of Policing confirmed it is now not expected to be completed until after "summer 2019 at the earliest", more than two and a half years after a review was first promised.
As the review into tactics for policing the protests has been delayed, conflict between the police and campaigners at fracking sites across the UK has escalated.
In November 2017, Green party co-leader Jonathan Bartley was dragged from a fracking site in North Yorkshire. There have also been multiple reports of rough policing at Cuadrilla's Preston New Road site, including a disabled 85-year-old woman being dragged across a highway. In August 2017, police promised to review a video in which officers are seen joking about the arrest tactics for anti-fracking protestors.
Keith Taylor, Green MEP for South East England, who has been communicating with Woods about the review since 2016 told DeSmog:
"We started this process quite some considerable time ago and there has been a series of missed opportunities and broken pledges about when the consultation would start, and who would be involved in it."
"Prevarication is one thing the police have been shown to be very good at."
---
Read more of DeSmog's coverage of the UK's fracking protests in our series —
Frack Off: Meet the Campaigners Protecting Lancashire from Fracking
---
Woods told DeSmog that "work to complete the review of the guidance was comprehensive and ongoing".
"While there have been delays in publication due to a widening of the focus of the guidance as well as capacity and competing demands on subject matter experts, substantial work has taken place and the guidance is now undergoing final check," he said.
"Following consideration by the College of Policing Professional Committee, the guidance will undergo public consultation and dates will be announced to allow interested parties to engage and shape the final guidance."
Alan Whitehead, Labour's Shadow Minister for Energy and Climate Change told DeSmog that the review was urgently needed. He said: 
"Neither the law nor fracking protest procedures are clear at the moment and it's in no one's interest that this continues."
"The review of procedures should be concluded urgently and transparently so that proper and peaceful protest can be carried out without fear of arbitrary action or time wasting prosecutions."
Geraint Davies, Labour MP for Swansea West, and a member of the House of Commons' Environmental Audit Committee, told DeSmog the police must operate more transparently on an issue that is so publicly sensitive, and that has significant implications for climate change:
"The police are public servants and must be open, transparent and inclusive in ensuring their behaviour helps to protect the public, including from environmental harm, and not to be complicit in fracking. They need to sympathetically ensure demonstrations support our democracy safely and not do anything that thwarts the people they are here to serve."
"Fracking is a critical threat to climate change and the public know unless the Government don't change direction we will not fulfil our Paris emissions obligations and send a message to the world that other countries don't need to take global warming seriously."
Late in the process, Woods turned to the College of Policing for guidance on how to conduct a full public consultation. The College was set up in 2012 to "provide those working in policing with the skills and knowledge necessary to prevent crime, protect the public, and secure public trust".
Responding to DeSmog's questions about the ongoing delays to the review process, its role in the process was "to set the standards for key areas of policing which help forces provide consistency and a better service to the public."
"In setting any national standard there is a rigorous quality assurance process. This process can only commence once the content has been developed; in this case the focus has widened which has involved more development work than originally planned."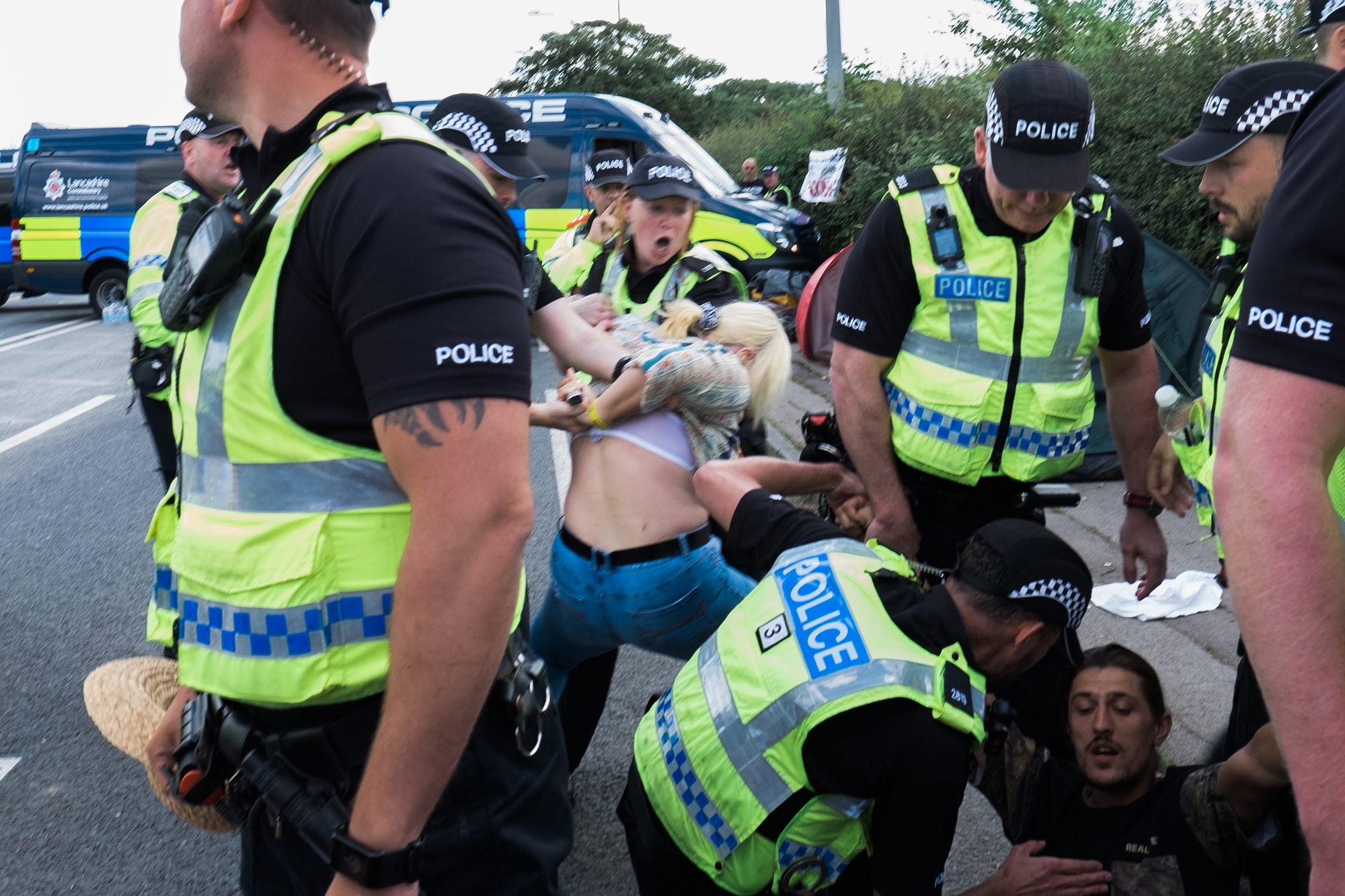 Image: Police arrest protestors at the Preston New Road fracking site in Lancashire. Credit: © Alban Grosdidier 
Delays
Police first promised a review of its 2015 guidance on policing onshore oil and gas activities in January 2017, the leaked correspondence reveals.
The police have moved the date by which the review would be completed five times, with the approach to conducting a wider consultation evolving in an ad-hoc manner over the past two years.
In total, the police have now set five deadlines for the review process or public consultation to be completed:
January 2018: Woods said the review would be complete by January 2018, shortly after he was appointed as the

NPCC

's Shale Gas Lead.
April 2018: After pressure from Taylor and Netpol, Woods agreed there should be wider consultation on the updated guidance, with an initial informal consultation to be completed by April 2018. This was derailed after North Yorkshire police conducted a botched attempt to engage the campaign community;
October 2018: Woods then took advice on the method for conducting a full public consultation from the College of Policing. A six-week consultation period was promised on new draft guidance that Woods said would be complete by the end of October 2018;

'

Easter 2019': Woods' latest timetable, shared with Taylor and Netpol in December 2018, then claimed a public consultation would not be complete until 'Easter 2019'. Woods said he had set the October deadline with the College of Policing but that they "had been unable to achieve this". "This isn't what I wanted but I am strongly pushing for this to get to me asap. I'm insisting it has to be before Christmas as it's setting my timescales back a number of weeks now," he said.

'

Summer 2019': This deadline has now been pushed back to "Summer 2019 at the earliest", the College of Policing confirmed to DeSmog. It said this was due to it now taking a wider focus for the updated guidance, which will no longer be only on policing onshore oil and gas activity but "long-term protest generally".
As the emails show, Woods initially expected the updated guidance to be produced by January 2018: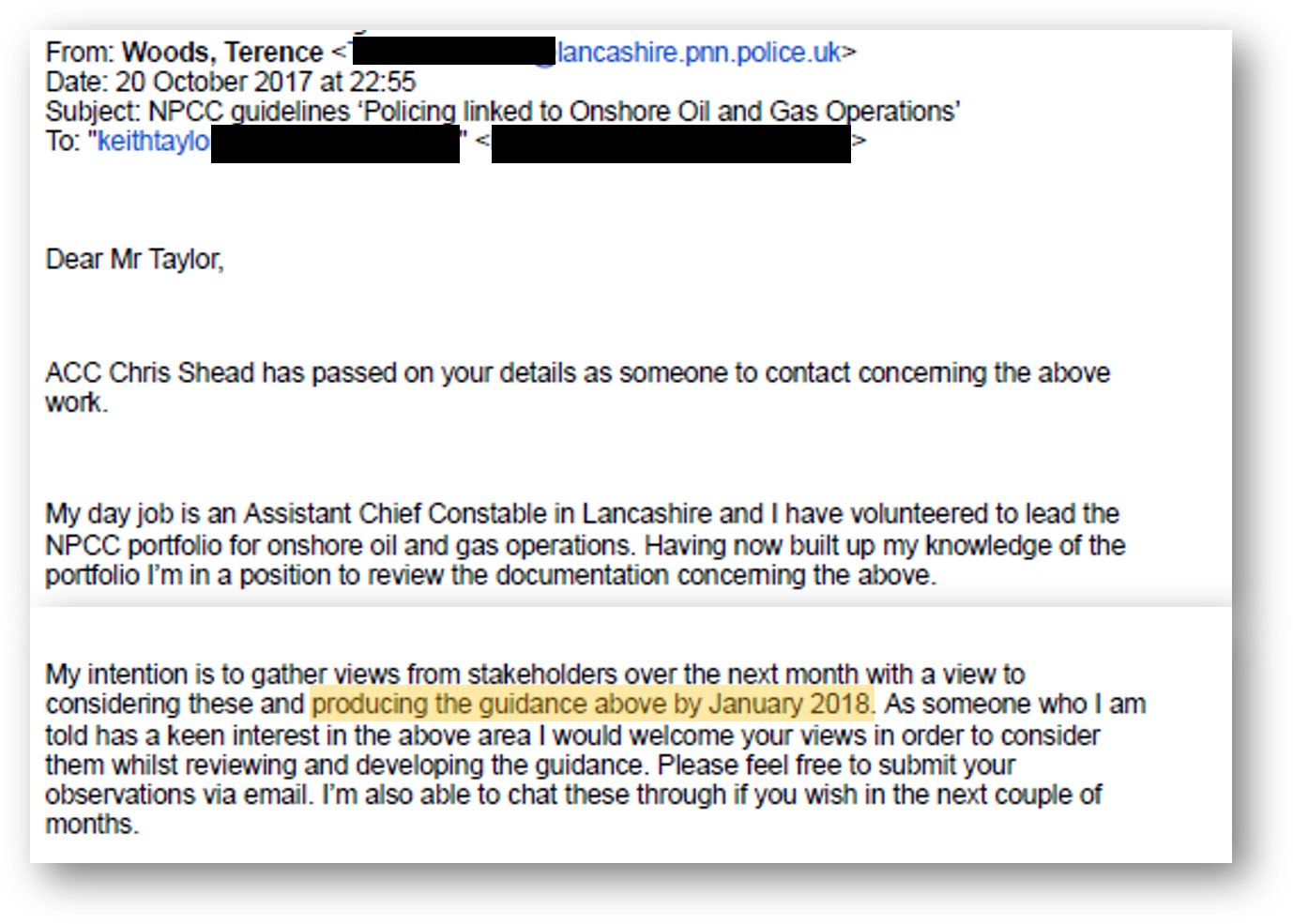 But in an email to Taylor in September 2018, Woods admits he did not realise the amount of work involved in undertaking a public consultation:

Then, in an email to Taylor from December 2018, Woods revealed the latest public timetable, which implied a public consultation would start on Monday 11 March 2019, if a full six-week consultation was to be completed by 'Easter 2019' (21 April 2019). This has failed to materialise.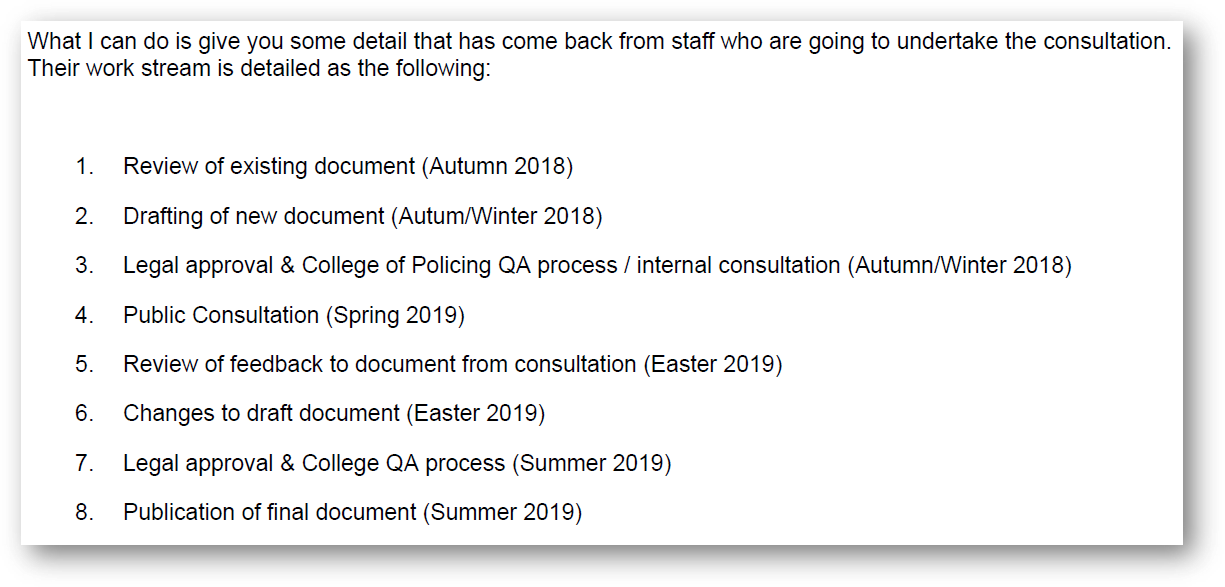 Since Woods sent the updated timetable in December 2018, correspondence between him and Taylor — the main public official lobbying the police to complete the review — has been sparse. Taylor's office is now preparing to close as part of the UK's plans to leave the EU.
Taylor told DeSmog the review was desperately needed because the 2015 guidance was a "mishmash" that "wasn't observed with any great consistency", and that lack of consistency has led to distrust in the police.
"As the number of sites continued to grow, the lack of consistency increased. And I think that the police are very close to the consequences of the public really losing much faith in looking to the police to behave in a proper manner which enables protest to take shape and guarantees public safety," he said.
"The police seem to have been supporting the private companies who are committed to exploiting a natural resource and increasing pollution both on a local level and a global level."
Netpol coordinator, Kevin Blowe, agrees that the police's constant delaying of the review process looks to protestors like "just another way to show people they don't care".
"I'm not convinced changing the guidance would've changed the way the policing was conducted," Blowe told DeSmog, "but it would have provided local people with a benchmark against which they were being treated."
The latest delay "indicates a complete lack of understanding of the key point that has been expressed time and time again in Lancashire, which is that they do not understand the damage they've done to the trust in the police. And not understanding why [updating the guidance] is important is a reflection of that," he said.
Changed Remit
As well as being repeatedly delayed, the remit of the review also seems to have changed — without any warning.
Woods had initially agreed to review and update a 2015 document entitled Policing Linked to Onshore Oil and Gas Operations. That guidance was "aimed primarily at police commanders, claiming to seek "a more consistent approach" by police forces around the country", and remains the main reference document for policing anti-fracking protests, according to Netpol.
In an email from Netpol to Taylor in December 2018, the College of Policing revealed this remit had changed, however. It said it was "currently working on producing guidance on the policing of long-term protests". The College of Policing confirmed this was the case to DeSmog, and said the new document "will contain a section specific to onshore oil and gas exploration".
Netpol expresses surprise at this changed remit, writing in one email to Taylor: "This is the first time I have heard this, it certainly wasn't communicated by Woods."

"My jaw dropped when I saw that," Blowe told DeSmog, "if it's hard enough for them to organise a consultation into the policing of anti-fracking protests, how expanding the scope of this is meant to make this more likely to happen is just beyond me."
The College of Policing acknowledged that this change of remit was one reason for the ongoing delay. A spokesperson told DeSmog:
"As the focus of the guidance widened to cover long-term protest generally, this has involved more work than originally planned. This is to ensure we get it right and provide the most useful advice to policing and the public. Whilst it was hoped that a consultation could take place in the spring, it is now not expected to take place until the summer of 2019 at the earliest."
The police are able to change the remit in part due to the absence of any terms of reference for either the 2015 guidance or the current review. The terms of reference would have dictated the purpose of the review, any new guidance, and who would be included in the process.
In a letter to Taylor on 18 January 2018, Woods confirms there is no terms of reference for the 2015 guidance. In an earlier conversation, Woods had told Taylor that there was no intention to draw up new terms of reference as the review would be based on the remit of the 2015 document.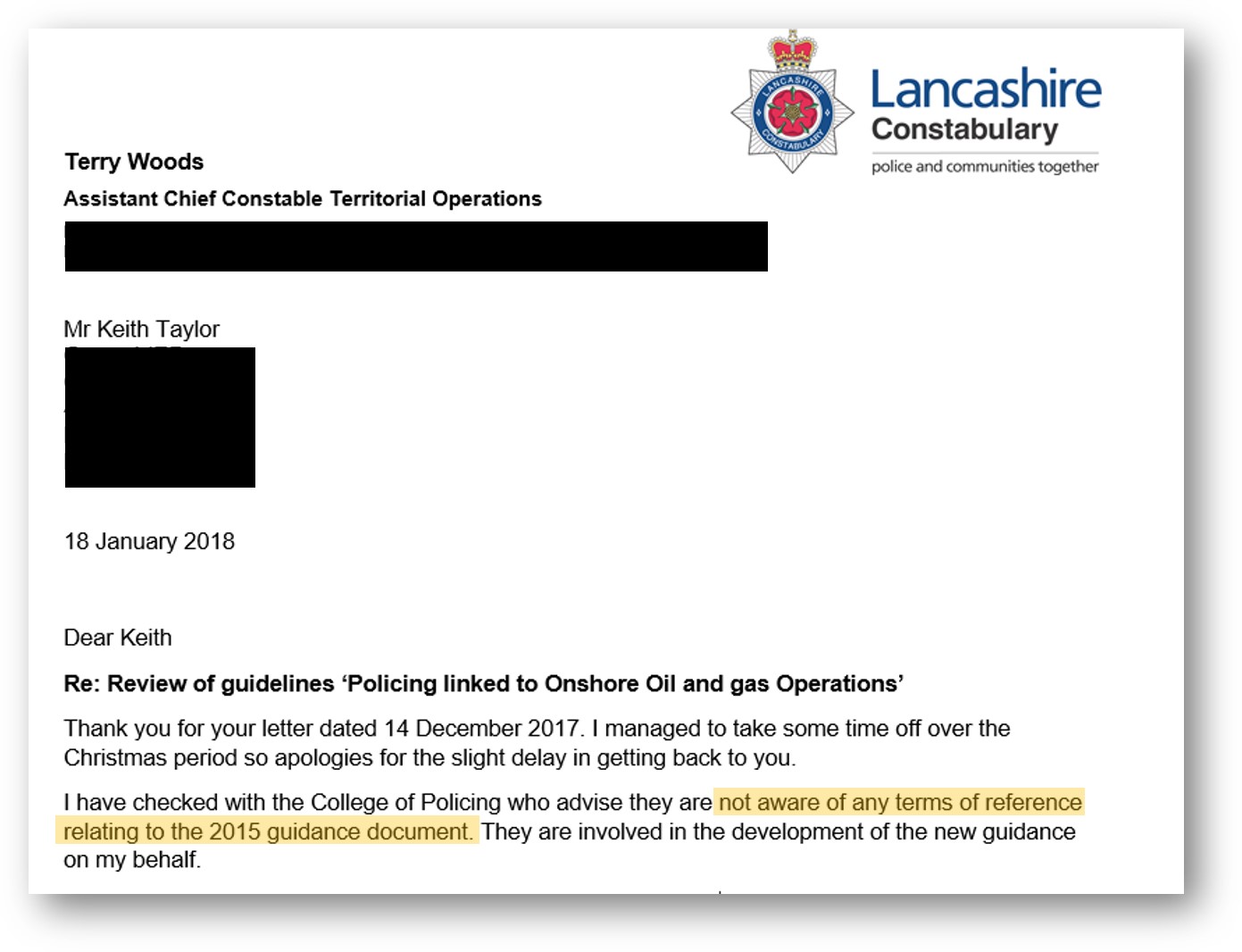 Botched Attempt
The review process has been littered with errors from the outset.
Before the NPCC decided to conduct a full public consultation on the updated guidance, the police force embarked on an aborted first attempt at consulting more widely for the review.
This process saw police asking their colleagues, fracking companies, and protestors a series of questions discussed between Woods and Taylor, and ultimately selected by Woods.
In a letter to Taylor in January 2018, Woods suggests asking:
In relation to communication between campaigners and police officers, how do you feel this could be improved?
What do you feel the police could do to improve consistency at protest sites?
What do the police do that works well at the protest sites?
What are the three main concerns for campaigners relating to policing at protest sites?
But this process was derailed after police at another fracking site at Kirby Misperton in North Yorkshire were only asking a selection of the agreed questions, with unclear and untransparent data collection methods, an email from Netpol to Woods reveals. At the time, campaigners were unclear what the purpose of these questions were, the letter to Woods claims.
North Yorkshire police later confirmed to Netpol that the questions were intended as part of the process of reviewing the guidance on policing anti-fracking protests.
It remains unclear whether these questions were being asked with Woods' knowledge or consent. However, as an email from Netpol to the local Kirby Misperton police force notes, the questions were "word-for-word" the same as those discussed by Taylor and Woods: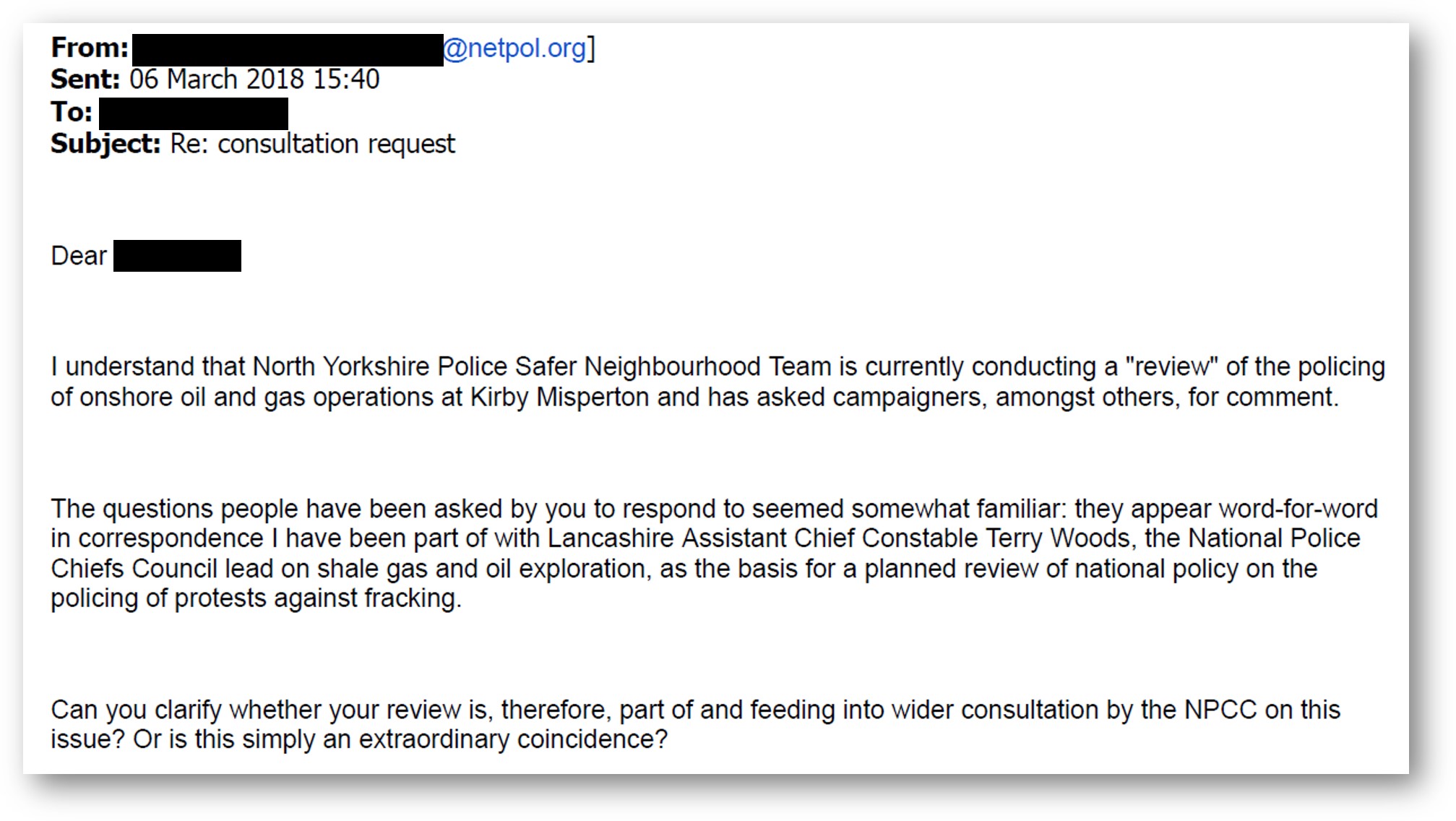 "That's not consultation, that's just gathering bits of information", Blowe told DeSmog. In a letter to Woods on 9 March 2018, Netpol expressed concerns regarding the transparency of this process, and called for a full public consultation process.
"Any poorly-executed consultation that is not genuinely transparent risks reinforcing that distrust — and will make it considerably more difficult for Netpol in our efforts to encourage people to participate and share their invaluable experiences," Netpol noted.
"In our view, what all this points to directly is the urgent need for a proper, meaningful consultation process, one with a clear remit, questions publicised on the NPCC website, a reasonable deadline and a single point of contact for submissions," it added.
In an email to Netpol and Taylor on 16 March 2018 — nine months after being appointed as the force's Shale Gas Lead —  Woods acknowledged concerns about the transparency of the process and agreed to explore the possibility of a wider consultation process. In the email, Woods noted that this will mean "previous timescales are not feasible".

The concession was made days after Netpol delivered a petition with 12,000 signatures calling on police to meaningfully engage with anti-fracking campaigners in the review process.
Excluding Stakeholders
The correspondence shows that Woods was reluctant to directly engage with anti-fracking campaign groups from the outset of the review process.
In November 2017, the newly appointed NPCC Shale Gas Lead said the review process would involve his colleagues, Netpol (who had already commented on the 2015 document), Taylor and the Green party, and the businesses involved. At no point did Woods suggest the police would directly consult protest or campaign groups.
Miranda Cox, a local independent councillor for Kirkham, which is located three miles from Cuadrilla's Preston New Road fracking site, told DeSmog the exclusion of campaigners from the initial consultation process did not surprise her. She said:
"As an anti-fracking campaigner who has attended roadside protests regularly at Preston New Road in Lancashire, I have witnessed and experienced inconsistent and often intimidating policing."
"As the shale gas industry attempts to expand, it is extremely concerning to discover industry has been represented in police consultations, yet those opposing have not. The police claim their remit is to facilitate peaceful protest, so it is disappointing to have this collusion between industry and police confirmed."
"Environmental campaigners have long believed the police are prejudiced against protestors when making decisions around tactics, operations, and arrests. This news confirms our suspicions and further undermines the already very poor relationship between the police and community."
Campaign group Reclaim the Power agrees that this process has harmed public trust in the police. A spokesperson told DeSmog that protestors often see the police as on the side of the industry, not lawful protest. They said:
"Over the past few years, we have seen an outrageous waste of police resources facilitating fracking by private companies in communities that have repeatedly and democratically rejected it."
"Police officers have failed to prevent violence from private security guards towards the public. The police should be guaranteeing people's safety and the right to protest, not private companies' right to profit."
Reclaim the Power conducted a month of action at the Preston New Road fracking site in July 2017, during which the number of protestors that were arrested significantly increased. Many were released without charge, although three were later given custodial sentences for boarding a convoy of lorries heading to the site. They were the first environmental protestors to be jailed in the UK for decades.
---
Read DeSmog's interview with Simon Roscoe Blevins, an activist jailed for resisting fracking
---
The correspondence shows how Woods sought to use Taylor and Netpol to bridge the gap between the campaign community and the police, rather than engage with protestors directly.
In March 2018, Netpol and Taylor both rejected Woods' suggestion that they could act as intermediaries between anti-fracking protestors and the police — arguing that it would be inappropriate for them to assume they could represent the views of the diverse group.
In an email to Woods on 6 March 2018, Taylor says:
"Many of the residents and campaigners I spoke with feel it's not appropriate for me to act as the designated middleman in this review and would like to submit their accounts in a more official way."
"Additionally, it still isn't clear in what way you are working with other stakeholders and public groups, as there's no public platform to submit views, and how you are ensuring that the process around the revised guidance is open and transparent."
This was not a new statement. Taylor pointed out back in January 2018 in a letter to Woods that he only officially represented constituents in the South East of England, and that the police should seek input from the protest communities directly and systematically for the sake of transparency and rigour in the review process:
"… while I appreciate that you are happy to involve me in this process, I would like to reiterate that I am a representative of the South East of England, and would urge you to contact grassroots anti-drilling campaigners across the UK, including Derbyshire and Lancashire," the letter said.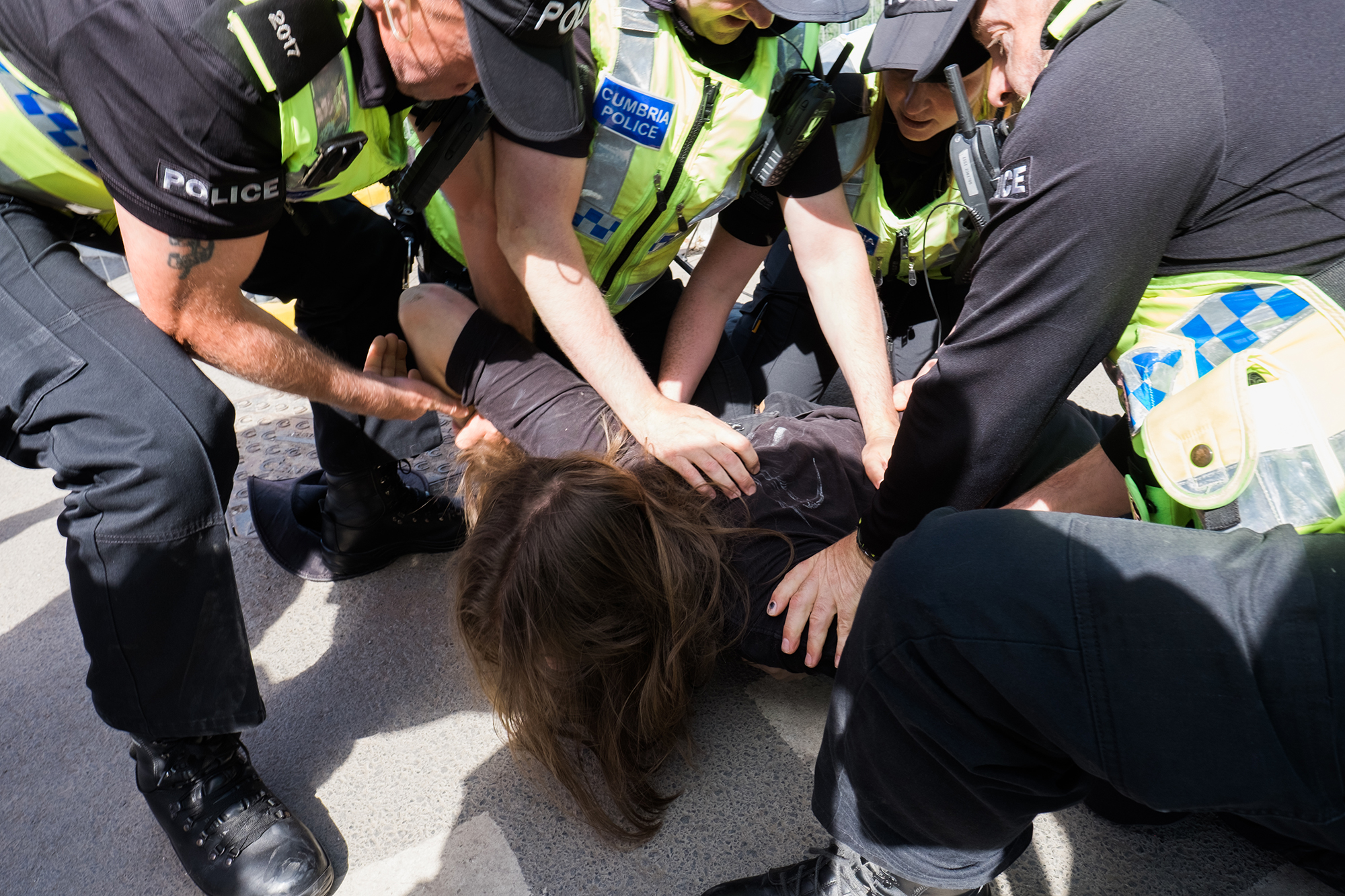 Image: Police arrest a protestor at Cuadrilla's Preston New Road fracking site. Credit: © Alban Grosdidier 
Brexit Motivation
In a matter of weeks, campaigners are set to lose one of their main points of contact with Woods and the police, as Taylor's European Parliament office will close once the UK leaves the EU. Taylor says that only adds urgency to the need for police to be transparent about when the guidance will be updated. He told DeSmog:
"Towards the beginning of this year, faced with the prospect of no longer being a MEP beyond what I was told would be [29 March 2019], it was time to talk turkey. This guy was being very evasive and I thought I am simply wasting my time talking on this project because they are not listening. They do not want to listen."
He thinks that had police showed greater willingness to engage with protest communities from the outset — including those staying in camps at fracking sites known as 'protectors' — some of the  conflict could have been avoided. He told DeSmog:
"If we'd had a genuine consultation, if we'd had genuine involvement, I think we'd perhaps be in a better place — we'd perhaps be in a more understanding place. The police would better understand the roles of the protectors, and the rights of the protectors."
"For one reason or another, the project to revise our policing guidelines has been a failure, which is a source of deep regret."
Netpol agrees that Taylor's imminent departure from his role as an MEP could give the police an additional motivation to further delay the review process. According to Blowe:
"They've dragged this out. Partly because it's not a priority for them. Partly because they are aware that Keith Taylor as an MEP was going to be no longer in a public position to put pressure on them after the 29th March. So they're just sitting it out."
Main image credit: Sam Whitham/DeSmog ©. Updated 10/04/19: It was corrected that Miranda Cox is an independent and not Labour councillor. A quote from Alan Whitehead was added.