This week, at an industry conference focused on wooing petrochemical producers to West Virginia, officials from the state and federal government made clear their support for continuing fracked shale gas extraction and petrochemical industry development near the natural gas-rich Marcellus Shale.
Why should petrochemical companies build in West Virginia, Pennsylvania, and Ohio? For one thing, don't expect regulation of shale gas drilling, Michael Graney, executive director of the West Virginia Development Office, predicted in his presentation.
"Contrasted to other U.S. regions, Tri-State region is industry-supportive and industry-friendly," read a slide that Graney, who was appointed by West Virginia Governor Jim Justice in September 2018, presented to the conference. "Virtually no risk of drilling restrictions."
Graney also elicited "hallelujahs" from the crowd after describing West Virginia's low worker turnover rates.
"We have earned an A from the Cato Institute in fiscal policies," he told representatives from fossil fuel and petrochemical companies, referring to a libertarian think tank that Sourcewatch describes as "founded by Charles G. Koch and funded by the Koch brothers."
'Everything within the government's power'

Shell is already building a massive plastic manufacturing plant reliant on fracked-gas feedstocks known as an "ethane cracker," in Pennsylvania. Credit: Sharon Kelly, DeSmog
At the ninth annual West Virginia Manufacturers Association's Marcellus and Manufacturing Development Conference, officials from the U.S. Department of Energy (DOE) offered the petrochemical industry the services of the federal government.
"And what we're going to do is everything within the government's power to shine a bright light on this and help get this over the finish line," Steven Winberg, the Department of Energy's Assistant Secretary for Fossil Energy, told the conference. "With regard to DOE, there's a couple of things that we can do. One is, private sector investors can take advantage of the DOE's loan guarantee program."
"We can walk you through that process, the loan guarantee process that the DOE has," he continued.
Second, the Department of Energy hired a full-time staffer to push for petrochemical projects, according to Winberg, a former vice president for the coal and natural gas producer CONSOL Energy. "Secretary Perry gave me instructions to get somebody on board full time to work on behalf of the federal government to make this happen. And that somebody is Ken Humphreys."
"I want to put a name with a face — so this is your guy here," Winberg said, asking Humphreys to stand. "It is his job to do whatever the federal government can to help make this a reality." 
Humphreys served from 2010 to 2016 as the CEO of the FutureGen Industrial Alliance, which represented a group of nine coal and power companies, including CONSOL Energy, which were seeking Department of Energy funding for a carbon capture project, according to SourceWatch.
That project left behind a troubled history before its ultimate cancellation. In 2005, the DOE predicted FutureGen would be a "prototype of the fossil-fueled power plant of the future." In 2008, the DOE announced the project would be re-structured amid cost over-runs.
In 2009, a House of Representatives subcommittee report examined the project's viability. "DOE was extremely reluctant to produce documents to the Committee so that it could determine exactly how decisions were made concerning FutureGen," that report found. "In retrospect, FutureGen appears to have been nothing more than a public relations ploy for Bush Administration officials to make it appear to the public and the world that the United States was doing something to address global warming despite its refusal to ratify the Kyoto Protocol."
However, the project was modified and revived, with $1 billion in federal stimulus funding promised — then canceled entirely in 2015, after remaining behind schedule and over-budget.
National Energy Technology Laboratory Chief — With a Petrochemical Past
Winberg was not the only DOE official offering the services of the federal government to the industry at this conference.
#NETL experts are exchanging ideas and plans for expanding and improving West Virginia's potential for natural gas-related product development at the eighth Marcellus and Manufacturing Development Conference today and tomorrow in Morgantown. https://t.co/LHwic880kP pic.twitter.com/ddashd5X2G

— NETL (@NETL_DOE) April 8, 2019
Brian Anderson was appointed in November to run the National Energy Technology Laboratory (NETL), part of the Energy Department.
Anderson, as DeSmog previously reported, had been "listed as one of the principals" by Appalachia Development Group, which has sought to develop an underground storage site for natural gas liquids, the raw materials from gas wells that can be used by petrochemical manufacturers.
"Since he became the director at NETL, which falls under the Department of Energy umbrella, Anderson said he's severed all connections with Appalachia Development Group," the Pittsburgh Post-Gazette reported on November 27, 2018.
In January, Anderson had been slated to speak at the West Virginia Energy Infrastructure Summit.
DeSmog reporter Steve Horn raised questions about potential conflicts of interest, given Anderson's role at Appalachia Development Group.
"The Department follows all federal laws and ethics requirements regarding onboarding new employees," a DOE spokesperson told DeSmog. "The employee in question has been counseled regarding recusal from matters relating to past employers."
Anderson never spoke at that conference.
At this week's conference, Anderson's presentation focused on the support that his new federal office could provide for the fossil fuel industry — and for the region's petrochemical industry in particular.
"Effectively the question is, what is the Marcellus going to do for us in manufacturing in this region?" Anderson told the audience of industry representatives. "And so, within that big question is what can NETL do within this region, as a partner in manufacturing?"
"We manage a $6.6 billion research portfolio across the U.S. and globe," he added, describing various NETL "research projects to ensure that fossil energy can stay competitive as well as meet some of those emissions goals of our country and the globe."
Anderson emphasized that even though petrochemical projects produce goods, not energy, supporting the industry through research fell within NETL's Congressional mandate. "And so, the Department of Energy, one of our missions — within our mission — is to use our natural resources, our energy natural resources responsibly," Anderson told the conference. "And it's a responsible use of the natural gas liquids resource not to burn it, but to use it for building and manufacturing."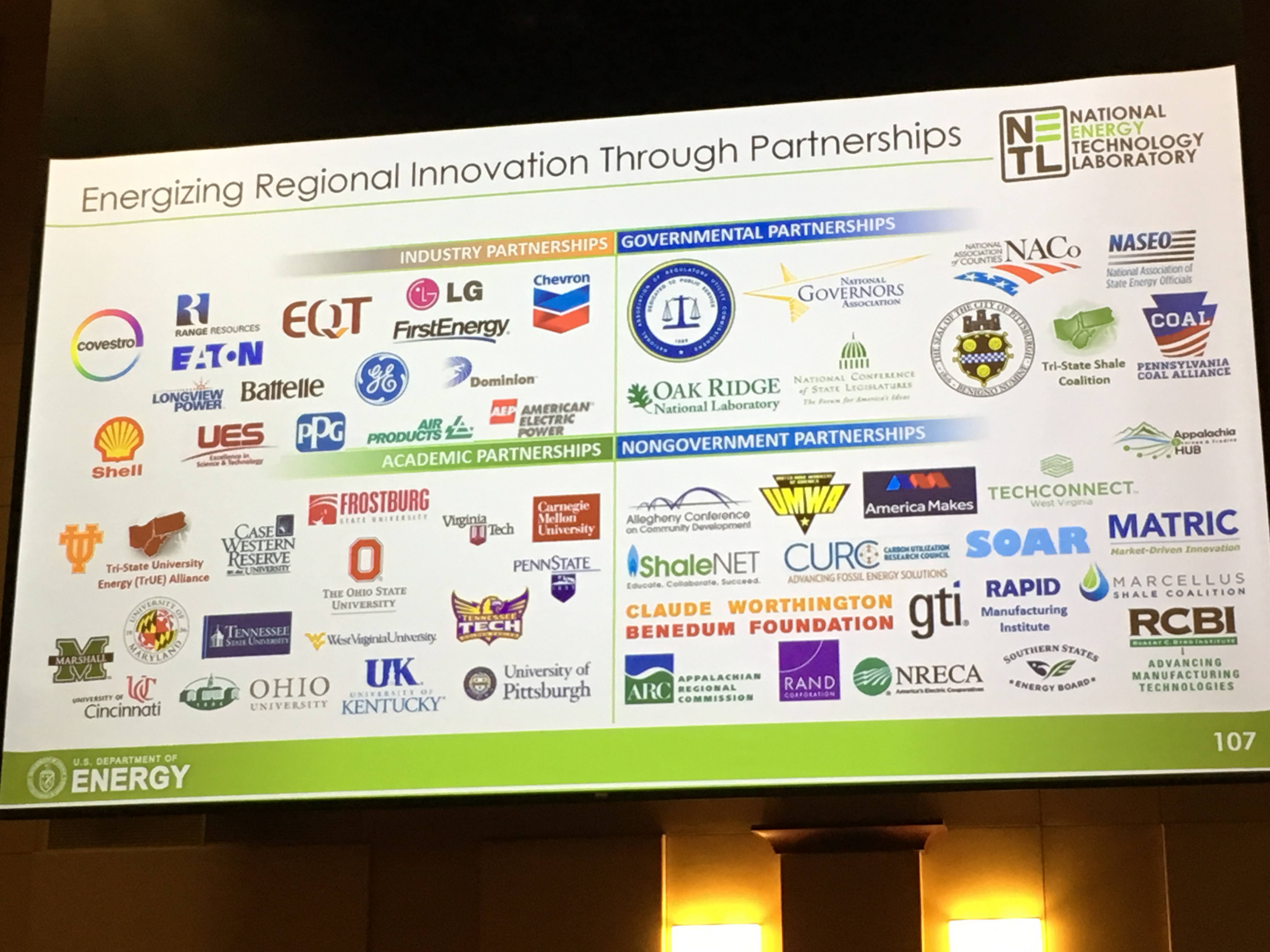 A slide from Anderson's presentation for NETL, titled "Energizing Regional Innovation Through Partnerships," displayed logos from the Appalachia Storage and Trading Hub, a project planned by Appalachia Development Group, and from MATRIC, an owner of the Appalachian Development Group.
As of press time, the Department of Energy had not responded to a request for comment from DeSmog.
Taking the Federal Government's Help
Appalachia Development Group — Anderson's former firm — has been making strides toward obtaining loan guarantees from the DOE, Joe Bozada, a company executive, told the conference, including a loan guarantee roughly twice the size of the $1 billion DOE support offered to the FutureGen project.
"So, that's a $1.9 billion loan guarantee," Bozada told the conference. "We successfully completed that part one, and we've been invited to participate in part two," of the DOE's process.
"In the past 18 months, we've actually completed a lot of work," he said. "One was getting the application to the loan permit office, that was very, very tough to do. And many folks in the room were actually part of that, so thank you for that."
While company representatives spoke of the importance of federal assistance, the state's political representatives expressed their support — and also decried the notion that the government should play favorites.
"We can't allow the federal government to pick winners and losers when it comes to our energy policy," Senator Joe Manchin said in a video recorded for the conference, "and we certainly can't have them demonizing the resources that have powered this nation for decades. Coal and natural gas is a big part of that."​
Meanwhile, outside the conference, Ohio Valley Environmental Coalition Project Coordinator Dustin White spoke to a rally organized in opposition to the petrochemical industry's plans for the region, The Dominion Post reported.
"They scream jobs and like a carrot on a stick, and politicians chase them," White said.
"The [Appalachian Storage Hub] scheme is an unimaginative regression to 1950s era economic development," White said in a statement. "Why can't we have real innovation?"
"It is of upmost importance that people see these current and proposed petrochemical projects in Appalachia for what they are: a scheme that the oil and gas companies are using to bail themselves out of debt," said Bridgeport, Ohio, resident, Bev Reed, who also attended the rally and lives near the site of a proposed plastic factory. "The tide needs to shift to alternatives to plastic, rather than creating more."
Main image: A slide from a presentation by West Virginia official Michael Graney, who listed "virtually no risk of drilling restrictions" as a reason to bring fracked-gas reliant petrochemical development to the region. Credit: Sharon Kelly, DeSmog