High above Parliament Square, a small group of people swing from hammocks between the trees. They won't stay elevated for long.
Police brought the members of campaign group Extinction Rebellion back down to Earth on Wednesday afternoon, shortly after the group announced it would end its 10-day occupation.
The group have gradually been pushed out of five London locations. A pink boat that sat in the Oxford Circus junction was towed away after the first week, and a garden on Waterloo Bridge was removed a few days later.
Over 1000 arrests have been made, five times more in just under two weeks than in the group's first five months since its creation in October 2018.
"It was frustrating earlier on, when they were on the bridge, and then all over the place," said Matthew Barker, a passer-by who usually drives across Waterloo Bridge on his way to work. "I was annoyed about having to take a longer route, surely it would just move the problem with the dirty air further down the road."
But Barker's view changed after a conversation with his daughter. "She was talking to me about why they're here. She's saying what if we do nothing, what future will she have? It won't just be my route to work [that's disrupted], it'll be everything."
---
Read more — Series: Direct Action to Save the Planet from Climate Change
---
Non-Violent
The action, which the group called an international rebellion, focused on non-violent disruption. Protesters swarmed to block roads, superglued themselves to trains and railings outside different locations, and threw paint at fossil fuel companies' HQs.
Their aim was to bring attention to three demands: for the government to declare a climate emergency, to act to achieve net zero greenhouse gas emissions by 2025, and to create a citizens' assembly.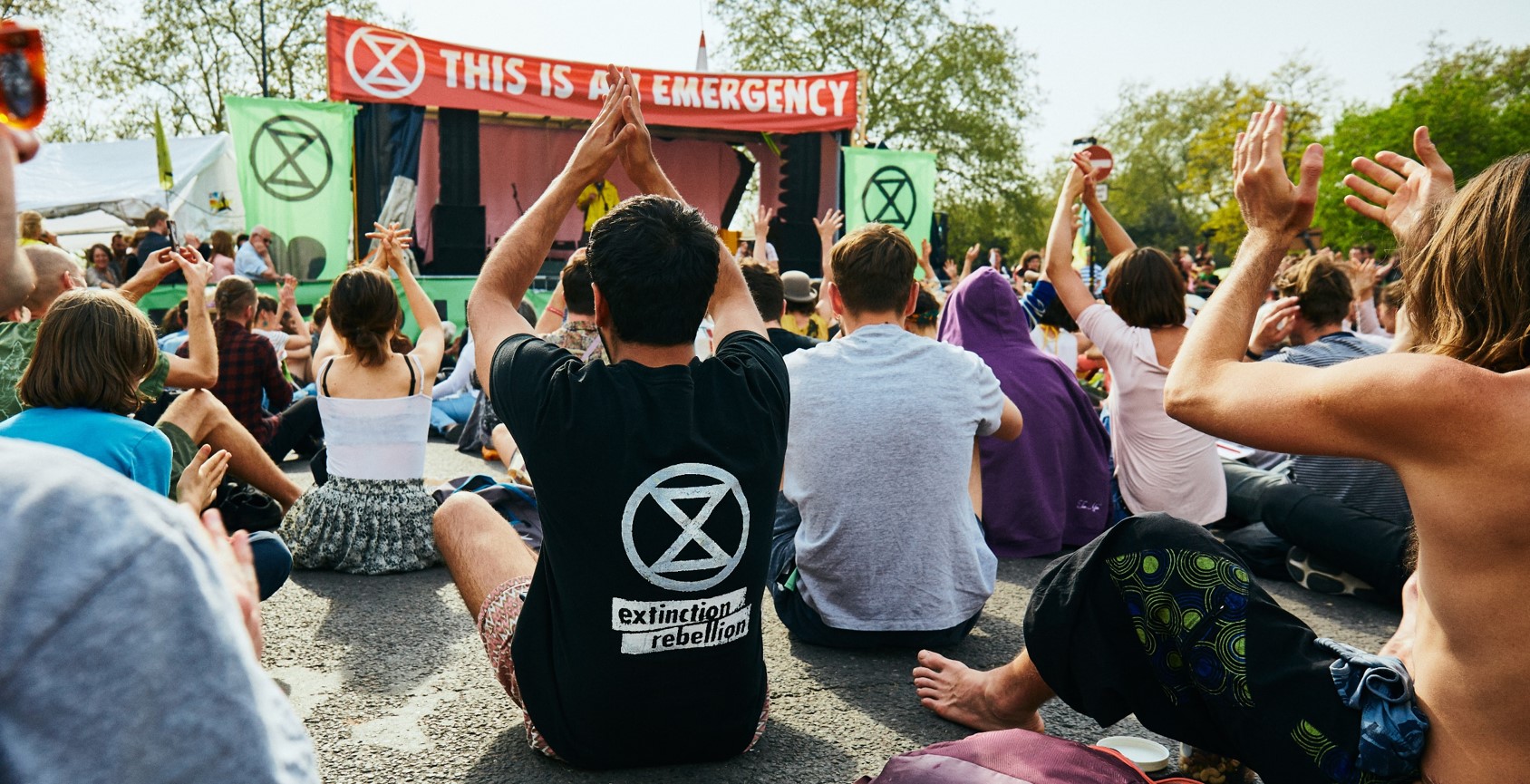 Image: Marble Arch Extinction Rebellion gathering. © Sarah Cresswell
Even if it's not yet formally recognised, many believe a new model of making decisions on climate action has emerged.
"I've watched how this citizens' assembly [at the sites] has formed; it's amazing," said Bryn Raven, who had travelled from East Anglia. Raven felt encouraged by how the movement had developed since last Monday.
"What's impressed me as it's gone on is the organic nature of it and how there's been discipline for it to not lose control, we've not been violent" she added. "It's great with all the attention we've had."
But the huge numbers of police seen on the streets during Extinction Rebellion's peaceful protests have led to a proposed rethink of police tactics.
Commander Adrian Usher, head of the Metropolitan Police's protection command, said while giving evidence on Wednesday to the parliamentary Human Rights Committee that it should not be enough for a protest to be peaceful to be considered lawful.
"We will conduct a sober review of our tactics against recent protests, but I think it is likely to say the legislation associated with policing protest is quite dated," he said.
Other environmental protesters have faced a similar backlash from the police. Following complaints that police had often used excessive force against peaceful anti-fracking campaigners, a review of tactics was promised in 2017. That review has been repeatedly delayed as conflict at the sites has escalated.
One protester who wished to remain anonymous said that they had expected more agitation from the police early on. "At the beginning, they let us set up, they let us occupy and then they realised we were serious about not leaving until we were heard," they said.
"I thought it might get violent, a splinter group maybe. But now I don't think it will ever come to that. We can change the world without destroying more," they added. "It's empowering. I'm not privileged like some people here, but I see how we're all fighting."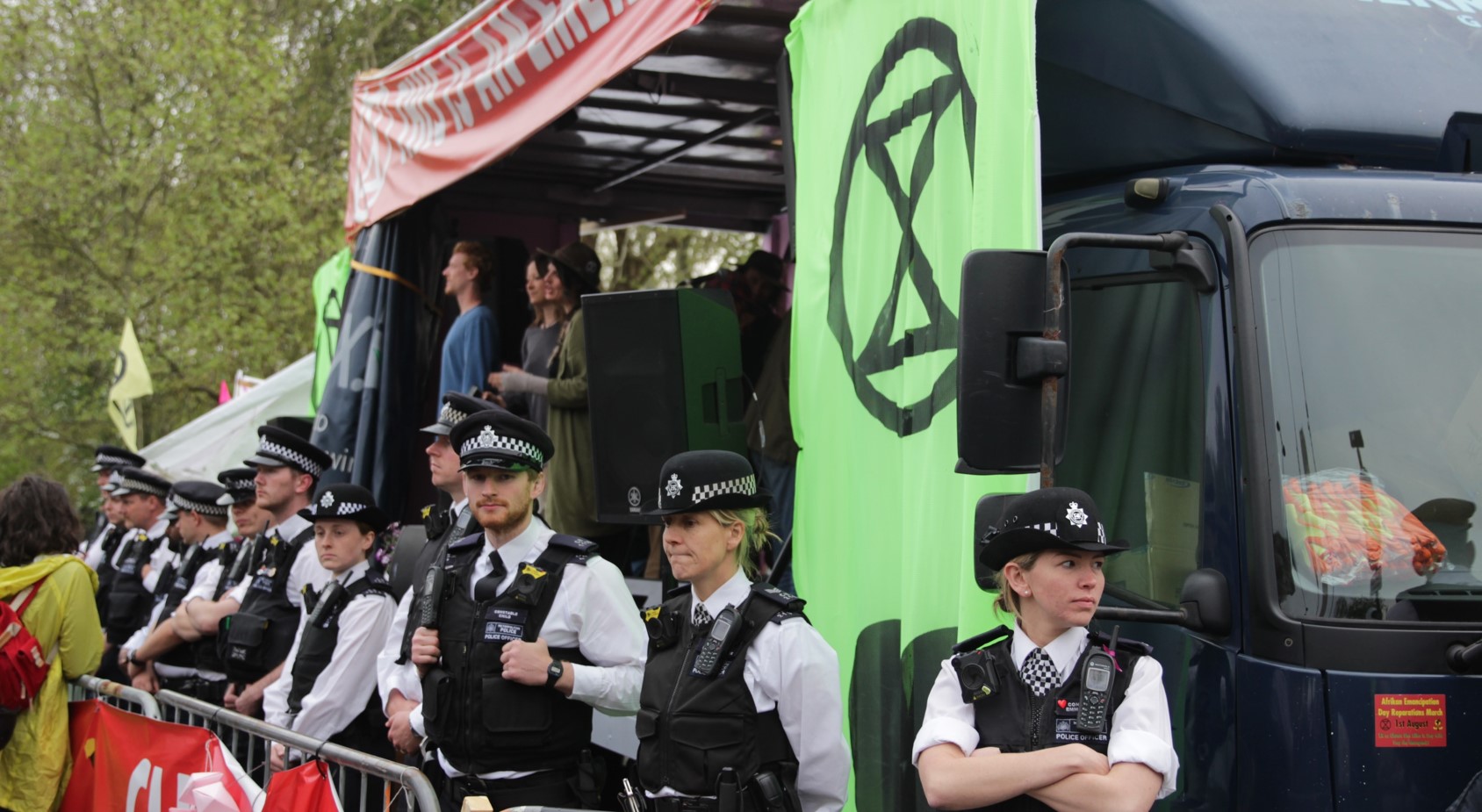 Image: Police at the Marble Arch Extinction Rebellion site in London. © Matt Shearing
Public Attention
Alex, who did not want to give his surname, came from Devon to camp at the Marble Arch site on the second day of the protest. "I came here expecting a clean, eco-friendly thing, and so far so good. I've not seen anything so direct speaking volumes like this," he said.
"People are listening now, they know who we are, they know we're not going to go away. If people aren't listening, it's only going to get worse."
Among high profile speakers like activist Greta Thunberg, actor Emma Thompson, and band Massive Attack, some Members of Parliament, now back from recess, have been to talk to the protesters.
Ex-Labour leader Ed Miliband visited those camped in Parliament Square, following a visit from Labour shadow Home Secretary Diane Abbott earlier on Wednesday.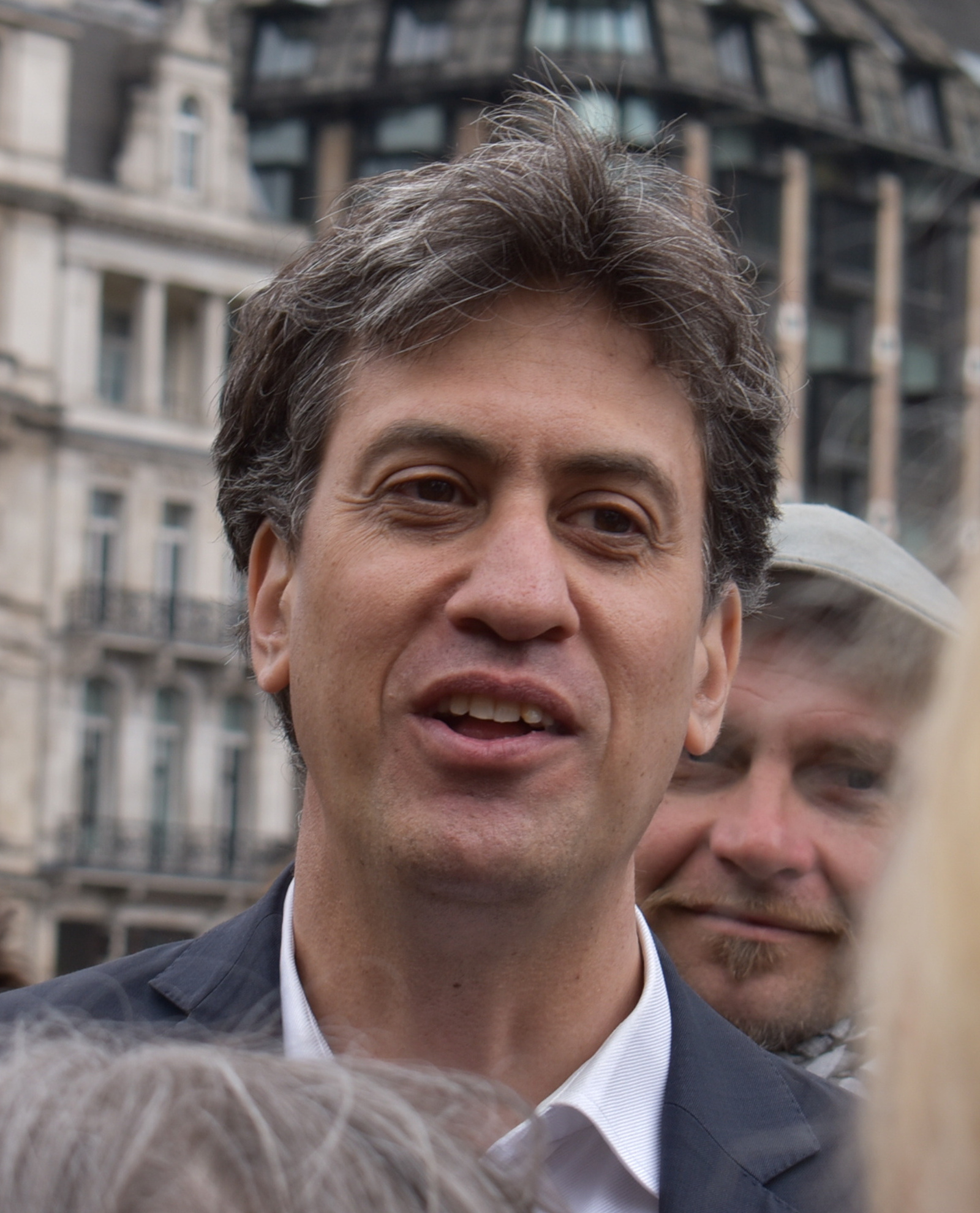 "An emergency response is the appropriate response and that's not what is happening at the moment," Miliband told protesters, who were pleading with the MP to go back to parliament and "try harder."
"You've made people notice," Miliband added. "Now you want to bring as many people with you [as possible]. You need all of us."
Extinction Rebellion has acknowledged that a cross-party-political approach is needed in the fight against climate change.
"It's welcome that [Miliband] came down to talk to people. He's an ally, but out of how many MPs, it doesn't feel like very much," another protestor told DeSmog.
"This isn't about left or right but demands a complete change in the system."
But some are less hopeful. Emily, who also did not want to give her surname, didn't think the rebellion had been as effective as she had hoped.
"I don't see where the visual actions like in Oxford Circus have turned into political action," she said. "I don't believe people are willing to make the sacrifices in time."
For the children
Many who have come out in support of Extinction Rebellion feel that they needed to on behalf of younger generations. "One of the things that drove me to this is that I have two grandchildren," said Raven.
Sally Llewellyn travelled from the Welsh border with her partner and three children, Issac, 11, Willow, 6, and Ifor, 4. "We're very much an activist family, we sat there and thought, what can we do? So we waited until payday, and we came in support."
Llewellyn's children understand climate change and worry about their future if nothing is done to halt it. "This is the best use of my Easter holidays," said Issac. "I feel really sad about climate change. Unless we do something, the planet will die."
His mum thinks that Issac "shouldn't feel like this is the best use of his time."
"By the time Willow is old enough to vote, it's too late," she said. "No six year old should feel like they cannot make choices about their future. They shouldn't be planning the inevitable death of their planet."
"It's not about us. The children deserve to be heard," she added.
But for now, two weeks of headline-hogging appears to be coming to an end.
"We will leave the physical locations but a space for truth-telling has been opened up in the world," the group said in a statement.
"It is now time to go back into our communities, whether in London, around the UK or internationally."