Massachusetts' Secretary for Energy and Environmental Affairs, Matthew Beaton, has accepted a position at a consulting firm working for oil and gas pipeline builder Enbridge on a controversial project for which Beaton's Department of Environmental Protection (DEP) recently approved a crucial permit.
Governor Charlie Baker's administration announced on Monday that Beaton has been hired as vice president for renewable energy and emerging technology at TRC Companies, a large environmental and engineering firm working mainly for the oil and gas industry.
The move comes less than four months after the DEP approved Enbridge's controversial air permit for its planned compressor station in Weymouth, outside Boston, as part of the company's Atlantic Bridge project. TRC Companies is Enbridge's environmental contractor in the project and has been working on Enbridge's pipeline projects in the Northeast for the past several years.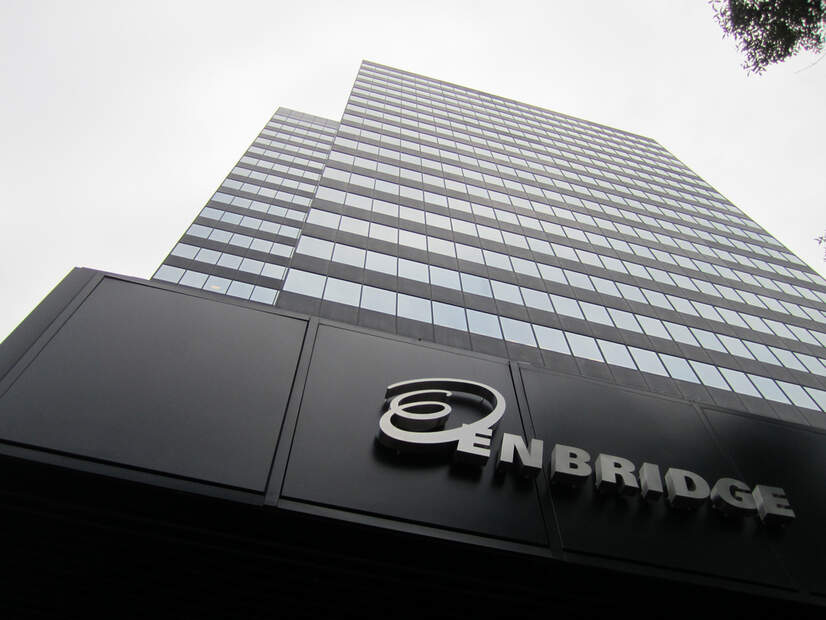 Enbridge Liquids Pipelines Head Office, Edmonton, Canada. Credit: Mack Male, CC BY–SA 2.0
Last year alone, Enbridge's subsidiary, Algonquin Gas Transmission, paid TRC Companies nearly $1.8 million, recent Federal Energy Regulatory Commission filings show.
The Office of Energy and Environmental Affairs did not respond to several questions from DeSmog, including when Beaton began his job negotiations with TRC.
As DeSmog has extensively reported, the Atlantic Bridge project and its compressor station, which will help pump natural gas through pipelines, have been fraught with potential conflicts of interest and improprieties. In the latest revelation, DEP failed to include in the station's health impacts assessment unreported air samplings it conducted at the Weymouth site.
Those samplings showed elevated levels for several carcinogens and other pollutants, including 1,3-butadiene and acrolein.
Citizens and experts who are appealing the permit have included these revelations in their appeal, which the DEP will hear next month.
Wind Energy, Climate Adaptation — and Pipelines
Environmental activists have mixed reviews of Beaton's record. During his tenure, the state has facilitated a massive investment in offshore wind off the coast of Martha's Vineyard and bolstered climate adaptation and mitigation programs.
"He mastered some pretty complicated issues, especially on the energy side," Bruce Berman, a spokesman for the group Save the Harbor/Save the Bay, told the Boston Globe. "He knew from experience that the natural environment requires protection and investment, and I think he's going to be remembered as a good secretary."
Our #cleanenergy future must allow all residents to have access to our nation leading programs #MAEarthWeek https://t.co/POxRDfWw9G pic.twitter.com/Zx1fLj5eJl

— Matt Beaton (@MattBeatonEEA) April 20, 2017
At the same time, Beaton has consistently supported the natural gas buildup in the state, which at times bitterly pitted him against local communities and groups. "We are a bit stunned that Secretary Beaton would throw himself into such an obvious ethical conundrum," Alice Arena, who heads the group Fore River Residents Against the Compressor Station (FRRACS) which is fighting the Weymouth facility, said of Beaton's departure to the private industry.
"We now have to worry that he might share information we gave him as a government official tasked with overseeing environmental risks with a company tied directly to Enbridge."
Arena, along with a group of activists, met with Beaton only a few weeks ago, urging him to oppose the project.    
New Secretary, New Concerns
Beaton, who served under Baker since the governor began his first term in January 2015, is being replaced by his undersecretary for climate change, Kathleen Theoharides.
While Theoharides has a background in conservation and wildlife protection, she too may now face increasing ethics scrutiny. According to her financial disclosure, Theoharides' husband, Stephen Caldwell, is director of retail regulatory strategy at National Grid, which supplies the state with electricity and gas.
National Grid is partnering with Enbridge on its Access Northeast project, another upgrade to the Algonquin pipeline. The project's partners have put it on hold as they try to find a legislative formula for charging ratepayers to fund the upgrade.  
Main image: Massachusetts Secretary of Energy and Environmental Affairs Matthew Beaton speaking in 2016. Credit: Massachusetts Office of Energy and Environmental Affairs, CC BY–NC 2.0