A network of lobbyists, politicians and campaign groups is pushing the UK towards a hard-Brexit, with the aim of axing environmental protection in the name of free-market ideology.
Powerful vested interests are at play, with a network of decision-makers and companies that profit from climate inaction overlapping with a cabal of climate science deniers eager to limit global action to cut emissions.
Over the past four years, DeSmog has been tracking this network. We've now mapped over 2,000 connections between its actors operating at the highest levels of political and corporate life in the UK, US and Europe.
The new interactive map shows:
How frontrunners for the Tory leadership including Boris Johnson, Michael Gove and Dominic Raab are tied to a network of thinktanks and lobbyists pushing disinformation on the climate crisis, while promoting policies that could harm the environment in the name of a no-deal Brexit;
How a network of free-market thinktanks and organisations based at offices in and around 55 Tufton Street are tied to major

US

funders of climate science denial including the Koch brothers and Robert Mercer, who also bankrolled Donald Trump;
How this network is influencing

UK

politics at the highest level, and pushing for a hard or no-deal Brexit.
---
Read more about the Tufton Street network in DeSmog's Disinformation Database
---
The map has been organised into clusters to help identify how the network fits together. Each node is an organisation and each line is a relationship, which can be clicked on to reveal details. Explore the relationships between the actors by zooming in and out on each section.
Map by Chloe Farand
---
Like what you see? Become a Patron today!
DeSmog isn't behind a paywall, we don't do advertising, and we don't take corporate sponsorhip. That means we rely on you, dear readers, to help fund our work. If you care about investigative journalism on the climate crisis, please become a patron today.
---
Global Warming Policy Foundation and associates
The Global Warming Policy Foundation (GWPF) is the UK's main climate science denial campaign group. It gives a platform to fringe climate science deniers, and gets credibility within the political world through its high-profile Westminster connections.
Its influence outside the right-wing fringe of UK politics and the media has significantly diminished in recent years, but it remains the climate science denial wing of a wider network pushing for greater deregulation and opposing action on climate change based around 55 Tufton Street.
The GWPF was established in November 2009 by Lord Nigel Lawson, Margaret Thatcher's Chancellor of the Exchequer. Lawson remains the UK's most visible climate science denier. It is run by a small team, none of whom have expertise in climate science.
Its Director, Benny Peiser, was previously a senior lecturer in social anthropology and sport sociology at Liverpool John Moores University. Andrew Montford, best known for his climate science denial blog Bishop Hill, is Deputy Director. John Constable, who also ran the anti-renewable energy campaign group the Renewable Energy Foundation, is the GWPF's Energy Editor, while former BBC journalist David Whitehouse is Science Editor. The GWPF also employs Harry Wilkinson as a junior researcher.
The GWPF relies on a small pool of self-described experts to write its reports. Most prominent among these are Judith Curry, a former Georgia Tech professor, Ross McKitrick, an associate professor of economics at the University of Guelph, and Viscount Matt Ridley.
Ridley is a Conservative hereditary peer who was chairman of Northern Rock when the bank crashed and was rescued by the government in 2007. He promotes himself as an evolution expert. His Blagdon Estate hosts a coal mine.
Ridley's brother-in-law is North Shropshire MP and former Environment Secretary Owen Paterson, who gave the GWPF's annual lecture in 2014 (later discovered to have been written by Ridley).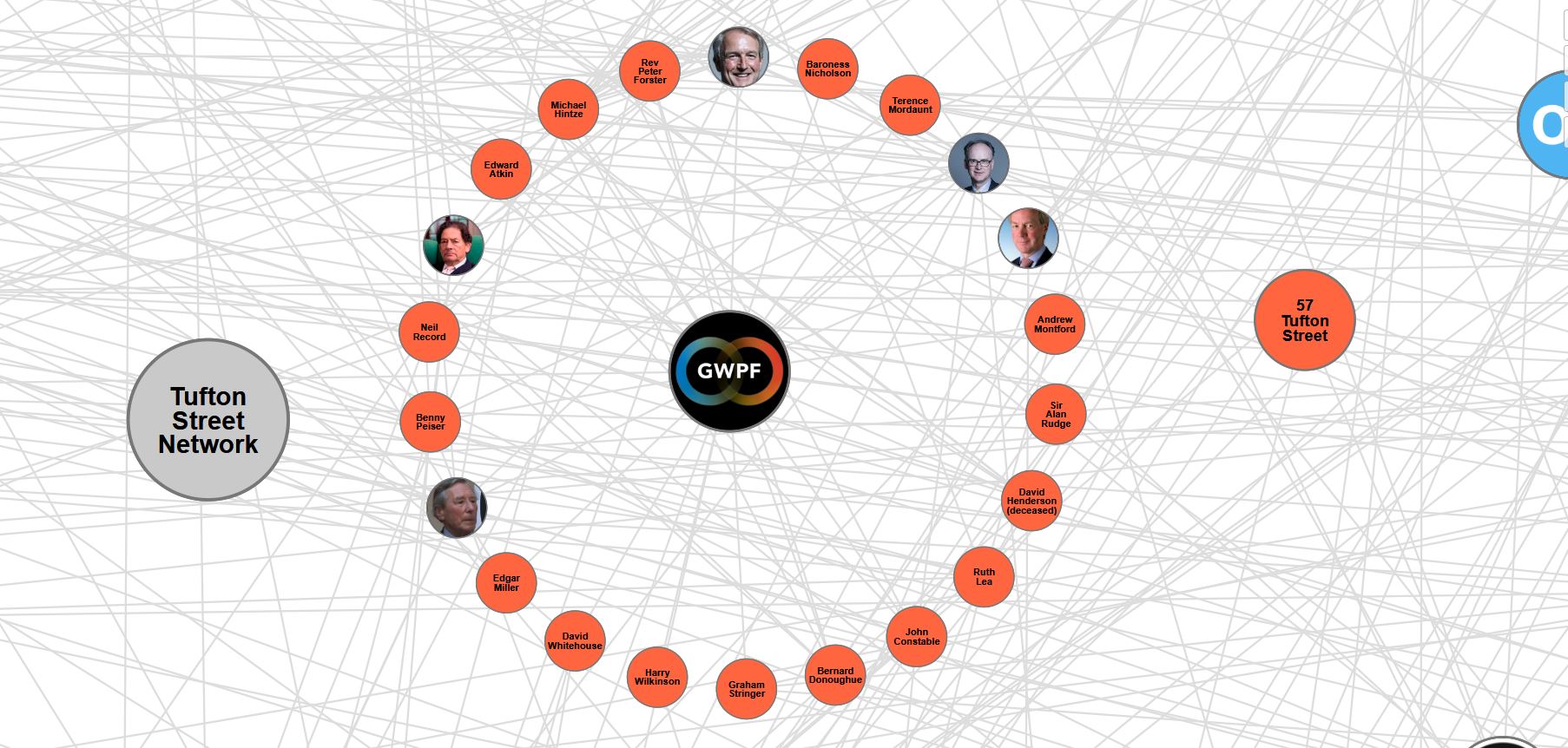 Labour peer Lord Bernard Donoughue has also been on the GWPF's board since its inception in 2007, and took over from Lawson as chair in January 2019. Donoughue, a former Minister for Farming and the Food Industry, has numerous investments, including in seven funds that hold shares in fossil fuel companies.
Former Tory MP Peter Lilley is another GWPF advisor sitting in the House of Lords. Lilley has a record of consistently voting against policy measures to tackle climate change, including in 2008 when he was one of only five MPs to vote against the UK's Climate Change Act.
Lilley was been a non-executive board member of Tethys Petroleum, a Cayman Island-based oil and gas company with drilling operations in Kazakhstan, Tajikistan and Uzbekistan. In 2018, Lilley was involved in a Channel 4 sting over politicians being offered cash to advise on Brexit. Lilley denied the allegations and reported Channel 4 to Ofcom over the programme.
Labour MP Graham Stringer is also a GWPF trustee. Stringer was a leading voice in Labour Leave, the party's main pro-Brexit group.
---
Read more about the Global Warming Policy Foundation in DeSmog's Disinformation Database
---
The GWPF does not declare who funds it, but a few donors have been exposed — all of whom are major Conservative party and pro-Brexit donors.
Australian hedge fund manager Michael Hintze has been dubbed the "godfather of Tory donors", and was revealed to be a GWPF donor in 2012. He also donated £225,000 to the Leave campaign in the Brexit referendum.
City currency manager Neil Record is likewise a major Tory donor and GWPF supporter. He donated over £450,000 to the Conservative Party, including £32,000 to Tory leadership hopeful Matt Hancock between 2010 and 2017. In 2014, he confirmed he donated to the GWPF but declined to disclose the amount.
Lord Nigel Vinson, a former Barclays Bank director, was also confirmed as a GWPF donor. He donated at least £50,000 to the GWPF through his charity, the Nigel Vinson Charitable Trust, according to accounts submitted to the Charity Commission. He has also donated to the Renewable Energy Foundation and Institute for Policy Research — an organisation that supports many of the Tufton Street network's organisations.
Another major donor, the Atkin foundation, pulled its GWPF funding in 2018. The foundation did not explain its decision not to renew the £20,000 donation it had made to the GWPF each year between 2012 and 2016.
Edward Atkin made his money through selling his baby-feeding business Avent for £300 million in 2005. He sits on the GWPF's board, and has also donated around £230,000 to the Conservative party, according to Electoral Commission data.
Tufton Street network
Offices in and around 55 Tufton Street are home to the Global Warming Policy Foundation (GWPF) and many of the UK's leading pro-Brexit campaign groups and thinktanks.
The offices act as a hub for thinktanks, campaign groups, and specialist media outlets that push arguments for a hard or no-deal Brexit.
All of these groups portray themselves as experts in free-market libertarianism pushing for market deregulation post-Brexit, which could lead to "gaping holes" in environmental regulation, according to a parliamentary report.
In July 2018, the GWPF and eight other groups based in offices in and around Tufton Street were accused by whistleblower Shahmir Sanni in court documents of mounting a coordinated campaign to push for a hard Brexit.
The Taxpayers' Alliance, founded by Matthew Elliott, who would become chief executive of Vote Leave, is based in the office. Vote Leave itself was also originally a resident of 55 Tufton Street but moved to bigger offices several months before the referendum. Leave Means Leave, a campaign group set up after the EU referendum to campaign for a hard Brexit, also operates out of the offices.
The European Foundation, a high-profile Eurosceptic thinktank chaired by Conservative MP Bill Cash, works out of the office. Civitas, an educational charity and publisher specialising in health, education, welfare, and economics, is also based in 55 Tufton Street. Sir Alan Rudge and Lord Nigel Vinson are both Civitas trustees.
UK2020, a thinktank described as the "UK version of the American Tea Party", set up by Owen Paterson, is also registered at the address.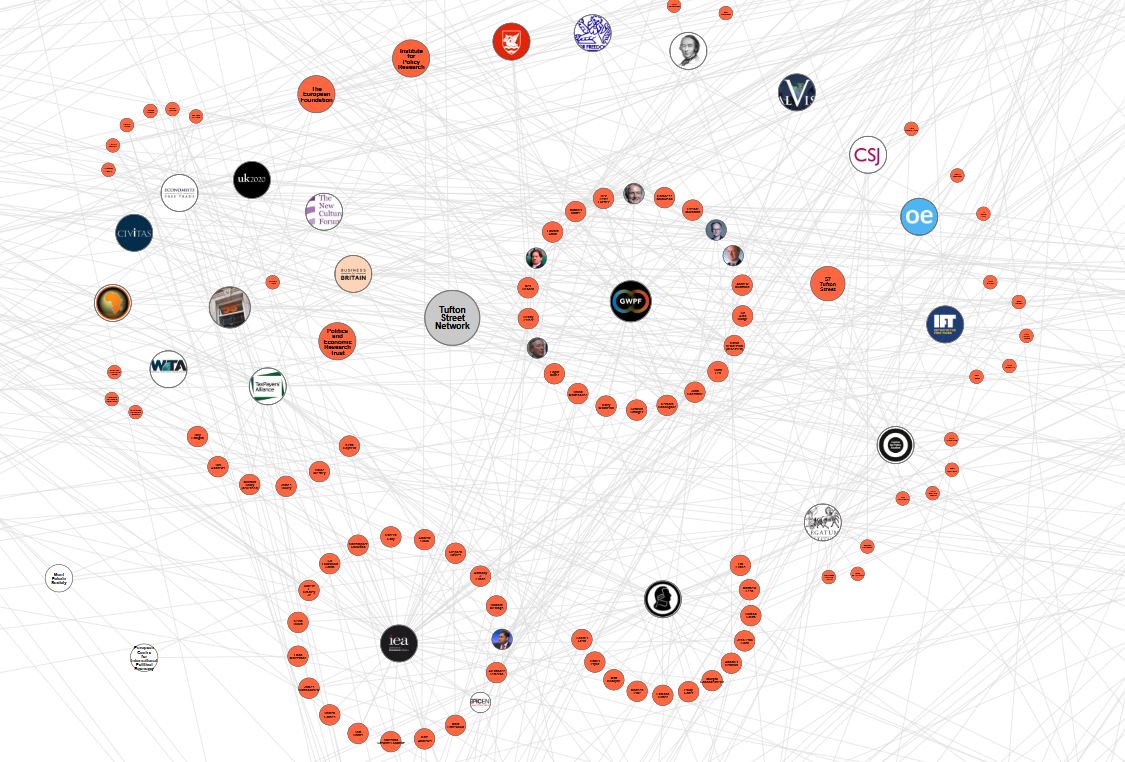 The Initiative for Free Trade (IFT), a campaign group set up by Tory MEP Daniel Hannan, was until recently registered at 57 Tufton Street, and the Centre for Policy Studies — another libertarian free market think tank that also runs the CapX news and analysis website — continues to operate out of the office.
A few doors down from number 57 is 7 Tufton Street, home to Open Europe, a Eurosceptic policy thinktank with offices in Brussels. And just down the road is the Adam Smith Institute, one of former Prime Minister Margaret Thatcher's favourite thintanks, which has published articles casting doubt on climate science and indirectly opposed green energy.
Around the corner from Tufton Street is another of Thatcher's favourites, the Institute of Economic Affairs (IEA), based in offices on Lord North Street. The IEA is a free-market thinktank and "educational charity" whose trustees include Nigel Vinson, Neil Record, and Michael Hintze — who all also fund the GWPF.
Record gave the IEA £36,000 to support a seminar featuring Nigel Lawson in November 2009 —  the same day Lawson launched the GWPF.
The IEA was embroiled in controversy last July after a sting by Greenpeace's investigative unit, Unearthed, showed the group was willing to offer access to ministers for donations, and allow donors to influence the contents of its reports.
US

funders of climate science denial and Donald Trump

The Institute of Economic Affairs (IEA) is one of many London-based organisations that is helping US groups push for market deregulation in a post-Brexit trade deal.

The main coordinating force behind such pressure is the Atlas network. Atlas is a Washington DC-based non-profit organisation that works to support more than 450 organisations in more than 90 countries promoting what it describes as individual liberty and free-market ideals. Members from the UK's Tufton Street network include the IEA, Taxpayers' Alliance, Centre for Policy Studies, Adam Smith Institute, and Civitas, among others.

Fossil fuel magnates and infamous funders of climate science denial the Koch brothers are major donors to Atlas through the Donors Trust and the Charles Koch Foundation.

Koch Industries is the US's largest private fossil fuel company, and its owners – brothers David and Charles Koch – have multiple ties to UK organisations pushing libertarian free-market ideologies and climate science denial.

Along with ExxonMobil, the Kochs fund the Committee for a Constructive Tomorrow (CFACT), one of the main US peddlers of climate science denial. CFACT employee Marc Morano regularly makes headlines at the annual UN climate talks for loudly criticising the process and casting doubt on climate science.

The group also supports prominent British climate science denier Christopher Monckton, a former advisor to Prime Minister Margaret Thatcher and the third Viscount Monckton of Brenchely who has been formally warned to stop falsely telling people he is a member of the House of Lords.

Monckton and Morano are two of the most visible members of a niche global group known as Clexit, which opposes the Paris Agreement, pushing for a "climate exit". According to Clexit's founding statement: "The world must abandon this suicidal Global Warming crusade. Man does not and cannot control the climate."

Piers Corbyn, an astrophysicist who regularly speaks at climate science denial events, has advised Conservative leadership candidate Boris Johnson on the subject and is the brother of UK Labour party leader Jeremy Corbyn, is listed as one of Clexit's members.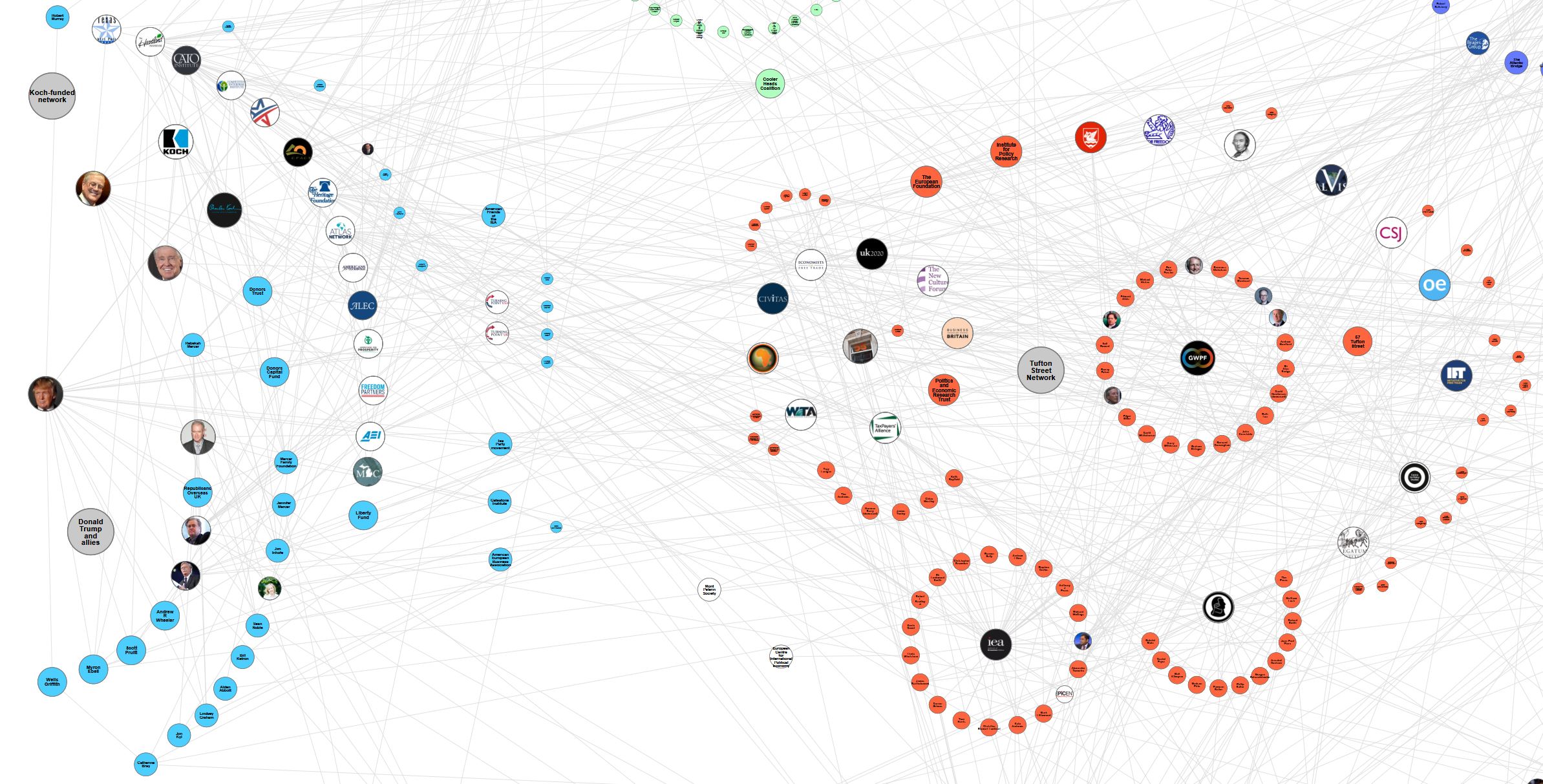 The Kochs also fund the US thinktank the Competitive Enterprise Institute, whose director of energy and environment, Myron Ebell, has been hosted by the GWPF.
The Cato Institute, which has close ties to Tufton Street's Initiative for Free Trade, also receives Koch support, as does the Heritage Foundation, which regularly hosts UK politicians including Owen Paterson, Labour MP and Brexit campaigner Kate Hoey, and the current Secretary of State for International Trade, Liam Fox.
The Heritage Foundation is also an official partner organisation of the pro-Trump youth-focused US group, Turning Point USA (TPUSA). Founders Charlie Kirk and Candace Owens toured the UK in 2019 trying to drum up support for its new UK outpost.
TPUSA previously produced a video that claims NASA scientists are "wrong about climate change", and founder Charlie Kirk has publicly supported President Trump's assertion that he will take the US out of the Paris Agreement. Turning Point UK's chair George Farmer was a Brexit Party candidate in the 2019 European Parliament elections.
Two of the Koch's main lobbying vehicles are Americans for Prosperity and Americans for Tax Reform, of which Sarah Elliott — the wife of Taxpayers' Alliance founder and Vote Leave Chief Executive Matthew Elliott — was once an employee. Matthew Elliott credits Americans for Tax Reform and its chief Grover Norquist for inspiring the Taxpayers' Alliance and his approach to politics.
Matthew Elliott remains an important figure in Tufton Street, with his ties to the Taxpayers' Alliance, the Politics and Economics Research Trust, Business for Britain, Legatum Institute, and New Culture Forum. He also retains strong links to groups pushing for a hard Brexit, including Brexit Central and The European Foundation. Elliott is currently an advisor to current Home Secretary and Tory leadership hopeful Sajid Javid.
---
Read more — 
Matthew and Sarah Elliott: How a UK Power Couple Links US Libertarians and Fossil Fuel Lobbyists to Brexit 
---
Another US funder with close ties to hard-Brexit campaigns and UK climate science deniers is Robert Mercer.
He was a major investor in Cambridge Analytica, the technology company credited with reaching millions of Brexit voters through social media, and was allegedly approached by Arron Banks on behalf of Leave.EU. Mercer is also a key funder of Donald Trump, whose national security advisor John Bolton used to work for the company.
Mercer also funds outfits that spread climate science denial, including Breitbart, the Freedom Institute and the Cato Institute, as well as through the Donors Trust.
The network that has grown around Atlas, the Kochs, and the Mercers isn't the first attempt to bridge the gap between groups pushing for market deregulation on both sides of the Atlantic. In 1997, Liam Fox, the UK's International Trade Secretary, founded Atlantic Bridge.
With Margaret Thatcher as its president, the neoconservative thinktank's aim was to promote a "special relationship" between the UK and US. In 2007, the group established a special partnership with free-market lobby group the American Legislative Exchange Council (ALEC), which is known for producing template pieces of legislation that reduce protections for the environment, as well as other anti-regulation efforts.
Many former ministers in Theresa May's cabinet were involved with Atlantic Bridge, including Boris Johnson, Michael Gove, Chris Grayling, and William Hague. Michael Hintze was one of the organisation's donors.
Government and Conservative Party  
Many of the candidates in the Conservative party's leadership contest to replace Theresa May have connections to the Tufton Street network.
Former Foreign Secretary Boris Johnson helped to launch the Initiative for Free Trade, and has spoken at the fossil-fuel funded American Enterprise Institute. Michael Hintze — who also funds the GWPF —  donated to Johnson's 2008 mayoral election campaign. Johnson has also admitted consulting climate science denier Piers Corbyn on the links between climate change and weather.
Former Brexit Secretary Dominic Raab was on the advisory board of the pro-Brexit campaign group Leave Means Leave and has written several articles for the Taxpayers' Alliance.
Environment Secretary Michael Gove, like Johnson, was one of the faces of the Vote Leave campaign. He is a board member for Tufton Street's New Culture Forum and has regularly met with the Institute of Economic Affairs' director of international trade and competition, Shanker Singham.
Singham is a self-described Washington lobbyist who has become a go-to expert for Brexiteer politicians. He has ties to multiple US organisations known for promoting climate science denial including the Koch-funded Heartland Institute and Heritage Foundation.
Andrea Leadsom also met Singham while in government. She was backed by Leave.EU and Nigel Farage's benefactor Arron Banks in the 2016 Tory leadership contest. She has ties to the Tufton Street network through her affiliation to the pro-Brexit group Open Europe. She was also a guest speaker for the anti-climate policy group the American Legislative Exchange Council (ALEC).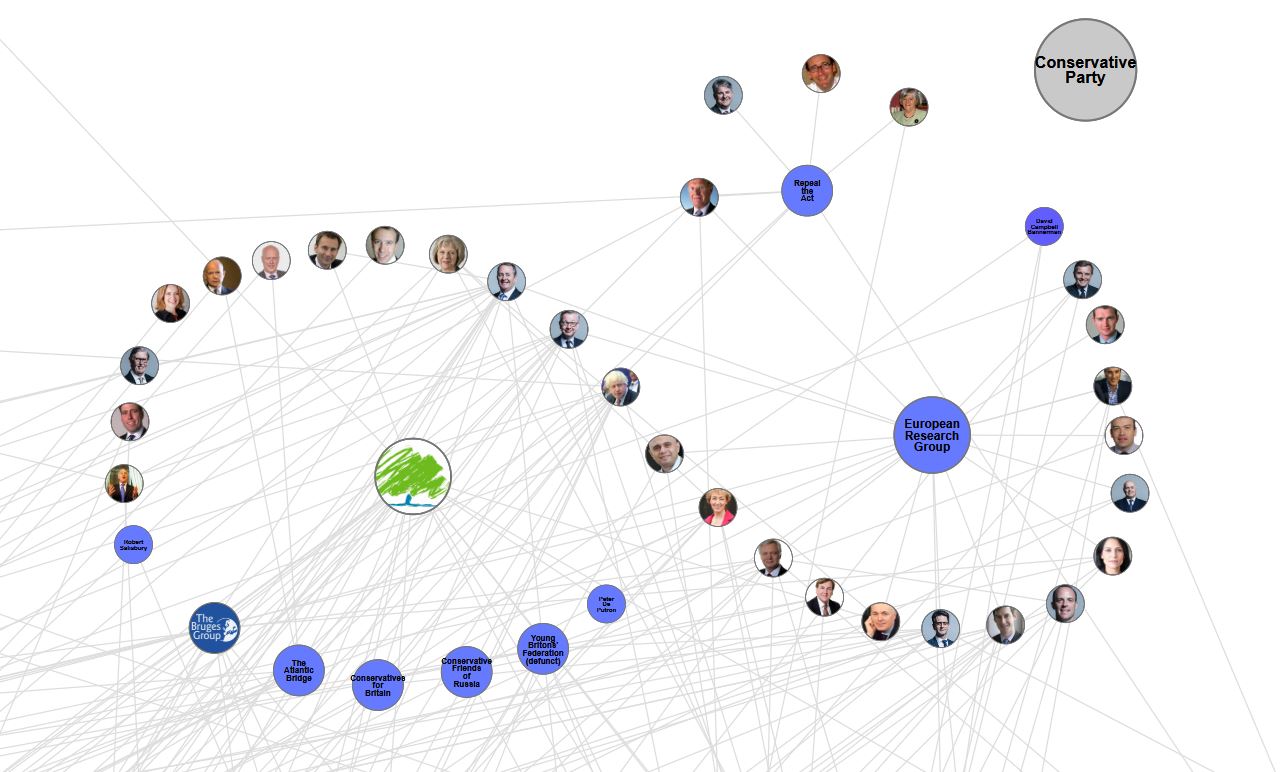 Steve Baker also regularly met Singham while Brexit minister, and is perhaps the candidate pushing for the hardest Brexit. Baker is one of the figureheads of the European Research Group, a cabal of Tory MPs pushing the government towards a no-deal Brexit.
The ERG has a number of climate science deniers in the group, including Owen Paterson and Jacob Rees-Mogg, who has claimed it is unrealistic for scientists to project future climate changes as meteorologists struggle to correctly predict the weather. Rees-Mogg's sister, Annunziata Rees-Mogg, was recently elected as a Brexit Party MEP.
Whoever wins the leadership contest will inherit a party currently propped up by the votes of Northern Ireland's Democratic Unionist Party (DUP), for which long-time climate science denier Sammy Wilson is Brexit spokesperson.
Pro-Brexit media
Outright climate science denial has a rapidly shrinking platform in the UK's mainstream press. However, many of the Tufton Street organisations pushing to cut environmental protection continue to argue for market deregulation in the media — and the authors often don't declare their connections to organisations in the network.
Perhaps the most prominent journalist still peddling climate science denial in the mainstream press is David Rose, who writes for the Mail on Sunday.
Rose regularly publishes articles casting doubt on mainstream climate science about which the press regulator IPSO often subsequently requires the paper to issue corrections. He has previously described the GWPF as "friends".
Dominic Lawson, son of GWPF founder Nigel Lawson, also regularly publishes anti-environmental columns in the Mail on Sunday.
The Sunday Telegraph's columnist Liam Halligan is a member of Tufton Street's Economists for Free Trade (EFT) — and has written columns suggesting a 'no deal' Brexit is nothing to fear (the EFT's position) without declaring his affiliation.
Roger Bootle, founder of Capital Economics and also a member of the EFT, is another Telegraph columnist described by the paper as "one of the City's leading economists". Bootle's short biography on the Telegraph's website does not disclose his affiliation with the pro-Brexit group. Boris Johnson is also a well-paid columnist for the Telegraph.
The Times continues to employ GWPF advisor Matt Ridley as a columnist. Ridley remains one of the most prominent climate science denial voices in the mainstream media after Telegraph columnist Christopher Booker retired earlier this year.

There are also a number of specialist publications that are tied to and regularly provide a platform for members of the Tufton Street network.
Christian May, editor-in-chief of City AM, is a member of the Institute of Economic Affairs'  advisory council. At the time of his appointment in 2015, the newspaper — free to read for millions of London Tube users —  was understood to want to adopt a more Eurosceptic tone, according to the Guardian. May came from the PR industry and had no senior editorial experience before his appointment.
Kate Andrews, newly appointed associate director at the IEA, writes a fortnightly column for City AM. Graeme Leach, CEO and chief economist at Macronomics and a member of Tufton Street's Economists for Free Trade (EFT), also writes a weekly column for the paper.
Matthew Elliott is the editor-at-large of Brexit Central (as well as being a regular columnist at City AM).
Hugh Bennett, former deputy editor at Brexit Central and correspondence officer at Vote Leave, and Tom Harwood, who led the student Leave campaign, have both joined Guido Fawkes as news editor and reporter respectively.
All are familiar with Darren Grimes, who has moved the other way — the former deputy editor at Brexit Central is now digital manager at the Institute of Economic Affairs.
Brexit Central's editor Jonathan Isaby was formerly a Daily Telegraph columnist before moving to ConservativeHome. The website's founder and former Times Comment Editor Tim Montgomerie is a columnist for CapX, a political website owned by Tufton Street's Centre for Policy Studies. The Centre for Policy Studies' director, Robert Colvile, is also CapX's editor-in-chief.
Other far-right political blogs continue to be home to some of the most prominent climate science denial voices.
Occasional Spectator and Daily Mail contributor James Delingpole now mainly plies his trade at the UK outpost of former Trump chief strategist Steve Bannon's Breitbart website. And the editor of the Arron Banks-funded far-right political blog Westmonster, Michael Heaver, was recently elected as a Brexit Party MEP.
There is also a trans-Atlantic element to the Tufton Street network's appropriation of the UK's right-wing media.
An investigation by DeSmog and the Guardian previously revealed that Spiked, a libertarian website with previous connections to the Revolutionary Communist Party and which regularly publishes climate science denial comment articles, was funded by the oil billionaire Koch brothers. Spiked's former writer Claire Fox was recently elected as a Brexit Party MEP for the North-West.
---
Read more — Revealed: US Oil Billionaire Charles Koch Funds UK Anti-Environment Spiked Network
---
British and European Populist Parties
While the Tufton Street network, with its strong ties to the Conservative Party, represents the more mainstream end of lobbying against climate action, other previously fringe groups are becoming more prominent.
Most notably, the pro-Brexit groups and individuals that coalesce around Nigel Farage have recently gained a mainstream platform. Farage's Brexit Party won the most seats in the UK's European Parliament elections in May, with the party fielding many candidates who doubt mainstream climate science.
Farage himself has a history of spreading misinformation about climate science, telling an interviewer in 2013: "I'm all for pollution controls but to obsess with carbon dioxide, which as I understand it, is a perfectly natural occurring phenomenon, strikes me as strange."
Two major players in pro-Brexit organisations based out of Tufton Street, Richard Tice and John Longworth, were both elected as Brexit Party candidates.
New Brexit Party MEP for the South West, Ann Widdecombe, who retired from the UK Parliament in 2010, relinquishing her safe Tory seat, was one of only five MPs to oppose the 2008 Climate Change Act. The following year she told the Daily Express: "There is no climate change, hasn't anybody looked out of their window recently?"
Another Brexit Party MEP, former UKIP leader for Wales Nathan Gill, once told BBC Wales it was "ridiculous" to think humans could change the climate.
The Brexit Party all but wiped out Farage's old party UKIP thanks to defections like Gill's, and with it went an old guard of climate science deniers pushing their views on European platforms such as John Stuart Agnew and Roger Helmer.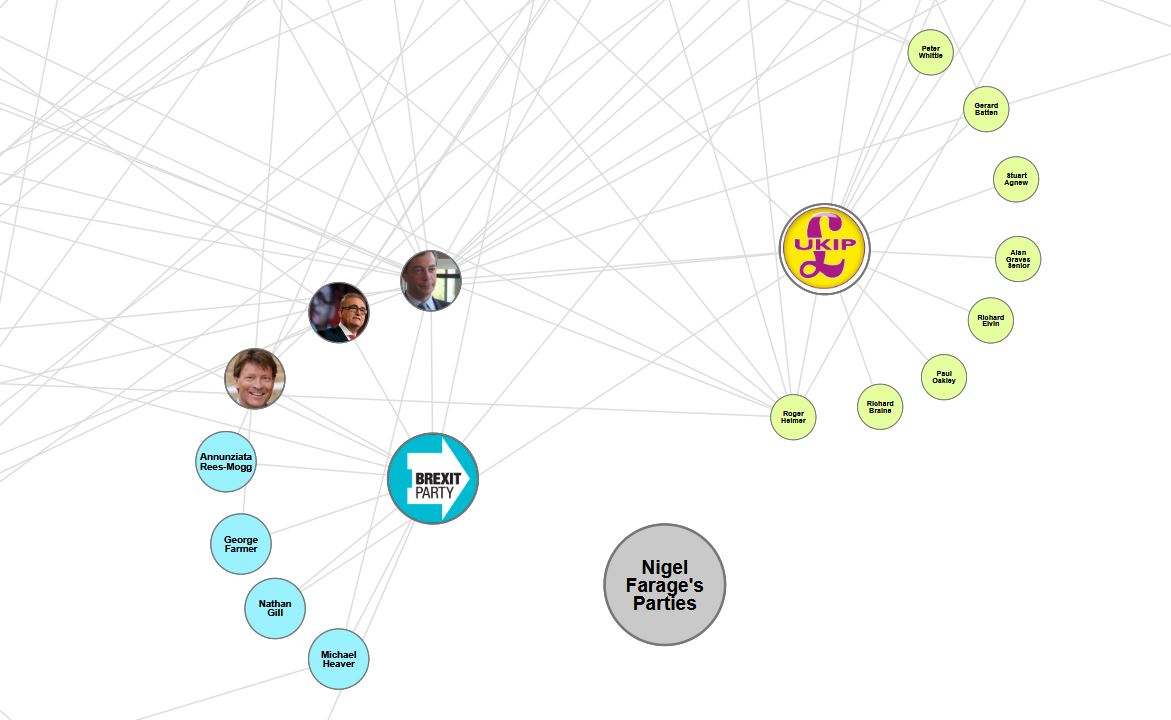 But the Brexit Party's new crop of MEPs will be joining lots of other European politicians pushing climate science denial in the corridors of Brussels and Strasbourg.
Germany's far-right party Alternative für Deutschland (AfD) denies human-induced climate change. In its election manifesto it claims that rising levels of carbon dioxide in the atmosphere has meant "world food harvests have increased significantly".
Likewise, the Netherlands' Party for Freedom, fronted by Geert Wilders, argues that there is no independent evidence that humans cause climate change and slams the work of the IPCC as unable to prove that relationship.
The Brexit Party MEPs will also find allies in two representatives of the Freedom Party of Austria: Heinz-Christian Strache has argued that it is a natural phenomenon that cannot be prevented, and Harald Vilimsky, who has been an MEP since 2014, voted against the ratification of the Paris Agreement.
Fossil Fuel Companies and the
PR

 Industry

The Tufton Street network is generally very secretive about where it gets its cash, but a few donors are known.

ExxonMobil is a major funder of climate science denial and the most prominent Big Oil donor to the extended Tufton network.

It has donated to the American Friends of the IEA, a US fundraising vehicle for the London group. It has also donated to Marc Morano's CFACT, Myron Ebell's Competitive Enterprise Institute, and the Heartland Institute, the US group that lists the IEA's Shanker Singham as an expert.

Exxon is a member of the American Petroleum Institute (API), an industry lobby group of which Shell, BP, Total, and Chevron are also members. The API has donated to Koch vehicles including Americans for Prosperity and Americans for Tax Reform, which Vote Leave chief and Taxpayers' Alliance founder Matthew Elliott cites as an inspiration.

BP and Exxon were also business partners of the now-dissolved small Californian coal company Phi Energy. One of Phi Energy's directors was Julian Wheatland, a former CEO of the now-dissolved Cambridge Analytica. Wheatland remains CEO of SCL Elections, the parent company of the SCL Group and Cambridge Analytica.
BP is also a corporate donor to Tufton Street's Institute of Economic Affairs (IEA). In a video from an undercover reporter from Greenpeace's Unearthed, IEA chief Mark Littlewood explains how BP uses the IEA's work to lobby for deregulation.
The Tufton network also has some ties to UK fossil fuel companies through PR companies. Conservative Party donor James Bethell was co-founder of Westbourne Communications, which has represented the Centre for Policy Studies and Brexit Central. Westbourne Communications has also worked with fracking company Cuadrilla.
---
Like what you see? Become a Patron today!
DeSmog isn't behind a paywall, we don't do advertising, and we don't take corporate sponsorhip. That means we rely on you, dear readers, to help fund our work. If you care about investigative journalism on the climate crisis, please become a patron today.
---
Map by Chloe Farand, words by Mat Hope, additional research by Richard Collett-White, and multimedia support by Jill Russo. This project was supported by The Minor Foundation for Major Challenges.