Hurricane Delta made landfall in Creole, Louisiana, on October 9 — 13 miles east of where Hurricane Laura struck 43 days before. It touched down in an area packed with oil and gas wells, pipelines, and rigs.
An assessment of how much oil was spilled after Laura had not been made when Hurricane Delta created a new round of destruction along a similar track, from Port Arthur, Texas, to Baton Rouge. 
Delta, the 10th named storm to hit the United States in 2020, set a new record for the most storms to hit in a single Atlantic hurricane season. Gerry Bell, lead hurricane forecaster for NOAA's Climate Prediction Center, told NOLA.com that it's too early to say whether climate change is a factor in producing storms this year, but that it is definitely a factor in the potential effects of tropical storms and hurricanes that approach land. 
Scientists have warned that warmer ocean waters caused by climate change make hurricanes like Laura, Sally (which hit the Gulf coast in Alabama and Florida on Sept 16), and Delta stronger and causes them to intensify more rapidly.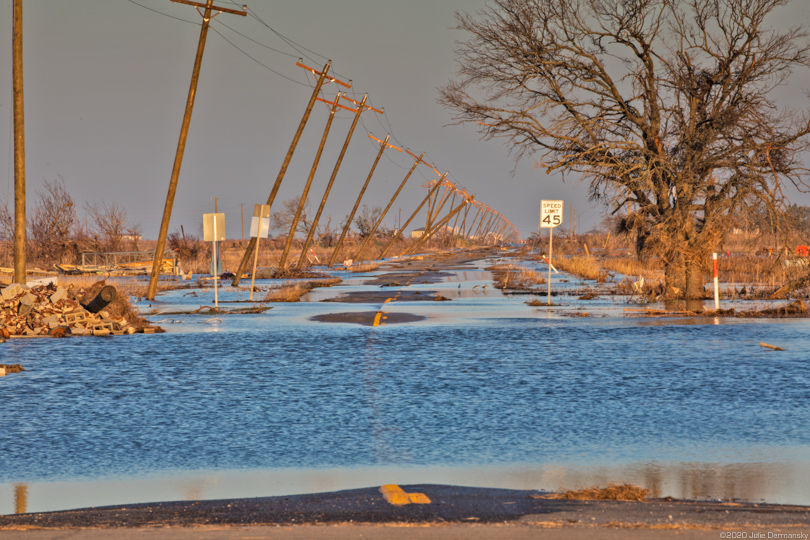 Flooded road in Creole, Louisiana, on October 10, 2020.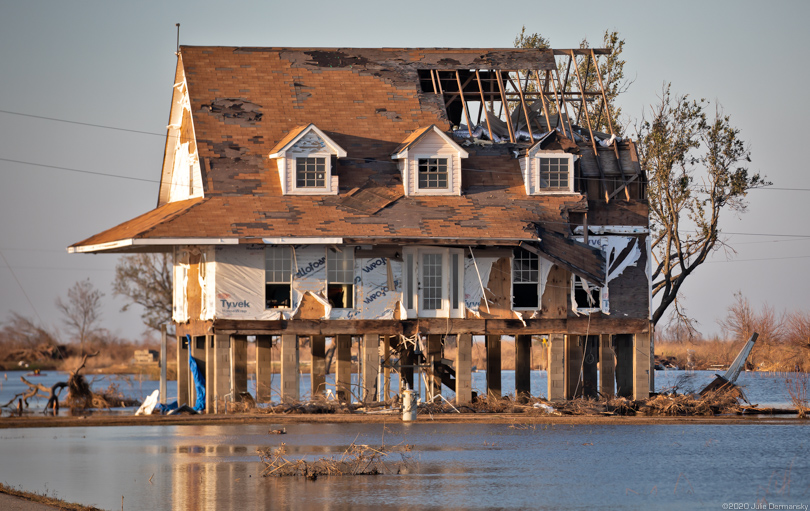 Damaged home in Creole following Hurricane Delta.
The day after Delta hit, I drove to Creole to document the storm's aftermath. On nearly deserted roads, some still covered with standing water, I found a desolate landscape that in places reeked of spilled oil. While a few structures remained standing, they all seemed to have sustained damage.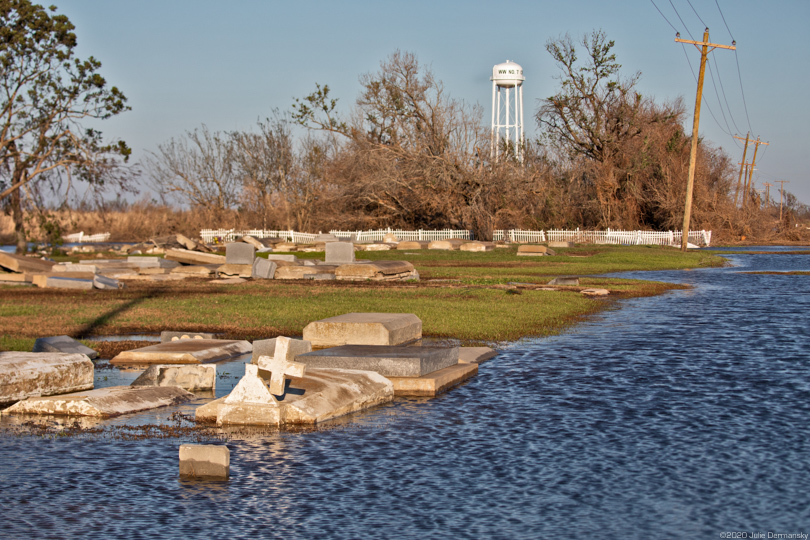 Flooded cemetery in Creole, Louisiana.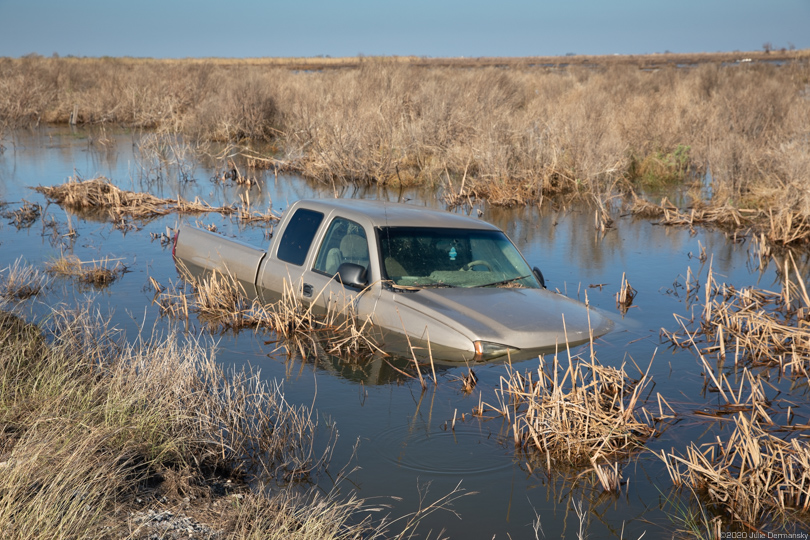 Truck in the marsh off a road in Creole.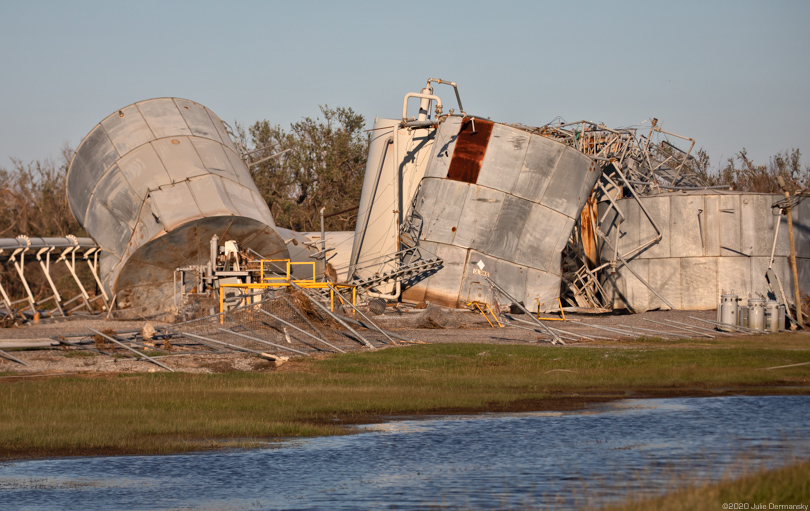 Destroyed oil tanks in Creole after Hurricane Delta.
On October 12, I flew over Creole and the surrounding area on the western Louisiana coastline near the Texas border. The flight followed a similar path to one I took following Hurricane Laura. I noticed that some structures that withstood Laura's winds of 150 mph and a 17 foot storm surge could not withstand Delta, with winds up to 100 mph and 9.3 foot storm surge. There were fresh oil slicks and sheen in the wetlands, though not as much as what I saw after Laura.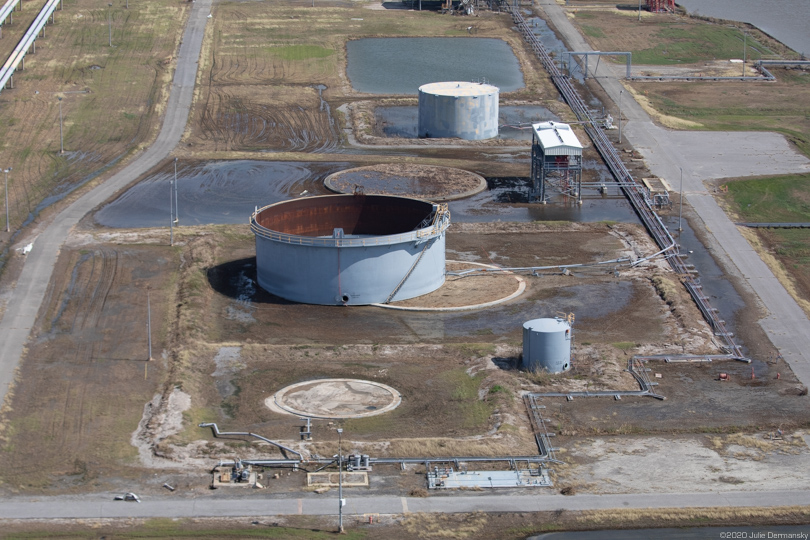 ANR Pipeline in Grand Chenier, Louisiana, damaged by both hurricanes that recently hit southwest Louisiana.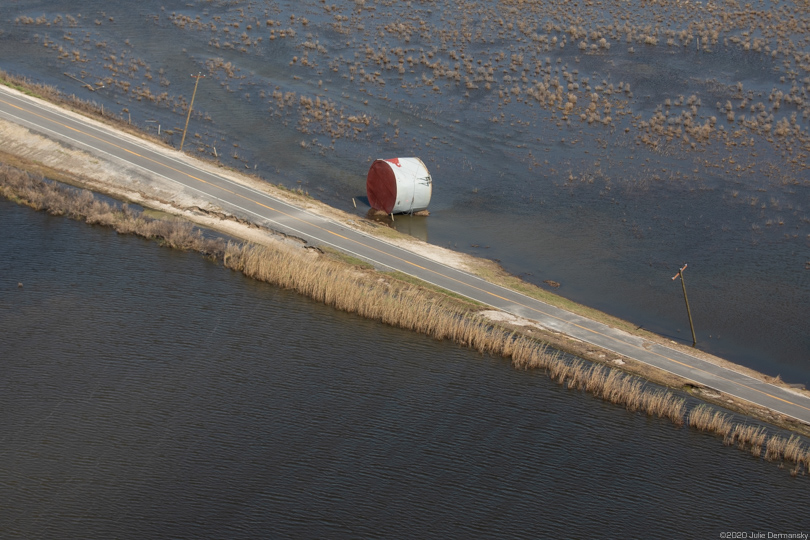 Tank along a road in Creole.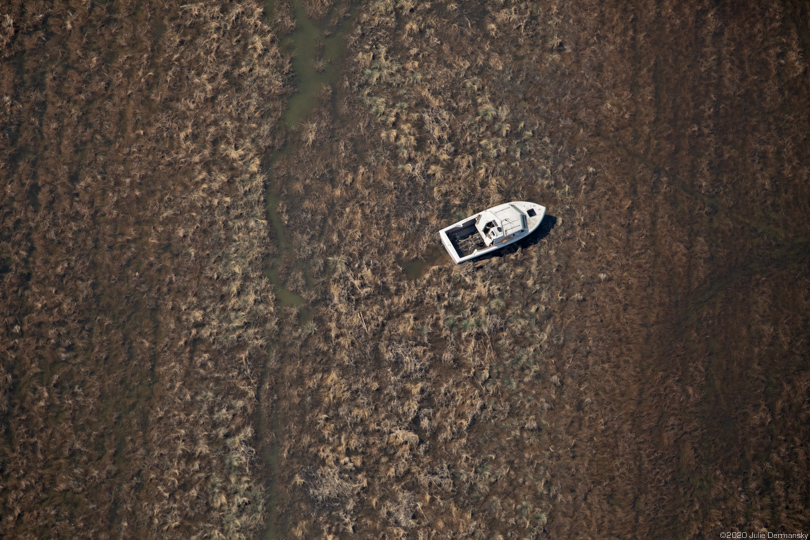 Boat stranded in the marsh in Creole, Louisiana.
Margie Vicknair-Pray, spokesperson for the Delta Chapter of the Sierra Club expressed concern about migratory birds after seeing my photos of oil in the marsh after Laura and Delta.
"Tens of thousands of birds can pass through the coastal marshes each day," she said. "Bird enthusiasts follow the migrations of songbirds, shore birds and arctic summer residents like many ducks and geese who find their way to south Louisiana expecting rest and a meal before the exhausting trip across the Gulf. What awaits them is oil strewn marshes and death," she said.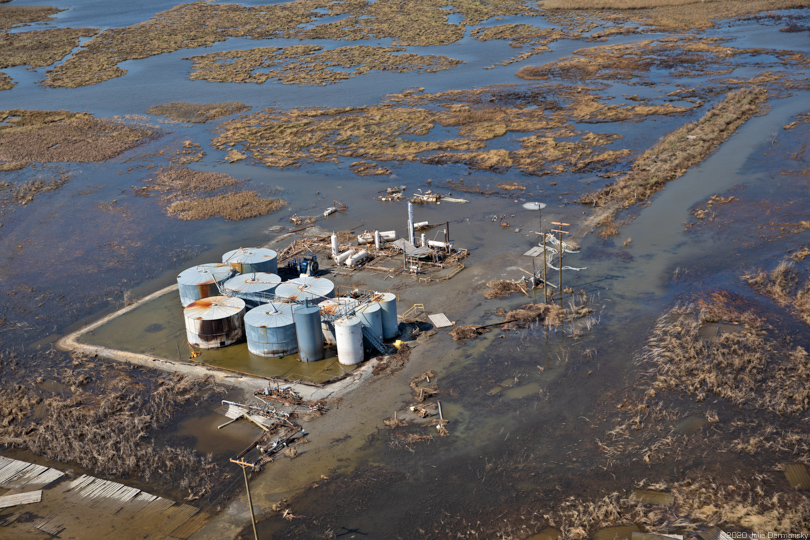 Visible oil spilled in the wetlands in Creole.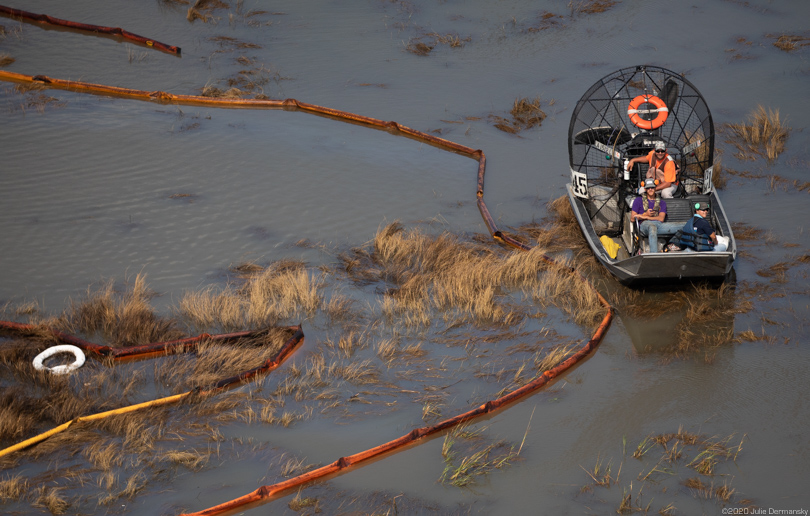 Oil cleanup taking place in Creole, Louisiana.
With over 1,400 active oil wells in the storm's path, it is no surprise that Louisiana regulators in the Louisiana Department of Natural Resources (DNR) and the Department of Environmental Quality (LDEQ) were still dealing with issues from Hurricane Laura when Delta hit. Also in both storms' path were dozens of offshore oil platforms, pipelines, the liquefied natural gas (LNG) plant in Cameron Parish, and petrochemical plants and refineries in the Lake Charles area.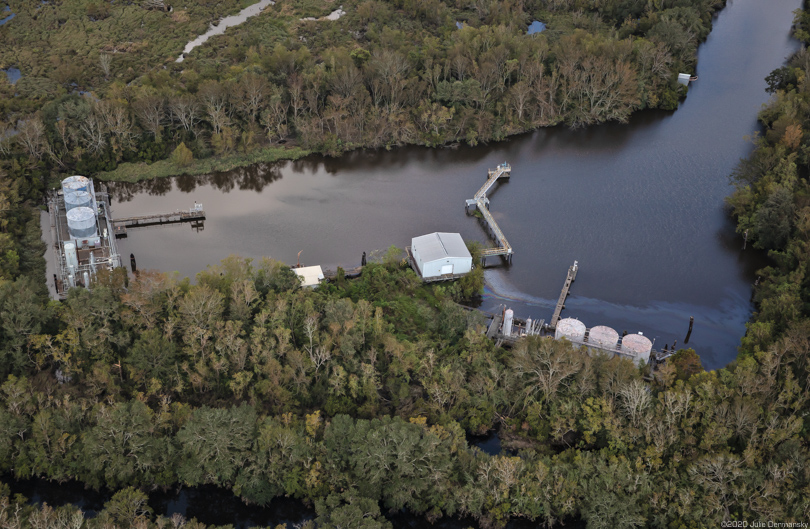 OIl sheen at a facility near Avery Island in Iberia Parish on October 12.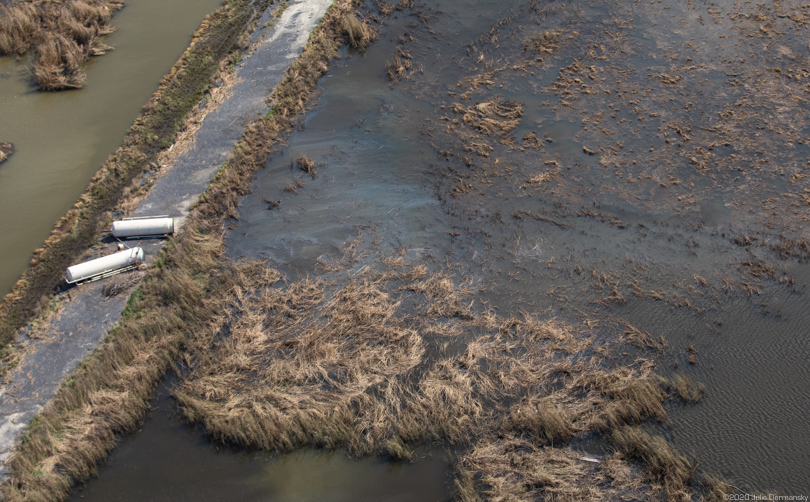 Oil in the wetlands in Cameron Parish on October 12.
DNR is responsible for 486 orphaned wells — which are no longer in production and have been abandoned by their former owners — in Laura's path that the agency determined need to be checked for damage. As of October 13, Patrick Courreges, the agency's spokesman, said about 360 of them had been checked before Delta hit. Of those inspected, five were determined to need remediation work including one that is leaking natural gas.
Now most of the same wells will need to be inspected again, along with others further to the East. And getting the work done is complicated by damaged roadways and communications following both storms, Courreges explained. 
So far the only reported oil spills on the Gulf Coast and Lake Charles area following Hurricane Delta were two spotted from an overflight taken by the Louisiana Oil Spill Coordinator's Office and reported to the National Response Center (NRC), according to Gregory Langley, a spokesman for the LDEQ.
Langley also noted that Citgo sent a notification to LDEQ that they had oil on top of a storage tank caused from heavy rain, and that the agency got a notification from Westlake Chemical of a flaring event.
"We are still engaged with the Laura debris. Now the challenge is reassessing the previous spills while managing the new ones," Langley wrote in an email.  "To date, the Department has not issued penalties and/or fines to facilities for releases or incidents associated with Hurricane Laura."
The 2020 hurricane season confirms the warnings of what rising temperatures could do to the Gulf Coast, as outlined in the Fourth National Climate Assessment's chapter on southeastern states. It warns: 
"Many southeastern cities are particularly vulnerable to climate change compared to cities in other regions, with expected impacts to infrastructure and human health. The vibrancy and viability of these metropolitan areas, including the people and critical regional resources located in them, are increasingly at risk due to heat, flooding, and vector-borne disease brought about by a changing climate. Many of these urban areas are rapidly growing and offer opportunities to adopt effective adaptation efforts to prevent future negative impacts of climate change."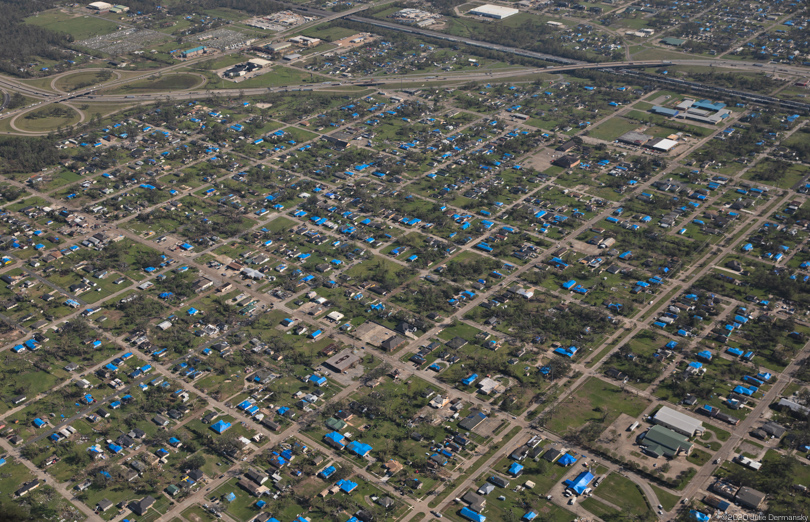 Blue tarps on homes in the Lake Charles area of southwest Louisiana.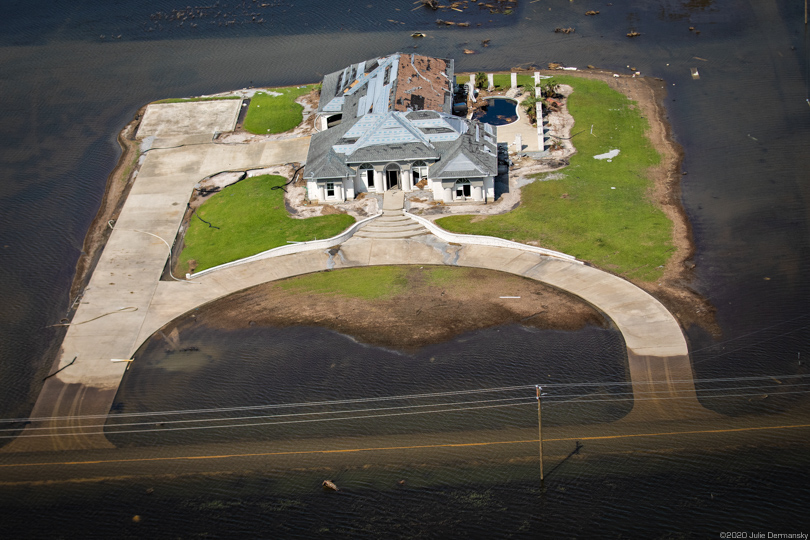 Home in Creole surrounded by floodwaters on October 12.
Many residents in Laura's path had just started to recover from Laura when Delta struck, causing more damage. Many of those whose homes were still habitable after the storms were left without power.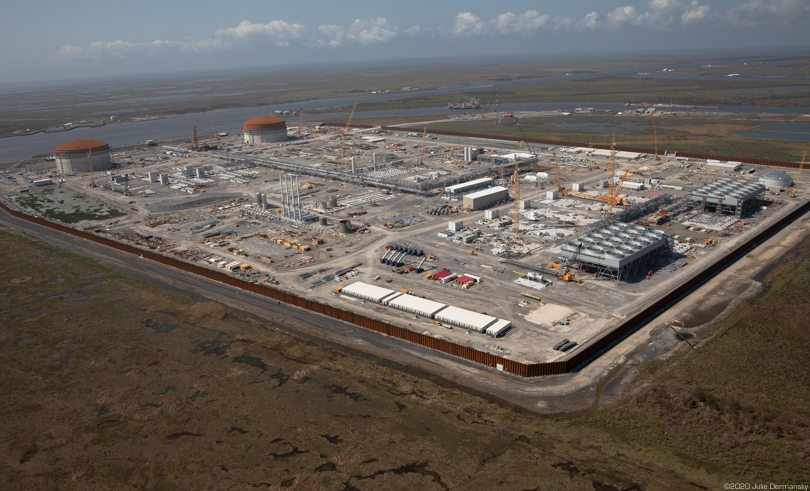 G2 LNG LLC plant under construction in Cameron, Louisiana.
Despite the Climate Assessment's warnings, the petrochemical industry's expansion on the Gulf Coast continues. An $11 billion natural gas liquefaction facility in Cameron, capable of exporting 15.4 million tons of liquefied natural gas per year, is under construction, and Cameron LNG in Hacksberry went online last year.  Both plants will contribute to the climate crisis by emitting large quantities of greenhouse gases.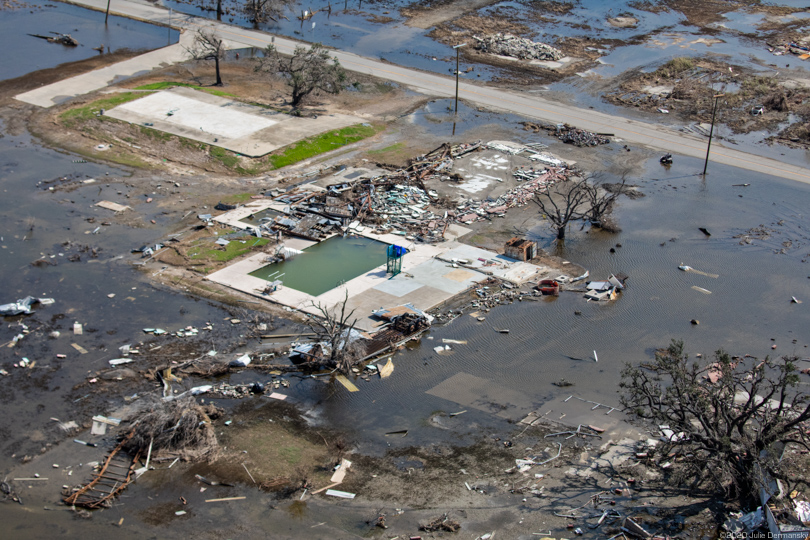 Totaled homes in Creole.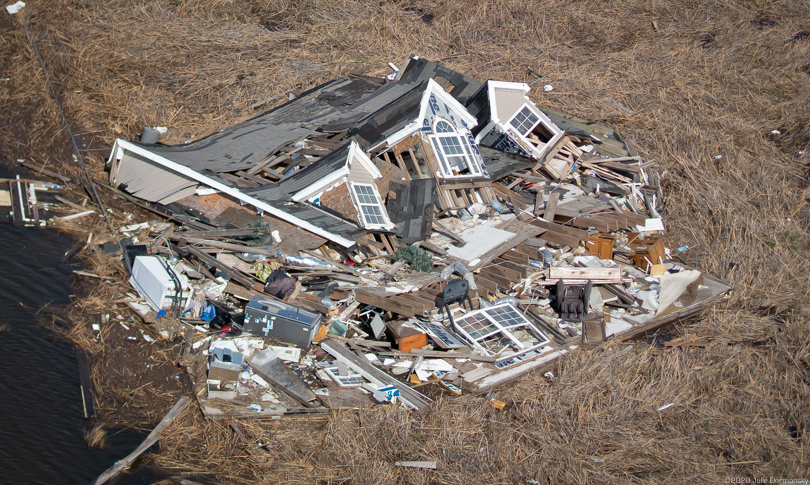 Home crushed in the wetlands in Cameron Parish.
Pennsylvania State University climate scientist Michael E. Mann described the building of new LNG facilities in an area impacted by a record number of storms as "some major league irony."  
"It makes about as much sense as building a network of fire pits in the most fire-stricken regions of California," Mann wrote in an email. 
Mann argues in his forthcoming book "The New Climate War" that both crises are ultimately about the same thing—finding a way to live sustainably on this planet.
"Whether it's the wanton destruction of forests and ecosystems that are forcing exotic species out of their natural environments and into contact with humans, or the wanton release of carbon pollution that is warming the planet and threatening us with catastrophic climate change, we find ourselves in a hole and we must stop digging, both figuratively and literally." Mann wrote.
Flight made possible by David Levy, owner of Petrotechnologies and founder of the Iberian Free Press.
Main image: Workers tend to an oil spill in Creole, Louisiana, on October 12 following Hurricane Delta. Credit: All photos by Julie Dermansky for DeSmog