Hurricane Ida was known as "Tropical Depression Nine" on Wednesday, August 25, when Ret. Lieutenant General Russel Honoré held a press conference in Lake Charles, Louisiana in a parking lot across from the Capital One Tower — which remains shuttered a year after Hurricane Laura knocked out many of the building's mirrored glass windows. He urged state and federal officials to stop permitting LNG terminals and other massive fossil fuel projects in the Gulf Coast's "hurricane alley."
With a new storm threatening Lake Charles and the rest of the Gulf Coast, Honoré called for an end to the decade-long buildout of massive fossil fuel plants along the Gulf Coast, citing the hazards the plants cause during storms as well as the role they play in causing climate change, which has made hurricanes more powerful and dangerous in recent years.
He also expressed outrage that many residents in Lake Charles have not gotten the assistance from the government they need to recover a year after Laura struck.
Ida — now forecast to be a Category 4 storm when it makes landfall tomorrow — will hit on the 16th anniversary of Hurricane Katrina.
Honoré led the Defense Department's Joint Task Force Katrina in 2005. He went on to found the "Green Army," a group representing environmental and social justice organizations that advocate for communities impacted by pollution and those impacted by extreme weather — all too often one and the same.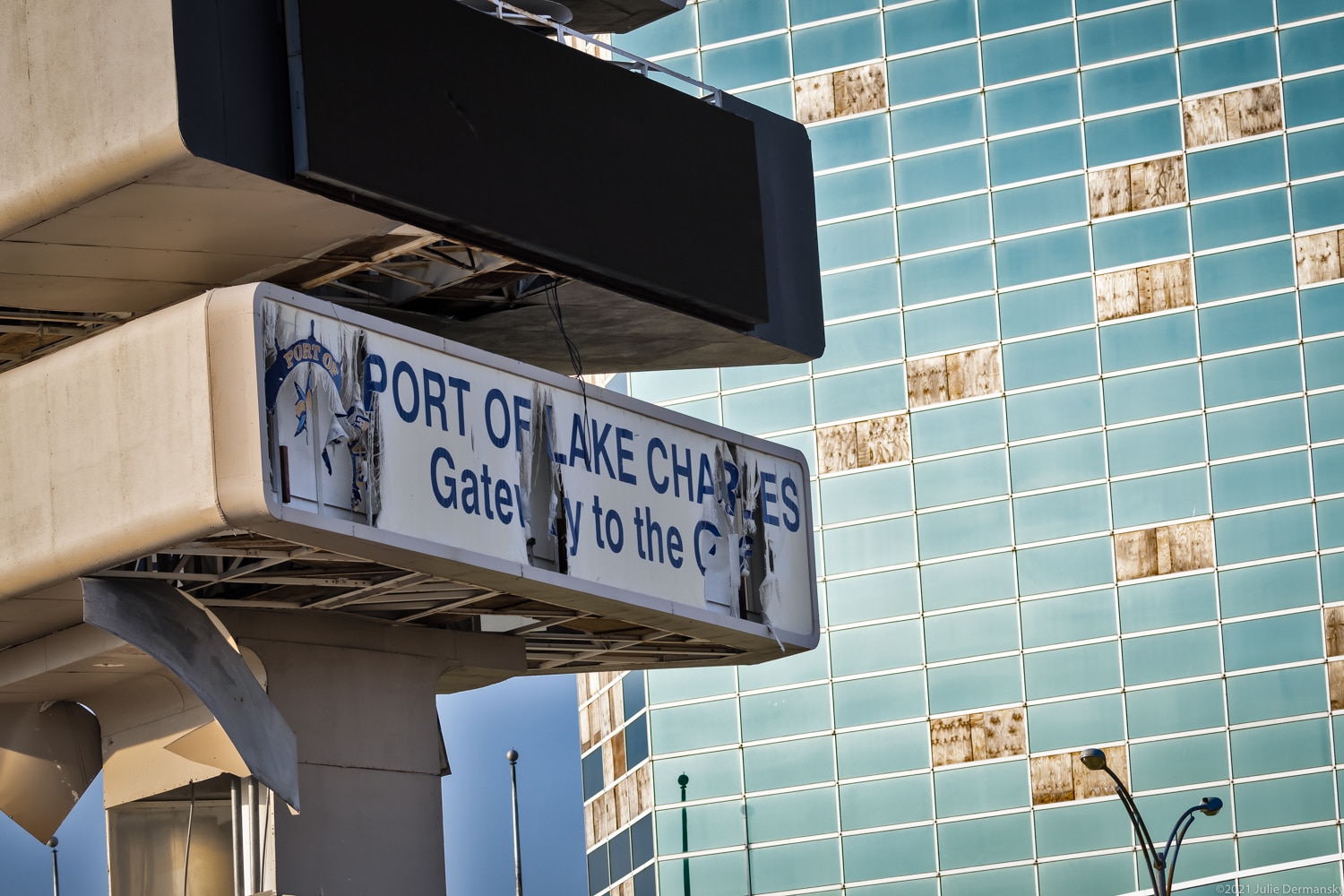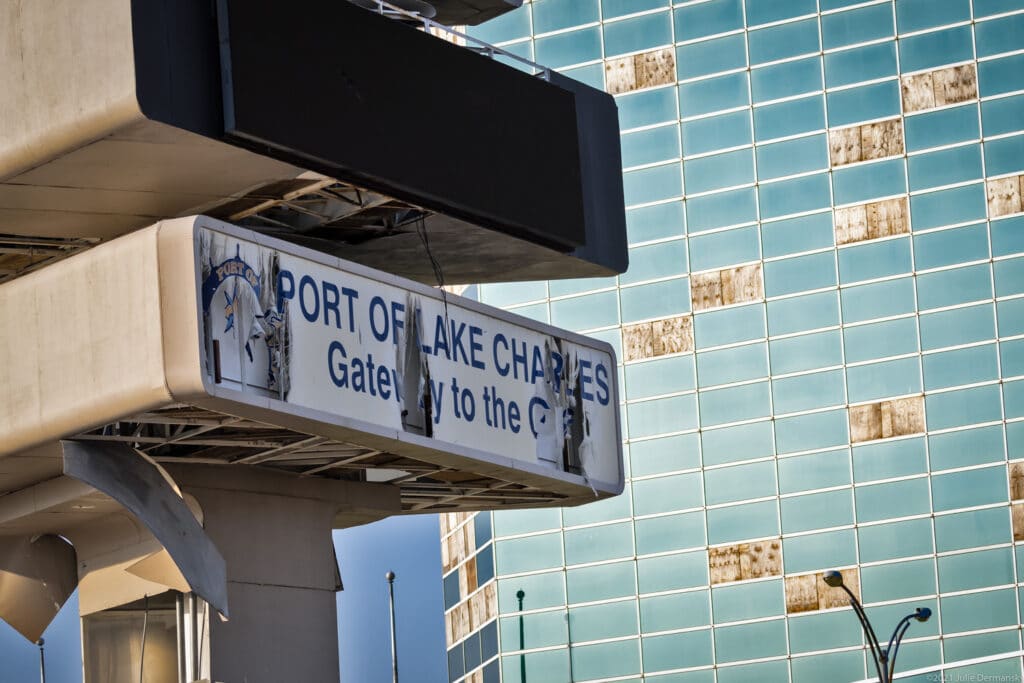 Ida's strength intensified rapidly as the storm steadily pushed over the warm waters of the Gulf of Mexico today, moving at a quick pace towards the central Louisiana coast, with wind speeds accelerating from 40 mph Thursday night to sustained speeds of 105 mph at 5PM EST on Saturday — and forecast to surpass 130 mph by the time Ida makes landfall. Hurricane Katrina made landfall as a Category 3 with peak wind speeds of 125 mph.
"We can sum it up by saying this will be one of the strongest hurricanes to hit anywhere in Louisiana since at least the 1850s," Gov. John Bel Edwards warned at a Saturday afternoon news conference.
The storm is expected to strike hard in the industry-laden region between Baton Rouge and New Orleans, known as cancer alley, where dozens of petrochemical sites, LNG plants and refineries dot the map, connected by an extensive lattice of pipelines, compressor stations and other fossil fuel infrastructure. It's also the region where predominantly Black fence-line communities were recognized as disproportionately impacted by the Covid-19 pandemic in the spring of 2020.
"Port Fourchon, located on the extreme south coast of Louisiana, is predicted to be near the strong right eyewall of Ida, where a storm surge of 10-15 feet and hurricane-force winds are predicted," Yale Climate Connections reported today. "The port handles 18 percent of domestic oil and gas and 13 percent of the nation's foreign energy imports."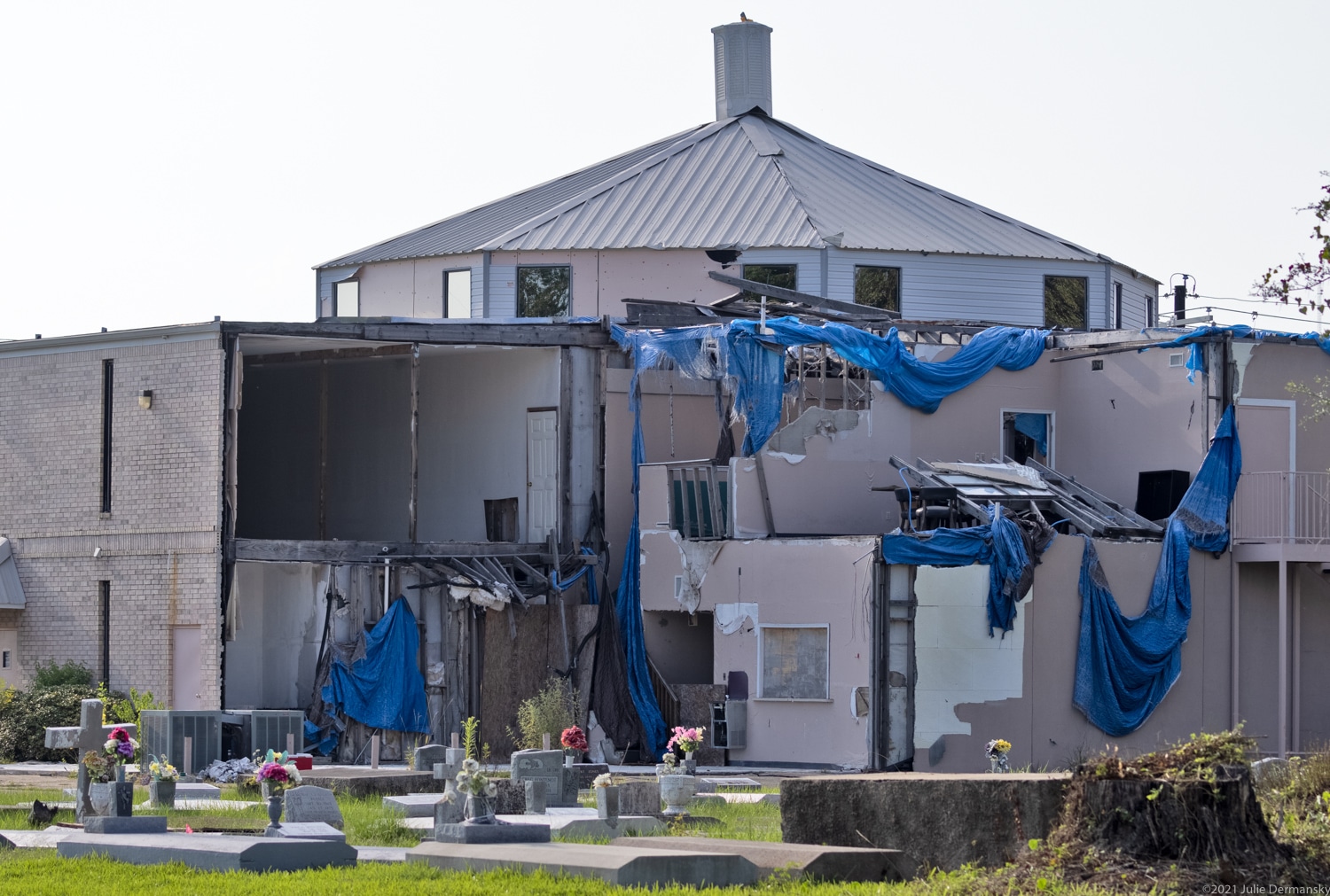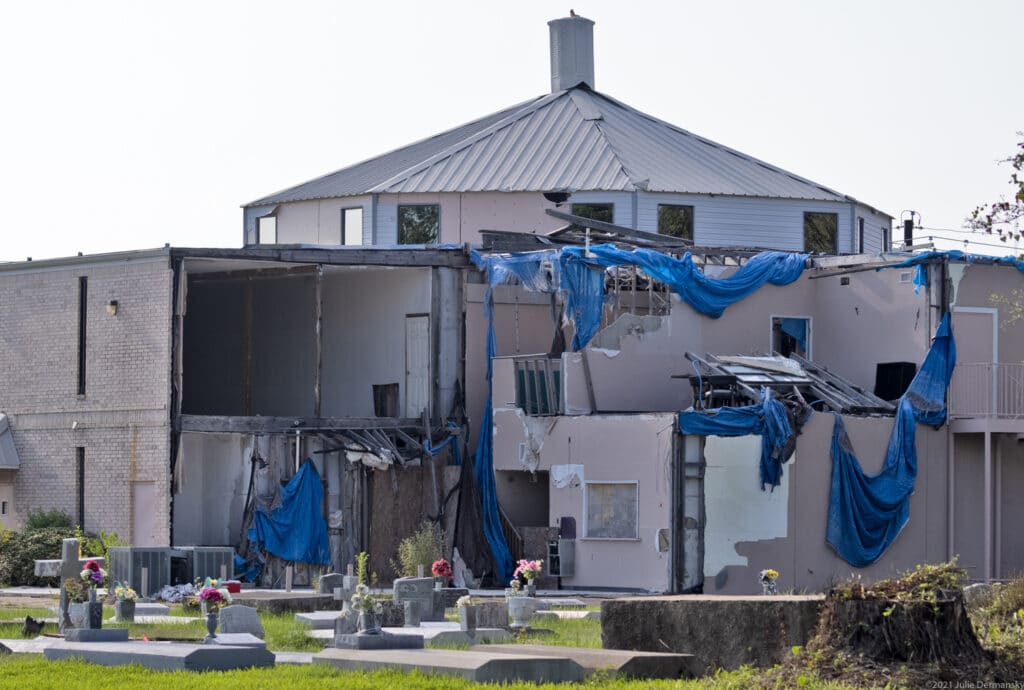 During the press conference, Julie Dermansky, reporting for DeSmog, asked Honoré if he thought President Biden should declare a climate emergency. He gave a definitive answer: "Yes."
"Yeah, we need that because if we think we've got problems now, it's going to get worse," he said. "And it's not just us," he continued, describing wildfires along the west coast, flooding in Tennessee and the impacts of Hurricane Henri in New England. "It's the rest of the world."
He explained if a climate emergency was declared, the federal government could act on the nationwide issue of methane emissions, including leaks from abandoned oil and gas wells and from deliberate flaring at industrial sites.
From 2010 to 2018, the shale gas rush spurred over $200 billion in proposed petrochemical projects, many along the already hurricane-vulnerable Gulf Coast — enough, one study found, to add over half a billion tons of greenhouse gases to the atmosphere by 2030.
"The methane is the biggest contributor" to climate change, along with CO2, Honoré said, describing two greenhouse pollutants from fossil fuel operations. "There is no reason for a plant to flare," he added, "they do it because it's cheaper to burn it off."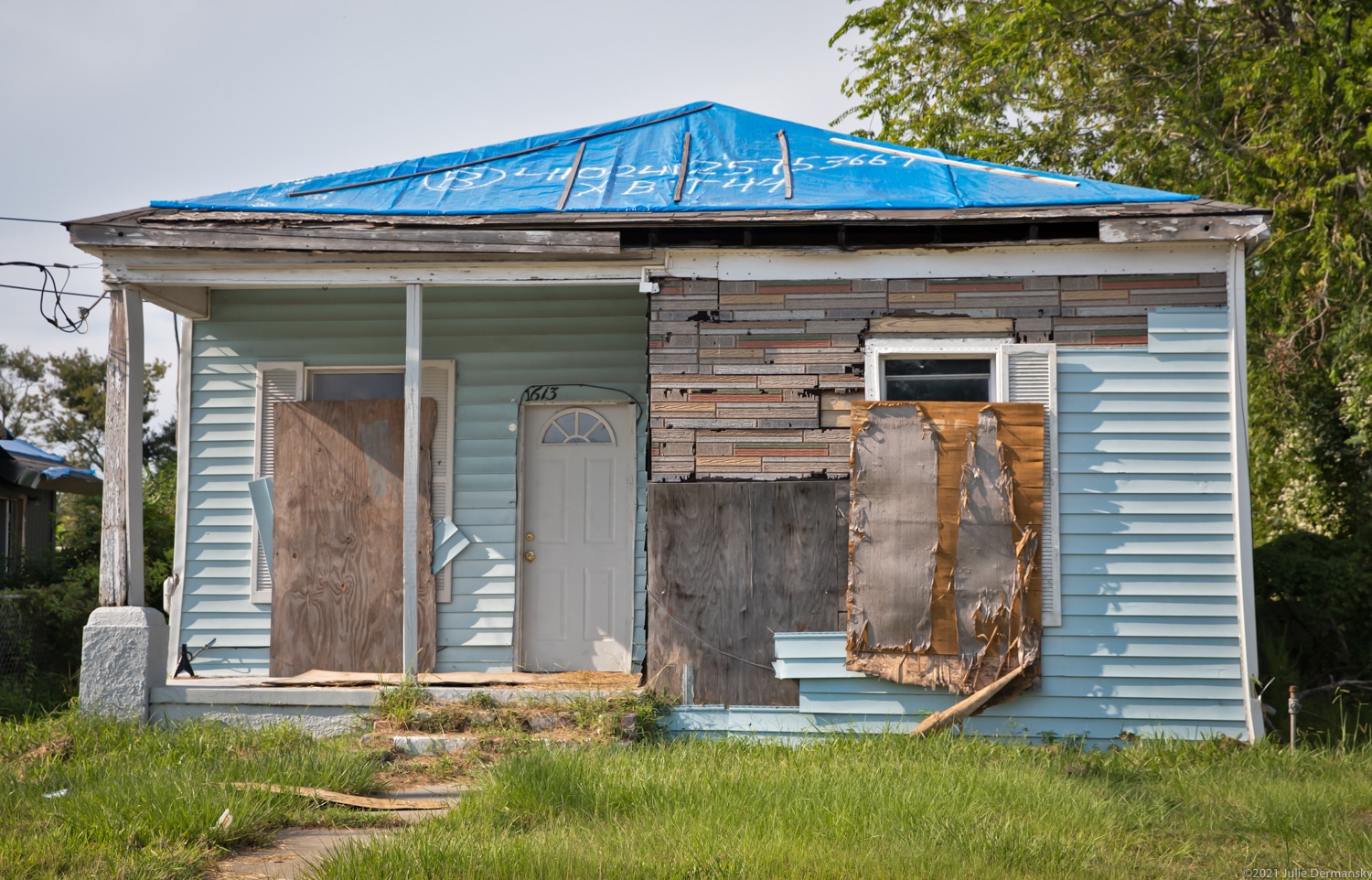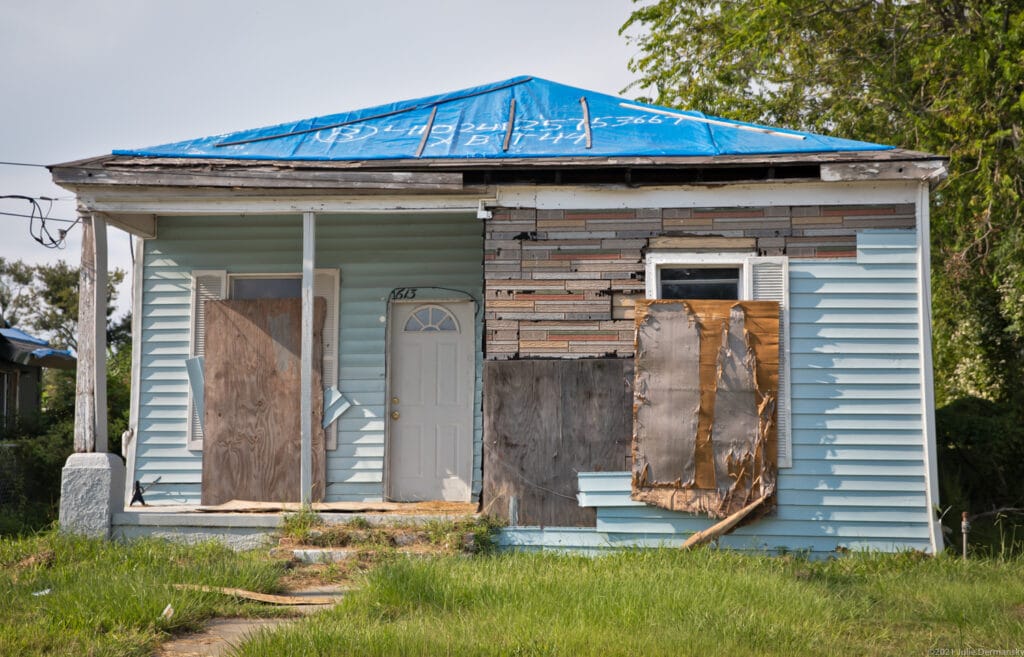 Indeed, the world's foremost experts at the Intergovernmental Panel on Climate Change (IPCC) are warning of cataclysms in the years to come — made far worse if the world fails to rapidly shift away from burning fossil fuels. "The alarm bells are deafening, and the evidence is irrefutable," U.N. Secretary-General António Guterres said as the IPCC's most recent report was issued. "This report must sound a death knell for coal and fossil fuels, before they destroy our planet."
The call to stop investing in fossil fuel projects also drew backing from the International Energy Agency (IEA) earlier this year, stunning some observers. "If governments are serious about the climate crisis, there can be no new investments in oil, gas and coal, from now – from this year," Fatih Birol, the IEA's executive director, told the Guardian as the agency issued its May 2021 Roadmap for the Global Energy Sector.
Honoré also expressed outrage that in the middle of the hurricane season it is still easy to find deteriorating blue-tarped roofs, people living in their cars or in tents, and some living in their garages, still arguing with insurance companies. He advocated for the release of supplemental funds for the Lake Charles region, delayed in the Senate.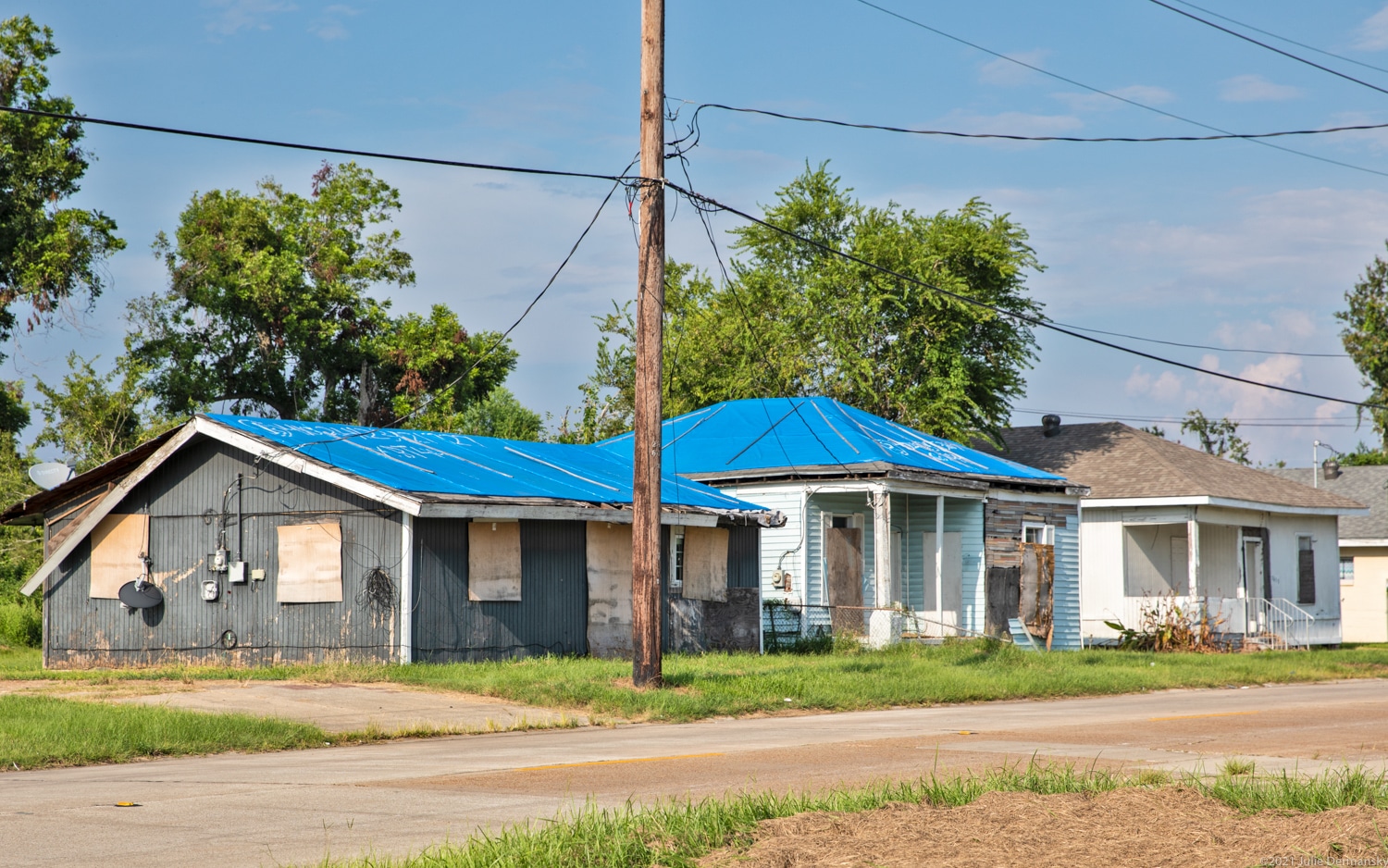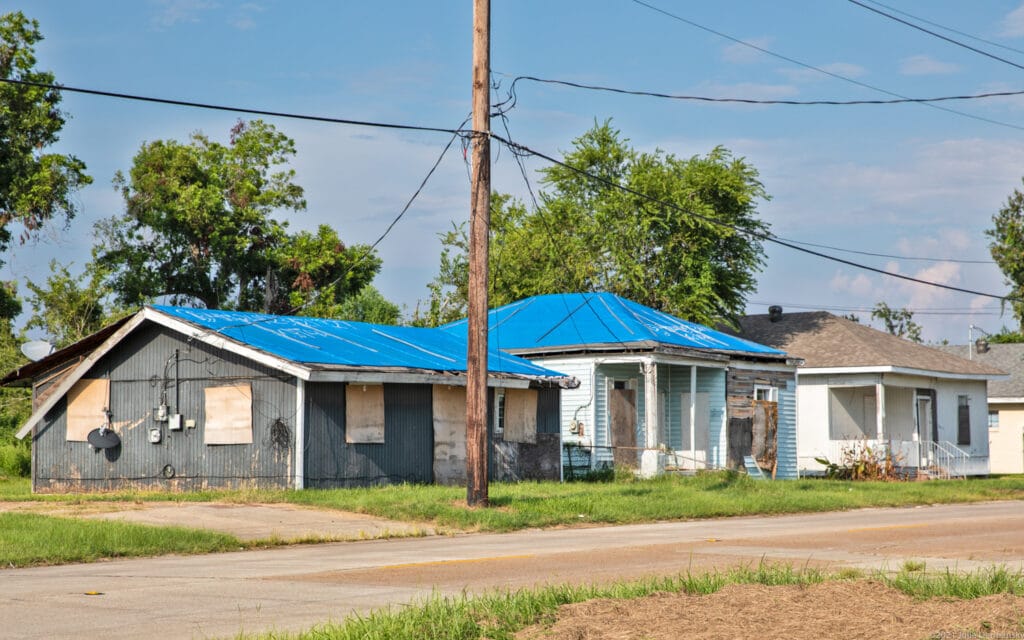 Honoré also highlighted the risks of industrial accidents, explosions and chemical leaks.
"We got an organization called FERC that reviews federal permits and they keep signing off on these LNG plants," Honoré said. "Have you, the community, been told what level winds that Lake Charles LNG plant would withstand?" he asked. "No. Why? Because that information is withheld on the FERC website."
After the conference, Lydia Larce of the National Action Network expressed her concerns to Honoré that insurance companies are distributing funds in a grossly inequitable way. She told him that she is now looking to file a class action lawsuit over the "low-balling" of payments to Black people for damages following Hurricanes Laura and Delta compared to their white neighbors. She believes that claims adjusters signed off on damage estimates for white victims faster and for higher amounts than their Black neighbors.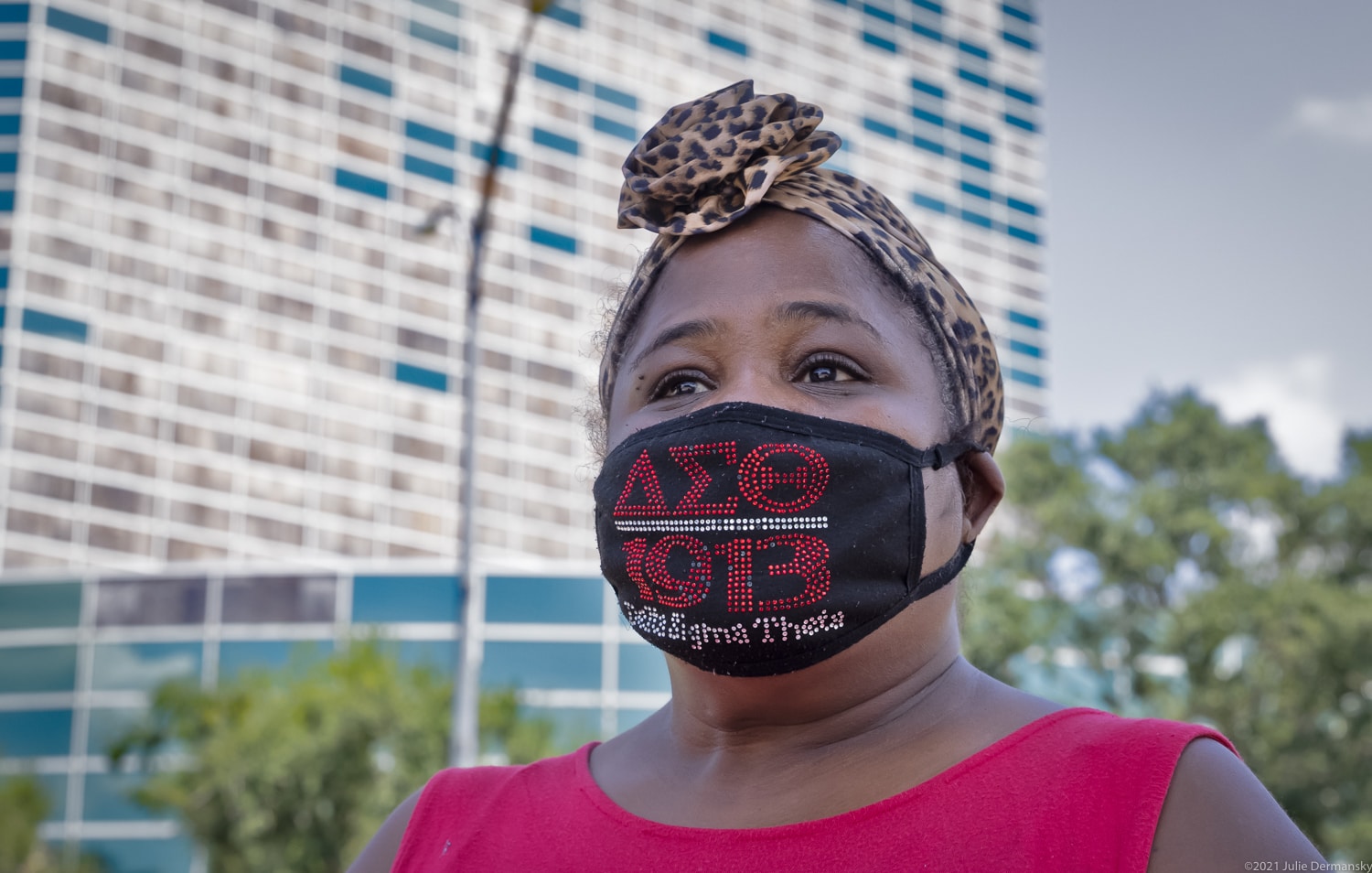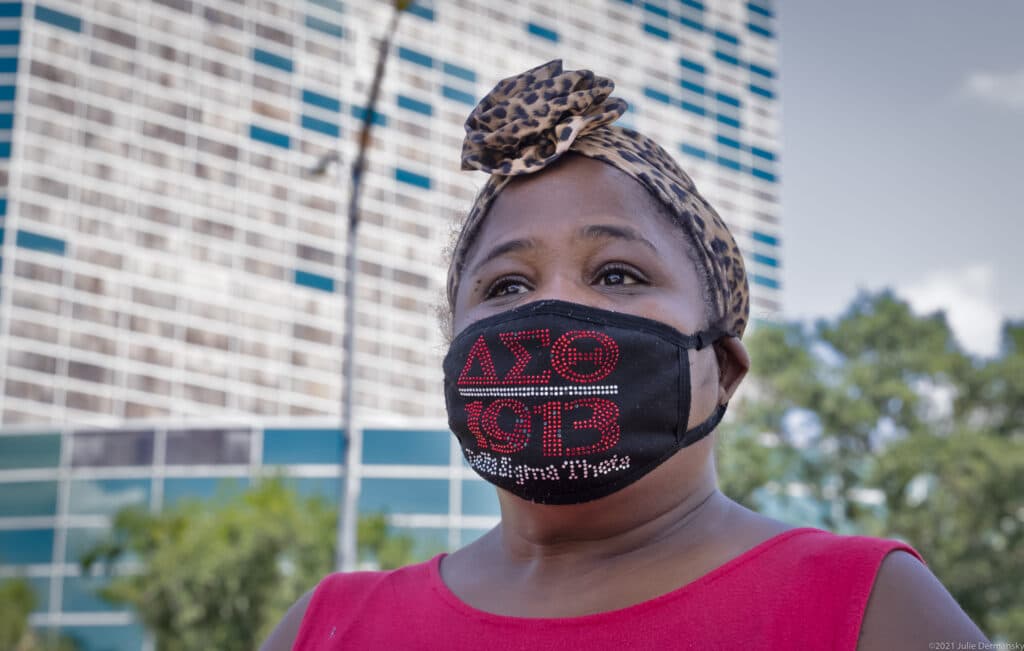 Marina Ardoin with GOHSEP, the state of Louisiana Governor's Office of Homeland Security and Emergency Preparedness, suggested a look around the northern part of Lake Charles would make clear where "building back better" hasn't happened.
Dermansky photographed some of the many blue tarps that remain on damaged roofs in a predominately Black neighborhood in northern Lake Charles two days before the one-year anniversary of when Laura hit the city on August 27, 2020. Many homes appeared clearly uninhabitable or not yet fully repaired, and empty lots marked spots where homes stood before Laura struck.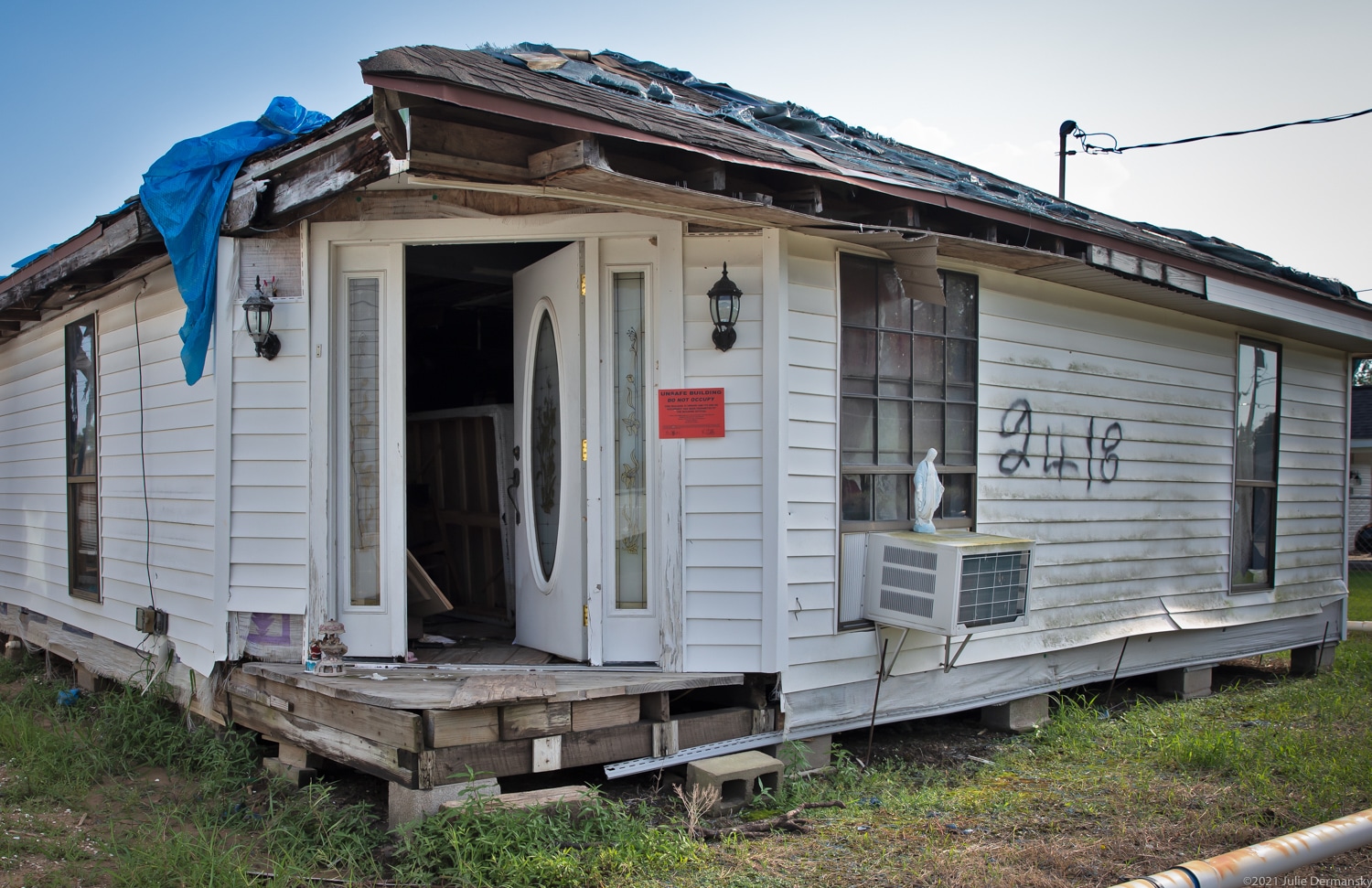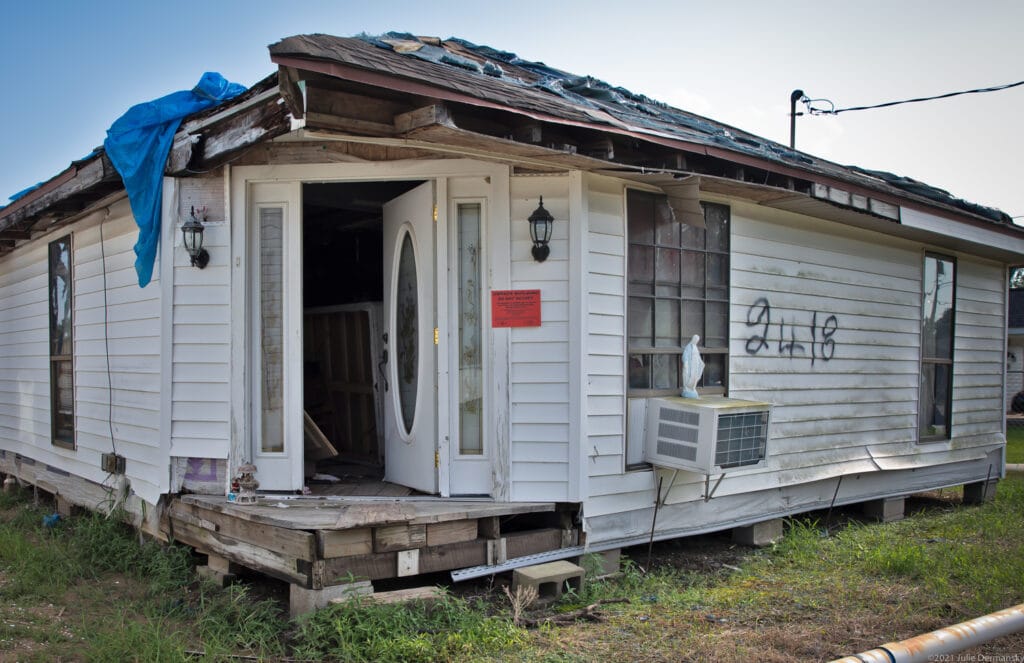 Hurricane Ida is expected to make landfall on Sunday afternoon or evening, bringing not only high winds but also the risks associated with flooding and storm surge. Portions of New Orleans are under mandatory evacuation orders, with local officials leaving the remainder of the city under a voluntary evacuation, citing insufficient time to convert traffic flow to outbound-only as Ida charged towards the central Louisiana coast.
An uncontrolled evacuation from the New Orleans area is currently underway. Some motorists found themselves stuck in an almost ten-mile-long standstill traffic jam on I-10 approaching Baton Rouge according to a source covering the approaching storm who filmed the situation.
While some industrial sites in the Gulf Coast are designed and built with hurricane wind speeds and storm surge in mind, the speed with which Ida is approaching leaves relatively little time for preparations. Hurricanes that struck Louisiana last year led to increased toxic emissions and oil spills, a reminder of the potential threat such sites hold.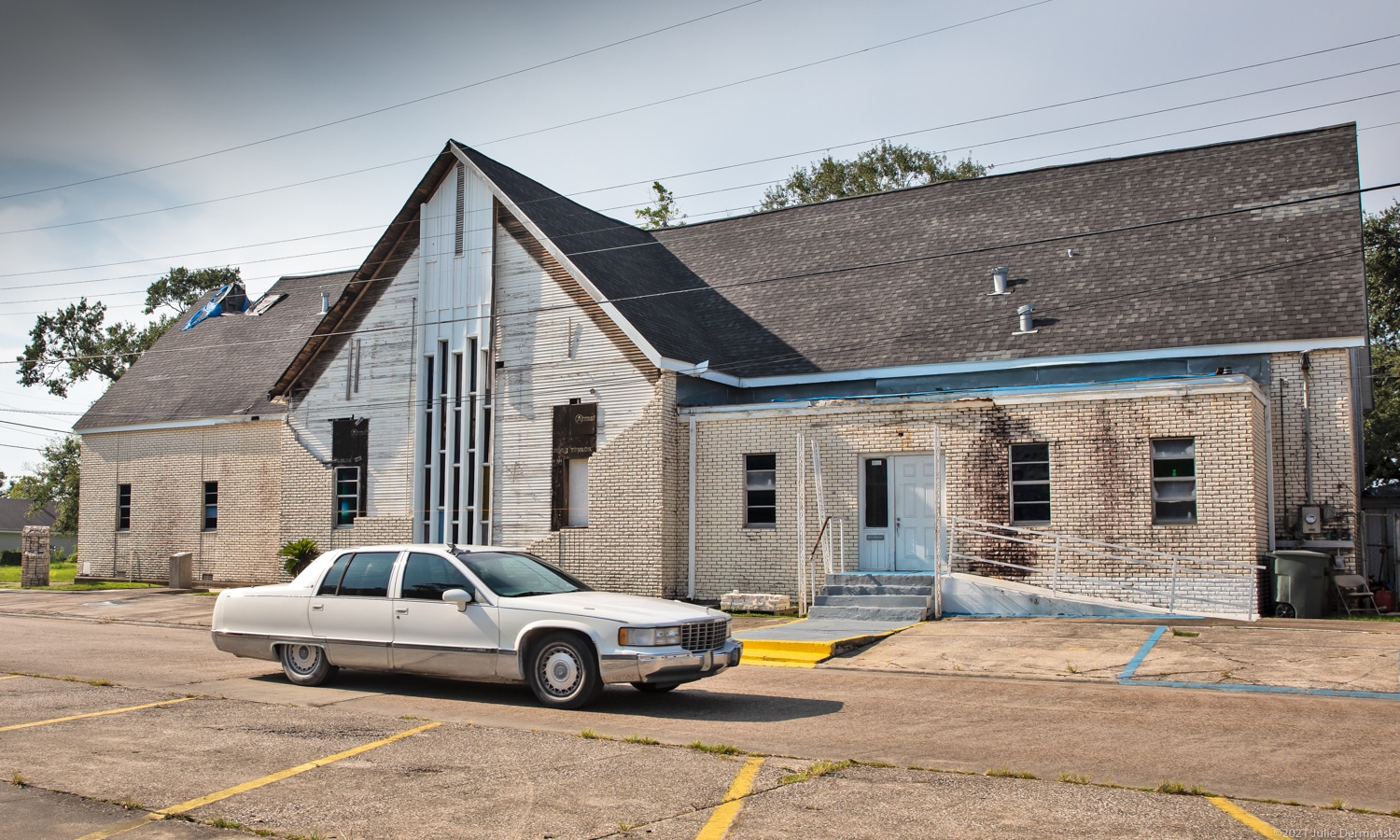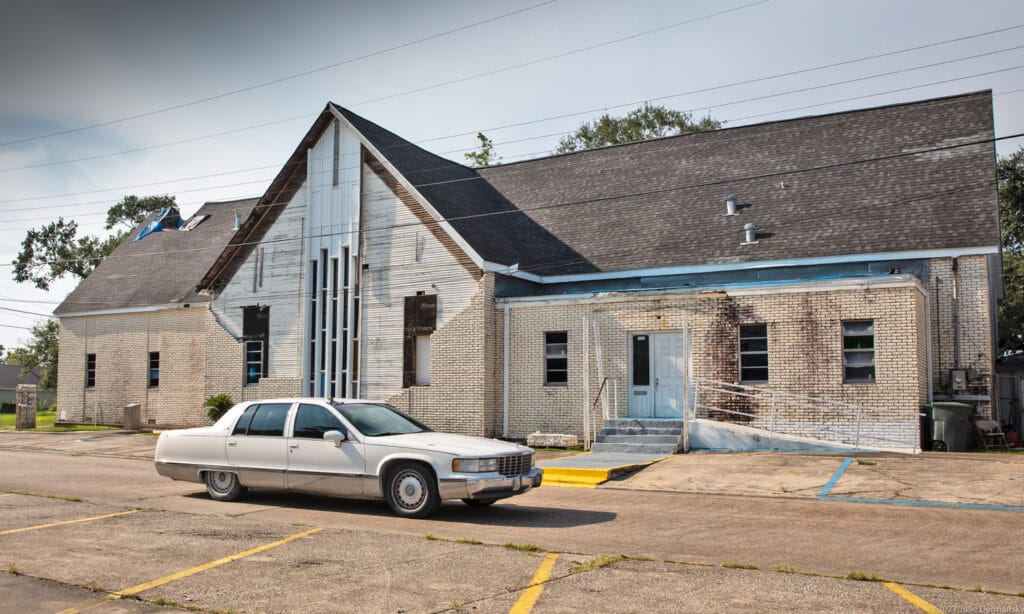 Some oil refineries have said they're making preparations now.
"Phillips 66 was halting production at its refinery on the Mississippi just south of New Orleans in Belle Chasse, Louisiana, due in part to 'the potential for storm surge,' said company spokesman Bernardo Fallas. Its daily capacity is 250,000 barrels," the Associated Press reported today. "Exxon Mobil said its Baton Rouge refinery, which produces about 520,000 barrels of crude daily, continued to operate while Chevron said it had shut down operations at terminals on the Mississippi river and gulf coast and their related pipeline systems. Shell, Marathon and Valero also have refineries close to the storm's projected path."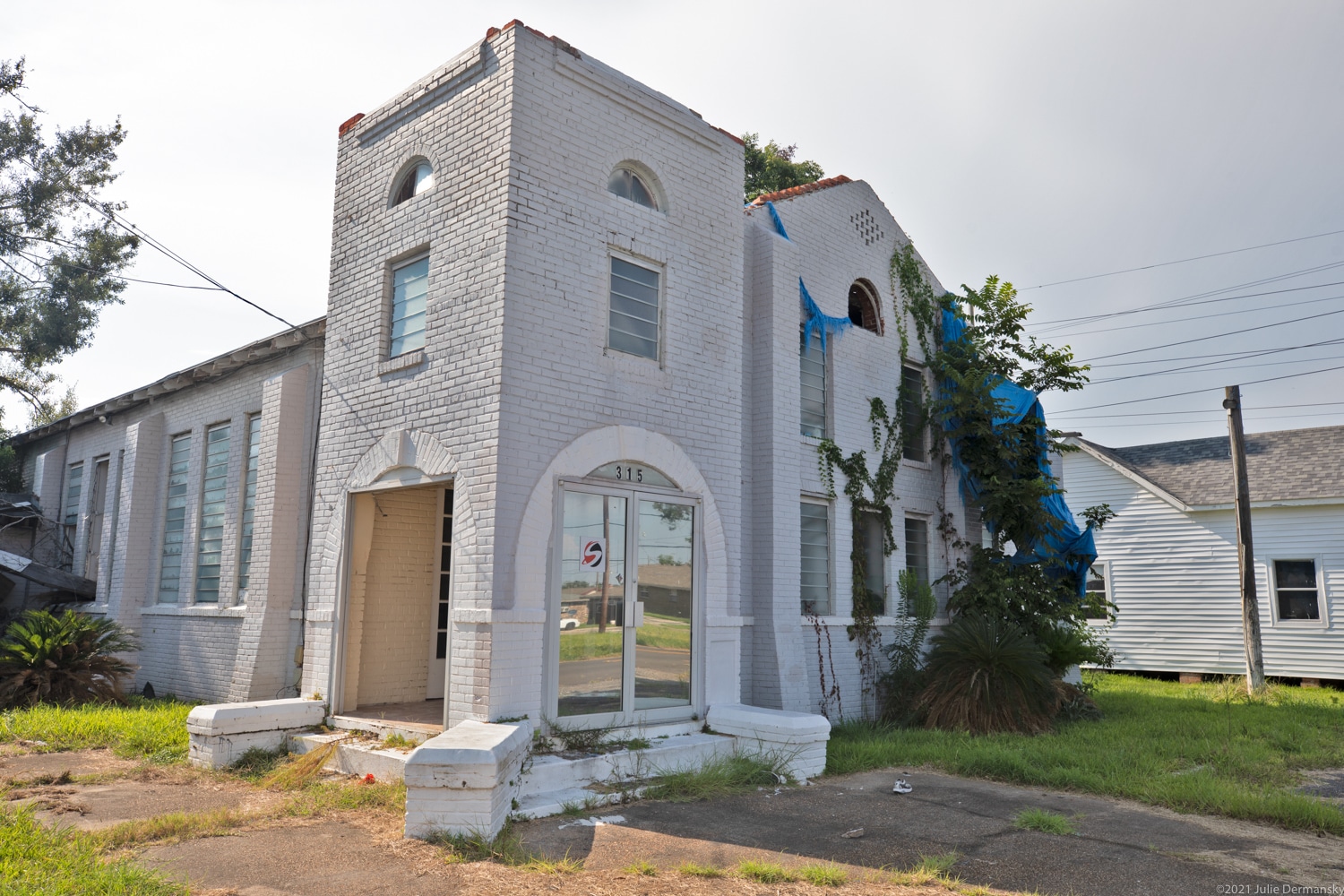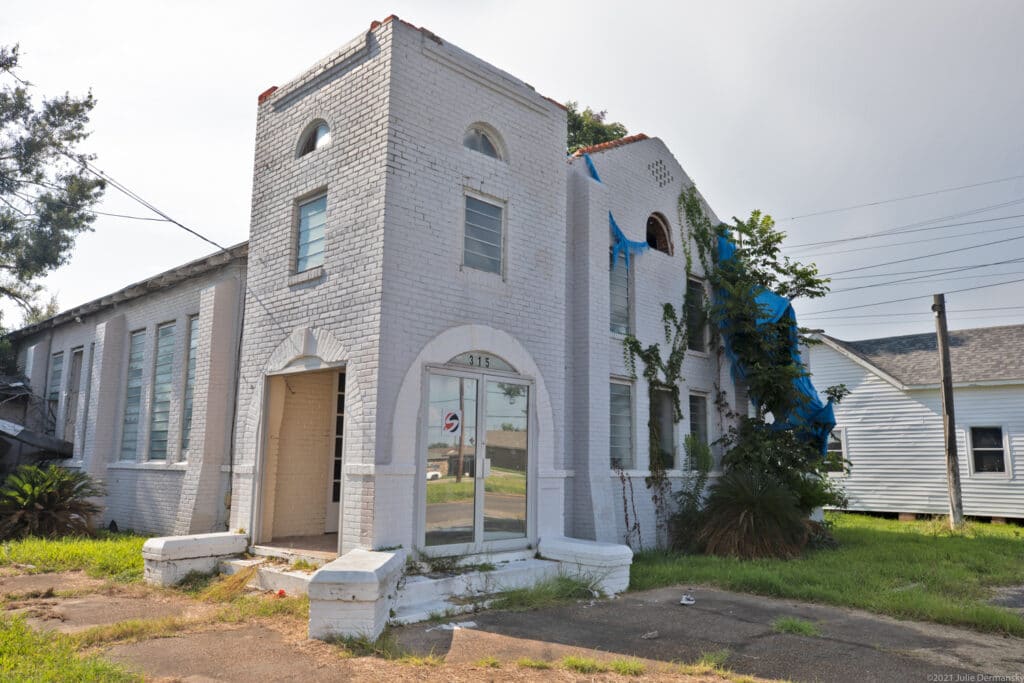 Meanwhile, drillers shut in approximately 91 percent of oil produced by offshore oil wells and 85 percent of the natural gas produced in the Gulf of Mexico, the Bureau of Safety and Environmental Enforcement reported on Saturday, adding that personnel were evacuated from roughly half of the Gulf's offshore oil production platforms.
And though the nation's largest LNG exporters remain to the west of Ida's projected track, financial analysts are keeping tabs on the impacts on natural gas prices as the storm gets closer. "How much U.S. LNG feed gas drops by, and for how long, is dependent on if the Cameron LNG facility in Louisiana is impacted by a direct hit or not, as they average around 1.8 Bcf/d," NatGasWeather said," trade publication Natural Gas Intelligence reported on Friday.
Environmental advocates in Louisiana who joined Honoré at the press conference also included members of the Louisiana Bucket Brigade. They argued that the fossil fuel industry is not only unsustainable but it is increasingly putting life as we know it in jeopardy.
"Ladies and gentlemen," Honoré said, "we are at great peril because we continue to approve high-risk industries in and among where our people live."