By Emily Sanders, ExxonKnews
This story was published in collaboration with ExxonKnews, a project of the Center for Climate Integrity. This reporting was made possible in part due to a media briefing sponsored by Beyond Plastics, Inclusive Louisiana, Louisiana Bucket Brigade, and The Descendants Project, which included local meals in Louisiana.
If you take Shell's word for it, the oil giant's growing petrochemical operations are indicative of its "commitment" to a cleaner energy future. At new and expanding facilities, from northern Europe to Pennsylvania and Louisiana, Shell is suggesting that more chemical and plastics manufacturing can help usher in environmental solutions, sustainability, and even diversity. For instance, the company's just-published "Energy Transition Progress report" references chemicals right alongside "low carbon energy" and "renewable natural gas" as examples of the company's stated commitment to lowering emissions.
But if you talk to some residents of "Cancer Alley," a strip of the Mississippi River featuring more than 150 oil refineries and petrochemical plants that are frequently concentrated in Black neighborhoods and often built at the sites of former slave plantations, the picture of life next to such facilities looks a lot less rosy.
"When I enter Norco and I'm in the car with people not from here, they're like, 'what is that smell?'" explains 34-year-old Jamaica Hawkins, who has lived in between a Shell refinery and chemical plant in Norco, Louisiana all her life. "To me it's normal, because I don't know anything different."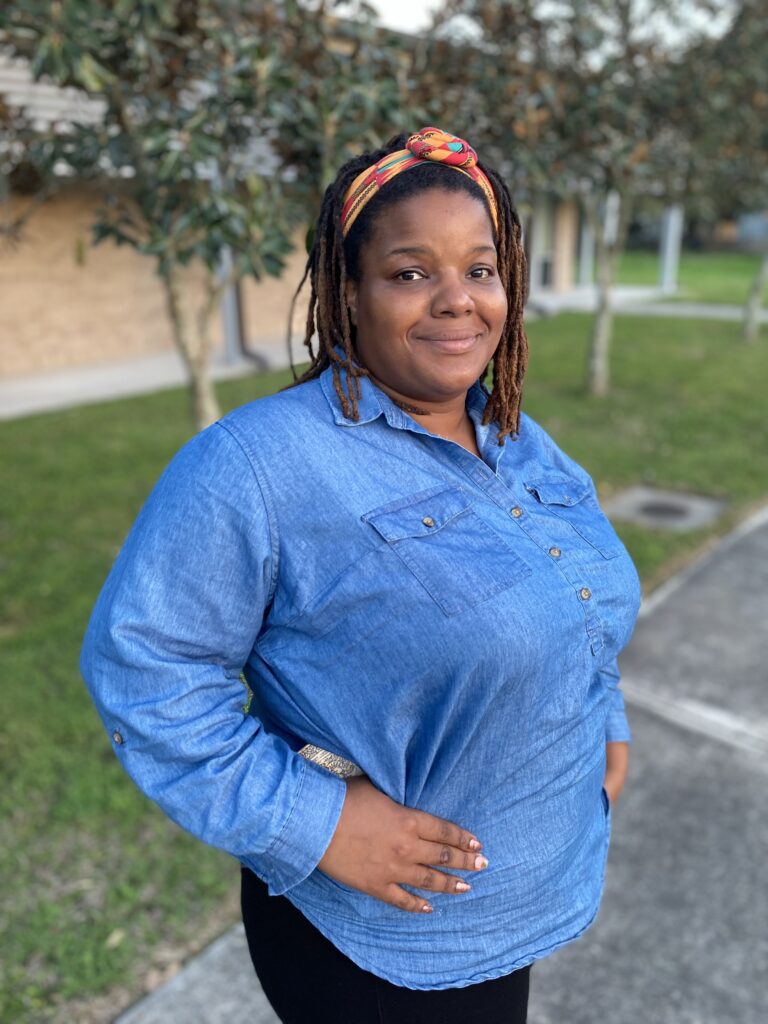 Hawkins lives in Norco's historically Black community of Diamond, home to families descending from sharecroppers and, before them, enslaved people forced to work the former plantation where the chemical plant and refinery were eventually built. After generations of wildly elevated rates of childhood asthma and cancer in the community that many believe were a result of the toxic pollution overhead, a group of Diamond residents living within a few blocks campaigned for Shell to buy their contaminated properties. Shell agreed to fund their relocation in 2002 — but Hawkins' family was one of the few who decided to stay.
Today, a peculiar sign still greets those who enter the town: residential homes are pictured next to an oil tank, surrounded by refinery towers, all basking together underneath the sun and blue sky. It's an apt welcome to a place where the realities of everyday life seem to be in stark contrast to the green illusion marketed by the fossil fuel and petrochemical industries.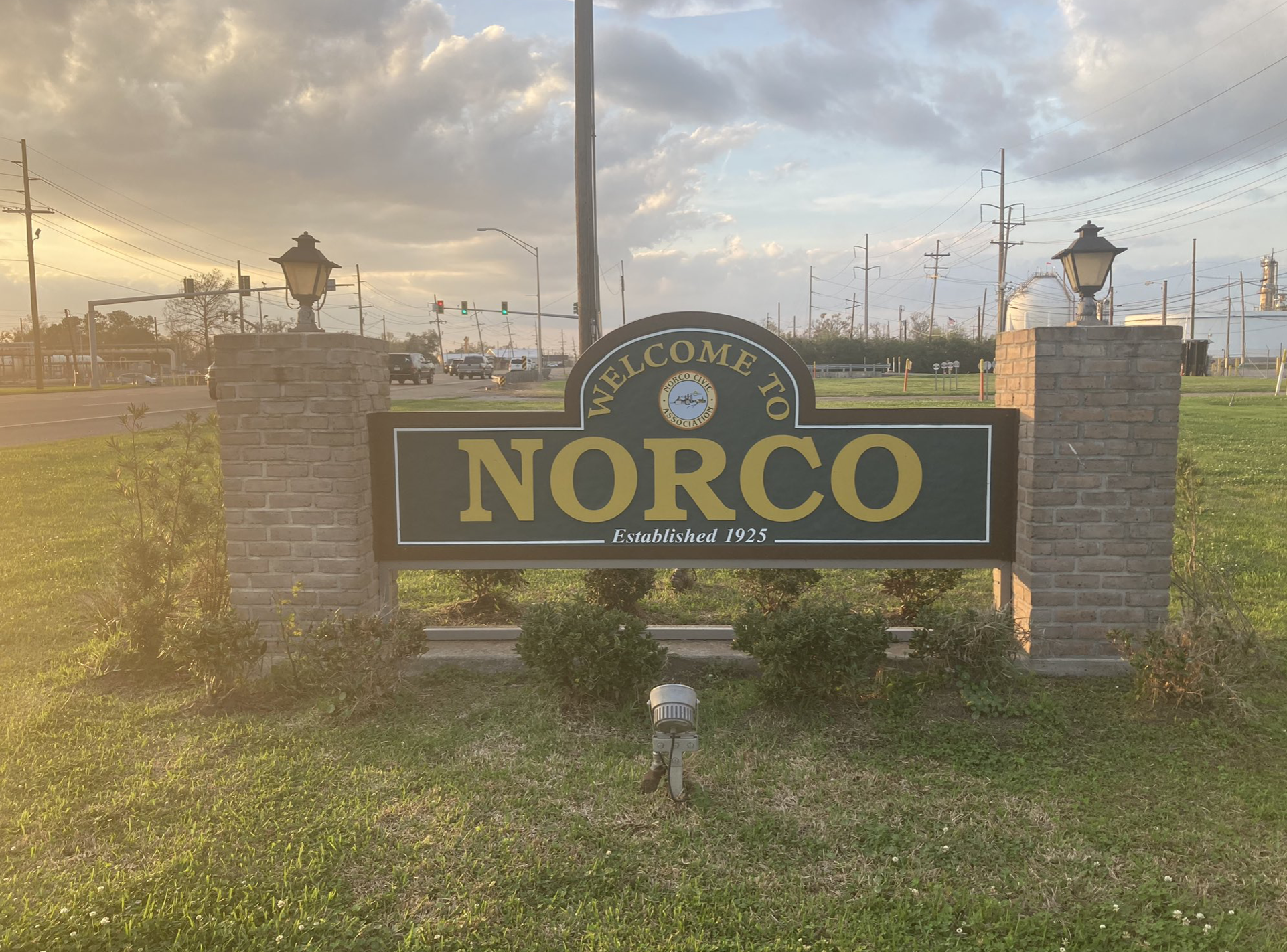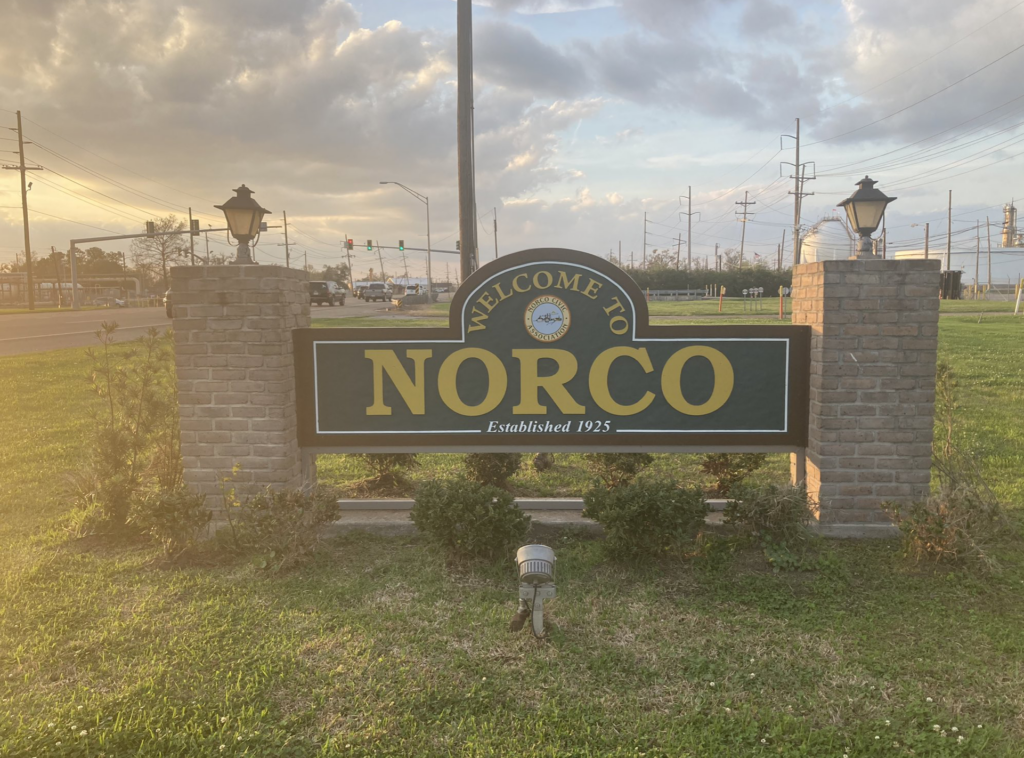 In 2021, Shell launched its "Powering Progress" strategy outlining how it plans to "transform into a net-zero emissions energy business." Part of that strategy appears to be redefining its expanding petrochemical and plastics business as a solution to climate change. Based on recent public messaging, the oil major seems to be pinning its future on selling a central idea: that producing more chemicals used to make plastics, still overwhelmingly sourced from and powered by fossil fuels that release toxic pollution, can be inherently sustainable for people, climate, and the environment.
At the same time, after hauling in record-breaking profits last year, the oil major announced it will pause its growth in spending on renewables in order to ramp up investments in gas, made more profitable by Russia's invasion of Ukraine. While Shell has been facing rising pressure on its fossil fuel business for years, its growing petrochemical frontier has not yet received the same level of scrutiny.
Much as Shell has touted climate pledges and commitments that often don't match its business reality, the company's public language around petrochemicals now uses similar tactics which seem aimed at deflecting from its harmful operations.
For starters, Shell includes "chemicals production & sales" in its reported spending on its "Energy Transition." In its latest progress report, the company attributes nearly half of its 2022 investments in products it says will reduce its carbon emissions to its spending on "non-energy products such as chemicals, lubricants and convenience retail" — because, as the oil giant writes, they "do not produce emissions when they are used by our customers." The report celebrates Shell's transformation of refineries into "low-carbon energy and chemicals parks," integrated facilities which it claims will rely in part on alternative energy sources like biofuels and hydrogen to produce the chemicals that make materials like plastics, as an attempt to decarbonize its operations.
The Shell Norco refinery and chemical plant, now christened as Shell's first integrated "Energy and Chemicals Park" in the U.S., is one of the facilities undergoing a significant public reimagining. In recent months, the oil giant has placed numerous sponsored advertisements, which appear as "articles," in Louisiana's top newspapers trumpeting a new petrochemical future.
Such sponsored content — either written by the advertiser or an arm of the news company — seems intended to look and read "just like" a real news article, coming from Louisiana's journalists. Even though the fine print notes that "this article is brought to you by Shell," research reveals, again and again, that most readers can't tell the difference between sponsored content and legitimate news reports.
That muddiness makes this type of advertising a prime platform for Shell's new narrative on petrochemicals. In one sponsored "article" from January 29, the company maintains that "Norco is contributing to Shell's energy transformation journey."
"We're in a moment of realizing that the chemical industry is key to the energy transition. It won't happen without it thriving," Rhoman Hardy, senior vice president of Shell Chemicals and Products, told Business and Industry Connection Magazine regarding the company's plans for Louisiana.
Shell US did not respond to a request for comment from DeSmog.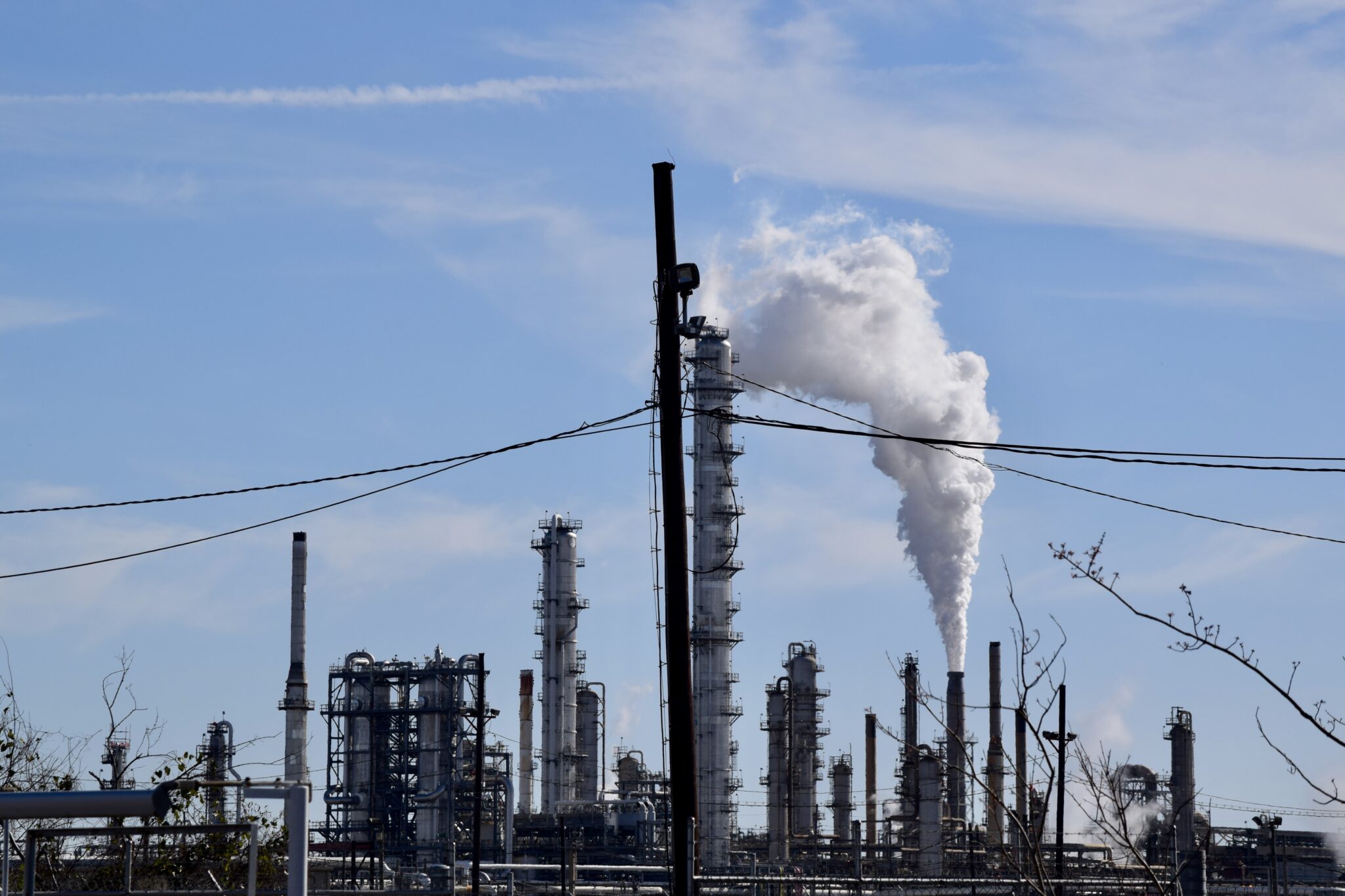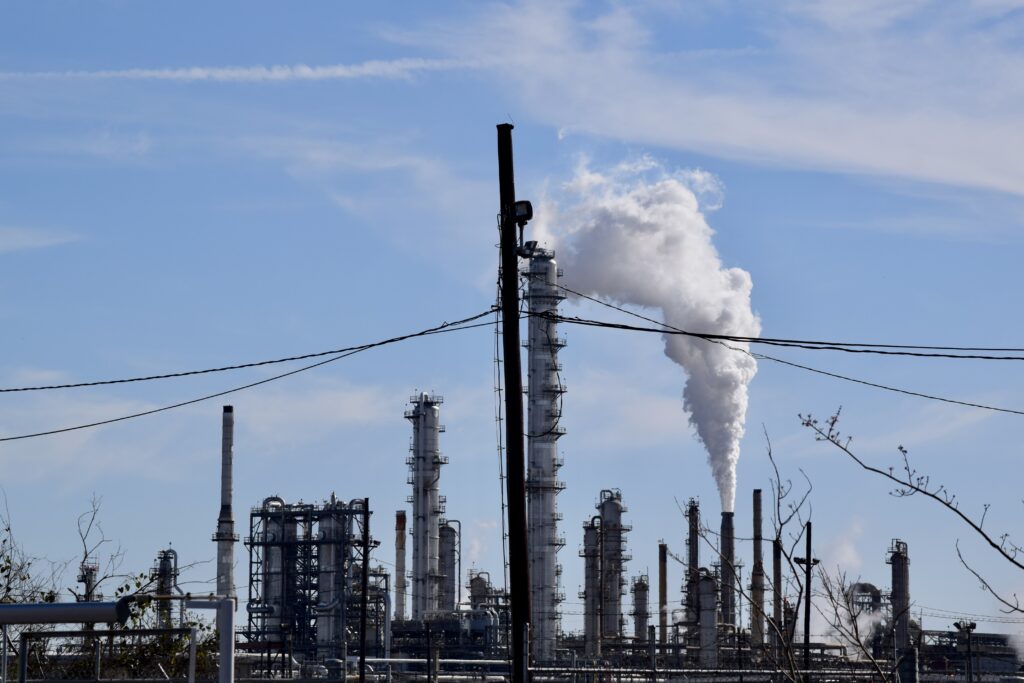 In reality, fossil fuel companies view investment in petrochemicals and plastic production as a way to ensure the longevity of oil and gas when the world inevitably transitions to clean energy. Between 2010 and 2018, the industry announced $200 billion worth of investments in new and expanded petrochemical projects across the country, projects reliant on fracked gas. Should these plans proceed, the petrochemical industry would account for nearly half the growth in oil demand by 2050.
Shell's public relations blitz in defense of this buildout won't lessen the toll that petrochemical facilities take on neighboring communities like Norco. People living within 10 miles of an oil refinery face significantly elevated risk of several cancers, including breast and prostate cancer, one study showed, while several other studies in some cases have linked higher risks of some cancers to living near petrochemical plants.
"Even if these projects were having the carbon benefits that they claim to, which is questionable, they're still having negative impacts on the local community," said Kimberly Terrell, a research scientist at Tulane University's Environmental Law Clinic. "It's setting things up to just perpetuate and continue these disparities in exposure to toxic air pollution that have been around for decades."
An analysis by Terrell and a colleague from January of last year, published in Environmental Research Letters, found that Black or poor communities in Louisiana face acutely elevated cancer rates due to toxic air pollution.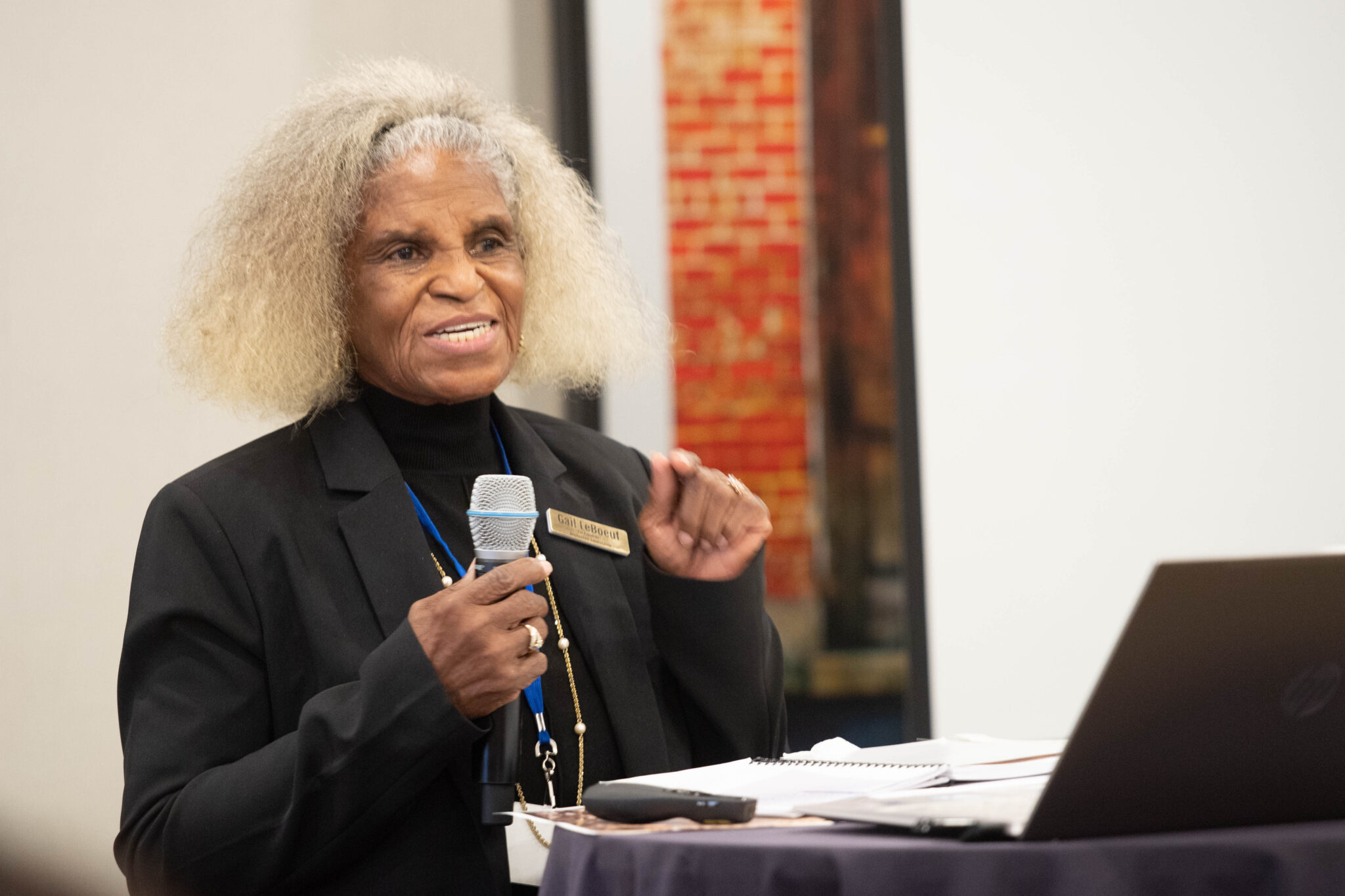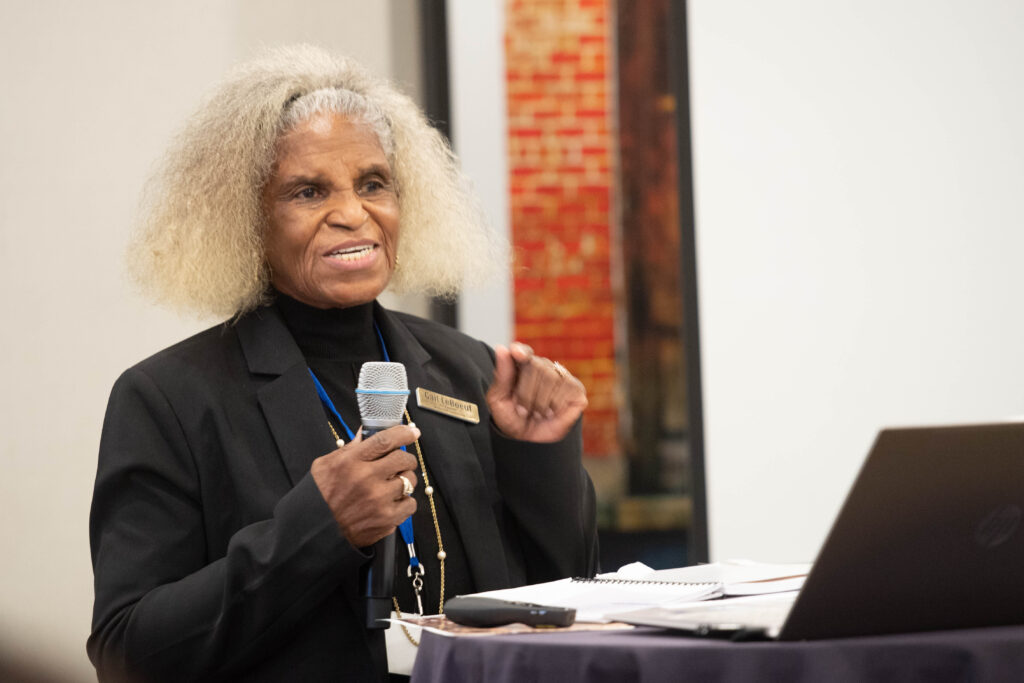 One such community is Convent, a majority Black town in St. James Parish, a region that has become a build-out hub for the petrochemical and fossil fuel industry. In 2014, local politicians passed a land use plan that opened the door for more facilities to be sited in historically Black communities in St. James, according to a report by the Louisiana Bucket Brigade. Just this past month, residents sued St. James Parish in a federal lawsuit calling for the council to halt construction of and permitting for new petrochemical plants and implement remedies for the persistent environmental and human health harms the existing facilities have caused. The lawsuit also calls for the protection of sites where enslaved people in the Parish were buried, many of which have been destroyed in order to build such facilities.
"For more than 100 years, the company has had a significant economic and social impact on the region. That isn't about to diminish in the coming decades," Shell states in a sponsored advertisement from February promoting its new "renewable fuels and lower carbon products" facility in Convent, which will support the company's growth in the region.
Convent resident Gail LeBoeuf, co-founder of community group Inclusive Louisiana, a plaintiff in the recently filed lawsuit, has been fighting the fossil fuel and petrochemical buildout in St. James Parish for years. At a media briefing in New Orleans in January, LeBoeuf told reporters that she herself was about to start chemotherapy.
"I'm just a typical person," she said. "Either they move you out, or you die out. One of the two. That's what the industry is counting on."
Jamaica Hawkins said that thanks to the relocation of many families away from Shell's Norco complex, she is now the youngest homeowner in Diamond. "When we were a community, we had multiple voices. A multitude of people can get something done," she said. "But they tore up the community. There's not enough voices anymore."
But Shell wants the world to view its "new renewable chemical production," which will accompany existing production, as a turning point. "We are leading Shell in this journey," Tammy Little, General Manager at Norco, told St. Charles Parish newspaper the Herald Guide. "It's fun to be the first. We're proud to be a part of this community and want to continue to be a part of this community and provide solutions for a long time to come."
When I read Hawkins this quote, she was perplexed. "I haven't heard of any solutions they're providing," she said, telling me she's just focused on the constant smoke from the plant and the possibility of another deadly explosion happening there, like the one that killed seven workers in 1988.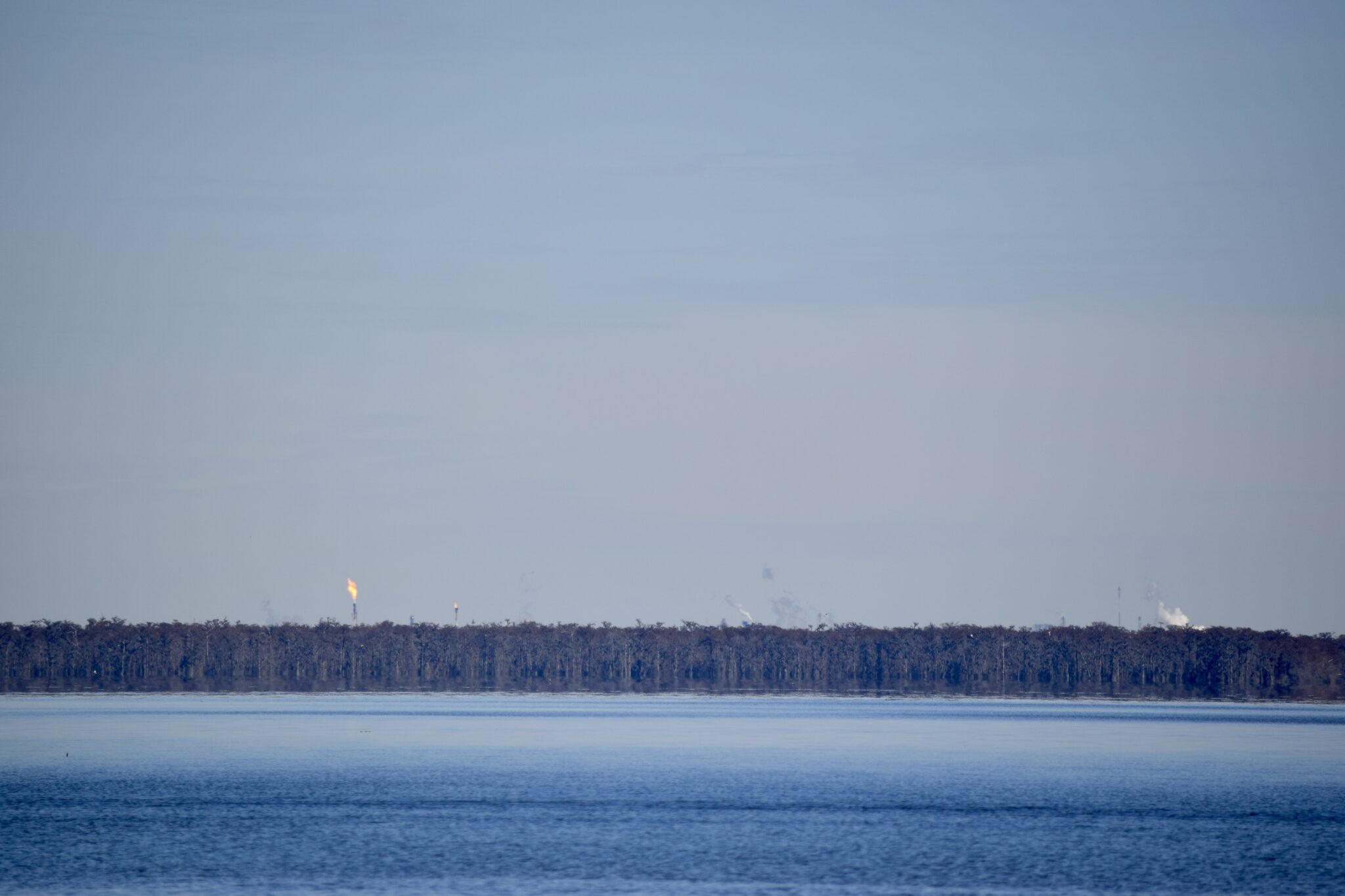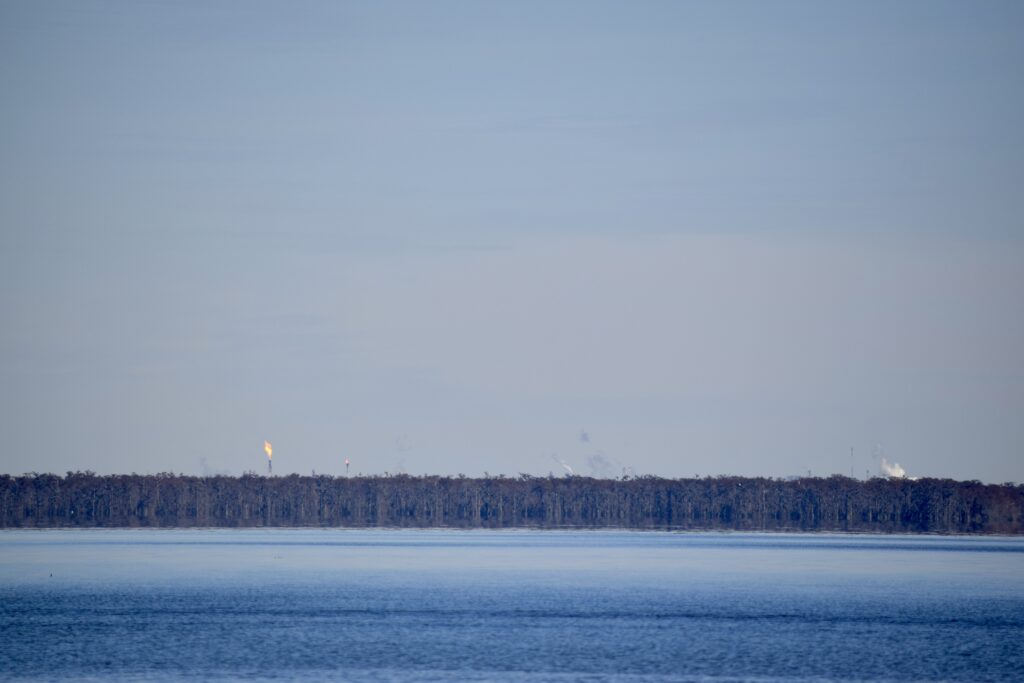 Many of Shell's latest ads highlight a new five-year collaboration between Shell and Henkel of North America, a manufacturer of household cleaning products. Shell says it will replace up to 200,000 metric tons of hydrocarbon-based cleaning ingredients, like those used in laundry detergent, with ones that are "renewable-based." The company claims it will be producing the chemicals in part using "sustainable" or "renewable-based feedstocks" at Norco that will be processed at Shell's Geismar Chemical facility in Ascension Parish, another community in Cancer Alley.
Yet the Shell-Henkel collaboration would replace only about 1.5 percent of the total chemical output at Norco, which produces billions of pounds of chemicals each year, many used to make plastics. The facility also regularly emits cancer-causing benzene, butadiene, and other carcinogens, according to data from the Louisiana Department of Environmental Quality (LDEQ). At Shell's expanding Geismar Chemical Plant, just four miles away from the community of Geismar, the company has pending air permits for an array of additional emissions.
"At the end of the day, they're making the same stuff even if it's starting with different materials," said Veena Singla, a senior scientist at the Natural Resources Defense Council. "That does not address the toxicity of the things you're producing, or all of the toxic releases and emissions related to those."
Other fossil fuel majors have jumped on this bandwagon, too. Along with Shell, ExxonMobil boasts new ventures in the emerging field of "chemical recycling" — an energy-intensive process that leads to toxic emissions in frontline communities, perpetuates the continued use of fossil fuels, and usually leads to discarded plastic being converted to fuel rather than new plastic, according to several studies. Chevron received U.S. Environmental Protection Agency (EPA) approval on a "climate-friendly" initiative to create fuel from old plastics at a refinery neighboring the majority Black and low-income population of Pascagoula, Mississippi. Yet smokestack emissions from one of those plastic-based fuels could lead to cancer in one of four people exposed over a lifetime, according to EPA records uncovered by ProPublica and The Guardian. Those records also showed that the EPA has deemed other plastic-based fuels, cleared under a new federal biofuels program, as presenting an "unreasonable risk" to human health or the environment.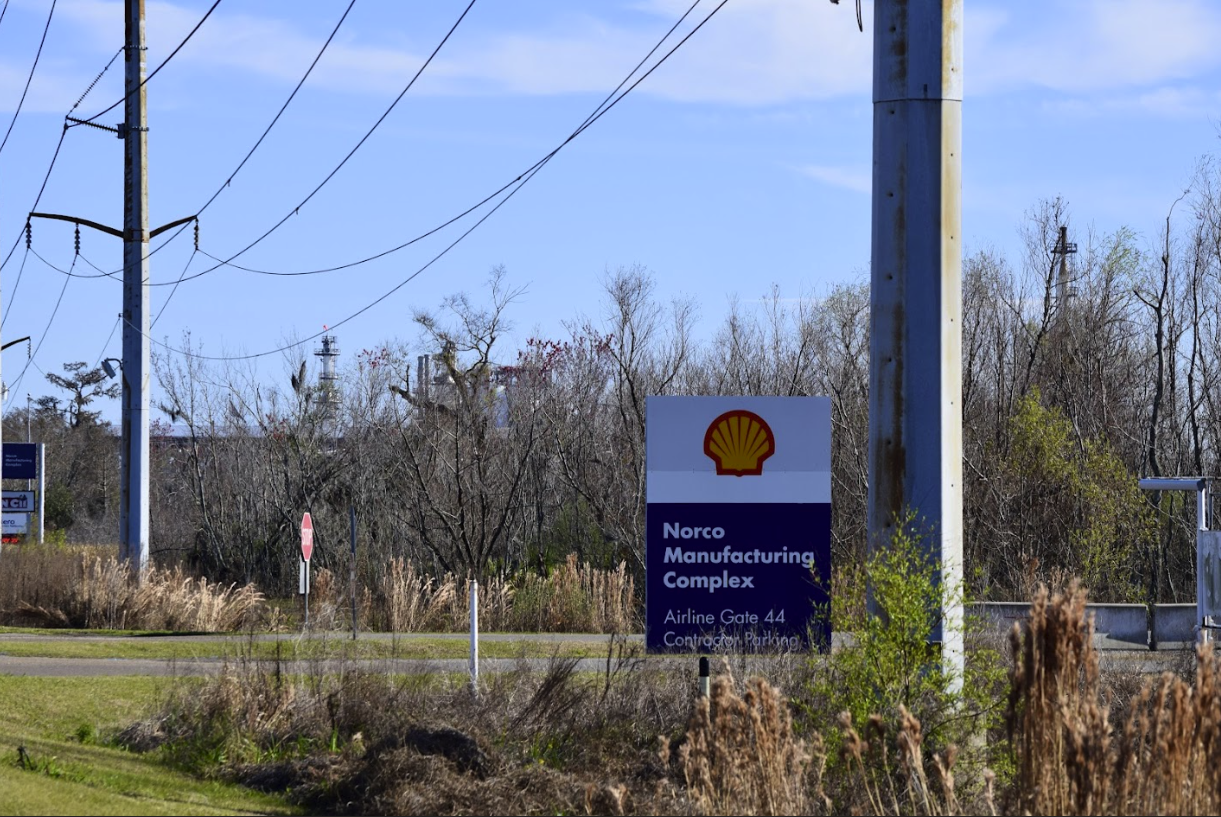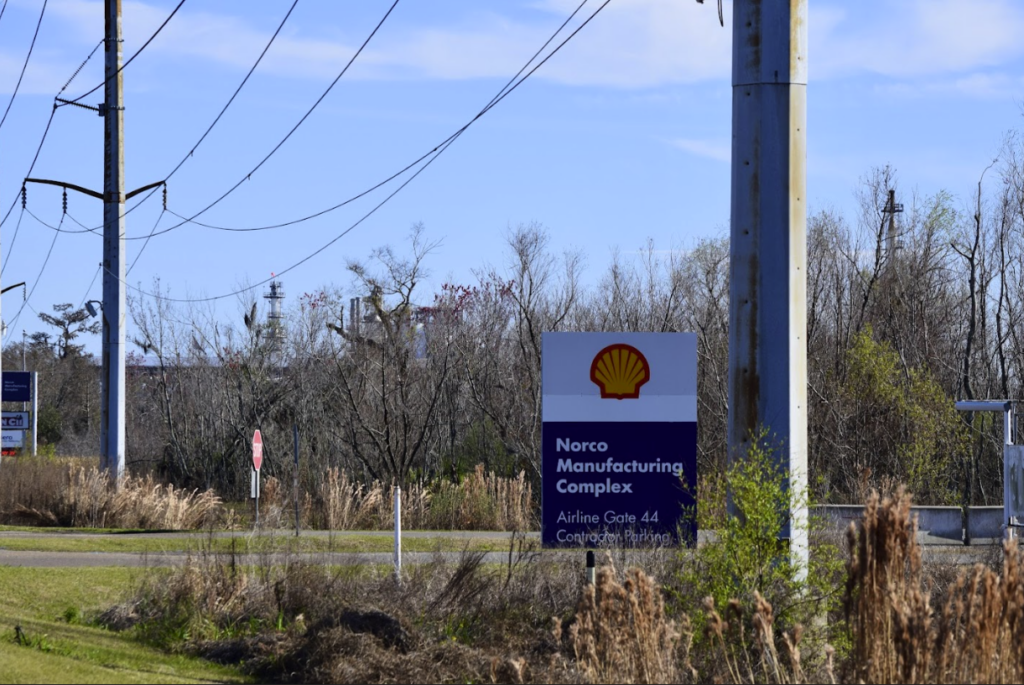 Anne Rolfes, executive director of the Louisiana Bucket Brigade, a local advocacy organization, said she first became familiar with Shell's Norco facility in 1999, when she returned to Louisiana after organizing against oil companies' destruction in the Niger Delta. At that time, the group was training residents of Diamond to test for and document pollution in their neighborhood.
Shell Norco has always been "a leader in the worst kind of way, as far as the number of upsets and emissions," she said. "I'm not exaggerating when I say they have never, ever gotten a handle on their operations there. This place has been a catastrophe consistently."
While Shell writes in local papers that it is "using sustainability and diversity to help build a better Louisiana future," regular incidents of pollution and accidents reported by the company to the Louisiana Department of Environmental Quality tell a very different story. From just last year, examples abound of unplanned releases and days-long flares of toxic chemicals, particulate matter, and greenhouse gasses, often exceeding permit limits. In one report from January 2022, a caller complains that "at least 1-2 times per month, for a week at a time, Shell Norco is emitting thick black smoke that… looks like they are burning tires."
In 2018, the LDEQ, EPA, and Department of Justice entered into a settlement with Shell over its Norco facility's multiple Clean Air Act violations, which included hazardous air pollutant emissions. As a result, Shell was forced to pay a $350,000 fine and operate a benzene monitoring station at its fenceline. Over the past year alone, at least 12 samples exceeded the benzene level at which Shell needs to take corrective action, with some of those incidents emitting more than five times this level.
Shell has long been accused of obscuring facts about their operations in public while admitting those truths behind closed doors. The company faces complaints and lawsuits for misleading investors about its commitments to a renewable energy transition, and is being sued by states and municipalities in the U.S. for deceiving the public and lawmakers about climate change.
While selling off some refineries in the U.S., Denmark, Germany, and Nigeria, Shell internally admitted to continuing its most greenhouse gas-intensive projects in places that, as one Shell executive described it, "aren't that politically sensitive about such matters: China, Singapore, Malaysia, Louisiana."
Rolfes says that Shell's "major rebrand" in Louisiana is nothing more than another cover-up. "In every corner of their operations, they know one thing and they get out in front and lie about it and tell the public the exact opposite," she said. "From climate change to community exposure to chemicals, Exxon and Shell and all the rest know and have known for a long time."
Shell's operations have in many ways shaped Jamaica Hawkins' world, where the consequences of chemicals create their own illusions. When the refinery flares high, she said, like it did during Hurricane Ida or "when the weather is bad," the streetlights don't come on in the evening because it's so bright. And at night, when she looks up at the clouds, it can be hard to tell if they're real — or just more toxic smoke from the plant.