Agriculture lobby groups have been in constant contact with a small group of influential European politicians, holding an average of over two meetings a week while the bloc negotiated flagship reforms to protect nature and climate, DeSmog can reveal.
Between January 2020 and July 2023, over 400 meetings took place between industry and key members of the European Parliament (MEPs) who have been at the forefront of efforts to stall reforms since the Farm to Fork strategy launched in 2020.
DeSmog documented meetings held by six MEPs from the centre-right European People's Party (EPP), the largest group in parliament.

The analysis found that in the period the lawmakers – Alexander Bernhuber, Herbert Dorfmann, Norbert Lins, Christine Schneider, Franc Bogovič and Anne Sander – met industry-linked groups eight times as often as non-governmental groups representing public interests.

Groups that were granted an audience included the world's four largest pesticide firms Bayer, BASF, Corteva and Syngenta along with fertiliser firms Yara and OCP Group, trade groups that represent the meat and dairy industry and farming unions allied with industrial interests, such as Copa Cogeca.
The analysis also showed that five out of six representatives appeared to flout EU transparency guidelines. Around 20 percent of the MEPs' meetings were with unregistered groups, and at least one in six meetings documented by DeSmog was not declared on the parliamentary website.
The EPP is vociferously opposing two major pieces of legislation from the EU's Green Deal, a historic package by the bloc to reduce its emissions in line with global climate targets. It includes key reforms that are currently making their passage through Europe's lawmaking bodies. If passed, both could have a significant impact on agribusiness' commercial interests.
The first, the Nature Restoration Law, includes plans to restore 20 percent of degraded ecosystems in the EU. The second, known as the Sustainable Use Regulation, or SUR, would see pesticide use halved by 2030.
The findings come at a crucial time for nature-friendly laws in Europe, which scientists say are critical to securing the bloc's food supply and tackling both climate breakdown and biodiversity collapse. Agriculture accounts for around 11 percent of carbon emissions in the EU, and farming has been linked to drastic declines in bumble bees and other wild pollinators.
Parliament's Agriculture and Environment committees will vote on the pesticide reduction plan on the 9 and 24 of October respectively. Final negotiations are ongoing for the Nature Restoration Law – parliament voted to exclude farmland in July but the final iteration has yet to be negotiated with the Council.
DeSmog's findings follow a sustained lobbying effort by industry to derail both laws. The EPP also stands accused of "blackmailing" its MEPs into opposing the Nature Restoration Law, and promoting "fake news", allegations that party leader Manfred Weber denies.
DeSmog's analysis also found that cumulatively since 2020 between them the six selected politicians had taken part in the equivalent of more than one event a month that was organised, or sponsored by, agribusiness lobby groups – some of which were hosted in parliament.
"These statistics raise huge concerns but are hardly surprising," said Vicky Cann from transparency watchdog Corporate Europe Observatory. "The big farming lobby, the agrochemical industry and Conservative politicians closely work together in order to keep the untenable and unfair status quo in EU farming as long as possible – to the detriment of all."
Slovenian MEP Franc Bogovič said he does not take orders from industry groups. "I'm a farmer and … I'm an agricultural engineer and I have my own opinion," he told Politico Europe, which contributed reporting to this story. "I really don't need their opinion on this. I have my own clear view of what is possible and what is not possible in agriculture."
None of the other MEPs included in the study responded to DeSmog's request for comment.
High Volume of Meetings
DeSmog analysed official meeting records for six EPP representatives since 2020, when the EU first unveiled its Farm to Fork Strategy, an ambitious plan to overhaul farming practices as part of the Green Deal.
The MEPs all sit on key decision-making committees for the green agricultural policies such as AGRI, the European Parliament's committee on agriculture issues, and ENVI, its counterpart for the environment.
Overall, more than 70 percent of the meetings declared by the six MEPs during the period were with industry groups, including pesticide manufacturers, food companies and farm lobbies.
The meetings were held during key negotiating moments. A plot of the meetings (see graphic below) shows that they spiked in the months before the European Council demanded a controversial re-assessment of the impact of the pesticide reduction plan, which had the effect of delaying the proposal by several months.
The analysis found that German politician Norbert Lins, who is chair of AGRI, held 169 meetings with corporate groups relating to food and farming, compared to just 19 with non-governmental organisations.
The meetings held by Lins with NGOs did not cover the legislative proposals to reduce pesticide use and restore nature, both of which he has vocally opposed. But he met with industry 16 times on these topics.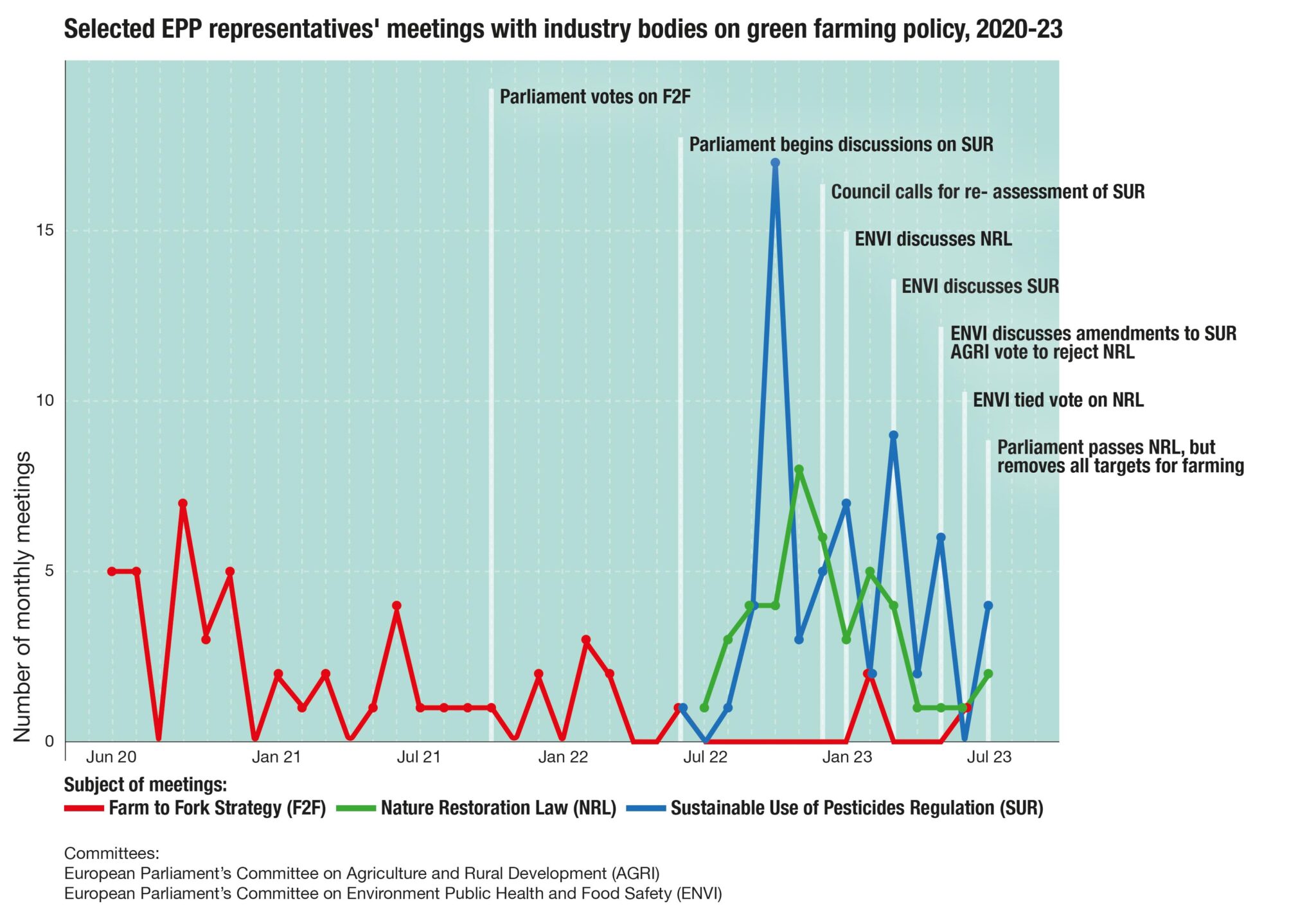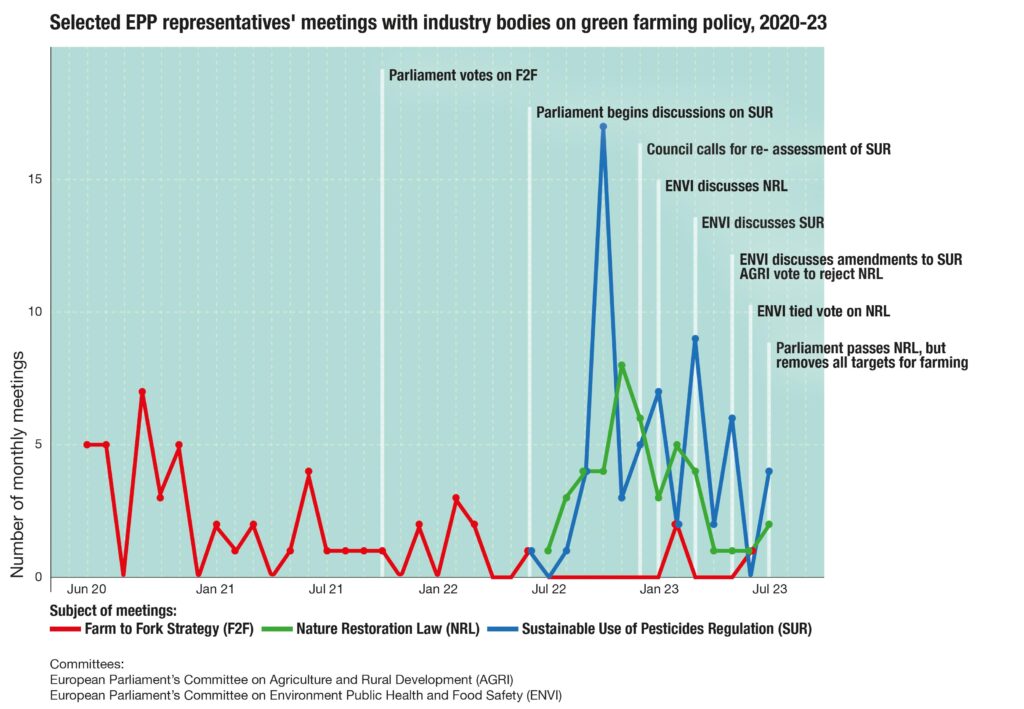 Italian politician Herbert Dorfmann, the EPP coordinator on the AGRI committee, has the highest mismatch – 91 percent of all his declared meetings were with industry groups.
The six politicians also held 40 meetings with farming union Copa-Cogeca and its influential French and German members FNSEA and Deutscher Bauernverband, which have warned that Farm to Fork would be "untenable" for the agricultural sector.
Copa-Cogeca calls itself "the united voice of farmers and agri-cooperatives in the EU". However, in June it admitted to overstating its membership numbers after being accused in an investigation by Lighthouse Reports and Politico of promoting industrial farming interests over those of smaller operations and young farmers.
Around 75 percent of the meetings held with farming unions on Farm to Fork, the Nature Restoration Law and the Sustainable Use of Pesticides Regulation were with Copa-Cogeca, its national members or their regional branches.
Although two-thirds of European farms are less than five hectares in size, the politicians did not hold any meetings on the proposals with unions representing smallholders. They held just two with representatives of the organic sector, which farms around 10 percent of European farmland.
"Science shows that farmers are a very diverse group of people," said Guy Pe'er, an ecologist at the Department of Ecosystem Services in the German Center for Integrative Biodiversity Research and at the Helmholtz Centre for Environmental Research. But despite the fact Copa Cogeca primarily represents large-scale operations, he said, they have "demonstrated that when it comes to agriculture, they are the bosses".
He added: "If politicians choose to give only one voice, meeting and inviting just a few organisations, then they give them power. You're wiping off this heterogeneity, knowingly and willingly."
In the period, the selected politicians held a total of 29 official meetings with the world's four largest pesticide firms – Bayer, BASF, Corteva and Syngenta – and their trade group CropLife Europe, which have lobbied fiercely against the SUR regulation.
Kristine De Schamphelaere from campaign group Pesticide Action Network said these groups' opposition to the ambitious pesticide regulation posed a threat to health and biodiversity. "Europeans are deeply concerned about the impacts of pesticides on their health and environment. Yet, many MEPs from the ranks of EPP ignore these concerns and scientific evidence," she said.
DeSmog's analysis found that the MEP Bogovič, who used to sell pesticides for a living, held 13 meetings with industry on the pesticide reduction law, compared with three meetings with only two NGOs.
Bogovič said NGOs don't approach him. "I never avoid discussions with people who have different opinions – I like that," he told Politico.
CropLife Europe said in a statement to Politico that it sought meetings with lawmakers relevant to its industry, regardless of their political affiliation. "Mr Bogovic is a key MEP to discuss the SUR [pesticide regulation]. We continue to discuss the proposal with all stakeholders."
Adopting Industry Rhetoric
Industrial farming organisations say the EU's green reforms could drastically reduce yields and endanger farmer incomes – warnings that are closely echoed by the EPP on their social media feed (for example, in November 2022 and March 2023).
The same claims have been contested by over 6,000 scientists, who point to major risks for the food supply if action is not taken to curb pesticide use and restore habitats.
"Science has been ignored and put aside," said ecologist Guy Pe'er. "Politicians systematically adopt the language of those unions and pseudo farmers organisations that spread misinformation."
"It is the responsibility of politicians to take the inputs of different sectors and different sources, weigh them and look at evidence. It is their responsibility to serve their voters' interests," he said.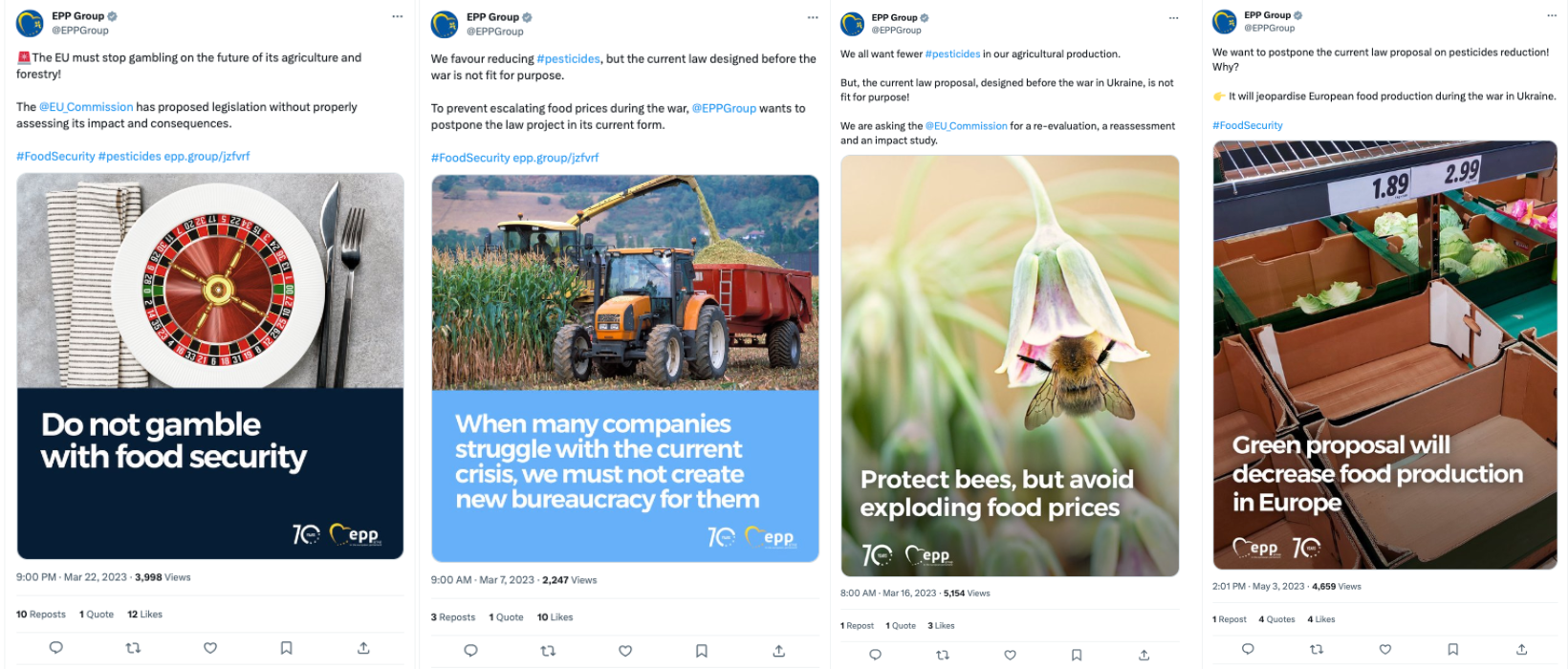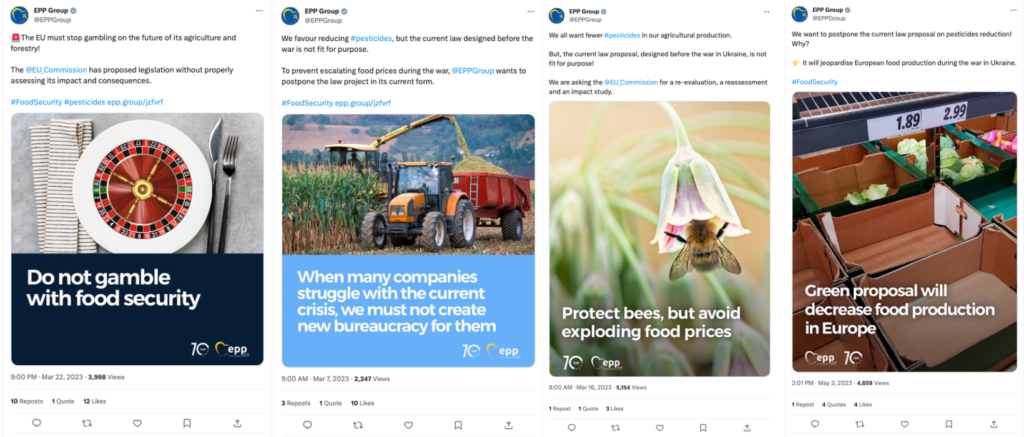 Scientists who support the nature-friendly plans requested meetings with multiple MEPs ahead of parliament's vote on the Nature Restoration Law, DeSmog understands.
Pe'er told DeSmog that only two EPP representatives – Christine Schneider and Peter Liese – had agreed to meet with the academics. The chair of the agriculture committee Norbert Lins and EPP leader Manfred Weber were among multiple lawmakers from both EPP and Renew who refused or ignored their requests.
DeSmog's findings come at a time of growing criticism of the EPP's approach to Farm to Fork.
In July, MEPs accused the party of spreading "fake news" in its online campaign against the plans to restore nature in the bloc.
The month before, the head of rival party Renew, Pascal Canfin, alleged that the EPP had threatened to exclude MEPs who did not oppose the Nature Restoration Law. Party leader Manfred Weber denies the claim, and asked for evidence, arguing that Canfin was "nervous and panicked" ahead of the vote, according to Politico.
Canfin, who chairs ENVI, also told Politico that the EPP had substituted around of third of its regular members in the committee for the crucial vote on the Nature Restoration Law in June, to ensure the party line was followed.
"As a group Renew has been very careful to hear all sides of the debate on the nature restoration law. Indeed, it was our group that pushed for the compromise that eventually found a majority in plenary," Renew told DeSmog in a statement. "It is not, however, our group's role to tell MEPs who they should or shouldn't meet in the lead-up to a vote nor where they get their information."
EPP did not respond to multiple requests to comment. But the party levelled similar accusations at its critics in a post on X, writing in June: "Those who accuse us of being against nature and the fight against climate change are simply spreading fake news. Our votes were crucial in adopting 29 laws to make the #GreenDeal successful".
Laws Drafted by Industry
Campaigners say that industrial farming lobbies have major political clout. As of 2023, the pesticide industry alone employed 50 full time lobbyists in Brussels while public records show that the four largest pesticide firms and their trade association CropLife Europe spent over €35 million (£30 million) lobbying the EU since 2020. In the same period, the farmers' union Copa-Cogeca spent somewhere between €4.3 and 4.8 million (£3.7 and 3.2 million) on EU lobbying.
Greens MEP Sarah Wiener says the industry ties of conservative politicians have been "reflected in votes and amendments tabled".
For its part, farming union Copa-Cogeca has publicly admitted that it drafts laws on behalf of politicians. In June, Pekka Pesonen, General Secretary of the union, told media outlet Politico that at least a third of amendments tabled by politicians originated with industry lobby groups or with NGOs.
This account is confirmed by Wiener, who is chief negotiator on the pesticide regulation SUR and was the Greens negotiator on Farm to Fork. "Copa-Cogeca proposed amendments to weaken Farm to Fork, some of which were simply copied and tabled by conservative and right-wing groups," she said.
DeSmog requested access to minutes of meetings with Copa-Cogeca and the pesticides firms in a Freedom of Information Request to the European Parliament. However, parliament said records of the meetings are held in the private offices of MEPs and therefore not subject to freedom of information laws.
MEPs Speaking on Industry Panels
Campaigners have also criticised the six politicians in DeSmog's sample for the high volume of industry-events they have attended.
In the period, the EPP politicians took part in 50 events (networking, panels or protests), including some in parliament itself that were organised or sponsored by the agribusiness industry. These included 20 events by major pesticide firms or their lobby group CropLife Europe.
Norbert Lins and Italy's Herbert Dorfmann were the most active. Both joined over 15 events, while Schneider attended just three.
Alexander Bernhuber, Franc Bogovič and Anne Sander between them held at least four events in parliament, which were either co-hosted with or platformed speakers from agrochemical or industrial farming groups which have opposed Farm to Fork.
For example, in April 2023, Bernhuber – the Austrian politician who is EPP's chief negotiator on the proposed pesticide reduction laws – hosted an event on SUR, which was moderated by the powerful sugar and beet producers' lobbies (CEFS and CIBE), both major users of bee-harming pesticides in the EU.
"It's clear that the EU Farm to Fork strategy has been constantly under attack by an unholy alliance between Big Agri and a fixed group of right-wing MEPs," said Vicky Cann from Corporate Europe Observatory. "Parliamentary events are just one manifestation of this."
She added: "EU food and agriculture policy has been dominated by the demands of Big Agri rather than the interests of most farmers and sustainability for too long."

CEFS told DeSmog that it "supports sustainable European agriculture" and "further reducing application of plant protection products where possible." It also said it was concerned by "arbitrary reduction targets" in the pesticide proposal that "would make the cultivation of sugar beet impossible in many areas and cause a significant drop in yields in others".

It added: "We believe that CEFS' engagement with policymakers can improve the quality of EU legislation due to the technical expertise, data, and experience CEFS and members can provide".
Transparency Concerns
DeSmog's analysis has raised concerns about a lack of transparency in EU decision-making.
The research found around a fifth of all meetings held by the six MEPs were with organisations not registered as lobby groups. With the exception of Franc Bogovič, all the MEPs analysed held multiple meetings with unregistered groups.
Under EU transparency guidelines, all organisations seeking to influence policy must register as a lobby group, providing details of their affiliations, funding, lobbyists and lobby spends.
The guidelines state that MEPs "should adopt the systematic practice of only meeting interest representatives that have registered in the Transparency Register".
But because transparency rules are not legally binding, groups are able to "circumvent" them, Cann from CEO explained.
Of 15 meetings with industry-linked groups on the pesticide reduction proposal held by Norbert Lins, who is chair of AGRI, the European Parliament's Agriculture Committee, five were with unregistered groups.
They included Moroccan state-owned fertiliser company OCP Group, which Lins met in March 2022 to discuss 'EU food security' in the wake of Russia's invasion of Ukraine. Lins has repeatedly cited fears about food security in opposition to proposed reforms, a claim critics say has been weaponised by both the pesticide and fertiliser lobby.
"I think citizens have a right to know who exactly their representatives are meeting with and who are behind these organisations," Sarah Wiener said.
Undeclared Meetings
Analysis of social media posts also showed that five out of six MEPs held meetings with industry members without declaring them, a practice that also flouts EU transparency guidance.

For the purposes of this study DeSmog defines meetings as any pre-scheduled or sit-down discussion between MEPs and interest representatives. Examples included hikes, breakfasts in the European Parliament and private, closed-door discussions at conferences and trade events.
Guidelines state that MEPs should publish details of all scheduled meetings with groups which seek to influence policy, in particular when legislation is discussed. However, the guidance is only binding for lawmakers who act as chief negotiators on proposed laws.
Between them Alexander Bernhuber, Herbert Dorfmann, Norbert Lins, Christine Schneider were found to have held some 15 meetings that were not declared. French MEP Anne Sander had almost 45 undeclared meetings.
Undeclared meetings took place with major farming association Copa-Cogeca, and pesticide firm Corteva. In at least a half of those meetings, the content of the social post revealed that policy was under discussion.
In recognition of the need for greater transparency, the EU approved new laws in September that will require all lobbying meetings to be published going forward – measures that the EPP has opposed.
Greens MEP and transparency expert Daniel Freund thinks voters need to be able to see who their politicians are speaking to. Transparency is crucial to ensure there isn't "undue influence" over policy decisions, he said.
Tipping Point
With European Elections due in June 2024, experts say that decisions made now will set the tone for parties across Europe. Officials have warned that the failure of biodiversity-focused lawmaking could leave Europe's wider Green Deal plan to become carbon neutral by 2050 in jeopardy.
Sarah Wiener said she was "confident" that an agreement on the pesticide reduction laws could yet be reached. However, with conservative politicians pushing to strip out legally binding targets, "the influence of the agricultural lobby is clearly felt," she said.
Parliament, Commission and Council are now also involved in final negotiations on the Nature Restoration Law, with parliament currently recommending that farming be removed from the plans.
"We know that ecosystems are collapsing, with major risks to us as well," the scientist Guy Pe'er said. "The question is: why is there such a glaring gap between the knowledge about what needs to be done and action by politicians?"



DeSmog's analysis includes all MEPs' disclosures of meetings in the period that were filed before September 25 2023.
Additional research by Brigitte Wear.