Charles Drevna
Credentials
Charles Drevna received his

BA

in chemistry from Washington and Jefferson College and performed graduate work at Carnegie-Mellon University. [1]
Background
Charles T. Drevna was the President and CEO of Fueling U.S. Forward, a pro fossil fuel organization funded by Koch Industries and other oil and gas companies that launched in August, 2016 and shut down in September 2017. Drevna described the group as a 501(c)(6) nonprofit business association, allowing for both lobbying and political activities. [2], [3], [4]
Charlie Drevna is a former D.C. oil industry lobbyist and Sunoco executive. Until mid-2016, Drevna was also Distinguished Senior Fellow at the Institute for Energy Research and a board member of the American Fuel & Petrochemical Manufacturers. [5], [6] According to his bio at AFPM, Drevna was an "advocate" for the petroleum industry: [7]
"Drevna leads a staff that advocates for petroleum refiners and petrochemical manufacturers before Congress and the Executive Branch on a broad range of public policy issues. AFPM, under Drevna's leadership, is emphasizing the importance of petroleum refiners and petrochemical manufacturers to America's economic growth and national security. "
Before joining IER, Drevna was President of the American Fuel & Petrochemical Manufacturers (AFPM), the national trade association representing 98 percent of oil refining capacity in the U.S., formerly known as the National Petrochemical & Refiners Association. According to his profile at the Institute for Energy Research, Drevna joined the AFPM in 2002 as the director of policy and planner, and was named executive vice president in 2006. He became President in 2007 where he served until he later retired from the position in May, 2016. [5], [1], [8]
According to tax records, Drevna continued to received $250,000 from AFPM in 2016, while he was developing and launching Fueling U.S. Forward, despite wrapping up his tenure as President of the association in April of 2015.

According to IER's website, while he was a Senior Fellow, Drevna advised IER on a variety of energy topics, particularly fuel and refining issues. Though Drevna told DeSmog's Sharon Kelly that IER is not involved with this Fueling U.S. Forward campaign, Drevna did work on Fueling U.S. Forward while officially serving as a fellow at IER. [9]
FuelFix describes IER as advocating "freely functioning" energy markets, and notes the group has criticized sector-specific subsidies, particularly tax incentives that aid wind, solar and other renewable power. [10]
In February 2016, The Huffington Post reported that Charles Drevna and James Mahoney were reportedly charged by the Koch brothers with developing and leading the new campaign to rebrand oil and gas and attack clean energy and electric vehicles. In August, 2016, Drevna revealed at Red State Gathering that this campaign would be called "Fueling U.S. Forward." The campaign set out to rebrand fossil fuels as "sustainable" and vital energy sources. As Drevna announced, ""Oil and natural gas […] are the future." [11], [2], [12]
Drevna has had a long career in the oil industry, having held executive and supervisory positions with Sunoco and Consolidated Coal Corp. He has also held high-level positions with the Oxygenated Fuels Association and the National Coal Association. [13]
Koch-Tied Generation Opportunity Funding
FUSF appears to have been operating in connection with the Koch-tied Generation Opportunity and Generation Opportunity Institute, 990 tax records reviewed by DeSmog reveal. While Generation Opportunity operates as a 501(c)(4) organization, it appears to have also run a non-profit 501(c)(3) arm entitled the "Generation Opportunity Institute."
The 2016/2017 990 forms for Generation Opportunity Institute (EIN 46-2346050) operated under the name "Fueling U.S. Forward Institute" and listed Charles Drevna as the group's president. According to that tax form, Drevna received $648,969 in that year, plus another $23,978 in other compensation. 
Generation Opportunity Institute 2016 (Text)
It also noted that Drevna, as president, was paid via YEM Trust — the operating name of Generation Opportunity's 501(c)(4) outfit: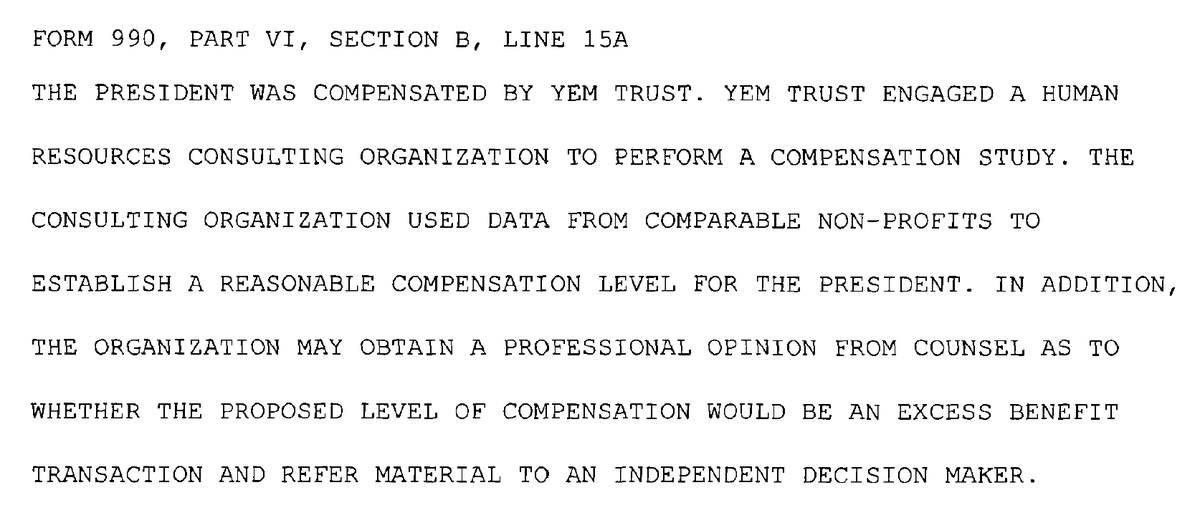 Koch Vs. Clean
DeSmog launched a microsite on August 14, 2016 KochVsClean.com that examines the Kochs' role in creating and funding the Fueling U.S. Forward campaign and how this group fits into the Koch-funded network of organizations seeking to undermine clean energy innovation such as electric vehicles and rooftop solar. Koch Vs. Clean also further examines the role of key individuals and organizations backing the FUSF campaign. Learn more below:
Individuals involved in Fueling U.S. Forward
Organizations involved in Fueling U.S. Forward
Stance on Climate Change
2014
"Since the Lord rested on the 7th day, there's been climate change. The question is how much of it is man-made, how much of it can we can control, and what are the unintended consequences or the ramifications." [14]
2008
"Meteorologists have questioned the relationship between storm intensity and climate change." [15]
Key Quotes
October 3, 2016
"Today, fossil fuels are often spoken about in derogatory terms. But the truth is often the opposite of what you hear.

[…]

As we look to the future, the central question should be whether we will continue achieving advances in everyone's quality of life, especially the least fortunate. The answer to this question depends on whether we recognize the central role of fossil fuels to human progress." [16]
August 2016
"We've got to take this to the emotional and personal level. Oil and natural gas, they're not the fuels of the past and maybe the present or a necessary evil. They are the future." [2]
July 2009
"We're very concerned about the negative impacts this legislation [the Waxman-Markey climate change bill] would have not just on domestic refining and petrochemical businesses, but on American consumers and our nation's economic recovery as a whole. Anything that will negatively impact supply or the cost of energy will impact consumers, so it's a false assumption that only industry will have to bear the burden of complying with a stringent, unrealistic climate change mandate. Both our employees and our customers will be adversely affected should such legislation be signed into law." [13]
Key Deeds
June 2, 2017
Shortly after Tesla's CEO Elon Musk quit as business advisor to President Trump, following Trump's withdrawal from the Paris climate accord, Drevna weighed as an opponent to green energy subsidies: [26]
"Electric Vehicle and Solar Panel subsidies are a massive transfer of wealth from the poor and middle class to the rich," Drevna said, quoted at The Washington Free Beacon. "We should not force those least able to afford it to pay for programs that will not benefit them and only continue line the pockets of the crony capitalists." [26]
August 22–25, 2016
Charles Drevna attended at a Blacks in Government training session in Atlantic City, N.J. "He will continue to meet with a variety of groups in the coming months, he said, ticking examples off: Native Americans, inner-city residents, farmers, millennials, women and industry employees," Climatewire reported. [3]
While Drevna did not speak at the event, Climatewire said " surrogates with Project 21, an initiative by the National Center for Public Policy Research for black conservatives, helped deliver his message, according to National Policy Alliance Executive Director Linda Haithcox." [3]
The National Center for Public Policy Research (NCPPR) has received hundreds of thousands of dollars from the oil industry and right-wing foundations, according to data from Conservative Transparency. [25]
August 13, 2016
Charles Drevna announced the Fueling U.S. Forward campaign at the Red State Gathering and confirmed that the campaign is backed by Koch Industries (video below). [2], [12]
"We need a sustainable energy to ensure the future of the country," Mr. Drevna told the audience.
The source of that energy? That which Mr. Drevna labeled "reliable, abundant, efficient and sustainable fuels."
"Folks, that's of course the fossil fuels," he immediately added.
Huffington Post first reported on the campaign in February, 2016, noting the $10 million-a-year effort had been proposed by Koch Industries board member James Mahoney along with Charles Drevna with the goal "to boost petroleum-based transportation fuels and attack government subsidies for electric vehicles." [11]
Drevna said at the Red State Gathering that "we are basically richer than ever before." He quickly revised his statement, adding "as a world we are. As a nation we are basically richer than ever before." [2]
According to Drevna, the oil industry has long "been engaged in asymmetric warfare." He notes that "We're partnering with other organizations too, especially non-traditional allies like the minority community. Who in the heck gets hit hardest and fastest when there's an energy crisis and prices go up? They do." [2]
November 3, 2015
Charles Drevna, while a Senior Fellow at the Institute for Energy Research (IER), testified before the House Science Subcommittees on Oversight and Environment to oppose the Renewable Fuel Standard (RFS), reports IER Read Drevna's full testimony here. [17]
"The Renewable Fuel Standard was based on incorrect assumptions about oil production and consumption, as well as the ability of Congress and the administration to mandate and create incentives for innovation and vast technological and economic leaps in biofuel production" Drevna says in his written testimony. "The results of the RFS are a failure for America. […] is time to end the RFS and let American fuel producers focus on delivering the best products to American motorists." [18]
Video of Drevna's testimony below:
August, 2015
Charles Drevna, representing the American Energy Alliance (AEA), went on Fox News to criticize the EPA's Carbon Rule and the Clean Power Plan. See video below. [19]
March 19, 2012
Charles Drevna, representing the American Fuel and Petrochemical Manufacturers (AFPM) testified before the Subcommittee on Counterterrorism and Intelligence on "the implications of refinery closures for U.S. homeland security and critical infrastructure safety." According to Drevna's written testimony: [20]
"As we look to diversify our energy sources, we must not turn our back on petroleum-derived fuels that we will continue to depend upon for decades to come. To do so would simply disadvantage the consumer, harm our National economy, and erode our energy security."
February, 2012
Charles Drevna debated Thom Hartmann on Keystone XL pipeline and alternative energy. In his interview, Drevna claims that his industry "doesn't get subsidies:" [21]
Thom Hartman: "Many people would suggest that your industry is one of the largest welfare recipients int he united states and that you're fighting vigorously to maintain your welfare payments. How do you respond to that?"

Charles Drevna: "Absolute fallacy. If you're talking about subsidies, which is the misnomer of the year, of the decade, we as an industry—whether it's refining, petrochemical, oil, or gas—we don't get subsidies."
In a 2015 report, The Guardian found that Shell alone was in line for $1.6 billion in state subsidy, according to a deal struck in 2012 when the company made an annual profit of $26.8 billion. [22]
April 28, 2010
Rep. Peter Welch questioned Charles Drevna at a hearing of the House Energy and Environment Subcommittee about subsidies that the oil industry enjoys. Welch notes that Drevna had previously testified in favor of energy policy that favors a "level playing field' that would allow the most competitive form of energy to win out. However, when Welch notes several subsidies that have cost taxpayers billions of dollars while serving the oil industry, Drevna says that he is apposed to their repeal. Video below. [23]
October, 2009
Bloomberg News interviewed Charles Drevna on why he was opposed to the EPA's move to curb greenhouse gas emissions. Video below. [24]
Affiliations
Publications
According to his profile at the American Fuel & Petrochemical Manufacturer (AFPM), Drevna has appeared on Fox News Channel, Fox Business Network and CNB. He also offers "analysis and commentary" in the Wall Street Journal, Bloomberg, ABC News, and U.S. News and World Report. [7]
Sample Media Appearances
Sample Publications
Resources
Other Resources