CO2

 Coalition
Background
The GMI shut down in September/October of 2015. A GMI press release noted the group's national security research would be transferred to the Center for Strategic and International Studies (CSIS), while it is apparent that the CO2 Coalition would take over Marshall's "work on energy and climate change." [3], [4]
The CO2 Coalition's tag line is "Carbon dioxide, a nutrient vital for life," and it appears to share many of the views put forward by Craig Idso's Center for the Study of Carbon Dioxide and Global Change (Co2science.org). Craig Idso is notably listed on the CO2 Coalition's Board of Directors. [1]
"The

CO2

Coalition seeks to engage thought leaders, policy makers, and the public in an informed and dispassionate discussion about the important contribution made by carbon dioxide and fossil fuels. We seek to shift the debate from the unjustified criticism of

CO2

and fossil fuels to one based on a solid scientific foundation. Any discussion of climate change needs to address the extent of our knowledge of the climate system, well-established uncertainties, the limitations of climate models, and the consequences of mandated reductions in

CO2

emissions,"

the

CO2

Coalition's homepage states

. 

[1]
In December of 2015, coalition director William Happer was implicated in a Greenpeace investigation where activists posed as consultants for a Middle Eastern energy company and asked Happer and Frank Clemente, an emeritus sociology professor at Pennsylvania State University, to author reports on the benefits of coal and carbon dioxide emissions, which the professors agreed to do. [5]
The Mercer Family Foundation was a top donor to the CO2 Coalition in 2016 with a $150,000 donation. The Foundation is run by by Rebekah Mercer, the daughter of hedge fund manager Robert Mercer, and has funnelled millions of dollars to conservative causes and climate change denial groups. [42]
Stance on Climate Change
2017
According to the
CO2
Coalition's website, under a section titled "
CO2

Fundamentals
," they declare:
[6]
"The debate about global warming and climate change has shifted from genuine scientific exploration to a campaign demonizing

CO2

. The use of energy, the primary source of human

CO2

emissions, have played an essential role in the economic progress and improved standard of living that has been experienced in many nations since the Industrial Revolution. " 

[6]
The
CO2
Coalition outlines its mission as to "demonstrate with science based facts" the following: 
[6]
"

CO2

is a nutrient that is essential to life.

CO2

at current levels and higher enables plants, trees, and crops to grow faster and more efficiently. It is essential for life.   

"Just as we require oxygen for life, our economy requires energy, often described as the oxygen or lifeblood of the economy. Energy must be abundant, reliable, and reasonably priced for an economy to achieve robust and sustained growth." 

[6]
The
CO2
Coalition also makes the claim that "Current
CO2
levels of 400 ppm are still much less than optimum for most plant growth." With regards to planetary warming due to greenhouse gases, they contend that increasing
CO2
would be "beneficial." 
[6]
"Increasing levels of the greenhouse gas

CO2

from fuel combustion will slightly increase the surface temperature of the earth. Observations indicate that every doubling of the

CO2

concentration will increase the earth's surface temperature by 1 to 2 C, and perhaps less. The warming is so small that the resulting longer growing seasons and increased plant productivity from additional

CO2

will of great benefit to life on earth." 

[6]
April 8, 2016
 
Funding
The following is based on data collected from publicly available 990 forms. View the attached spreadsheet for additional information on the CO2 Coalition's funding by year (.xlsx).
Donor Organizations
Donor
2004
2006
2007
2008
2009
2011
2012
2013
2015
2016
2017
2018
Grand Total
Claude R. Lambe Charitable Foundation

$30,000

$70,000

$70,000

$70,000

$70,000

$40,000

$70,000

 
 
 
 
 

$420,000

Sarah Scaife Foundation
 
 
 
 
 
 
 
 
 

$132,000

$135,000

$150,000

$417,000

George C. Marshall Institute
 
 
 
 
 
 
 
 

$364,985

 
 
 

$364,985

Mercer Family Foundation
 
 
 
 
 
 
 
 
 

$150,000

$170,000

 

$320,000

Thomas W Smith Foundation
 
 
 
 
 
 
 
 
 

$50,000

$75,000

$100,000

$225,000

Charles G Koch Charitable Foundation
 
 
 
 
 
 
 

$75,000

$125,000

$9,126

 
 

$209,126

Searle Freedom Trust
 
 
 
 
 
 
 
 
 

$50,000

$75,000

$75,000

$200,000

The Lynde and Harry Bradley Foundation
 
 
 
 
 
 
 
 
 

$50,000

$50,000

 

$100,000

The Randolph Foundation
 
 
 
 
 
 
 
 
 
 

$40,000

$20,000

$60,000

Achelis and Bodman Foundations
 
 
 
 
 
 
 
 
 

$50,000

 
 

$50,000

Charles Koch Institute
 
 
 
 
 
 
 
 
 

$13,126

$33,283

$8,000

$54,409

Science and Environmental Policy Project
 
 
 
 
 
 
 
 

$25,000

 
 
 

$25,000

EOG

Resources
 
 
 
 
 
 
 
 
 
 

$5,000

 

$5,000

Grand Total
$30,000
$70,000
$70,000
$70,000
$70,000
$40,000
$70,000
$75,000
$514,985
$504,252
$583,283
$353,000
$2,450,520
Individual Donors
 
Year
Donor
2016
2017
Grand Total
Norman Rogers
 
$15,000
$15,000
Jeanne McWilliams Blasberg
 
$10,000
$10,000
Roger Cohen
$10,000
 
$10,000
Bruce Everett
 
$5,000
$5,000
Stewart Leighton
 
$5,000
$5,000
William Happer
$3,000
 
$3,000
Grand Total
$13,000
$35,000
$48,000
2017 Donors List
First mentioned at The Washington Post, tax filings obtained by the Climate Investigations Center revealed a number of previously unknown donors in the CO2 Coalition's 2017 990 form. Below is a listing of donors and amounts for 2017: [43], [44]
Donor
Total (2017)
Charles Koch Institute
$33,283
Lynde

&

Harry Bradley Foundation
$50,000
Mercer Family Foundation
$170,000
Sarah Scaife Foundation
$135,000
Searle Freedom Trust
$75,000
Thomas W. Smith Foundation
$75,000

EOG

Resources
$5,000
Bruce Everett
$5,000
Jeanne McWilliams Blasberg
$10,000
The Randolph Foundation
$40,000
Norman Rogers
$15,000
Stewart Leighton
$5,000
Grand Total (2017)
$618,283
Research Documents
Mercer Funding
The Mercer Family Foundation gave the CO2 Coalition $150,000 in 2016, making them the largest donor to the coalition in that year. As BuzzFeed News noted, the foundation also gave $125,000 to the Center for the Study of Carbon Dioxide and Global Change that year, another group questioning the link between climate change and carbon dioxide emissions. The CO2 Coalition received another $170,000 from the Mercer Family Foundation in 2017, according to the CO2 Coalition's most recent 990. [42], [44]
Koch Funding
GreenPeace USA compiled data, totalling funding from Koch-related foundations for for the George Marshall Institute, now the CO2 Coalition, at $620,000 since 2004: [37]
| | | | |
| --- | --- | --- | --- |
| Year | Charles Koch Foundation | Claude R. Lambe Charitable Foundation | Grand Total |
| 2004 |   | $30,000 | $30,000 |
| 2006 |   | $70,000 | $70,000 |
| 2007 |   | $70,000 | $70,000 |
| 2008 |   | $70,000 | $70,000 |
| 2009 |   | $70,000 | $70,000 |
| 2011 |   | $40,000 | $40,000 |
| 2012 |   | $70,000 | $70,000 |
| 2013 | $75,000 |   | $75,000 |
| 2015 | $125,000 |   | $125,000 |
| Grand Total | $200,000 | $420,000 | $620,000 |
Key People
Executive Director
Caleb Rossiter is the executive director of the CO2 Coalition. He is a professor and consultant with a background in international policy. In 2014, it was reported that Rossiter's Associate Fellowship at the Institute for Policy Studies was terminated after he published an op-ed in the Wall Street Journal in which he referred to the scientific consensus on climate change as "unproven." He is also a fellow at the Texas Public Policy Foundation (TPPF). [51], [52]
The CO2 Coalition reported that Rossiter, after completing a two-year term, would be replaced by Gregory Wrightstone in January 2021. CO2 Coalition chair Patrick Moore, who had also served two years, would be replaced by Caleb Stewart Rossiter. [62]
Founders
Board of Directors
Name
2015[1]
2016[8]
2017[9]
2018
2019
2019-12
Description
H. Leighton Steward
Y
Y
Y
Y
Y
Y
Geologist, former Chairman, Louisiana Land and Exploration Company; chair, Institute for the Study of Earth and Man Southern Methodist University, author.
Patrick Moore
Y
Y
Y
Y
Y
Y
Co-founder and 15-year leader of Greenpeace (1971-1986). Chairman and Chief Scientist, Ecosense Environmental. Leader, Campaign to Allow Golden Rice Now.
Bruce Everett
 
Y
Y
Y
Y
Y
Faculty, Tufts University's Fletcher School; over forty years of experience in the international energy industry.
Norman Rogers
 
 
Y
Y
Y
Y
Founder of Rabbit Semiconductor company; policy advisor to The Heartland Institute; member of the American Geophysical Union and the American Meteorological Society.
Gordon Fulks
 
 
 
Y
Y
Y
University of Chicago Laboratory for Astrophysics, Mission Research Corporation, Corbett, Oregon.
Jan Breslow
 
 
 
Y
Y
Y
Senior Attending Physician, Frederick Henry Leonhardt Professor, Laboratory of Biochemical Genetics and Metabolism, Rockefeller University.
Jeffrey Salmon
 
 
 
 
Y
Y
 
Will Happer
Y
Y
Y
Y
 
Y
Cyrus Fogg Brackett Professor of Physics (emeritus) Princeton University, former Director Office of Energy Research Director of Research,

U.S.

Department of Energy, co-founder Magnetic Imaging Technologies.
Harrison Schmitt
Y
Y
Y
Y
Y
 
Geologist, astronaut and last man to walk the moon (Apollo 17), adjunct professor physics University of Wisconsin-Madison, and former

U.S.

Senator from New Mexico.
Rodney Nichols
Y
Y
Y
Y
 
 
Former Chief Executive Officer of the New York Academy of Sciences; Scholar-in-Residence at the Carnegie Corporation of New York, former Executive Vice President Rockefeller University.
Richard Lindzen
 
 
Y
Y
 
 
Emeritus Alfred P. Sloan Professor of Meteorology, member National Academy of Sciences, fellow of the American Meteorological Society and American Association for the Advancement of Science, author of 200 scientific articles and books.
Roger Cohen
Y
Y
Y
 
 
 
Fellow of the American Physical Society; former Manager Strategic Planning ExxonMobil Research and Engineering.
Craig Idso
Y
Y
 
 
 
 
Founder and current chairman of the Center for the Study of Carbon Dioxide and Global Change
William O'Keefe
Y
 
 
 
 
 

CEO

George C. Marshall Institute; former Executive Vice President and Chief Operating Officer American Petroleum Institute.
Advisory Committee
Name
2015[1]
2016[8]
2017[9]
Description
Bruce Everett
Y
 
 
Faculty, Tufts University's Fletcher School; over forty years of experience in the international energy industry.
Craig Idso
 
 
Y
Founder, Center for the Study of Carbon Dioxide and Global Change; member American Association for the Advancement of Science, American Geophysical Union, and the American Meteorological Society.
Jan Breslow
 
Y
Y
Senior Attending Physician, Frederick Henry Leonhardt Professor, Laboratory of Biochemical Genetics and Metabolism, Rockefeller University.
Kathleen Hartnett-White
Y
Y
Y
Distinguished fellow and director of the Armstrong Center for Energy and the Environment, Texas Public Policy Foundation, former chair Texas Commission on Environmental Quality.
Larry Bell
Y
Y
Y
Professor University of Houston, established the research program in space architecture, author of Climate of Corruption: Politics and Power Behind the Global Warming Hoax.
Lorraine Yapps Cohen
Y
Y
Y
Former communications

&

marketing manager ExxonMobil, columnist Examiner newspapers.
Mark Mills
Y
Y
Y
Senior fellow Manhattan Institute,

CEO

Digital Power Group, a tech-centric capital advisory group, faculty Fellow McCormick School of Engineering and Applied Science at Northwestern University.
Norman Rogers
Y
Y
 
Founder of Rabbit Semiconductor company; policy advisor to The Heartland Institute
Pat Michaels
Y
Y
Y
Director of the Center for the Study of Science, Cato Institute, past president American Association of State Climatologists, former Virginia state climatologist, program chair American Meteorological Society.
Richard Lindzen
Y
Y
 
Emeritus Alfred P. Sloan Professor of Meteorology, member National Academy of Sciences, fellow of the American Meteorological Society and American Association for the Advancement of Science, author of 200 scientific articles and books.
Roy Spencer
Y
Y
Y
Principal Research Scientist at the University of Alabama Huntsville; served as Senior Scientist for Climate Studies at

NASA

's Marshall Space Flight Center; co-developer of satellite temperature measurement system.
Edward M. Bohn
 
 
Y
Co-founder and first president of Tempress Technologies, Inc., former Director for Planning and New Business Ventures for the

TRW

Space and Defense Group; former nuclear reactor research scientist at Argonne National Laboratory
Gordon Fulks
 
 
Y
University of Chicago Laboratory for Astrophysics, Mission Research Corporation, Corbett, Oregon.
Wallace Manheimer
 
 
Y
Naval Research Laboratory, Plasma Physics Division (retired).
Coalition Members
Actions
June 23, 2020
E&E News reported how, in the year prior, Facebook had initially flagged a post by the CO2 Coalition for misleading readers about global warming. The opinion piece was originally published in the Washington Examiner. [61]
However, according to the CO2 Coalition, a "conservative" Facebook employee quietly intervened and a new loophole was created for the coalition and like-minded groups to promote information counter to mainstream climate science. [61]
The decision allowed groups to share information as "opinion" and, as E&E News reported "therefore immune to fact-checking." [61]
Caleb Rossiter told E&E News that the CO2 Coalition was increasingly focusing its efforts on promotion via Facebook advertising. [61]
"It's a huge reach. You can reach so many people both with your posts and your advertisements," Rossiter said. "We're kind of like Donald Trump. We're not happy with the treatment we're getting from the mainstream media, we resort to social media. That's where our action is in larger part." [61]
Among ads the group has been pushing, following the removal of the "false" label from its climate models ad, have included messaging with statements like "we are saving the people of the planet from the people who claim they are saving the planet." E&E News reported those ads received more than 50,000 impressions according to Facebook data. [61] 
In May, climate scientists had labeled another coalition video as false, and anyone sharing it will receive a warning that it contains "false information." [61]
That video featured Pat Michaels appearing on Fox News saying that "climate models are making systematic dramatic errors." [61]
Michaels commented: ""Facebook allows reach to a really broad and diverse audience," he said. "I view it as a platform that just doesn't have me preaching to the converted." [61]
Andrew Dessler, a climate scientist at Texas A&M University, commented on how Facebook and other social media platforms help spread disinformation: [61]
"It's a powerful way to misinform people, since these groups can't win in the actual scientific arena, so they only can win in these media environments where they can pay to promote stuff," Dessler said. "It allows people to live in a bubble where you don't ever have to confront ideas that you don't want to deal with." [61]
June 1, 2020
The CO2 Coalition released a white paper titled "Ocean Health – Is there an 'Acidification' Problem." The report's principal research is CO2 Coalition member Jim Steele. [59], [60]
Steele was assisted by Genesis Torres, the Co2 Coalition's "science associate and congressional educator" and by Caleb Rossiter, the CO2 Coalition's executive director. [60]
"[T]he term 'ocean acidification' was invented to scare citizens into opposing the use of fossil fuels, which power 80 percent of the U.S. and world economies," The CO2 Coalition claimed in its release announcing the new paper. [59]
Co2 Coalition chair Patrick Moore commented: 
"This paper details the powerful cycle that takes surface carbon down to the depths for lengthy periods, before upwelling to enrich surface life again. Shells and marine species thrive in widely varying pH levels, making the so-called acidification crisis yet another cynical example of propaganda masquerading as science. As with fears of polar bear extinction, frequencies of hurricanes, length of droughts, and 'accelerating' sea-level rise, the specter of 'ocean acidification' has no basis in the scientific data."  [59]
Contrary to a science concluding that ocean acidification from fossil fuel use is a real and serious problem, the CO2 Coalition paper concluded "there is no unequivocal evidence to suggest that the oceans have been undergoing a drop in pH due to rising atmospheric CO2." [60]
April 9, 2020
The CO2 Coalition published an article claiming "the data to date do not support claims of a CO2-caused 'climate crisis'," pointing to CO2's " logarithmic effect on temperature" as evidence. Skeptical Science has addressed similar claims, describing them as a an example of how "the most persistent myths are based on technically true statements." [56], [57]
"It is true, that for each doubling of CO2 concentration, temperature increases by a constant value. However, at the current level of CO2 content in the atmosphere a good approximate relation is that for each 500 GtC (1833 bn tons of CO2) we can expect equilibrium temperature increase by approximately 1°C. Moreover, because of the continuing exponential growth of CO2 emissions the temperature increase will also accelerate," Skeptical Science notes. See another Skeptical Science description of the topic here. [58]
January 14, 2020
The CO2 Coalition shared an advertisement on Facebook titled "Australian wildfires were caused by humans, not climate change," which contained false information about the cause of the Australian bushfires. [54]
The ad contained the debunked theory that the fires were started by arsonists and were not influenced by climate change. Facebook nevertheless promoted the post after flagging similar misleading claims by PragerU. [54] 
Claims that environmental policies and arson were to blame for the bushfires have been debunked, though they continue to be propagated by social media bots and fringe websites such as Alex Jones's InfoWars. [55]
December 3, 2019
The CO2 Coalition co-sponsored a rebuttal to the United Nations' COP25 climate summit in Madrid. The event, titled "Rebutting the United Nations' Climate Delusion," was held in collaboration with the Heartland Institute, the Committee for a Constructive Tomorrow (CFACT), and the European Institute for Climate and Energy (EIKE). Deniers of consensus climate science in attendance included William Happer, EIKE's Wolfgang Müller, Anthony Watts, Tom Harris, Stanley Goldenberg, and Christopher Monckton. [53]
Heartland's James Taylor described the event as a "climate reality forum," and said: [53]
"Good news isn't bad news. […] The evidence for a climate crisis simply doesn't hold up. And that is not about attacking science, as many people would lead you to believe. It's performing science, it's advancing science. And again the news is good news, and that's excellent for humanity, it's excellent for people around the world, who would like to escape poverty and not be held down by energy restrictions imposed by the United Nations and national governments." [53]
William Happer, a former member of President Trump's National Security Council, opened his presentation with: [53]
"We are here under false pretenses, wasting our time talking about a non-existent climate emergency. And It's hard to understand how much further the shrillness can go, as this started out as global warming, then it was climate change or global weirding, now it is climate crisis and climate emergency, what next, but stick around, it will happen. I hope sooner or later enough people recognize the phoniness of this bizarre environmental cult and bring it to an end." [53]
May 9, 2019
The CO2 Coalition, represented by Caleb Rossiter, signed on to an open letter organized by the American Energy Alliance designed to fight against an electric vehicle tax credit. [48]
"The American Energy Alliance has organized a coalition to proclaim in one unified voice that there should be no expansion of the misguided electric vehicle tax credit," Thomas Pyle wrote in a statement, quoted at The Daily Caller. "There is no question that the electric vehicle tax credit distorts the auto market to no gain." [49]
According to Pyle and others who signed the letter, electric vehicle tax credits "overwhelmingly benefit the rich." DeSmog's Koch vs. Clean project has systematically debunked this, among other well-rehearsed talking points and misinformation put forward by industry about electric vehicles. [49]
The letter cites research by the Pacific Research Institute (PRI), a group that has received over $600,000 from ExxonMobil and millions from "dark money" groups DonorsTrust and Donors Capital Fund. 
May 6, 2019
The CO2 Coalition announced that Patrick Moore became Chairman of the Board. In a press release, the organization announced Moore's new role by stating: [50]
"The new leadership will educate the public about the benefits of carbon dioxide, the main building block of life on Earth. They will explain how the increase in CO2 in the atmosphere from human emissions is spurring increased growth of crops, forests and plants. They will also focus on discussing how CO2 is also a very weak greenhouse gas that may have the added benefit of slight warming of the climate.They will highlight the U.S. government data showing that the modest warming, even if caused in part by industrial CO2 has resulted in no increase in extreme weather such as hurricanes and droughts or changes in the rate of sea-level rise." [50]
Commenting on his new leadership role, Moore said: [50]
"We aim to position the CO2 Coalition as the go-to source for information on the benefits of CO2 for the environment and civilization. Human CO2 emissions are causing a greening of the Earth, which will increase agricultural and forestry production, as well as increasing the fertility and abundance of global ecosystems." [50]
Caleb Rossiter was also announced as the organization's new Executive Director, in charge of daily operations. [50]
May 1, 2019
The CO2 Coalition, represented by Craig Idso and Caleb Rossiter, held a briefing in Washington D.C. at the Capitol Visitor Center to present findings from a report titled "What Rising CO2 Means for Global Food Security." [46]
The Coalition's report described carbon dioxide as "a non-polluting, non-toxic gas" and "a powerful plant food." [46]
The briefing suggested increasing levels of atmospheric CO2 would result in higher crop yields:
"The CO2 added to the air has already 'greened' the planet: since 1900, it has increased crop production on the order of 15 to 30 percent, and satellite imagery shows that deserts are even shrinking in places as new plants encroach on their edges. […] this effect will only improve as carbon dioxide continues to rise from four one-hundredths of one percent of the atmosphere today to, perhaps, six one-hundredths of one percent in 50 years." [46]
Rossiter also revealed that the organization would be targeting their message at first- and second-term members of Congress who haven't made up their minds about climate change. "They're up for grabs," he said. [47]
Lawmakers in attendance included Sens. Roger Wicker (R–Miss.), Jim Inhofe (R–Okla.), Maria Cantwell (D–Wash.) and Rep. Gary Palmer (R–Ala.). [47]
February 25, 2019
The CO2 Coalition released a white paper titled "What Rising CO2 Means for Global Food Security" that claimed rising CO2 levels were "non-polluting" "plant food" and a boon for global agriculture. The paper was prepared by Craig Idso. [45]
The paper's executive summary credits CO2 with "greening" the planet, an effect that:
"[W]ill only improve as carbon dioxide continues to rise from four percent of one percent of the atmosphere today to, perhaps, six percent of one percent in 50 years." [45]
May 8, 2018
A set of documents released to the Natural Resource Defense Council (NRDC) as part of a Freedom of Information Act (FOIA) request revealed details of EPA Administrator Scott Pruitt's plan to engage in a "red team, blue team" expertise on climate change. The documents showed communications between the EPA and a number of corporate-funded conservative think tanks with views that run counter to established science on climate change including the Heartland Institute, the Manhattan Institute, and the CO2 Coalition. [41]
"The documents show the extent to which the E.P.A., which is the main federal agency charged with protecting human health and the environment, worked with groups like the Heartland Institute, which holds positions on climate change that are far outside the mainstream of scientific opinion, as opposed to the agency's own chief scientists," The New York Times reported.[41]
The emails also suggest that the EPA's Office of Research and Development, which normally does most of the science work of the Agency, was not active in the discussions.  In one email, a program analyst in the office, Christina Moody, wrote: "We are not involved. The Administrator is the one who wants to do this and I'm guessing his folks are putting it together." [41]
Rodney W. Nichols, a consultant to the pro-carbon CO2 Coalition, wrote to Pruitt's senior adviser for public affairs: [41]
The 'Red Team' idea is superb. We will be glad to help the initiative in any way we can," Nichols said.
In a later email, Mark Carr, another consultant for the CO2 Coalition, wrote to Pruitt's chief of staff, Ryan Jackson: [41]
"I'm following up on face-to-face conversations my CO2 Coalition colleagues and I have had with Administrator Pruitt," Mr. Carr wrote. "As you likely know, our experts are strongly supporting and helping organize the Red/Blue team initiative." [41]
May 8, 2017
The CO2 Coalition, represented by William Happer, is listed on an open letter to President Donald J. Trump urging him "to withdraw fully from the Paris Climate Treaty and to stop all taxpayer funding of UN global warming programs." [38]
DeSmog reported that the 40 groups represented in the letter, including the Competitive Enterprise Institute (CEI), The Heartland Institute, and the Heritage Foundation, have received a combined total of millions of dollars from the Koch Brothers, ExxonMobil, and other industry groups. [39]
Analysis also showed that the groups accepted about $80 million through Donors Capital Fund and Donors Trust, two groups that have been confirmed is a key financial source for key U.S-based climate change denial groups. [40]
February 24, 2017
The CO2 Coalition sponsored a discussion at the 2017 Conservative Political Action Conference (CPAC) moderated by Tony Heller/Steven Goddard and including speakers Kathleen Hartnett-White and Craig Idso of the CO2 Coalition. View video of the event at the Energy & Environment Legal Institute's Facebook page. [36]
Craig Idso of the CO2 Coalition talked about "the biological benefits of atmospheric CO2 enrichment: [36]
"The positive impacts of atmospheric CO2 enrichment remain largely under-appreciated or ignored in the debate over what to do or not do about rising CO2 concentrations in the future," Idso said. In conclusion, Idso added that "Atmospheric CO2 is not a pollutant; it is, in fact, the very elixir of life." [36]
October 31, 2016
Rodney W. Nichols and Harrison H. Schmitt of the Co2 Coalition co-published an article in The Wall Street Journal titled "The Phony War Against CO2." [10]
Nichols and Schmitt argued that "a myth persists that is both unscientific and immoral to perpetuate: that the beneficial gas carbon dioxide ranks among hazardous pollutants. It does not." The two then link to the CO2 Coalition's website: [10]
"[O]bservations, such as those on our CO2 Coalition website, show that increased CO2 levels over the next century will cause modest and beneficial warming—perhaps as much as one degree Celsius (1.8 degrees Fahrenheit)—and that this will be an even larger benefit to agriculture than it is now. The costs of emissions regulations, which will be paid by everyone, will be punishingly high and will provide no benefits to most people anywhere in the world." [10]
Six scientists analyzed Nichols' and Schmitt's article at Climate Feedback, noting that rather than referring to published scientific research to support their views, the two authors rely heavily on information published by the CO2 Coalition to argue that CO2 emissions are beneficial. Overall feedback from the reviewers is reposted below: [11]
William Anderegg, Associate Professor, University of Utah:
"The opinion article makes sweeping assertions that are not in line with the scientific understanding. The conclusions on CO2 uniformly benefiting agriculture are simply misleading—yes, CO2 can help plants but higher temperatures and more drought and pests with climate change also hurt plants." [11]

Timothy Osborn, Professor of Climate Science, University of East Anglia:
"The article presents a biased view by understating the degree and impacts of global warming while overstating or simplifying the benefits of CO2 fertilisation." [11]

James Renwick, Professor, Victoria University of Wellington:
"The article is full of half-truths, untruths, and red herrings. Casting increased CO2 as a benefit to humankind, without considering the impacts and risks associated with a changing climate, is dangerous and irresponsible." [11]

Lauren Simkins, Postdoctoral Research Associate, Rice University:
"The lack of distinction between the role of solid particulates and greenhouse gases in the atmosphere makes many of the authors' claims false and misleading. The article does not present a complete or accurate discussion of climate change, its causes, and its societal influence. The authors state that readers should 'check the facts' regarding climate change, but have presented us with little scientific support for their own claims." [11]

Victor Venema, Scientist, University of Bonn, Germany:
"This has nothing to do with science." [11]
October 4, 2016
The CO2 Coalition attended the State Policy Network's annual conference, where they had an informational booth. [12]
October 20, 2016
The CO2 Coalition released a series of YouTube ads promoting the supposed benefits of CO2. View videos below. [13]
March 29, 2016
The CO2 Coalition and The New Criterion held a joint conference in New York City titled "The Climate Surprise: Why CO2 is Good for the Earth." [14]
The conference "challenged the supposedly 'settled science' on climate change and purported detrimental effects of increasing levels of carbon dioxide," according to the event description. [14]
It added that "Members of the CO2 Coalition and many other experts argue that carbon dioxide enrichment of the atmosphere provides manifold benefits for humanity. And observed surface warmings are much smaller than predicted by climate models.  Economic models that fail to include the benefits  of CO2 and the serious exaggerations of climate models  and are being used to advocate "cures" that are much worse than the non-existent disease." [14]
Featured speakers included the following: [14]
Videos below from The New Criterion YouTube page:
February 15, 2016
William Happer and Rodney Nichols of the CO2 Coalition published an Op-Ed in the New York Post titled "The Supreme Court sided with science against Obama." [15]
EcoWatch reported on Happer/Nichols's Op-Ed, saying "The piece itself touts a few classic denier myths, from CO2 being good, to the existence of a global warming pause, to the letter penned by '300 experts' accusing National Oceanic and Atmospheric Administration of cooking the books on climate change." [16]
EcoWatch also posed the question, given the Greenpeace exposure of Happer's willingness to accept funding from fossil fuel companies: "Did someone pay Happer for this particular piece of pro-CO2 propaganda published in the Post?" [16]
February 22, 2016
The CO2 Coalition released a white paper titled "A Prime on Carbon Dioxide and Climate" (PDF). According to the CO2 Coalition's summary of the white paper, they "summarized the scientific case that additional CO2 will be a net benefit for the world." [17], [18]
"[W]e are persuaded that the net effects of increasing CO2 will be very good for the world, and especially for its human population," the description reads. [17]
The paper's full conclusion read as follows: [18]
"Empirical data on global warming and carbon dioxide lead to an optimistic outlook for the Earth and its inhabitants. People everywhere can look forward to a greener, lusher, slightly warmer planet. More food can be grown while using less land to do so. Longer growing seasons are likely, and insecurity about hunger will decline. 

"Hundreds of millions of desperately poor people stand on the cusp of benefitting from the same advances in prosperity that affluent nations have already achieved. Moral and economic justifications intersect to argue that the available, reliable, and inexpensive sources of energy be used to foster development and modernized on across the globe. Yes, there will be mild climate change, and it will benefit the world." [18]
December, 2015
In an undercover investigation by Greenpeace, the CO2 Coalition's Will Happer described how he uses the CO2 Coalition to secretively funnel money paid for research on behalf of fossil fuel interests. [5]
When undercover Greenpeace reporters approached Happer to write a report promoting carbon dioxide for a fictional oil company in the Middle East, Happer told reporters that he would be willing to do the research for $250 per hour. He asked that the funds be paid to the CO2 Coalition, instead of him directly. [5]
When asked to ensure that the commissioning of the report could not be traced back to the Middle East oil and gas company, Professor Happer contacted fellow CO2 Coalition board member, Bill O'Keefe, explaining: "I am trying get [sic] another mysterious client to donate funds to the CO2 Coalition instead of compensating me for my writing something for them." [5]
To further conceal the funds, O'Keefe recommended channeling them through DonorsTrust, a group that has been described as the "Dark Money ATM" of the conservative movement in the U.S. [19]
October 19, 2015
The CO2 Coalition released a white paper titled "Carbon Dioxide Benefits the World: See for Yourself" (PDF) where they summarize the views of their fledgling organization. According to the Coalition, "Claims that '97 percent of scientists' agree that a climate catastrophe is looming because of the emission of CO2 should be greeted with skepticism. " [20], [21]
"As CO2 levels continue to rise, the Earth will grow greener and agricultural yields will continue to increase, with additional contributions from better varieties, improved cropping practices, more efficient use of fertilizer, and other factors," the paper predicts. [20]
Breitbart News interviewed the paper's author, William Happer, who provided an explanation for the lack of footnotes: [22]
"Carbon Dioxide Benefits the World: See for Yourself is meant to be a conversation-starter. Happer and Nichols stressed that they wanted to take a non-confrontational approach with copious footnotes and supporting sources, inviting readers to perform their own research and gain a fuller understanding of CO2 and its benefits." [22]
September 3, 2015
Patrick Moore, listing himself as a director of the CO2 Coalition in his signature, wrote an article in the opinion pages of Wall Street Journal  titled "Obama's Half-Baked Alaska" where he suggested that there is no need to be worried about glacial ice receding because it has happened in the past. [23]
"All of this happened long before human emissions of greenhouse gases, including carbon dioxide, could have had any impact," Moore writes. "There is no reason to believe that those factors have suddenly disappeared and now humans are the all-powerful shapers of global climate destiny. Yet this entirely unproven hypothesis of catastrophe is compelling to those who would control our beliefs." [23]
He continued, stating that "carbon dioxide is essential for all life on Earth, that plants could use a lot more of it, and that the real threat is a cooling of the climate, not the slight warming that has occurred over the past 300 years." [23]
According to SkepticalScience, the argument that Arctic icemelt is a natural cycle is a climate myth, just as is the idea that CO2 is "plant food." [24], [25]
July 28, 2015
The CO2 Coalition's first blog post, titled "Clean Power Plant Regulation: Check the Facts," criticized stricter power plant regulations put forth by President Obama to reduce carbon dioxide emissions. [26]
The Coalition disputeed the EPA's claims that the tighter regulations would offer health benefits, including a reduction in premature deaths and the incidence of asthma attacks. [26]
According to the Coalition statement, "there has been growing evidence that the increase in CO2 has resulted in a greening of planet.  This is clearly shown in satellite photos.  Higher levels of atmospheric CO2 stimulate plant and crop growth and allow them to use water more efficiently.  Today's level of 400 ppm is not unusually high in geologic history where it is estimated to have been as high as 7500 ppm." [26]
They concluded, "A realistic and hardheaded look at the facts leads to the conclusion that the Clean Power Plant rule will do nothing to affect the climate but will impose large and unnecessary costs on the economy and consumers." [26]
The above statements reiterate a number of common arguments put forward by climate change skeptics, all of which have been listed and described in detail at SkepticalScience.com. Those arguments include that "CO2 is not a pollutant," that "CO2 is Plant food," and that "CO2 was higher in the past." [27], [25], [28]
May 11, 2015
According to publicly available tax records accessed at the Economic Research Institute, the CO2 Coalition,  EIN 473722575, registered with the IRS in May of 2015.[29]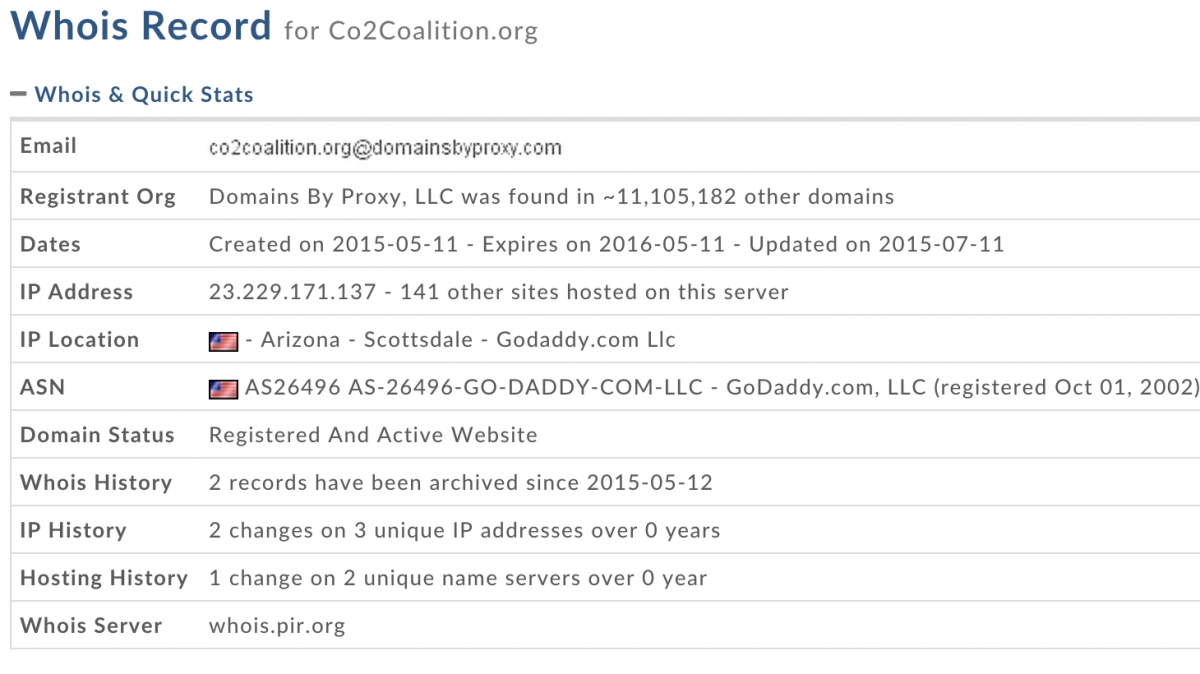 The above WHOIS lookup for Co2Coalition.org listed that the domain was registered on May 11, 2015 and hosted on the IP Address  23.229.171.137. The registrant is Domains By Proxy — a service that conceals the identity of the actual registrant. [30]
March 25, 2015
According to a post from Patrick Moore's Twitter account (see below), the CO2 Coalition was behind an open letter to Museums of Science and Natural History that was promoted at the Center for the Study of Carbon Dioxide and Global Change (CO2 Science). [31]
Letter from the #CO2 Coalition to US #Museums to counter warmists call to refuse donations from fossil fuel interests http://t.co/Rgnq7Qq1Zl

— Patrick Moore (@EcoSenseNow) April 16, 2015
The Coalition's letter claimed that abandoning fossil fuels "would not help the environment but would likely harm it." [31]
"The idea that the world can or should abandon fossil fuels is deeply wrong-headed, not just from a scientific perspective, but also from a humanitarian perspective," The CO2 Coalition's letter responds. [31]
The letter responded to another recent public letter, titled "To the Museums of Science and Natural History," which urged museums to cut their ties to the fossil fuel industry. [32]
Related Organizations
Contact
&

 Address

According to publicly available tax records from the Economic Research Institute (ERI), the address for the CO2 Coalition is: [29]
Alington,  

VA

 22209-2105
Resources
Other Resources