In Pursuit Of
Background
In Pursuit Of describes itself as a "full-service communications and marketing agency" with the mission to "advance policy, political and cultural changes." [1]
According to corporate registry files at the Virginia State Corporation Commission (SCC), InPursuitOf, LLC, was registered in Virginia in 2017. While In Pursuit Of appears to have its primary office in VA, it was initially registered on October 21, 2016 in Delaware—a state attractive to companies as it offers "an opportunity to game the system and do it legally" with ways to minimize corporate taxes and to limit the record of personal identifying information on officers and accounts. [2], [3], [4]
In Pursuit Of served as the public relations firm for groups within the Koch network including Freedom Partners, which gave it $7,948,382 for "media" services according to its 2017 990 tax form.
In Pursuit describes itself as part of Stand Together, a "philanthropic community" serving as the primary arm of the Koch network. Stand Together formerly operated as the Seminar Network/Freedom Partners until a rebranding in 2019. [1]
James Davis, President at In Pursuit Of, is simultaneously listed as the executive vice president for marketing and communications at Freedom Partners. He formerly worked as communications director and chief spokesman for the Republican National Convention. [5]
Stance on Climate Change
In Pursuit Of has not issued any statements on climate change, and it's specific activities on the subject have not yet been tracked.
Funding
2018
FEC data reveals that Americans for Prosperity Action, the Super PAC for Americans for Prosperity formed in 2018, paid out to In Pursuit of for media services in 2018. According to filings, AFP Action also had In Pursuit of, LLC on monthly retainer as of November 2018. [6]
Below is a breakdown of "independent expenditures" from AFP Action, going to In Pursuit of LLC, for services in 2018. [7]
View the attached spreadsheet for a complete breakdown, including expenditure details, of AFP Action's Payments to In Pursuit Of, LLC (.xlsx).
Stance

&

Candidate
Total (2018)
Oppose
$2,076,102

NELSON

,

BILL

$1,030,104

MCCASKILL

,

CLAIRE

$475,616

BREDESEN

,

PHILIP

$433,000

TESTER

,

JON

$137,382
Support
$2,899,300

BLACKBURN

,

MARSHA

$2,615,075

ROSKAM

,

PETER

$58,000

PAULSEN

,

ERIK

$58,000

BRAT

,

DAVID

$56,769

SCOTT

,

RICK

$29,500

LOVE

,

MIA

$23,550

BUDD

,

THEODORE

$16,300

BLUM

,

RODNEY

$10,878

YOUNG

,

DAVID

$10,878

CHABOT

,

STEVE

$8,350

EMMER

,

THOMAS

$6,200

HURD

,

WILLIAM

$5,500

MCMORRIS

RODGERS

,

CATHY

$300
Grand Total
$4,975,401
2017
According to its public 2017 990 tax forms, Freedom Partners paid In Pursuit Of $7,948,382 for media services.
Key Documents
Key People
Trump Administration
ProPublica reports the following people who worked at In Pursuit Of, LLC eventually went on to positions as the Trump Administration: [8]
Brittany Baldwin — Former Deputy Director of Writing. Went to White House Office.
Stephen J. Ford — Editorial Director. Went to Office of the Vice President.
Gary Michael Lawkowski — Sole Member. Went to Interior.
Staff
In Pursuit Of does not publicly list staff members on its website. Below is a partial listing of staff, based on a search of LinkedIn: [9]
Actions
September 2017
According to WHOIS records, In Pursuit Of, LLC was listed as the registrant for the websites of both Americans for Prosperity (americansforprosperity.org) and Americans for Prosperity Foundation (americansforprosperityfoundation.org). [11], [12]
June 6, 2017
A document obtained by Documented through a public records request revealed the names of hundreds of members of the Koch-funded American Legislative Exchange Council (ALEC) ,where corporations and special interest groups vote as equals with state legislators on "model" legislation. Names of the members were listed in a document that details the conference registrations for ALEC's 44th annual meeting that took place in Denver, Colorado in July 2017. [13]
The document (see page 53) shows that Tori Venable, then-Regional Communications Manager for In Pursuit Of, attended the ALEC meeting as a "non-profit member." She attended the Tax and Fiscal Policy task force meeting. [14]
According to LinkedIn, Venable worked for In Pursuit Of until October 2017 when she moved to become a State Director for Americans for Prosperity. [10]
Related Organizations
Contact
&

Address

In Pursuit Of has the following address listed on Freedom Partners' 2017 990 tax forms, as well as on its "terms of use" webpage: [15]
IN PURSUIT OF, LLC
2300 WILSON BLVD STE 500
ALRINGTON, VA 22201

571-858-2958
Note that the above address and phone number also match the designated agent for copyright complaints for The Seminar Network. On 990 forms, The Seminar Network lists an address of 1320 N. Courthouse Road, Suite 500. According to Google maps, this address is also about a 0.3 mile (or 7-minute walk) away from In Pursuit Of, and directly across from the Charles Koch Institute.
[16]
Google Maps also shows In Pursuit Of is just 0.4 miles away from the address previously listed for Aegis Strategic, another Koch consulting group, and just 0.2 miles away from the Charles Koch Institute itself.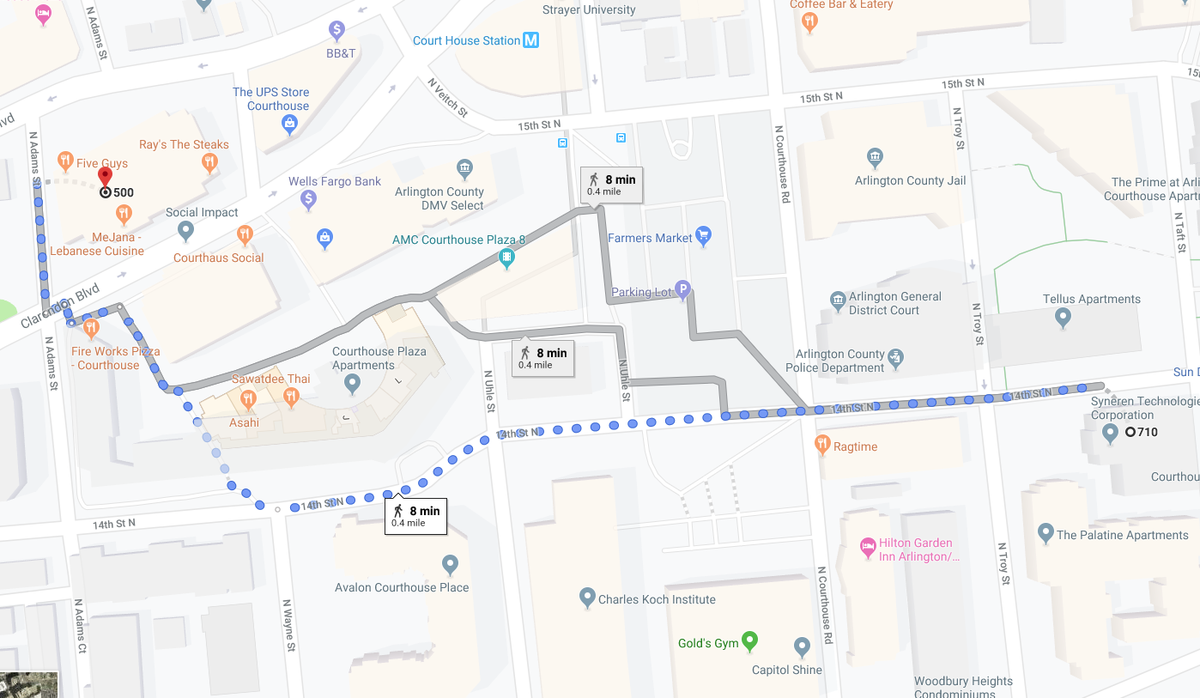 Social Media
Resources
Other Resources