Rex W. Tillerson
Credentials
Bachelor of science degree in civil engineering (

B.S.C.E.

) at the University of Texas at Austin (1975). [1]
Background
Rex W. Tillerson served as the Chairman and Chief Executive Officer of ExxonMobil from 2006-2016. Tillerson announced his retirement on December 14, 2016, after his nomination for the position of U.S. Secretary of State by President-elect Donald Trump. Exxon Mobil Corp said that Darren Woods would replace Rex Tillerson as chairman and CEO after Tillerson was chosen by President-elect Donald Trump to serve as the next U.S. Secretary of State. [2], [3], [4]
Tillerson was fired as Secretary of State on March 13, 2018 after learning about the change from a tweet by the President. Trump announced he would be replaced with Mike Pompeo. [72]
Critics speculated that Tillerson's stake in the Russian oil industry could "create a very blurry line between his interests as an oilman and his role as America's leading diplomat." He would also be in a position to benefit the oil company, which has billions of dollars in projects being held back by American sanctions in Russia. [5]
"The chances that he will view Russia with Exxon Mobil DNA are close to 100 percent," said Robert Weissman, the president of Public Citizen, a public interest group based in Washington. [5]
Tillerson earned Moscow's Order of Friendship award from Russia and has previously voiced skepticism about American sanction. He was also previously the president of Exxon Ventures (CIS) Inc. and Exxon Neftegas Limited, where he was responsible for Exxon's holdings in Russia and the Caspian Sea. The New York Times notes that Tillerson also owns $218 million in Exxon stock, and has a pension plan worth nearly $70 million. [5]
Before confirmation, Tillerson announced he would sever his ties with the oil company to comply with federal ethics rules. Exxon announced that it would pay him out in cash for his 2-million-plus shares and that money would then be transferred to an independently managed trust. If confirmed, Tillerson also promised to sell over 600,000 Exxon shares he currently owns. [58]
Tillerson was sworn in as Secretary of State on February 1, 2017 after being confirmed by the Senate earlier the same day. [59]
ExxonMobil on Climate Change
According to data collected by Greenpeace's ExxonSecrets project, ExxonMobil has given more than $33 million since 1997 to over 60 different organizations that work to spread misinformation about man-made climate change and deny the scientific consensus. [6]
In addition to funding climate change denial, investigations by InsideClimate News, The Guardian, and Los Angeles Times' partner investigations with Columbia Graduate School of Journalism document what #ExxonKnew about the impact of fossil fuel pollution on climate and when the company knew it. [7], [8], [9]
DeSmog's own investigation subsequently uncovered Exxon corporate documents from the late 1970s stating unequivocally "there is no doubt" that CO2 from the burning of fossil fuels was a growing "problem" well understood within the company. [10]
In December, 2016, The Waterkeeper Alliance, represented by Pace Environmental Litigation Clinic, submitted a 54-page petition with 358 footnotes and 448 pages containing 43 exhibits to the U.S. Environmental Protection Agency (EPA), calling for an end of all of its federal contracts with ExxonMobil. [11]
DeSmog reports that the petition serves as a "corporate rap sheet" including details on what the company knew about climate change, and could provide fodder for members of Congress to "ask tough questions" of Tillerson at his congressional confirmation hearing. [12]
Exxon executives, speaking confidentially, argued that Mr. Tillerson had pushed for more research on advanced biofuels, carbon capture and sequestration, and carbon taxes to reduce greenhouse emissions. They also said that Tillerson had moved toward acknowledging climate change as a serious problem, however Tillerson also strongly defended Exxon during the investigations by state attorneys general. [13]
Tillerson publicly denied the charges that Exxon had misled the public on climate change: [14]
"Nothing could be further from the truth," Tillerson said. "They're dealing with a period of time that happened decades ago," he said. "I'm not sure how helpful it would be for me to talk about it, particularly as we're leading up to some very important meetings that are going to occur in Paris here in just a few weeks. I don't want to be a distraction. I really don't want this to be a distraction. There's some serious issues that need to be talked about."
Rex Tillerson
&

the Trump Administration

On December 12, 2016, The New York Times announced that Donald J. Trump had officially nominated Rex Tillerson as his Secretary of State. He was officially confirmed for the position on February 1, 2017. The New York Times also reported that Tillerson's confirmation would present a challenge, given his extensive ties to Russia, and that ExxonMobil's business dealings with Russia would also come under additional scrutiny. [15], [59]

The Wall Street Journal noted that Tillerson's nomination even surprised senior Exxon officials, given Tillerson's complete lack of prior government experience. [16]

Republican Senator John McCain said Tillerson's connections to Mr. Putin were "a matter of concern to me" and promised to examine them closely if he were appointed.
"Vladimir Putin is a thug, bully and a murderer, and anybody else who describes him as anything else is lying," Mr. McCain said on Fox News. [15]
During a briefing with reporters, Senate Majority Leader Mitch McConnel refused to comment on Tillerson's nomination: [17]
"I don't want to comment on a phantom nominee today," he stated. "The Russian are not our friends. I hope that those who are going to be in positions of responsibility in the new administration share my view." [17]
Trump described Tillerson as "among the most accomplished business leaders and international deal makers in the world." [18]
"Rex Tillerson's career is the embodiment of the American dream. Through hard work, dedication and smart deal making, Rex rose through the ranks to become CEO of ExxonMobil, one of the world's largest and most respected companies," the Trump news release read. "Rex knows how to manage a global enterprise, which is crucial to running a successful State Department."
According to Politico, Rex Tillerson was interviewed by Donald Trump after a suggestion by former Secretary of State Condoleezza Rice and Defense Secretary Robert Gates, who both count ExxonMobil among their private consulting clients. Rice's recommendation was further backed by Robert Gates three days later. [19] Tillerson's nomination was reportedly advocated by both Steve Bannon and his son-in-law Jared Kushner. [20]
After Trump's announcement, Media Matters reports that numerous news outlets had reported prominent figures including James Baker III, Robert M. Gates, and Condoleezza Rice had expressed support for Tillerson, with some mentioning that their support adds credibility to the pick. However, those outlets failed to disclose that Baker, Gates, and Rice all have significant financial ties to Tillerson, ExxonMobil, and the company's business in Russia. [21]
Bob Murray, CEO of Murray Energy Corp, said "Rex Tillerson is one of the best choices he could ever make as secretary of state of our country." [22]
Tillerson's Ties with Russia
Rex Tillerson has had close ties with Russia's President Vladimir Putin since representing Exxon's interests in Russia during President Boris Yeltsin's premiership. [16]
Bloomberg notes that Tillerson's ties to Putin go back to 1999, when they met on Sakhalin Island in Russia's Far East. As recently as 2015, Tillerson was meeting with "Putin's inner circle." The relationship was something touted by Trump as an advantage: [23]
"A great advantage is he knows many of the players, and he knows them well," Trump said in a Fox News interview. "He does massive deals in Russia. He does massive deals for the company – not for himself, for the company." [23]
The Wall Street Journal describes the relationship is both Tillerson's biggest claim to his nomination as secretary of state under Donald Trump, and also "potentially the biggest concern about him," given the investigation into Russia's alleged hacking. [24]
"I have a very close relationship with [Mr. Putin]," Tillerson told students at the University of Texas, his alma mater, in February. "I don't agree with everything he's doing. I don't agree with everything a lot of leaders are doing. But he understands that I am a businessman. And I have invested a lot of money, our company has invested a lot of money, in Russia, very successfully." [24]
Tillerson became president of Exxon Ventures (CIS) Inc. and Exxon Neftegas Limited, where he was responsible for Exxon's holdings in Russia and the Caspian Sea, as well as the Sakhalin I consortium operations offshore Sakhalin Island, Russia. In 2013, he was awarded the Order of Friendship by Vladimir Putin, president of the Russian Federation. [2], [25]
The Guardian reports that Tillerson's name was on a set of leaked documents given to the german newspaper Süddeutsche Zeitung by an anonymous source. One leaked 2001 document originated from the corporate registry in the Bahamas, and detailed his directorship of Exxon Deftegas. [57]
"Though there is nothing untoward about this directorship, it has not been reported before and is likely to raise fresh questions over Tillerson's relationship with Russia ahead of a potentially stormy confirmation hearing by the US senate foreign relations committee," The Guardian's Luke Harding and Hanes Munzinger reported. [57]
Notably, Exxon, the top U.S. producer of oil and gas, actually leases more land in Russia than it does in the U.S.: [26]
"Exxon boosted its Russian holdings to 63.7 million acres in 2014 from 11.4 million at the end of 2013, according to data from U.S. regulatory filings," reported Bloomberg in March 2015. "That dwarfs the 14.6 million acres of rights Exxon holds in the U.S., which until last year was its largest exploration prospect." [26]
After a two-year hiatus, in June, 2016, Tillerson attended the St. Petersburg International Economic Forum, a top business meeting held annually in Russia. [27]
In 2014, shortly after the United States and allies had applied sanctions on Russia for its action with the Ukraine, President Obama had asked American business leaders not to addend the major business forum in Russa that may. While Tillerson obeyed, the New York Times reports that he found another way to get a seat by sending his top exploration official in his place. That official, Neil W. Duffin, signed an agreement promoting more business with the state-owned Rosneft and expand joint drilling in the Arctic Ocean. [13]
"Mr. Tillerson has opposed sanctions on Russia, which are the single greatest obstacle to foreign investment in that country," the New York Times notes. "Russia has two enormous areas for new oil development, in the Barents Sea and the Bazhenov shale field in western Siberia, that are essentially closed to development because of a lack of foreign capital and expertise. Exxon was poised to invest in both areas before the sanctions." [13]
In a 2005 interview, Tillerson laid out his strategy for doing business in Russia: [28]
"ExxonMobil is not interested in buying shares in other companies, because it does not allow us to fully do what we do best. We invest in Russia, not only money,"
Exxon-Russia Timeline
1990s – Exxon's interest in Russia started in the early 90s, with former Exxon CEO Lee Raymond's attempt to buy into the Russian energy company Yukos. [29]

1998 – Rex Tillerson was appointed head of Exxon Neftegas Limited, which was in charge of the Sakhalin-1 oil and gas project off the coast of Siberia. [30]

1999 – Tillerson met with Putin on the Sakhalin Island as Exxon began relations with the Russia state-owned Rosneft. Tillerson and Putin met several times after this, building Exxon's business interests in Russia. [31]

2004 – Tillerson became president of ExxonMobil. In the same year, Igor Sechin took control of Rosneft, the company controlling the Russian portion of the Sakhalin-1 consortium. [30]

2011 – Rosneft and Exxon signed a $3.2 billion deal, as part of a "Strategic Cooperation Agreement" giving Exxon drilling permissions in the Russian Arctic in exchange for stakes in some of Exxon's projects in the US and Canada. "These agreements are important milestones in this strategic relationship," Tillerson said at the time. [32]

2012 – Sechin visited New York in April 2012 as part of a publicity tour with Tillerson to promote the ExxonMobil-Rosneft cooperation. [30]

2013 – Rosneft further expanded their Arctic deal with Exxon. This year, Tillerson was also personally awarded Russia's Order of Friendship medal, something The Washington Post notes isn't as impressive as it sounds. [33]

2014 – The Artic deal with Rosneft was cancelled when the US imposed sanctions on Russia over its annexation of Crimea. Tillerson condemned the sanctions, saying they caused "broad collateral damage." [34]
Stance on Climate Change
October, 2016
"At ExxonMobil, we share the view that the risks of climate change are serious and warrant thoughtful action." [35]
May 29, 2013
"If you examine the temperature record of the last decade, it really hadn't changed." [36]

"Well, I can't conclude there is something magical about 350 because that suggests these models are very competent and our examination about the models, are that they're not competent […]" [36]
March, 2013
"[T]he facts remain there are uncertainties around the climate, climate change, why it's changing, what the principal drivers of climate change are. […] at the end of it there are still a range of uncertain outcomes around these models" [37]
On CO2:
"It's – it is clear that there is an impact. […] What's not clear is our ability to measure with a great degree of accuracy or certainty exactly how large that impact will be." [37]
June 27, 2012
Rex Tillerson has said we need to look at how to adapt to climate change and changing weather patterns: [38]
"As we have looked at the most recent studies coming – and the IPCC reports, which we – I've seen the drafts; I can't say too much because they're not out yet. But when you predict things like sea level rise, you get numbers all over the map. If you take a – what I would call a reasonable scientific approach to that, we believe those consequences are manageable. They do require us to begin to exert – or spend more policy effort on adaptation. What do you want to do if we think the future has sea level rising four inches, six inches? Where are the impacted areas, and what do you want to do to adapt to that?

"And as human beings as a – as a – as a species, that's why we're all still here. We have spent our entire existence adapting, OK? So we will adapt to this. Changes to weather patterns that move crop production areas around – we'll adapt to that. It's an engineering problem, and it has engineering solutions. And so I don't – the fear factor that people want to throw out there to say we just have to stop this, I do not accept.

I do believe we have to – we have to be efficient and we have to manage it, but we also need to look at the other side of the engineering solution, which is how are we going to adapt to it. And there are solutions. It's not a problem that we can't solve."
January, 2010
According to Tillerson, while there may be climate change, it was not yet clear "to what extent and therefore what can you do about it. […] There is not a model available today that is competent." [39]
May, 2008
Speaking with reporters after the annual meeting of shareholders, Tillerson argued that climate change science is not settled, and that it is a "corporate social responsibility" to continue to supply the world with fossil fuels: [40]
"My view is that this is so extraordinarily important to people the world over, that to not have a debate on it is irresponsible. To suggest that we know everything we need to know about these issues is irresponsible."

"And I will take all the criticism that comes with it. Anybody that tells you that they got this figured out is not being truthful. There are too many complexities around climate science for anybody to fully understand all of the causes and effects and consequences of what you may chose to do to attempt to affect that. We have to let scientists to continue their investigative work, unencumbered by political influences. This is too important to be cute with it."
May 30, 2007
"There's much we know and can agree on around the climate change issue, and there's much that we just don't believe we do know…and we want to have a debate about the things we know and understand, the things we know about that we don't understand very well, and the things we don't even know about around this very complex issue of climate science. So that will continue to be our position." [41], [42]
May, 2007
"We don't have a difference of views that it's an important issue. We have differences about what we know and what we don't know." [43]
February, 2007
"My understanding is there's not a clear 100 percent conclusion drawn," Tillerson told an industry gathering in Houston. "Nobody can conclusively 100 percent know how this is going to play out. I think that's important." [44]
Tillerson poked fun at ethanol, calling it "moonshine": [44]
"I am not an expert on biofuels," he said. "I am not an expert on farming. I don't have a lot of technology to add to moonshine." [44]
March, 2006
"We recognize that climate change is a serious issue. We recognize that greenhouse gas emissions are one of the factors affecting climate change." [45]
2005
"Now, the question is, is part of what's happening related to something other than natural variability? And if so, how do you determine what that is? And the reality is, the science isn't there to make that determination." [46]
Key Quotes
February 4, 2020
Following the dismissal of the New York Attorney General's claim against Exxon for misleading investors about climate change, Tillerson told attendees at a conference in Houston: [74]
"With respect to our ability to influence it [climate change], I think that's still an open question. Our belief in the ability to influence it is based upon some very, very complicated climate models that have very wide outcomes. […] Whether or not anything we do will ultimately influence it remains to be seen. One day we'll know the answer to that, but our ability to predict the answer to that is quite complicated." [74]
May 25, 2016
"The world is going to have to continue using fossil fuels, whether they like it or not." [47]
May 5, 2016
"Advances in hydraulic fracturing have significantly increased volumes of cleaner-burning domestic natural gas, helping bring down U.S. carbon dioxide emissions to levels not seen since the 1990s. In fact, thanks to the shale revolution, the U.S. is now leading the world in reducing emissions – a fact rarely conveyed in the public discourse of our policy decisions." [48]
April, 2012
"If you want to live by the precautionary principle, then crawl up in a ball and live in a cave." [49]
January, 2009
"A carbon tax is also the most efficient means of reflecting the cost of carbon in all economic decisions – from investments made by companies to fuel their requirements to the product choices made by consumers. […]

A carbon tax may be better suited for setting a uniform standard to hold all nations accountable. This last point is important. Given the global nature of the challenge, and the fact that the economic growth in developing economies will account for a significant portion of future greenhouse-gas emission increases, policy options must encourage and support global engagement." [50]
August, 2008
"It doesn't do the consumer a lot of good to substitute an alternative fuel that costs $5 for gasoline that costs $4." [51]

"The dominant energy source in the future will continue to be oil and natural gas." [52]
Key Deeds
June 24, 2019
Nearly 100 internal documents were leaked to Axios in 2019. As Axios reported, the documents identified a host of "red flags" about many individuals who would go on to work in the Trump administration, as well as others who were considered but failed to secure a position. [73]
Tillerson was listed among the documents. Some notable samples from the internal documents below:
"In A 2010 House Of Representatives Energy And Commerce Hearing, Tillerson Acknowledged That Humans Are Exacerbating Climate Change."
"Tillerson Acknowledged Climate Change Was Real And That Humans Were Exacerbating Its Effects."
"Tillerson Said That Exxon Factored In A Future U.S. Carbon Tax Into The Decision To Complete A Merger With A Natural Gas Company."
"Tillerson Doubled Down Saying That Exxon Believes That Their (sic) Will Be A Future 'Price On Carbon.'"
"Tillerson Said That The Economics Of Offshore Drilling Are Comparable To Those Of Onshore Drilling."
"Tillerson Said That Reducing Offshore Restriction Would Increase Domestic Energy Production In America."
"In 2010, Tillerson Said That There Has Never Been A Proven Case Of Hydraulic Fracking Contaminating A Fresh Water Aquifer While Outlining Why State Regulations Are Adequate To Mitigate Hydraulic Fracking Risks As Opposed To Federal Regulations."
"In The Late 1990's Tillerson 'Was Responsible For Exxon's Holdings In Russia And The Caspian Sea As Well As The Sakhalin I Consortium Operations Offshore Sakhalin Island, Russia.'"
"Tillerson And Putin's Relationship Has Been Described As 'The Most Constructive High Level Russo-American Relationship There Is.'" [73]
A section titled "Political Vulnerabilities" lists the following:
"Controversy over Exxon Mobil's Research Background: In March 2016, The Department of Justice asked the FBI to evaluate whether Tillerson's Exxon violated the Racketeer Influenced And Corrupt Organizations Act, by misleading its investors and the public on climate change issues. Exxon has defended its actions claiming it has all of its research available to the public and investors, including the business risks of climate change on its security filings and shareholder reports." [73]
August 29, 2017
Before UN Climate talks scheduled in November, Tillerson scrapped the position for the State Department's Special Envoy for Climate Change. [66]
In a letter to Senate Foreign Relations chair Bob Corker (R-TN), Tillerson wrote, "I believe that the Department will be able to better execute its mission by integrating certain envoys and special representative offices within the regional and functional bureaus, and eliminating those that have accomplished or outlived their original purpose." [66]
July 2017
While the House of Representatives passed legislation to tighten U.S. sanctions on Russia, Iran, and North Korea, Tillerson had publicly argued against the sanctions. [67]
Tillerson told the Senate Foreign Relations Committee that the sanctions would reduce "the flexibility to turn that heat up" when working with Russia on anti-terrorism efforts or to resolve the Syrian civil war, Politico reported. [68]
Tillerson said the U.S. and Russia "have some channels that are open where we're starting to talk, and I think what I wouldn't want to do is close the channels off with something new." [68]
July 20, 2017
The New York Times reported that ExxonMobil would be fined $2 million by the Treasury Department for violating sanctions that the U.S. imposed on Russia in 2014. The violation occured while Rex Tillerson was the company's chief executive. [63]
"Exxon Mobil demonstrated reckless disregard for U.S. sanctions requirements," the Treasury reported in the penalty. "Exxon Mobil caused significant harm to the Ukraine-related sanctions program." [63]
Corporate Accountability International spokesperson Gigi Kellett said the following in a statement: [64]
"It should really come as no surprise that Exxon Mobil would violate the law in order to advance its profit interests. Nor is it a surprise that Trump Administration officials–Rex Tillerson in particular–would be implicated in such a scandal. Exxon Mobil's blatant disregard for the rule of law is just the latest chapter in its decades-long campaign of lying, obfuscation and regulatory interference that has delayed climate action for a generation. Let's not forget this corporation's track record: As early as the 1960's, Exxon understood the global consequences of its business, both human and environmental, and chose to bury the truth." [64]
June 2, 2017
A court filing by New York Attorney General, Eric Schneiderman, accused Rex Tillerson of having approved an accounting scheme for greenhouse gas emissions during his time at ExxonMobil which deliberately misled investors, as reported by Dan Zegart at the Climate Investigations Center. [61], [62]
"Schneiderman claims that beginning in 2007, ExxonMobil used one set of figures in describing carbon-related risks to investors but internally used another, secret set. The net result was to vastly understate the financial danger to the company," Zegart wrote. [62]
The June 2 court filing also accuses ExxonMobil of destroying documents, despite its legal obligation to preserve records relevant to the attorney general's investigation on potential fraud in the company's disclosures about climate change. [62]
"These failures directly resulted in the destruction of months, and in many cases, more than a year's worth, of emails and other electronic documents belonging to key custodians including the company's top management and reserves analysts," the attorney general wrote. [62]
Zegart's article is also cross-posted at DeSmog
May 20, 2017
Tillerson and President Donald Trump were present at a deal signed between ExxonMobil and the state-owned Saudi Basic Industries Corporation (SABIC) to study a co-owned natural gas refinery in the Gulf of Mexico, DeSmog reported. [69]
While the official ExxonMobil press release mentions that ExxonMobil CEO Darren Woods was in the room for the signing, as well as ExxonMobil Saudi Arabia CEO Philippe Ducom and SABIC executives, it failed to mention the private signing ceremony attended afterwards by both Trump and Rex Tillerson. [70]
DeSmog found images of Tillerson and Trump at the signing ceremony via the Saudi Press Agency's English-language press Twitter account, which released a series of photos of Woods and Tillerson shaking hands with SABIC CEO Yousef Al-Benyan and Saudi Defense Minister Prince Mohammad bin Salman, respectively: [71]
Signing ceremony of a number of agreements and investment opportunities in presence of King Salman and President Trump#RiyadhSummit #SPAGOV pic.twitter.com/TyWTAF6D0k

— SPAENG (@Spa_Eng) May 20, 2017
Public Citizen energy program director Tyson Slocum told DeSmog that Tilleson's presence could violate his recusal agreement regarding Exxon affairs:
"The President's Saudi trip was a bizarre Art of the Deal-esque foreign policy disaster: a sleazy mix of conflicted government-arranged corporate endorsement deals," Slocum told DeSmog. "Most troubling of all was Tillerson's presence and role in accommodating Exxon's deal with the House of Saud, thereby violating the former CEO's recusal agreement. Trump and Tillerson's Riyadh embarrassment is just another sad indication of the administration's prioritization of crony corporate access masquerading as a jumbled assembly of foreign policy and economic development."
March 2017
Under Tillerson, the State Department's web page for the Office of Global Change was scaled back and revised with more passive language on climate change. [65]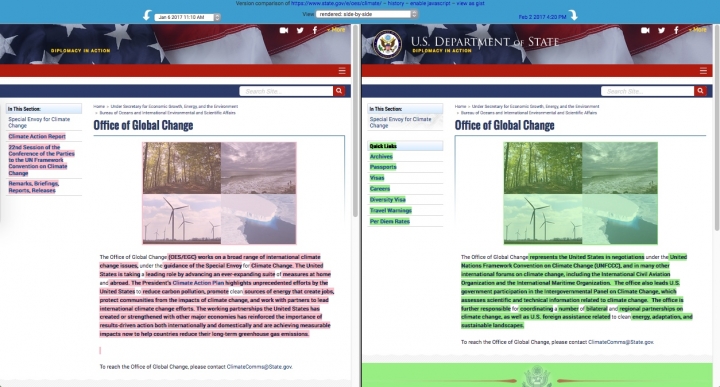 The Office of Global Change web page, before (left) and after (right) its alterations by the Trump administration. Credit: Environmental Data & Governance Initiative
As Climate Central noted: [65]
"Deleted from the text was: 'The United States is taking a leading role by advancing an ever-expanding suite of measures at home and abroad.' Also stricken were references to mitigation efforts and other mentions of leading on climate change.

In its place is more generic language, solely referencing that the office represents the U.S. at the United Nations Framework Convention on Climate Change and other international forums. It does use the word 'lead' once, but only saying the office leads the U.S. government in participating with the Intergovernmental Panel on Climate Change."
January, 2017
Testifying before the Senate, Tillerson said that "I don't see it as the imminent national security threat that perhaps others do," The Daily Caller reported. Tillerson added: [60]
"The facts on the ground are indisputable in terms of what's happening with drought, disease, insect populations, all the things you cite, but the science behind the clear connection is not conclusive. And, there are many reports out there that we are unable yet to connect specific events to climate change alone," Tillerson said. [60]
Dem. Senator Jeff Merkley, citing Hurricane Sandy as an example, said "What we're seeing are a lot of scientific reports that will say we can tell you the odds increased, we can't tell you any specific event was the direct consequence," Merkley said, citing Hurricane Sandy as an example of global warming-induced weather. [60]
To which Tillerson responded that "I think as you indicated, there's some literature out there that suggests that. There's other literature that says it's inconclusive," Tillerson responded. [60]
"One of the things we– I'm sorry to hear that viewpoint because it's overwhelmingly– the scales are on one side of this argument," Merkley said. [60]
October 19, 2016
Speaking at the 37th Annual Oil & Money Conference in London, England, Rex Tillerson supported the idea of a carbon tax: [35]
"We have long supported a carbon tax as the best policy of those being considered. Replacing the hodge-podge of current, largely ineffective regulations with a revenue-neutral carbon tax would ensure a uniform and predictable cost of carbon across the economy. It would allow market forces to drive solutions." [35]
According to Tillerson, "At ExxonMobil, we share the view that the risks of climate change are serious and warrant thoughtful action." He adds that "In our industry, the best hope for the future is to enable and encourage long-term investments in both proven and new technologies, while supporting effective policies." [35]
March 7, 2013
Rex tillerson appeared on the Charlie Rose show to discuss topics affecting Exxon, including climate change. Notable excerpts below: [37]
On climate change:
"With all of that, though, the facts remain there are uncertainties around the climate, climate change, why it's changing, what the principal drivers of climate change are. And I think the issue that I think is unfortunate in the public discourse is that the loudest voices are what I call the absolutist, the people who are absolutely certain that it is entirely man- made and you can attribute all of the climate change to nothing but man- made burning of fossil fuels. And on the other end of the debate I certainly would say to absolutists who say there is absolutely no relationship. And the truth of the matter based on our investigation is it's somewhere in between.

Climate science is probably one of the most extraordinarily complex areas of scientific study that anyone can undertake. The variables are numerous. Many of the variables are measurable and – and we can replicate models. Many of the variables we cannot measure them. We cannot model them but we know they're part of the climate system. And so the models are extraordinarily complicated. And therefore how certain do you feel about the competency of the model and its ability to predict the future. And it's my view that the models have become increasingly more competent because of high speed computing capabilities and just more sophisticated mathematical modelling and more data to inform the model. But at the end of it there are still a range of uncertain outcomes around these models. And every scientist I know agrees there's a range of uncertainty. And if you read that PCC-detailed report they talk about these ranges of uncertainty." [37]
On CO2, Tillerson said "it is clear that there is an impact":
Of CO2 there is a difference I think, a range in that model as to what the impact of 600 ppm versus 400 ppm or 300 ppm would be. There are some ranges around those numbers, even, because it's not clear when we introduce that into the climate model how some of the other elements that we're not able to model so well may act to, in a different way. It's – it is clear that there is an impact. […] What's not clear is our ability to measure with a great degree of accuracy or certainty exactly how large that impact will be. And that's why most of the impact studies you see have ranges around them." [37]
On extreme weather and climate change, Tillerson says "There has been nothing to confirm that there is a link." However, he later adds "Well, I view global warming and climate change as a serious risk. And I'm in the risk management business. " [37]
January 20, 2010
Rex Tillerson presented congressional testimony on behalf of ExxonMobil, saying that while the company acknowledged man-made climate change to some degree, it was not yet clear "to what extent and therefore what can you do about it." Tillerson added, "There is not a model available today that is competent" for understanding the science and predicting the future. [39]
The New York Times reported that Tillerson's congressional testimony was later used an example of "questionable public statements" by Attorney General Eric Schneiderman in his investigation of ExxonMobil's knowledge of climate change. [53]
November 13, 2007
DeSmog's Ross Gelbspan reported that on the same day Hillary Clinton released her plan to reduce the US addiction to foreign oil imports and significantly reduce greenhouse gas emissions, Rex Tillerson, release dan "isolationism" in energy policy, arguing that attempts to pursue energy independence are futile and counter-productive. [54]
Tillerson stated that:
"Regardless, no conceivable combination of demand moderation or domestic supply development can realistically close the gap and eliminate Americans' need for imports." [54]
November 30, 2006
Rex Tillerson spoke at the Boston College Chief Executives' Club on the subjects of oil price fluctuation, peak oil, climate change, and energy security. Tillerson largely denounces wind and solar power as small players in the overall energy mix, noting that "fossil fuels will remain the predominant energy force for the foreseeable future." [55]
Regarding climate change, Tillerson notes that "the potential risk to society could prove to be significant," yet suggests that further study is needed, and ends his speech calling for policies that would open up the U.S. to more oil and gas exploration. On climate, Tillerson calls for "ongoing study of not only the possible forcing effects resulting from man-kind's socio economic activity, but equally if not more important a better understanding of the natural forcing elements that are, and have been a part of the climate system since the dawn of time." [55]
Below is the complete audio, followed by notable excerpts from Tillerson's speech: [55]
"No energy source of sufficient scale to meet global needs comes without consequences." [4:47]

"Oil, like all fossil fuels, is indeed finite. But it is far from finished." [5:18]

"Wind and solar are likely to see double digit growth rates over the next 25 years, due in large part to government mandates and subsidies." [6:13]

"However, these alternatives build upon a relatively small base. And, as I mentioned earlier, are expanding within a world energy system that is itself expanding significantly. For this reason, they will not fundamentally change the world energy mix—Despite their impressive growth." [6:37]

"Until breakthroughs are achieved and implemented worldwide, fossil fuels will remain the predominant energy force for the foreseeable future. No other energy source holds the same advantages of availability, affordability, and adaptability."[7:17]

"So the real question is not whether we will soon reach peak oil, but whether we can reach peak performance." [7:34]

"There simply are no silver bullets to the energy-environment challenge." [17:55]

"While our scientific understanding of climate change continues to improve, it nonetheless remains today an extraordinarily complex area of scientific study. Having said that, the potential risk to society could prove to be significant. So, despite the areas of uncertainty that do exist, it is prudent to develop and implement strategies that address the potential risk." [18:10]

"In my view this means we should continue to fund ongoing scientific research, without conditioned or preconceived outcomes, to increase our understanding of all of the forcings which are part of this very elegant but very complex climate system in which we live." [18:37]

"Including ongoing study of not only the possible forcing effects resulting from man-kind's socio economic activity, but equally if not more important a better understanding of the natural forcing elements that are, and have been a part of the climate system since the dawn of time." [18:55]

"While the science community continues their study, we should pursue public policies that start gradually, and learn along the way, with full recognition of the economic consequences of certain actions. And we should bring all countries into the effort." [19:14]

"This is a global-wide, century scale problem. 85% of the future growth in CO2 emissions will come from the developing world. Only 15% from the developed economies. [19:30]

"We should start on a path to reduce the likelihood of the worst outcomes and understand the context of managing carbon emissions among other developing world priorities such as economic development, poverty eradication, and public health. Consistent with this approach, we should take steps now to reduce emissions in an effective and meaningful way. Improving the fuel economy of our light-duty vehicle fleet is one such way. Reducing emissions from coal-fired power plants must also be a priority. […] [19:47]

"The important point is that a variety of ways exist to mitigate carbon dioxide emissions but weighing the options effectively requires understanding the potential scale, cost, and economic and quality of life tradeoffs." [20:25]

"Policies that promote open access to untapped oil and natural gas resources in our country can help reduce our dependence on imports […]. Ours is the only country in the world with major oil and natural gas resources that as a matter of policy denies its own citizens the economic benefits of developing and utilizing the energy resources that belong to them." [23:23]
Affiliations
ExxonMobil Affiliations
ExxonMobil Corporation — Chairman and Chief Executive Officer since January 1, 2006. Formerly President/Board Member (2004), and Senior vice president (2001). Tillerson announced he would retire at the end of 2016. [2], [3]
ExxonMobil Development Company — President (1999). [2]
Exxon Ventures (

CIS

) Inc. and Exxon Neftegas Limited — President (1998). [2]
Exxon Yemen Inc., Esso Exploration and Production Khorat Inc. — President. (1995). [2]
Exxon Corporation — Production Advisor (1992)
Exxon

USA

— General manager of the central production division (1989). [2]
The Exxon Company — Production Engineer (1975) [2]
Other Affiliations
Resources
Other Resources