Robert E. Murray (Deceased)
Credentials
Executive

MBA

Program at The Ohio State University. [1]
Bachelor of Science degree from The Ohio State University in Accounting and Finance. [1]
Certified Public Accountant certification from the State of Ohio. [1]
Background
Robert E. Murray was chairman, president, and chief executive officer of the Murray Energy Corporation, the largest privately-owned coal company in the United States. Murray Energy was forced to file for bankruptcy in October 2019. Bob Murray passed away on October 25, 2020 at 80 years of age. A New York Times obituary described Murray as a "brash crusader for the mining industry" given his fight against "government regulations that protected miners' safety and health and addressed climate change."[2], [3], [72], [80], [77], [79], [78]
Murray Energy emerged from federal bankruptcy protection in September 2020 with a new name, American Consolidated Natural Resources Inc., and a new ownership group. Robert D. Moore, who replaced Robert Murray as president and CEO of Murray Energy in October 2019, also headed the new company. Murray announced on October 19, 2020 that he was retiring as chairman of the board of directors of American Consolidated Natural Resource Holdings Inc. [80], [81]
According to an archived biography at Murray Energy, before founding his own company, Murray worked for 31 years at The North American Coal Corporation (NACC), holding "various supervisory, management, engineering, marketing and operating positions," After he was fired from NACC without a public explanation in 1987, Murray went on to create his own mining company. [1], [4]
Murray held board positions at the National Mining Association, American Coal Foundation, National Coal Council, Ohio Coal Association, and Pennsylvania Coal Association. He was also a former president and trustee of the American Institute of Mining, Metallurgical, and Petroleum Engineers, Inc., the Society of Mining, Metallurgy and Exploration, Inc, and The Rocky Mountain Coal Mining Institute, as well as "other industry and civic organizations." [1]
Robert Murray denied climate change science. In 2017, he said "I have 4,000 scientists that tell me global warming is a hoax" and that "The Earth has cooled for 20 years." Murray once referred to efforts by governments and citizens to counter global warming as "hysterical global goofiness." [26], [5]
Murray Energy received criticism from environmental groups and government agencies for releasing dangerous pollution. Notably, Murray Energy was accused of spilling coal slurry, described by the Ohio EPA as "a thick, viscous, black material that can potentially smother aquatic life and contains numerous organic and metal contaminants," into the same Belmont Country stream at least seven times. [6]
Robert Murray campaigned for the election of Donald Trump. He described Trump as the only hope for his industry and blamed the "ongoing destruction" of the coal industry on "President Barack Obama, and his supporters, and the increased utilization of natural gas to generate electricity." Murray called Trump's decision to withdraw the U.S. from the Paris climate agreement "courageous." [7], [8], [9]
Litigation
Robert Murray had a history of filing defamation lawsuits against journalists and activists. [10]
The Columbia Journalism Review noted, "Murray has every right to defend his reputation and to use defamation law to redress real harms—and to the extent he's trying do to that, good for him. But the company is a major player in local economies, Murray himself is active in politics, and his record of suing journalists or threatening to sue them—whatever his motivations—does stand to chill reporting on business and industry practices that are of public concern." [11]
As of that 2014 article, Murray had sued journalists at Chagrin Valley Times, and threatened to sue Steve Fiscor, editor of Coal Age and Engineering & Mining Journal, and R. Larry Grayson, a professor emeritus of energy and mineral engineering at Penn State University. He also sued blogger Wilfred Michael Stark for an article at The Huffington Post, a reporter for The Charleston Gazette, a former reporter of the Akron Beacon Journal, and others. [11]
In 2001, Murray filed a billion-dollar lawsuit against the corporation that owns Akron Beacon Journal, claiming the paper had defamed him in an article titled "Mine Owner Isn't the Shy, Quiet Type." [12]
In 2017, Murray also sued John Oliver for a segment on his show Last Week Tonight covering Donald Trump, Murray, and the coal industry. Murray later dropped the suit. [13], [76]
Political Contributions
In 2016, Murray Energy gave over $1.5 million to political candidates, party committees, and outside groups, including $200,000 to the pro-Trump PAC Rebuilding America Now and $250,000 to the Cleveland Host Committee which helped fund the Republican National Convention. Trump's campaign also received $103,000 from Murray Energy employees, OpenSecrets reported. Other significant recipients of Murray money included New Day for America, backing Republican Ohio Governor John Kasich; The Independent Voice for Illinois super PAC, backing Senator Mark Kirk (R-Ill.), and Citizen Super PAC which backed candidates such as Sen. Richard Shelby (R-Ala.) and Sen. Ted Cruz (R-Texas). [14]
In 2012, Murray helped organize a $1.7 million fundraiser for Mitt Romney, whom Murray employees had already given more than $120,000 in the 2012 election cycle. Media reports raised questions whether the company had pressured salaried employees to give to Murray's political action committee (PAC). [15], [16]
Murray said he had decided to be more involved in the election because Obama and his appointees threaten the "destruction of an entire segment of American society." [15]
According to New Republic, two anonymous sources who worked in managerial positions with Murray Energy suggested that there may have been coercion involved in Murray staffers' financial support for Romney. "There's a lot of coercion," said one of them. "I just wanted to work, but you feel this constant pressure that, if you don't contribute, your job's at stake. You're compelled to do this whether you want to or not." The second said, "They will give you a call if you're not giving. […] It's expected you give Mr. Murray what he asks for." [16]
Internal documents obtained by New Republic include a March 2012 letter where Murray criticizes employees who had not yet attended fundraisers. "What is so difficult about asking a well-paid, salaried employee to give us three hours of his/her time every two months? We have been insulted by every salaried employee who does not support our efforts." A 2011 letter from Murray, concerning a fundraiser for two Republican senators, read "Please see that our salaried employees 'step up,' for their own sakes and those of their employees." [16]
In February 2010, Murray Energy donated nearly $25,000 to GOP Senate candidate Carly Fiorina's campaign against Barbara Boxer, the incumbent Democrat. [17]
In May 2010, Murray Energy donated $30,000 to Proposition 23, which would have suspended California's Global Warming Solutions Act until the state's unemployment rate dipped to 5.5 percent or lower for four consecutive quarters. [18]
Below is a summary of the top 50 contributions among federal candidates in the most recent three election cycles by Murray Energy, using data from OpenSecrets.org. As OpenSecrets notes, organizations themselves do not donate to political candidates. Rather, these totals arise from the organizations' PACs, their individual members or employees or owners, and those individuals' immediate families and may include organization subsidiaries or affiliates. [19]
View the attached spreadsheets for more details, including Murray Energy's political donations going back as far as 1992 via OpenSecrets Data (.xlsx). [19]
Candidates
View

&

Recipient
2016
2018
2020
Grand Total
Republican
$263,704
$261,440
$91,780
$616,924
Donald Trump
$103,402
$53,470
$156,872
Ted Cruz
$75,869
$9,200
$85,069
Kevin McCarthy
$21,400
$10
$21,410
Jim Renacci
$16,700
$16,700
Martha McSally
$13,850
$2,000
$15,850
Carol Miller
$5,550
$10,000
$15,550
Bill Johnson
$13,390
$2,000
$15,390
Todd Young
$14,375
$14,375
Dean Heller
$14,100
$14,100
Luther Strange
$14,075
$14,075
Keith J Rothfus
$2,700
$10,500
$13,200
Virginia Foxx
$11,250
$1,500
$12,750
John Hoeven
$12,548
$12,548
Mike Braun
$11,850
$11,850
Andy Barr
$9,250
$2,500
$11,750
Rob Portman
$10,734
$10,734
Bob Gibbs
$10,000
$10,000
Josh Mandel
$9,375
$9,375
Marsha Blackburn
$8,850
$8,850
Marco Rubio
$8,400
$8,400
Steve Stivers
$8,200
$8,200
Justin Fareed
$7,700
$7,700
Greg Pence
$7,300
$7,300
Kevin Cramer
$6,900
$6,900
Ron Johnson
$6,875
$6,875
Mark Kirk
$6,325
$6,325
Matt Rosendale
$6,250
$6,250
Lou Barletta
$5,700
$5,700
Rick Scott
$5,700
$5,700
Steve Chabot
$5,550
$5,550
Mike Bost
$5,550
$5,550
Joe Heck
$5,525
$5,525
Rupie Jr Phillips
$5,250
$5,250
Rand Paul
$5,201
$5,201
Troy Balderson
$5,000
$5,000
David P Joyce
$5,000
$5,000
Cory Gardner
$5,000
$5,000
Pat Toomey
$5,000
$5,000
Josh Hawley
$4,100
$4,100
Greg Walden
$2,000
$2,000
$4,000
Liz Cheney
$3,000
$3,000
John Kasich
$2,700
$2,700
Rick Saccone
$2,700
$2,700
Kelly Armstrong
$2,500
$2,500
John Curtis
$2,500
$2,500
Thom Tillis
$2,500
$2,500
Rob Bishop
$2,500
$2,500
Steven Daines
$2,500
$2,500
Patrick Morrisey
$2,400
$2,400
David McKinley
$2,000
$2,000
John Shimkus
$1,000
$1,000
Steve Scalise
$300
$300
Evan Jenkins
$250
$250
Carly Fiorina
$100
$100
Alex Mooney
-$5,000
-$5,000
Democrat
$108
$126
$31
$265
Bernie Sanders
$108
$108
Richard Ojeda
$100
$100
Joe Biden
$30
$30
Bill Nelson
$16
$16
Elizabeth Warren
$10
$10
Tom Steyer
$1
$1
Grand Total
$263,812
$261,566
$91,811
$617,189
Leadership
PAC
View

&

Recipient
2012
2014
2016
2018
Grand Total
Democrat
$35
$35
Democrats Win Seats

PAC

$35
$35
Republican
$135
$6,000
$15,000
$41,800
$62,935
RickPAC
$10,000
$10,000
Thunderbolt

PAC

$5,000
$5,000
WinNovember

PAC

$5,000
$5,000
Building America's Republican Representation
$5,000
$5,000
Support to Ensure Victory Everywhere

PAC

$5,000
$5,000
Building Opportunities for a Stronger Tomorrow
$5,000
$5,000
Victory

&

Freedom

PAC

$5,000
$5,000
Majority Cmte

PAC

$5,000
$5,000
Belief In Life

&

Liberty
$5,000
$5,000
Re-Light America

PAC

$5,000
$5,000
Wild

&

Wonderful

PAC

$4,000
$4,000
Reinventing a New Direction
$2,000
$2,000
Big Sky Opportunity

PAC

$1,500
$1,500
Jobs Freedom

&

Security

PAC

$300
$300
Dakota

PAC

$135
$135
Grand Total
$135
$6,000
$15,035
$41,800
$62,970
527
Recipient
2016
2018
Grand Total
New Day For America
$300,000
$300,000
Our American Revival
$50,000
$50,000
Young Conservatives for a Better America
$2,275
$4,950
$7,225
Republican Liberty Caucus
$1,810
$2,355
$4,165
Young Republican National Federation
$2,425
$2,425
Frontiers of Freedom
$1,685
$1,685
College Republican National Cmte
$325
$1,000
$1,325
Presidential Coalition

LLC

$200
$200
Grand Total
$354,410
$12,615
$367,025
Outside
Recipient
2012
2014
2016
2018
2020
Grand Total
America First Action
$1,000,000
$1,000,000
Kentuckians for Strong Leadership
$330,000
$330,000
Rebuilding America Now
$200,000
$200,000
Senate Leadership Fund
$47,000
$95,000
$142,000
Congressional Leadership Fund
$140,000
$140,000
Independent Voice For Illinois
$129,000
$129,000
Prosperity for Pennsylvania
$110,000
$110,000
New Generation

PAC

$100,000
$100,000
Republican Super

PAC

$100,000
$100,000
American Crossroads
$100,000
$100,000
Kentucky Tomorrow
$10,000
$75,000
$85,000
Trusted Leadership

PAC

$80,000
$80,000
Citizen SuperPAC
$70,000
$70,000
Hardworking Americans Cmte
$70,000
$70,000
Missouri Rising Action
$60,000
$60,000
New Day For America
$50,000
$50,000
Tennesseans for A Better Tomorrow
$50,000
$50,000
Transparency In Government

PAC

$50,000
$50,000
Liberty 2.0
$50,000
$50,000
Keystone Strong
$50,000
$50,000
Florida First Project
$38,000
$38,000
Grow

NC

Strong
$30,000
$30,000
Let America Work
$24,000
$24,000

CFG

Action Montana
$20,000
$20,000
Texans Are

PAC

$20,000
$20,000
1863

PAC

$18,314
$18,314
Advancing Freedom Fund
$1,100
$600
$1,700
Grand Total
$100,000
$470,000
$1,029,100
$1,425,600
$93,314
$3,118,014
Party
Recipient
2012
2014
2016
2018
2020
Grand Total
Democrat
$50
$600
$600
$1,250
Democratic Congressional Campaign Cmte
$600
$600
$1,200

DNC

Services Corp
$50
$50
Republican
$169,944
$105,339
$274,745
$50,853
$304,520
$905,401
Republican National Cmte
$38,300
$15,886
$7,245
$750
$299,255
$361,436
Cleveland 2016 Host Cmte
$250,000
$250,000
National Republican Senatorial Cmte
$94,644
$69,353
$12,202
$230
$176,429
National Republican Congressional Cmte
$37,000
$14,600
$15,151
$35
$66,786
Republican Party of Ohio
$500
$15,000
$5,250
$20,750
Republican Party of North Dakota
$7,500
$7,500
Republican Party of West Virginia
$2,500
$5,000
$7,500
Republican Party of South Carolina
$5,000
$5,000
Republican Party of Kentucky
$5,000
$5,000
Republican Party of Arizona
$5,000
$5,000
Grand Total
$169,944
$105,339
$274,795
$51,453
$305,120
$906,651
Stance on Climate Change
2017
Speaking with The Guardian, Murray declared: [20]
"We do not have a climate change or global warming problem, we have an energy cost problem." [20]
January 1, 2012
In a 2012 interview with The Intelligencer / Wheeling News-Register, Murray discussed his fears of federal government regulation of the coal industry. When asked about climate change science, Murray said: [21]
"The fraudulent individuals around the world who have attempted to capitalize on the promotion of their theory that the Earth is warming are now finding out that it's just not true. […] They did it for what I call crony capitalism – to make money off global warming. […] Albert Gore has made hundreds of millions of dollars over his hoax, and now they're finding it's simply not true.

[…] So it's changed, and the vast majority of Americans today know now that this was a hoax and it was done to get money from America for other countries for people in America to make money off of it. […] Now some want to create a commodity market in carbon tax credits. So now you've got Wall Street and all these commodity brokers in the United States, they want to see the legislation because it creates a market to trade […] carbon credits. So all of these people, for reasons not very pure, not very honorable and certainly not honest, are perpetuating the fraud. People like me, they called me a skeptic. Now I'm right […] and I see America moving beyond that issue." [21]
June 28, 2007
In 2007 testimony before the Senate Environment and Public Works Committee, Murray claimed that climate change as an "alleged phenomenon" based on "faulty science" and that "the science is uncertain." [5]
"It is time that common sense be introduced into this hysterical, out of control, climate change debate, which alleged phenomenon, to our Nation's best scientists, is based on faulty science. While the science is uncertain, the Congressional leadership's proposals and statements to date will definitely result in devastating economic hardship to our families' lives," Murray wrote in his testimony. [5]
In his testimony, Murray also described emissions reductions as "hysterical global goofiness, with no environmental benefit." [5]
"It seems to us that the leadership of this Congress, with the support of the Majority of this Committee and some Republicans, are intent in helping Mr. Gore and those of his ilk in achieving his unquestionable legacy, which will be the destruction of American lives and more death as a result of his hysterical global goofiness, with no environmental benefit," Murray wrote in his testimony. [5]
Key Quotes
June 7, 2017
In an interview with BNN, Murray applauded President Donald Trump's decision to withdraw the United States from the Paris climate agreement, while criticizing Canada's Prime Minister Justin Trudeau for supporting it: [9]
"I'm not impressed with Mr. Trudeau at all, I don't think he's leading Canadians in the right direction, but again, I'm not a Canadian," Murray said. He added that "President Donald Trump was absolutely prudent and courageous to withdraw from the Paris climate accord. It's an integral part of his energy agenda. […] We do not have a global warming problem on this planet, what we have is an energy poverty problem on this planet." [9]
February 2017
The Guardian reported that Robert Murray met with President Donald Trump to discuss a plan to declassify carbon dioxide as a pollutant: [20]
"Carbon dioxide under the Clean Air Act of 1971 was never a pollutant," said Murray. "That endangerment finding needs to be overturned. It's on my list of what needs to be done, because carbon dioxide is not a pollutant." [20]
December 12, 2016
In a December interview with the Fox News program "Fox & Friends," Murray declared "Rex Tillerson is one of the best choices [Trump] could ever make as Secretary of State." Murray claims to have received a personal phone call from Trump, shortly after Trump was made President-elect: [22]
"He said, 'tell your coal miners, I've got their back.' Then he said 'I love you, man,'" Murray told Fox & Friends. [22]
October 2016
Speaking on CNBC, Murray called Tesla Motors a "fraud": [23]
"Tesla is a fraud. [It] has gotten $2 billion from the taxpayer and has not made a penny yet in cash flow. Here again, it's subsidies." [23]
Elon Musk, Tesla's founder, responded on Twitter, writing that Tesla gets "pennies" on the dollar in subsidies compared with the coal industry, and that climate science denial is the "real fraud." [24]
January 1, 2012
In a 2012 interview with The Intelligencer / Wheeling News-Register, Murray made a number of claims about President Barack Obama and the coal industry: [21]
"We need Republican control of the Senate and Mr. Obama sent into unemployment to correct the damage to our industry in America already caused by him and his Democrat followers. The Obama administration has declared war on coal and has been speeding along unrestrained with a series of U.S. EPA regulations." [21]
"Congress must enact a number of current proposals that would stop the regulatory rampage of the Obama Administration, particularly of the EPA. In addition, we must put Mr. Obama and all of this appointees into unemployment as quickly as possible." [21]
June 28, 2007
In his testimony before the Senate Environment and Public Works Committee, Murray declared: [5]
"Carbon dioxide is a combustion product vital to how civilization is powered. It cannot be legislated or regulated away. Without drastic technological breakthroughs, it is not possible to stabilize atmospheric carbon dioxide emissions, even if it were necessary, and meet global energy demands."
Speaking about Rachel Carson, Murray said: [5]
"She and her environmental followers killed millions of human beings around the World with the ban on DDT, which has since been found by the World Health Organization to be very safe to humans in controlling global epidemics." [5]
April 2007
In a 2007 speech at the New York Coal Trade Association in New York City, Murray voiced what he thought of Al Gore: [25]
"I will only waste a few words relative to Albert Gore, the shaman of global goofiness and doom and gloom. He has portrayed those of us in coal as bad guys in a cheap 'good guys / bad guys' scenario, which has always been his tactic. Mr. Gore has never been able to determine the difference between science and science fiction. He is more dangerous than his 'global warming.'"[25]
Key Deeds
March 31, 2020
Robert Murray was included in a list by Rolling Stone in an article titled "Climate Enemies: The Men Who Sold the World." According to the magazine, "bad actors are not only failing to address the crisis, they're actively exacerbating it." The list includes "America's worst offenders, from fossil-fuel industry magnates, to investment gurus, to the president himself." [75]
"Murray's influence extends beyond his floundering dirty-energy company," the article states. "For years, he pumped money into a diverse portfolio of conservative groups that continue to push disinformation about the climate crisis. Murray also had an oversize influence on Trump's climate policy, donating $300,000 to his inaugural committee before handing the president a literal wish list of rollback requests, many of which were dutifully carried out by the administration." [75]
December 17, 2019
Murray Energy bankruptcy filings revealed that the energy company, even while undergoing bankruptcy, had continued to fund a wide range of climate change denial groups. That included the International Climate Science Coalition (ICSC), a group that has closely guarded its funding sources, which received $60,000. Other groups named included the Heartland Institute ($130,000), the Competitive Enterprise Institute ($200,000), and Government Accountability & Oversight ($300,000). Murray's company also donated $60,000 to the Center for the Study of Carbon Dioxide and Global Change, making it one of the group's largest donors. See related reporting from The Intercept, Energy and Environment News, and The New York Times. [71], [72], [73]
Other groups funded by Murray Energy include FreedomWorks, the Cato Institute, the Committee for a Constructive Tomorrow, and Judicial Watch. As The New York Times noted, Murray continued to fund climate change denial even as his company was going bankrupt.
May 31, 2018
Based on a draft Department of Energy (DOE) memo obtained by Bloomberg, the Trump administration was making plans to bail out coal and nuclear plants. This followed more than a year of lobbying by Murray for President Donald Trump and Energy Secretary Rick Perry to bail out struggling coal plants. Bloomberg was the first to report: [62], [63]
"Trump administration officials are making plans to order grid operators to buy electricity from struggling coal and nuclear plants in an effort to extend their life, a move that could represent an unprecedented intervention into U.S. energy markets.

"The Energy Department would exercise emergency authority under a pair of federal laws to direct the operators to purchase electricity or electric generation capacity from at-risk facilities, according to a memo obtained by Bloomberg News. The agency also is making plans to establish a 'Strategic Electric Generation Reserve' with the aim of promoting the national defense and maximizing domestic energy supplies."
In August of 2017, Murray had sent a letter to the White House requesting assistance from the Trump administration. In particular, he was lobbying on behalf of FirstEnergy, one of Murray Energy's largest customers and which ultimately filed for bankruptcy in March 2018. [64], [65]
"We are desperate for the President to, once again, order Energy Secretary Perry to invoke Section 202(c) of the Federal Power Act for FirstEnergy's merchant power plants," Murray wrote in the letter to the White House.
In September, Perry had called on the Federal Energy Regulatory Commission (FERC) to speed up a proposed "grid resiliency" rule that would prop up coal and nuclear plants with the stated goal of preserving grid reliability. This, despite Perry's own agency finding that the closure of those coal plants would have little impact on the grid. [66], [67]
Murray claimed FirstEnergy's bankruptcy could have been prevented if FERC had turned down the rule. [68]
Despite Murray's claim he "didn't have any involvement" in the rule DOE proposed to FERC, In These Times revealed a March 2017 meeting between Perry and Murray, in which Murray presented his "action plan" for federal agencies to aid the coal industry and in which he hugged Perry. [69], [70]
April 2018
Bloomberg reported Murray planned to purchase coal-fired power plants in addition to his mining company. The acquisition was expected as early as that year. Murray described his plans at the Bloomberg New Energy Finance Future of Energy Summit in New York. [59]
"It'd be the culmination of my life's work," he said. "It's a new concept. If you control the fuel supply, you can price it how you want it." [59]
Murray was considering the purchase of five different power plants, including the W.H. Sammis plant in Ohio and the Bruce Mansfield plant in Pennsylvania, owned by bankrupt FirstEnergy Solutions. FirstEnergy Corp's Pleasants Power Station is another under consideration. [59]
"If you can dig coal out of the ground, you sure as heck can run a power plant," he said. "We can run power plants better than the utilities can." [59]
June 22, 2017
Robert Murray filed a defamation lawsuit against John Oliver, after Oliver criticized Murray Energy and Robert Murray in a 24-minute segment on the coal industry and President Donald Trump's promise to revive it. A judge threw out the case in 2018, however Murray appealed to the West Virginia Supreme Court. Murray later dropped the suit entirely, although Oliver commented he fully expected to be sued again. [76] [13]
Murray issued a lawsuit which accused Oliver of a "meticulously planned attempt to assassinate [his] character and reputation," The Denver Post reported. [13]
March 1, 2017
Robert Murray presented President Donald Trump with an "action plan" of environmental rollbacks. The New York Times reported that, almost a year later, the administration was on track to fulfill most of the 16 requests. [60]
View the full document at The New York Times and below. The memo was obtained by Senator Sheldon Whitehouse and shared with The New York Times. It includes requests to end regulations on greenhouse gas emissions, ozone, and mine safety, as well as cutting staff at the EPA "at least in half." [61]
Murray Energy S Action Plan for the Trump (Text)

February 2017
Murray met with Donald Trump and presented a plan that would overturn the classification of carbon dioxide as a pollutant, The Guardian reported. The two met when Trump signed the repeal of the Stream Protection Rule, a regulation issued under the Obama Administration that prevented coal companies from dumping in streams. Murray had called the rule an "unlawful and destructive" attempt to "destroy our nation's underground coalmines and put our nation's coalminers out of work." [20]
"Carbon dioxide under the Clean Air Act of 1971 was never a pollutant," said Murray. "That endangerment finding needs to be overturned. It's on my list of what needs to be done, because carbon dioxide is not a pollutant." [20]
February 17, 2017
Speaking with CNBC, Murray claimed that global warming was a hoax citing "4,000 scientists." [26]
"There's no scientific analysis either," Murray said. "I have 4,000 scientists that tell me global warming is a hoax. The Earth has cooled for 20 years." [26]
When asked for clarification, a spokesperson for Murray Energy sent links to the Manhattan Declaration on Climate Change, which says "human-caused climate change is not a global crisis," and the infamous Global Warming Petition Project, also known as the Oregon Petition, a debunked list of those who claim humans don't cause climate change. [27]
The Manhattan Declaration is a document devised by the International Climate Science Coalition (ICSC) and unveiled at the fossil fuel industry-funded Heartland Institute's 2008 International Conference on Climate Change. ICSC is run by Tom Harris who formerly worked for a PR company called the High Park Group. ICSC also receives funding from the Heartland Institute, which has been at the forefront of climate change denial. [28]
As Tom DiChristopher noted at CNBC, "Murray's claim that there is no scientific analysis behind climate change is not true. […] His second claim that Earth is cooling is also false." [26]
October 2016
Speaking on CNBC, Murray called Tesla Motors a "Fraud": [29]
"Tesla is a fraud. [It] has gotten $2 billion from the taxpayer. Has not made a penny yet in cash flow. Here again, it's subsidies. […] It has nothing to do with the environment. And by the way, you could close down every coal fired plant in the United States today and you would not affect the temperature of the Earth at all. Not at all."[29]
View the video below: [29]
As outlined by DeSmog, subsidies for electric vehicles are dwarfed by coal subsidies. Murray also criticizes Musk for not earning a profit, while the coal industry itself is going bankrupt (despite billions of dollars their industry receives through special tax preferences). Another distortion is Murray's claim that America's coal plants aren't contributing to global warming. [30]
Murray disagreed with this, sending the following note to DeSmog's managing editor: [31]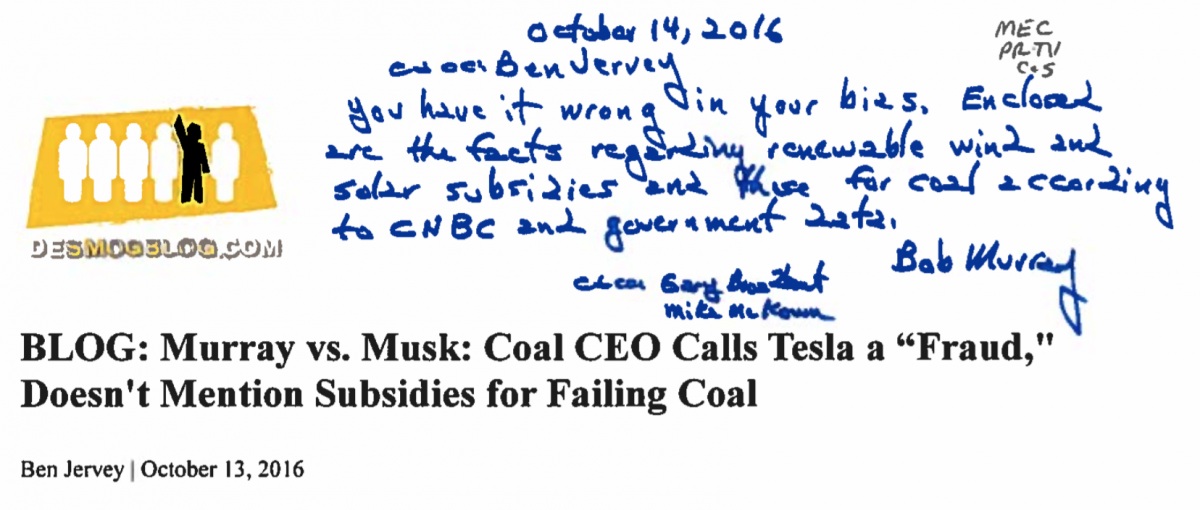 The Guardian reported that Elon Musk had responded to Murray and tweeted that the real fraud going on was "denial of climate science". "As for 'subsidies', Tesla gets pennies on dollar vs coal. How about we both go to zero?" he said. [32]
August 10, 2016
Speaking as a guest on the MetroNews show "Talkline," Murray blamed regulations under President Barack Obama for job losses: [36]
"I've worked night and day for 29 years building this company and creating these jobs only to have them destroyed by Barack Obama and his excessive regulations," Murray claimed. "Those regulations are coming out against coal, against the utilization of coal as well as the mining of coal faster than we can read them." [36]
Murray went on to say that Safety Health Administration inspections are cutting into his production schedules, describing mine inspections as "total harassment": [36]
"That means I had to take 89 management people off of inspecting the mines, off of doing safety training. It has nothing to do with safety. It is total harassment. Eighty-nine inspectors for 15 mines," Murray said. [36]
May 2016
Bloomberg reported that Murray endorsed Donald Trump for president after meeting him in New York. Murray said Trump cares "very much" about coal miners and coal mining jobs. Murray later said that "nobody" worked harder to make Trump president than he did, adding "and we're not done yet." [37]
One of Murray's goals was for the U.S. to pull out of any global agreements on climate change. Murray said, "so-called global warming is a total hoax." [37]
August 2015
According to documents obtained by the Center for Media and Democracy (CMD), and first reported on by Bloomberg in August 2016, a Murray energy attorney and the head of the coal advocacy group American Coalition for Clean Coal Electricity (ACCCE) spoke on a panel titled "The Dangerous Consequences of the Clean Power Plan & Other EPA Rules" during the Republican Attorneys General Association (RAGA) August 2015 Summit. [33], [34], [35]
"Murray Energy Corp. made a $250,000 donation to the Republican Attorneys General Association last year and, in return, the coal mining company's chief executive got a closed-door meeting with state prosecutors to discuss the Obama administration's regulation of power plants," Bloomberg reported, adding that "Eleven days later, the attorneys general went to federal court to fight the rules that Murray Energy says could put the coal industry out of business." [34]
CMD reported that the panel presentation featured Mike Duncan, president of the American Coalition for Clean Coal Electricity (ACCCE) and Geoffrey Barnes, counsel at Murray Energy, as well as three attorneys general: Scott Pruitt (R-OK), Patrick Morrisey (R-WV), and Ken Paxton (R-TX). [58]
April 2014
After cutting off promised health benefits for one thousand retired coal miners, Murray blamed the Obama administration and its so-called "war on coal": [38]
"Murray Energy's inability to provide these benefits is, in part, due to the destruction of the coal industry, including our markets, by the Obama Administration and its appointees and supporters, who have eliminated the livelihoods of thousands of coal miners, and their families, by the forced closing of 392 coal-fired electric power plants in America, now and in the immediate future," Murray said in a statement confirming the cuts. "Due to these action and devastated coal markets, Murray Energy is unable to support these benefits." [38]
Affected workers included all non-union retirees at five West Virginia mines that Murray had recently purchased from CONSOL Energy Inc. [39]
April 23, 2014
Murray Energy sued the the Labor Department over the Mine Safety and Health Administration's (MSHA) new rule limiting coal dust, intended to protect coal miners against black lung disease, The Hill reported. [40]
"Instead of protecting miners' health, this rule clearly seeks to destroy the coal industry, and the thousands of jobs that it provides, with absolutely no benefit to the health or safety of miners, whatsoever," the company said in a statement. [40]
March 2014
Murray Energy sued the EPA, alleging the agency failed to comply with the Clean Air Act's requirement to evaluate the impact of its regulations on employment. "The Administrator has no discretion to avoid or limit its obligation to continuously evaluate the employment impacts of EPA's administration and enforcement of the Clean Air Act," Murray Energy's lawsuit stated. [41]
October 15, 2013
As DeSmog reported, and confirmed by a Murray Energy Corp spokesperson, Murray Energy hired climate change denier Steve Milloy as director of external policy and strategy. According to Milloy's LinkedIn profile, he held that position until May 2015. [42], [43]
September 2013
Murray filed a defamation suit against a prominent blogger at The Huffington Post, DeSmog reported. [10]
The complaint accused Mike Stark and The Huffington Post of defamation and invasion of privacy in publishing the September 20, 2013 article titled "Meet the Extremist Coal Baron Bankrolling Ken Cuccinelli's Campaign." [44]
Stark's article highlights Murray Energy as Cuccinelli's single largest contributor, pointing to $30,000 that Murray Energy gave Cuccinelli, as well as campaign work by Murray on behalf of Republican Party presidential nominee Mitt Romney in 2012. The article also covers Murray's call to impeach President Obama, and his firing of over 150 employees after Obama's 2012 victory. [10]
The statements that Murray argued constituted defamation were his referring to Murray as an "extremist" and suggesting that the firing of the 150 workers as potential "fulfillment of a promise" after the results of the 2012 election. [10]
On November 1, Mike Stark's attorneys responded with a motion to dismiss. [10]
"Stark's article contains no false statements of fact, nor is it misleading, nor does it place Murray in a false light," they wrote. "More importantly, for purposes of this Motion to Dismiss, the statements in the article about which Plaintiffs complain are not assertions of fact. Rather, the Complaint takes issue only with opinions offered by Stark in the article." [10]
"[Murray] likely realizes that a lawsuit like this has the effect of diverting resources that a writer or activist like Mike Stark might otherwise use to expose and question the actions of Murray, Murray Energy, and the coal industry," explained Stark's lawyers. "This kind of lawsuit could also deter others from engaging in commentary and criticism about Murray and these issues." [10]
Murray's suit was eventually dismissed by a federal judge. However, it was only one of several suits against journalists initiated by Murray. [11]
November 2012
The day after Barack Obama was re-elected for a second presidential term in 2012, Murray announced he would lay off a total of 156 employees from Murray Energy and subsidiary companies. Murray blamed the so-called "war on coal" of the Obama administration. Before the announcement, Murray read a prayer to a group of staff members: [45]
"Lord, please forgive me and anyone with me in Murray Energy Corp. for the decisions that we are now forced to make to preserve the very existence of any of the enterprises that you have helped us build." [45]
The Washington Post reported that energy analysts blamed the competition of natural gas for the challenges of the coal mining business, as opposed to the "war on coal" argument repeatedly mentioned during the election. [45]
View Murray's full prayer below: [46]
"Dear Lord:

"The American people have made their choice. They have decided that America must change its course, away from the principals of our Founders. And, away from the idea of individual freedom and individual responsibility. Away from capitalism, economic responsibility, and personal acceptance.

"We are a Country in favor of redistribution, national weakness and reduced standard of living and lower and lower levels of personal freedom.

"My regret, Lord, is that our young people, including those in my own family, never will know what America was like or might have been. They will pay the price in their reduced standard of living and, most especially, reduced freedom.

"The takers outvoted the producers. In response to this, I have turned to my Bible and in II Peter, Chapter 1, verses 4-9 it says, 'To faith we are to add goodness; to goodness, knowledge; to knowledge, self control; to self control, perseverance; to perseverance, godliness; to godliness, kindness; to brotherly kindness, love.'

"Lord, please forgive me and anyone with me in Murray Energy Corp. for the decisions that we are now forced to make to preserve the very existence of any of the enterprises that you have helped us build. We ask for your guidance in this drastic time with the drastic decisions that will be made to have any hope of our survival as an American business enterprise.

Amen."
August 2012
During a 2012 rally to promote coal industry jobs, Mitt Romney visited Murray Energy's Century Mine. A number of news sources reported that Murray Energy had compelled employees to attend the Mitt Romney campaign event without pay. Some coal miners sent anonymous letters to a local radio station, criticizing the coal company for making them take the day off, without pay, and attend the event. [47]
Murray Energy CFO Rob Moore denied that workers were "forced" to go, but rather said that attendance was "mandatory" and confirmed that the workers were not paid: [48]
"Our managers communicated to our workforce that the attendance at the Romney event was mandatory, but no one was forced to attend," Moore said. [48]
Listen to the radio coverage from News Radio 1170 WWVA below:
"Just for the record, if we did not go, we knew what would happen," one miner wrote in an email read on air. [48]
In another email read on air, a miner said he was frustrated with being "forced" to attend, and described a culture of "intimidation" inside Murray: (emphasis added by ThinkProgress) [48]
"No one likes to be forced to do anything, let alone without pay. I recall hearing a caller claiming that his $100,000 plus Murray salary was grounds for crapping if Murray says crap, or eating broccoli if Murray says to eat it. I say to that man: Many of us, though well educated or hard workers ourselves, do not make half, a third, or sometimes even a quarter of that pay. Had the event not been mandated, most of us probably would have still attended. We are grateful to have the chance to listen to our leaders or potential leaders first hand and to be a part of political history in the making. We do not appreciate being intimidated into exchanging our time for nothing." [48]
2012
According to the Heartland Institute's "2012 fundraising plan," which was released as part of a set of leaked documents, the Murray Energy Corporation donated $100,000 to Heartland in 2010 and was expected to donate another $40,000 in 2012. The Heartland Institute, which historically opposed the science linking second-hand smoke to health risks, has become one of the strongest voices promoting climate change denial in America. [49]
May 2010
Murray Energy donated $30,000 to Proposition 23, a proposition that would suspend California's Global Warming Solutions Act until the state's unemployment rate dipped to 5.5 percent or lower for four consecutive quarters. [18], [50]
August 6, 2007
After the Crandall Canyon Mine collapse, which led to the death of nine miners and rescuers, Murray Energy faced an initial assessment of $1.639 million in fines for alleged "flagrant, reckless and highly negligent violations of mine safety law," NPR reported. The settlement was reduced to $949,351, which still made it the third-largest fine ever levied against a coal company, according to the Mine Safety and Health Administration. [51]
The settlement included Murray Energy's acceptance of four violations "contributory" to the two fatal mine collapses at Crandall in August 2007:
1. Failure to report a "coal outburst" at the mine four days before the first fatal collapse. "The failure to report this accident," MSHA inspectors wrote, "denied MSHA an opportunity to investigate it and learn that the mining methods provided inadequate protections."

2. Two failures in March and August of 2007 to revise the mine's roof control plan after "coal outbursts" and bounces" that "caused substantial damage" showed that the plan "was not adequate or suitable for controlling" the movement and falling of rock.

3. Failure to leave pillars of coal long enough and wide enough to meet safety standards and to hold up the roof of the mine as coal was removed. The pillars "did not provide sufficient strength to withstand stresses," mine inspectors wrote, leading to "sudden and violent failure of the overstressed coal pillars" in the Aug. 6 and Aug. 16 collapses, in which nine miners and rescued [sic] were killed. [51]
Despite signing the settlement, which left Murray Energy with "acknowledged responsibility for the failures that led to the tragedy," Murray told NPR that "this settlement is not an admission of any contribution to the August 2007 accidents." [51]
From 2000 to 2009, the federal Mine Safety and Health Administration (MSHA) cited Murray Energy for over 7,700 "significant" violations, resulting in $18 million in fines. [52]
A 2008 MSHA report found that the mine was "destined to fail" because Murray Energy failed to disclose early warning signs. [53]
After the Crandall mine disaster, Murray claimed that the event had absolutely nothing to do with "retreat mining" and that the term had been invented by "lackeys for the united mine workers." [54]
In a statement responding to a previous Fox News article, Murray Energy reiterated claims that the tragedy was not due to safety violations but rather to an earthquake. "No one knows for certain what caused the tragic collapse at the Crandall Canyon Mine," the Murray statement read. The statement responded to another Fox News article by Don Fair, which claimed that "Despite what the Mine Safety and Health Administration investigators were telling us that – there was indeed a collapse in the mine – Murray insisted that the problem was caused by an earthquake." Murray's response described Fair's article as "blatantly false, biased and demonizing." [55], [56]
"Retreat mining had absolutely nothing to do with the disaster that happened here, nor was there any retreat mining happening at the time of the disaster," Murray said in a press conference. [54]
June 28, 2007
Murray testified before the Senate Environment and Public Works Committee, claiming that climate change was based on "faulty science." [5]
Murray argued that poor Americans would be impacted by price increases connected to legislation that would curtail greenhouse gas emissions. "We feel very threatened, and frankly afraid, for these people, who only want to work in honor and dignity and have an acceptable quality of life, from what is going on in the Congress," Murray wrote in his testimony, adding that "Raising energy costs, as this Congress seems intent on accomplishing, will kill American people." [5]
"Reducing carbon dioxide emissions will impact our poorest families the hardest," he reiterated. "The hysterical and out of control climate change or global warming issue, and the legislation that you have proposed, will lead to the deterioration of the American standard of living and the accelerated exportation of more of our jobs to China and other developing countries, which have repeatedly advised, as recent as last week, that they will not limit their carbon dioxide emissions," he said. "The most 'inconvenient truth' is that we do not know how to meet current, much less anticipated future, United States and global energy needs with low- and non-emitting technologies." [5]
Murray argued that money should be funneled into research, as opposed to emissions reductions. [5]
April 2007
Robert Murray delivered a speech on global warming and the coal industry to the New York Coal Trade Association in New York City. In the speech, Murray claimed that the science connecting carbon emissions to global warming is "highly speculative": [25]
"While some want us to believe that the science behind so-called 'global warming' is certain, to the contrary, the actual environmental risk associated with carbon emissions is highly speculative. It is a fact, however, that every proposal introduced to date will provide a far more certain risk that carbon dioxide emission limits will destroy coal and manufacturing dependent communities and inflict great hardships on America's families." [25]
Murray went on to describe efforts to curb emissions as "global goofiness": [25]
"Some wealthy elitists in our Country, who cannot tell fact from fiction, can afford an Olympian detachment from the impacts of draconian climate change policy. For them, the jobs and dreams destroyed as a result will be nothing more than statistics and the cares of other people. These consequences are abstractions to them, but they are not to me, as I can name many of the thousands of the American citizens whose lives will be destroyed by these elitists' ill-conceived 'global goofiness' campaigns."[25]
Among those cited for evidence by Murray is prominent climate change denier Richard Lindzen, whom Murray quotes: "Alarm rather than genuine scientific curiosity, it appears, is essential to maintaining funding. And only the most senior scientists today can stand up against this alarmist gale, and defy the iron triangle of climate scientists, advocates, and policy makers." [25]
Murray concludes:
"Climate change science is uncertain, and carbon dioxide capture technology has not been proven on a commercial scale. The Congress must not be stampeded into preempting thorough climate research and the development of carbon capture, transfer, and sequestration technologies with emotionally developed or politically motivated legislation in the current hysterical rampage to enact carbon dioxide emission limitation mandates. […] We must oppose any energy-rationing legislation, whether it is a cap-and-trade or a straight tax on carbon energy. Much is at stake here." [25]
October 2001
Murray was acquitted of charges he had assaulted an environmental activist who had opposed mining near a 400-year-old-forest, The Toledo Blade reported. [57]
Affiliations
Social Media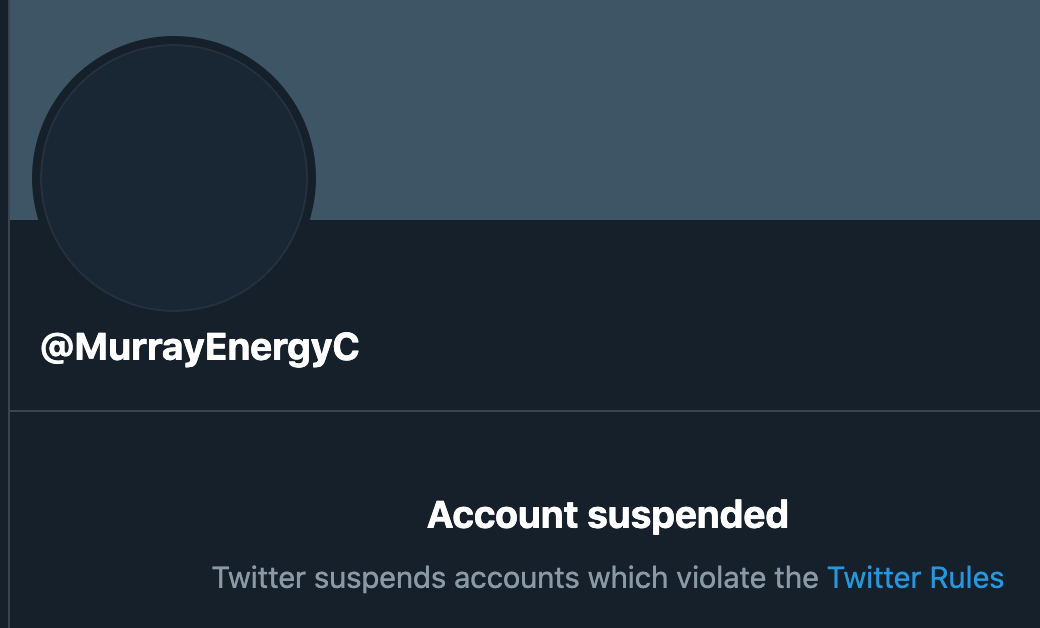 Resources
Other Resources