Ryan Maue
Credentials
Background
Ryan N. Maue was picked by the Trump administration to serve as the new chief scientist at the National Oceanic and Atmospheric Administration (NOAA) in 2020. The position, which does not require Senate confirmation, put Maue in charge of choosing the department's research priorities and play a role in enforcing its scientific integrity process. [2]
Another recent NOAA appointee, David Legates, has questioned the role of carbon dioxide and other greenhouse gases in climate change. [3], [4]
Maue was previously an adjunct scholar at the Libertarian Cato Institute where he worked with Patrick Michaels, who has stated the "best solution is to do nothing" regarding climate change. The Cato Institute was founded in 1977 by Charles Koch and has continued to be a large recipient of Koch dollars with $22,843,008 coming from Koch-related foundations between 1986 and 2018. [1], [5]
Maue and Michaels have regularly co-published commentary about climate change and weather at the Cato Institute. Both Michaels and Maue formerly worked at the Cato Institute's "Center for the Study of Science." The center was a program overseen by Michaels and "sought to raise uncertainty about climate science." It was quietly shut down after Michaels left Cato in 2019. [6], [7]
Before joining the Cato Institute as an adjunct scholar in 2017, Maue worked as a meteorologist at WeatherBELL Analytics, LLC—the same company where noted climate change denier Joseph Bastardi serves as chief forecaster. Bastardi works alongside Joseph D'Aleo, founder of ICECAP, a group that promotes skeptical climate change material and has suggested CO2 is not a driver of climate change. [1], [8]
Comments on Trump's "SharpieGate"
CNN's Chief Climate Correspondent Bill Weir, presenting screenshots of now-deleted tweets, asked Ryan Maue if it was true he had defended the National Weather Service against President Trump's reported use of a sharpie to modify the path of Hurricane Dorian—popularly being referred to as "SharpieGate." Maue later deleted his tweets after being picked for his new position at NOAA.
Twitter and archived tweets reproduced below: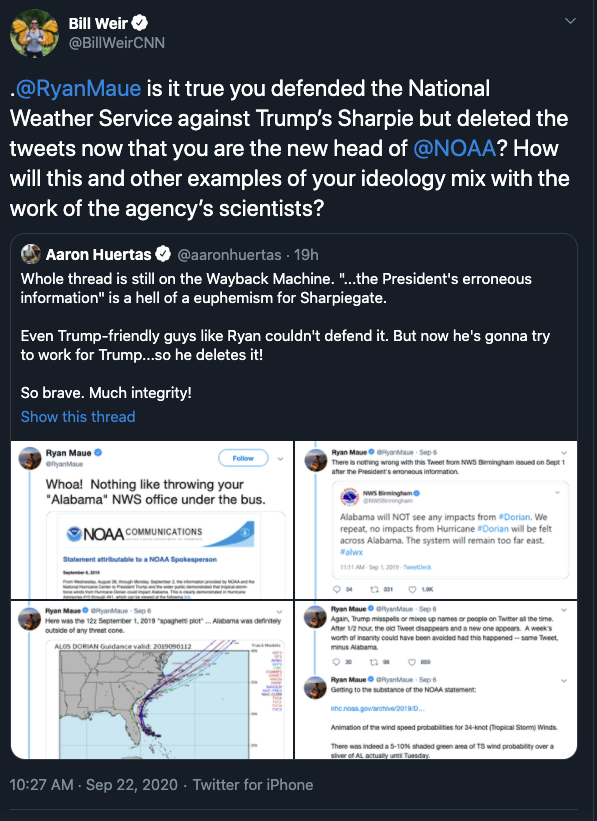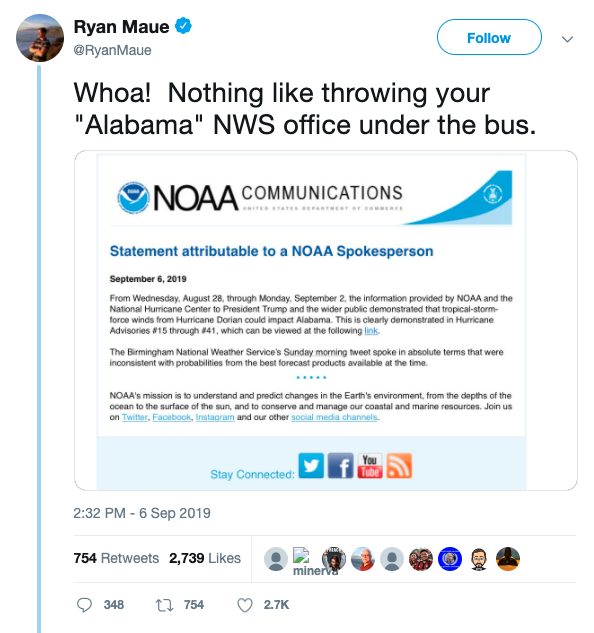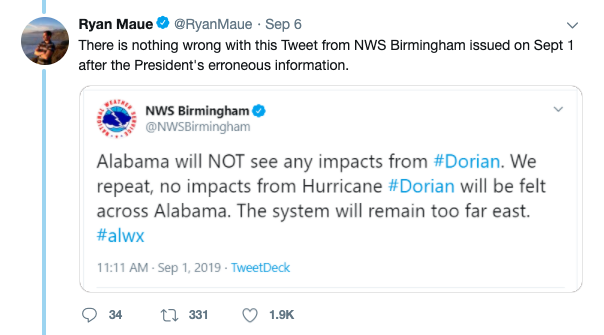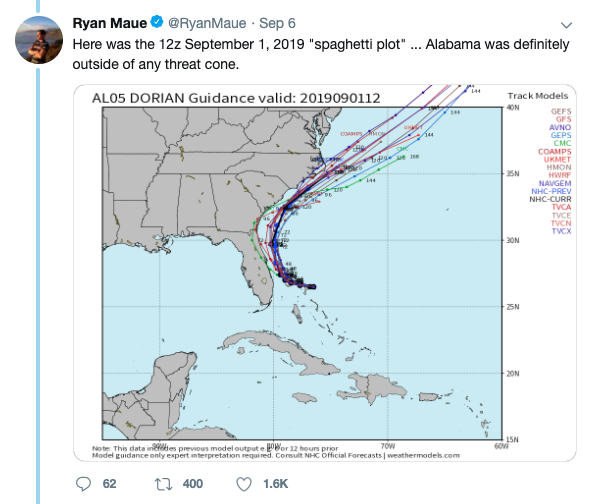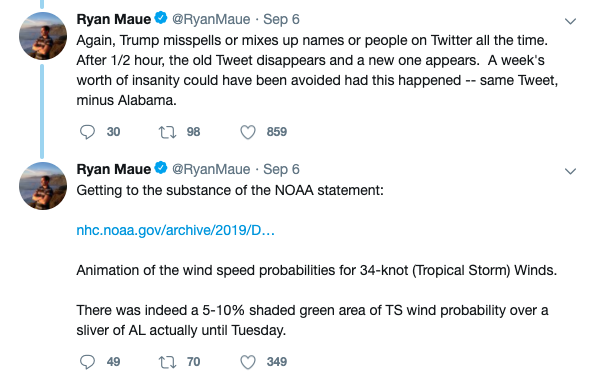 Stance on Climate Change
June 21, 2018
Maue co-wrote an article at The Wall Street Journal with Patrick Michaels suggesting that the "earth is only modestly warmer": [9]
"Global surface temperature has not increased significantly since 2000, discounting the larger-than-usual El Niño of 2015-16. Assessed by Mr. Hansen's model, surface temperatures are behaving as if we had capped 18 years ago the carbon-dioxide emissions responsible for the enhanced greenhouse effect. But we didn't. And it isn't just Mr. Hansen who got it wrong. Models devised by the United Nations Intergovernmental Panel on Climate Change have, on average, predicted about twice as much warming as has been observed since global satellite temperature monitoring began 40 years ago," Maue and Michaels wrote.
Key Quotes
July 10, 2020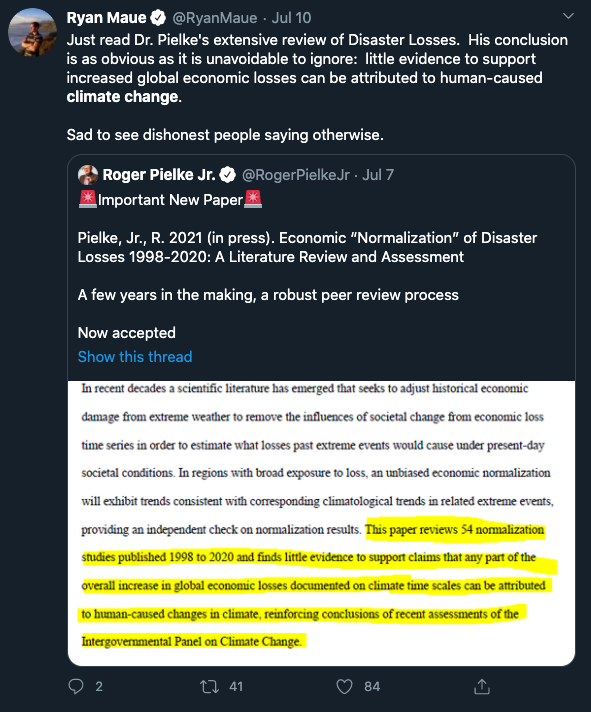 September 17, 2017
"By focusing on whether climate change caused a hurricane, journalists fail to appreciate the complexity of extreme weather events. While most details are still hazy with the best climate modeling tools, the bigger issue than global warming is that more people are choosing to live in coastal areas, where hurricanes certainly will be most destructive," Maue wrote at The Wall Street Journal. [10]
March 26, 2012

Actions
January 2021
As reported at The Washington Post and The New York Times, David Legates and Ryan Maue were both reassigned from their positions at the White House Office of Science and Technology Policy (OSTP) following their role in producing and publishing a series of debunked climate change reports without White House approval. [17], [18], [19]
The reports were published on the website of the Center for Environmental Research and Earth Sciences (CERES), which appears to be associated with Willie Soon. [20]
The papers bore the print of the Executive Office of the President wrote they were copyrighted by the White House Office of Science and Technology Policy (OSTP). They were not approved by Kelvin Droegemeier, the director of the office.
"Dr. Droegemeier was outraged to learn of the materials that were not shared with or approved by OSTP leadership," OSTP spokeswoman Kristina Baum said in an email Tuesday afternoon. "He first became aware of the documents when contacted by the press. As a result, Dr. Droegemeier took swift action and the individuals responsible have been relieved of their duties at OSTP."
Legates and Maue would return to NOAA from their positions at OSTP in their final days working for the Trump administration. Scott Smullen, deputy director of NOAA communications, distanced the agency from the documents: [17]
"Science papers from NOAA follow a rigorous peer-reviewed process under agency regulations on scientific publications. NOAA was not involved in the creation or posting online of the climate change flyers that have been allegedly attributed to the Office of Science and Technology Policy, nor does NOAA endorse the flyers. OSTP is investigating the issue," Smullen said in a statement.
Former OSTP director John Holdren, who headed the agency during Barack Obama's presidency, called for Legates to be fired. He also suggested that writing the papers under the banner of the Executive Office of the President and the OSTP without authorization was "not merely outrageous but, apparently, illegal." [17]
As noted by The Washington Post, U.S. Code states: "Whoever fraudulently or wrongfully affixes or impresses the seal of any department or agency of the United States … shall be fined under this title or imprisoned not more than five years, or both." [17]
November 2020
As reported at The Washington Post, Maue was tapped for an oversight role at the U.S. Global Change Research Program, a program responsible for creating the National Climate Assessment. Maue would join fellow climate change skeptic David Legates, who had also recently joined the National Oceanic and Atmospheric Administration (NOAA). According to NOAA officials, Legates and Maue would help select authors for the next edition of the National Climate Assessment. [16]
October 2020
The New York Times reported the Trump administration's moves to remove the chief scientist at NOAA and install "political staff" like including David Legates and Ryan Maue as well as impose new controls on communications "threaten to stifle a major source of objective United States government information about climate change that underpins federal rules on greenhouse gas emissions and offer an indication of the direction the agency will take if President Trump wins re-election." [15]
Erik Noble, a former White House policy adviser who was recently appointed NOAA's chief of staff, removed NOAA's chief scientist Craig McClean. According to the New York Times, McClean had sent some of the new appointees a message asking them to acknowledge the agency's scientific integrity policy, which prohibits manipulating research or presenting ideologically driven findings. [15]
Noble responded, according to someone who received a copy of the exchange: "Respectfully, by what authority are you sending this to me?" [15]
McClean responded that, as acting chief scientist, he felt he was responsible for ensuring the agency's rules on scientific integrity were followed. Noble responded the following morning that a new chief scientist had been appointed. "You no longer serve as the acting chief scientist for NOAA," Noble said. [15]
Investigating the role the new staff members would play at NOAA, The New York Times reported: "According to people close to the administration who have questioned climate science, though, their primary goal is to undercut the National Climate Assessment." [15]
"The real issue at play is the National Climate Assessment," said Judith Curry, who said she has been in contact with Dr. Maue. "That's what the powers that be are trying to influence." [15]
John Christy said he had been asked to take on a senior role at NOAA during the summer but had declined. He commented the role would include changing the agency's approach to the climate assessment. [15]
The NYT added:
"Ms. Curry and the others said that, if Mr. Trump wins re-election, further changes at NOAA would include removing longtime authors of the climate assessment and adding new ones who challenge the degree to which warming is occurring, the extent to which it is caused by human activities and the danger it poses to human health, national security and the economy." [15]
August 2019
In a now-deleted Tweet, Maue asked, "How is [it] that every news article on 'Barry' and climate change published in past few days has a similar headline, premise and conclusion — or, if you will, set of talking points? Is this original reporting or something else like an outfit providing copy?" Maue answered his own question in a subsequent tweet: "Strategic communications groups funded by the usual foundations set up these rapid response services for journalists — so they can quickly churn out copy. … The bad news coverage is not by accident at all." [11]
H. Sterling Burnett of the Heartland Institute quoted Maue's Tweet in an article at the American Spectator, where Burnett went on to argue: "Contrary to the mainstream media drumbeat, there is no consensus that catastrophic climate change is happening and humans are causing it. Yet, due to publishers and broadcasters not requiring their operations to maintain standards of fairness and veracity, the mainstream media uncritically presents a climate crisis as settled fact." [11]
August 26, 2019
Maue wrote an article at American Greatness titled "Everything You've Heard About the Amazon Fires Is Wrong." [12]
Daily Kos reviewed the article and described American Greatness as a "pro-Trump blog" and suggested Maue's piece was "comically self-debunking." [12]
"Instead of actually debunking the bizarre and false claim that the Amazon provides 20% of the planet's oxygen, which he mentions but doesn't rebut, Maue instead makes a rambling and only semi-coherent broadside against the media," Daily Kos wrote. [12]
According to the American Greatness piece, which criticized media's portrayal of climate change and the fires, "The chain reaction of misinformation is easily visible in real-time especially with climate change related narratives." Maue and Moore added, "All it takes is one misleading headline, such as the Guardian's '12-years left to avoid climate catastrophe,' to set off an uncontrollable cascade of virtue signaling and outrage." [12]
June 21, 2018
Maue co-wrote an article at The Wall Street Journal with Patrick J. Michaels challenging previous climate change predictions by former NASA scientist James Hansen. [9]
Despite other studies finding the early models "were uncannily accurate in projecting how much the world would warm in response to increasing amounts of planet-warming greenhouse gases," Maue and Michaels argued "Models devised by the United Nations Intergovernmental Panel on Climate Change have, on average, predicted about twice as much warming as has been observed since global satellite temperature monitoring began 40 years ago." [13]
Maue pointed to work by Judith Curry and Nic Lewis to suggest models don't properly measure "how aerosol emissions counter warming caused by greenhouse gases." [13]
"On the 30th anniversary of Mr. Hansen's galvanizing testimony, it's time to acknowledge that the rapid warming he predicted isn't happening. Climate researchers and policy makers should adopt the more modest forecasts that are consistent with observed temperatures.
That would be a lukewarm policy, consistent with a lukewarming planet," Michaels and Maue concluded. [13]
September 25, 2017
Maue attended a Cato Institute Capitol Hill briefing on "The National Flood Insurance Program, Zoning Regulations, and Hurricanes: Lessons for Lawmakers." [14]
Attendees listed were as follows:
Ike Brannon, Visiting Fellow, Cato Institute

R.J.

Lehman, Senior Fellow, R Street Institute
Ryan Maue, Adjunct Scholar, Cato Institute
Vanessa Brown Calder, Policy Analyst, Cato Institute
Peter Russo (moderator), Director of Congressional Affairs, Cato Institute
Affiliations
Social Media
Publications
Sample Publications & Blog Posts
Resources
Other Resources