Who ever saw this coming? Yesterday, a Canadian Pacific train carrying crude oil jumped the tracks in Parkers Prarie, Minnesota and immediately spilled 20,000 to 30,000 gallons of crude onto the snowy, frozen fields.
Fourteen cars of the 94-car, mile-long train (stop and picture that for a moment) left the tracks during an emergency braking maneuver, the cause of which is yet unclear. The National Transportation Safety Board is conducting an immediate review.
According to Reuters, "the company did not comment as to what kind of crude the train was carrying," and Canadian Pacific spokesman Ed Greenberg said he "did not know if the oil that spilled was tar sands oil."
But we do know that the oil was coming from Western Canada and bound for Chicago. 
We've covered the growing trend of hauling crude oil by train, as pipelines have reached full capacity and opposition to new pipeline construction has stalled out projects like Keystone XL.
First, I looked at the current boom in so-called "oil trains" in the Dakotas to handle the glut in crude from the Bakken Shale prospects. And here's a post about Nexen's plans to ship tar sands crude west to Pacific Coast ports for export to China. In Feb. 2012 DeSmog's Steve Horn also documented magnate Warren Buffett's ownership of Burlington Northern Santa Fe (BNSF) via his holding corporation Berkshire Hathaway. BNSF is currently carrying tar sands-related products on the railways, including diluent used to make tar sands transport possible via pipeline.  
Luckily, because the ground was frozen and because the spill didn't occur near any surface water, environmental impact appears minimal. But this should certainly still serve as a wake-up call. If the train had jumped the tracks near a river or stream, or during warmer months, cleanup would be much more difficult, and some pollution of groundwater and aquatic ecosystems would be inevitable.
Predictably, supporters of the Keystone XL pipeline are using this accident to advocate for construction of the controversial line.
"It should be clear that we need to move more oil by pipeline rather than by rail or truck," said Don Canton, spokesman for North Dakota Senator John Hoeven, who has been one of the chief political proponents of the line. "This is why we need the Keystone XL. Pipelines are both safe and efficient."
Because, no, pipelines never spill.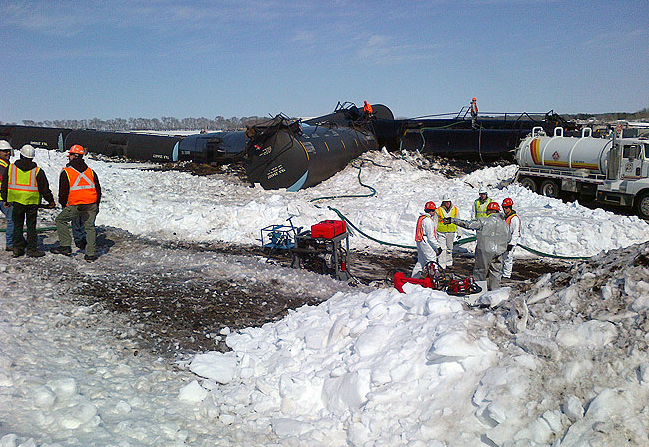 Photo: Minnesota Pollution Control Agency/Doug Bellefeuille