DeSmogBlog has obtained hundreds of documents portraying the blurred lines between North Dakota's government, the oil and gas industry and the private equity world. They also offer one of the first looks inside the professional life of former CIA Director Gen. David Petraeus after he resigned from the agency in 2012.
The documents reveal Kohlberg Kravis Roberts (KKR) — a private equity firm where Petraeus now works at the KKR Global Institute — wrote a press release for North Dakota's State Treasurer announcing the Petraeus visit, meticulously counseled the state treasurer's office on media strategy and hosted the state treasurer on its company plane.
A large part of Petraeus' visit centered around a tour of the state's Bakken Shale basin, where upwards of 1 million barrels of oil are extracted each day via hydraulic fracturing ("fracking"). The Bakken pumped out its billionth barrel of oil during his stay.
KKR, with $87 billion in assets, owns two major Bakken entities: The Ridge in Williston, ND, and Samson Resources.
The Ridge is a KKR-owned housing complex for Bakken oil and gas workers, while Samson Resources is a major company fracking for oil and gas throughout the U.S., including in the Bakken.  
With over $4 billion sitting in an energy investment fund as of June 2012, KKR also owns over $950 million in oil and gas industry assets. Marc Lipschultz, head of energy and infrastructure for KKR, called the firm a "mini oil and gas company" in an April 2013 interview with Privcap.
"We have our own technical abilities attached to the firm we have our own back office [and] we can manage the daily flows of oil and gas in drilling wells and managing our own hedges," said Lipschultz. 
KKR

's Stage-Managing

At face value, the Petraeus visit seemed rather banal, garnering no national press attention and little local media coverage.

Amy Dalrymple, a reporter for the Oil Patch Dispatch, was the only one to cover it. Her short piece devoted but a single paragraph to Petraeus' KKR connection.

"Petraeus has a tie to the Bakken through private equity firm Kohlberg Kravis Roberts…which is partnering with other investors on a 164-acre housing development in Williston," Dalrymple wrote. "Petraeus works for KKR as chairman of the KKR Global Institute."

But e-mails reveal KKR stage-managed the entire event from start to finish, doing so quietly and behind the scenes.

According to the emails, planning began on March 18, when Ari Barkan, director of KKR's client and partner group, reached out to treasurer Kelly Schmidt to share a draft agenda for the forthcoming Petraeus visit. In a March 24 email, Barkan explained to Schmidt the rationale behind Petraeus' visit.

"Gen. Petraeus would ideally like to learn as much as possible about realities on the ground connected with development of our shale gas/oil resources, including a sense of the challenges that operators, local/state governments, business leaders, and other community leaders are experiencing," Barkan wrote. 

"The development of these resources is one of the key underpinning (sic) of the nation's renaissance, in his view, and he would be delighted to gain additional insights into what the benefits (sic) as well as the issues people are faced with."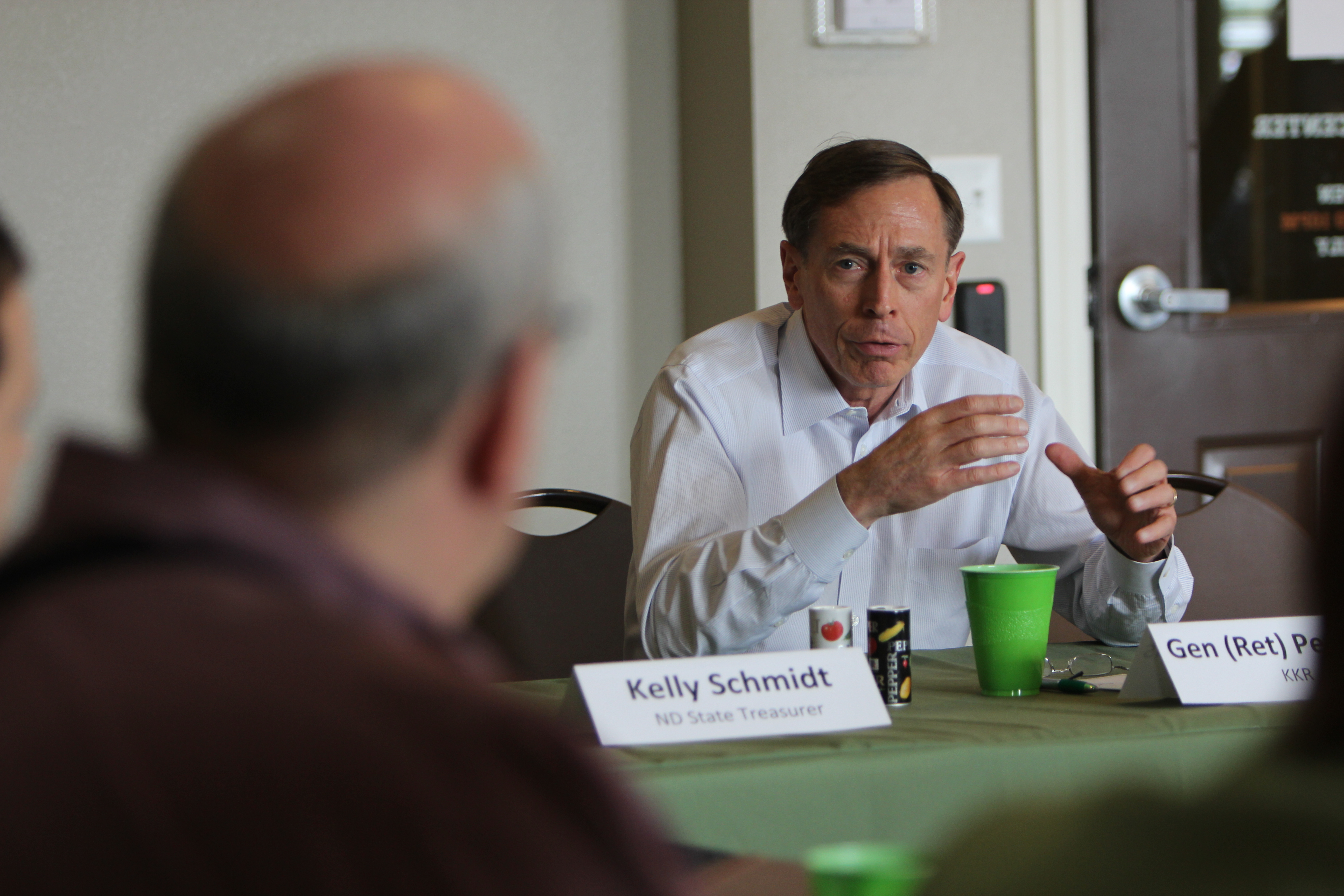 Photo Credit: Office of North Dakota State Treasurer, obtained via ND Open Records Statute.
The draft and final agenda included a tour of a Bakken Shale oil field and a meeting with North Dakota community leaders at KKR's The Ridge, as well as a Petraeus speaking event hosted by the North Dakota National Guard and other meetings.
KKR facilitated how these events would unfold, breaking down the Petraeus visit minute-by-minute. And North Dakota's government was pleased to facilitate KKR's plans.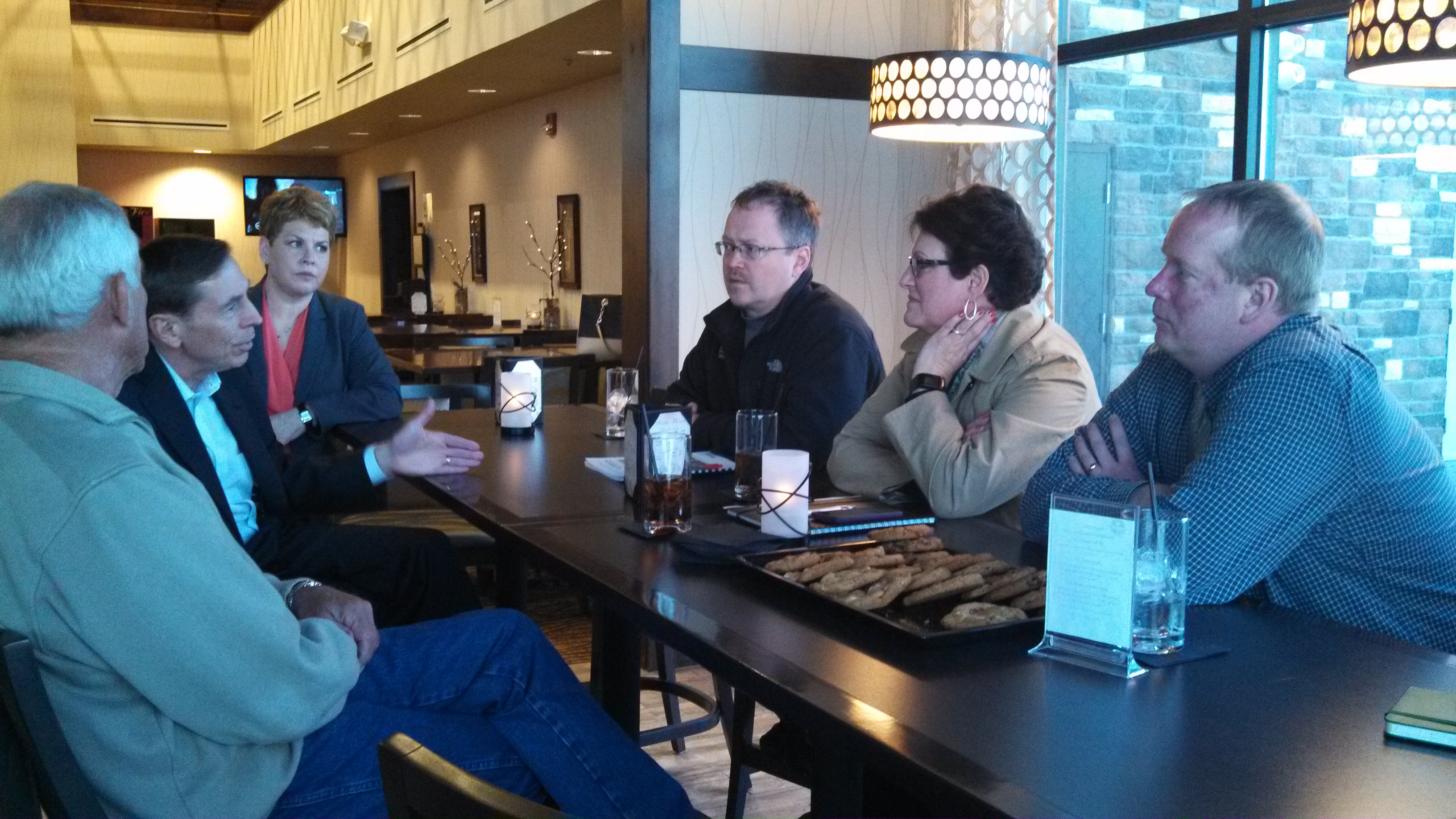 Photo Credit: Office of North Dakota State Treasurer, obtained via ND Open Records Statute
Media Management
On April 24, Schmidt e-mailed Barkan and Huller about best practice responses to media queries if anyone were to hear about the events planned for April 29 before sending out the official media advisory. 
"Perhaps a solution may be to have any press inquiries referred to my office," Schmidt wrote.
From then on, after KKR agreed with Schmidt's proposal, the treasurer's office became the go-to place for press calls. But there were road-bumps along the way.
"My staff just received a press call from the Fargo Forum reporter in Williston calling to confirm the Petraus (sic) visit on Tuesday," Schmidt wrote in an April 25 e-mail to Barkan and Huller. "[We] didn't confirm or deny but took Amy's number. How would you like me to respond?"
Huller responded by advising her against returning Amy Dalrymple's calls.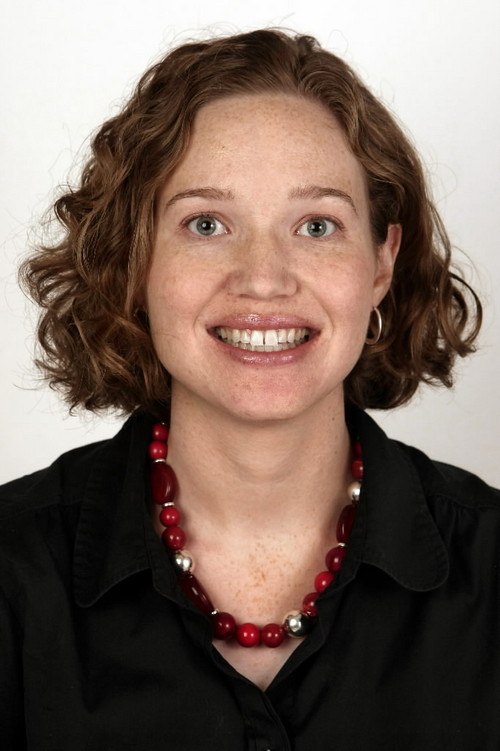 Amy Dalrymple; Photo Credit: Twitter
"If possible, I would not return the call. This is a result of me trying to arrange a Q&A with them," Huller wrote. "I have told her about everything off the record so she has no story until/unless it is confirmed by someone else."
The treasurer's office responded accordingly, telling Dalrymple that anyone who could potentially confirm or deny was out of the office. That, in turn, put Dalrymple out of luck on getting a pre-event breaking news scoop. 
Two days later, on April 27, Huller e-mailed a final copy of the press release written by KKR — but released by the treasurer's office — to Schmidt.
"The attached has room for your seal and media contact," Huller wrote. "Thanks for everything. I am so upset I cannot join."
Metadata from the attached Word document obtained by DeSmogBlog confirms the release originated from Huller's work computer.
That press release was distributed to Dalrymple and other reporters on the afternoon of April 29, e-mails show. It went up that same day on the treasurer's office website.
On April 30, Schmidt e-mailed Huller a thank-you note, exclaiming "it was a great day!"
Huller responded, "I'm so glad to hear that. I have seen a little of the media coverage and photos. Thanks so much for everything!!" 
State Treasurer Schmidt Flies in
KKR

Private Plane

After the April 29 tour of Bakken oil country in Watford, ND, state treasurer Schmidt accompanied Petraeus — along with KKR's Ari Barkan and Vance Serchuk — on a private plane to Bismarck, ND. They were off to a Petraeus speaking engagement with the North Dakota National Guard.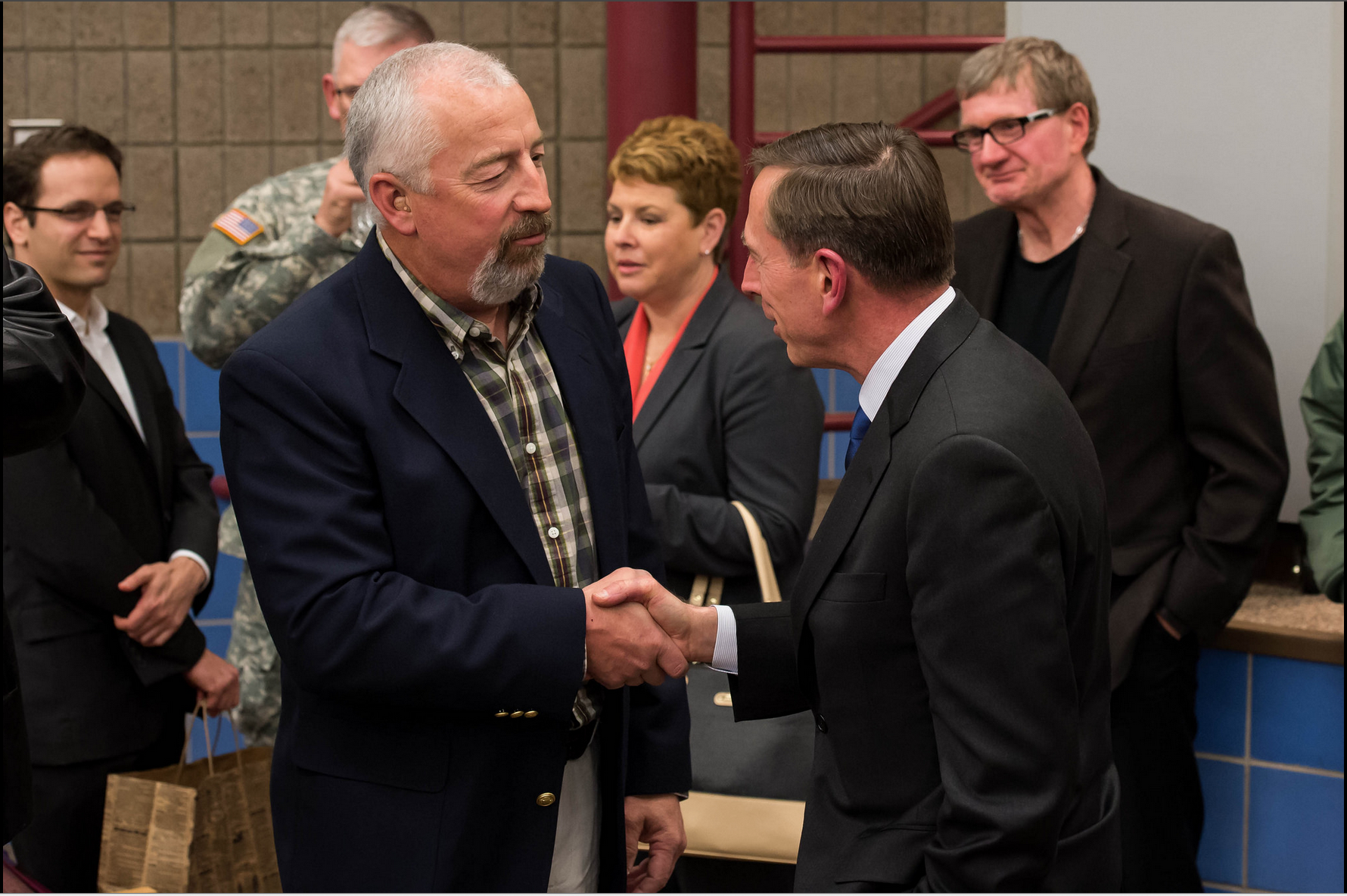 North Dakota Treasurer Kelly Schmidt (center) and David Petraues (front right); Photo Credit: North Dakota National Guard
In an April 17 e-mail, Barkan relayed that KKR's legal counsel requested for Schmidt to obtain legal clearance to ride on KKR's private jet from Watford to Bismarck with the rest of the KKR team. Sans clearance, Barkan said it could potentially be perceived as a legal conflict of interest.
"It would our preference if we have something in writing from legal counsel outlining the facts (i.e. use of private plane to visit x,y,z provided by KKR who has/may have business before her, etc.) citing the statute/rule that permits her to accept the plane ride along with [their legal counsel's] opinion that it does not violate any conflict of interest or fiduciary responsibilities," wrote KKR's legal counsel.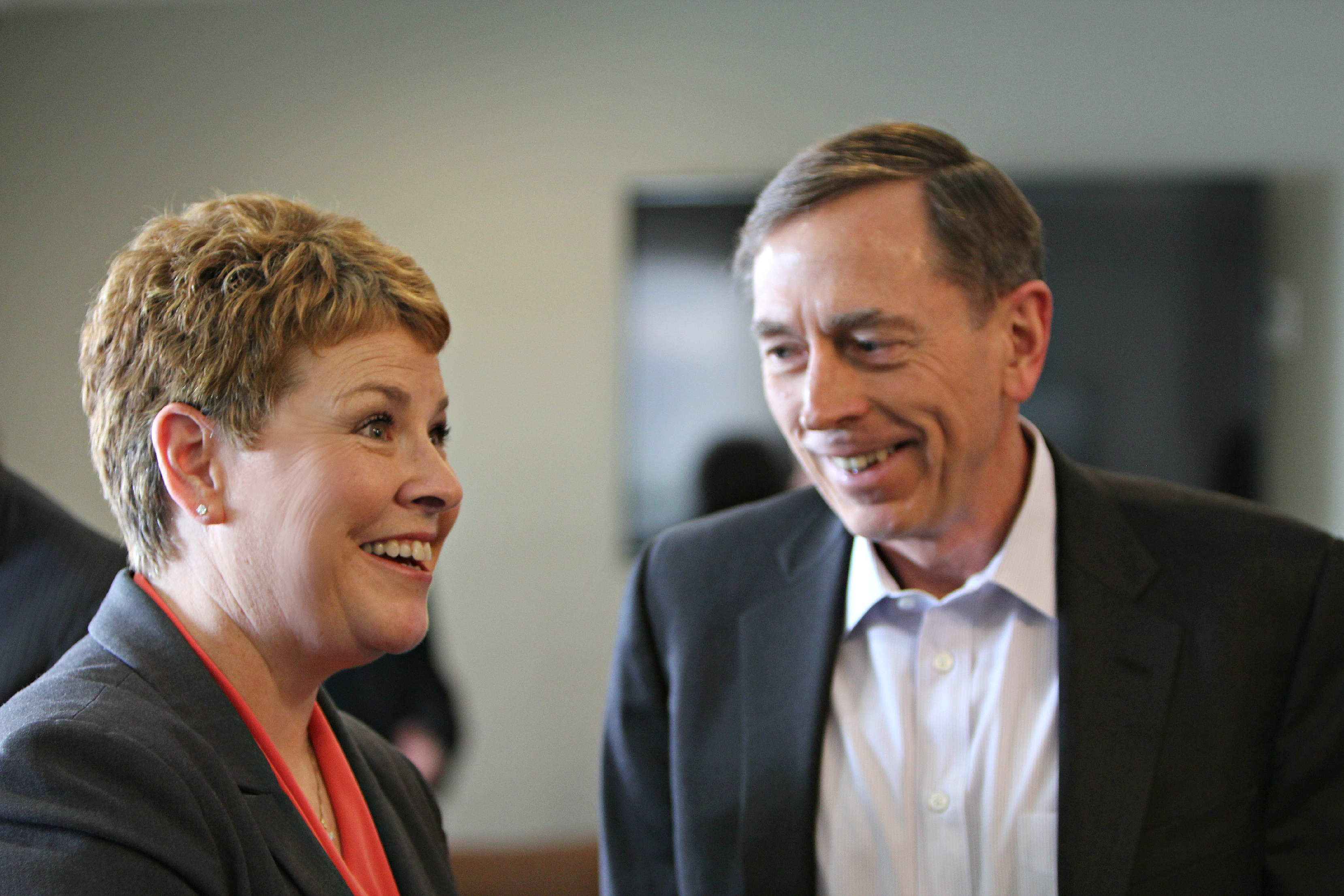 Photo Credit: Office of North Dakota State Treasurer, obtained via ND Open Records Statute.
Thirty minutes later, Schmidt forwarded the request to North Dakota Assistant Attorney General Janilyn Murtha and asked her for help. Just over two hours later, Murtha sent out a one-page legal clearance for Schmidt.
"Given that KKR does not have any current or pending business relationship with the [North Dakota State Investment Board] the conflict of interest provisions of the aforementioned code of conduct and associated fiduciary responsibilities are not implicated by the benefit described herein," Murtha wrote.
"If in the future the NDSIB considers entering into a business relationship with KKR, and Treasurer Schmidt is then an acting board member, she may bring the prior contact with KKR to the attention of both the board and legal counsel and determine at that time if a conflict exists."
Ten minutes later, Schmidt replied to Murtha via email, joking about Murtha's verbosity. "Looks good to me…it's a good thing you Lawyers are not paid by the word! lol"
Petraeus Offers Business Partnership
Not discussed in Murtha's legal memo, but well known to KKR: on April 30 — the day after Schmidt flew in a private jet with KKR officials — Petraeus and his KKR colleagues had a meeting with the investment director and the land commissioner of the North Dakota Department of Trust Lands.
Schmidt sits on the board of the Department of Trust Lands and an e-mail shows she received an invitation to that same meeting with KKR.
Trust Lands Investment Director Jeff Engleson told DeSmogBlog that Schmidt did not end up attending that meeting, nor did they discuss prospective business deals with KKR during it.
Jeff Engleson; Photo Credit: North Dakota Retirement and Investment Office
"There was no agenda for the meeting, nor was any specific business deal discussed," said Engleson in an e-mail. "Our discussion was general in nature and covered what this office does, some of the investments KKR manages for entities like us, the booming oil industry in ND, and some of Petraeus' experiences at war and as the director of the CIA."
But on May 6, about a week after the meeting, Petraeus sent a letter to North Dakota Trust Lands Commissioner Lance Gaebe.
In the letter, Petraeus invited Gaebe to visit KKR's Manhattan office. Why? To talk business.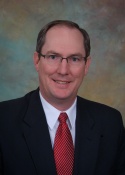 Lance Gaebe; Photo Credit: North Dakota Department of Trust Lands
"On the business side, we could very much welcome the opportunity to partner with you and explore how we might be supportive, whether that is in the credit space or another area," Petraeus wrote. "I would also be delighted to host you on a future visit to New York. I hope you will let me know when that might be possible."
Engleson told DeSmogBlog that Gaebe has no plans to take Petraeus up on the offer.
Conflict of Interests in Conflicts of Interest Review?
Also unspoken of in Murtha's legal clearance: she serves as legal counsel for the North Dakota Retirement and Investment Office's Teachers' Fund for Retirement's board of directors, an arm of the North Dakota State Investment Council about which she wrote the conflicts of interest review.
Schmidt sits on both the state investment board's board of directors and the fund for retirement's board — the latter alongside Murtha — by legal mandate. 
ND Treasurer Kelly Schmidt; Photo Credit: ND State Investment Council
The North Dakota Attorney General's Office denied a request for comment on whether Murtha had a conflict-of-interest in giving Schmidt legal clearance.
Questioned about these ties and potential conflicts of interest, Schmidt avoided offering a direct answer. But she did provide a statement about Petraeus' visit:
It was an honor to host General Petraeus during his visit to North Dakota. The people he met helped him better understand the challenges and opportunities that have come with the state's robust economy. In North Dakota we are known for extending our legendary hospitality to everyone. We believe we all can learn from public-private dialogue, especially from a great American leader like General Petraeus, who has such a significant professional background in infrastructure development and public safety.
Kristi Huller, KKR's director of communications for the Americas, also provided a response when asked about this set of circumstances. 
"When we visit a state, it is customary to visit with investment staff to improve our understanding and knowledge about the things they are focused on and share ideas on global developments," said Huller. "This was widely publicized and the invitation, travel and events were done in accordance with applicable state and federal rules."
But Tyson Slocum, director of the Public Citizen Energy Program, believes the e-mails and letters raise red flags and push the boundaries of ethics laws.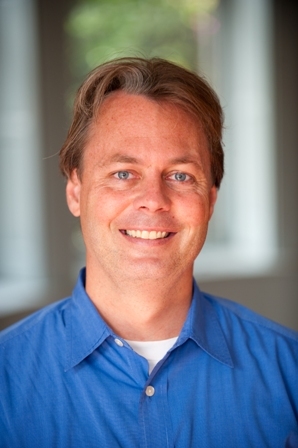 Tyson Slocum; Photo Credit: Twitter
"The documents appear to reveal a collusive relationship between public officials and the oil industry, raising questions about whether the public interest is being served in North Dakota. KKR's efforts to influence North Dakota officials appear to violate ethics laws," Slocum said.
Rolling out the Red Carpet
Don Morrison, executive director of Dakota Resource Council, which recently released a 30-minute documentary titled "This Is Our Country: Living with the Wild West Oil Boom," told DeSmogBlog what unfolded during the Petraeus visit is a case study emblematic of the daily reality in North Dakota.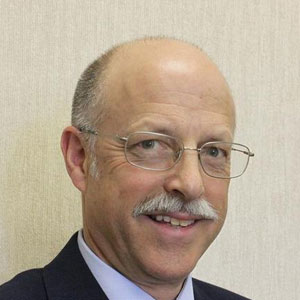 Don Morrison; Photo Credit: Dakota Resource Council
"The actions of State Treasurer Kelly Schmidt unfortunately have become the norm for our current state officials," he said. "They jump at the chance to roll out the red carpet for oil industry leaders and systematically ignore the growing impacts of fracking the Bakken on people and livelihoods."
Photo Credit: Office of North Dakota State Treasurer, obtained via ND Open Records Statute