This morning, a District Attorney in Massachusetts made history as he recognized the "necessity defense" of climate-related civil disobedience, and reduced the charges for two activists charged in their Lobster Boat Blockade.
Some quick background. Back in May 2013, Ken Ward and Jay O'Hara boarded their lobster boat, navigated to the shipping channel at the coal-fired Brayton Point Power Plant in southeastern Massachusetts, and dropped anchor. For six hours, the two climate activists and fishermen blocked the "Energy Enterprise" steam ship from delivering Appalachian coal from reaching the power plant.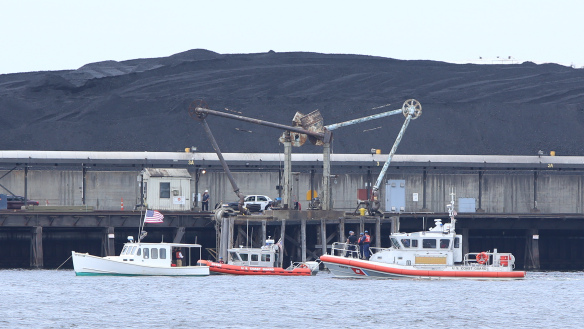 The "Henry David T," Ward and O'Hara's boat, blockading the coal ship. Photo: LobsterBoatBlockade.org
The two were arraigned later in the year on four charges in relation to their act of civil disobedience, including conspiracy.
This morning, Ward and O'Hara were due in court, and their lawyers — along with a number of climate experts in Fall River to present testimony to the trial — had intended on using the "necessity defense" to argue that their actions were necessary to combat the greater threat of climate change.
Ward and O'Hara had sought to become the first American climate activists to use this "necessity defense", arguing that "the blockade was necessary in light of the imminent threat of climate change." They had planned to call former NASA climatologist James Hansen and environmentalist Bill McKibben to the stand as expert witnesses.
Scheduled for two days, the court proceedings were over in a less than an hour, as Bristol County District Attorney Sam Sutter immediately dropped the conspiracy charge, and reduced the other charges to civil infractions.
"The truth is that taking these sorts of actions is necessary in light of the drastic news that continues to be described by the science. This decision by the District Attorney is an admission that the political and economic system isn't taking the climate crisis seriously, and that it falls to ordinary citizens, especially people of faith, to stand up and take action to avert catastrophe," said O'Hara.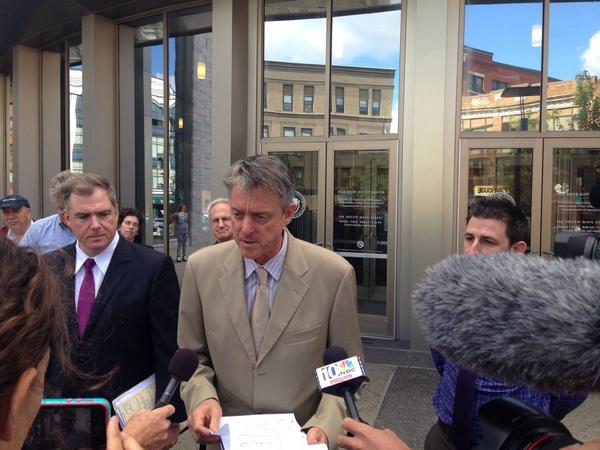 District Attorney Sam Sutter explaining his decision. Photo: Wen Stephenson
"I'm sending a message that this was an act of civil disobedience," DA Sutter told the crowd gathered outside of the courthouse. "I'm not at all disputing that the individuals were charged, but this was the right disposition, it was reduced to a civil infraction, it was civil disobedience after all, and restitution is going to the Town of Somerset in full, and part of the state police's expenses will be paid for, so this is about as good and reasonable a disposition as could be reached."
Sutter concluded, "Climate change is one of the gravest crises the planet has ever faced. The evidence is overwhelming and it keeps getting worse. So we took a stand here today, the Bristol County District Attorney's Office."

District Attorney Sam Sutter holds up a copy of Bill McKibben's latest Rolling Stone article, calling for climate action. Photo: Peter Bowden
Here is an informal transcript of DA Sutter's comments outside of the courthouse, transcribed from video by Alison Nihart of the LobsterBoatBlockade.
"The decision that Assistant District Attorney Robert Kidd and I reached today was a decision that certainly took into consideration the cost to the taxpayers in Somerset, but was also made with our concern for their children, the children of Bristol County and beyond in mind. Climate change is one of the gravest crises our planet has ever faced. In my humble opinion, the political leadership on this issue has been gravely lacking.

I am heartened that we were able to forge an agreement that both parties were pleased with and that appeared to satisfy the police and those here in sympathy with the individuals who were charged. I am also extremely pleased that we were able to reach an agreement that symbolizes our commitment at the Bristol County District Attorney's Office to take a leadership role on this issue.

[applause]

It's very inspiring to me and I will carry that with me in my heart. Thank you.

Question: [inaudible] will be an example for across the country…

I certainly will be in New York in two weeks, how's that? I've been carrying around Bill McKibben's article in Rolling Stone.

[applause]

I'm sending a message that this was an act of civil disobedience. I'm not at all disputing that the individuals were charged, but this was the right disposition, it was reduced to a civil infraction, it was civil disobedience after all, and restitution is going to the Town of Somerset in full, and part of the state police's expenses will be paid for, so this is about as good and reasonable a disposition as could be reached.

Climate change is one of the gravest crises the planet has ever faced. The evidence is overwhelming and it keeps getting worse. So we took a stand here today, the Bristol County District Attorney's Office."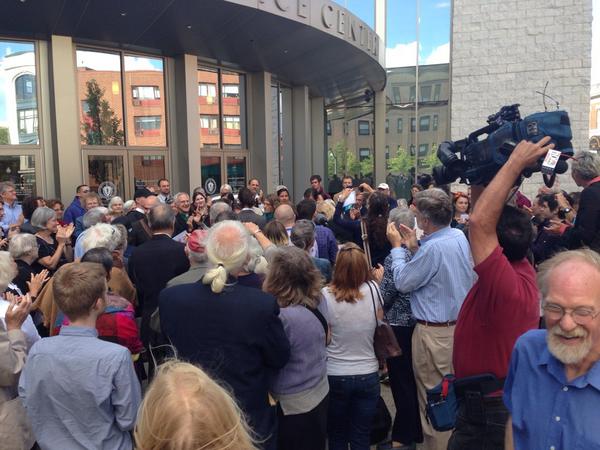 A crowd of over 100 gathered outside of the Fall River Justice Center. Photo: Emily Kirkland, BetterFutureProject.org
Speaking after the announcement, Ken Ward said, "By dropping the criminal charges against us and stating that 'political leadership on this [climate] issue has been gravely lacking,' DA Sutter in effect accepted our necessity defense. The climate crisis is so terrible and so fast that it overwhelms ordinary political avenues. Even now, as the West Antarctic ice shelf is in unstoppable collapse, the Brayton Point plant is increasing the amount of coal it burns. Protest works, indeed protest may be the only thing that can save us." 
Top photo credit: Peter Bowden