An avalanche of anti-fracking activity has swept over Britain this week. It seems each day brought with it another blow to the prospect of a swift shale revolution.
First, in an unexpected u-turn, the government agreed to ban fracking in national parks during Monday's Infrastructure Bill debate. This represents a direct reversal of the policy it declared last year which allowed fracking in national parks under "exceptional circumstances".
And while a moratorium on fracking was overwhelmingly rejected by MPs during the debate, this hasn't stopped others from taking matters into their own hands.
On Tuesday it was revealed that Liberal Democrat MP Tessa Munt resigned as a parliamentary aide to Business Secretary Vince Cable after voting against the government's position on fracking.
Unwilling to compromise her opposition to fracking she said her views "cannot be reconciled with the government on this matter" and that she will "continue to campaign vocally" against fracking.
Public Pressure
The next day, Scotland announced its own moratorium on fracking. This will allow time for it to launch a full public consultation into shale gas extraction as well as commission a full public health impact assessment before it makes a decision on whether or not to proceed.
At the same time the Welsh first minister Carwyn Jones said he believed the Welsh parliament should consider a moratorium on fracking.
It seems then, that much like the high-pressure fluid injected to fracture our rock, mounting pressure from politicians and campaigners is creating cracks throughout Britain.
Indeed, it is no longer just the 'Green Blob' that opposes fracking.
Former Conservative environment secretary Caroline Spelman gave her backing to the proposed fracking ban last week and two Lancashire Tories even voted in favour of the moratorium.
So how much longer can David Cameron continue to defend the benefits of "going all out" for shale?
Sorry to say, but fracking probably won't provide a seamless bridge to a greener future.
They say fracking is supposed to replace the nation's coal, right? But according to the cross-party Environmental Audit Committee's (EAC) report this week, by the time UK shale gas comes on stream in the mid-2020s, the UK's coal-fired power stations are likely to have already closed for other reasons. Effectively there will be no coal left for shale to replace.
With support from both conservative and liberal MPs, the EAC ultimately concludes that fracking should be banned because it is incompatible with the UK's climate targets.
Corporate Bidding
Yet onward we march. One explanation for the government's love for shale might have something to do with its cozy relationship with industry.
As former British climate envoy John Ashton aptly said at an anti-fracking rally outside Parliament on Monday: "Too many MPs still think it's more important to do the bidding of those Party machines and of their corporate friends than it is to listen to the people who put them in our Parliament."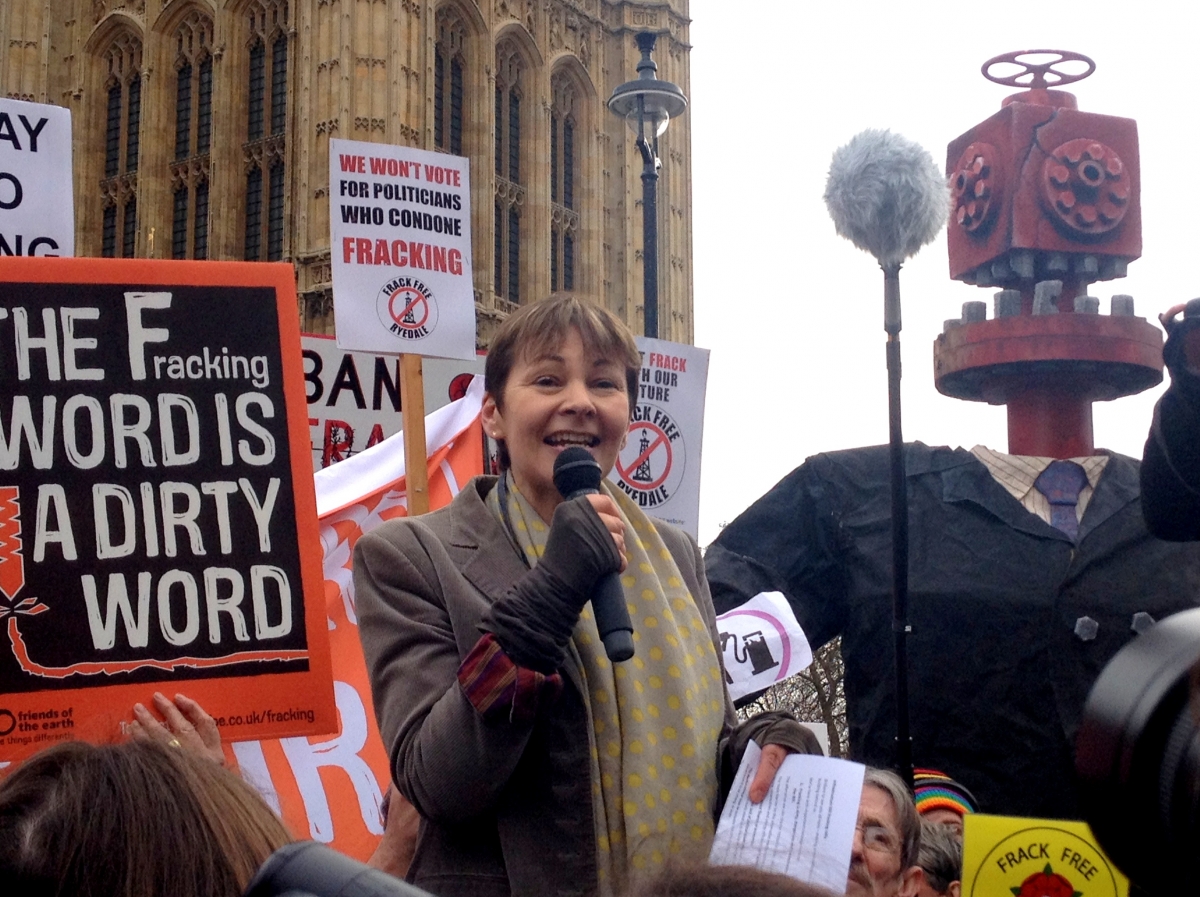 Caroline Lucas speaks at an anti-fracking rally. Photo: Kyla Mandel
This was echoed by Green Party MP Caroline Lucas: "The dysfunctional love-in between the fossil fuel industry and the politicians is as strong as ever. The sweet nothings are evident throughout the Infrastructure Bill."
Sure enough this quickly became clear throughout Monday's two-hour debate. Department of Energy and Climate Change secretary Amber Rudd barely wasted a breath dismissing inconvenient amendments.
"It is absolutely essential that we do also maximise economic recovery [of oil and gas]," she said. And, describing fracking as "a win-win for the UK" Rudd swiftly said amendments were "not necessary" to the trespass law which will allow fracking underneath homes.
Leaked Letter
But, just in case you needed further convincing of government working hand-in-hand with industry to make fracking happen, look no further than the leaked letter written by Chancellor George Osborne.
In it, he requests that ministers make fracking a priority. Top of his list of demands is to "respond to the asks from Cuadrilla".
Cuadrilla happens to be the company currently seeking to frack in Lancashire where the UK's first planning applications for full-scale fracking are being considered.
But these plans saw a significant setback this week. After already being advised by planning officials to refuse the proposals, Lancashire county councillors delayed the decision for another eight weeks.
If Lancashire does in fact refuse the planning proposals, that will be yet another nail in the fracking coffin. How much longer until it's sealed for good?
Photo: Number 10 via Flickr