By Steve Horn and David Goodner
A DeSmog investigation has uncovered the identity of a land agent and the contract company he works with that allegedly offered to buy an Iowa farmer the services of two teenage sex workers in exchange for access to his land to build the controversial proposed Dakota Access pipeline, owned by Energy Transfer Partners.
The land agent who allegedly made the offer is Stephen Titus, a Senior Right-of-Way Agent who works for the Texas company Contract Land Staff, which was contracted by Energy Transfer Partners.
No news outlet has, until now, established the identity of the land agent on the tape, or the contracting company he works for. DeSmog is naming the land agent and the company after an investigation into the available evidence and publicly accessible information, as well as evidence from the farmer who first made the allegation and a second source who has heard an audio recording of the conversation when the sex offer was made.
The Iowa Department of Criminal Investigation also has a copy of the conversation Tweedy recorded with Titus, and has opened an investigation, according to the Des Moines Register.
Hughie Tweedy, the Iowa landowner who secretly recorded the exchange, told DeSmogBlog on May 19: "Steve Titus. I think the name of the company is Contract Land Staff."
Ed Fallon, a former Iowa state lawmaker, environmental and property-rights activist and independent radio show host heard Tweedy's audio recording on May 13 and told DeSmogBlog immediately afterwards that the land agent's name was "something Titus."
On May 22, DeSmogBlog asked Fallon to verify if he remembered the land agent giving his name as Stephen Titus.
"I believe that was his name. I'm pretty sure. It was hard to hear over the phone," Fallon said.
Steve Titus' LinkedIn profile states he currently works for Contract Land Staff out of Stockport, Iowa, located just a few miles from Tweedy's Lee County farm and the Montrose town at which Titus allegedly made his offer. Titus, pictured above, has lived in Iowa since July 2014 according to his LinkedIn, roughly when news of the pipeline plan first broke in Iowa.
Titus' LinkedIn profile includes a job description fitting the role he played when contacting Tweedy: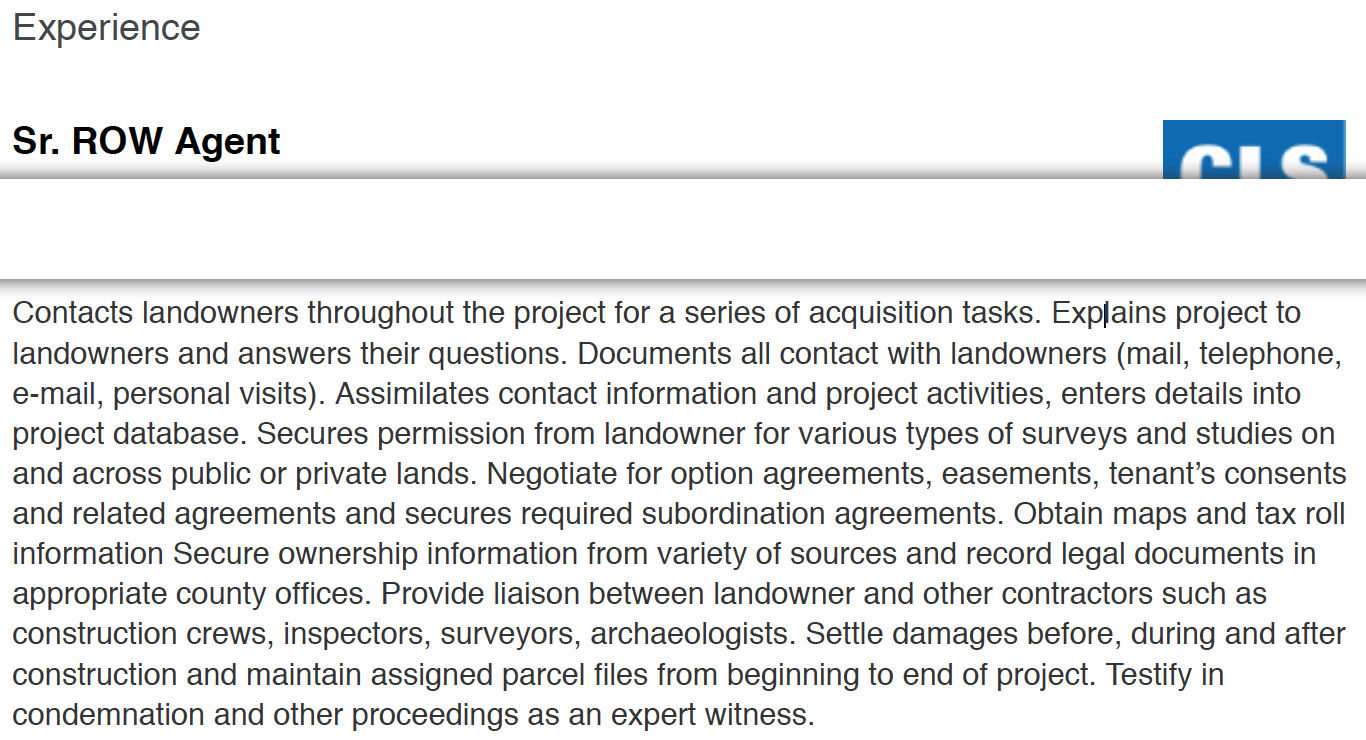 Image Credit: LInkedIn
Among other jobs he held before working at Contract Land Staff, Titus worked for the company Golden Field Services out of Watford City, North Dakota, which is located in the heart of the Bakken Shale basin. Energy Transfer's proposed Dakota Access pipeline runs from the Bakken, straight through South Dakota and Iowa and ends in Patoka, Illinois.
"Responsible for negotiating row with no right to immanent domain," Titus wrote (sic) for his job description at Golden Field Services on LinkedIn. "Negotiated permits and routing with [North Dakota Department of Transportation] & North Dakota trust lands. Coordinated with landowners and surveyors before & during construction and cleanup."
DeSmogBlog attempted to contact Titus for comment multiple times, but never received a response.
Several newspaper and television reporters have listened to Tweedy's recording and have confirmed Tweedy's basic narrative, including the Little Village Magazine, Cedar Rapids Gazette, and KCRG TV news. But the identity of the land agent and his company wasn't known until now. 
Contract Land Staff
Contract Land Staff is a contracting company that works at the behest of pipeline corporations like Energy Transfer Partners to secure easements and right-of-way agreements with landowners to open up private farmland for proposed pipelines.
"CLS is known for quickly mobilizing talented Right of Way personnel for large-scale projects throughout the U.S.," explains its website. "From strategic planning to project completion, today's CLS is a full-service provider for all your land asset management needs."
The company touts its technological expertise in obtaining GIS mapping data with complex software and putting it to use to secure land for pipeline corporations seeking to build oil pipelines across both the U.S. and Canada.
Landmen like Titus have played a controversial role since the rise of the hydraulic fracturing ("fracking") boom in the U.S.
As first reported here on DeSmogBlog, fracking giant Range Resources admitted at a public relations conference in Houston in 2011 that its landmen and community affairs staff utilize psychological warfare (PSYOPs) techniques in Pennsylvania's Marcellus Shale basin. Landmen also came under the spotlight in the Hollywood film "Promised Land," in which Matt Damon starred as a landman.
According to documents up on the Township of Montville, New Jersey's website, Contract Land Staff is also working to secure right-of-way agreements and easements from landowners there on behalf of Pilgrim Pipeline Holdings LLC, owner of the controversial proposed Pilgrim Pipeline. Like Dakota Access, Pilgrim Pipeline is slated to carry oil obtained via fracking the Bakken to market.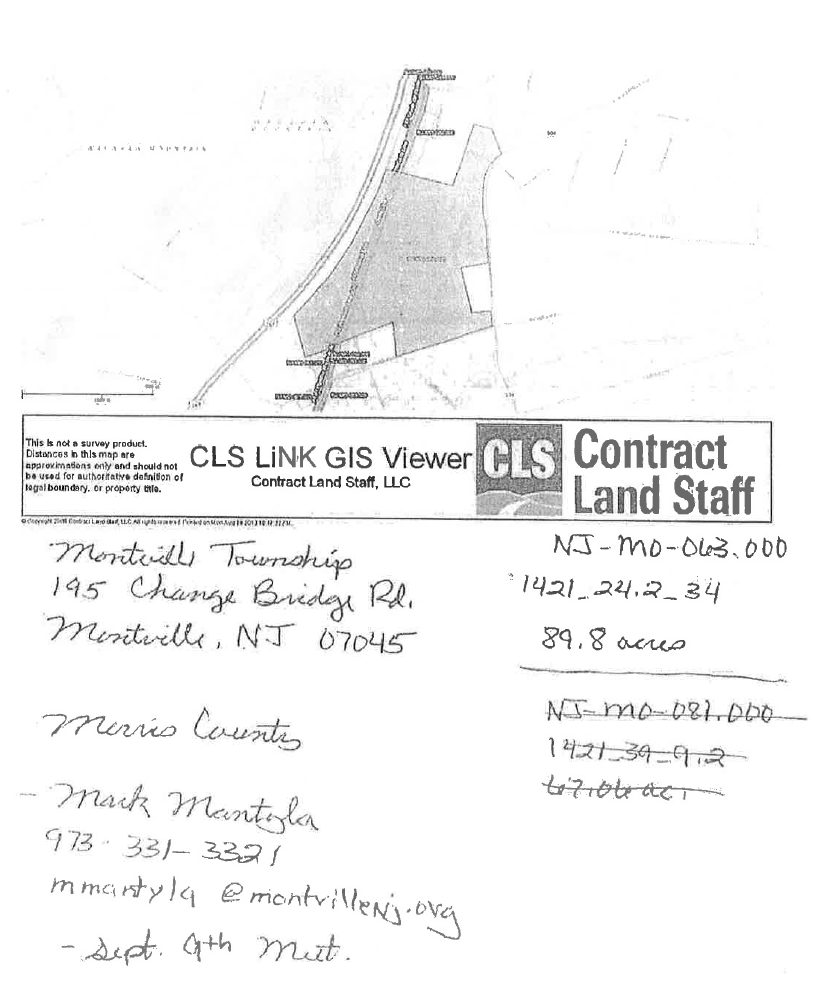 Image Credit: Township of Montville, New Jersey
A July 2014 Jacksonville Journal Courier article explained that Contract Land Staff was sending land survey requests to central Illinois landowners on behalf of the Dakota Access pipeline, a depiction that the company is working in multiple states on behalf of Energy Transfer Partners.
Representatives from Contract Land Staff did not respond to questions sent by email about Titus from DeSmogBlog.
Criminal Investigation Opened
Alex Murphy, a spokesman for the  Iowa Department of Criminal Investigation in Des Moines, told the Des Moines Register: "I can confirm that we are investigating these allegations. We were asked to assist with the investigation by the Lee County Attorney."
DeSmogBlog attempted to contact Murphy for comment multiple times, but never received a response.
Sex trafficking near North Dakota's Bakken Shale oil fields is on the rise and the U.S. Federal Bureau of Investigation (FBI) has opened a field office in oil country to combat it. Pipeline fighters, as well as fracking critics, are increasingly drawing connections between the exploitation of public resources, private property, indigenous people, and women.
Photo Credit: LInkedIn