This year, two energy companies that have each received billions of dollars in subsidies and financial support from the federal government are going into bankruptcy. You might think, in this post-Solyndra political environment, that conservative commentators and politicians would be lining up at the Fox News studios to call for some heads to roll.
But, no. Even though these companies have benefited from enough federal subsidies to make the Solyndra loan look like pocket change, there's no outrage. Because they are coal companies (not solar), the story isn't about how the federal government spent decades propping them up, it's about how the president's Clean Power Plan is taking them down.
 
For decades, however, coal companies have taken advantage of vast subsidies for extracting coal from public lands. The deals for mining this taxpayer-owned coal from American public lands were so good that some of the world's biggest coal companies have relied on the cheap leases to survive as demand plummeted and the industry melted down.
A new report released last week by Greenpeace reveals just how big a part of Big Coal's business federally subsidized coal has become. 
In "Corporate Welfare for Coal," Greenpeace reveals that the vast majority of coal production for three of the country's biggest mining companies occurs on American public lands. Peabody Energy, Arch Coal, and Cloud Peak Energy together account for roughly 40-percent of all the coal mined in the United States. And most of that coal, by a long margin, is federally subsidized public coal, largely from the Powder River Basin in Wyoming, Montana, and the Dakotas.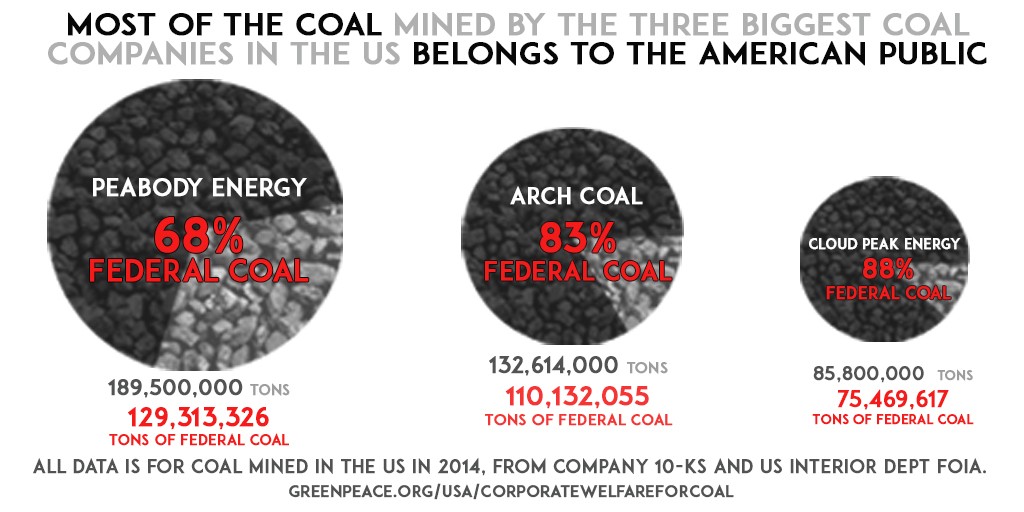 Even though this is taxpayer-owned coal mined from public lands, the federal government doesn't make it easy to find out any details about how much is extracted by what companies, and how much revenue is produced.  Which makes the findings of this "Corporate Welfare for Coal" report so valuable. The Greenpeace researchers, led by Joe Smyth, filed Freedom of Information Act requests with the BLM, and from the data extrapolated just how much of each company's coal production depended on public lands.
 
As you can see in the graphic above, public-owned coal accounted for 68-percent of Peabody Energy's total U.S. coal production, 83-percent of Arch Coal's, and a whopping 88-percent of Cloud Peak Energy's total coal production. All together, federal coal accounted for 77-percent of the total U.S. production from these three leading extractors.
 
That the nation's biggest coal miners complain routinely about federal policies while getting most of their coal from federal land would be, on its own, pretty ironic.
 
"Coal companies like Peabody are biting the hand that feeds, attacking federal policies like the Clean Power Plan even while they depend on federal coal for most of the coal they mine," said Greenpeace Energy Campaign Director Kelly Mitchell.
 
The irony is even greater still. The policies and practices that guide federal coal leases actually provide massive subsidies to the mining companies. In effect, coal companies aren't only biting the hands that feeds—they are biting the hand that feeds them a high quality meal for marked down prices.
How Big Coal Decides What Big Coal Gets from the American Public
After showing how dependent Peabody Energy, Arch Coal, and Cloud Peak Energy are on access to public lands, the "Corporate Welfare for Coal" report goes on to highlight some of the ways that the coal industry itself has come to dominate federal coal management decisions.
 
One example is the "lease by application" process that has been made possible by the positively Kafkaesque decision to decertify the Powder River Basin as a "coal producing region," despite the fact that it is the source of roughly 40-percent of domestic coal production and one of the biggest coal producing regions in the world.
 
This decision to decertify the Powder River Basin was made by a federal-state advisory group called the Regional Coal Team, which advises the Department of the Interior (DOI) and the Bureau of Land Management (BLM). Outside of the formal "coal producing regions," the "lease by application" process rules, and this allows for the companies to more or less carve up the region into lease tracts that suit them best with little accountability and rare competition.
 
Tom Sanzillo, formerly New York State's first deputy comptroller who now conducts research for the Institute for Energy Economics and Financial Analysis, describes the history of the decertification of the Powder River Basin as a "coal producing region" and its implications in depth in a 2011 report, "The Great Giveaway."
What this means as a practical matter is that rather than having the BLM take the initiative on coal leasing by first deciding whether there is sufficient demand for coal, and then designing tracts to maximize competition, the BLM defers to industry, allowing it to decide whether it wants more coal. Not surprisingly, the industry has designed tracts in ways that allow individual applicants to avoid competition and to demand leasing based on considerations of company share value and strategic positioning in the market.
Industry has succeeded in dodging competition and driving down prices. A Government Accountability Office (GAO) report from 2014 found that roughly 90-percent of the coal lease auctions since 1990 involved only a single bidder. And for the 2.2 billion tons of federal coal that have been sold under the "lease by application" process since President Obama took office, the average price is $1.03 per ton.
 
Even Secretary of the Interior Sally Jewell recognized the ridiculous bargain that companies like Peabody, Arch, and Cloud Peak are getting. "Most Americans would be surprised to know that coal companies can make a winning bid for about a dollar a ton to mine taxpayer-owned coal," Jewell said in a March 2015 speech.
How Big Coal Gets What It Wants For Cheap
In fact, that $1-per-ton figure is on the higher end of the range of actual sales, and in some cases, coal leases from federal lands have been sold for less than $0.01 per ton. In North Dakota, for instance, the GAO report found that every single bid for leases during the period studied was $100 per acre, or "the minimum bid BLM can accept for a lease tract."
Though the Department of the Interior has authority to increase that minimum bid, the amount hasn't been adjusted, even for inflation, since adopted in 1982. The most recent lease of lignite coal from North Dakota—a particularly dirty, highly polluting coal—was sold for just half of a cent per ton.
 
Another quirk of the coal lease process gives mining companies yet another opportunity to cheat the public out of fair compensation. Because coal companies themselves are responsible for estimating the amount of coal in a given lease tract, they can lowball those predictions to offer an even lower bid for "fair market value."
 
The Inspector General for the DOI laid bare the problem in a 2013 report on coal leases:
"Before a lease sale takes place, a mining company explores the site for the existence and extent of coal seams, including the energy content and quality of the coal. The mining company is required to furnish the information to BLM, which helps form the basis of BLM's FMV determination. BLM, however, does not independently verify the data, relying instead on test results supplied by the mining  company."
 
…[A] company could provide incorrect data to BLM, resulting in BLM's undervaluing the FMV and unknowingly accepting a low bid."
One example provided in the Greenpeace report is of a coal lease in Colorado that expanded a Peabody Energy mine. The company estimated 1.4 million tons of coal in that particular lease tract. But after extraction was complete, Peabody reported mining 2.5 million tons from that lease. Even at a lowly $1 per ton bid, that's $1.1 million that Peabody shortchanged the American public.
Even More Subsidies on the Backend
Besides the artificially cheap winning auction bids enabled by a competition-free lease, coal companies use other policy loopholes as additional subsidies for their operations.
One such loophole is the royalty rate reduction, which allows companies to dodge payments to the U.S. Treasury—and to taxpayers—for the coal that they do mine.
 
After the initial lease sale, coal companies are supposed to pay royalties on coal that is extracted and sold. While the coal leases are managed by the BLM, royalties are handled by the Office of Natural Resources Revenue (ONRR). Through clear statutory guidance under the Mineral Leasing Act, mining companies are supposed to pay a 12.5-percent royalty for coal produced from surface mines, like those in the Powder River Basin.
 
In reality, companies have consistently lobbied for and negotiated royalty rate reductions, claiming "financial hardship." A report by Headwater Economics calculated an effective royalty rate of just 4.9-percent for all federal coal mined between 2008 and 2012. That produced revenue of roughly $1.70 per ton, or less than half of what taxpayers were entitled to by Congress's mandate under the Mineral Leasing Act. 
 
Other subsidies are provided at the state level. The state of Wyoming, for instance, allows coal companies to "self-bond" to pay for the mine reclamation that is required by the Surface Mining Control and Reclamation Act. This means that companies like Arch Coal and Peabody Energy don't have to provide any money for a reclamation bond up front.
One report by Carbon Tracker and the Institute for Energy Economics & Financial Analysis last year estimated that self-bonding in the Powder River Basin created an addition subsidy of $0.78 per ton of coal.
 
Self-bonding is an even riskier proposition for the public when you consider the actual financial health of these companies. Arch Coal has already filed for bankruptcy, leaving citizens to foot the bill for the reclamation of massive strip mined projects like the Black Thunder Mine in Wyoming. Peabody Energy is increasingly likely to file for bankruptcy any day now, without ever having pre-paid bonds for mine reclamation.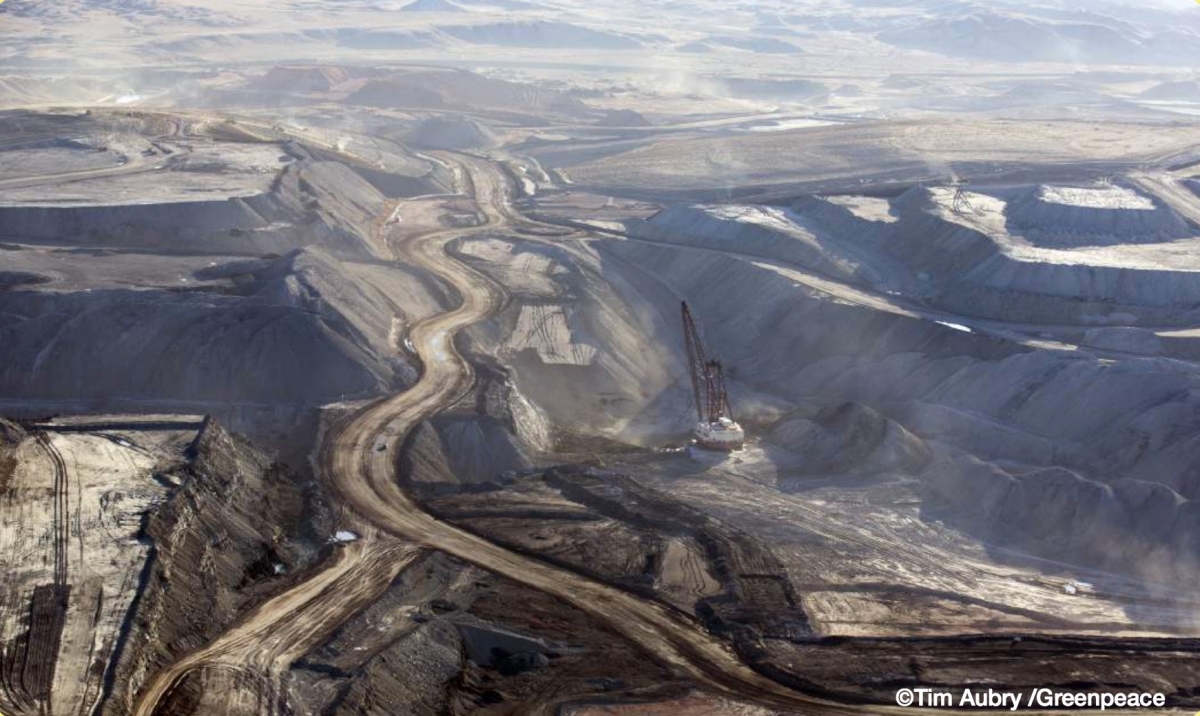 Arch Coal's Black Thunder Mine in Wyoming. Credit: Greenpeace
 
Interior Secretary Jewell brought these concerns to light in recent testimony to the House Natural Resources Committee. "With the increased financial fragility of many coal mining companies, if they are self-bonded that does potentially leave the states and the taxpayers at risk."
 
All told, these various forms of subsidy really add up. How much? The researchers at Carbon Tracker and the Institute for Energy Econoics & Financial Analysis did the math for the Powder River Basin, finding that each ton of coal from these federal lands receives on average about $8 per ton in subsidies. That's anywhere from 8 to 1600 times the amount paid up front for the coal leases.
The Unpaid Costs of Carbon
That $8 per ton figure doesn't include one of the biggest subsidies of all—that coal companies pay nothing for the pollution caused by their product, especially greenhouse gas pollution.
 
This isn't a fringe concept. The International Monetary Fund—that bastion of environmental radicalism—considers the failure to account for climate damages to be a form of subsidy.
 
The federal government encourages agencies to use a social cost of carbon when running benefit-cost analyses on various decisions. Using the government's own mid-range figures (which, it should be noted, can easily be criticized for being far too conservative, as some Stanford researchers recently argued), the Greenpeace report calculates that the federal coal mined by Peabody, Arch, and Cloud Peak in 2014 alone would cause $18.8 billion in climate damages when combusted. (That's $7.7 billion for Peabody Energy; $6.5 billion for Arch Coal; and $4.5 billion for Cloud Peak Energy.)
Keeping It In the Ground
According to a study recently published in the journal Nature, over 90-percent of the U.S. coal reserves must remain unburned in order to keep the planet from warming 2 degrees Celcius, a level that would already create desperate, dire impacts, but which world leaders have declared the ultimate upper limit for preserving any kind of reasonable future for humanity.
 
The good news is that the Department of the Interior and the president have clear authority for ending all new federal coal leases. Though the coal companies will argue publicly that it is their right to mine coal from public lands, privately and to investors, the companies acknowledge that the bonanza could end at any moment. Cloud Peak Energy said as much in recent filings to the Securities and Exchange Commission: "There is no requirement that the federal government must lease its coal."
And, in fact, after decades of below-market coal leases, the DOI is finally signaling that the end may be near. In January, Secretary Jewell announced a moratorium on all new coal leases while the department conducts a comprehensive review.
 
"Even as our nation transitions to cleaner energy sources, building on smart policies and progress already under way, we know that coal will continue to be an important domestic energy source in the years ahead," said Secretary Jewell at the time. "We haven't undertaken a comprehensive review of the program in more than 30 years, and we have an obligation to current and future generations to ensure the federal coal program delivers a fair return to American taxpayers and takes into account its impacts on climate change."
 
Today, the Department of Energy program that was villified by conservatives after the Solyndra failure is turning a profit for the American public, while decades of subsidies amounting to tens of billions of dollars are failing to keep Big Coal afloat.
You might expect Solyndra's critics to applaud the administration's decision to halt leases on public land while the program is reviewed. But instead you'll hear more about the alleged "war on coal"—a "war" that has, in reality, been hosted graciously on American public land with the federal government providing financial support to the supposed enemy.