Before the Flood, Leonardo DiCaprio's new feature length climate documentary, premieres on the National Geographic Channel on October 30th at 9pm EST.
So first things first, go to your DVR or cable app and set a recording. Since it's airing in 171 countries in 45 languages, and also streaming on Netflix and Hulu and elsewhere, you really can't — and shouldn't — miss it.
Here's the trailer to share with friends to entice them to watch now:
Now, I haven't seen the film yet either so I'm just as eager to see what it's actually going to look like as any of you. But based on how 'Before The Flood' combines Leonardo DiCaprio's world-famous talent and passion for climate change action with Fisher Stevens' formidable cinematic skills, it can only be great.
Directed by Academy Award-winning filmmaker Fisher Stevens, Before the Flood chronicles the impacts of climate change and what we must do immediately to confront the challenges, with a heavy focus on solutions — and accountability for climate deniers.
As anyone familiar with DiCaprio's strong stance on climate justice and his role as U.N. Messenger of Peace on climate knows, the emphasis will focus on urgent action and a rapid and just transition from fossil fuels to clean energy. 
Based on the trailer, there's stunning footage of mountaintop removal coal mining, the Alberta tar sands, calving glaciers, destroyed rainforests and more evidence of human influence and suffering. And there's less stunning but equally important footage and interviews about the delayed policy action wrought by climate science denial and industry-funded misinformation.
So tune in on Sunday — and consider taking action right now to ensure everyone sees this important documentary.
5 Ways to Promote 'Before the Flood' Right Now
– Organize a screening party! Invite your friends and neighbors to watch and discuss the film.
 
– Tweet/Facebook/Insta About Before The Flood! Take 2 minutes and send some messages – here are some ready-made messages to make life super easy:
Don't miss @LeoDiCaprio's #BeforetheFlood on 10/30. Stream it online or catch it on @NatGeoChannel. beforetheflood.com #climatechange
#BeforetheFlood @LeoDiCaprio's film airs on @NatGeoChannel 10/30 at 9pm ET. Or stream it for free! beforetheflood.com #climatechange
Set DVR for #BeforetheFlood on @NatGeoChannel 10/30 at 9/8c. Or stream it for free. More info: beforetheflood.com #climatechange
– Or just retweet @DeSmogBlog: https://twitter.com/DeSmogBlog/status/790994448490467328
 
Don't miss @LeoDiCaprio's #BeforetheFlood on 10/30. Stream it online or catch it on @NatGeoChannel. https://t.co/80Y1ndZtsO #climatechange

— DeSmogBlog (@DeSmogBlog) October 25, 2016
– Check out the film's website BeforeTheFlood.com: Learn a ton more about the production, check out behind the scenes footage, as well as take action to fight climate change in your area.
I contributed two pieces to the website exploring The Climate Denial Industry and the Top 10 Climate Deniers so please check those out and let me know what you think. 
– Share other coverage and encourage everyone to check out the sneak-peeks before the big premiere:
Exclusive Clip: DiCaprio's Climate Doc Exposes Destruction of Rainforest for Palm Oil as Huge Driver of Global Carbon Emissions  (EcoWatch.com)
7 Key Scenes in Leonardo DiCaprio's Climate Film 'Before the Flood' (Carbon Brief)
Seen other coverage we should include here? Comment below or email us.
*Full disclosure: The Leonardo DiCaprio Foundation is a funder of DeSmogBlog's work.*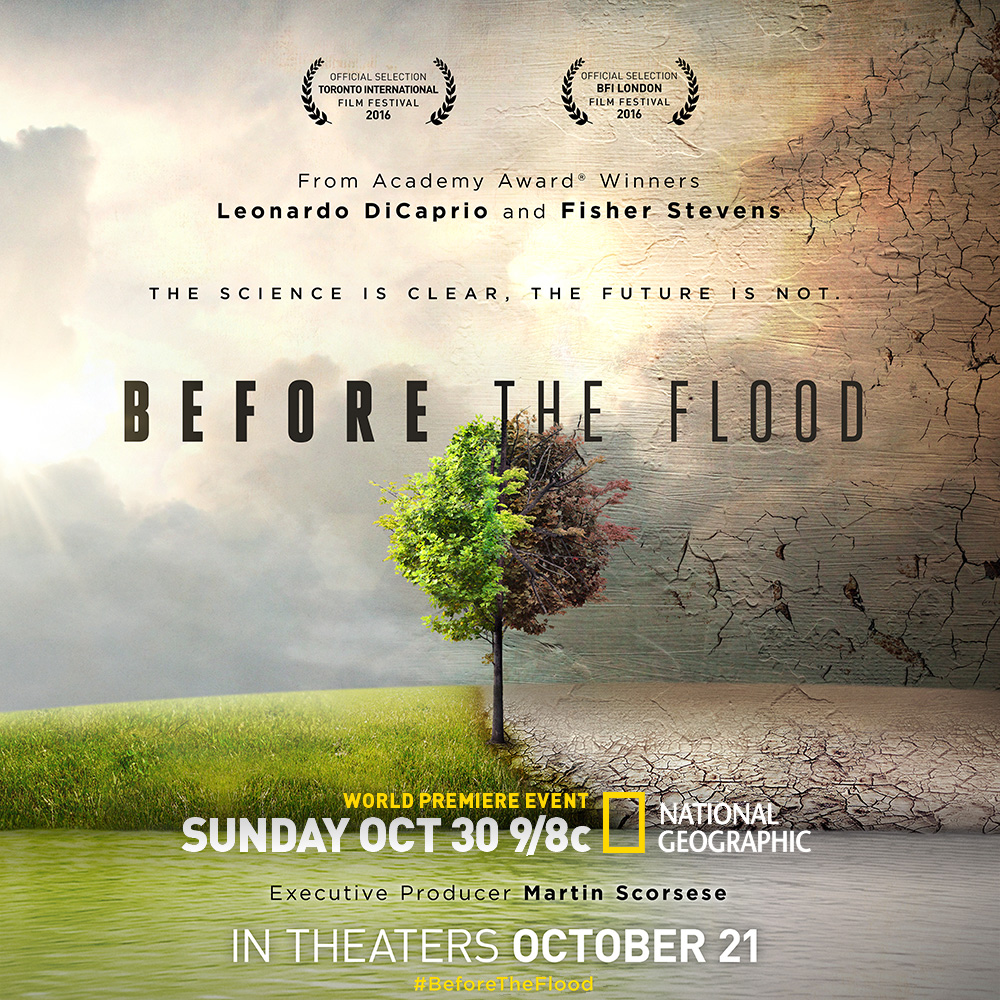 Image credits: BeforeTheFlood.com and National Geographic Channel