UK financial giants HSBC, Barclays, and Aviva all have significant financial stakes in the company behind a controversial tar sands oil pipeline approved by Canadian Prime Minister Justin Trudeau last week, new analysis reveals.
Financial data seen by DeSmog UK shows HSBC holds almost $118 million (£93.7m) worth of shares in Kinder Morgan, which owns the recently approved Trans Mountain pipeline.
Barclays' shares are worth around $48 million (£38m), and Aviva holds $27 million (£21.4m) worth of stock.
Tar sands pipelines are bad news for indigenous communities and the climate, but they can be big business for investors based thousands of miles away from the environmental destruction they bring.
You've probably heard of the Keystone XL pipeline, that Obama finally vetoed in his final year in office. You may have heard of the Dakota Access Pipeline, with Native American communities holding their ground at Standing Rock to prevent it destroying their land and water resources.
Lesser known is the Kinder Morgan Trans Mountain pipeline. Trudeau disappointed many local residents when he approved a controversial extension to the pipeline in what was seen as an early test of his commitment to tackling climate change.
As DeSmog Canada reported, the expansion project will increase oil transport capacity from 300,000 barrels of oil per day to 890,000 barrels per day, and open up the tar sands market to ever further-flung corners of the world.
Trudeau also approved an application to increase capacity of the Enbridge Line 3 pipeline from 390,000 to 915,000 barrels per day.
According to Environment and Climate Change Canada, the two pipelines combined represent an increase of 23 to 28 megatonnes of carbon dioxide equivalent released into the atmosphere.
And some big names in British business are helping to bankroll it.
Millions at Stake
Kinder Morgan's stock jumped three percent when Trudeau announced the government was giving the pipeline expansion the go ahead.
Data given to DeSmog UK by think tank InfluenceMap shows millions of Kinder Morgan shares are controlled by HSBC, Barclays, Aviva and the companies' subsidiaries.
Lloyds bank and the Royal Bank of Scotland also previously held shares in the company. 
Such assets seem to jar with the companies' strongly-worded climate commitments.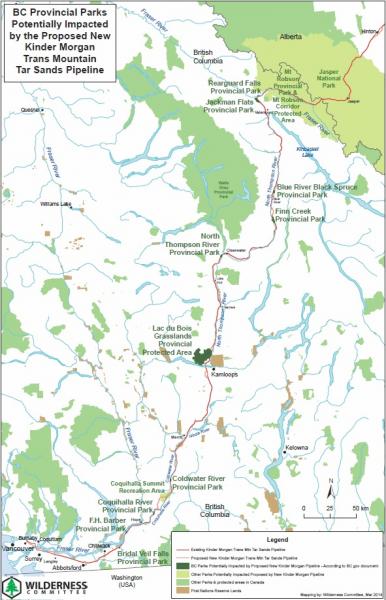 HSBC's statement on climate change says it is committed to "making financial flows consistent with a pathway to low greenhouse gas emissions".
Barclays' sustainability statement says it is committed to "minimising our operational environment impact when and wherever possible".
And Aviva's strategic response to climate change claims the company "will divest highly carbon-intensive fossil fuel companies where we consider they are not making sufficient progress towards the engagement goals set".
It's hard to see how holding millions of shares in a company that is building a major tar sands oil pipeline extension fits with any of those pledges.
These big UK high street names are joined by some familiar fossil fuel companies.
ExxonMobil's investment arm holds $10 million (£7.94m) of Kinder Morgan stock. BP's investment wing owns $9 million (£7.15m) of shares, and Shell's owns stock worth about $4 million (£3.18m).
Tar Sand Asset Management
While those shares clearly help Kinder Morgan bankroll its activity, they do not count as an 'investment' as far as the UK companies are concerned.
Barclays told DeSmog UK that it is "holding certain shares on behalf of clients (for hedging etc), and to hedge exposure against client facing transactions."
Essentially this means that a client – possibly a hedge fund or a group of investors – has told Barclays to buy shares in a particular type of company to offset some shares they're buying elsewhere in the market.
In other words, investors could be playing gas and oil off against each other (hoping one will go up, but covering themselves if the other does). In which case, the Kinder Morgan stock would be the 'oil' part of the equation.
Barclays is keen to stress that "this does not amount to an investment made by Barclays".
Of course, Barclays doesn't do this for free. They're still making money by investing in Kinder Morgan on others' behalf by taking a flat free for managing the asset.
And there's no particular reason why they couldn't choose another company on behalf of their clients, such as one that hasn't just had a big new tar sands pipeline approved.
Aviva's situation also isn't straightforward.
Well-known high street brand Aviva has over 30 million customers in the UK. While they are related, it's Aviva Investors that holds the stock.
Confusingly, Aviva Investors is an asset manager, not an investor. In other words, it manages various financial products that its clients buy.
In this case, it holds the stock as part of what's known as a passive tracker fund, it told DeSmog UK. These funds buy shares from a wide range of companies that the fund administrator – not Aviva, in this case – puts into its index.
The idea is that these passive funds track the market; so if the whole market goes up or down, so do the value of the shares. It's a low-cost, low-effort, way to invest.
Aviva told DeSmog UK that anyone buying this kind of product should already be aware that they may be buying stock in companies such as Kinder Morgan.
If people want to make sure they invest more ethically, Aviva says it has products for that as well and they can buy those instead.
Because it offers these products, Rob Davies, Aviva's head of PR and thought leadership, said holding these shares is "not in conflict" with the company's position on climate change.
"It's just that we're not the investor. So ultimately while it technically looks like it belongs to us, it actually doesn't. We're managing it on behalf of investors", he said.
HSBC did not respond to repeated requests for comment.
Human and Environmental Cost
It's clear that these companies' practices are still a long way from matching their words on climate change.
Christian Aid recently released a report that showed UK banks were not prepared to shift their high carbon investments in light of a global commitment to tackle climate change.
Ken Boyce, Christian Aid's head of private sector engagement, said "it's a scandal that UK High Street banks are bankrolling some of the worst fossil fuel projects in the world with apparent disregard for their moral and financial responsibilities.
"Many customers of these banks who do their bit to live sustainably, would be horrified to learn their savings are being funneled into fossil fuel projects causing climate change."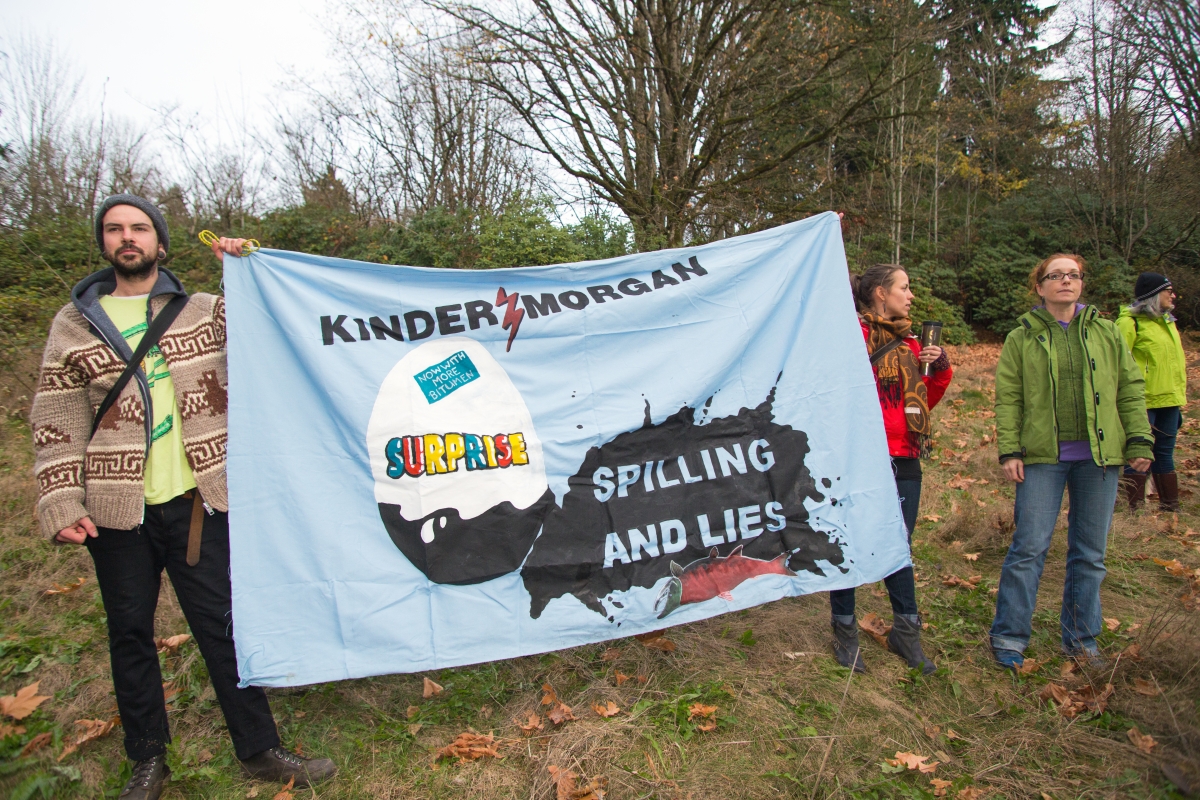 Credit: Mark Klotz via Flickr CC–BY
Friends of the Earth climate campaigner Simon Bullock pointed out that Barclays in particular has history with this kind of project.
"Barclays involvement is no Kinder Surprise – Barclays are up to their necks in funding new fossil fuel projects, from oil pipelines in Canada to plans to frack in Yorkshire", he said.
There's also a real human and environmental cost that comes with building the pipelines.
Analysis commissioned by the Raincoast Conservation Foundation found the anticipated increase in tanker traffic due to the pipeline extension gives the local Southern Resident Killer Whale population only a 50 per cent chance of survival.
The Kinder Morgan pipeline also runs through miles of land occupied by Canada's First Nation population. Only 39 of 120 First Nations consulted by Kinder Morgan have given their support for the pipeline extension.
And over 18,000 people have already signed up to be 'coast protectors' to prevent the project going ahead.
Leaders of Canada's First Nations have promised to resist the pipeline in the same way indigenous communities have resisted the Dakota Access Pipeline (DAPL) further south, in the face of fierce official opposition.
Fossil Free UK, which has previously campaigned against Barclays' involvement in fossil fuel projects, said:
"We need to urgently start reorienting funds away from the increasingly unprofitable and calamitous fossil fuel industry towards a democratic energy system that serves people rather than profit.
"Like DAPL, this pipeline will not go unchallenged … People who will suffer the most from Kinder-Morgan will make their voices heard." 
And just like DAPL, some of that opposition will be aimed at the UK companies that continue to help finance it.
Main image: Wikimedia Commons CC 2.0