Air pollution in the UK has been described as a "public health crisis". But many local authorities are failing to fulfil their legal requirements on air quality reporting due to a lack of resources, documents obtained by DeSmog UK show.
The information raises questions about the effectiveness of the government's decision to continue to put responsibility for addressing air pollution on local authorities.
Documents and correspondence with officials in local authorities across the Midlands show reporting failures in many areas with illegal levels of air pollution. Almost all of the local authorities fall within areas that voted heavily for Brexit, putting air quality regulations further at risk.
Documents seen by DeSmog UK reveal:
Government cuts meaning local authorities' are unable to provide legally required air quality reports, including in proposed Clean Air Zones such as Birmingham and Derby
The department for environment, food and rural affairs (Defra) failing to effectively oversee air quality reporting
Doubts over the effectiveness of air quality strategies due to dodgy diesel emissions data
Local Authorities 'Best Placed' to Address Pollution
After protracted wrangling, the government recently published an updated version of its air pollution plan. Campaigners described the plan as "woefully inadequate".
Air pollution has been linked to tens of thousands of deaths in the UK each year. MP's last year described the UK's poor air quality as a "public health emergency".
In November 2016, the government was ordered to draft a new air quality plan after lawfirm ClientEarth successfully argued the UK's plans were unlawfully weak. The new plan was revealed earlier this month, after the court rejected the government's request to delay publication until after the general election.
The plan continues to put the responsibility on local authorities for air pollution monitoring, reporting, and plan implementation. The plan was widely criticised as it was seen as passing the buck to local governments to deal with a national policy crisis.
The latest air pollution plan argues that "local authorities know their areas best and are best placed to take the lead in rectifying the problem". It states that local authorities would be "expected to develop new and creative solutions to reduce emissions as quickly as possible, while avoiding undue impact on the motorist".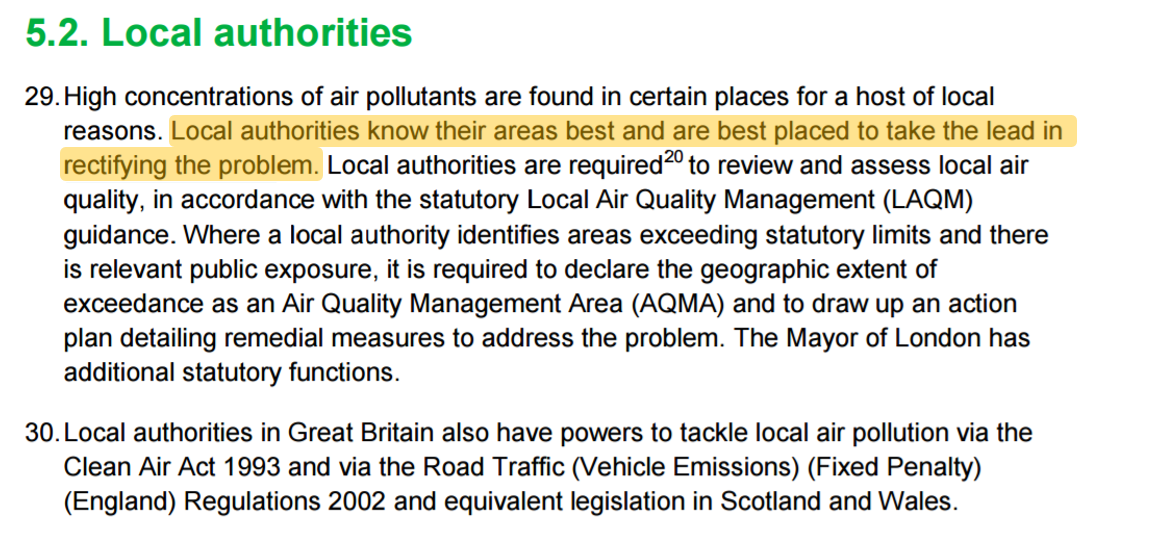 Local authorities' responsibility for monitoring and assessing air quality is enshrined in the Environment Act, passed in 1995, which said:
"Every local authority shall from time to time cause a review to be conducted of the quality for the time being, and the likely future quality within the relevant period, of air within the authority's area".
The government's Local Air Quality Management regulations details when these reviews must be done, and what they must contain.
Until recently, the government required all local authorities to produce Annual Progress Reports. They also had to provide a larger Updating and Screening Assessment every three years (in place of the annual report).
The government recently changed the guidance, with local authorities now required to provide a streamlined Annual Status Report from 2016 onwards.
Documents obtained by DeSmog UK, however, paint a picture of local officials struggling to cope with current obligations amid widespread budget cuts.
The reporting requires resources, which are taken from the local authorities' shrinking central budgets.
A previous DeSmog UK investigation showed many local councils had been forced to drastically cut the number of staff working on climate change related issues in recent years.
And a survey by the Local Government Information Unit (LGIU) thinktank earlier this year found that three-quarters of councils had little or no confidence in the sustainability of their finances. One in 10 said they were in danger of failing to meet legal requirements on core services, the Guardian reported.
Reporting Failures 
A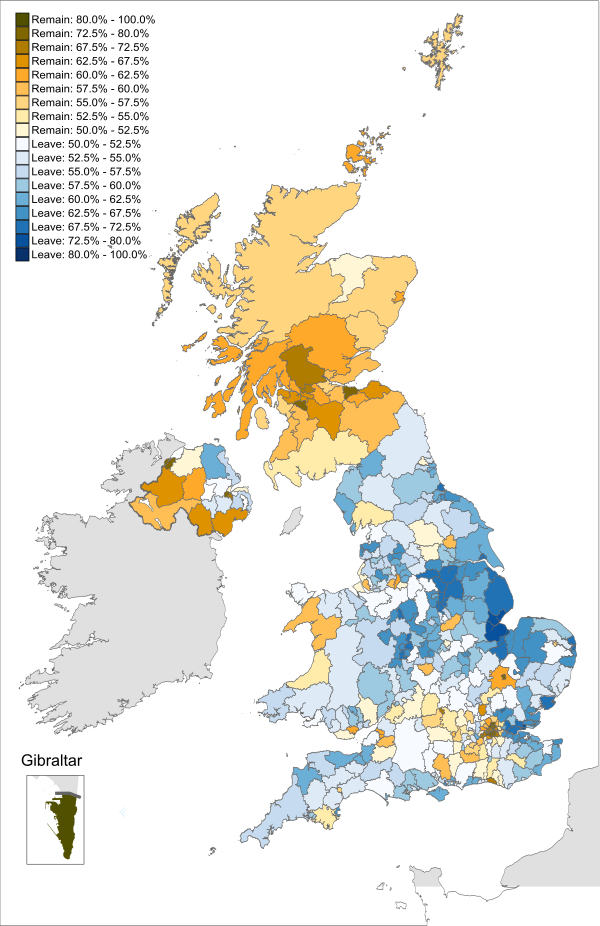 series of Freedom of Information requests seen by DeSmog UK reveal that a number of major local authorities across the UK's Brexit belt are failing to produce legally required air quality reports due to a lack of resources.
The requests cover 77 local authorities across the Midlands, about 20 percent of all local authorities in England. 75 of the local authorities voted to leave the European Union in the referendum last year.
When the UK officially leaves the EU, it could make it much harder to hold the government to account for flouting air pollution limits. It could also mean air pollution laws get changed or rolled back as part of Brexit.
The Freedom of Information requests asked for all reports regarding air pollution from 2011 to 2016.
Of the 77 local authorities, 59 did not have all of their required reports publicly available. Following the requests, 34 of the local authorities were found to have gaps in their reporting up to and including 2016.
Some local authorities said they were still in the process of writing their 2016 reports. Nonetheless, 27 were found to have failed to produce reports up to and including 2015.
Dr Enda Hayes, director of the air quality management resource centre at the University of West England, told DeSmog UK it was clear local authorities needed more help to meet their air quality reporting obligations.
He said: "The experience of the local authorities in the Midlands is echoed across the country. Funding cuts over recent years have impacted on air pollution monitoring networks and on staff levels, resulting in local knowledge and capacity gaps in many authorities.
"This has impacted not only on local authorities' ability to fulfil their statutory local air quality management responsibilities but also on other important functions related to air quality management such as development control.
"The air quality challenge and public health crisis that many local authorities face is a manifestation of a larger national transport problem and while local authorities can certainly play an important role in improving local air quality they cannot do this without political will and funding."  
The government's latest air quality plan recommends up to 27 new Clean Air Zones are created in areas with the worst air quality. Clean Air Zones are defined as areas where "targeted action is taken to improve air quality and resources are prioritised".
Birmingham was the largest of six originally proposed Clean Air Zones, and narrowly voted to leave the European Union in last year's election. But it did not produce an air quality report for three consecutive years, from 2013 to 2015, the documents reveal.
Correspondence seen by DeSmog UK shows the local authority team responsible for air quality reporting remains understaffed, with an environmental health officer role remaining vacant and only one full time member of staff working on the issue.
The government expects Birmingham's nitrogen oxide concentrations to reach 70 µg/m3 in 2017. The legal limit is 40 µg/m3.
A spokesperson for Birmingham City Council told DeSmog UK: "You will no doubt be aware that Birmingham is one of several cities mandated by the Government to introduce a Clean Air Zone. We are currently working on a feasibility study to determine the size and scope of this Clean Air Zone with a view to consulting on our proposals in the autumn, subject to any further announcements from the government."
"The Clean Air Zone will be just one aspect of the wider work we are doing to improve air quality in the city and, as such, will involve officers from other areas of the council, including transportation and public health, as it is obviously a wide-reaching issue."
Another proposed Clean Air Zone, Derby, has also repeatedly failed to meet its air quality reporting obligations.
The government's data modelling projects Derby's nitrogen oxide levels to reach 57 µg/m3 in 2017.
But Derby did not produce any of its annual air quality reports between 2011 and 2016, the documents show. In correspondence, an official said the missing reports were due to "limited resources". The local authority has recently produced one mega report to cover the missing years.
Derby voted for Brexit, with a 57 percent majority last June.
Another city with significant air pollution that voted heavily in favour of leaving the European Union, with almost 60 percent voting for Brexit — Northampton — also failed to produce a number of reports in 2011, 2013 or 2015.
This was due to staff failing to have enough time to produce the reports, or dedicated staff members leaving and failing to be replaced, according to correspondence.
Other local authorities have also struggled to produce reports due to a lack of resources.
For example, Kettering, located just north of Northampton, did not produce reports in 2011, 2012 and 2015 due to a lack of resources and specialist staff to undertake the work.
Correspondence reveals that the authority's environmental protection team has one person working part-time on air pollution, with the environmental protection team carrying two vacancies "for some time", meaning "resources are stretched even further".
A spokesperson for Kettering Borough Council told DeSmog UK that the authority's ability to prepare annual progress reports had been down to "a lack of specialist staff both internally and also in the wider recruitment field".
"To counter this, we are now in the process of 'growing our own' specialist capacity in house," they said.   
High Peak, covering the west side of the Peak District national park, failed to produce reports in 2015 and 2016 due to "resourcing issues", freedom of information requests show. It had a 40 percent reduction in resources available for pollution work between 2011 and 2017.
Officials said they have an agreement with Defra to now produce a single report covering 2013 to 2015.
Bolsover, sandwiched between Sheffield and Nottingham, could also not produce its 2014 report due to a member of staff being on sick leave, according to the documents. And Newark and Sherwood cut its resources for air pollution from one full-time position to a half-time position partly due to "budget cuts across the Environmental Health team".
When asked to comment on the missing report, a spokesperson for Bolsover District Council told DeSmog UK:
"In 2015 we recognised a need to put in additional resource to deal with our statutory air quality work and reporting. Our Annual Status Report for 2016 was completed during that year and submitted to Defra which included data for 2014, 2015 and 2016.
"Whilst this was a difficult period for us, we would not say that budget cuts or resource issues have impacted on our ability to meet our air quality monitoring requirements."
Dodgy Data and Poor Oversight
Defra is meant to ensure local authorities submit the plans, and has some power to cut deals with authorities that are failing to produce them.
But so far there appear to have been no ramifications for failing to produce the reports.
The department's oversight of report submissions was described as "hit and miss" by one local authority. "Some years there has been letters asking for the status of reports but nothing on other years", the official said.
Defra's own budget has also shrunk by about £20m a year for each of the last three years, its accounts show.
Defra declined to comment, directing DeSmog UK back to its policy guidance on local air quality management.
And when the reports are produced, they are not always reliable.
Experts within the local authorities are also concerned about the effectiveness of the plans due to most of the modelling being based on infamously inaccurate diesel emissions data.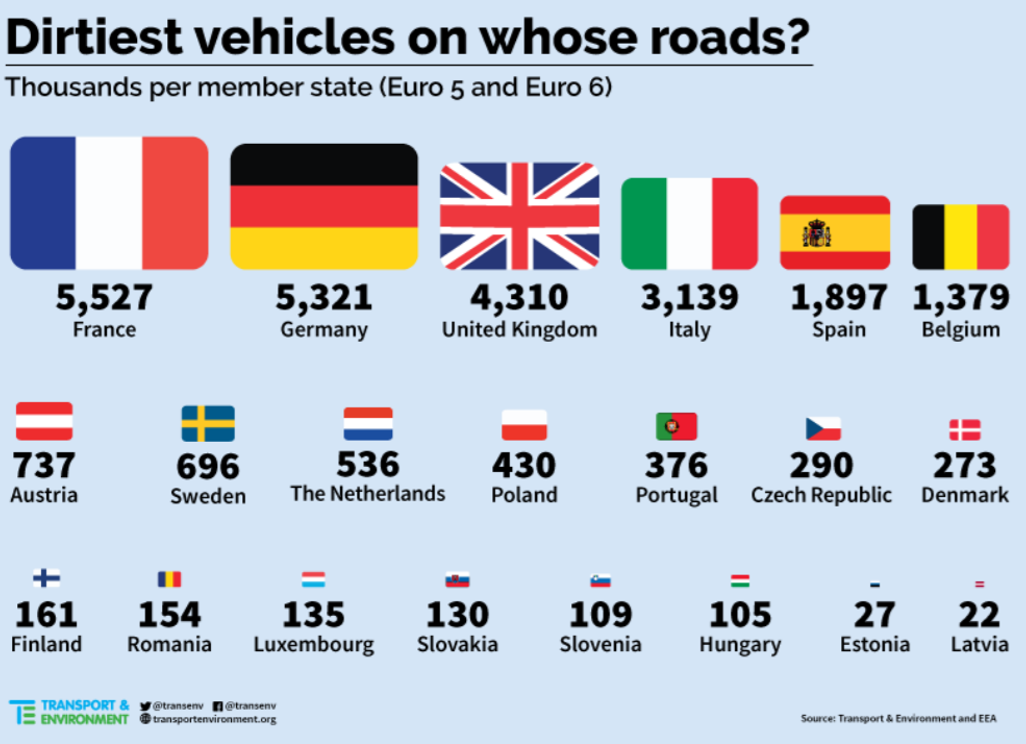 Credit: Transport & Environment
There have long been doubts over the emissions associated with diesel vehicles. In 2015, it was revealed that some Volkswagen vehicles were able to reduce their nitrogen oxide emissions when being tested in laboratory conditions. The episode became known as dieselgate.
One expert said in correspondence that over 11 years, there has "consistently been a problem" with environmental performance data for vehicles.
The data significantly affects the accuracy of the local authorities' air pollution modelling and their ability to implement effective air quality policies, the official pointed out.
Main image credit: Friends of the Earth Scotland via Flickr CC BY 2.0. Credit for referendum map image: Mirrorme22, Brythones, Nilfanion (English and Scottish council areas), TUBS (Welsh council areas), Sting (Gibraltar) via Wikimedia Commons CC BY–SA 3.0