Fossil fuel company Shell receives special treatment from the publicly-funded National Gallery despite the oil major's history of climate obstructionism, documents seen by DeSmog UK show.
The news comes as shareholders gather for Shell's annual general meeting in The Hague today, with the board under pressure to agree to company-wide emissions reduction targets.
Campaigners have long complained about Shell's relationship with some of the UK's most high-profile cultural organisations, arguing that the company should not be allowed to launder its reputation through its association with respected national institutions until it makes a firm commitment to tackle climate change.
But email correspondence seen by DeSmog UK shows just how cosy Shell's relationship with the National Gallery has been. The documents reveal:
Shell received special invites to National Gallery events, including one attended by Prince Charles
Shell and the National Gallery coordinated press releases and responses to Freedom of Information requests
Shell asked the National Gallery to bend the rules to get additional tickets to exhibitions
The National Gallery offered private tours as it approached Shell to sponsor a new display
The National Gallery made special efforts to accommodate Shell's requests for after-hours tours and events
Cosy Relationship
Shell is a corporate member of the National Gallery. It pays around £20,000 to £30,000 a year for this, the documents suggest.
The company previously sponsored a major Rembrandt exhibition at the National Gallery, and is listed on the gallery's website as a "corporate contributor".
The emails, obtained through Freedom of Information requests by campaign group Culture Unstained and published by DeSmog UK, show National Gallery staff willing to do all they can to ensure its corporate sponsor gets the most out of its membership.
In March, the National Gallery invited Shell representatives to an event attended by the gallery's patron, Prince Charles.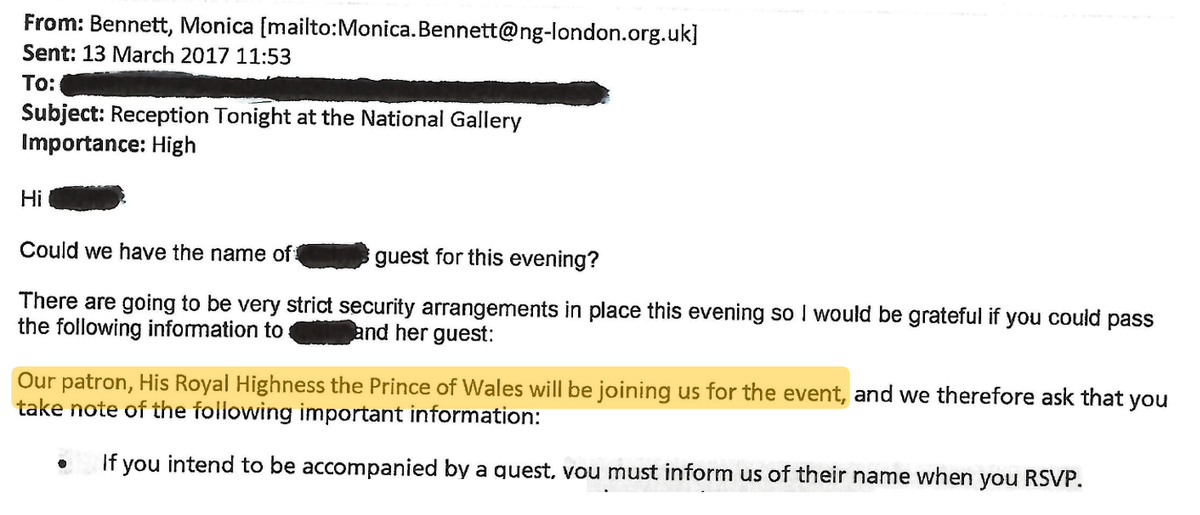 Shell employees and a range of guests also organised a number of private tours, held after the Gallery had been closed to the public.
In one instance, the Gallery tried to find a way to accommodate Shell's request, even though it would "normally say no", as Shell is "a corporate sponsor".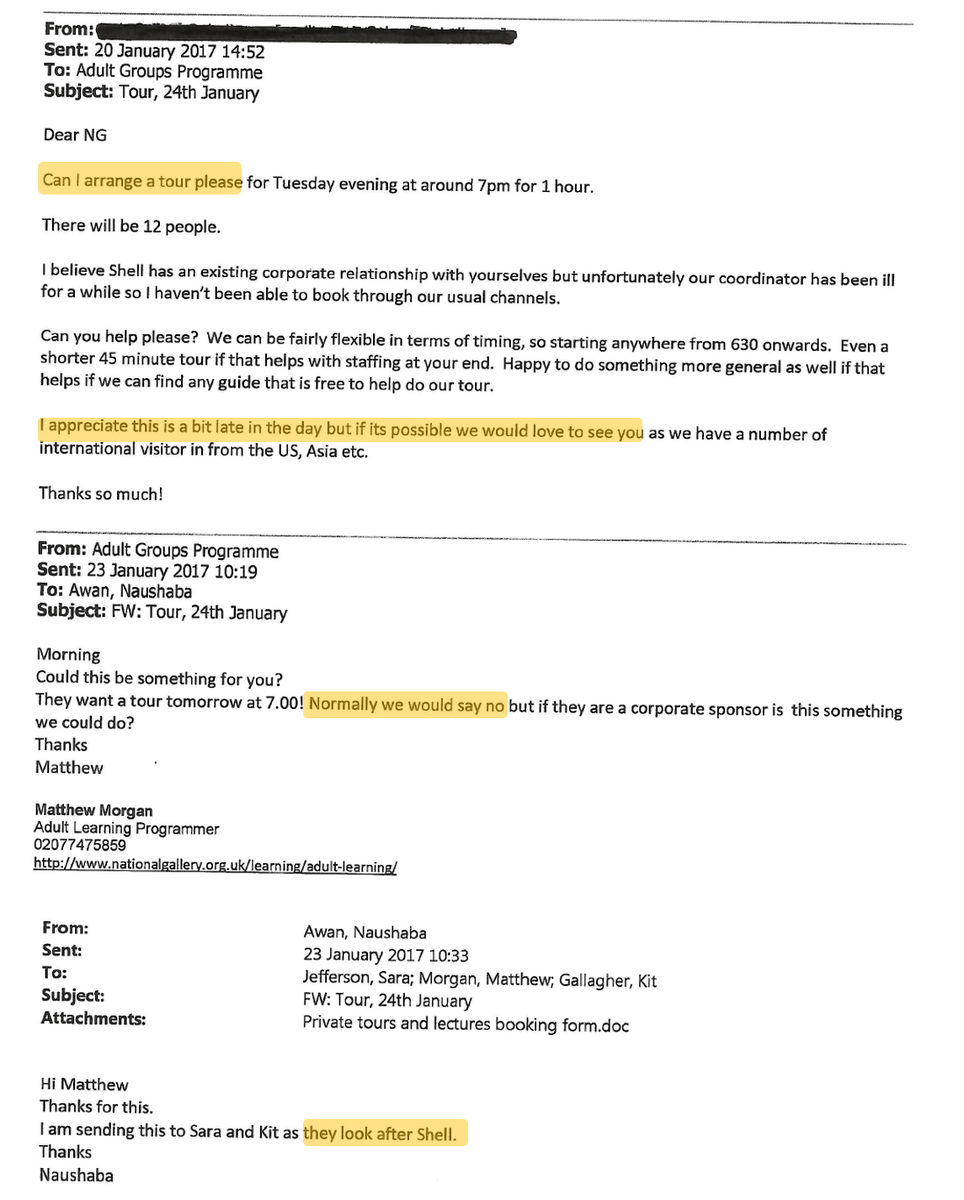 The documents reveal that Shell gets up to 400 tickets to National Gallery exhibitions as part of its deal, with some terms and conditions attached.
Once, a Shell representative asked the National Gallery to bend its ticketing rules to get priority access for people that wanted to see its Goya exhibition.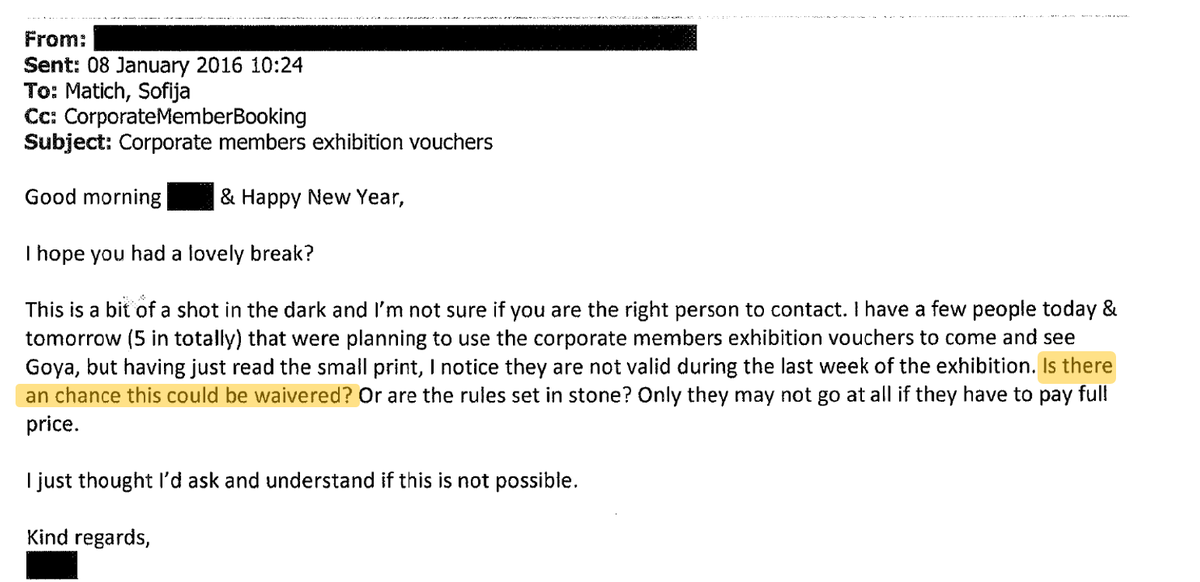 A National Gallery employee responded to the request saying that unfortunately they could not make an exception, adding the rules were so strict that "I can't even get my own mother in!"
In another instance, however, Shell did manage to secure a couple of extra tickets, as the National Gallery was keen "not to disappoint".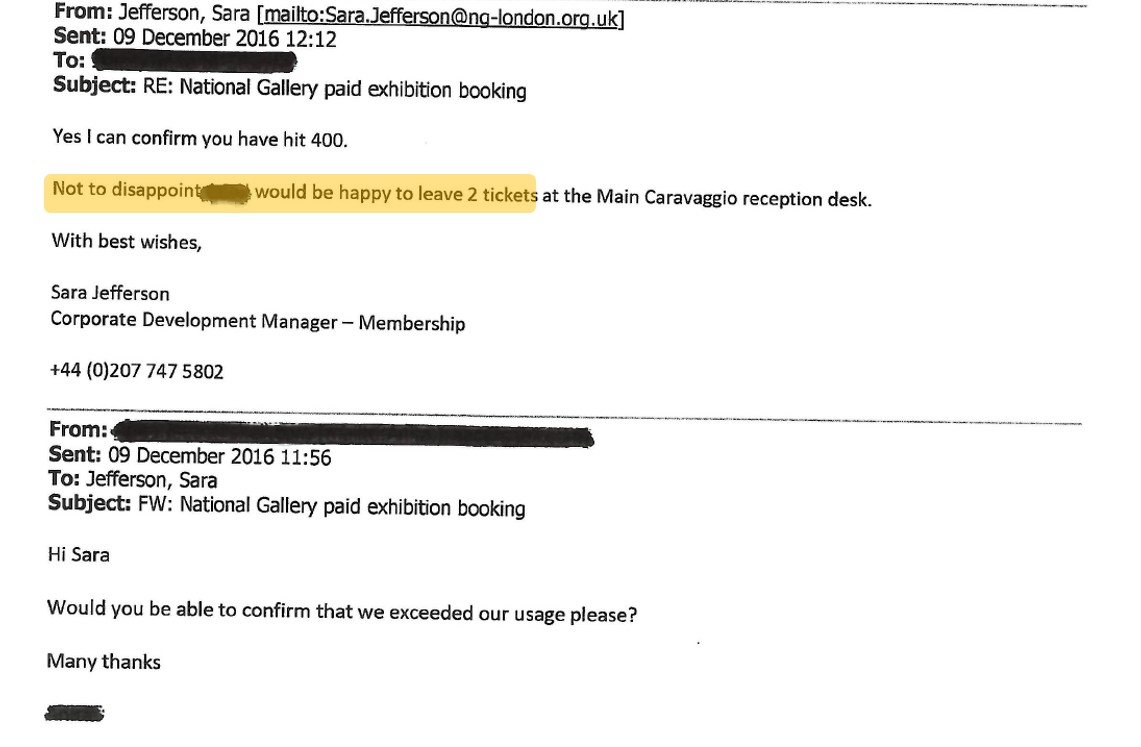 And when Shell asked for a room with that extra "WOW factor" to impress some "very high level" guests, the National Gallery was happy to oblige.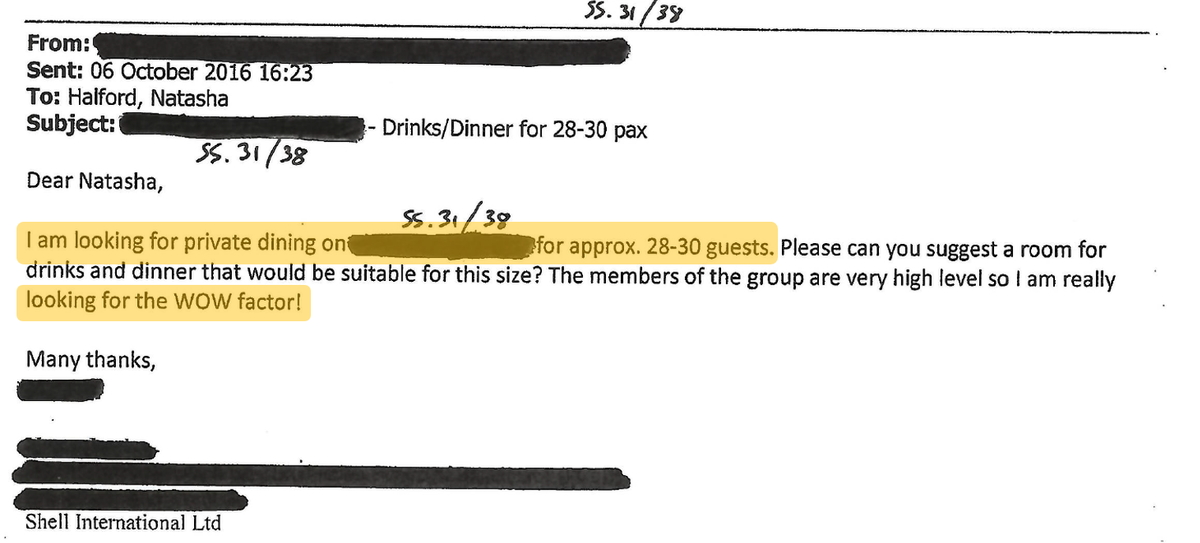 The National Gallery's corporate sponsorship team were also keen to offer private tours to Shell employees as they sought to tie down a new sponsorship deal.
In December 2016, the Gallery's head of sponsorship offered a personal tour of its Australia's Impressionists exhibition, while asking to "investigate if there was any potential for Shell to support" a new display.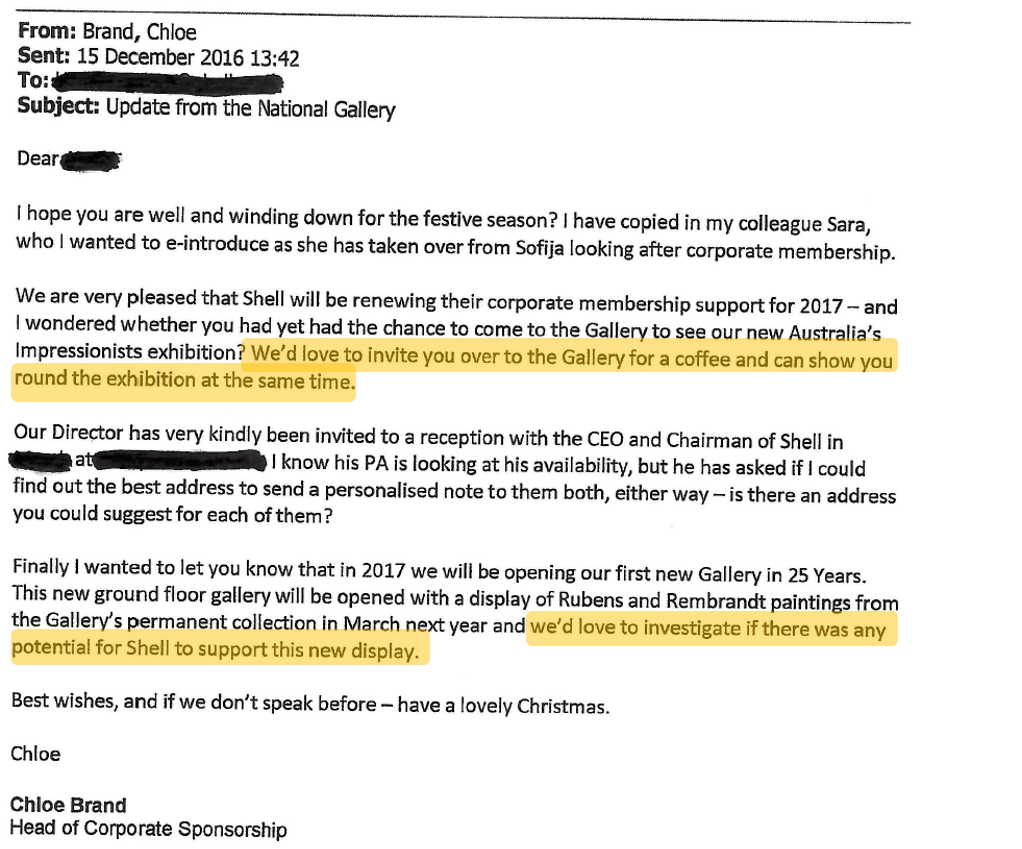 The gallery has now opened — without Shell sponsorship.
The documents also show the different levels of corporate sponsorship offered by the National Gallery, and suggest that Shell tried to negotiate a better price for its benefits in 2015.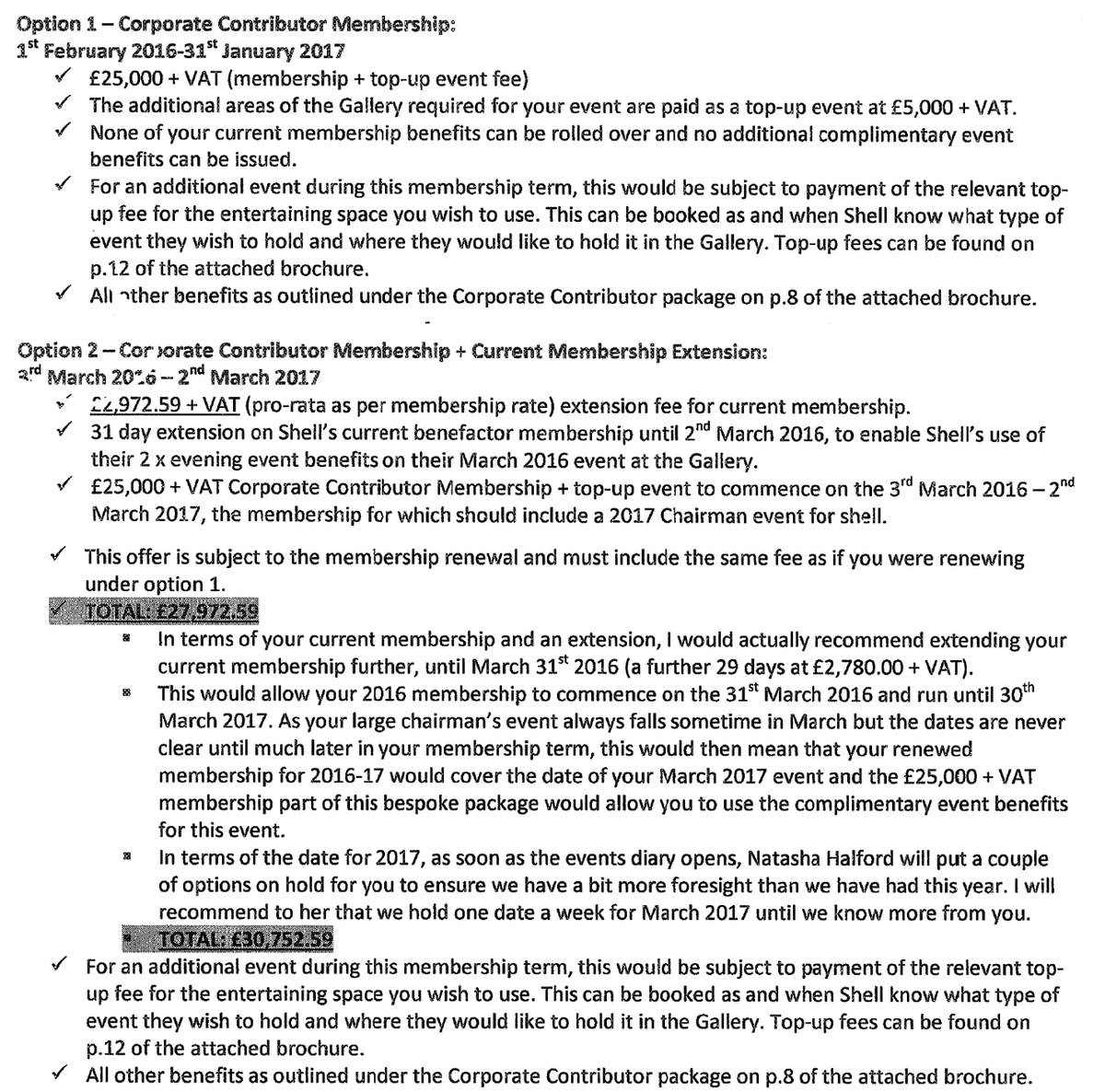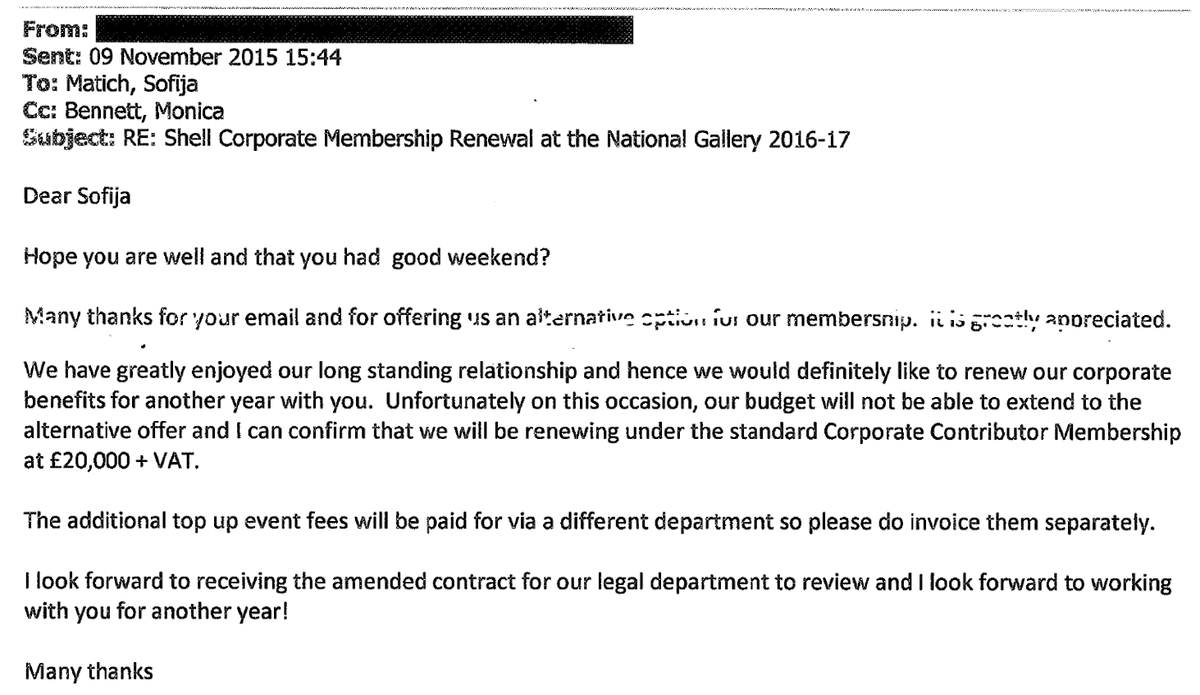 Corporate Coordination
The documents also reveal coordination between the National Gallery and Shell on press releases and responses to Freedom of Information requests.
In 2015, Shell made a "few small tweaks" to a press release.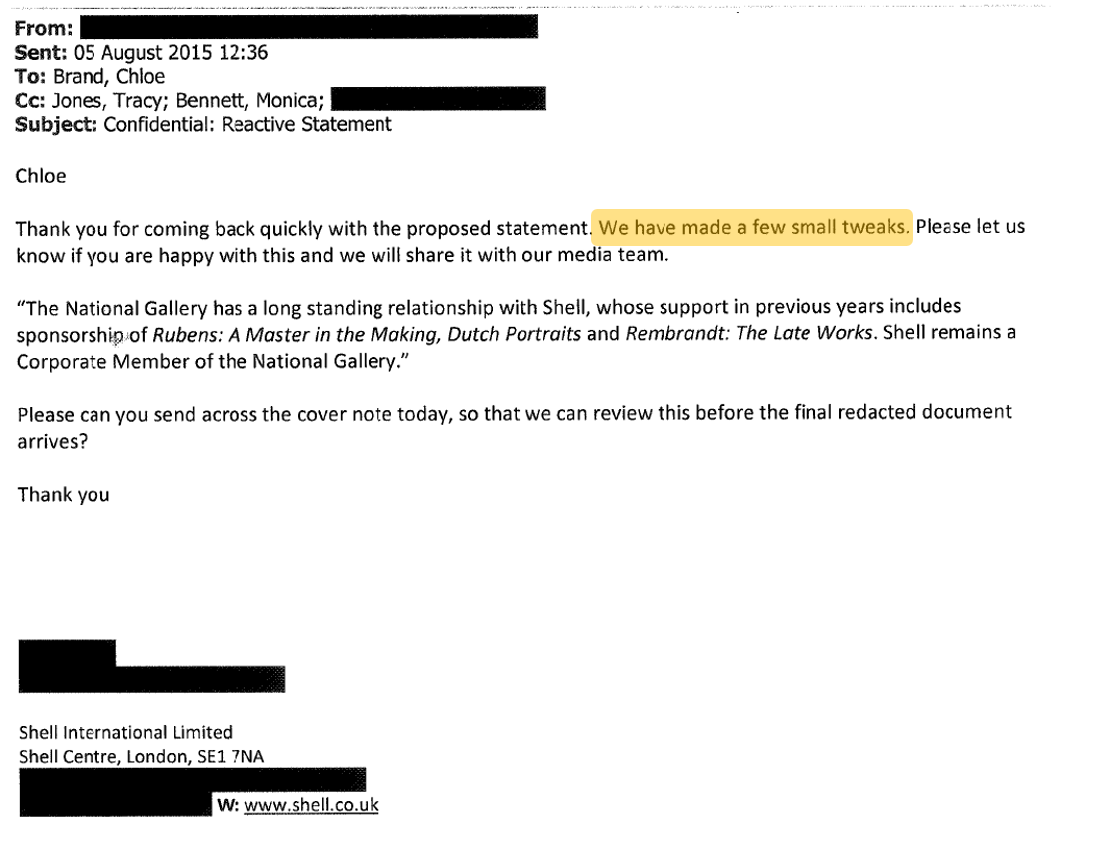 A couple of days later, Shell provided feedback on a National Gallery response to a Freedom of Information request, asking for additional items to be redacted.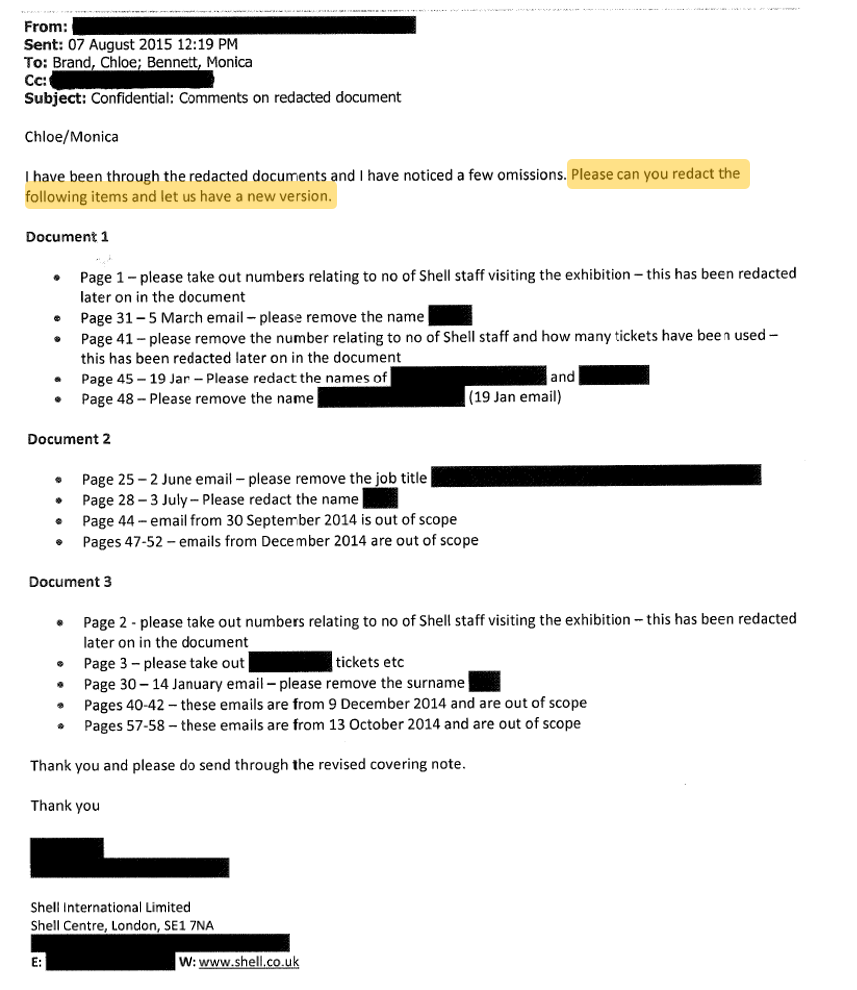 The emails show just how close the fossil fuel company's relationship with the National Gallery is.
That's problematic, according to Culture Unstained's Chris Garrard, because "the values of the National Gallery, a cultural institution that preserves artworks from the past to be enjoyed in the future, are clearly not the same as Shell's".
He told DeSmog UK:
"Shell doesn't pay the National Gallery to be a 'corporate member' out of the goodness of its heart but does so in order to access the perks and privileges that help advance its business interests: the continued extraction of fossil fuels."
"It is deeply concerning that a publicly-funded gallery would even consider offering Shell — a company tarnished by human rights violations, mired in a corruption probe and actively fuelling runaway climate change — new opportunities to boost its brand."
A Shell spokesperson confirmed that the company was a corporate member and had sponsored the Rembrandt exhibition, but did not expand on why the relationship was important.
A spokesperson for the National Gallery told DeSmog UK that Shell had been a supporter since 2006.
"Like many museums the National Gallery develops partnerships with businesses from a variety of sectors. Doing so provides much needed income that helps the Gallery to maintain vital public services. The National Gallery's fundraising department adheres to an ethical fundraising policy which is regularly reviewed", they said.
Main image credit: Tom Godber via Flickr CC BY–SA 2.0