European insurance companies are still investing billions of euros in dirty coal power plants, despite pledges to stop supporting the industry.
Six insurance giants including Axa, Generali, and Allianz have around €1.3 billion invested in Poland's coal power plants — the dirtiest form of power production — through subsidiary businesses such as pension funds, research by campaign group Unfriend Coal has found.
One of the six companies, Aviva, has over 30 million customers in the UK, and is the second largest investor in Polish coal — with €421 million invested in the industry. A previous DeSmog UK investigation revealed the company also continues to invest in tar sands companies through its subsidiaries.
The six companies have also underwritten 21 contracts for Poland's coal power stations in recent years, allowing the plants to keep operating.
Poland's coal power plants cause an estimated 5,830 premature deaths each year, according to research by a coalition of environmental NGOs published in 2016.
There is particular attention on Poland's coal assets as the country prepares to host the next round of the UN's annual climate talks in Katowice later this year.
Many of the insurance companies have promised to move their investments out of the coal industry. But the pledges do not extend to third party assets, which the companies manage.
Allianz pledged to divest in 2015, with AXA making similar promises to much fanfare in December 2017. Aviva's strategic response to climate change claims the company "will divest highly carbon-intensive fossil fuel companies where we consider they are not making sufficient progress towards the engagement goals set".
The coal investments show there are significant loopholes in the insurers' divestment pledges, Unfriend Coal claims.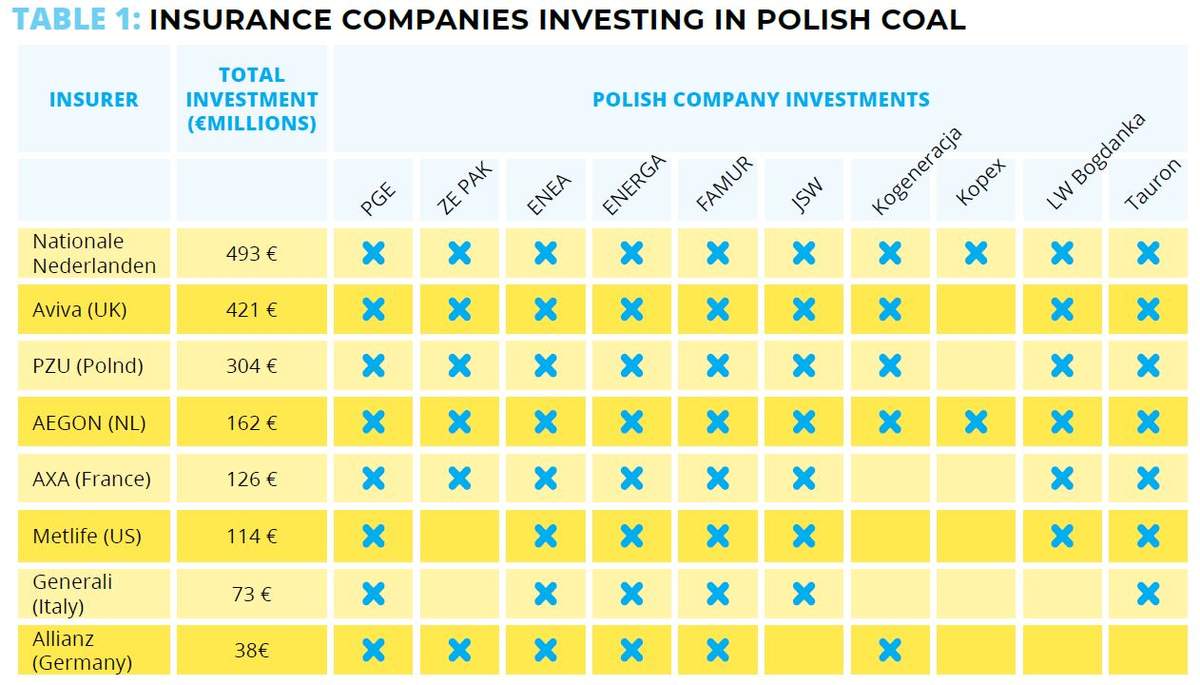 Source: Unfriend Coal
Phil MacDonald, head of communications at environmental market analysts Sandbag, said continuing to invest in European coal was not only bad for the companies' brands, but also a poor economic strategy. He pointed to recent Sandbag analysis that showed renewables and biomass overtook coal generation in Europe for the first time last year.
"It's now clear that coal power is increasingly being squeezed out by low-carbon technology. Coal is an investment that will increasingly struggle to make a return", he said.
Recent research from thinktank Carbon Tracker also suggested more than half of European coal power plants are are already loss-making. Poland's coal power plants could avoid losses of €2.7 billion by closing early, it suggested.
Lucie Pinson, who authored the report for Unfriend Coal, said investors were paying too much attention to their short-term profits.
"Most investors are worried about how climate change impacts their investments, but they are not thinking how their investments affect the climate", she said.
"Insurers are ready to take action on coal so long as it fits their own interests. But as soon as it starts meaning less profit, they stop."
Poland's headline status as a COP-host makes now a good time to hold international insurers to account, Kuba Gogolewski from Polish environmental campaign group, "RT–ON" Foundation, said.
"In 2018, Poland is going to host the climate summit in Katowice. The world media are surely not going to miss the fact that instead of rapidly reducing the share in the coal companies assets, the largest insurers in Europe are unable to turn words into action and continue supporting the dirtiest of the fossil fuels with billions of zlotys", he said.
A spokesperson for Allianz said it applied a "holistic" approach to environmental assessments of its investments. They said the company believed this approach was "better than a sector exclusion" for addressing risks around these businesses.
Allianz revises these standards "on a regular basis and takes into consideration new technological standards as well as expectations of the political climate and NGOs", they said.
Aviva said that it likewise ensured the coal assets it invested in "meet the standards we expect in climate change and divesting from those which fail to live up to our expectations in this area".
"In Poland, local pension companies, including Aviva, manage customers' assets under a strict regulatory regime and are not able to influence the investment strategy for these.
"The investment guidelines focus on domestic equity where energy industry is the second-largest after the banking sector", a spokesperson said.
AXA said it remains invested in coal assets in Poland despite its much-lauded divestment pledges because local regulation requires investment in domestic assets. A spokesperson said: "AXA manages for third-party clients a Pension Fund representing approximately six percent of the Pension fund market.
"These investment vehicles are strictly regulated by local regulation: at least 70 percent of these assets must be invested in Poland, mostly in the Warsaw Stock Exchange (WSE) which itself is highly exposed to the coal industry".
Image: Phil MacDonald/Wikimedia Commons CC BY–SA 4.0