In the five years since the oil train disaster in Lac-Mégantic, Quebec, claimed 47 lives, the world has learned much about the risks that hauling oil by rail poses. One of the clearest lessons is how little has been done to address those risks, which means that deadly event could easily happen again.
To mark the anniversary, Kathleen Fox, Chair of the Transportation Safety Board (TSB) of Canada, released a statement on oil-by-rail. "Much has been accomplished in the intervening years, but more remains to be done," she said.
Fox is correct about one thing: more remains to be done. Much more.
Here are three main reasons history may yet repeat itself.
[Read this explainer for background on what unfolded during the fiery early morning hours of July 6, 2013 in Lac-Mégantic.]
Reason #1: Inadequate Safety Regulations
The Bakken shale oil carried on the runaway train that decimated the small Quebec town of Lac-Mégantic is a very light and highly volatile crude oil that ignites easily. Despite many calls for regulations in the U.S. to make that oil safer via a process known as stabilization — including from Obama's Secretary of Transportation Anthony Foxx, the issue of stabilizing oil volatility on trains remains unaddressed on either side of the border.
Similar concerns are arising for trains shipping oil from Alberta (home of the tar sands) after multiple derailed trains have resulted in fires and explosions reminiscent of those involving Bakken oil. 
Another apparent safety gap in regulations involves the outdated brake systems on oil trains, which is the case in both the U.S. and Canada. Rail experts have testified repeatedly that modern electronically controlled pneumatic (ECP) brakes would be a huge improvement over the current air braking system that was considered revolutionary in the 19th century. When the U.S. Department of Transportation released an overhaul of rules governing oil trains in 2015, ECP brakes were among the requirements. However, that measure was repealed in late 2017 due to intense industry pressure.
An important point to keep in mind here is that all of the major oil-by-rail carriers (BNSF, CSX, CN, CP) move oil from both the U.S. and Canada, which leads to something known as harmonization in the regulations. Because the trains couldn't easily cross the border if the rules were different in each country, the regulatory agencies in both must work together to ensure harmonization.
Canada's TSB Chair Fox noted in her recent remarks that the DOT-111 tank cars, which were carrying the oil that destroyed part of Lac-Mégantic are no longer permitted to move crude oil, in either Canada or the U.S. Those tank cars clearly were unsafe for transporting flammable liquids — something they were never designed to do.
However, Fox also noted that rail companies have until 2025 to phase in the new rail tank cars that will replace DOT-111s, and progress on that transition has been slow. The 2015 oil train rules mandate stricter standards for rail tank cars carrying hazardous materials, which means rail companies have a decade to switch to new DOT-117 cars. Yet Fox does not address the real issue at play with tank cars. 
The real problem is that DOT-117 tank cars are also proving inadequate for moving oil safely, as evidenced when an oil train of cars meeting the new standards derailed in Iowa in June 2018. Many of the cars ruptured, resulting in a spill of 230,000 gallons of oil into a flooded Iowa river. These new DOT-117 tank cars don't appear to offer any real safety benefits over the older cars. They may look nicer with the new paint and lack of grafitti, but that seems to be the only demonstrable improvement.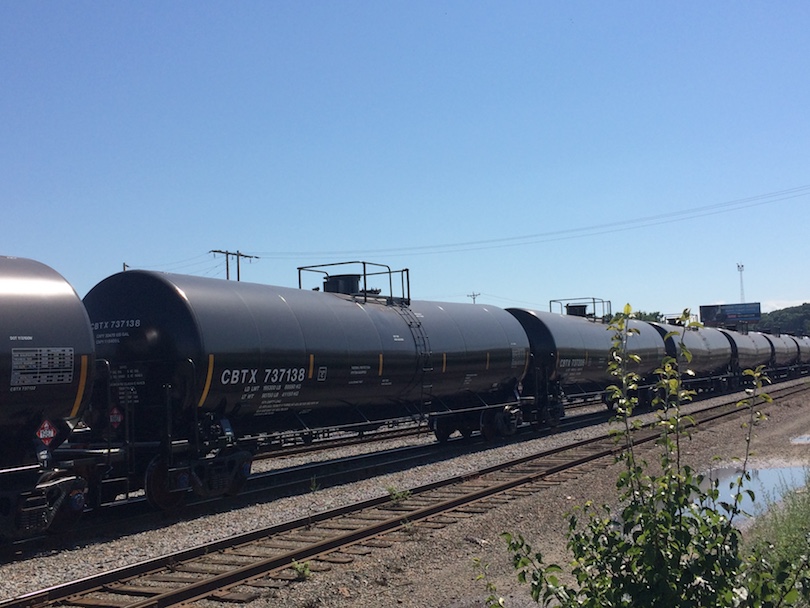 DOT-117 tank cars, the new rail cars that are slowly replacing the DOT-111 cars carrying oil. Credit: Justin Mikulka
Another gap involves an automatic braking technology known as positive train control (PTC), which was first recommended in 1970. The rail industry resisted moving forward with PTC for almost 40 years until 2008 when Congress mandated that rail companies install PTC on all trains, passenger and freight, by 2015. Despite the congressional mandate, the industry refused to cooperate.
Instead, the rail industry threatened to shut down the U.S. economy if required to fulfill the legislative requirement. In response, Congress granted the industry a three year extension. As the third year of that extension winds down, the largest oil-by-rail company, BNSF, has asked for another two year extension.
Why would rail companies refuse to implement this well-known safety technology that reportedly could have saved nearly 300 lives between 1969 and 2015? Because it costs money to implement and it only costs a fraction of that money to hire lobbyists to fight the regulations.
That priority was starkly revealed in a 2015 story by The Intercept, which reports that during a 2009 investor call, a Wall Street analyst told rail executives they need to do more to "further educate" Congress about why the PTC mandate was unacceptable.
That exchange occurred six years before the industry was required to implement PTC, giving rail companies plenty of time to hire lobbyists to argue against implementing a safety technology now almost 50 years after it was first recommended.
Yet another example of a regulatory gap in rail safety measures stretches back to Lac-Mégantic, which involved a runaway train parked on a hill above the town. Corporate cost cutting and a lack of rules to prevent runaway trains helped lead to the 47 lives lost in that town. In her statement reflecting on the five years since the disaster, TSB Chair Fox mentions that "the issue of additional physical defenses, which the TSB has called for to help prevent uncontrolled movements, has yet to be sufficiently addressed."
"Additional physical defenses" are ramps or locks placed in front of a train to prevent it from running away in the event something else goes wrong. A simple and proven solution. But starting and stopping trains with these safety devices in place takes longer, and because time is money in the rail industry, companies generally don't use them.
Despite being one of the easiest problems to solve, runaway trains, or "uncontrolled movements," are increasing since Lac-Mégantic. CBC News reported that Faye Ackerman, a TSB board member, noted the situation is getting worse. "…in the last five years, the number of these uncontrolled movements has been on the rise," Ackerman said.
In June 2017, an event eerily similar to Lac-Mégantic (minus the explosion and fatalities) unfolded when a 72 car train was not properly braked and ran away for "five kilometres onto a busy track just north of Toronto." 
There are many factors that could eliminate runaway trains. The train in Lac-Mégantic had back-up braking systems, but no rules require their use and the company policy was to not use them. In addition, positive train control could also prevent runaway trains, and modern ECP brakes would also help. But the simplest solution would be the "additional physical defenses" that Fox referred to.
Reason #2: Oil Trains Derail More Often
Another lesson revealed in the wake of Lac-Mégantic is that oil trains derail more often than similar trains carrying ethanol, another hazardous material. The reason is likely because oil trains tend to be longer and heavier and may be subject to more sloshing forces from the liquid moving inside the not-entirely-full tank cars. Unlike tanker trucks or other types of trains, oil trains don't have to be weighed, and some evidence indicates rail companies may be overfilling oil train cars beyond the current weight limits. And no regulations exist dictating the train lengths safe for transporting flammable materials like oil.
Of course, longer and heavier trains make more money for railroads. A recent article in the Wall Street Journal notes that one of the reasons the rail industry is shifting to ever-longer trains is due to pressure from "activist investors." Activist investors — much like the one who told industry executives they need to lobby against positive train control — apparently are calling the shots about how companies operate their trains. 
Given the lack of real safety improvements after Lac-Mégantic, this issue is not going away. Canada just reported record levels of oil-by-rail movements for April of this year. And that number is likely to increase significantly in the next several years, as the oil industry there continues to face pipeline constraints. U.S. oil-by-rail movements are increasing too but remain below the peak levels reached during the Bakken oil-by-rail boom, which lasted from about 2012 to early 2016.
After the recent oil train derailment in Iowa, Kevin Birn of IHS Markit, an energy analytics and consulting company, stated the obvious:
"The accident is a manifestation of increased crude-by-rail from Western Canada due to pipeline constraints."
Despite the evidence showing that long, heavy trains filled with oil derail more often, very little has been done to improve the safety of moving oil by rail since Lac-Mégantic. As oil-by-rail continues on its latest uptick, another catastrophe like the one that claimed 47 lives in a small Quebec town is likely inevitable.
Reason #3: The Rail Barons Are in Charge
In December 2016, a group came together in Ottawa, Canada's capital, to discuss Lac-Mégantic and what the industry and regulators have learned since the devastating events of July 2013.
Brian Stevens, National Rail Director for Unifor, Canada's largest private sector union, was one of the speakers. Stevens previously spent 16 years as an air-brake mechanic working on trains.
Stevens summed up the problem: "Nothing has changed. The railway barons are still there. And stronger than ever."
And while this statement was made by a Canadian at a conference in Canada about an accident in Canada, the rail barons are on both sides of the Canadian-American border. 
His statement even came before the Trump administration began its efforts to remove safety measures enacted during the Obama adminstration. Since then, the rail barons successfully had the regulations for modern ECP brakes repealed. Trump appointed the former head of rail company Conrail as the new top rail regulator at the Federal Railroad Administration. If you are a rail baron, this was all great news.
In the first Congressional hearing about rail safety in the Trump era, Rep. Bill Shuster got right to the point about the goal of any changes to regulations when he said that government should "allow the railroad industry to keep more of their profits."
This statement reveals why so little has been accomplished to improve oil-by-rail safety. Moving oil-by-rail in a safe manner may be possible given the raft of potential safety measures outlined here, but it is highly unlikely that the venture would still be profitable for rail companies. As a result, the rail industry is favoring the status quo and federal regulators in the U.S. and Canada have done little to nothing to change that. 
Five years after the derailment in Lac-Mégantic, all of the major risks related to moving oil by rail still exist, but the large portion of downtown Lac-Mégantic destroyed that day in 2013 does not. Its continued absence stands as a stark reminder of the very real dangers of the current oil-by-rail industry.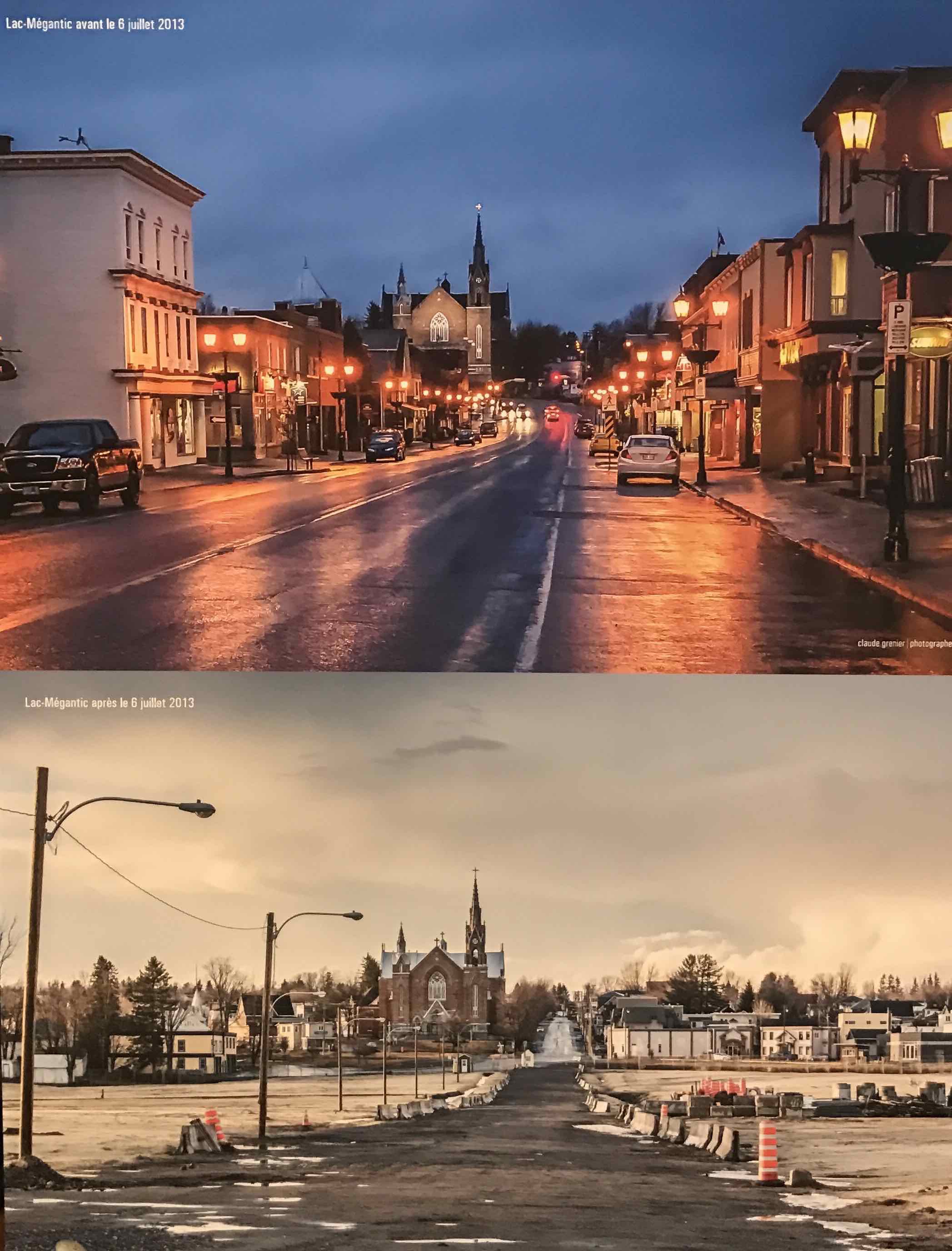 Lac-Mégantic before and after the oil train explosion in July 2013. Credit: Claude Grenier, Studio Numéra, Lac-Mégantic.
Main Image: Train burning in Lac-Mégantic, Quebec. Credit: Transportation Safety Board of Canada, via CC BY–NC–ND 2.0