The government's proposal to change planning rules to make it easier to frack the UK is an "insult to local democracy", campaigners say.
Around 20 protestors gathered to erect a four-meter fracking rig outside the Department for Business, Energy and Industrial Strategy (BEIS) to protest against plans to make fracking sites "permitted developments". Under the plans, fracking sites would be able to automatically proceed, rather than having to receive consent from local authorities.
The protest took place on the day the UN's Intergovernmental Panel on Climate Change (IPCC) released a report outlining the benefits of limiting warming to 1.5C above pre-industrial levels, and suggesting a rapid phasing out of fossil fuels was necessary to achieve the goal.
The plans would go "against the will of the British people", Anton Gijsen, a London resident who has been protesting against fracking for three years, told DeSmog UK.
"It's absurd, the last thing we need is more fossil fuel infrastructure. We need to be taking it down and dismantling oil fields", he said.
The government is consulting on the plans until 25 October. A government spokesperson told DeSmog UK:
"No one benefits from delays in planning decisions. That's why we are committed to planning reforms to help ensure quicker decision making on shale applications."
---
Like what you're reading? Donate here to support DeSmog UK's journalism today 
---
The IPCC's report said reaching the ambitious 1.5C goal would require "rapid, far-reaching and unprecedented changes in all aspects of society", including a rapid phasing out of fossil fuels.
Outside BEIS' Westminster office, Sebastian Kelly, the Let Communities Decide Campaign Lead for 350.org, told the crowd:
"A major UN report this morning urges the immediate phasing out of fossil fuels. If we're going to address climate change we need to act now."
"You don't need to be against fracking to realise local people should have a say on what happens on their doorstep".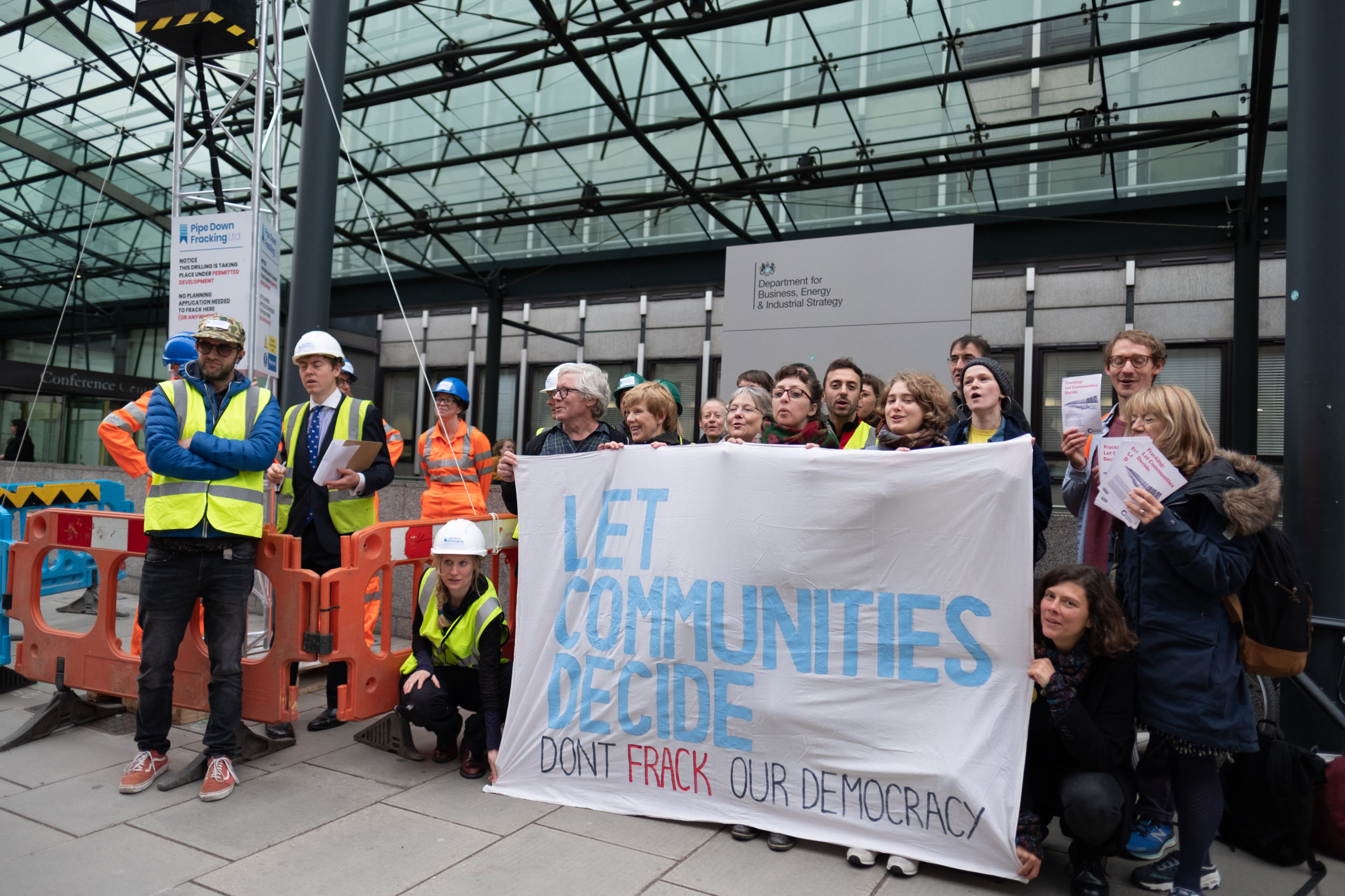 Anti-fracking protestors outside BEIS. Credit: Alban Grosdidier
Beth Parks, a London resident, agreed. She told DeSmog UK, "the fast track planning laws are just going to make it easier to frack in communities that don't want it, which is an insult to local democracy".
The government's planning proposal sits alongside a crackdown on opposition to fracking. Parks said fracking was unpopular across the country, with people now willing to go to jail to register their opposition.
Referencing the 'Frack Free Four', who were the first campaigners in the UK to be given custodial sentences earlier this month for protesting against fracking, she said, "It's galvanises energy if anything, as it brings these issues to the forefront".
"You see the sacrifice that some people have made, and you feel like you should be doing your bit. If they're going to sit inside a cell, it has to be for something."
---
Like what you're reading? Donate here to support DeSmog UK's journalism today 
---
Image: Alban Grosdidier. Updated 08/10/2018: A comment from a government spokesperson was added.