Shell is ending its corporate partnership with the National Gallery after a decade, emails seen by DeSmog UK reveal.
Campaigners have welcomed the news, saying the decision shows the company was "never a genuine philanthropist but a toxic company with an image to clean up".
The news comes as Manchester's Science and Industry Museum prepares to open a new Shell-sponsored exhibition. The deal has been widely criticised by campaigners that accuse Big Oil companies of using publicly-funded institutions to greenwash their images at a time when the government has stated its ambition to phase out fossil fuels as part of its climate commitments.
---
Like what you're reading? Donate here to support DeSmog UK's journalism today 
---
Partnership
Shell sponsored a major Rembrandt exhibition at the National Gallery, and is listed on the gallery's website as a "corporate contributor".
The company was also a corporate member of the National Gallery, for which it paid around £20,000 to £30,000 a year, DeSmog UK previously revealed.
This gave Shell access to private tours and invites to National Gallery events, including one attended by Prince Charles. It also bought the company special treatment, with the National Gallery coordinating press releases and responses to Freedom of Information requests.
New emails obtained through a Freedom of Information request by campaign group Culture Unstained shows Shell also sent the National Gallery a copy of its statement to announce the end of the partnership for the museum's approval.
The statement claims Shell "will not be renewing our membership of the Gallery in order to focus on our work to inspire the next generation of engineers through our STEM (science, technology, engineering and maths) education programmes and our work to support Enterprise Development in the UK's low carbon economy".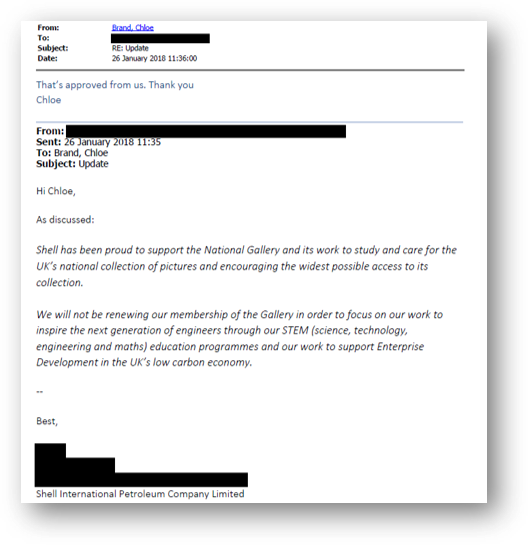 Shell has recently been putting vast resources into promoting its 'Make the Future' campaign and related educational programmes, which campaigners have described as "greenwash".
Chris Garrard, Co-Director of Culture Unstained, said the statement showed Shell "cynically trying to spin its minor involvement in renewables" as a justification for ending the partnership.
He said the National Gallery failing to end the partnership despite campaigners' concerns about company's record on climate change and ties to corruption and human rights violations was "deeply concerning".
---
Like what you're reading? Donate here to support DeSmog UK's journalism today 
---
A spokesperson for Shell told DeSmog UK the company was "always open" to working with the National Gallery again.
"Over the years, Shell has provided valuable support to a range of important institutions in the UK. This has included the National Gallery and its work to study and care for the UK's national collection of pictures and encouraging the widest possible access to its collection", they said.  
'

Due Diligence'

Other documents contained in the Freedom of Information disclosure show the National Gallery was well aware of concerns over Shell's reputation.

A 2016 'Due Diligence Report' compiled for the National Gallery lists over 100 pieces of "adverse media" on Shell's activities. This includes articles from The Times, the Wall Street Journal, the New York Times, and CNN reporting on Shell's regulatory and environmental issues, and workforce disputes.


Image: Pages from a Due Diligence report compiled for the National Gallery on Shell, including "adverse media" coverage.
Garrard told DeSmog UK that the Gallery ignoring the report showed it did not take its ethical stance regarding sponsors seriously.
"Had the Gallery taken on board the grave abuses highlighted by the report, and ended the relationship with Shell, that would have sent a powerful message about the importance of ethics and how we value art. But the Gallery's policies set the ethical bar so high as to be almost meaningless. It only needs to turn down a donor if it believes it will 'incur a level of criticism from the press or public' that seriously damages the Gallery's reputation."
"It's about time more cultural institutions considering corporate partnerships started to act on their own ethical judgment rather than waiting to see if they will get caught", he said.
Shell hit headlines in June when a court in Milan heard details of allegations of corruption regarding a $1.3 billion oil deal in Nigeria. The case is ongoing.
Shell was also at the eye of a media storm rthis year after unearthed documents showed the company knew about the danger its products posed to climate change since at least the early 1980s.
Last week, a major new report from the UN's climate science advisors said policymakers would have to implement "unprecedented" changes and rapidly phase out fossil fuels if global warming was going to be held to less than 1.5C.
Main image credit: Cristian Bortes/Flickr CC BY 2.0
---
Like what you're reading? Donate here to support DeSmog UK's journalism today 
---