A West Virginia Republican is gathering signatures from fellow members of Congress for a letter opposing any extension to the electric vehicle (EV) tax credit. Representative Alex Mooney is getting an assist in his efforts from FreedomWorks, the major conservative advocacy center that helped launch the Tea Party movement.
In an email sent Monday to Congressional staffers and reviewed by DeSmog, FreedomWorks' Vice President of Legislative Affairs, Jason Pye, "urges your boss to sign the letter against an expansion of the electric vehicle tax credit." The "Draft Anti-Electric Car Tax Credit Letter" repeats a number of easily discredited and false talking points that have been echoed repeatedly by opponents of the tax incentive.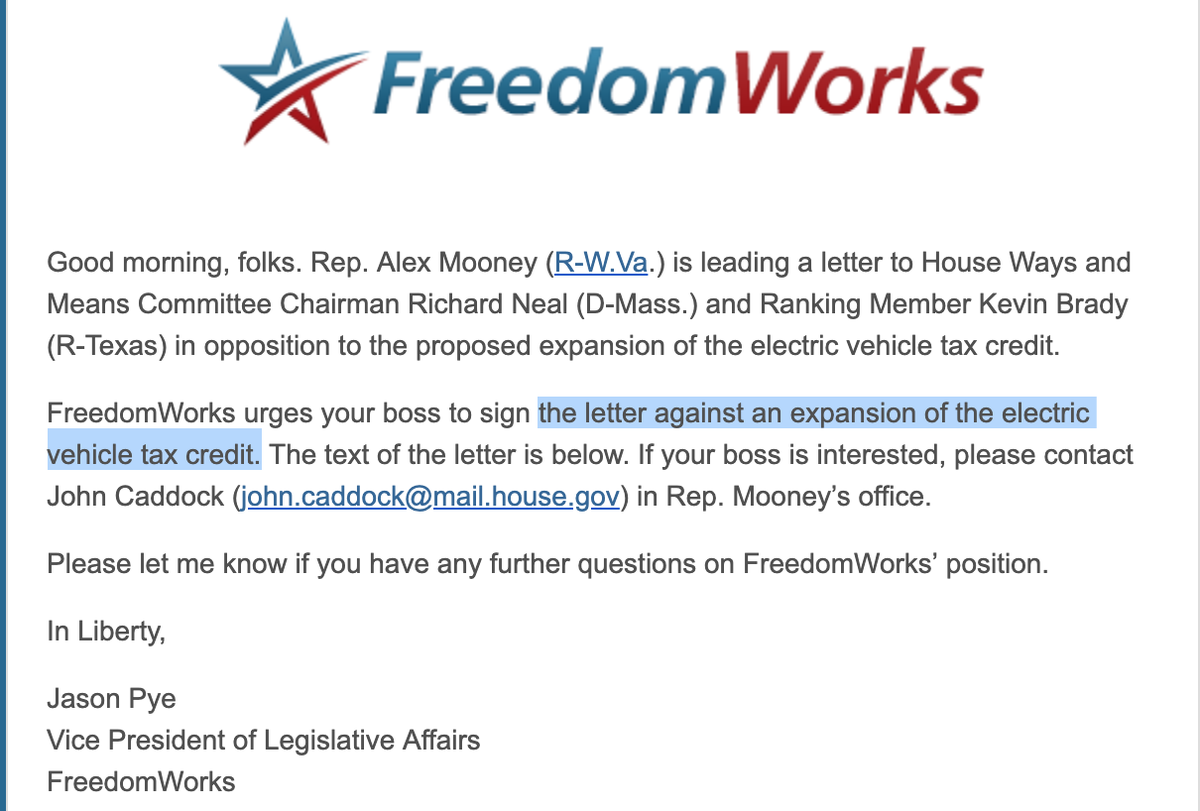 American Energy Alliance Letter Redux
The letter to House Ways and Means Committee Chairman Richard Neal and Ranking Member Kevin Brady, authored by Rep. Mooney of West Virginia, echoes in sentiment and citations a recent letter to Congressional leaders organized by a former Koch Industries lobbyist at the American Energy Alliance (AEA). Rep. Mooney's letter references figures from three reports and polls that were also cited in the AEA letter and which are commonly deployed to support deceptive talking points.
Mooney's letter states:
"A survey conducted by the American Energy Alliance shows that 67 percent of Americans do not support subsidizing electric vehicle purchases."
The AEA survey, in fact, reveals no such thing. The survey was commissioned by a self-described "advocacy" organization lead by a former Koch Industries lobbyist and conducted by MWR Strategies, a for-profit lobbying firm with clients including Koch Industries and the American Fuel & Petrochemical Manufacturers. The "highly biased poll," in the words of polling expert Dr. Ed Maibach of George Mason University, asked leading questions of prospective voters in just nine states that were cherry-picked by the lobbying firm.
The AEA survey results diverged considerably from various other polling conducted on the EV tax credit in the past year. A poll released recently by Climate Nexus found that 77 percent of American voters have a positive opinion of electric cars, and that a $7,500 tax incentive would make it more likely for nearly three-quarters of American voters overall (and 71 percent of Republican voters) to purchase an electric vehicle.
Another poll conducted last year by Autolist, a car sales website, found broad support for preserving and extending the federal incentives, with a full 63 percent of consumers saying that the $7,500 tax credit was important to support electric car adoption in the United States, and one-third responding that the 200,000 vehicle cap on the tax credit should be lifted entirely. 
Rep. Mooney's letter goes on to claim:
"[A] study by the Pacific Research Institute found that 79 percent of electric vehicle tax credits were claimed by households with an annual adjusted gross income of more than $100,000."
This "study," by Wayne Winegarden of the Pacific Research Institute (PRI), relies on outdated data from 2014, when the EV market was still in its infancy and many of the mid-range models that are available today had not yet been introduced. It also entirely ignores leased vehicles, which make up more than half of the electric car market. The EV tax credit can reduce lease payments by up to $200 per month, effectively making electric cars affordable for many more drivers.
The Pacific Research Institute has received over $1.7 million in donations from Koch-related foundations, $3.8 million from Scaife foundations, and at least $615,000 from the oil giant ExxonMobil.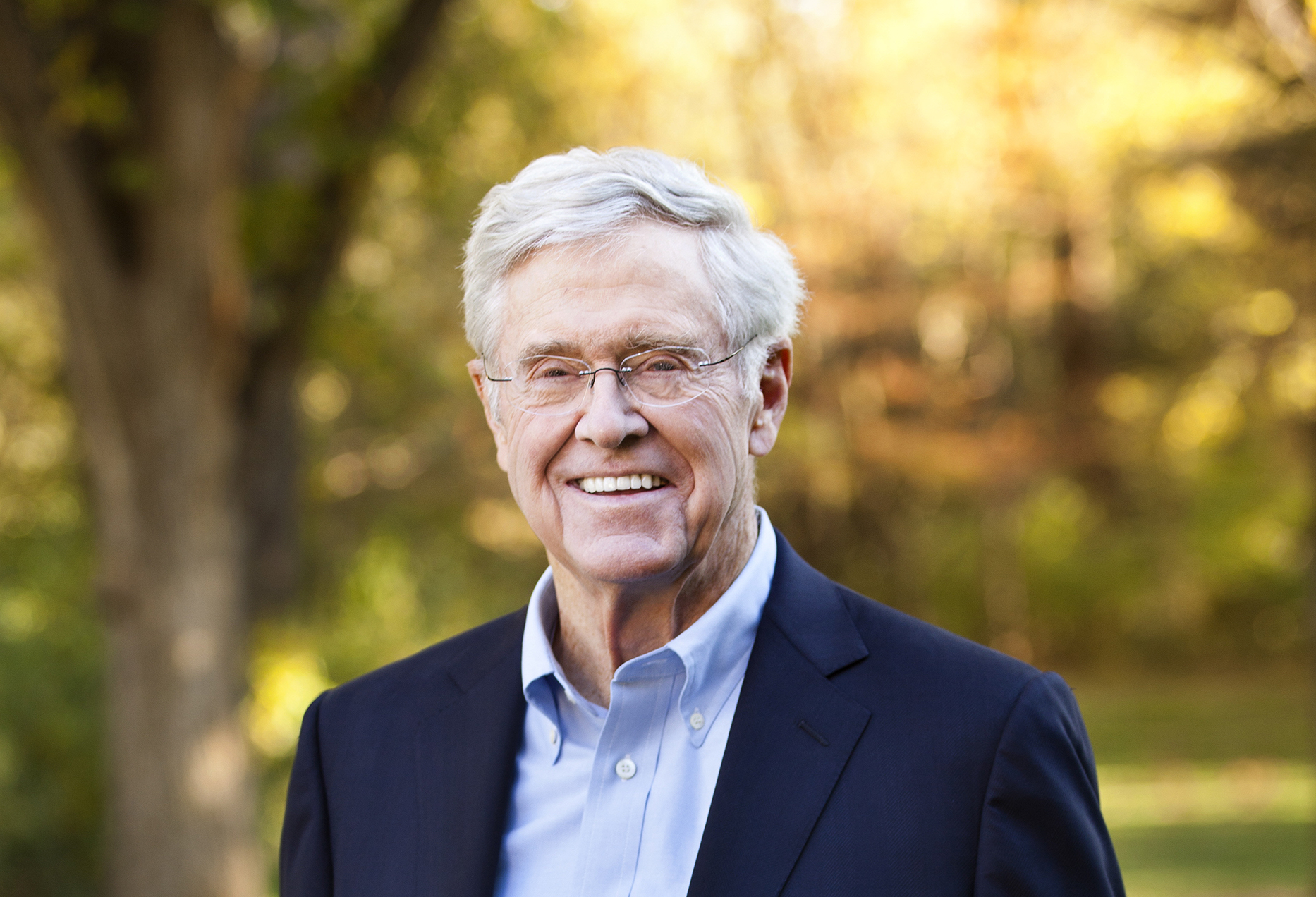 Charles Koch, April 2019. Credit: Gavin Peters, CC BY–SA 3.0
Finally, Rep. Mooney's letter claims that "electric vehicles hurt the environment more than efficient internal combustion engines," citing a Manhattan Institute report by Jonathan Lesser. While Lesser's report has been debunked a number of times, Lynn Daniels and Edward J. Klock-McCook of the Rocky Mountain Institute have published the most comprehensive and authoritative rebuttal. Daniels and Klock-McCook write:
"Conclusions are reached through misrepresentation and reliance on projections that are known to be consistently inaccurate. The same poor methods are applied to the economics of electric vehicles (EVs) and to questions about the profitability of, and public investment in, EV charging infrastructure."
The Manhattan Institute receives extensive funding from the oil and gas industry, including ExxonMobil and Koch family foundations. As recently as 2011, the Manhattan Institute was arguing aggressively for the preservation of oil and gas industry tax breaks.
Rep. Mooney's office has not responded to DeSmog's questions about the Congressman's letter. 
Surge in Anti-
EV

Tax Credit Sentiment in Conservative Media

Over the past few months, as bills to either extend or eliminate the EV tax credit have surfaced in Congress, there has been a measurable increase in op-eds and commentaries in conservative media outlets that attack the EV tax credit.

As the Drive America Forward Act, which would lift the cap on electric cars eligible for the credit, has gained co-sponsors across party lines, those industries most threatened by the widespread adoption of EVs are clearly fighting back, through the media and in these letters to Congress, as well as extensive lobbying on Capitol Hill. Without fail, these efforts to skew public and political opinion on the tax incentives include these deceptive talking points and oil-funded reports deployed in Rep. Mooney's letter. 

As Elliot Negin of the Union of Concerned Scientists recently wrote for Common Dreams, the "oil and gas industry's anti-EV tax credit campaign is a prime example of how fossil fuel interests construct a disinformation echo chamber to drown out government efforts to address the climate crisis."

Negin continues:
"This is basically how it works: The industry underwrites a network of faux free-market groups to surreptitiously advocate on its behalf; it pays seemingly independent think tanks to publish deceptive studies; and it bankrolls the campaigns of federal legislators, who then cite industry-funded studies and invite industry-funded spokespeople to testify before Congress."
This week's letter by Rep. Mooney — citing industry-funded stats and circulated by a conservative advocacy org — shows the oil industry's anti-EV campaign is in working order.
Main image: Zero Emission Credit: naotakem, CC BY 2.0