In the first few days after Hurricane Ian came ashore in southwest Florida, I heard many politicians describe the widespread and, in some areas, catastrophic damage as unimageable. But for those of us covering extreme weather and following climate science reports, the scene was tragically familiar.
Last year's Intergovernmental Panel on Climate Change (IPCC) report — that United Nations Secretary-General António Guterres summarized as a "code red for humanity" — notes that "widespread, pervasive impacts…have resulted from observed increases in the frequency and intensity of climate and weather extremes." These climate impacts are evident in the growing number of apocalyptic landscapes I've documented after record-breaking storms hammer coastal communities along the Gulf of Mexico.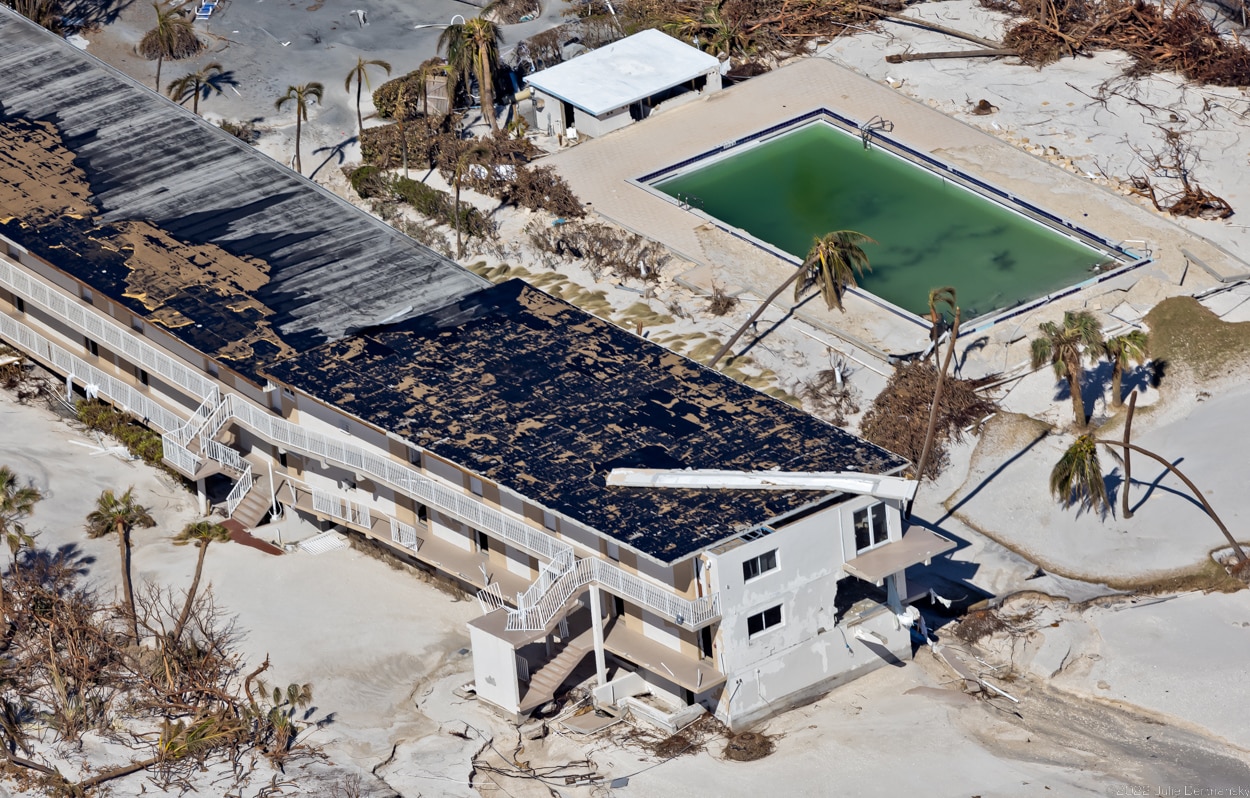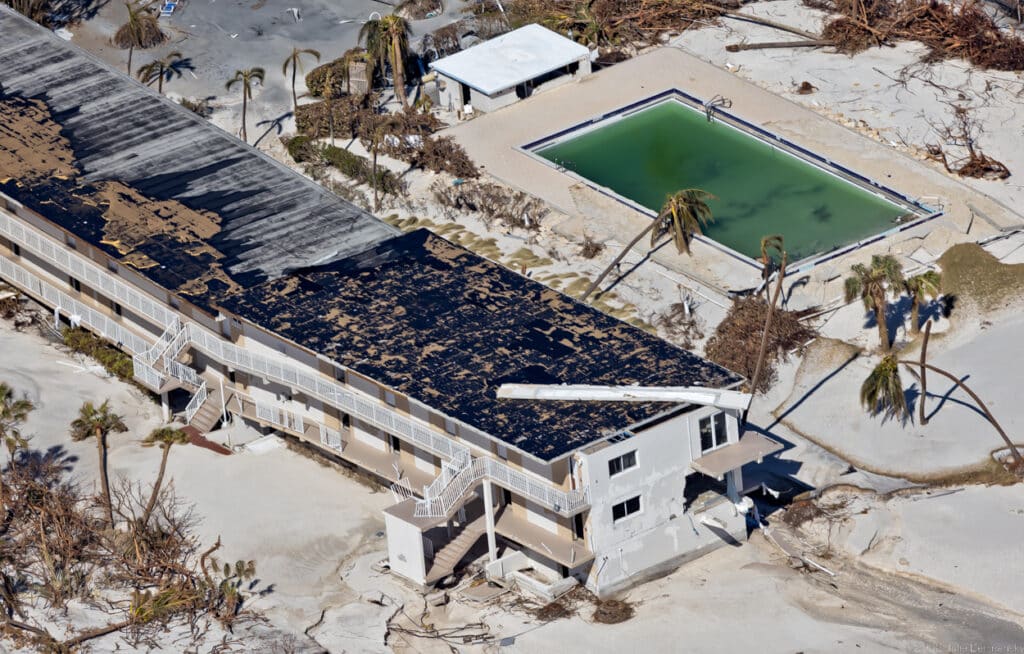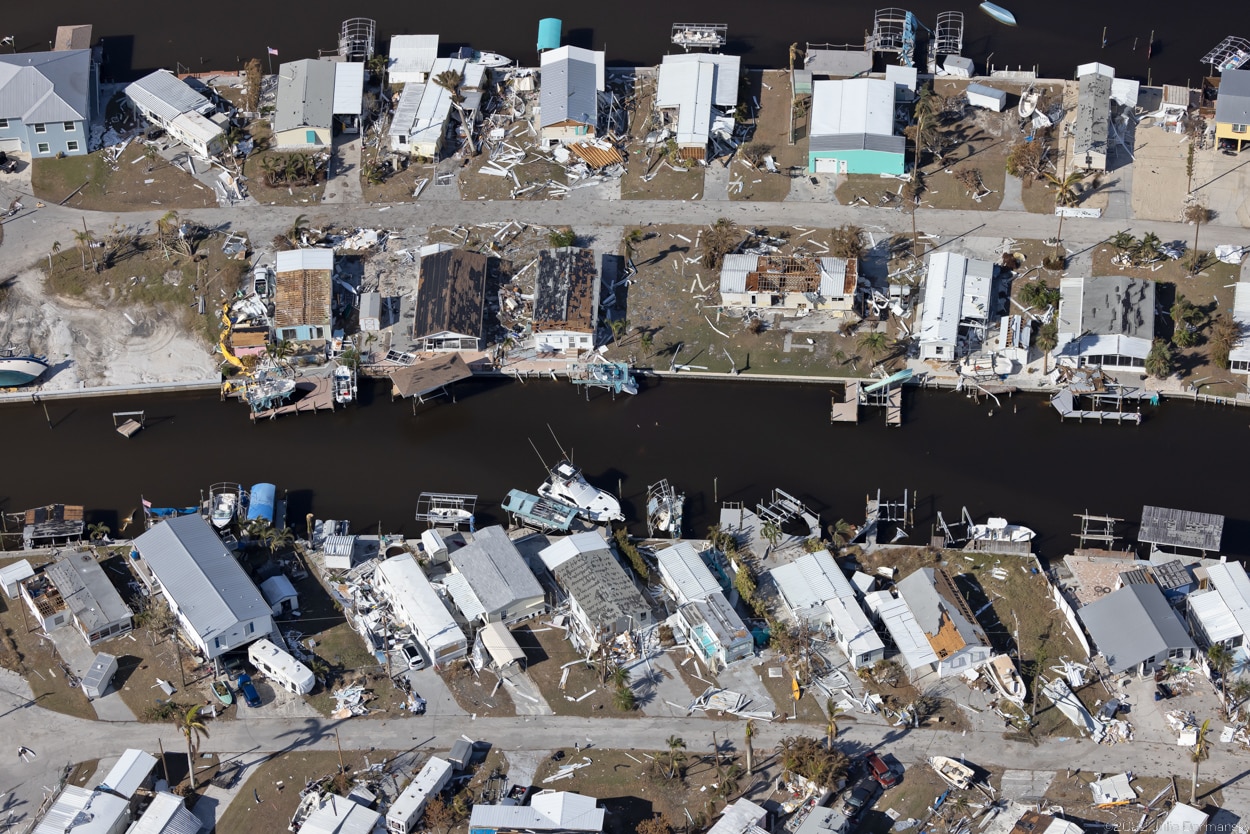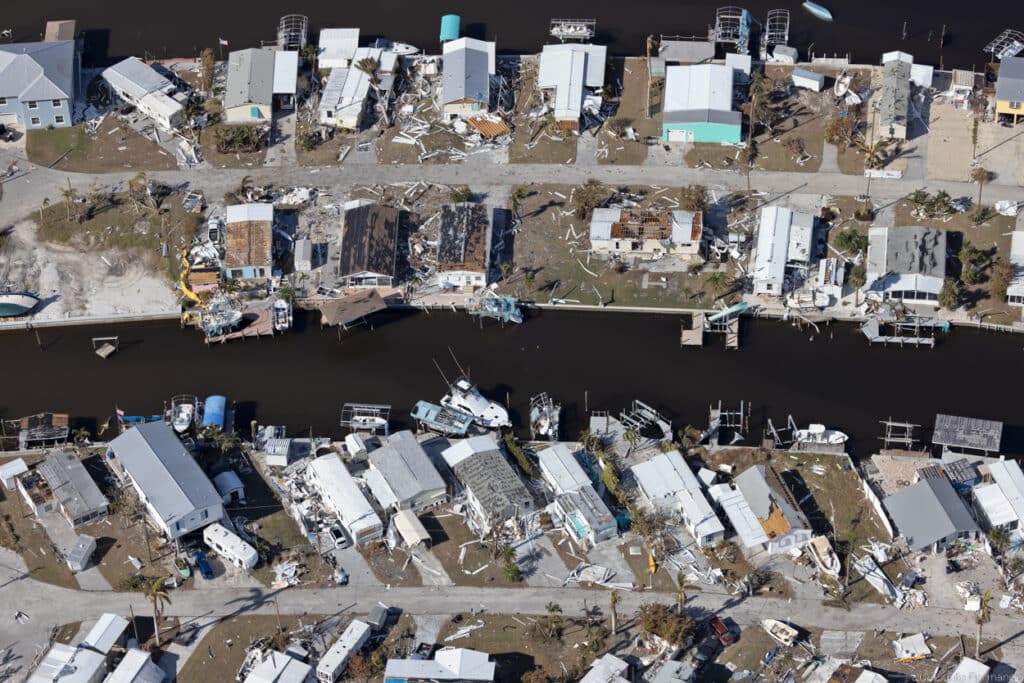 On a photo assignment for Greenpeace, I headed to the disaster zone the day after the Category 4 hurricane hit Florida. I found signs of storm damage once I reach Venice, on the west-central coast, and from there, I began documenting the destruction in coastal communities impacted by Ian's double whammy — powerful storm surge and sustained high winds — at times driving through receding floodwater and roads littered with debris.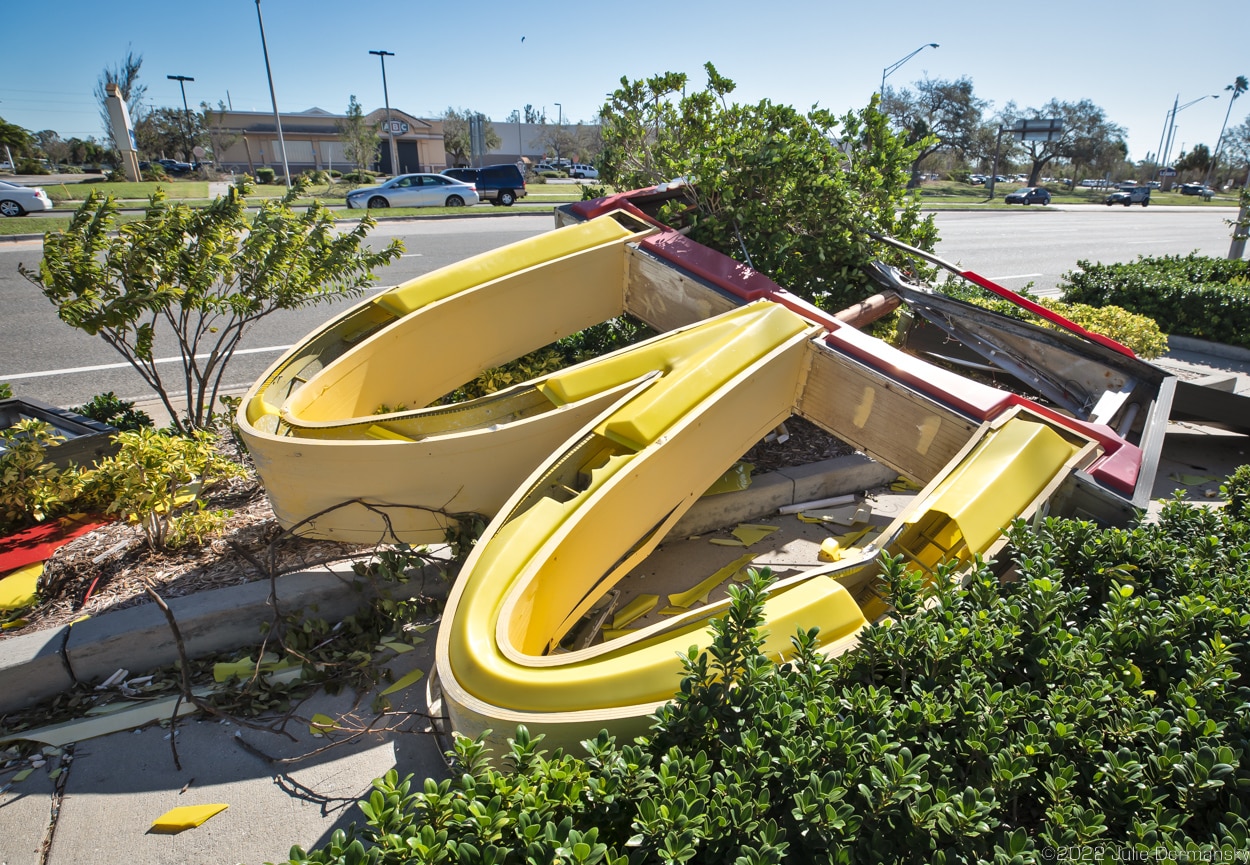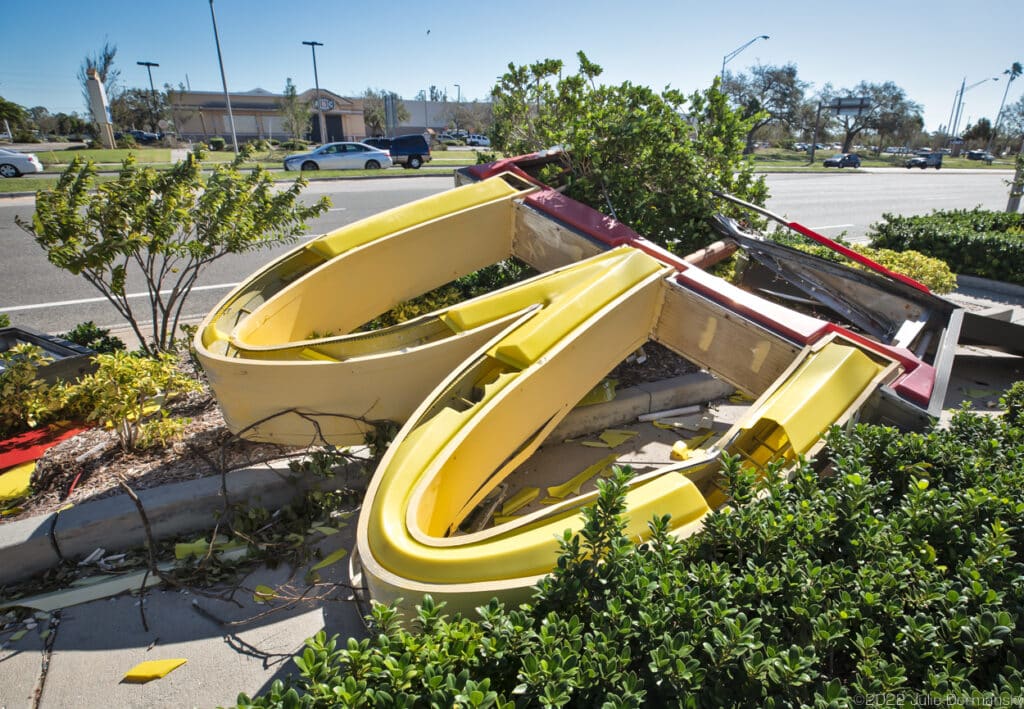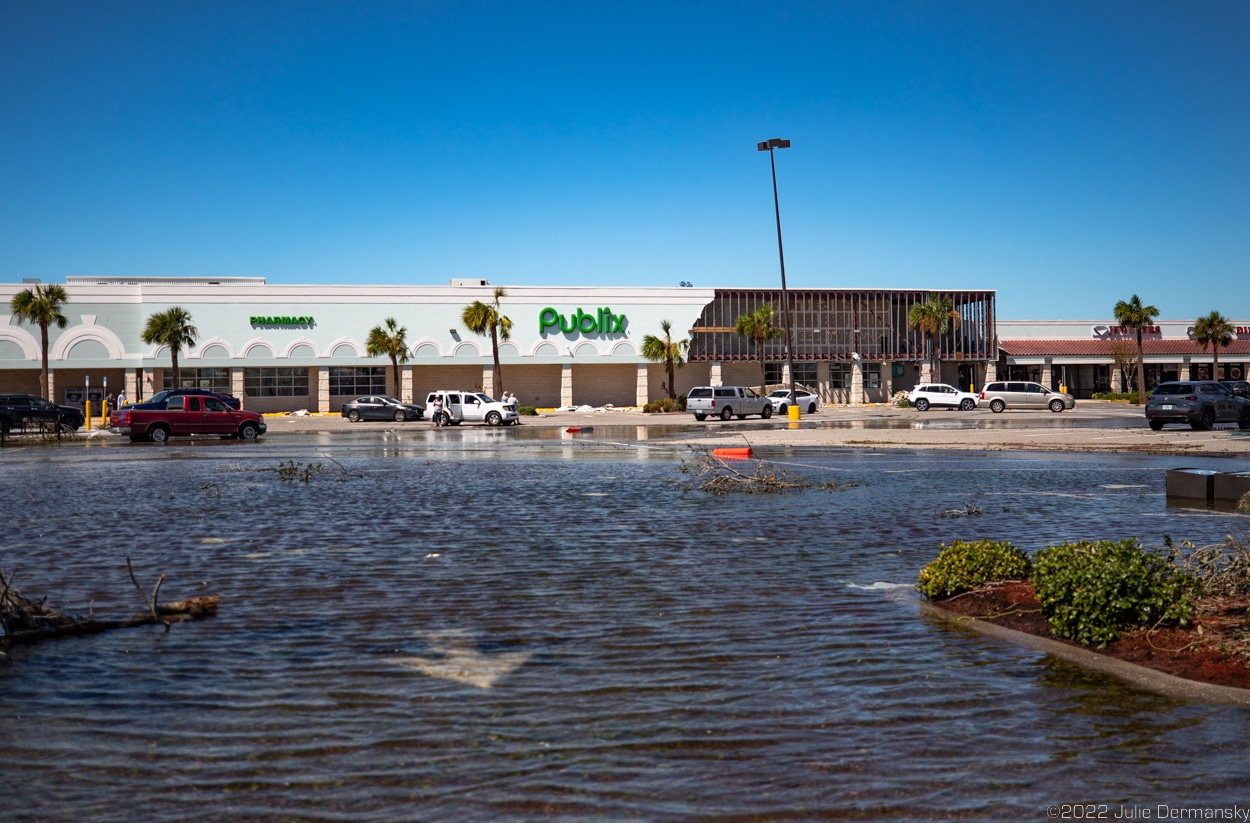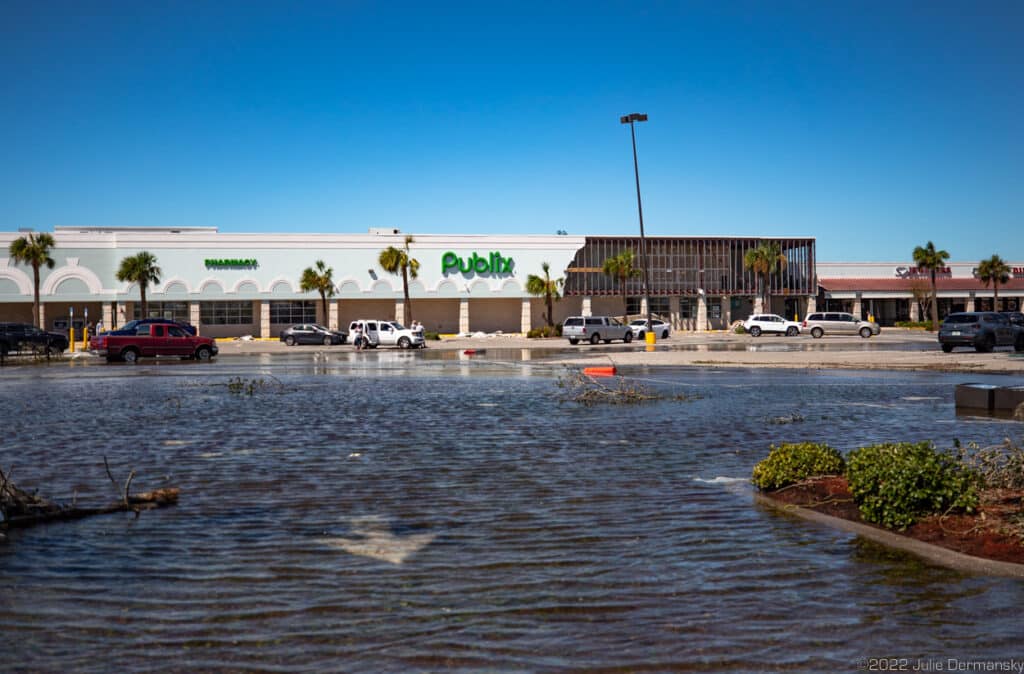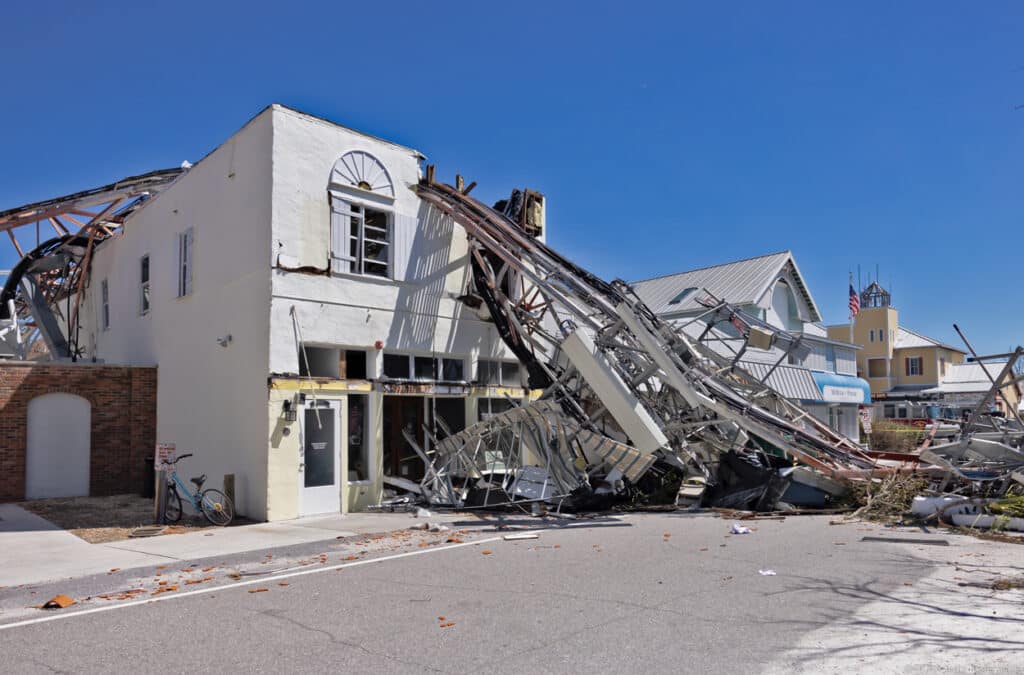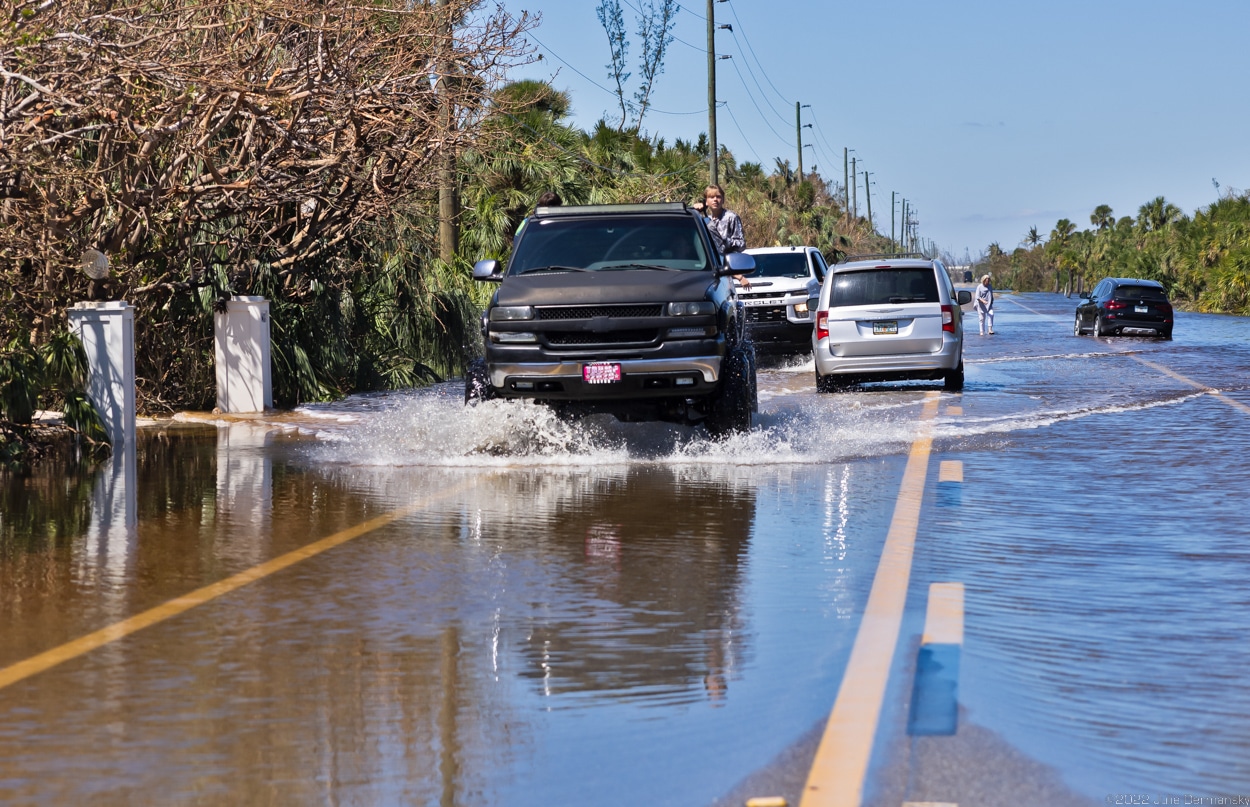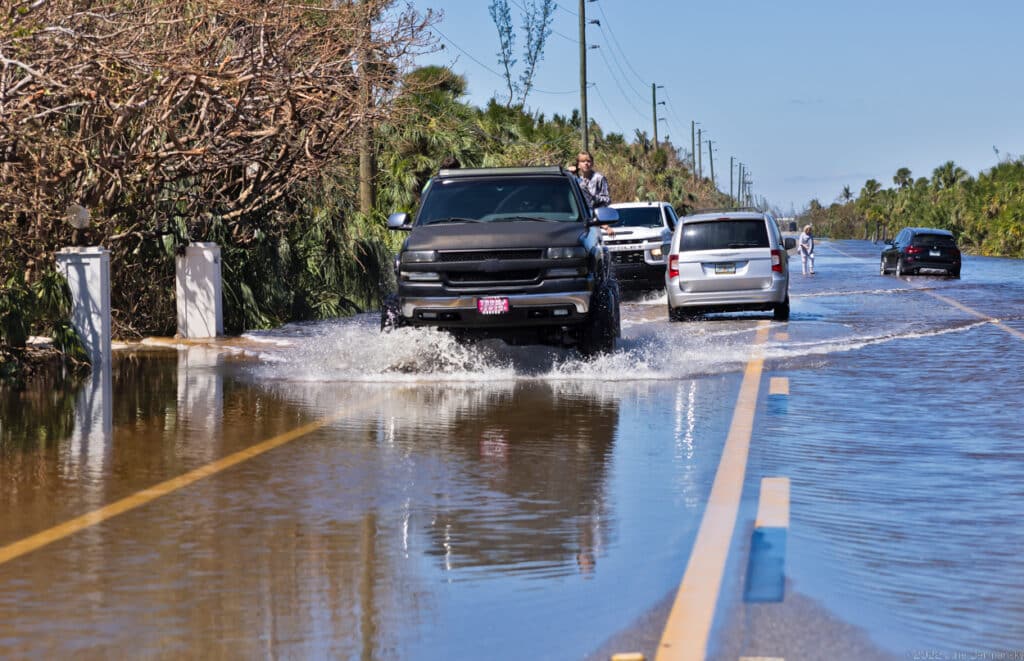 I stopped in Placida, a small community where boats had been tossed about like toys at Gasparilla Marina. Just next door was Gasparilla Mobile Estates, a mobile home park where nearly every structure appeared to have sustained substantial damage.
There I met Tyler Bryant, a resident whose home was totaled. He told me that he thinks it was a miracle that he and his neighbors survived. While he is grateful to be alive, he expressed concern that the community in the park, established some 30 years ago, would not survive. In January, it was hit by a tornado, and Bryant fears the mobile home park's owner might choose not to rebuild a second time. While the residents own their homes, if the park's owner doesn't rebuild the infrastructure that they rely on, Bryant will have to find a new place to start over.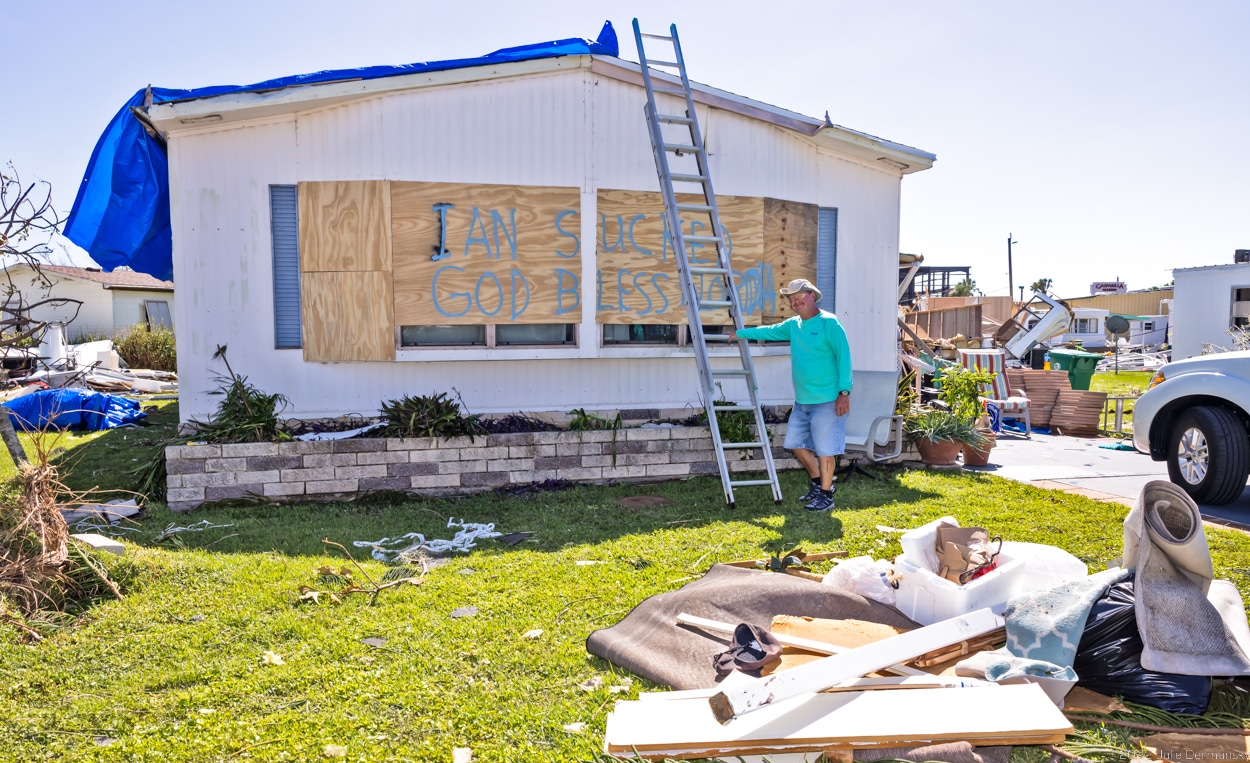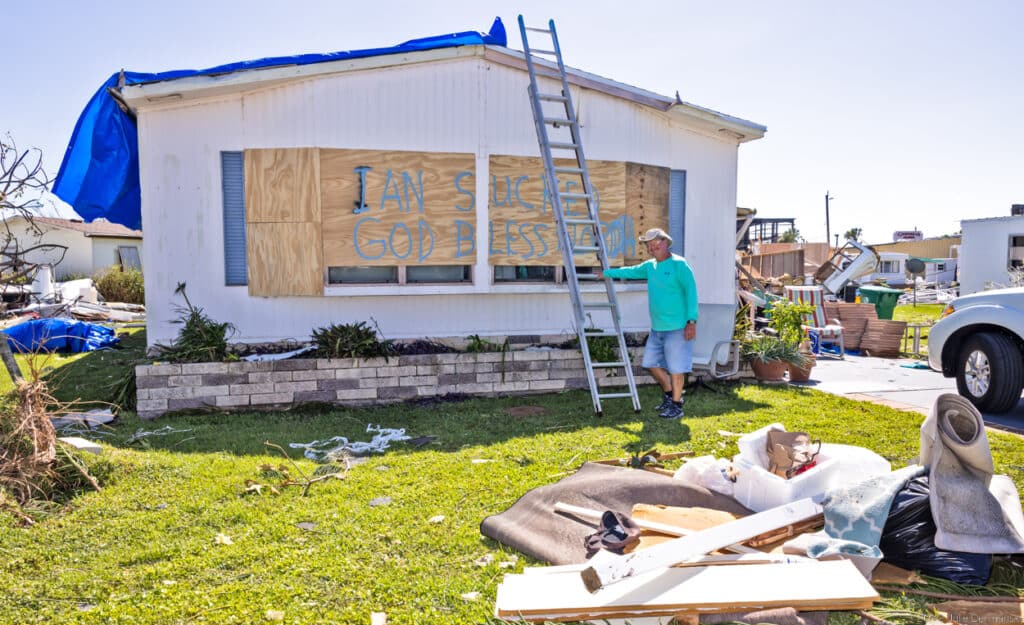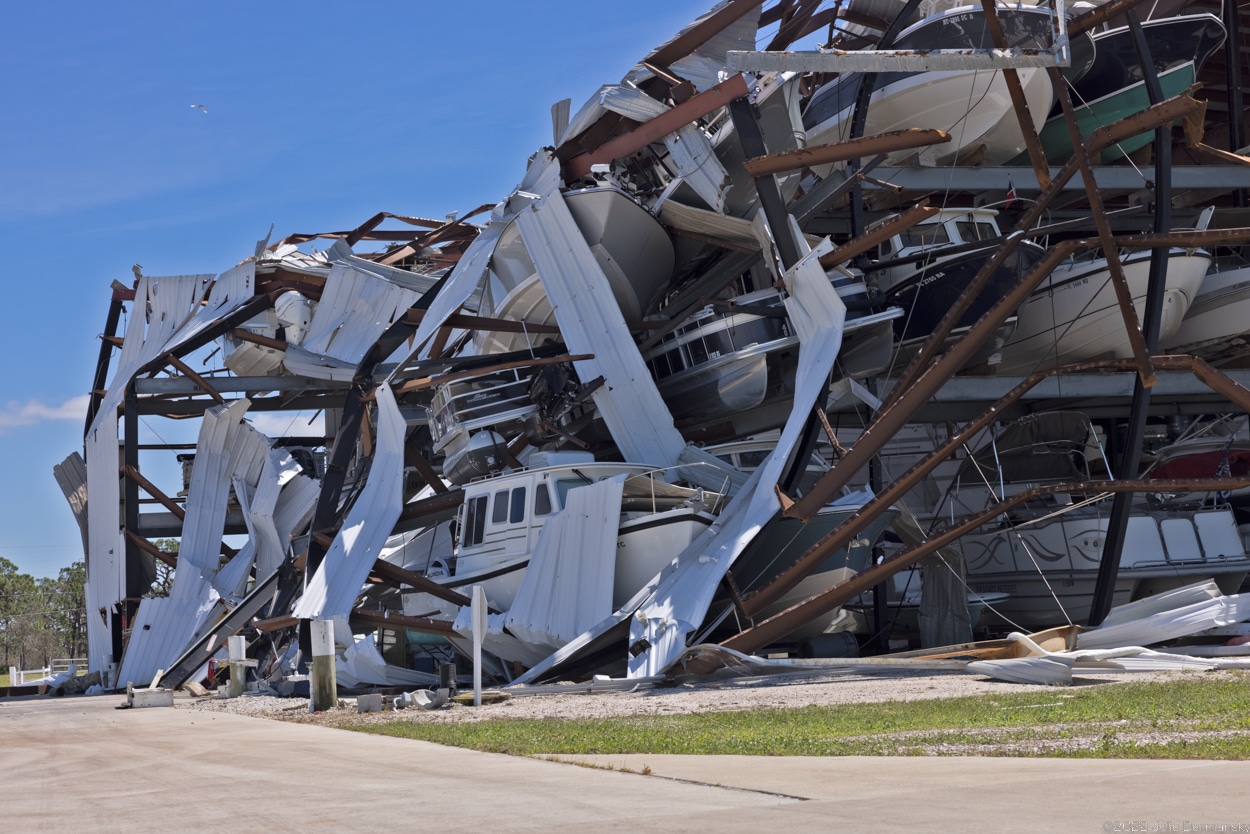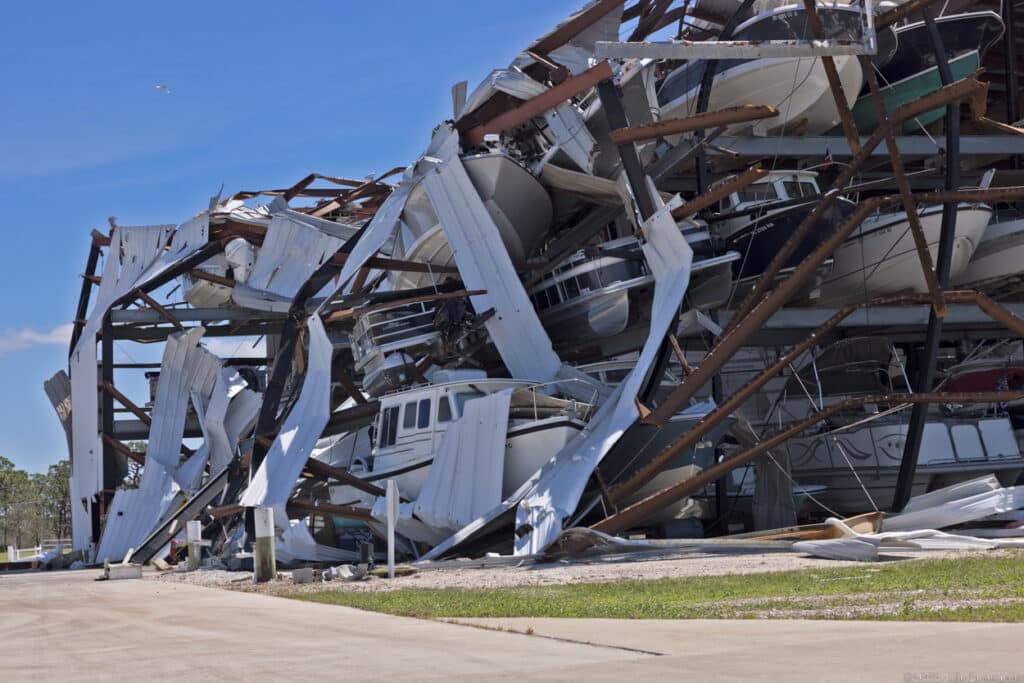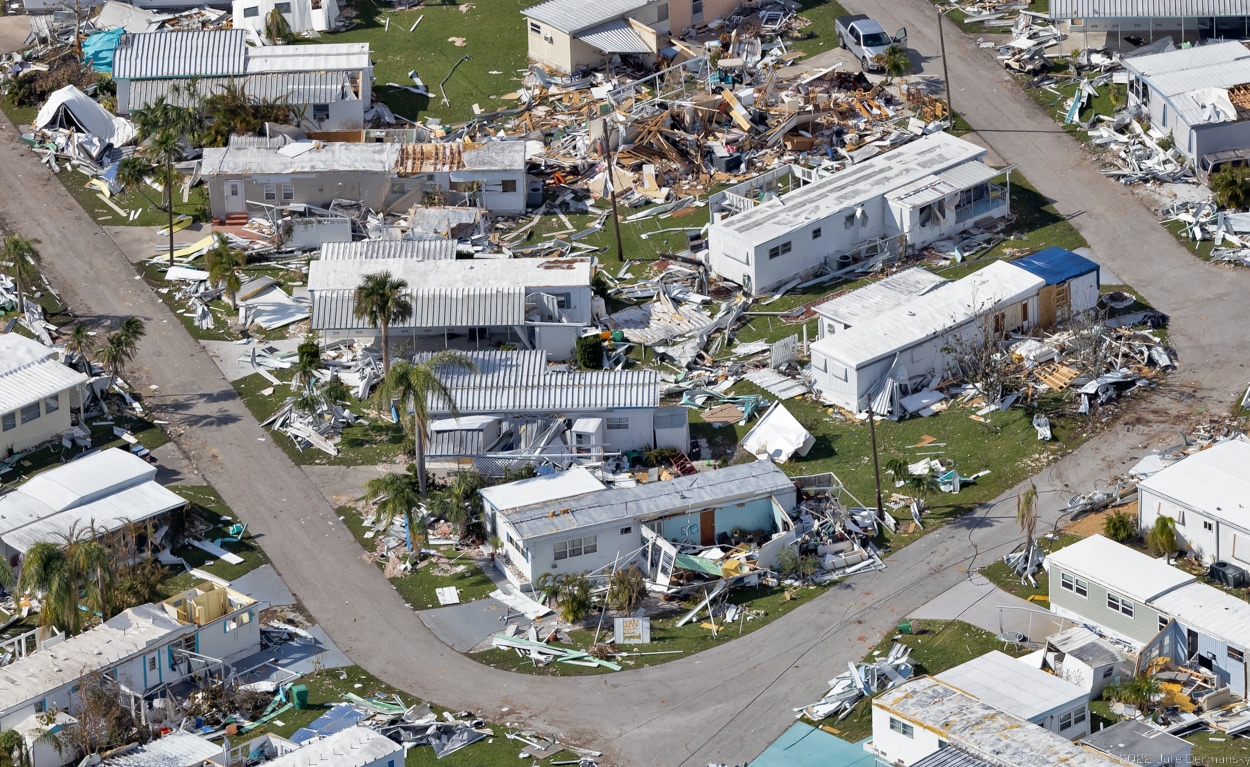 Like other catastrophic and costly storms along the Gulf Coast from the past decade, Hurricane Ian rapidly strengthened as it passed over dangerously warm water off Florida's southwest coast. As a result, it hit just north of Fort Myers Beach with 150 mile-per-hour winds — just shy of a Category 5 hurricane — and with storm surge as high as 18 feet in some areas. It devastated the region.
In less than three hours, Ian's top wind speed shot up by 35 miles per hour, suddenly shifting from a Category 3 to a powerful Category 4 hurricane, according to CNN. This made it a much more dangerous storm than had been widely predicted less than 24 hours before impact.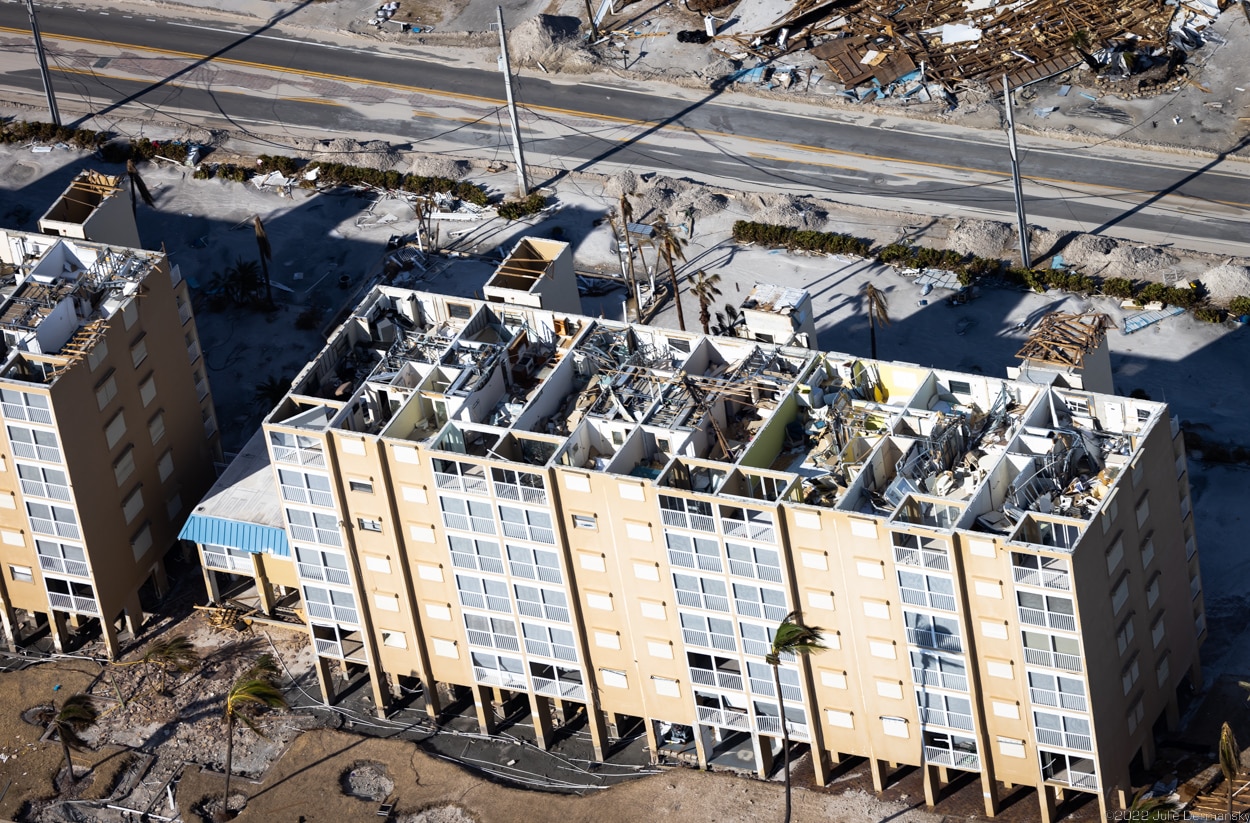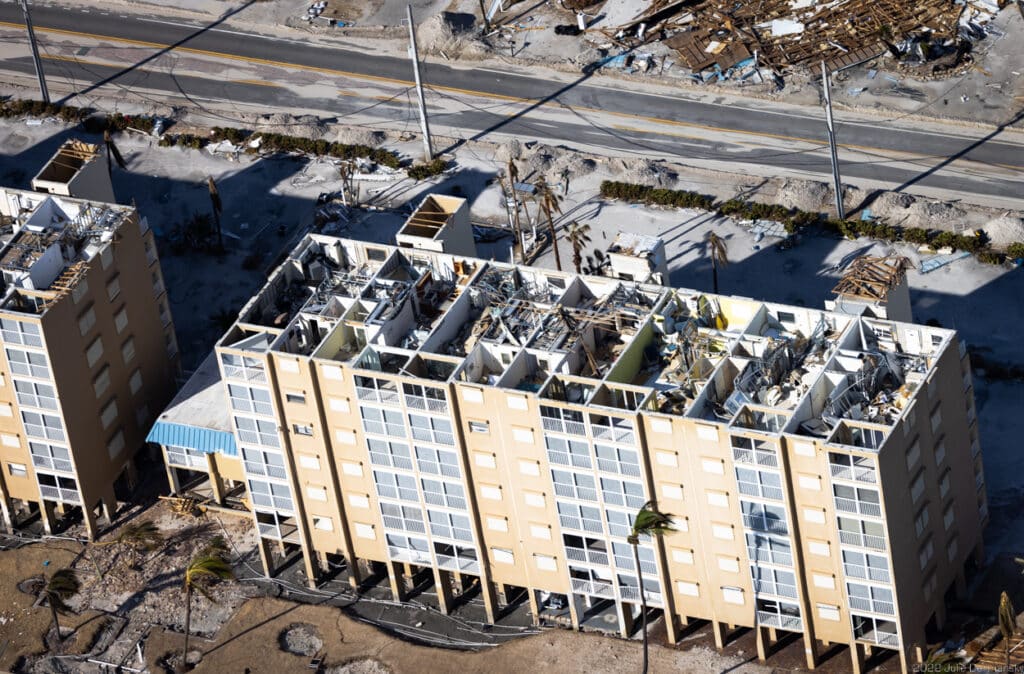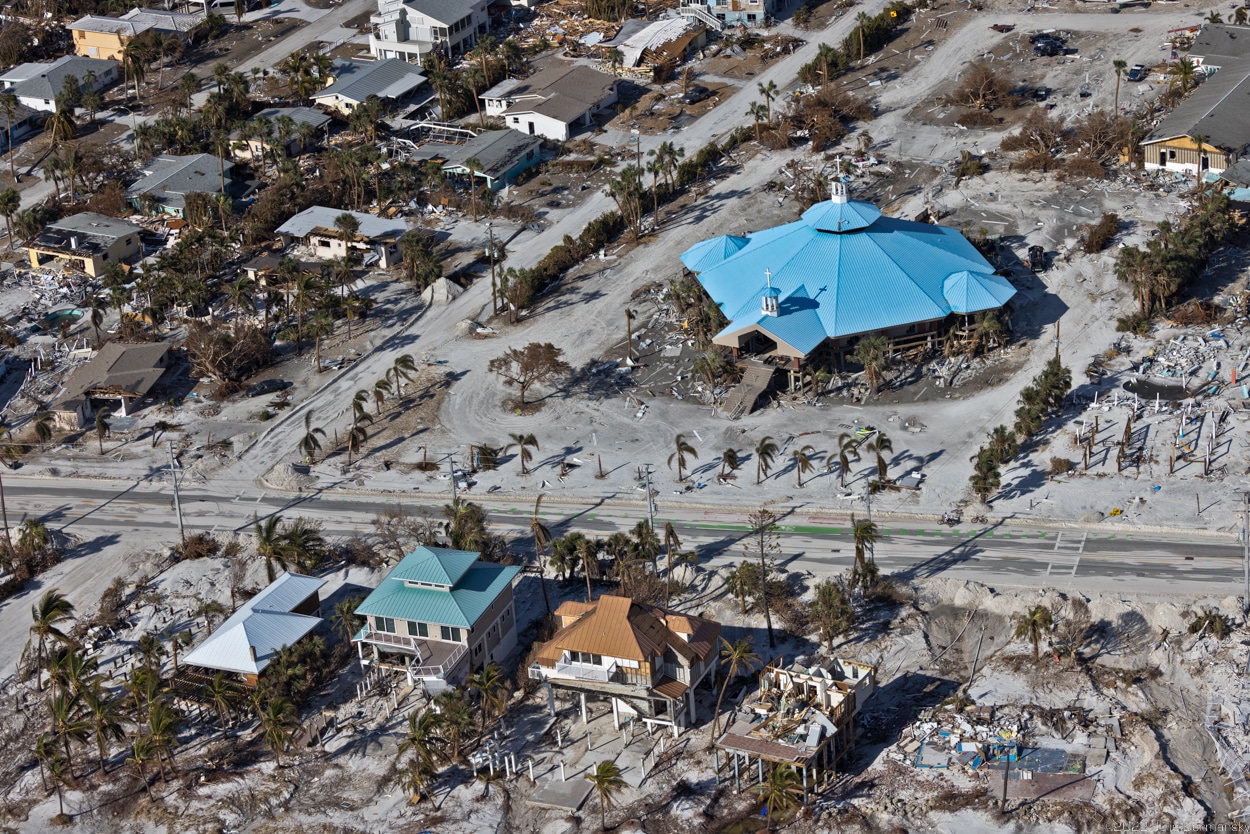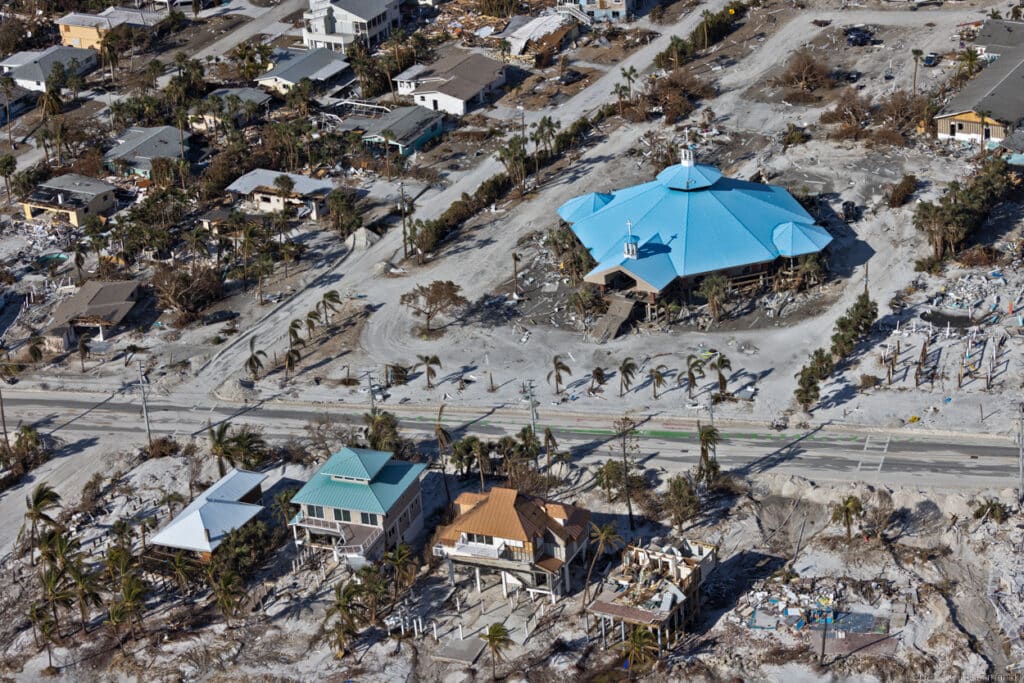 Those impacted by Hurricane Ian were largely caught off guard, in part because the storm was predicted to hit the Tampa metro area, roughly 150 miles north of where it ultimately came ashore. Many people didn't learn that Ian's path had changed and intensified until under 24 hours before the storm made landfall, and by then, in places like Sanibel Island, the roads leading out of the region were too gridlocked to evacuate.
In the wake of storm after storm — including Hurricanes Laura, Michael, Sally, and Ida — I meet people who share similar stories of having no choice other than to shelter in place from storms that didn't seem like a threat when people went to sleep but that turned into monsters by the time they awoke. Once these storms are reaching a critical danger level, the time for safely evacuating is already over.
The National Oceanic and Atmospheric Administration estimated that once Ian moved inland, the hurricane dropped more than 12 inches of rain in just 12 to 24 hours, leading to widespread flooding in inland cities. Two days after the storm hit, I-75 had to be shut down when a dam gave way and water overtopped the freeway, slowing aid's arrival into the disaster zone. And flooding from Ian's excessive rain may impact parts of Seminole County, northeast of Orlando, through Thanksgiving, CNN reports.

"Climate change once seemed a distant threat," begins an op-ed in The Guardian by climate scientist Michael E. Mann and Susan Joy Hassol, director of the nonprofit Climate Communication. The article, aptly titled "Hurricane Ian is no anomaly," counters the talking points of most of Florida's political leaders, who have described the storm's destruction as unimaginable and unpredictable. Mann and Hassol instead explain that "many of the storms of the past five years — Harvey, Maria, Florence, Michael, Ida and Ian — aren't natural disasters so much as human-made disasters, whose amplified ferocity is fueled by the continued burning of fossil fuels."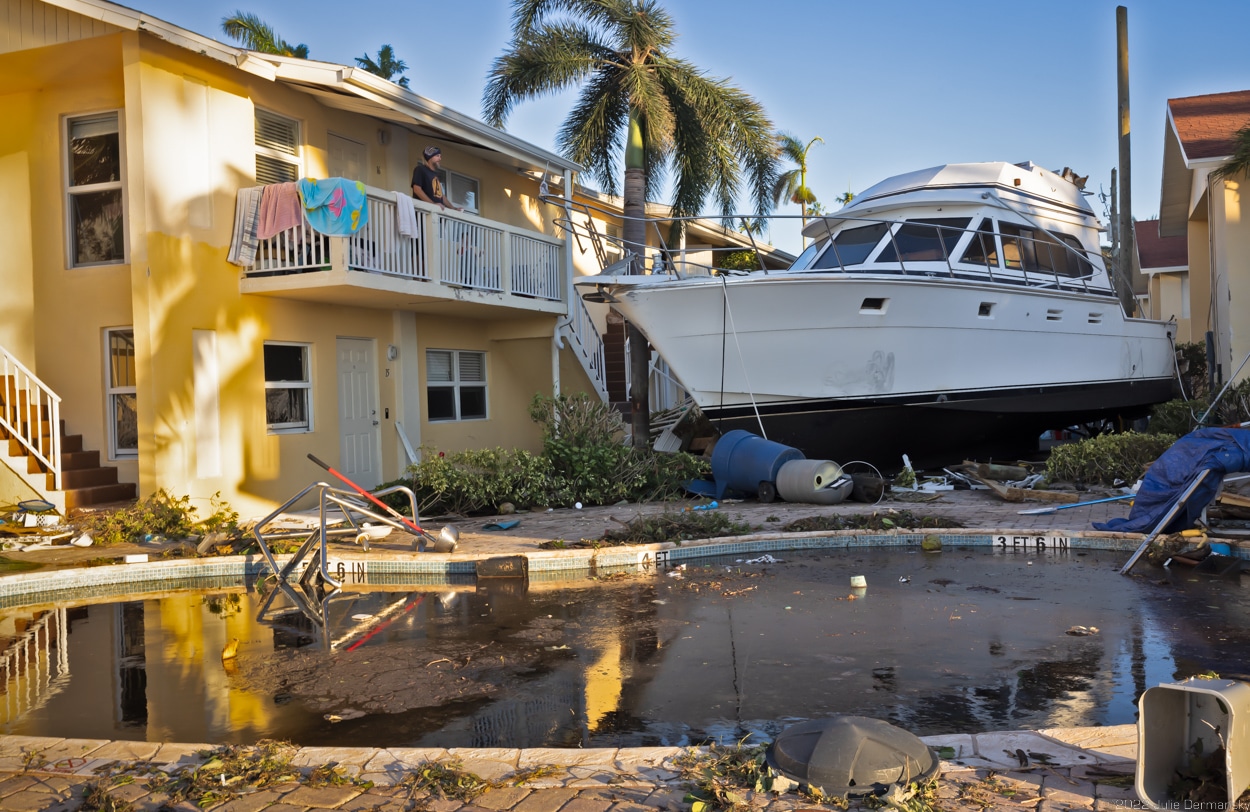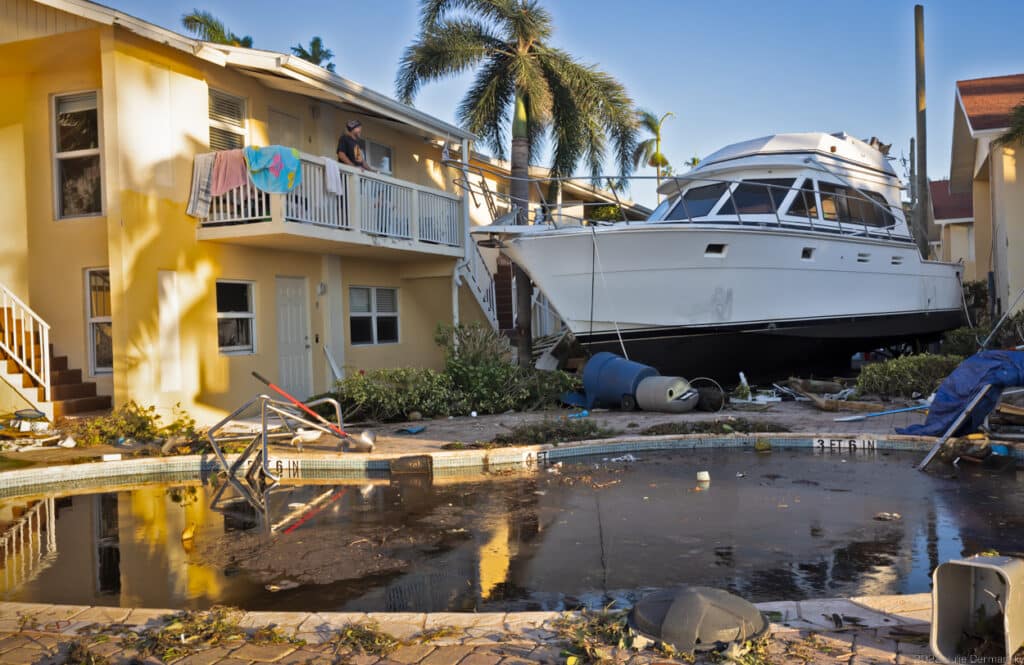 Scientists continue to issue warnings with increasing alarm that the planet's increased temperatures will lead to more frequent and severe storms in coastal regions, and that those storms have the potential to rapidly intensify as they move over warmer waters, and through a hotter atmosphere. But the changes due to the warming climate are rarely if ever mentioned in the predictions for recent hurricanes, leaving the public unaware of the probability that a storm's path and intensity may change as it gets closer to land.
Disaster recovery expert retired Lieutenant General Russel Honoré, who led the Defense Department's Joint Task Force Katrina in 2005, told me that disaster preparedness planning has not kept up with the changes of a warmer planet. "We're not respecting the storm's new normal," Honoré said. He added that despite the increasing number and power of storms, coastal communities like the areas Ian hit the hardest have experienced major population growth, which complicates issuing evacuation orders.
The challenges surrounding evacuation timing were particularly evident in Lee County, home to Fort Myers, according to a Washington Post article that breaks down the rollout of evacuation orders related to Hurricane Ian. There and elsewhere, politicians are receiving mounting criticism over their failure to warn those in harm's way to leave in a timely fashion.
New Orleans' Democratic Mayor LaToya Cantrell faced similar criticism last year for not ordering a mandatory evacuation as Hurricane Ida approached. Residents were left without power for almost two weeks after the storm hit, resulting in at least nine deaths attributed to the excessive heat that followed. Cantrell defended her decision by explaining there wasn't enough time to set up an evacuation once Hurricane Ida's path and intensity became clear.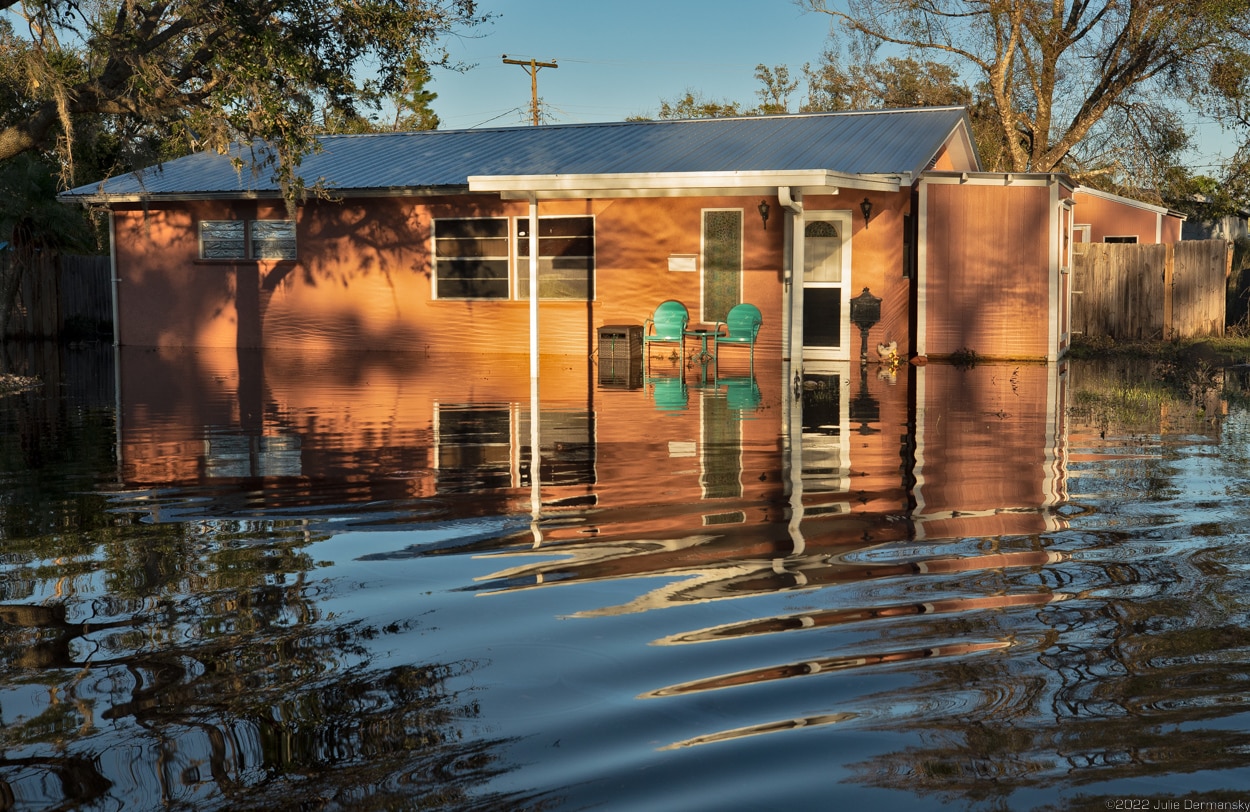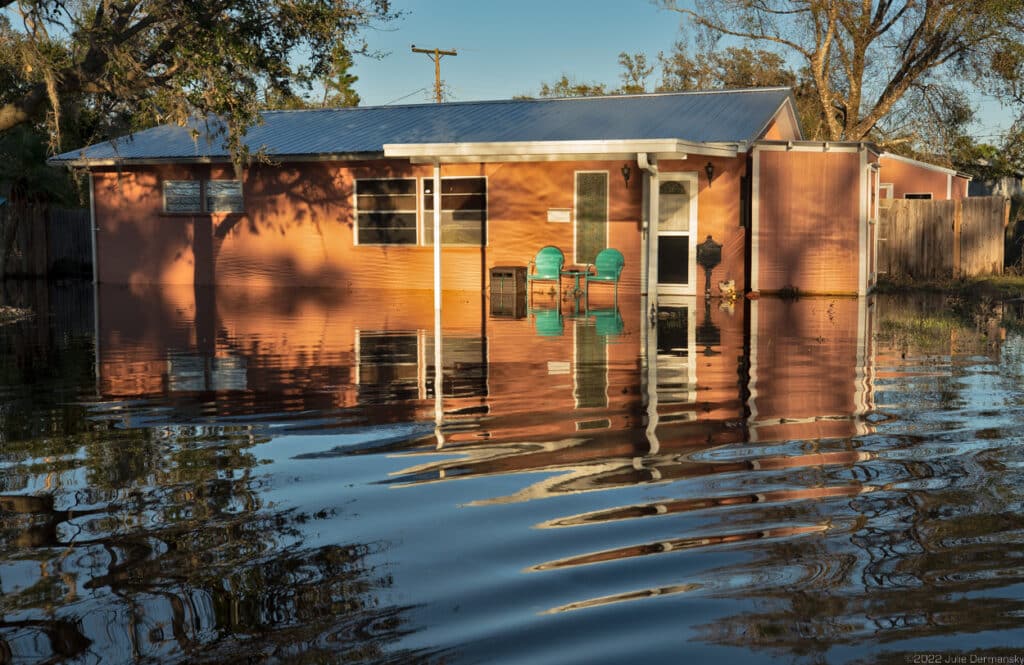 Here in Florida, Karen and John Dwyer, a couple who live in Naples, a few miles inland, were among the many who were surprised to learn a few unsettling facts only a few hours before Ian arrived — and they lost power and communications. First, that the storm's western eye was on course to hit their community and linger for almost half a day, and second, that Ian had already reached Category 3 status and would likely gain even more strength before reaching the coast.
The Dwyers, lifelong Floridians, are not strangers to the threat of hurricanes and take evacuation orders seriously. They told me if they been warned that there was a good chance the storm would intensify and had a high risk of changing its path as it hit land, the couple would have evacuated even if a suggested evacuation order had not been made. But, like many others, by the time they learned Ian was headed their way at lethal strength, they had no choice but to shelter in place and ride out one of the most powerful and destructive storms ever to hit the state. The hurricane left more than 100 people dead, most of whom drowned, and caused an estimated $50 billion in destruction in Florida alone.
Many residents in coastal areas along the Gulf of Mexico are used to calculating the risk of staying or evacuating during hurricane season for themselves. But few have started to factor in the different way that hurricanes develop as the climate crisis worsens. So people like the Dwyers, who get stuck sheltering in place when life-threatening storms hit, but previously didn't worry when a Category 1 storm swept across the Gulf, will likely look at storms differently to avoid living through such a terrifying experience again. But whether the region's elected leaders will learn similar lessons about the ways the climate crisis is affecting extreme weather remains in doubt.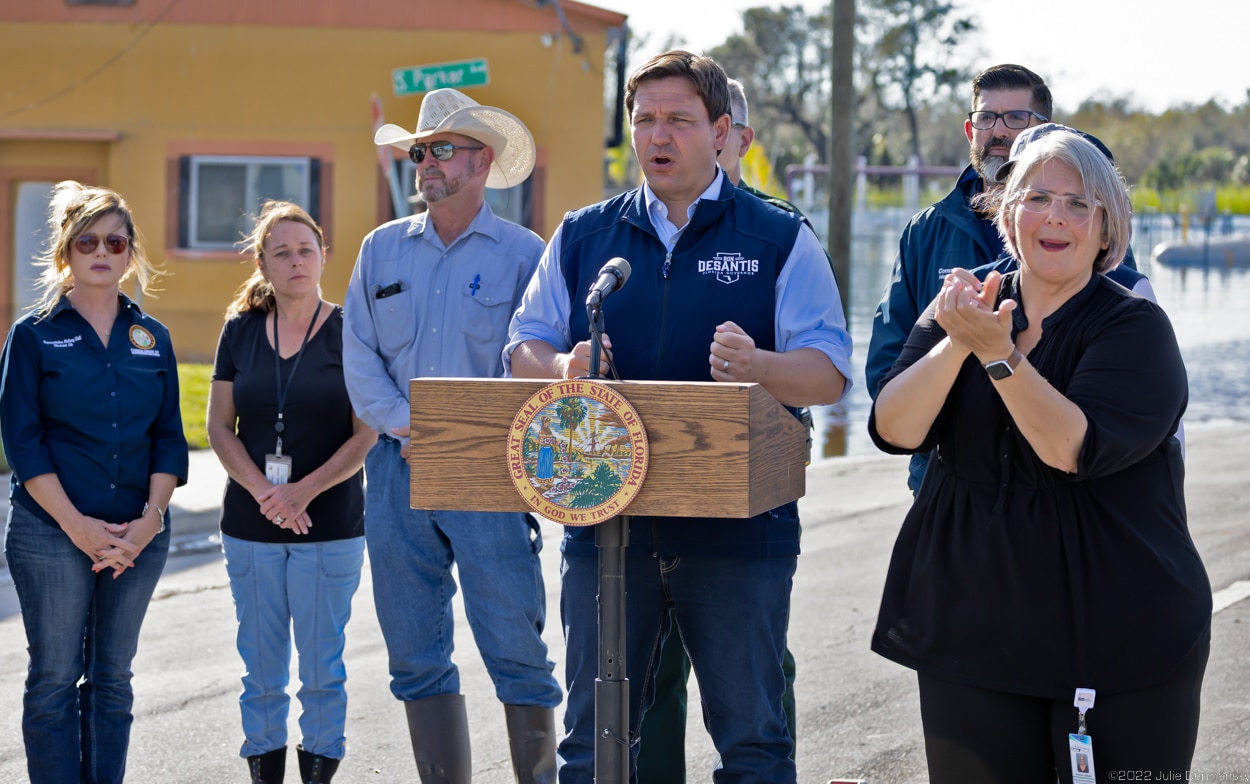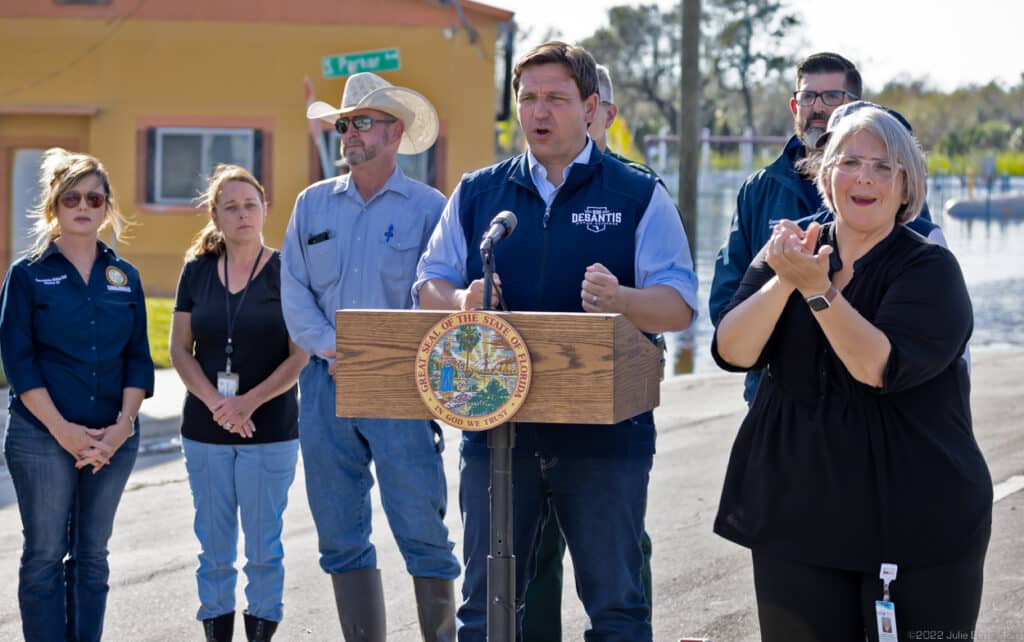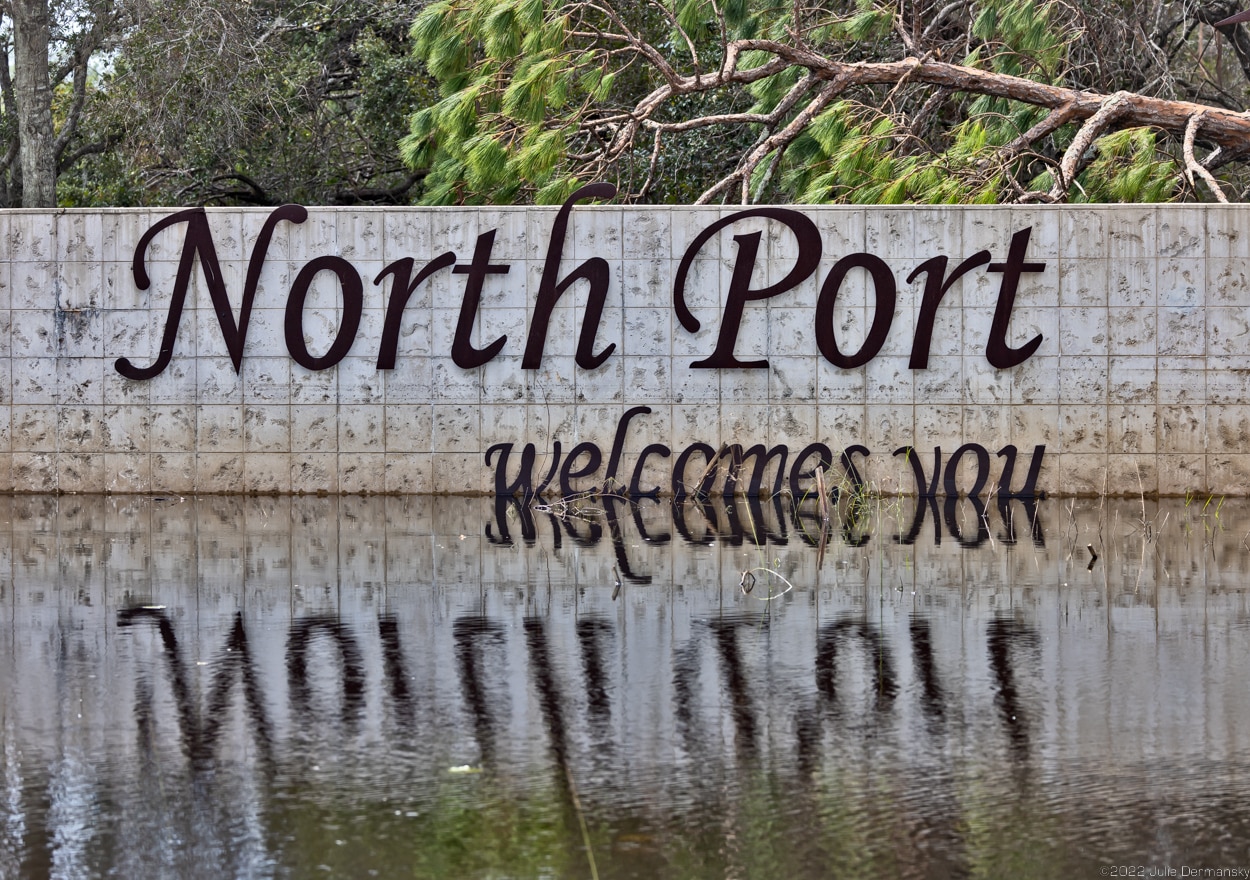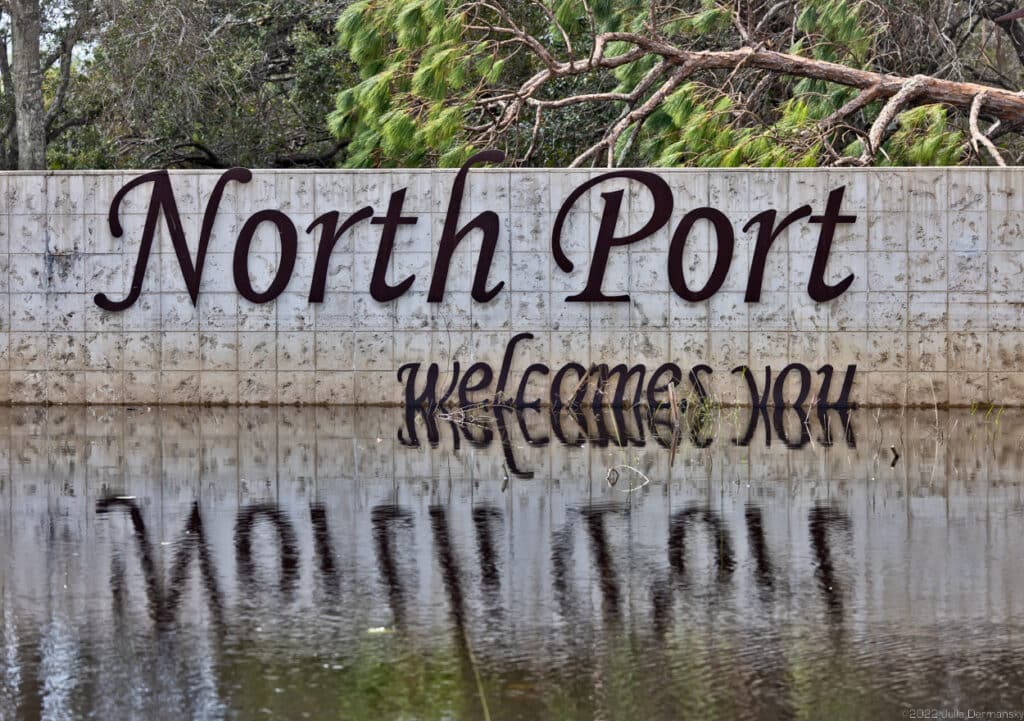 Many of Florida's Republican politicians are infamous for taking climate denial to great heights, moves that The New York Times reports may come back to haunt them. As the governor in 2015, Rick Scott, now a senator, went as far as forbidding state employees from mentioning climate change, a charge he denied. Last year, Governor Ron DeSantis announced a billion-dollar program to better prepare the state to deal with climate-related threats like flooding and rising sea levels — but without saying "climate" anywhere. Senators Rick Scott and Marco Rubio voted against the two most meaningful pieces of federal legislation that aim to curb carbon emissions, the bipartisan infrastructure law and the Inflation Reduction Act. And some of these leaders, who are now pushing to get Florida federal disaster aid, voted against similar aid to states impacted by other devastating storms, like Sandy in 2012.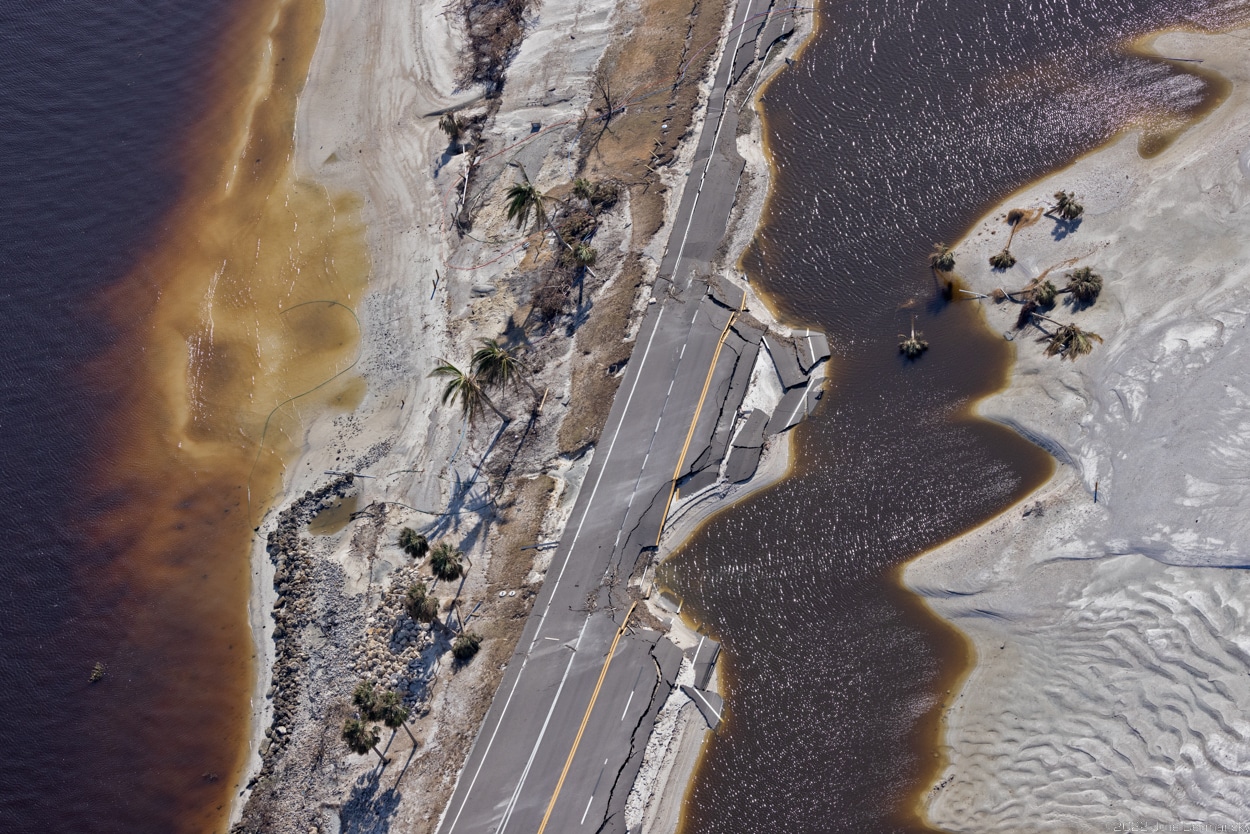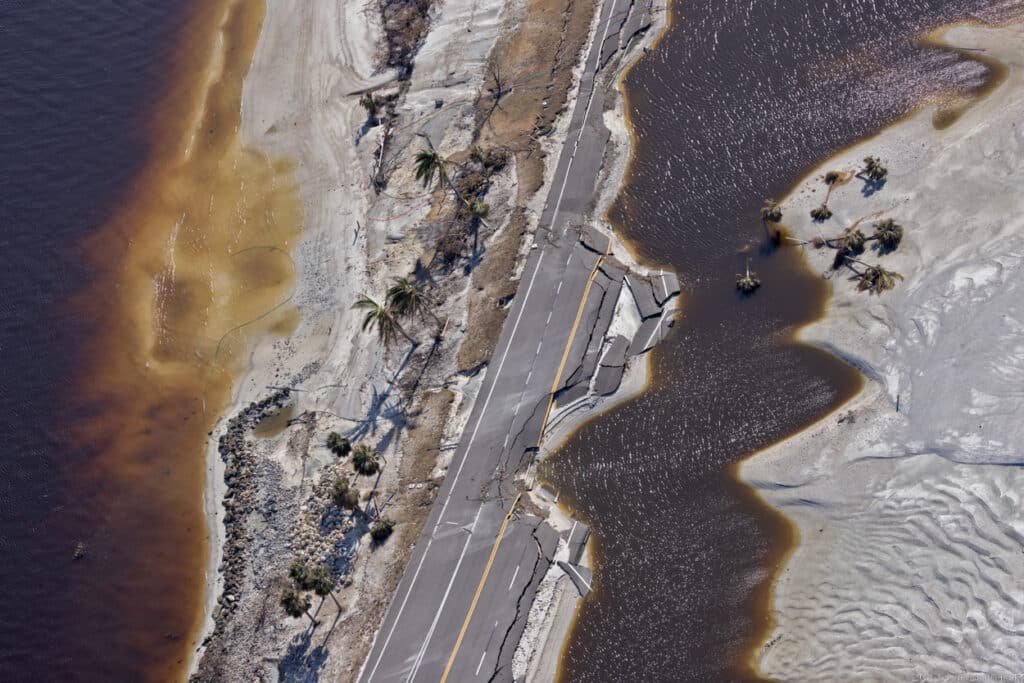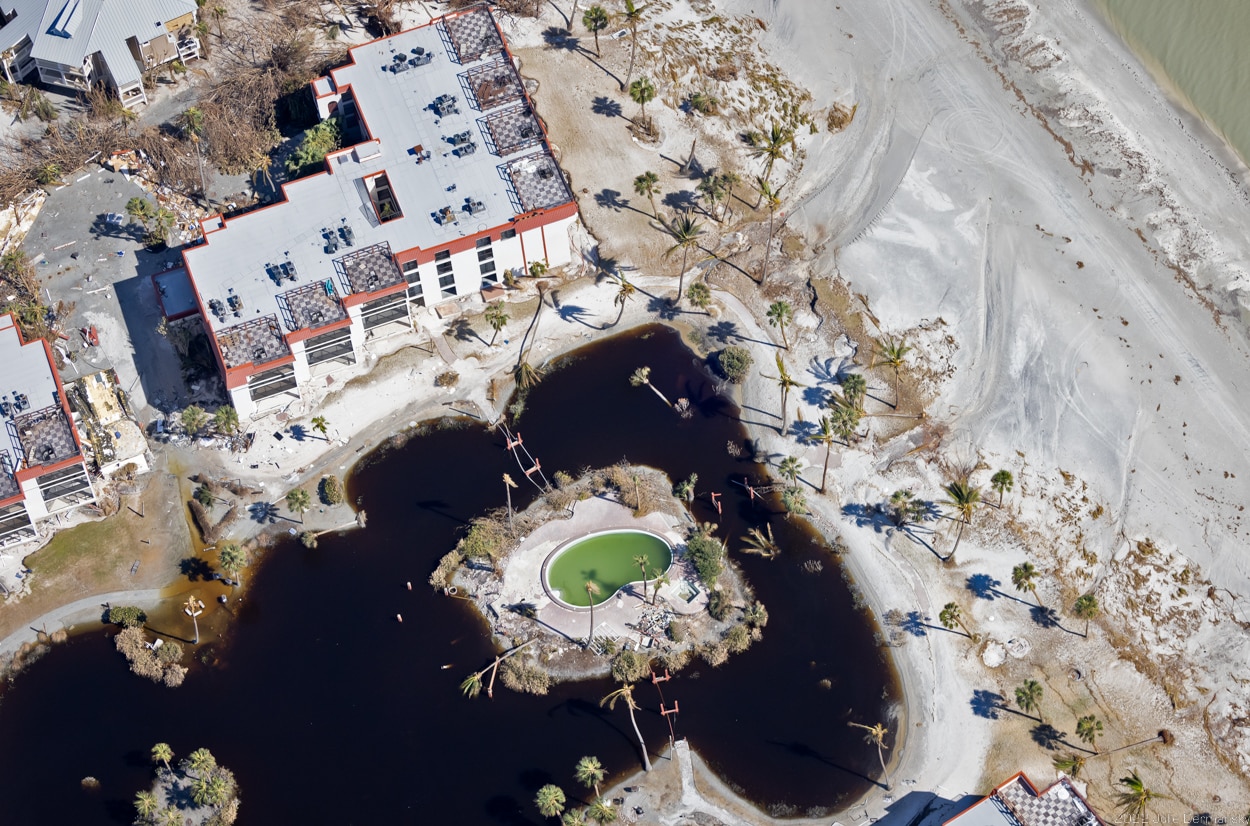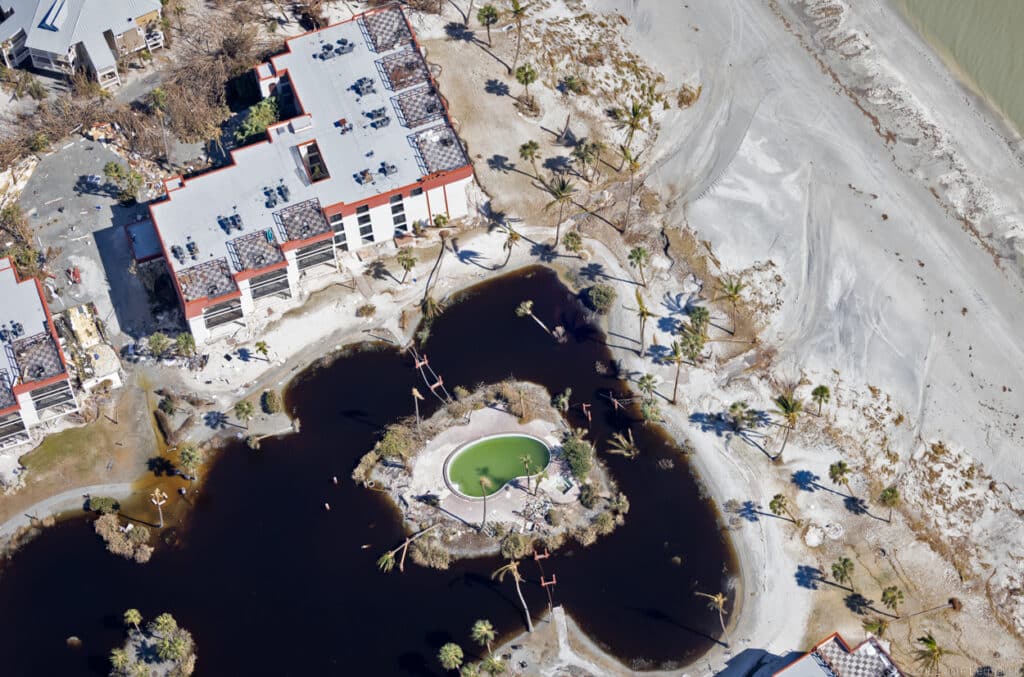 On October 3, I chartered a flight in order to document the areas hardest hit by Hurricane Ian that were not widely accessible by land. With an aerial perspective, I got to see firsthand the inaccuracy of rumors that Sanibel Island, Pine Island, and Fort Myers Beach were all but destroyed. Widescale damage on the barrier islands was clearly evident, but many structures remained intact, and as of October 12, a temporary fix to the Sanibel Causeway, the only road to the island, made it possible for utility trucks to arrive and begin restoring the island's power.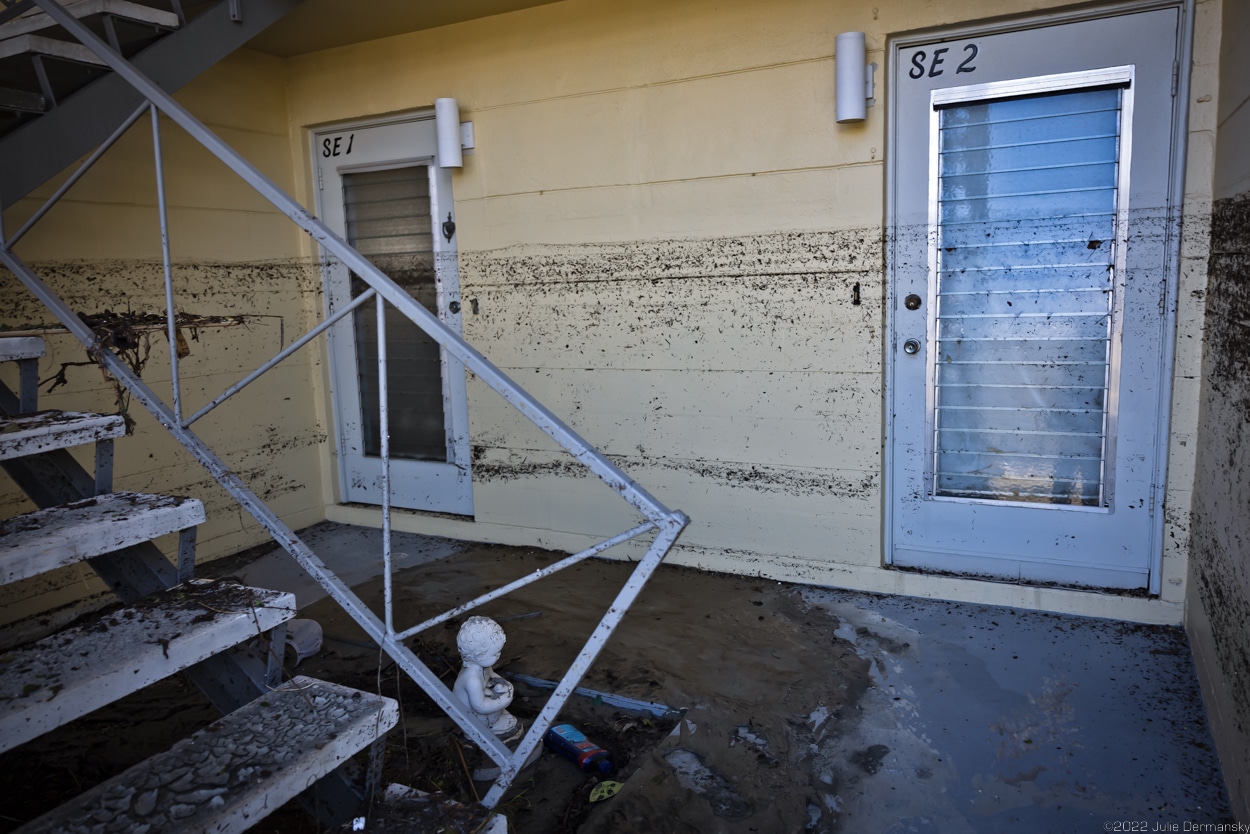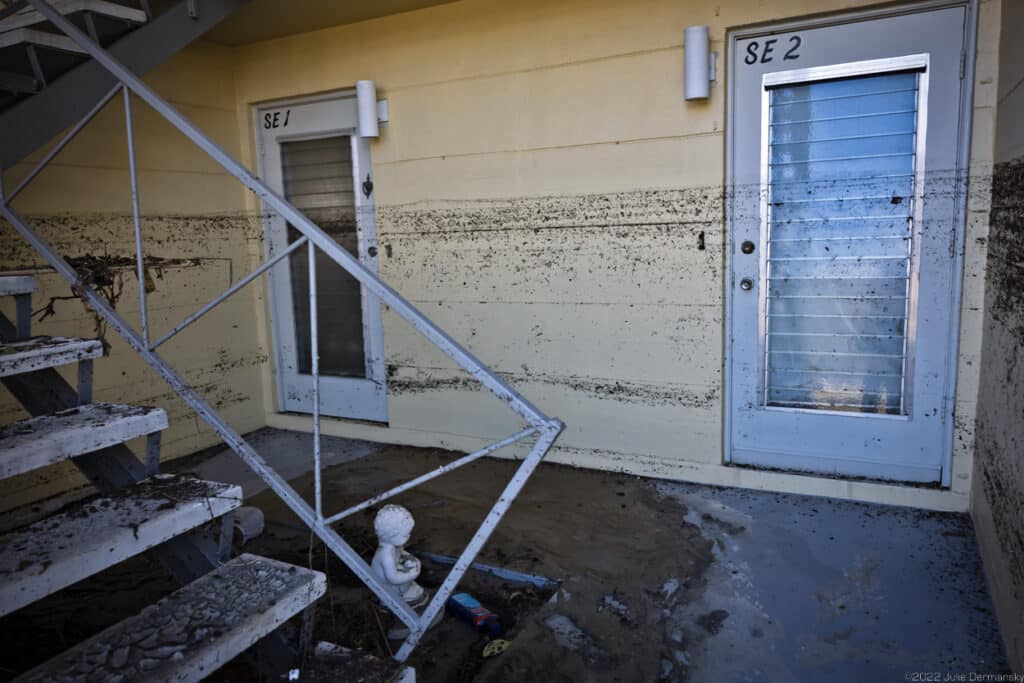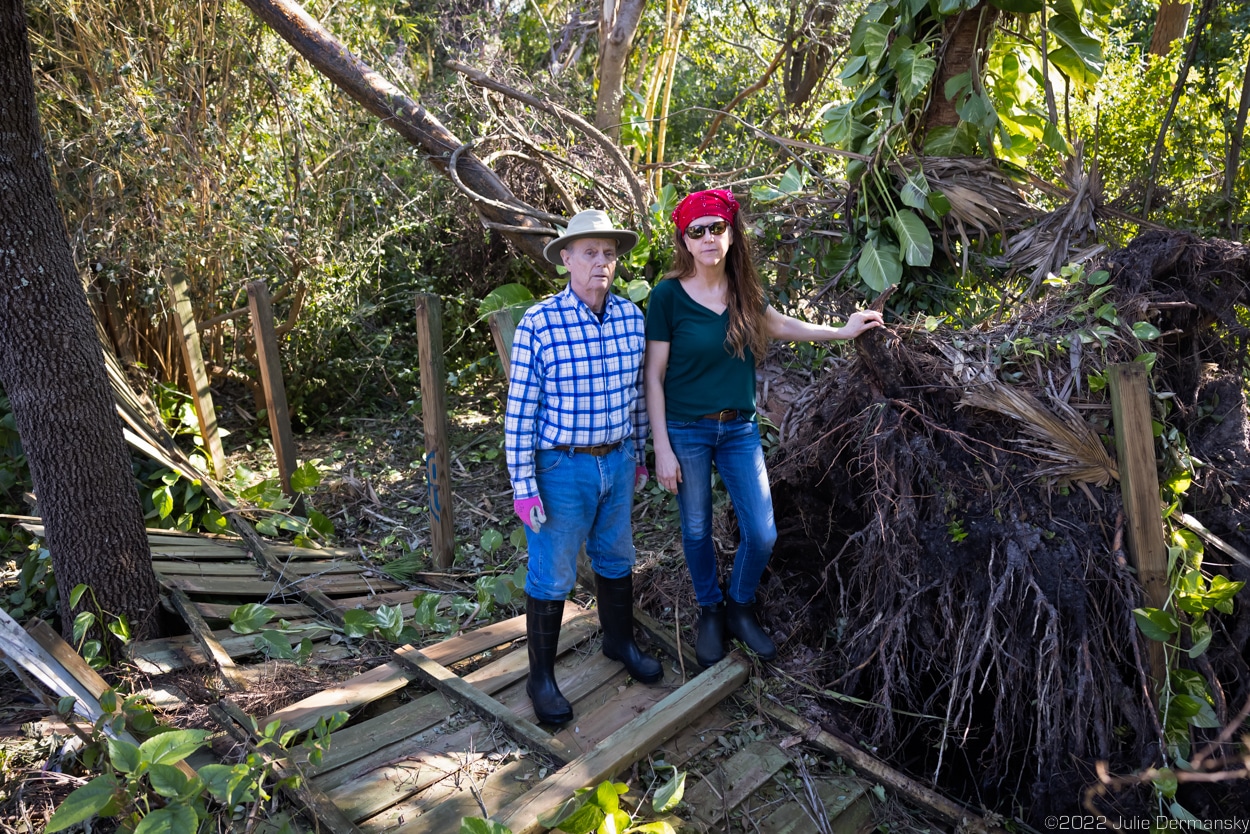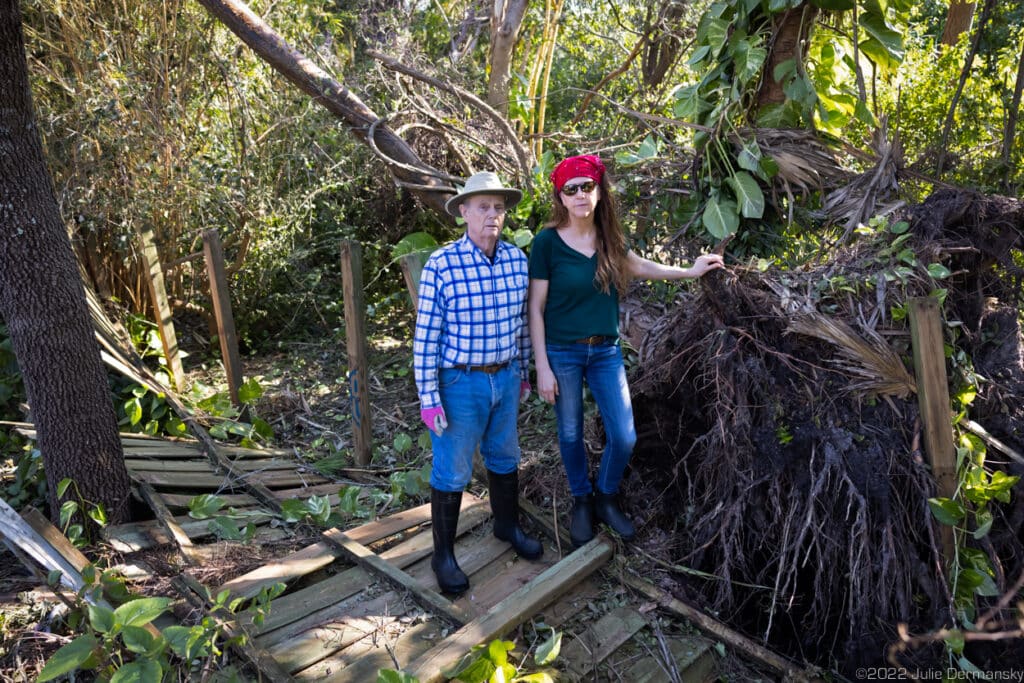 While covering the storm I stayed at the Dwyers' house, which is tucked away on lush tropical grounds in Naples. The Dwyers are retired educators active in fighting for social and environmental justice. Their raised home didn't flood or sustain major damage from the wind from Ian, but their grounds were littered with downed trees and debris, large portions of the fence surrounding their property knocked over.
The couple has considered retreating from Florida's southwest coast before. First, in 2017 after Hurricane Irma tour up their grounds so badly that they weren't sure they could restore their property. And again in 2018, when much of the same region impacted by Hurricane Ian was contending with a toxic algae crisis.
But whether to stay or go isn't straightforward. After Irma, the Dwyers were able to restore their grounds, and though Ian caused similar damage, they say they know that, with a lot of work, restoration will be possible once again. And the fact that their custom-built home survived two major storms relatively unscathed leaves the possibility of staying put on the table.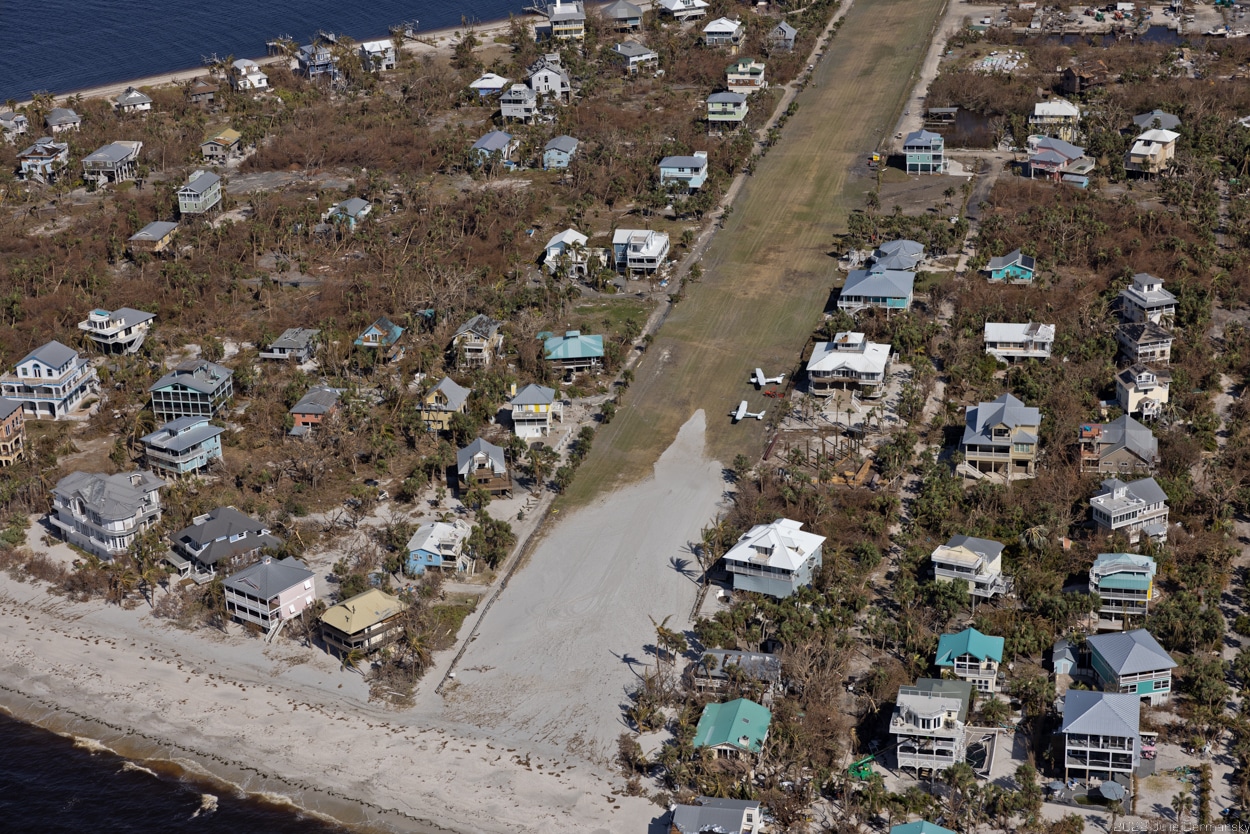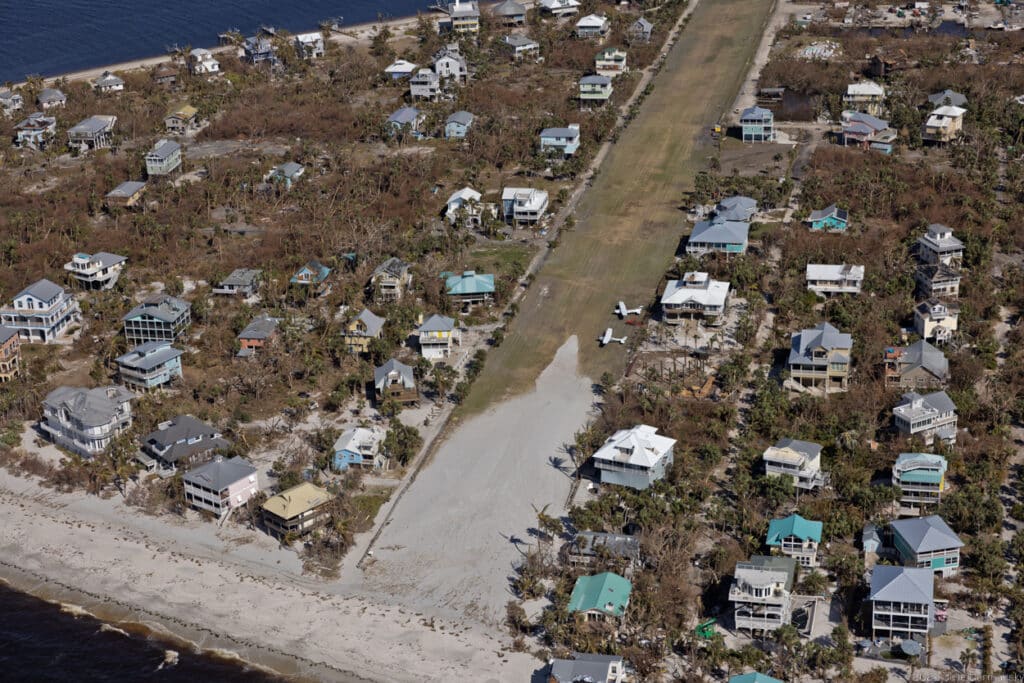 The trauma that the Dwyers and thousands of others in Ian's path experienced can take time to process, especially when faced with practical matters ranging from storm cleanup to home insurance policies, whose costs continue to steeply rise and, in some cases, which are no longer available at all in areas recently impacted by major storms. Experiencing Ian's wrath didn't offer the couple clarity as they weighed the possibility of their own retreat.
The Dwyers question whether anywhere on the planet is safe if global temperatures continue rising. Before Ian hit, the couple was planning to visit Asheville, North Carolina, and assess it as a possible destination to relocate. But the rapidly growing city in the Blue Ridge Mountains faces climate change-related threats too. In 2016, a drought and high winds fed destructive wildfires that threatened the city and parts of the Great Smoky Mountains.
"There is no real escape from the damage we continue to do to the planet," Karen said while filling a box with avocados she picked from her yard for me to take on my journey. She wished me safe passage back through the disaster zone on my return to south Louisiana, where many are still recovering from Hurricane Ida's destruction more than a year later.